Internet Radio
Streaming MP3 Audio and
Playing MP3 Audio Files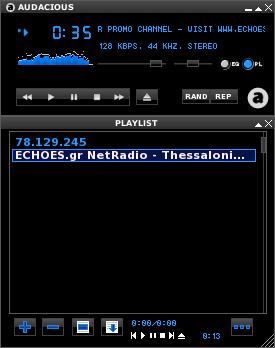 I prefer the audacious audio player, which should be included in your operating system. It's easily added if you don't have it, get it from: audacious-media-player.org. It evolved out of the XMMS project. Linux users need to see the how-to further down this page for details on adding MP3 support to Red Hat Linux and its derivatives.
Streaming Internet Radio Stations
Below is a list of some streaming Internet radio stations I have enjoyed or at least found interesting in the past.
This type of list is impossible to fully maintain. Some of these may not work because the stations frequently change their stream URL and even stop streaming audio from time to time.
Please let me know if you find problems in this list, or if you have suggestions for corrections or additions!
Some of these require the RealPlayer software from real.com, but most are MP3 or WMA streams.
Enjoy!
Start with the listenlive.eu directory
Radio Prague Intl
Prague, Czech Republic
Helikaja
Tallinn, Estonia Olukorrast riigis
Tallinn, Estonia Eestii Radio
Tallinn, Estonia Eestii Radio (english news)
Tallinn, Estonia
Hits
La Varenne St Hilaire, France Click'N'Rock
Paris, France Radio FG (Techno)
Paris, France Champagne FM
Riems, France
Hellenic Public Radio
Athens, Greece
Europa Plus
Almaty, Kazakhstan
TRK Pyramida
Frunze, Kirghizstan
Mix FM 102.7
Riga, Latvia Gold FM
Riga, Latvia TOPradio www.topradio.lv
Riga, Latvia Ef-Ei RADIO, 91,4 FM
Rezekne, Latvia
Fame FM
Beirut, Lebanon Mix FM
Beirut, Lebanon Radiorama
Beirut, Lebanon Beirut Nights
Beirut, Lebanon
KF 105.4
Kaunas, Lithuania M1 Plius
Vilnius, Lithuania
Calor 93.9
Tuxpan, Mexico VOX FM 101.7
Veracruz, Mexico Radio Onda 1430 AM
Veracruz, Mexico HV 1310 AM
Veracruz, Mexico Ya! FM
Veracruz, Mexico
Radio Casablanca Live
Casablanca, Morocco Medi 1
Casablanca, Morocco
English News Bulletin
Islamabad, Pakistan
Dance64
Moscow, Russia Disco80 / RadioSouz
Moscow, Russia Dinamit FM
Moscow, Russia Radio Monte Carlo
Moscow, Russia Russkoe Radio
Moscow, Russia Radio 101
Moscow, Russia Radio Europa
Moscow, Russia Station 2000
Moscow, Russia Silver Rain Radio
Moscow, Russia Echo Rostova
Rostov na Donu, Russia Hit FM
Tomsk, Russia Radio Lemma
Vladivostok, Russia Radio VBC
Vladivostok, Russia
92.5 FM
Bangkok, Thailand Sunshinefm Hatyai (FM 94.50)
Bangkok, Thailand
Tunisia National Radio
Tunis, Tunisia
Capital Radio
Ankara, Turkey Capital Radio
Ankara, Turkey Radio Alfa Turkey
Istanbul, Turkey Bayrak FM
Istanbul, Turkey Bayrak FM
Istanbul, Turkey TGFT-1 FM
Istanbul, Turkey
MFM
Dnipropetrovsk, Ukraine Radio Nezalezhnist
Kiyev, Ukraine
Radio Sawa
Washington, USA Radio Farda
Washington, USA
Air Traffic Control Audio Streams
liveatc.net
How to Add MP3 support to Red Hat Linux and its Derivatives
Some Linux distributions, prominently Red Hat and therefore CentOS (and other Red Hat clones) and Fedora, distribute a version of xmms with the MP3 libraries disabled. The reason for Red Hat's decision is described at http://www.fedorafaq.org/fc3/#xmms-mp3.
The needed fix to restore MP3 capability are described on that page:
As described on a fedorafaq.org page, add the following as a new file in the directory /etc/yum.repos.d directory. It would make sense to name the new file something like livna.repo. Individual repo (package respository) files are the new way of doing things. An older system may simply have one big /etc/yum.conf file and you would add the below blocks or stanzas to that file.


[livna-stable]
name=Livna.org - Fedora Compatible Packages (stable)
baseurl=http://rpm.livna.org/fedora/$releasever/$basearch/RPMS.stable
http://livna.cat.pdx.edu/fedora/$releasever/$basearch/RPMS.stable

[livna-unstable]
name=Livna.org - Fedora Compatible Packages (unstable)
baseurl=http://rpm.livna.org/fedora/$releasever/$basearch/RPMS.unstable
http://livna.cat.pdx.edu/fedora/$releasever/$basearch/RPMS.unstable

[livna-testing]
name=Livna.org - Fedora Compatible Packages (testing)
baseurl=http://rpm.livna.org/fedora/$releasever/$basearch/RPMS.testing
http://livna.cat.pdx.edu/fedora/$releasever/$basearch/RPMS.testing 

Run this command to download and install the xmms MP3 libraries:


# yum install xmms-mp3 

You may also want to add MP3 capability to Rhythymbox, Noatun and other multimedia packages by downloading and installing these packages:


# yum install gstreamer-plugins-mp3 kdemultimedia-extras 

And the lame command for converting WMA, FLAC, and other audio file formats to MP3, as explained on another page of mine.


# yum install lame 

And finally, the ability to convert MP3 to .WAV to create audio CDs within the K3B CD burner:


# yum install k3b-mp3 
You can also use the RPM packages available at http://dag.wieers.com/rpm/packages/xmms/
---