Rush to Toronto
Toronto
Linux
I was asked, "Could you go to Toronto and teach a Linux server course?" Of course!

I was doing a similar course in the Washington D.C. area the week before. The training company was handling the travel. One multi-city version of the trip would be cheaper than flying back home then right back out a day or two later.

So, I flew straight from Washington to Toronto on Friday night, giving me the weekend and most of Monday free in Toronto.

And, I've seen plenty of Herndon and Reston, Virginia, overpriced bland surburbs with Washington D.C. two hours away by bus and train.

I flew into YYZ and was booked in room 2112 at the DoubleTree hotel. It was turning into a Rush-themed trip.
Hostels at Booking.com
It was a very nice room with a view of downtown, looking toward the lake and the CN tower. But I wasn't in the room very much.
I got settled in, then headed right back out again.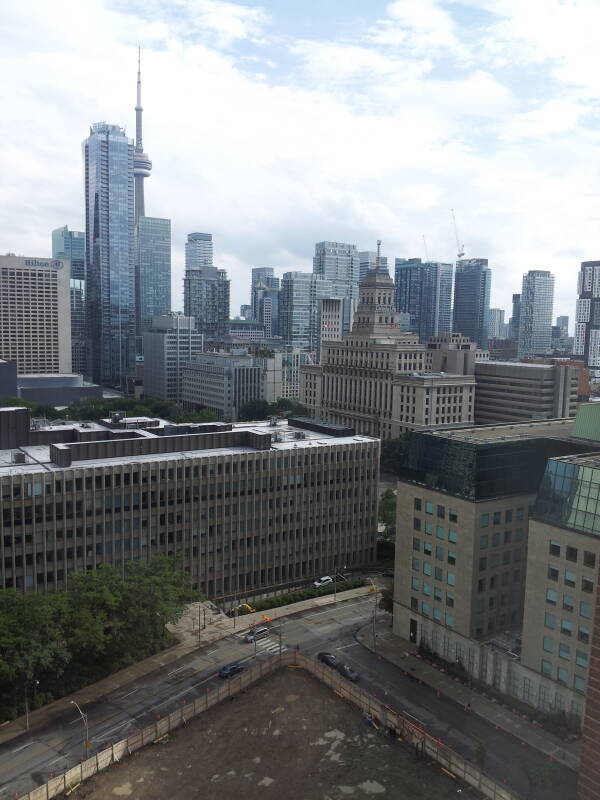 Distillery District
The Distillery District has the largest collection of preserved Victorian industrial architecture in North America.
The Gooderham and Worts Distillery was founded in 1832. By 1860s it had become the world's largest whisky factory. Toronto became the largest alcohol distillation center in North America. Gooderham and Worts was producing over 7.6 million liters of whisky per year, most of it for export.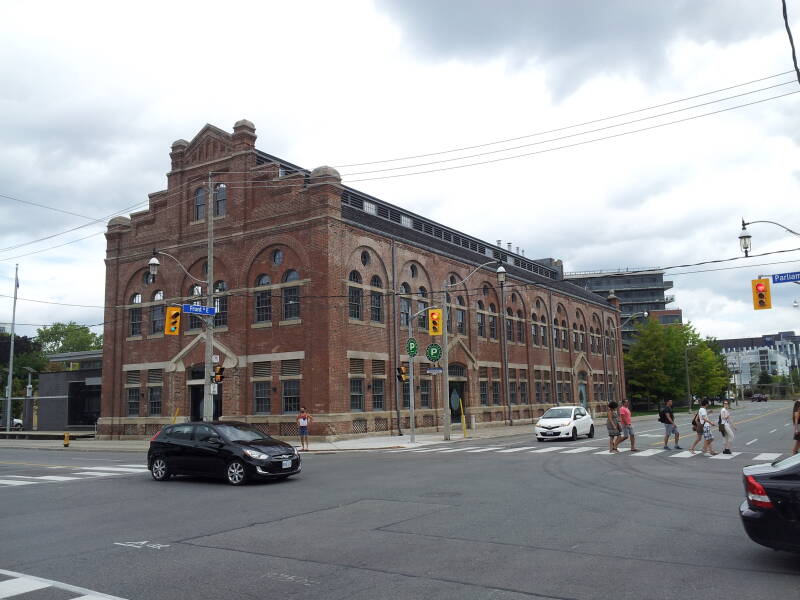 A father-and-son team, both named David Roberts, designed and oversaw the construction of all the 19th century buildings you see today. The father had built over 30 mills in Ireland and England before emigrating to Canada in 1844. He and his son built a number of buildings here in 1858-1895.
What you say about his company
Is what you say about society
Catch the mist
Catch the myth
Catch the mystery
Catch the drift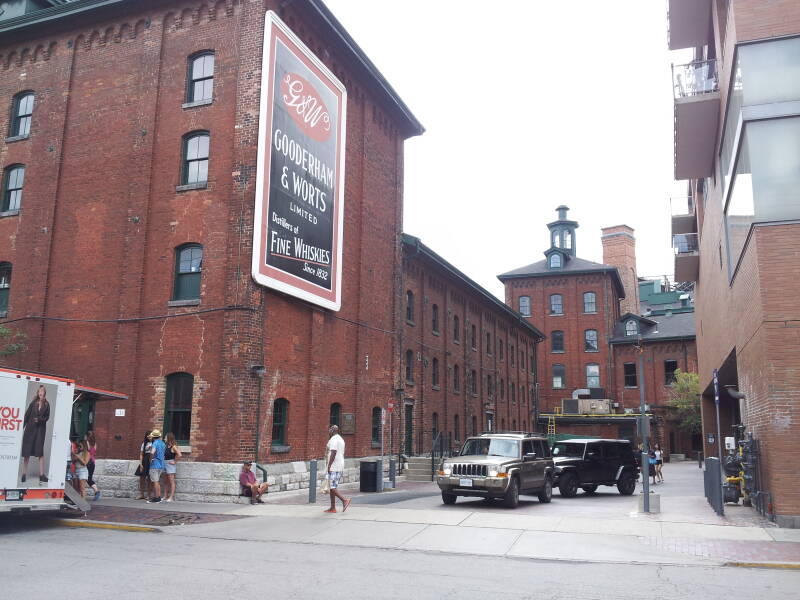 The harbor was nearby, bringing in grain and sugar. Expanding Canadian National Railway and port facilities brought in coal from Pennsylvania.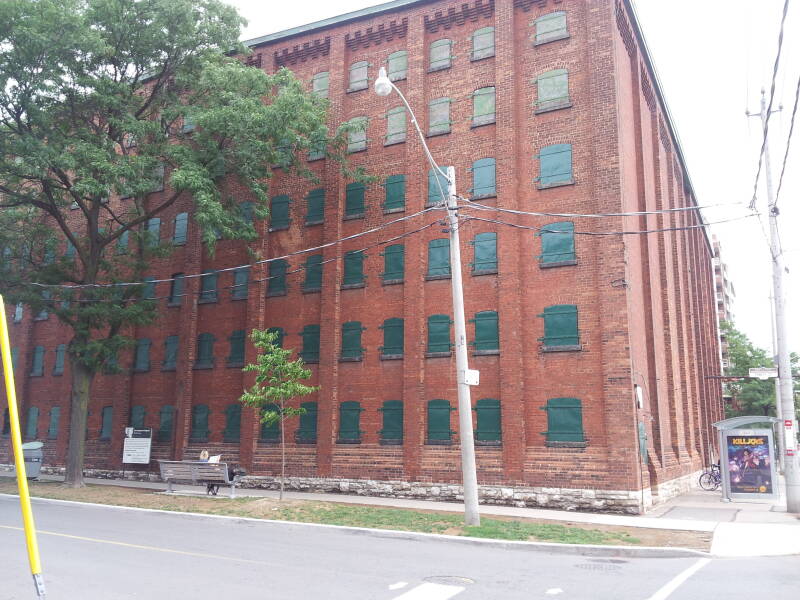 The Ontario Temperance Act was passed in 1916, prohibiting alcohol in Ontario. Whisky distilled here was exported or sold to Quebec, from which a sizable percentage returned.
The temperance act was overturned in 1927, when government-run stores could sell liquor. But drinking in public establishments in Ontario remained illegal until 1934.
Meanwhile, the U.S. had had its own experiment with prohibition from 1920 to 1933, providing another guaranteed outlet for Canadian liquor.
Hiram Walker Company merged with Gooderham and Worts in 1926. Hiran Walker and Sons is still in operation, owned now by Pernod Ricard, a French company.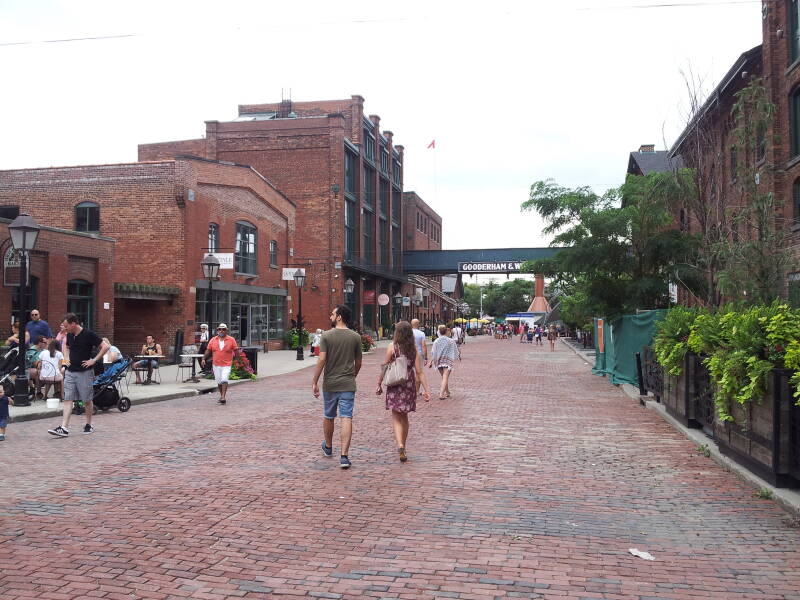 The area became less industrial, and the distillery operation here was being gradually shut down. The last distillery operations ended in 1990.
Now it's an arts and entertainment district.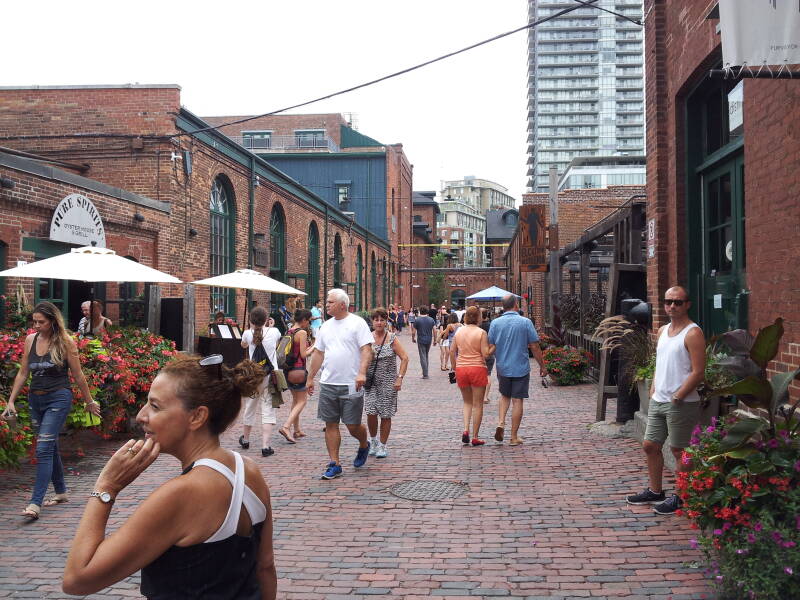 Old Town
The Old Town area is on the way back from the Distillery District to downtown.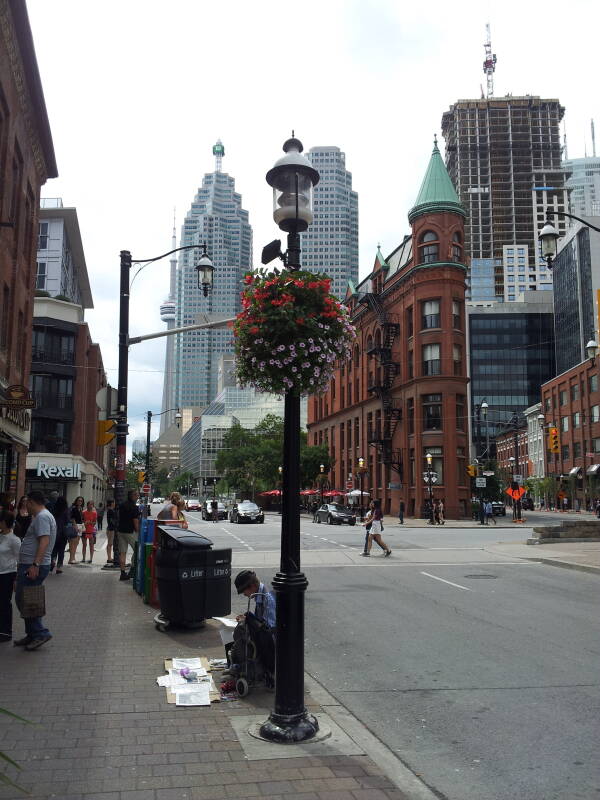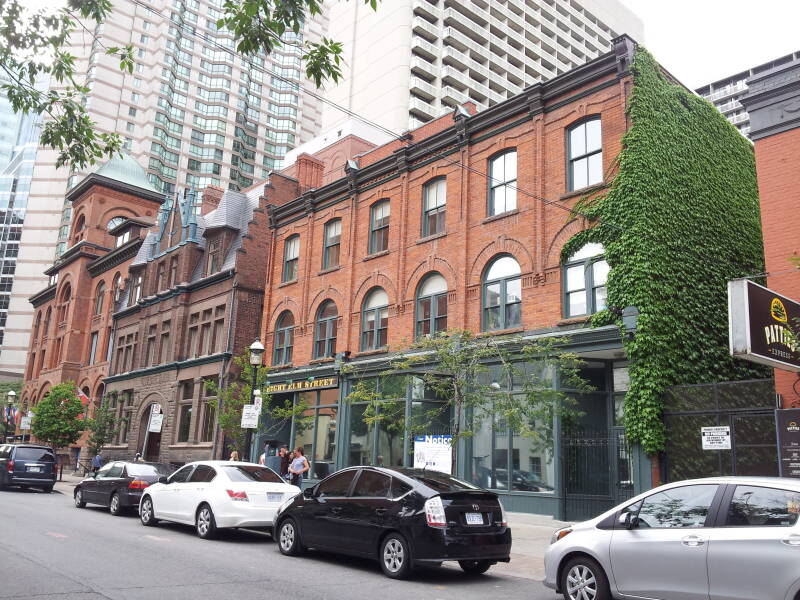 Entertainment District
There is some interesting architecture in Toronto.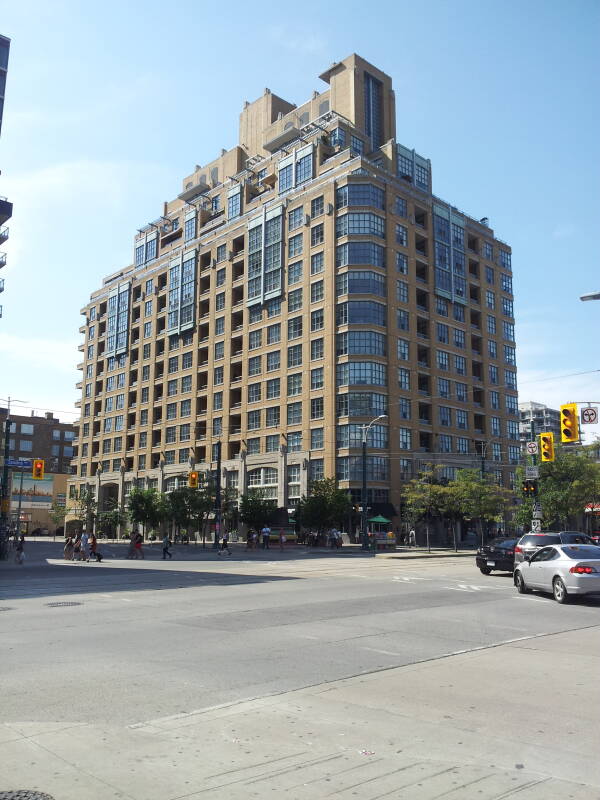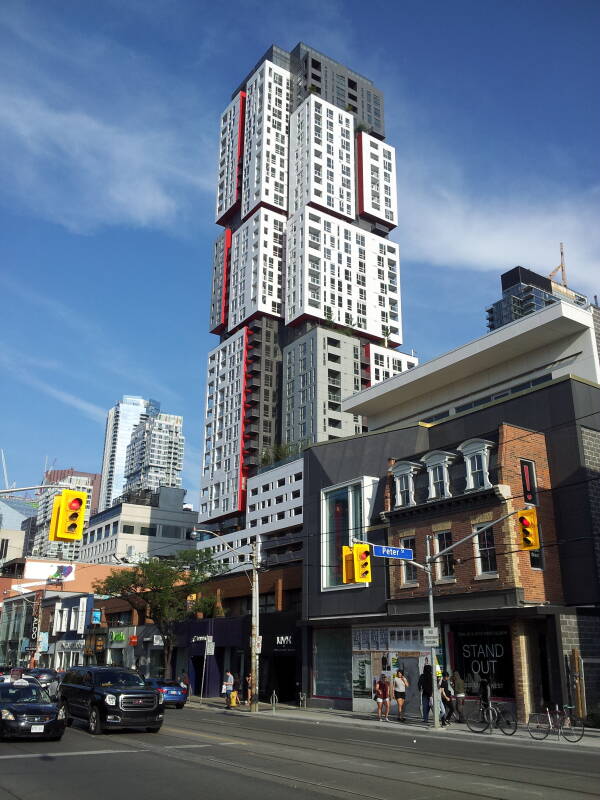 The Toronto Transit Commission operates the largest and busiest streetcar system in North America.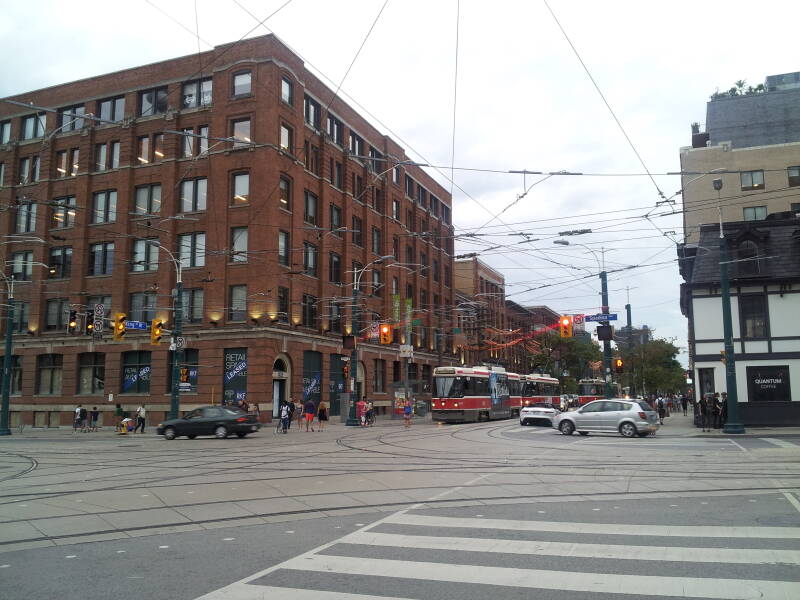 Toronto's system of subways, buses, and streetcars is the third busiest transit system by ridership in North America, after Mexico City and New York City.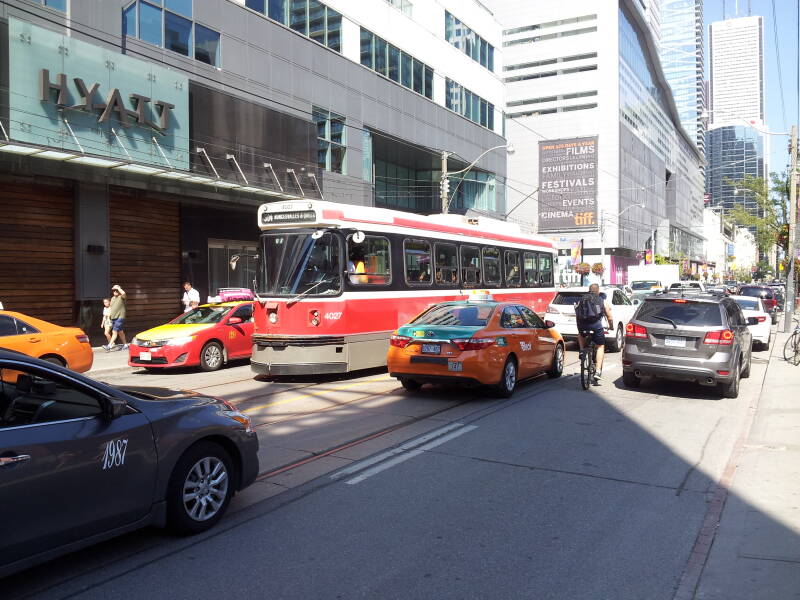 Unlike in the better vanished time before the Motor Law, people no longer hide a brilliant red Barchetta in which to ride around the city.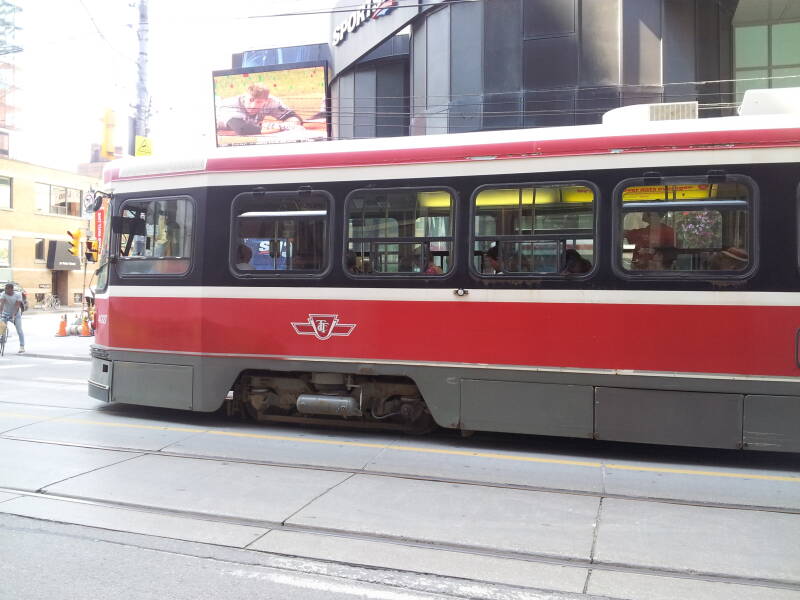 Toronto Hydro has been providing electricity to the city since 1911.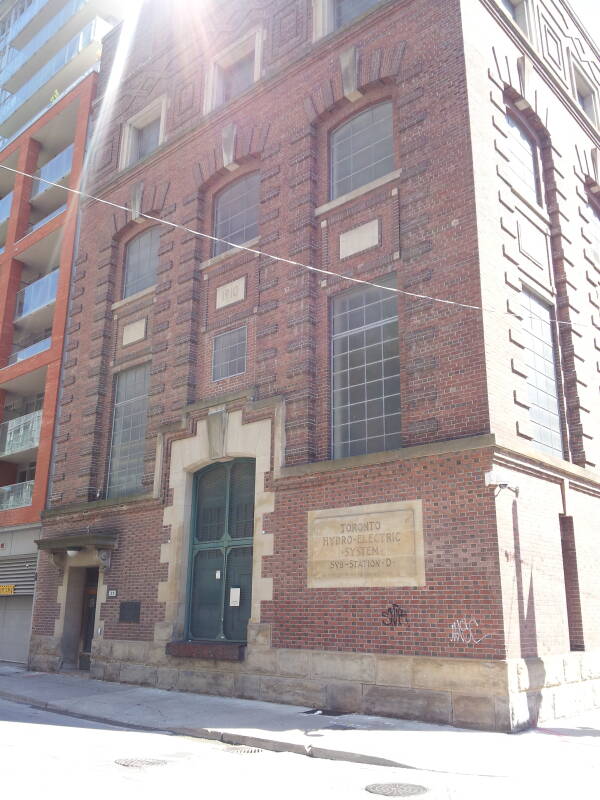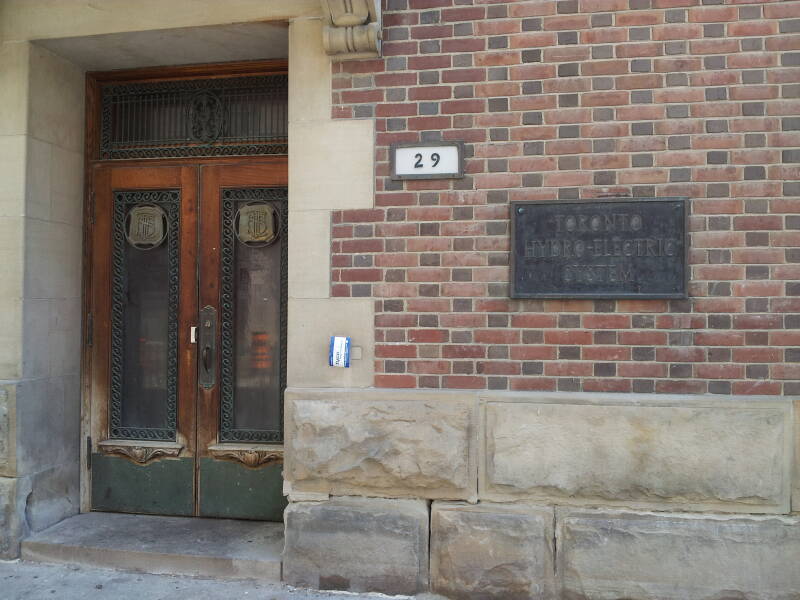 Back to 2112
Nathan Phillips Square is the city's main square. The reflecting pool is, of course, converted into an ice rink during winter.
The curved towers and dome are the Toronto City Hall.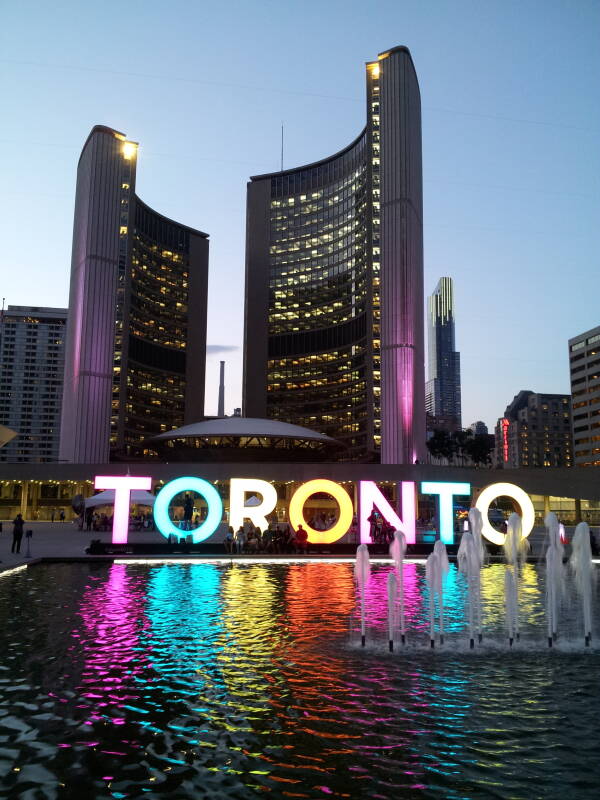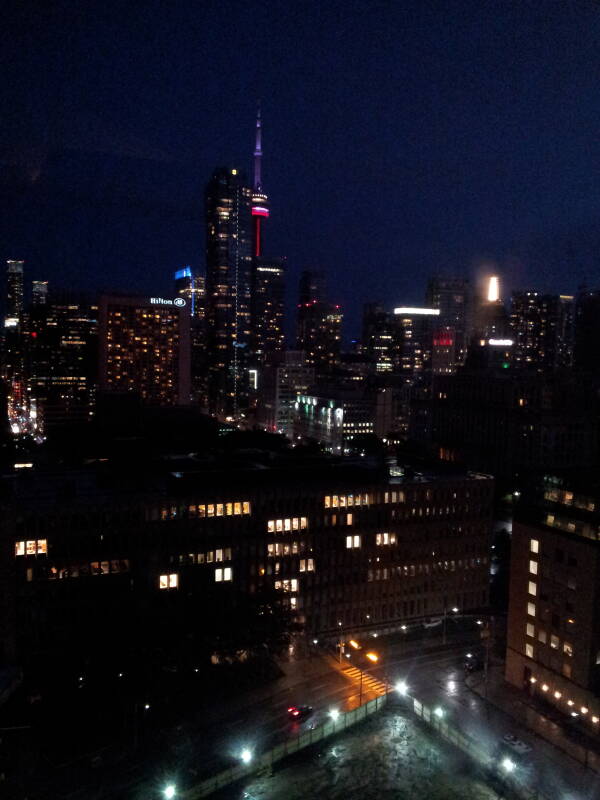 Back to my room for the night, more tourism tomorrow.
To the Art Gallery of Ontario
The Art Gallery of Ontario is one of the largest art museums in North America.
Its large wood and glass northern façade faces Dundas Street.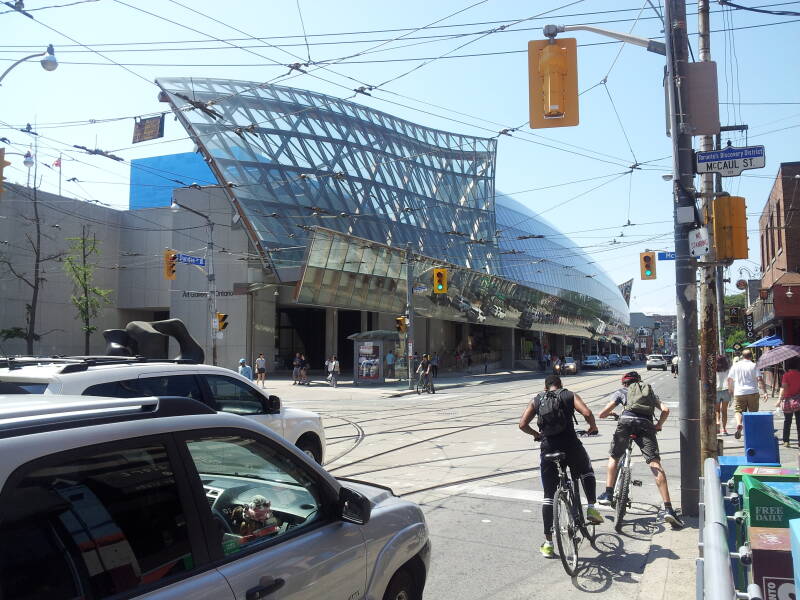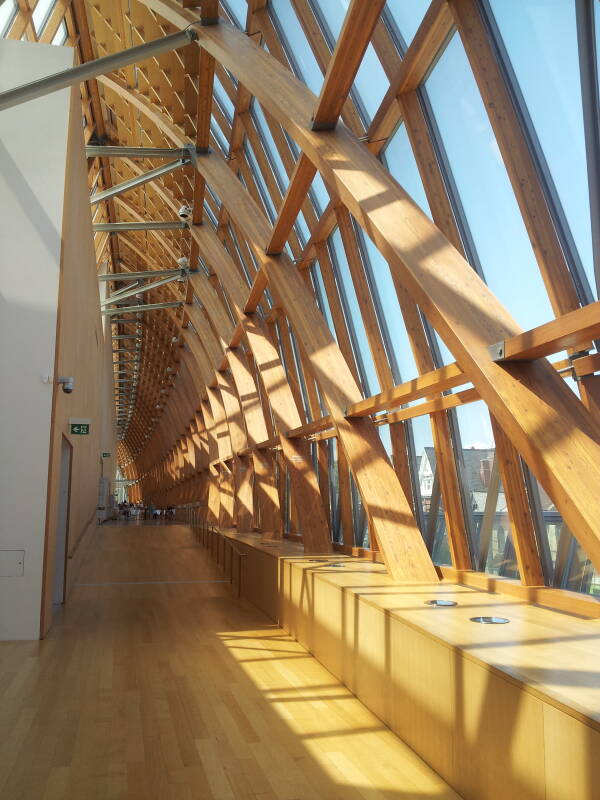 There was a special exhibit of works by Lawren Harris, a member of the "Group of Seven" or "Algonquin School", a group of landscape painters credited with creating a uniquely Canadian painting style in the early 20th century.
Harris came to specialize in stark landscapes of the Canadian north and Arctic.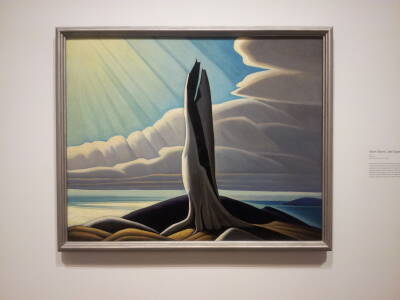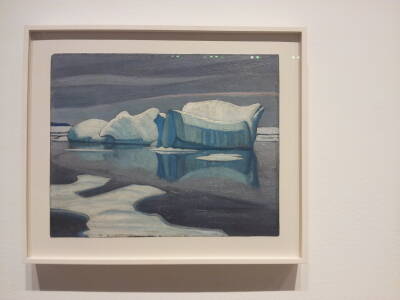 The exhibition began with a few of his earlier paintings, and then a documentary film about his career.
The documentary was good, its erudite curator was very knowledgeable about Harris' work and its relationship to the history of Canada and of art.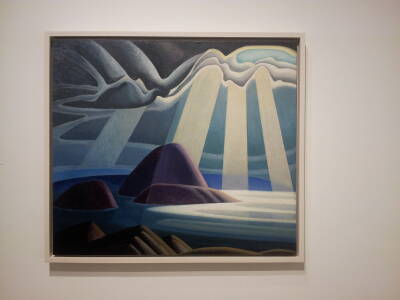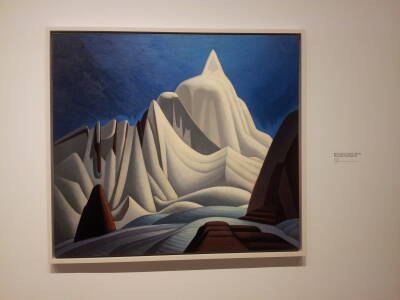 But it was very distracting. I couldn't help but wonder how often this academic must be interrupted by people asking if he had ever been told that he strongly resembled Steve Martin.
Then the credits finally rolled. Ah.
Steve Martin is an enthusiastic and deeply knowledgeable collector of Harris' art. OK, let me watch that documentary again without being so distracted this time.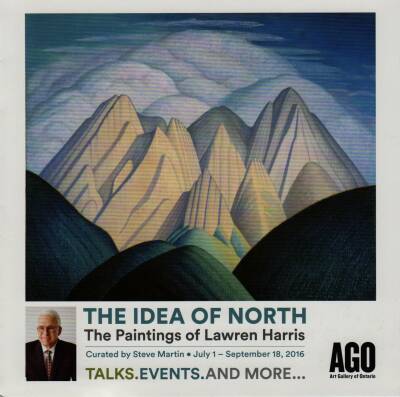 Through Chinatown
On several evenings I walked through Chinatown on the way to Kensington Market.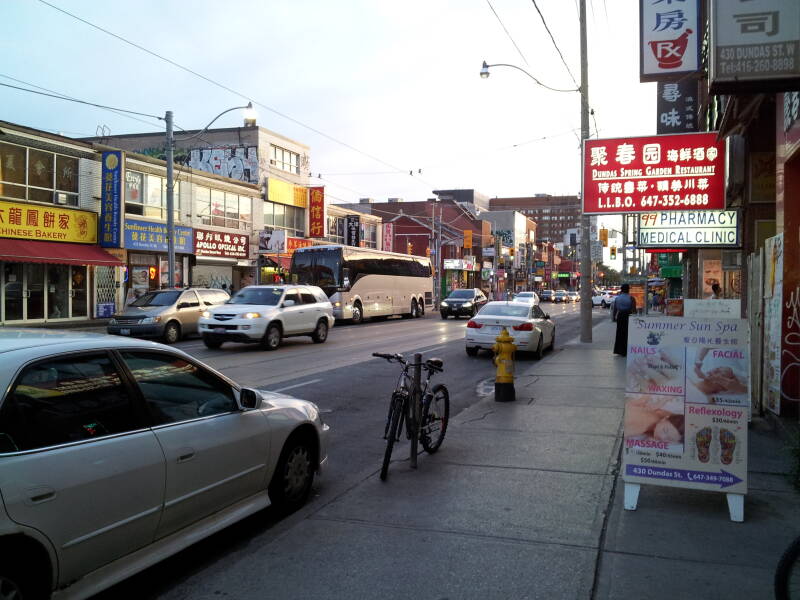 It's just a totally normal Chinese moose. Nothing out of the ordinary here.
Kensington Market
Kensington Market is an older neighborhood, one of Toronto's most famous. It was designated a National Historic Site of Canada in 2006.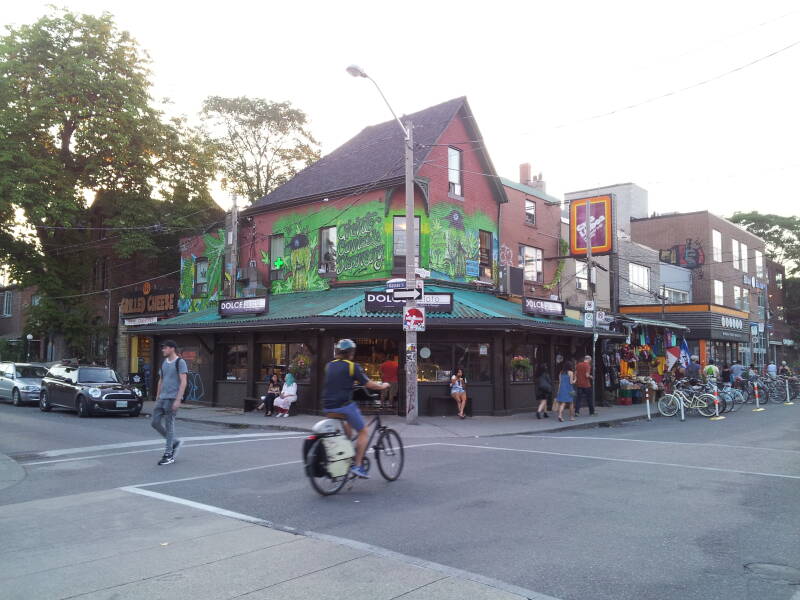 It's roughly bounded by College and Dundas Streets on the north and south, and Bathurst Street and Spadina Avenue on the west and east.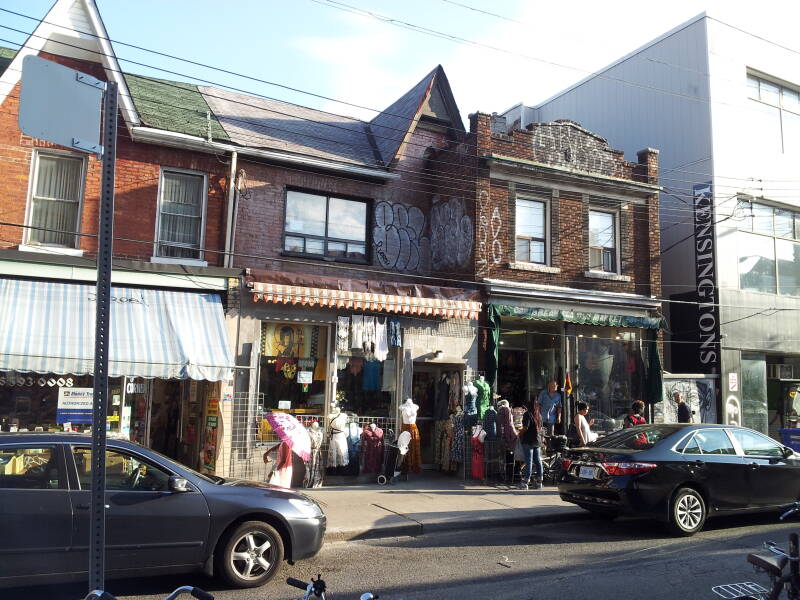 Houses were built here in the 1880s for Irish and Scottish immigrant laborers moving into Toronto. It still contains some of Toronto's Victorian-era bay-and-gable houses.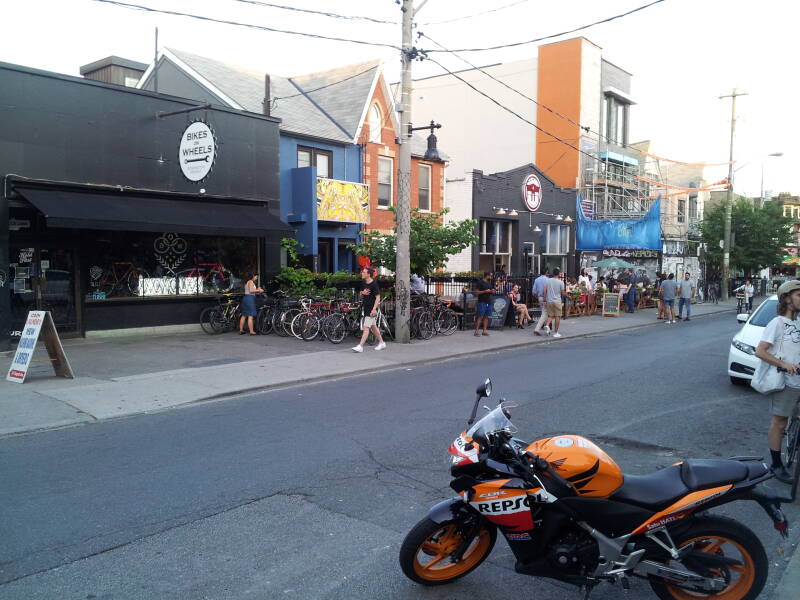 Jewish History on the Lower East Side
Eastern European Jewish immigrants along with some Italians moved in during the early 20th century.
The area became known as "the Jewish Market", as it was filled with small shops.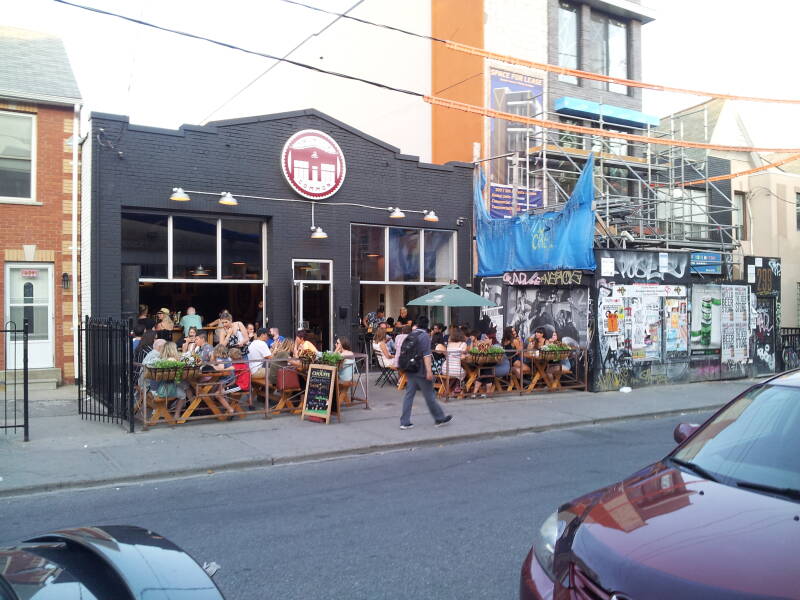 About 60,000 Jews lived in this area in the 1920s and 1930s. Obligated to live within walking distance, to avoid riding a vehicle on the Sabbath, they worshiped at over 30 local synagogues.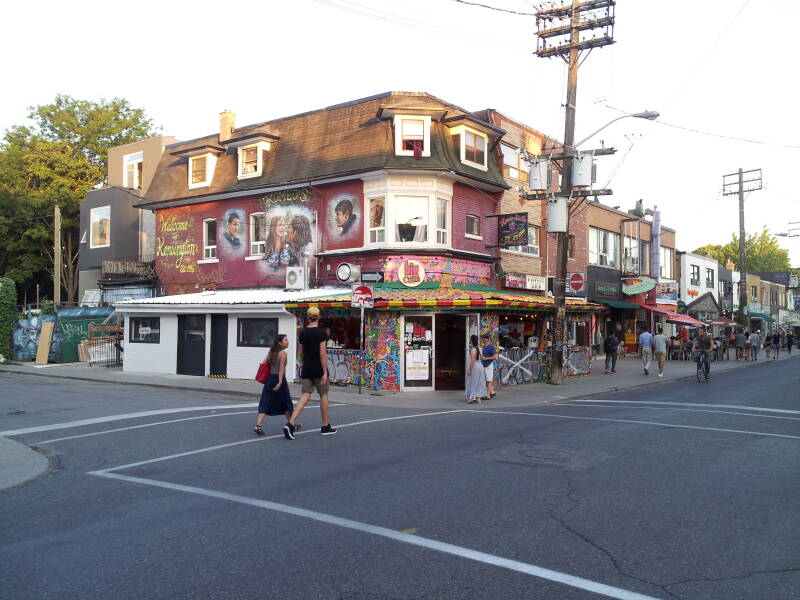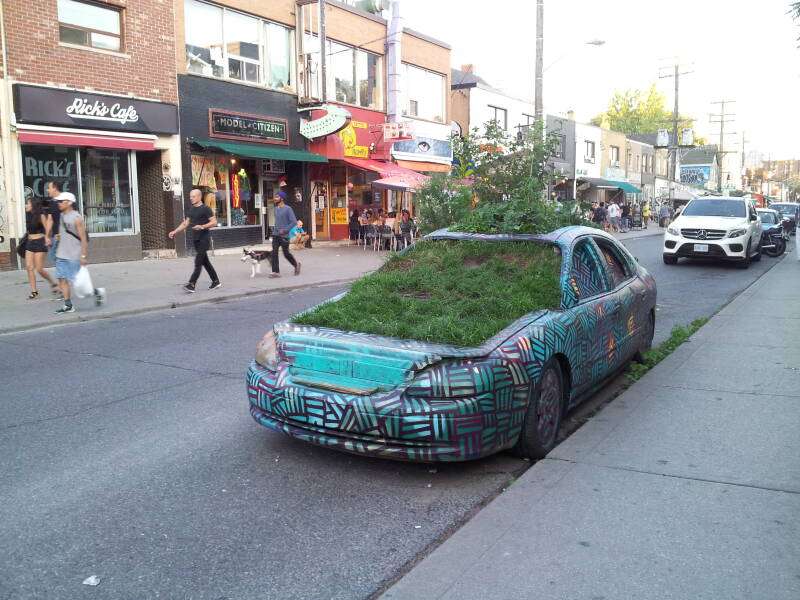 The Jewish population mostly moved out after World War II. A large number of immigrants from the Azores arrived during the 1950s, fleeing political conflict in their home country.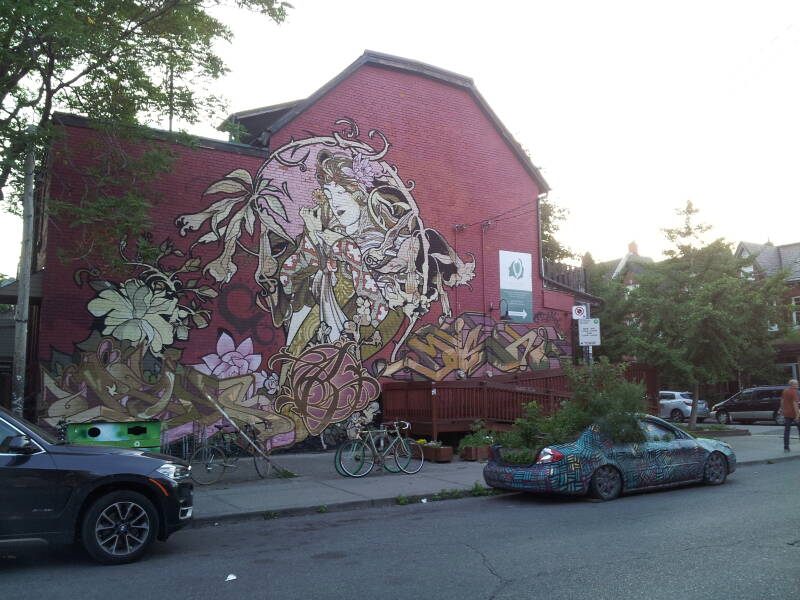 Then immigrants from the Caribbean and East Asia followed.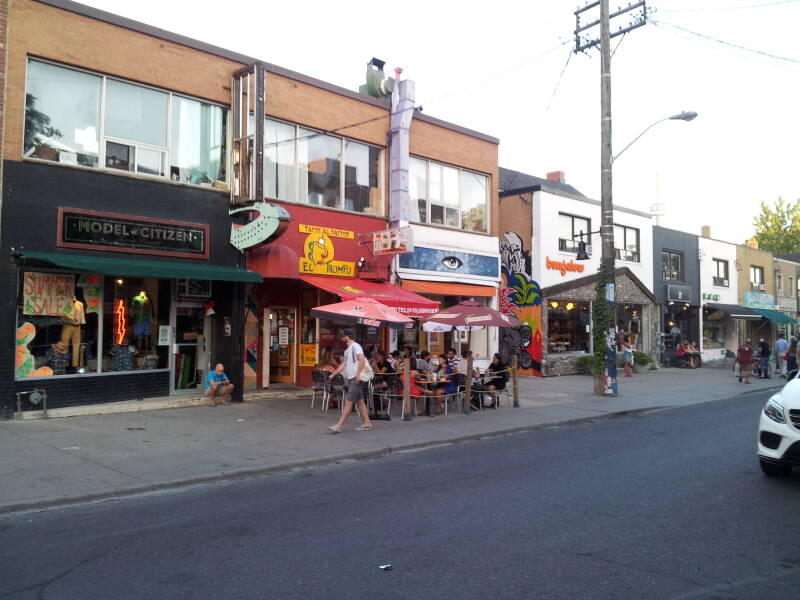 Immigrants from global trouble spots arrived in the 1980s and 1990s — Central America, Iran, Vietnam, Chile, and the Horn of Africa.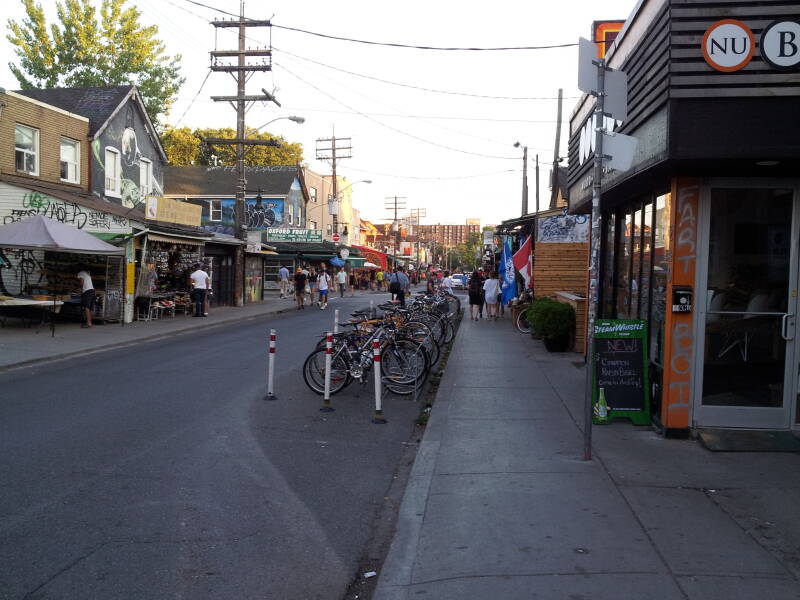 Kensington is protected by policies aimed to preserve and enhance the neighborhood's atmosphere.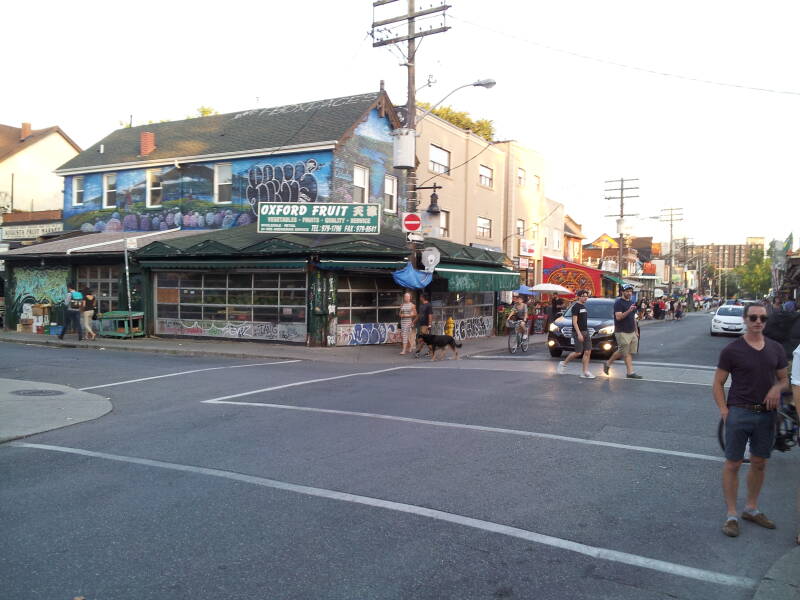 New developments are limited to low-scale buildings with retail at street level, minimal set-backs, and open-air display of their goods.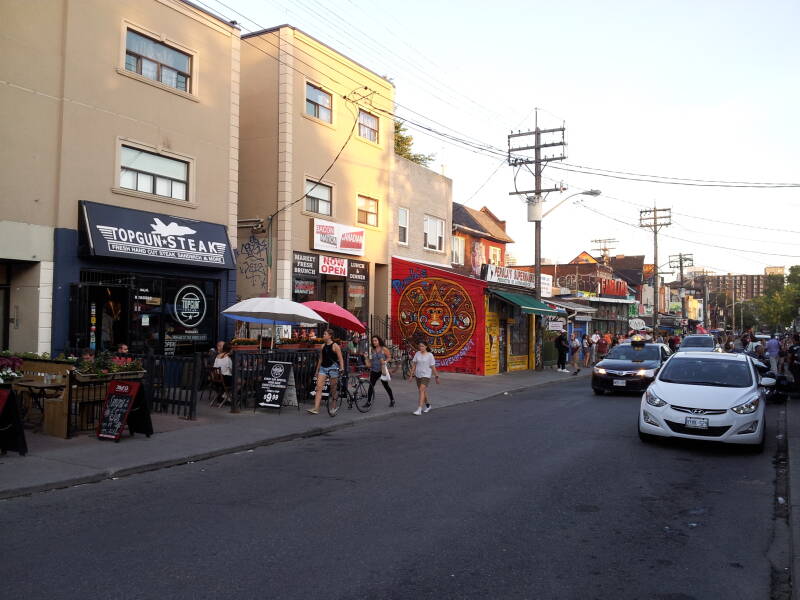 The extensions built onto the fronts of many structures would violate architectural by-laws in other places.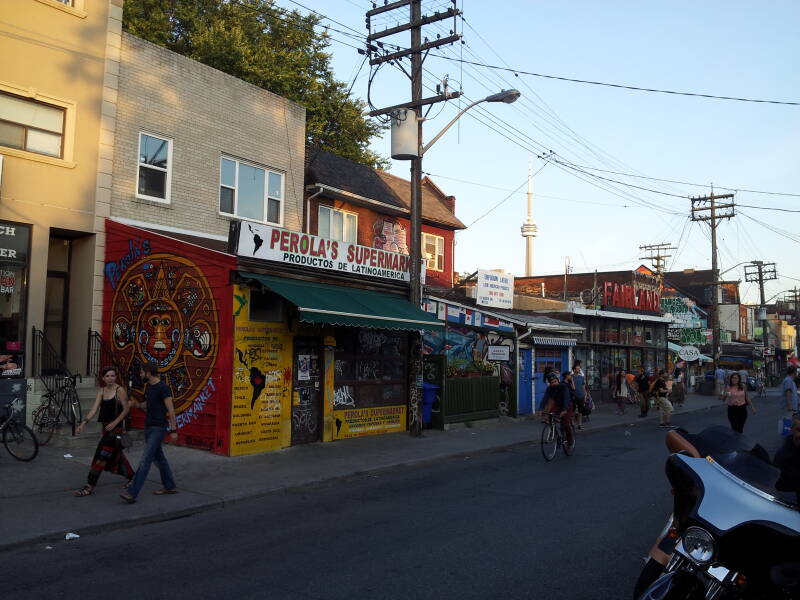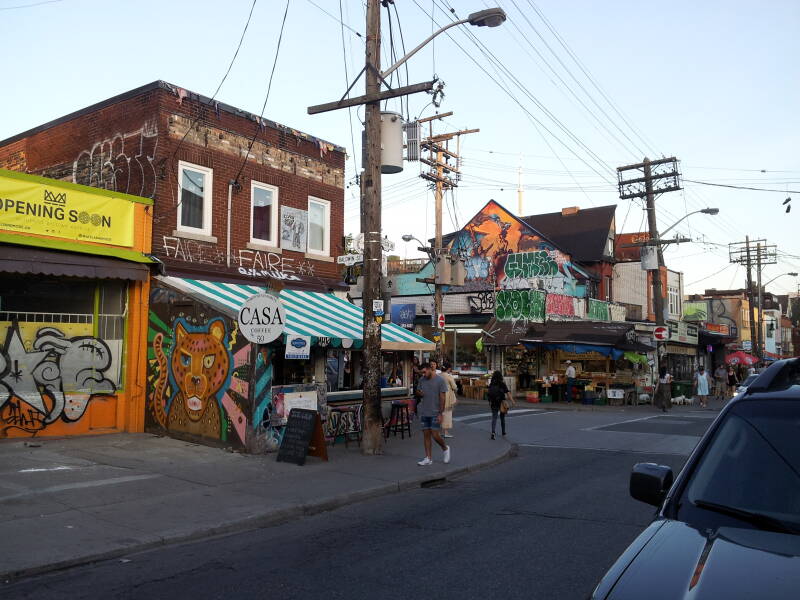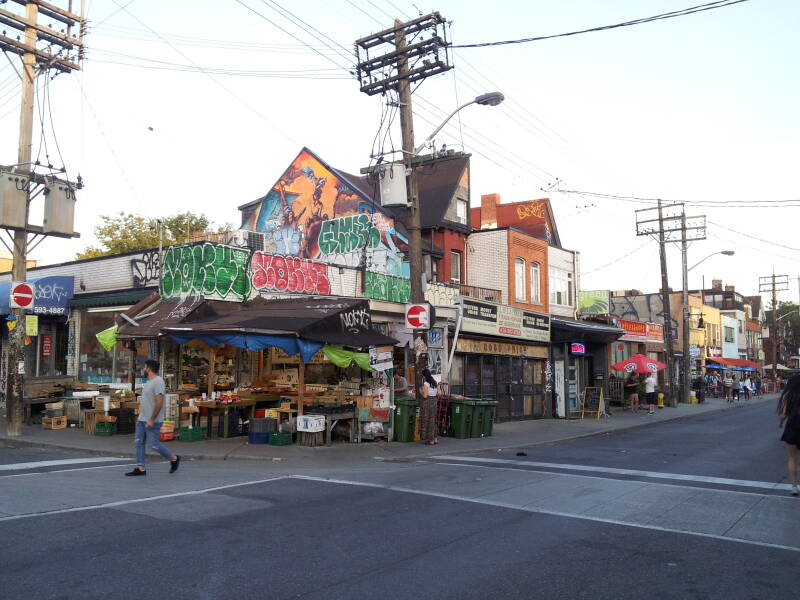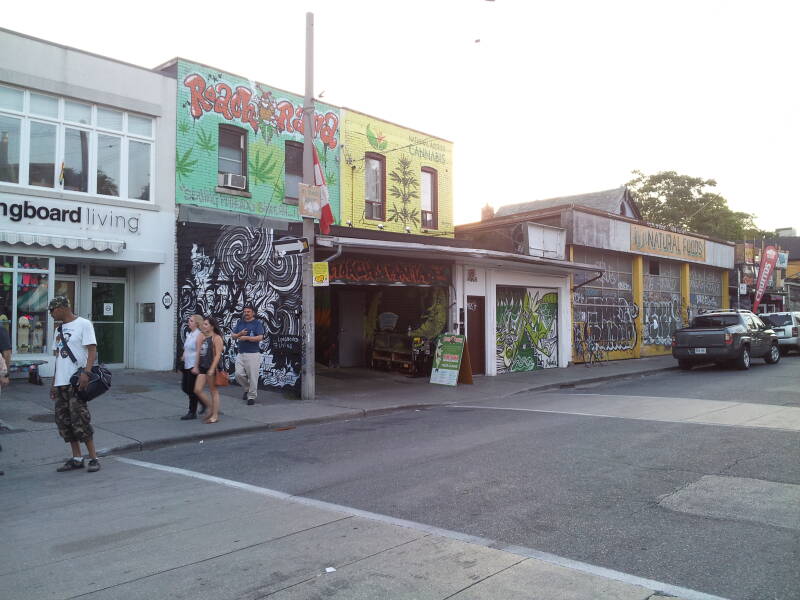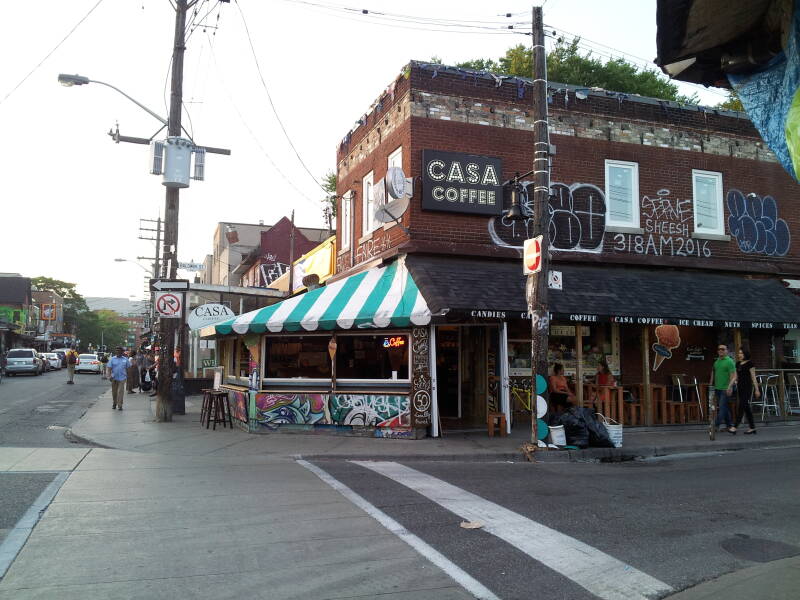 Teaching the Class
The class was at the corner of Yonge and Dundas, Toronto's equivalent to Times Square in New York or Picadilly Circus in London.
There I was, every day, standing in front of a group of people explaining how to build enterprise-scale Linux servers.
Living on a lighted stage approaches the unreal.
Here I'm looking north up Yonge from a few blocks south of Dundas.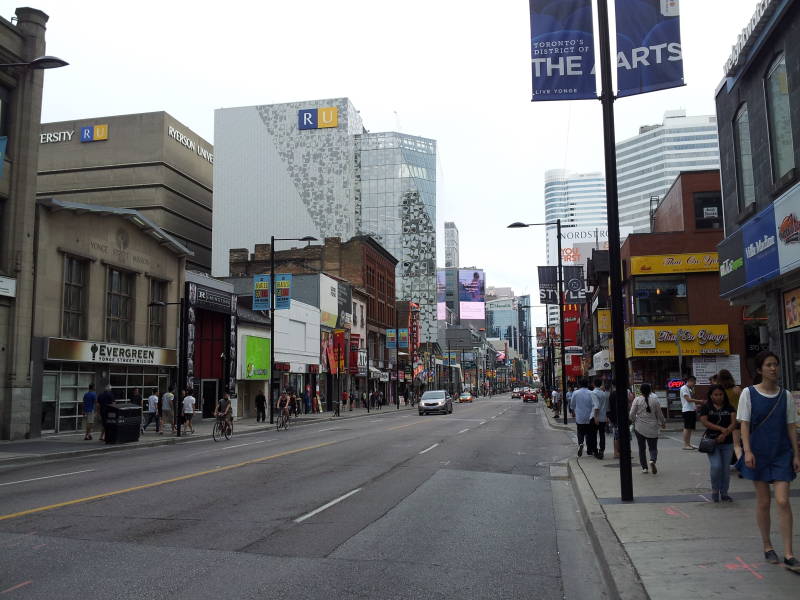 It was a walk of about three blocks east along Dundas to the course site.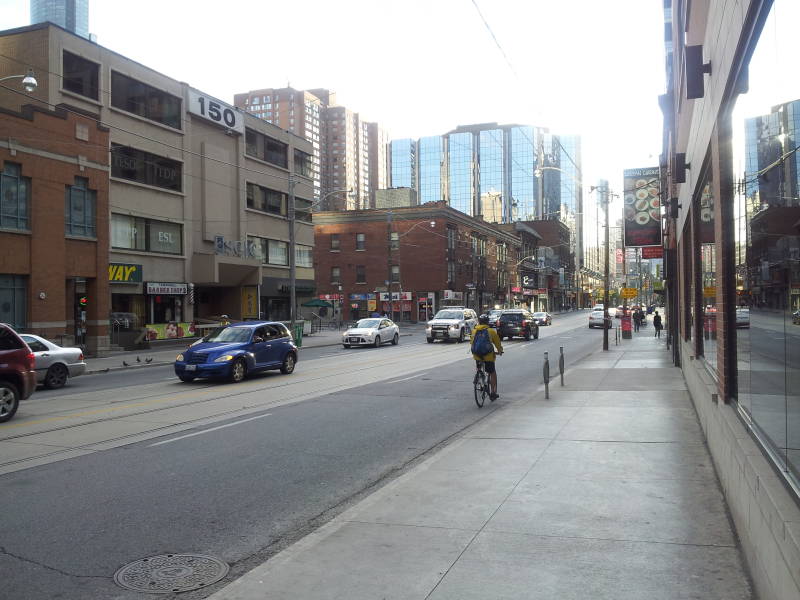 Cast in this unlikely role
Ill-equipped to act
With insufficient tact
One must put up barriers
To keep oneself intact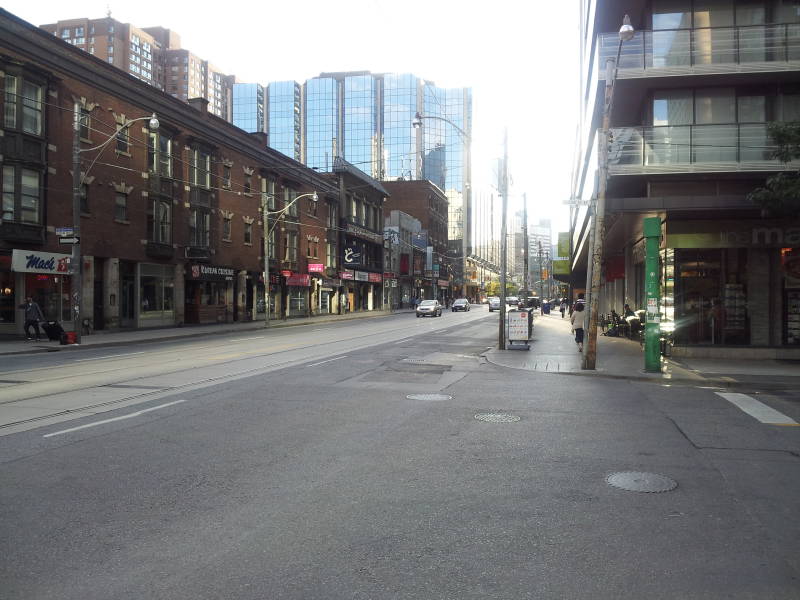 All the world's indeed a stage
And we are merely players
Performers and portrayers
Each another's audience
Outside the gilded cage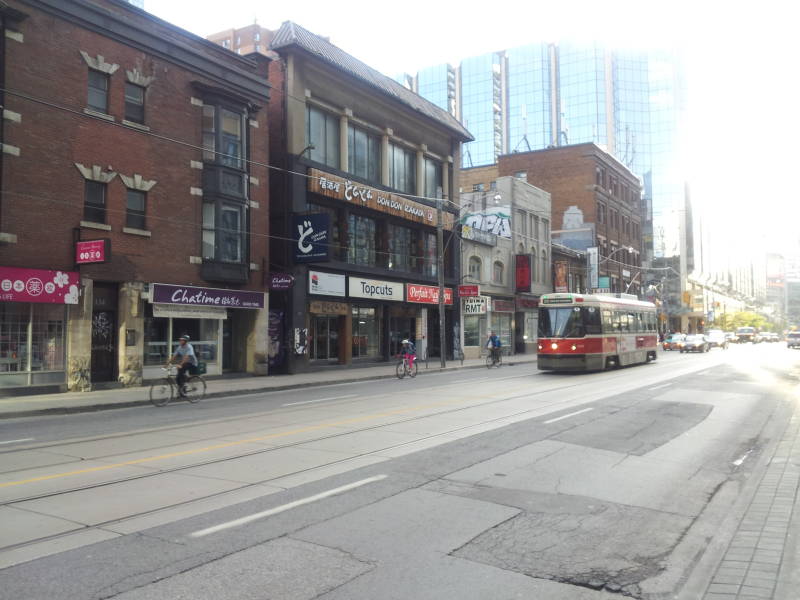 Then each evening I would return to the hotel along Dundas.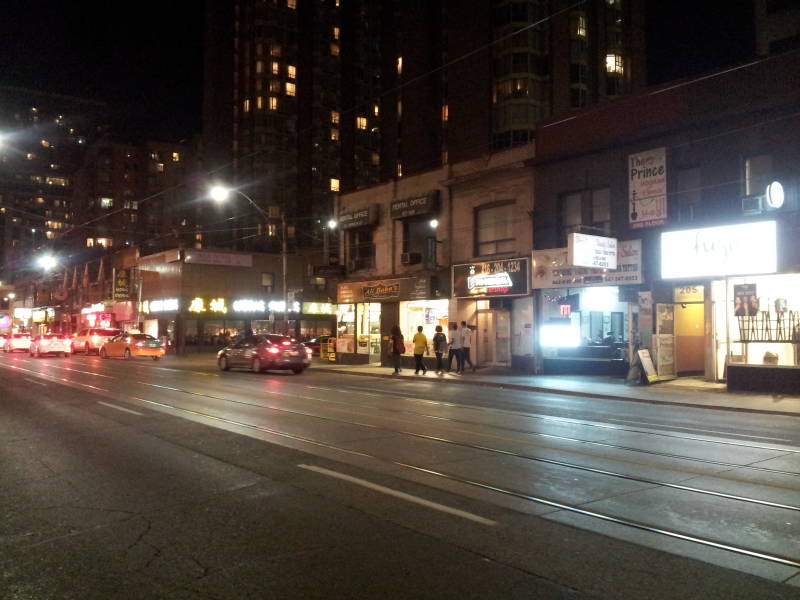 Street Scenes and Food
Canada Post has colorful post boxes.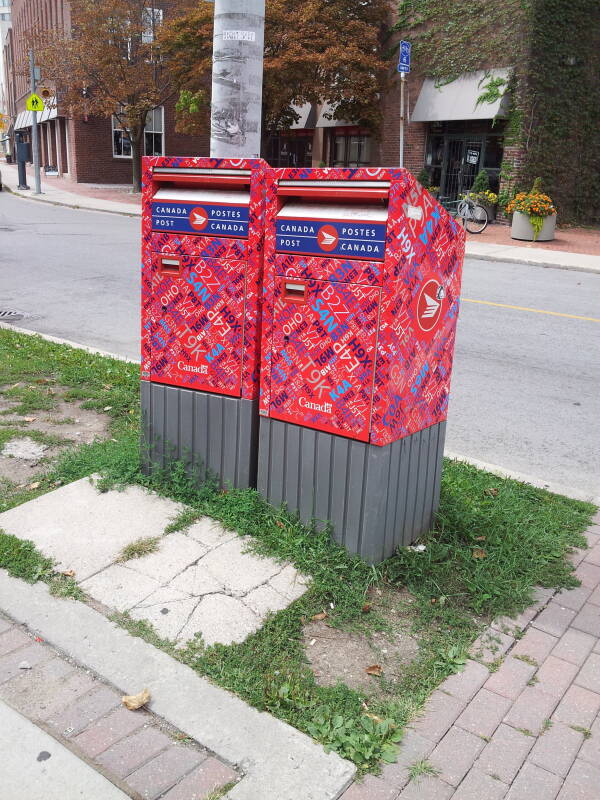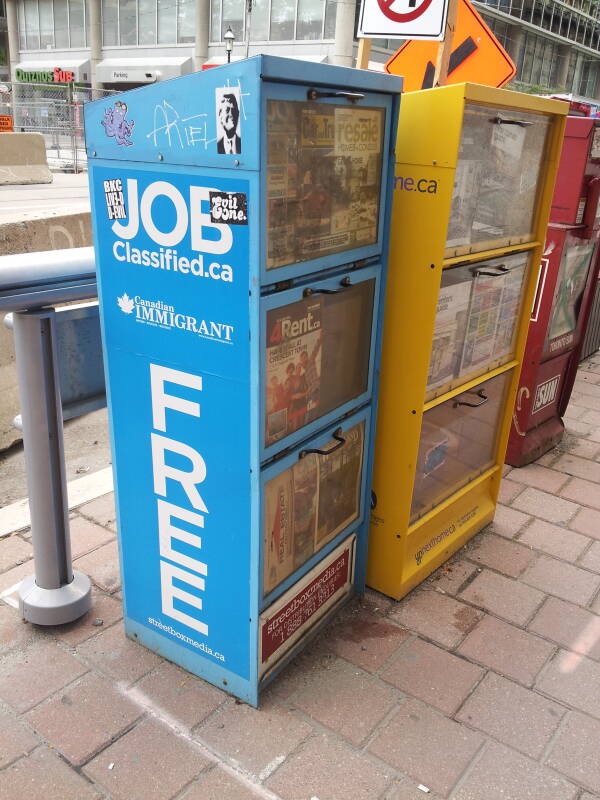 A historical placard across the side street from my hotel explained some local electrical engineering history that happened where the hotel now sits.
THE ROGERS BATTERYLESS RADIO
In the early 1920s, radio receivers were powered by direct current from batteries that were awkward to use and needed frequent recharging. Edward S. "Ted" Rogers, Sr., a Toronto radio engineer, recognized the commercial potential of a radio that could use alternating current (AC) from a household electrical system. Working in a factory across the street from here, he invented an effective AC tube, then designed around it the world's first batteryless radio receiver. Following its debut in August 1925, the Rogers Batteryless Radio was quickly copied by American and European manufacturers. The convenience and improved performance of a plug-in receiver contributed significantly to the booming popularity of radio as home entertainment.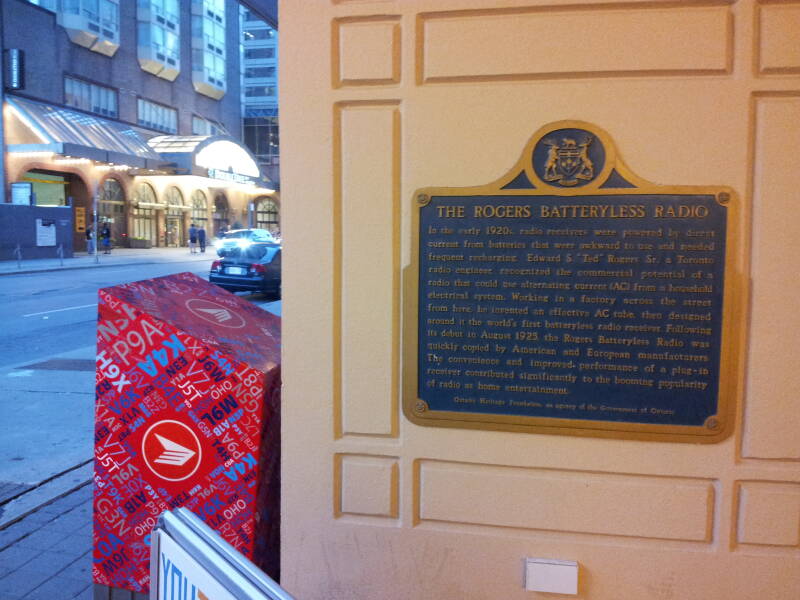 Downtown has a "walk of fame", stars in the sidewalk for prominent Canadians like William Shatner and Rush.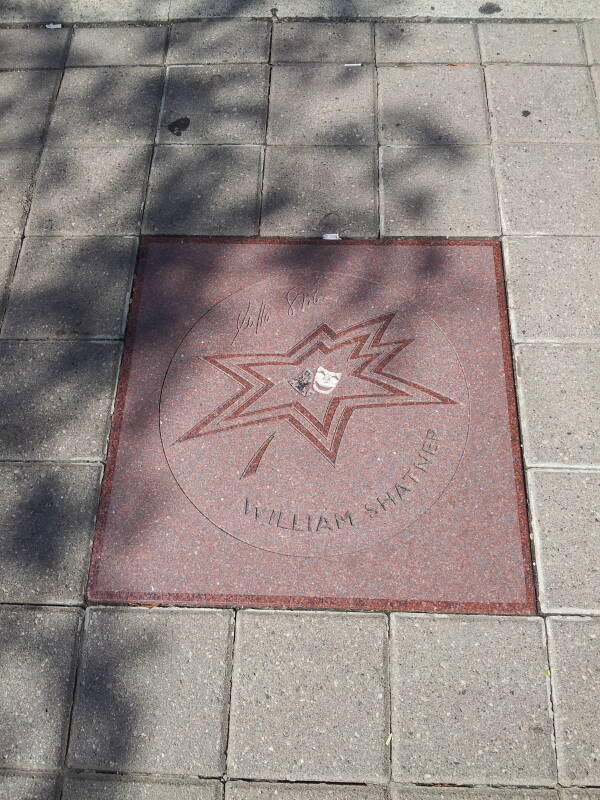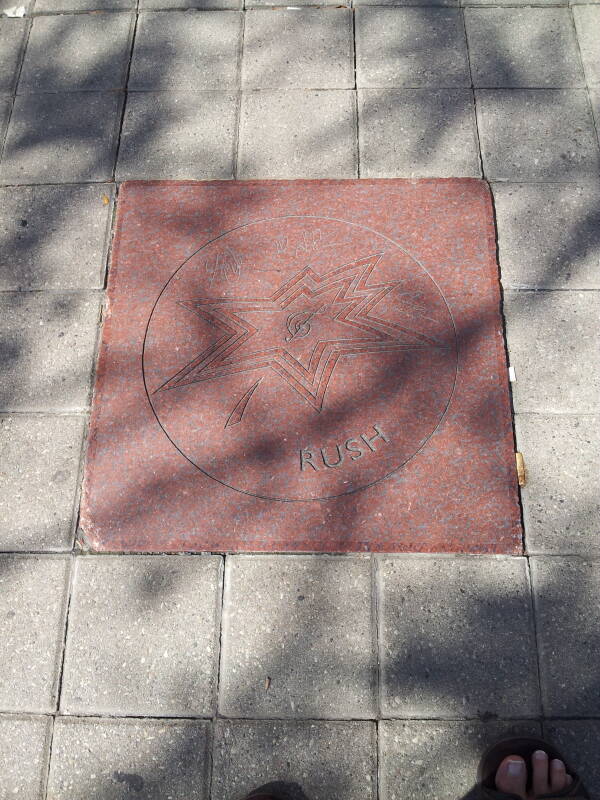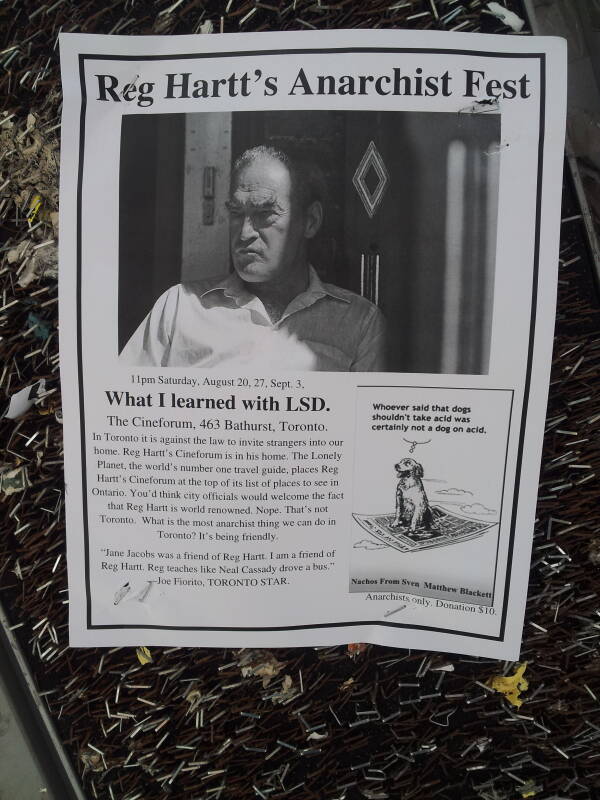 Breakfast could be from the Canadian powerhouse Tim Horton's.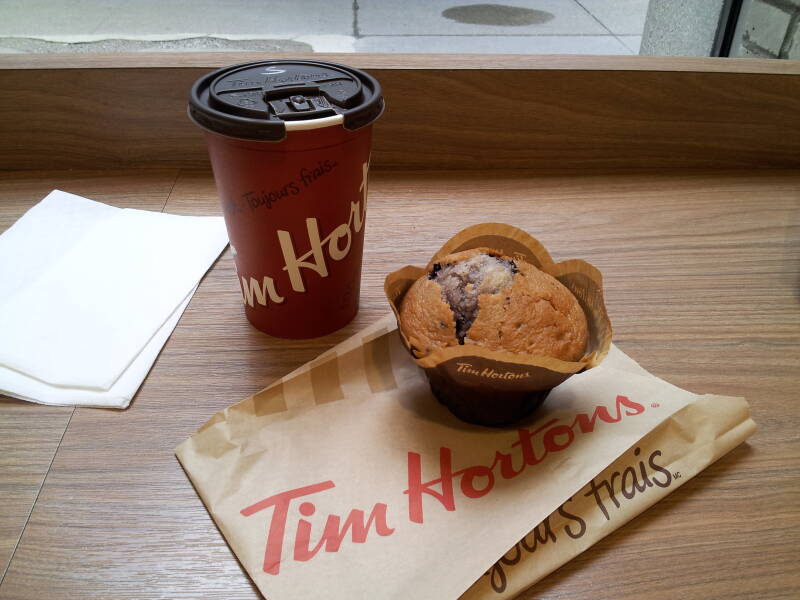 And, of course, poutine.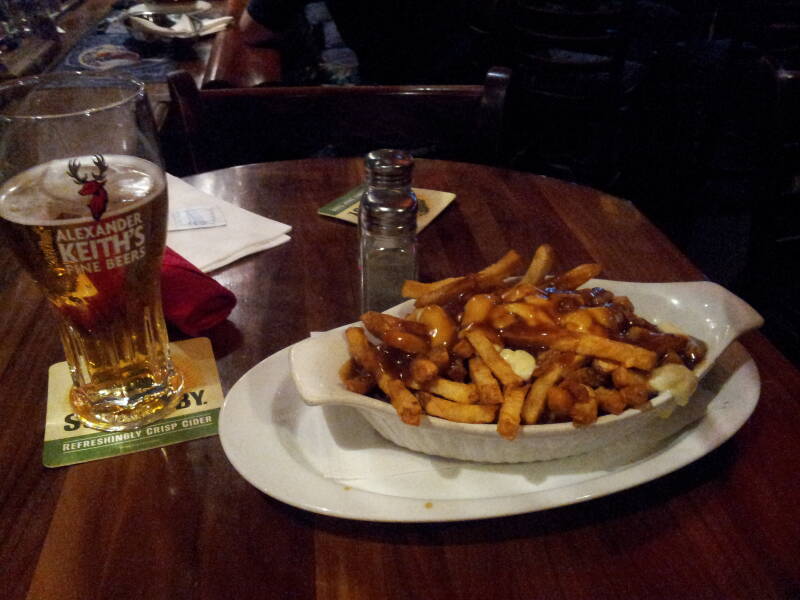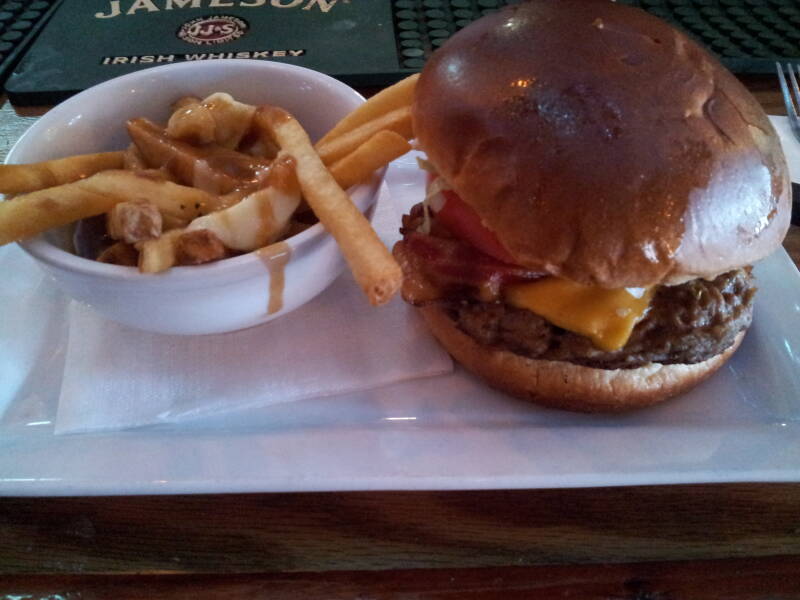 By Train to the Airport
The class ended on Friday, I stayed one more night in room 2112 and then had to leave at mid-day on Saturday.
The Union Pearson Express provides a direct link between Union Stations and Toronto's international Airport. I walked from my hotel to the station.
Union Station is Canada's largest railway station. Via Rail and Amtrak both operate out of here. The is the center of Via Rail's busiest section, "the Corridor" extending from Windsor to Quebec City. Amtrak loops around the west end of Lake Ontario with service between Toronto and New York City.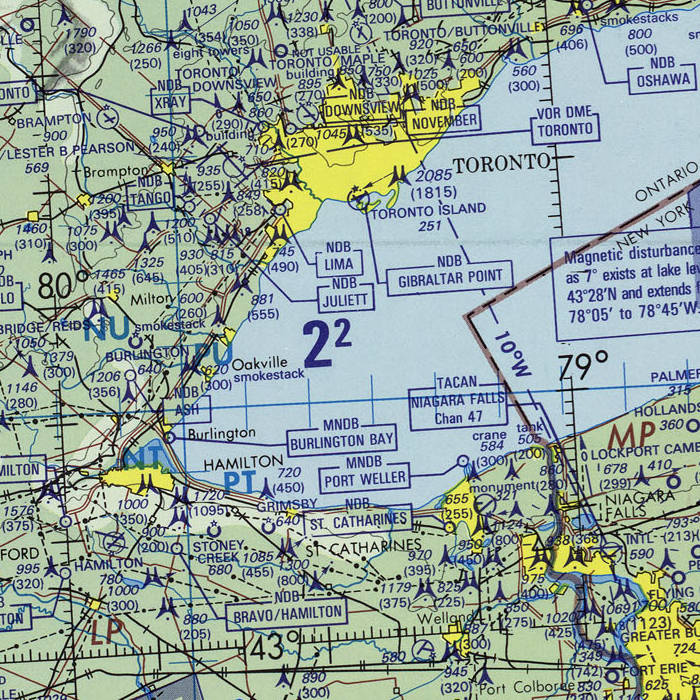 Union Station is the busiest public transportation structure in Canada, including airports. It handles an average of 200,000 passengers per day.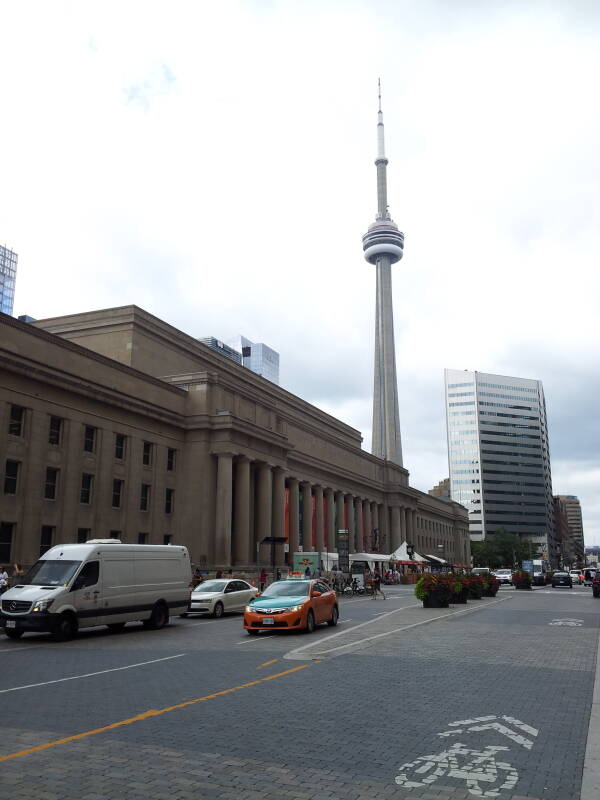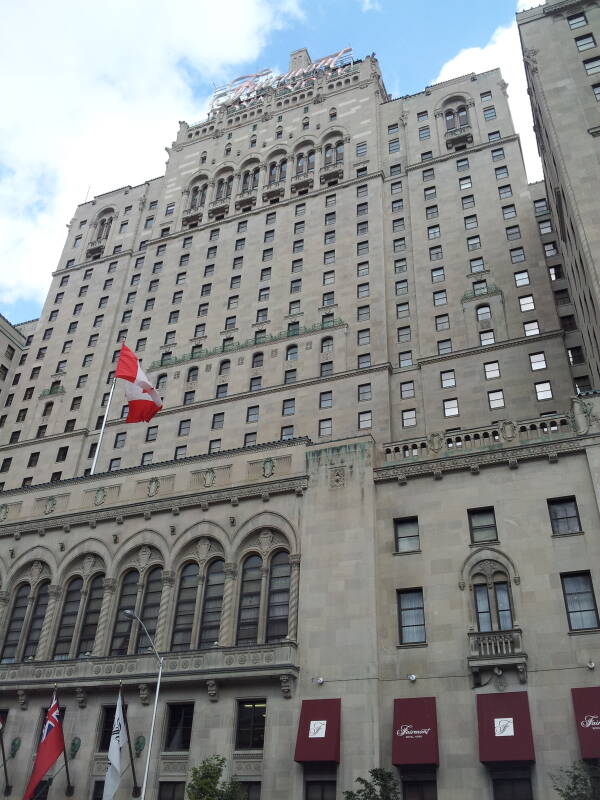 The Fairmont Royal York hotel is directly across the street. It's one of Canada's grand railway hotels, built by the Canadian National Railway. When it opened in 1929, it was briefly the tallest building not just in Canada, but in the entire British Empire.
Everything is running a l'heure, nothing is en retard.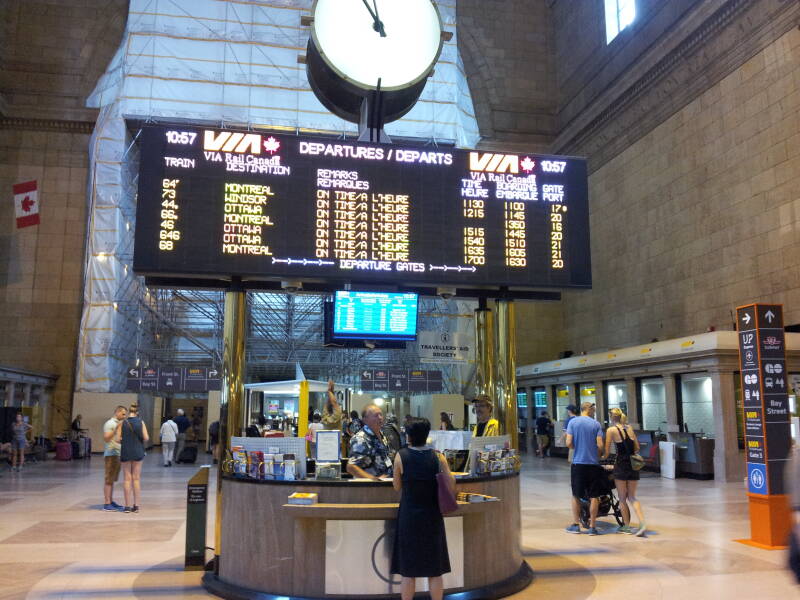 YYZ or Toronto Pearson International Airport is well to the west of downtown. It's large and busy, the world's 15th busiest airport by flights in recent years.
The Union Pearson Express connects Union Station to the airport. It runs every 15 minutes and takes just 25 minutes. Its downtown terminus is connected to the main hall of Union Station.