Travel in Estonia

Estonia
Let's travel to Estonia. Estonia is the northernmost of the Baltic countries, just across the Gulf of Finland from Helsinki, and connected by train to Sankt-Peterburg and Moscow in Russia. I have suggestions for how to get there, what to see and do, and where to stay. You can easily get there by high-speed ferry from Helsinki, or train from Sankt-Peterburg. Back when I was going there, it was an overnight train in both directions. Now it's a daytime train to and from Sankt-Peterburg, and overnight to and from Moscow.
Estonian history is rather different from that of the rest of Europe. It was one of the last corners of Europe to be Christianized. The Estonian people were still worshipping nature spirits well into the Middle Ages.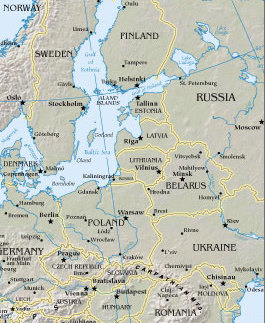 Today's Estonia has been populated since the end of the Late Pleistocene Ice Age, around 10,000 to 8500 BC. The Lammasmäe settlement site in northern Estonia and the tools found there date to before 8500 BC. Some researchers argue that the Estonian language's roots go back that far, that some Uralic language was spoken in today's Estonia and Finland since the end of the last glaciation.
Archaeologists have found ceramic pottery and other remnants of human settlement in Tallinn's center dating back to about 3000 to 2500 BC.
Bronze Age technology and culture reached Estonia around 1800 BC. Fortified settlements were built then on Saaremaa island just off the west coast.
Then, approximately 660 BC, a meteor massing 20-80 tons broke up at an altitude of 5-10 kilometers, impacting Saaremaa at a velocity of 10-20 km/second. The cluster of nine craters is one of the most recent impact events, and the only known one to have occurred in a populated area. The craters are circular, the largest of them 110 meters across and 22 meters deep. The smaller craters are all within a kilometer of the main one. The resulting fire burned the forest within a six kilometer radius.
The event figured prominently in regional mythology. The main crater was considered a sacred lake, and may have been a site of ritual sacrifice. Lennart Meri, the second president of post-Soviet independent Estonia (1992-2001) and leader of the Estonian independence movement, wrote the book Höbevalge (Silver White) in 1976, reconstructing the history of Estonia and the region and summarizing the mythological influences of the impact.
Pope Celestine III called for a crusade against the pagans of northern Europe in 1193. Germanic forces moved through today's Lithuania and Latvia, and a series of battles from 1208 through 1227 led to the capture and control of today's Estonia.
Tallinn was an important port for trade between Russia and Scandinavia. Tallinn eventually became the northernmost city of the Hanseatic League in 1285. Hence the city's German/Swedish name of Reval, from the Estonian name for the adjacent county of Rävala.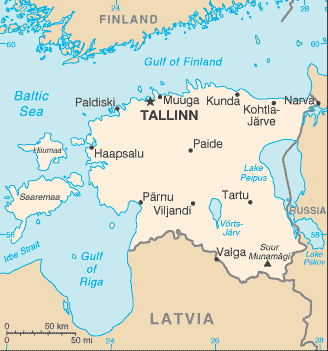 From 1208 on, Estonian history has largely been a series of foreign invasion and control: various Teutonic orders and bishoprics from 1227 (plus possessions of Denmark in the north), the Swedish Empire from 1561 (for protection against Russia), and the Russian Empire from 1721.
The Russian Empire collapsed with the 1917 Revolution, and the Maapäev, the provisional parliament, was formed. Germany invaded again while the Maapäev was issuing the Estonian Declaration of Independence in Pärnu in February 1918. There was a brief German puppet government known as the United Baltic Duchy, a withdrawal of German troops and an immediate invasion by the new Soviet Red Army. That started the Estonian War of Independence, 1918-1920.
On 2 February 1920, the new Republic of Estonia and the Russian SFSR signed the Treaty of Tartu, in which Russia stated that it renounced in perpetuity all rights to the territory of Estonia. "In perpetuity" meant "about 19 years" in this case.
1920 - 1939: There was a Republic of Estonia!
Then Stalin signed the Molotov-Ribbentrop Pact with Hitler, and the Soviet Union invaded and occupied Estonia in June 1940. It was renamed the Estonian Soviet Socialist Republic in August 1940, although western democracies never officially recognized the Soviet annexation and occupation of Estonia, Latvia, and Lithuania.
Nazi Germany occupied Estonia 1941-1944. Germany retreated in 1944, and the Soviet Red Army moved back in.
The Republic of Estonia was re-established on 8 May 1990.
I always visited Estonia on my way to or from Russia. I was working in Russia on a USAID project at the time, doing repair work in a hospital in Sankt-Peterburg. Click here to see lots of pictures and travel stories from Russia.
I would fly from Chicago to Helsinki, Finland, and back. There are frequent ferries across the Gulf of Finland between Helsinki and Tallinn. I would stay in Tallinn for a couple of nights, then take an overnight train to Sankt-Peterburg.
I would return in the opposite direction, generally staying longer and visiting Estonia and the other Baltic countries of Latvia and Lithuania.
Tallinn
This is the view walking from the Tallinn train station early in the morning after arrival from Sankt-Peterburg. We're entering the Old City via a gate through the city walls.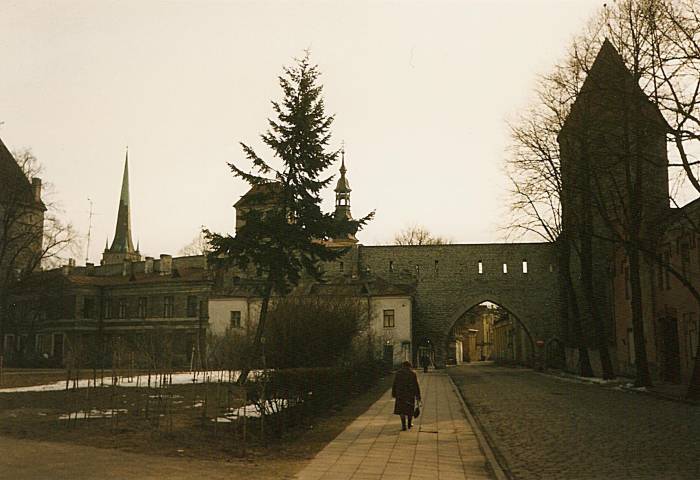 This is St Olav's Church, or Oleviste Kirik in Estonian. This church is thought to have been originally built in the 1100s. It was the center of the Scandinavian community in Tallinn before Denmark conquered Estonia in 1219. It is named for King Olaf II of Norway, also known as Saint Olaf (995-1030). The oldest known written records date back to 1267, and it was extensively rebuilt during the 1300s.
Around 1500, the building's spire reached a height of 159 meters. One motivation was for it to serve as a maritime navigational aid.
Here's the surprising part — between 1549 and 1625, it was the tallest building in the world.
The spire burned down after being struck by lightning in 1625, and after a number of reconstructions, it's now 123 meters tall.
Until 1991, the Soviet KGB used St Olav's tower for radio monitoring and visual surveillance.
Held Record
Structure
Height
From
To
c. 2600 BC
c. 2570 BC
Red Pyramid of Snefru, Giza, Egypt
105 m
c. 2570 BC
c. 1300 AD
Great Pyramid of Khufu, Giza, Egypt
146 m
c. 1300 AD
1549
Lincoln Cathedral, England
160 m
1549
1625
St Olav's Church, Tallinn
159 m
1625
1874
Strasbourg Cathedral, France
142 m
1874
1876
St Nikolai Cathedral, Hamburg, Germany
147 m
1876
1880
Cathedral Notre Dame, Rouen, France
151 m
1880
1884
Cologne Cathedral, Germany
157 m
1884
1889
Washington Monument, USA
169 m
1889
1930
Eiffel Tower, Paris, France
300 m
And from Wikipedia's list of tallest churches, its maximum height is the third-highest ever for a church. And at 123m it's still #27 on the all-time church-height list, and #18 among churches still standing.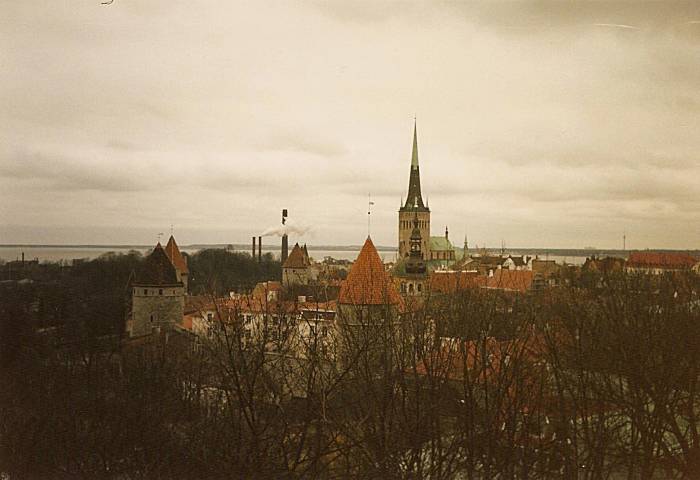 Here's a view from Toompea, or Cathedral Hill, over the old city and toward the harbor. Toompea has always been the location of Estonian self-government. You can see how the spire would have served as a maritime navigational aid. Ferrys run from the harbor, beyond the spire, out to the Gulf of Finland, off to the left.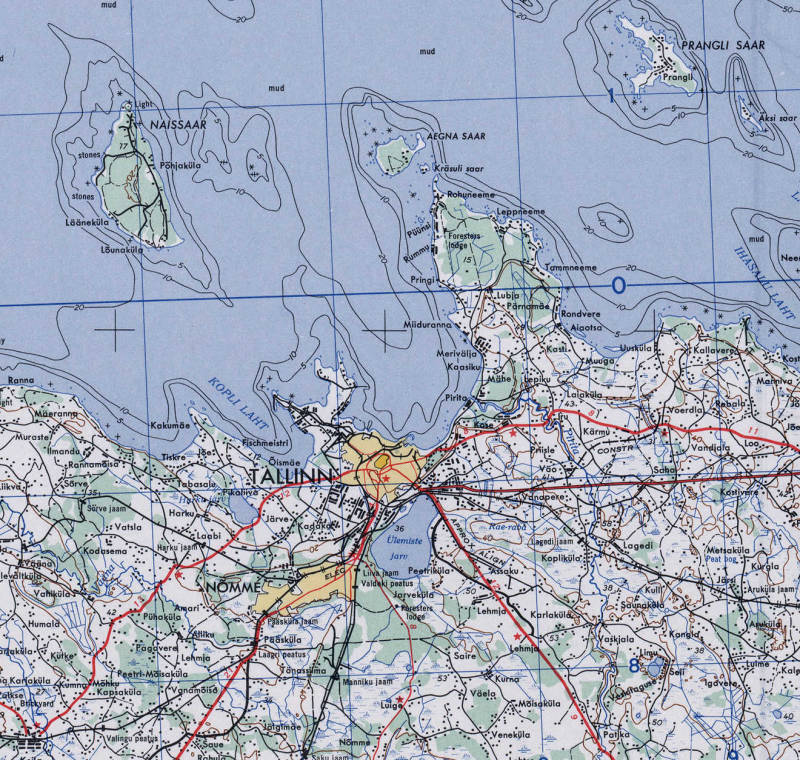 As for the radio monitoring, the KGB attempted to monitor the Estonians and keep them cut off from the outside world. But Finland is not too far away across open water — radio signals, and even television signals at time, propagated across the narrow gulf. Finnish and Estonian are closely related, and so Estonians could generally follow Finnish television and radio programs. This was one reason why Estonia was the least Sovietized of the republics of the USSR.
Also, the Estonians, along with the Latvians and Lithuanians, were only occupied by the Soviets for about 50 years, versus the 72 or so years that Russia, Belarus, and Ukraine spent under Soviet rule. There were still many Balts who remembered pre-Soviet days in 1990.
Finally, the Baltic nations were not part of the common Slavic heritage of Russia, Belarussia, and Ukraine — their languages were entirely different and they were spelled with a different alphabet.
Below, we're approaching the city walls from the harbor. This is from a visit at a much warmer and sunnier time of year than when I usually visited! Most of my visits were either in March, or in late October or even early November. Maybe it's because that's what I usually saw, but I really preferred that time of year. Estonia is pretty far to the north. In the summer it never gets completely dark at night. It's pleasant, but tiring, to visit then.
The large round tower is Paks Margareeta, or Fat Margaret. To its right is Suur Rannavärav, or the Great Coastal Gate, leading through the city walls into the old city.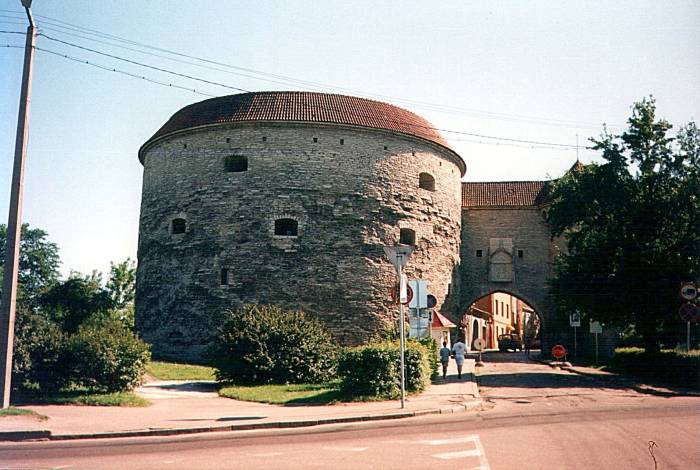 Here's a view through Suur Rannavärav, the Great Coastal Gate. A nice bar, inevitably named Paks Margareeta, was just inside the gate. The entrance was below the yellow sign.
Below is a quiet night in Paks Margareeta. This is from before Estonia's adoption of the Euro currency at the beginning of 2011.
Tonight: 15 EEK Saku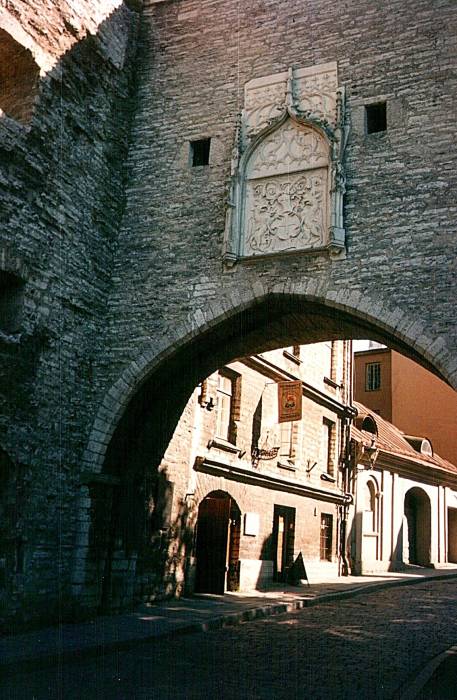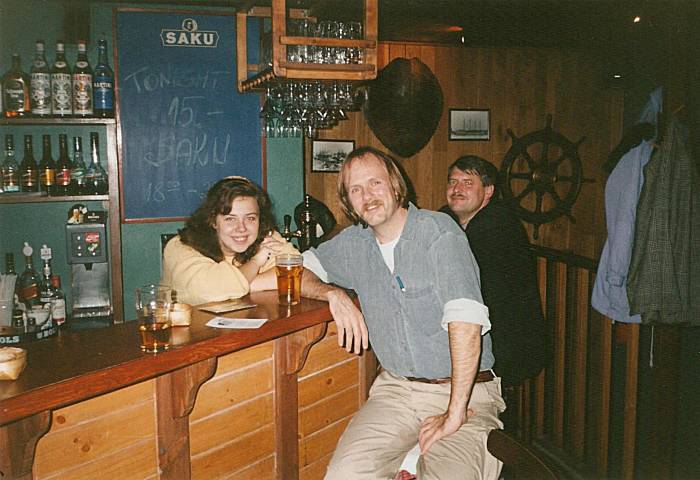 Here is another church in Tallinn. The architecture in Estonia is distinctive. Lots of very narrow Gothic spires. Central Tallinn is the best preserved Gothic city in Europe and the oldest capital city in northern Europe.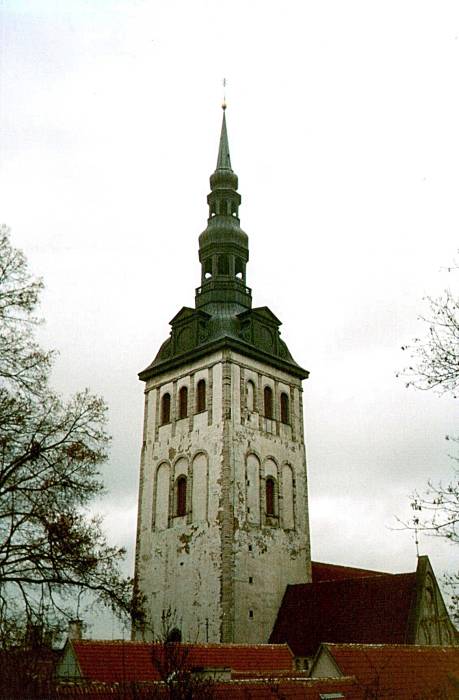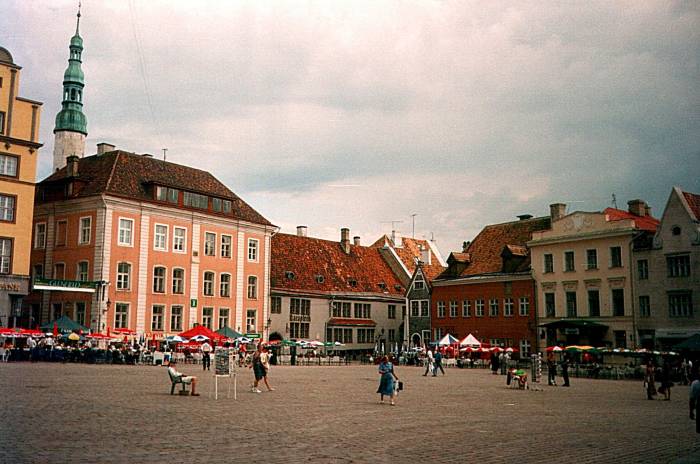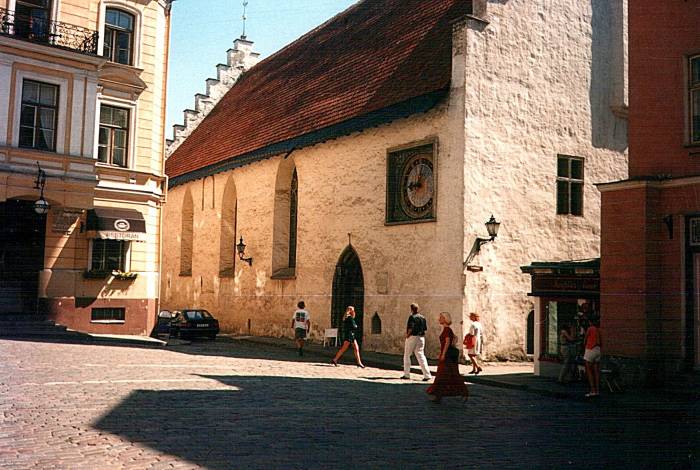 Now back to some more warm-weather pictures. We're at the market square at the center of the Old Town in the above, and in a residential area below.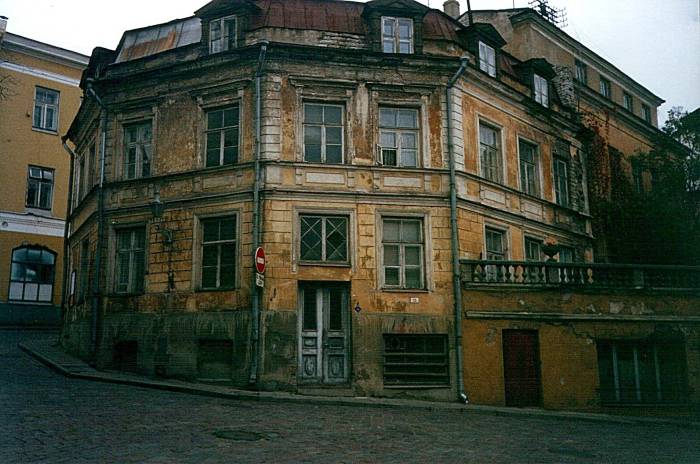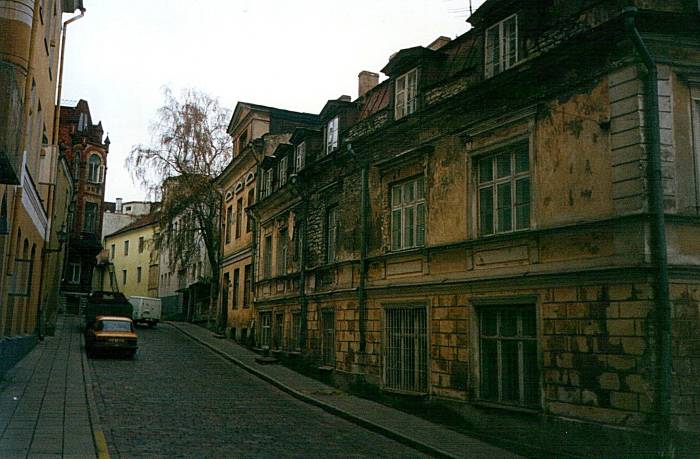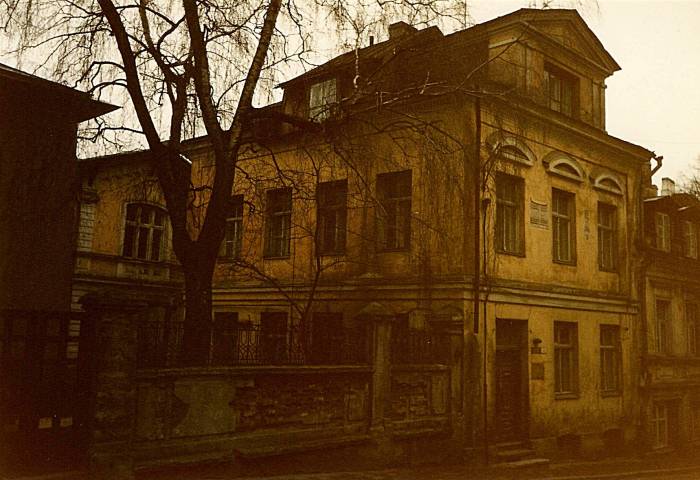 Tartu
Where else did I go in Estonia? I went to Tartu, which has been a university town for centuries. It's an interesting city to visit. Many consider it to be Estonia's intellectual and cultural center. Tartu can be visited on a day trip out of Tallinn. You take the train to the central Tartu station, then walk down the hill into town.
If you go the wrong way, as I did you will end up at the high-voltage electricians' training facility. Here they learn to work on electrical power systems without being dangerously high above the ground. It's either that, or else it's The World's Most Dangerous Power Line.
The first known permanent settlement in Tartu was in the 5th century AD, with a wooden fortification built on the east side of Toome Hill in 7th century.
The chroniclers of Kievan Rus made the first recorded mention of Tartu in 1030. Yaroslav the Wise, Prince of Kiev, had raided Tartu and built his own fort there, Yuryev.
Tartu was captured by the crusading Livonian Knights and recaptured by the Estonians several times during the Northern Crusades in the early 13th century. In 1224 the Germans were to conquer and hold it. It was known as Dorpat or Tarbatum and became an important trading center and the capital of the semi-independent Bishopric of Dorpay during the later Middle Ages. It also joined the Hanseatic League in the 1280s.
The city became part of the Russian Empire in 1721 and was known as Derpt or Дерптъ. Estonia became independent after World War I and the city took the Estonian name Tartu.
Tartu was a "closed city" after World War II, as a Soviet bomber base was built at Raadi Airfield, northeast of the city. Its runway is now a large used car sales lot, sometimes used for racing.
It has been a center for education and science for centuries, most prominently because of the University of Tartu, founded in 1632 and well respected for its programs in life sciences and biochemistry, materials science, cmoputational linguistics, and semiotics. A number of information technology and biotech spin-offs companies are based in Tartu.
Other schools in Tartu include the Estonian University of Life Sciences, the Baltic Defense College and the Estonian Aviation Academy.
On the north-east edge of Tallinn, along the Gulf of Finland coast, you find a bizarre Soviet-built monument.
It's a gigantic festival of geometry constructed from some reinforced concrete of low quality (and see my pages about working in the Russian hospital for a discussion of the generally low quality of Soviet concrete, plaster, wallpaper paste, linoleum adhesive, and all materials with delusions of stickiness).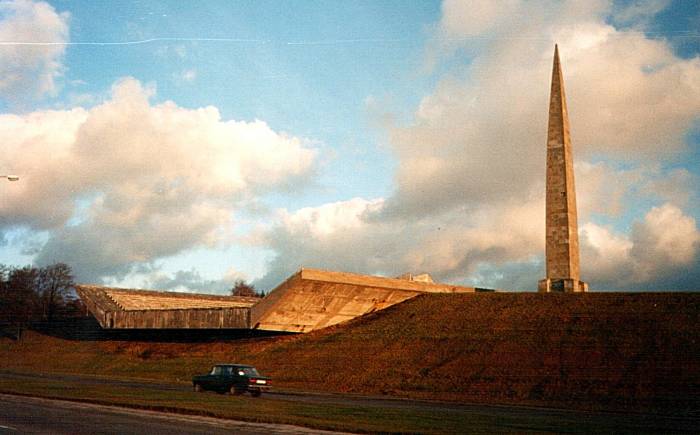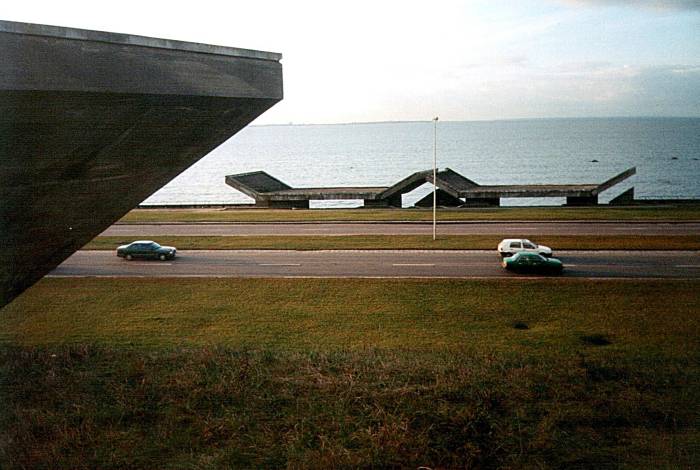 The monument was built to commemorate the sailing competition held there as part of the 1980 Olympics Games.
It brings to mind gargantuan drainage gutters.
And as you see here, I am not making up the part about the faulty concrete. This isn't supposed to have a camouflage pattern, it is supposed to be a smooth and uniformly colored wall.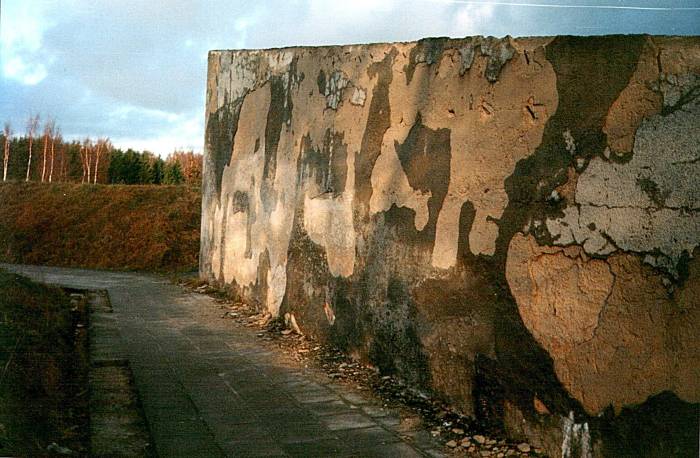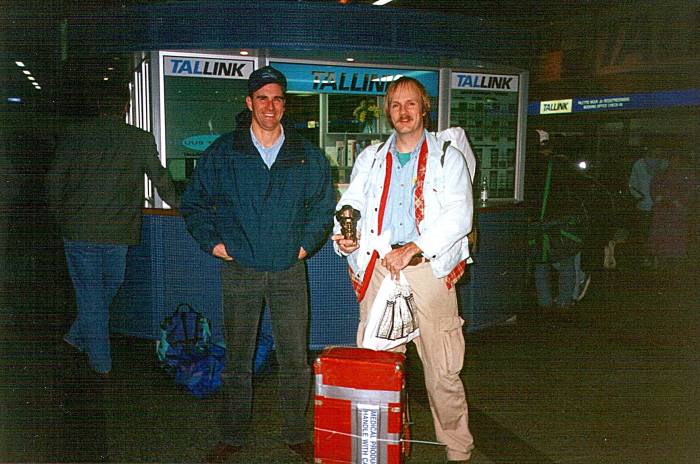 Finally, here I am at the end of a trip. I had met up with a friend of mine from high school, at left. He's an architect, and he moved to Tallinn for a few years. What a great place to immerse yourself in interesting architecture. He lived on the top floor of the last of the Old Town buildings shown above.
I'm on my way home with my aluminum bust of Soviet-blessed Turkic hero Dzhambul. In the cardboard suitcase purchased at the same flea market are some aluminum Lenin heads and a 1955 telephone that I have since adapted to mobile operation. I figured that cutting the "CAUTION: MEDICAL SUPPLIES" label off one of the no-longer-needed hospital shipping boxes and duct-taping it to the suitcase might keep the nosy US Customs agents out of it.
Zhambyl Zhabaev (as in the Turkic spelling), 1846-1945, was a Kazakh traditional folksinger. A prominent city in southern Kazakhstan was named for him, after being known as Talas, Namangan-i Kochek, Aulie-Ata, and Mirzoyan. Now it's back to near its original name, Taraz. It's a place to which Stalin deported large numbers of marginalized ethnic groups and enemies of the state.
From Tallinn it was a fast ride on the Tallink hydrofoil over to Helsinki, a night in the hostel near the waterfront there, and an 0600 flight to Amsterdam and then on to Chicago.
Learn these words!
Tere
Hello
Head aega
Good-bye
Palun
Please
Tänan
Thank you
Palun vabandust
Pardon me
Logistics
The Estonian language isn't related to many other languages that you hear much about. Finnish is the most prominent Finno-Ugric language, and Estonian is the next most prominent, if that tells you anything. Then there's Saami, then Karelian, and then it starts getting really obscure. For all of them, imagine Swedes speaking Navaho. The Finno-Ugric languages are very different from the Indo-European languages. The numbers from one to ten in Estonian are: üks, kaks, kolm, neli, viis, kuus, seitse, kaheksa, üheksa, kümme.
The good news for a would-be student of Estonian is that you don't have to worry about grammatical gender as you do with most other European languages. The bad news is that Estonian nouns and adjectives decline in fourteen cases: nominative, genitive, partitive, illative, inessive, elative, allative, adessive, ablative, translative, terminative, essive, abessive, and comitative. You have combinations like kollane maja or yellow house declining to kollasesse majja or into a yellow house. But if you still want to work on your Estonian vocabulary, there are a number of on-line Estonian / English / Estonian dictionaries:
There are fast hydrofoil ferries from Helsinki, traveling several times per day in each direction. Or, for about the same cost, you can take an overnight large ferry. Sort of a combination vehicle ferry and cruise ship, you can even get a berth in a shared cabin for not very much.
For the Finns, a weekend in Tallinn is a cheap and easy getaway. And there's a saying, "To drink like Finns in winter". Expect to see some world-class intoxication on the ship. And northbound, expect drunken Finns wrestling large bundles of liquor onto the ship.
The place I've stayed in Tallinn has been Hotell Küün, or The Barn. Originally it was an upstairs storeroom in what you would call a commercial building if it hadn't been built under Soviet domination, in which case "commercial" isn't quite right economically, and structurally it might be a bit pretentious. It was on a side street just off one corner of the main square.
Anyway, upstairs was an array of bunks. Well, really they were shallow wooden boxes with 10 cm foam sheets and rough woolen blankets. The room downstairs was a bar where you could get:
Beer
Coffee
Cigarettes if you smoked, or lots of cigarette smoke if you didn't
Music in the Eastern European style, meaning a mixture of AC/DC, Guns and Roses, and Abba.
Then the property law came into effect. It was an attempt to restore property to the descendants of its owners back in the 1930s. Five decades of Soviet construction turned this into an Estonian lottery, and poor records turned it into a fight. But somehow a fairly young guy took possession of a building just a couple of blocks off the main square. They shut down the old hostel operation and moved it into his building.
Go to the lower end of the old town hall and leave the square downhill. Take the first right (uphill), then the first left. Look for the sign along the left for the Eröötica Bäär. This is a Russian-run striptease joint, in case you somehow hadn't figured that out. Go through the archway and up the stairs to the first landing. The Barn and the strip club (which is to say the Russian brothel) no longer share a lobby, so the atmosphere had vastly improved the last time I was there. Note that it's now called Vana Tom. Contact info:
Väike-Karja 1
Tallinn, Estonia
+372-2-443465
I preferred the original Barn...

The rail line east to Sankt-Peterburg runs fairly straight. See the black rail line in the above map. The border is just east of the Narva river at the Estonian city of Narva. The first Russian town across the river as shown on this map is Kingissepp. However, Ivangorod is the economically depressed Russian side of Narva.
Go Rail has taken over the international rail connections to Russia. They have a daily overnight train in each direction between Tallinn and Moscow, and a daily train in each direction between Tallinn and Sankt-Peterburg.
There's no more overnight sleeper between Tallinn and Sankt-Peterburg, which was always a nice way of going in and out of Russia. Especially on the way in, when the 2 AM knock on the compartment door by the rifle-carrying Russian border guards welcomed you to Mother Russia.
Update: As of May 2015, the passenger rail service was ended again. See the story here. The below tables are for reference but date to 2012—2014.
These tables show local time zones, Russia is one hour ahead of Estonia.
Tallinn — Sankt-Peterburg
Arrives
Station
Departs
Stop
—
TALLINN
07:03
—
08:13
Tapa
08:14
1 min
08:36
Rakvere
08:37
1 min
09:20
Jõhvi
09:21
1 min
09:58
Narva
10:28
30 min
11:34
Ивангород
12:14
40 min
12:33
Кингисепп
12:36
3 min
15:18
Санкт-Петербуг
—
—
Sankt-Peterburg — Tallinn
Arrives
Station
Departs
Stop
—
Санкт-Петербуг
17:33
—
19:53
Кингисепп
19:56
3 min
20:19
Ивангород
20:59
40 min
20:05
Narva
20:35
30 min
21:15
Jõhvi
21:16
1 min
22:03
Rakvere
22:04
1 min
22:26
Tapa
22:27
1 min
23:28
TALLINN
—
—
Tallinn — Moscow
Arrives
Station
Departs
Stop
—
TALLINN
17:20
—
18:51
Tapa
18:82
1 min
19:19
Rakvere
19:20
1 min
20:14
Jõhvi
20:15
1 min
20:55
Narva
21:40
45 min
22:46
Ивангород
23:46
60 min
00:09
Кингисепп
00:11
2 min
05:40
Бологое
05:50
10 min
07:33
Тверь
07:34
1 min
09:20
МОСКВА
—
—
Moscow — Tallinn
Arrives
Station
Departs
Stop
—
МОСКВА
1805
—
19:50
Тверь
19:51
1 min
20:20
Бологое
22:30
10 min
03:58
Кингисепп
04:00
2 min
04:24
Ивангород
05:24
60 min
04:30
Narva
05:15
1 min
05:57
Jõhvi
05:58
1 min
06:55
Rakvere
06:56
1 min
07:19
Tapa
07:20
1 min
08:47
TALLINN
—
—
While you can travel by train between Tallinn and Vilnius, Lithuania, it is by the Tallinn-Moscow train for the Tallinn-Bologoye (Бологое) segment, and it takes two overnights and crosses both Russia and Belarus! For example:
Leave Tallinn at 1720, arrive Bologoye, Russia at 0540.
Leave Bologoye at 0556, arrive Sankt-Peterburg at 1022.
Leave Sankt-Peterburg at 1245, arrive Orscha, Belarus at 2239.
Leave Orscha at 0043, arrive Vilnius, Lithuania at 0800.
Rail Baltica is an EU project to link Tallinn; Riga, Latvia; Kaunas, Lithuania; and Warsaw, Poland, avoiding Russian and Belarussian territory.
Modern Estonia
Estonia quickly became much more modern than most other countries soon after it left the Soviet Union. With old infrastructure but culturally and linguistically related Finland just across the Gulf of Finland, they saw how to jump ahead. No need to put in new copper wire, run optical fiber instead. That sort of thing. Skype was developed in Estonia. Estonia has moved a lot of their government onto the Internet. Voting, paying taxes, more and more interaction with the government is moving into the electronic sphere. Here are some articles:
How Estonia Blazed a Trail in Science, Nature
Making Digital Government a Better Government, Nature
Estonia, The Digital Republic, The New Yorker
Lessons from the World's Most Tech-Savvy Government, The Atlantic
Taavi Kotka, Estonia's CIO, Is Putting the 'E' in Estonia, OZY.com
How Estonia became E-stonia, BBC
---