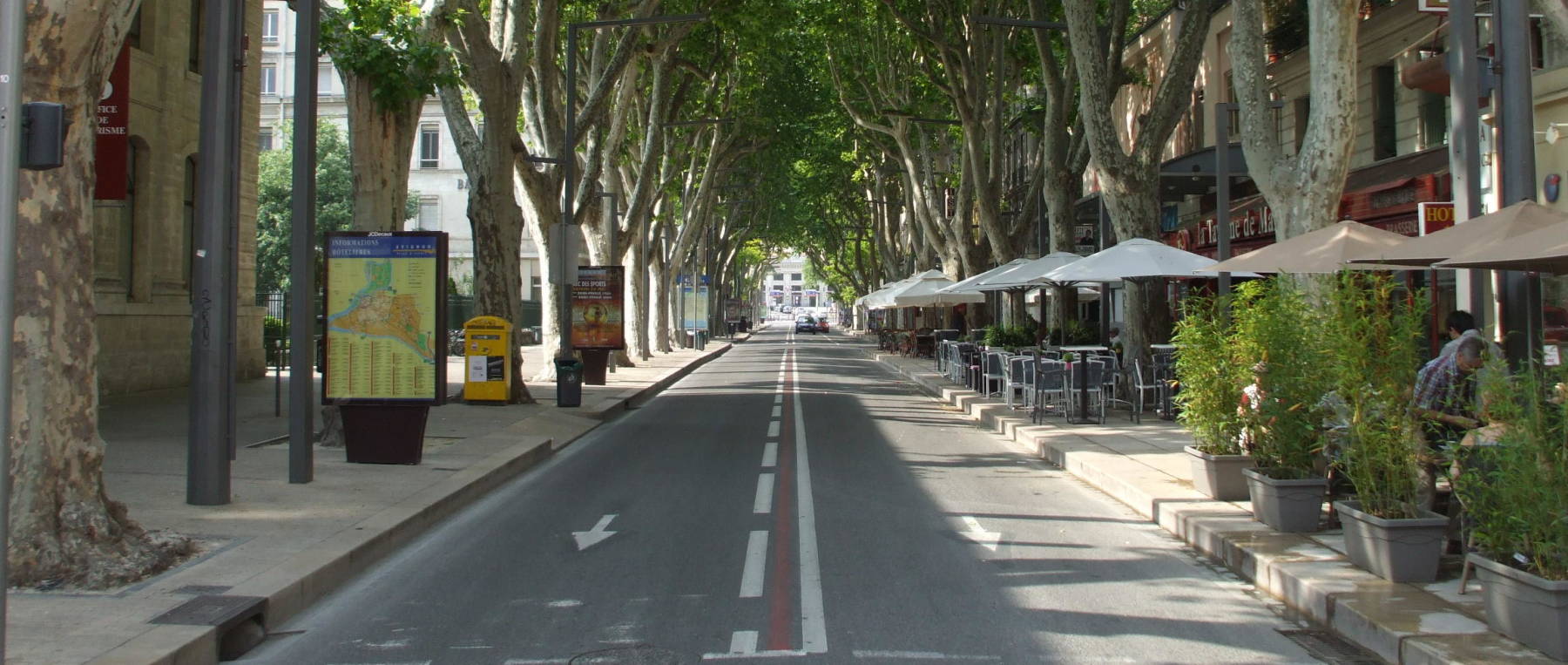 Aix-en-Provence
An Artist's Home in Provence
Aix-en-Provence is only about 33 kilometers from Marseille, center to center, or about 80 kilometers from Avignon.

Aix was founded as a settlement in 123 BC, when the Romans were attracted to the hot mineral springs with lime and carbonic acid. It was the capital of Provence during the Middle Ages. Provence and Aix become part of France in 1487.

Now it's called Aix-en-Provence because it's not the only place in France named Aix. There are three in the Pas-de-Calais département, Aix-en-Ergny, Aix-en-Issart, and Aix-Noulette, plus seven other Aixes around France.
Avignon
Marseille
The TER regional train connects Aix to both Avignon and Marseille. Gare d'Aix-en-Provence is near the center. Or you can drive, as we did. We had rented a car from Europcar to explore Provence.
The TGV line from Paris passes through its own station at l'Arbois, about 15 km from Aix. A frequent bus connects that TGV station to the main bus station in Aix.
It's about three hours by TGV from Paris to Aix, where the TGV line branches to Marseille and Nice.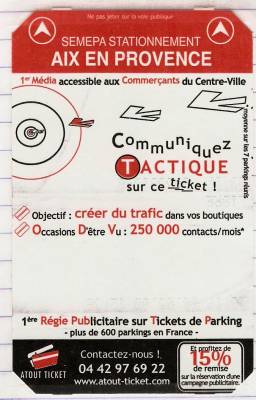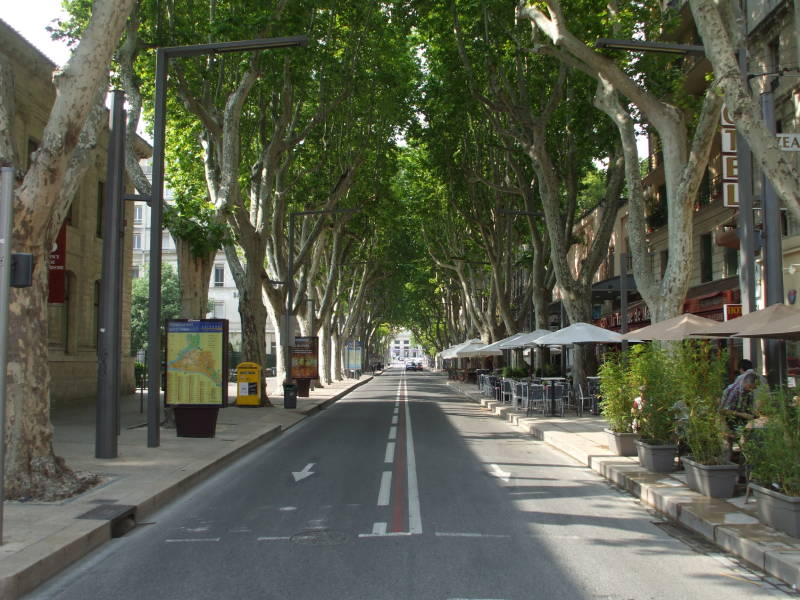 Walking up Cours Mirabeau from La Rotonde
The Romans founded their settlement of Aquae Sextiae because of the springs. Now Aix is called the city of a thousand fountains.
La Rotonde is a traffic circle at the center of Aix. It is built around a large fountain from 1860, with three large statues representing Art, Justice, and Agriculture.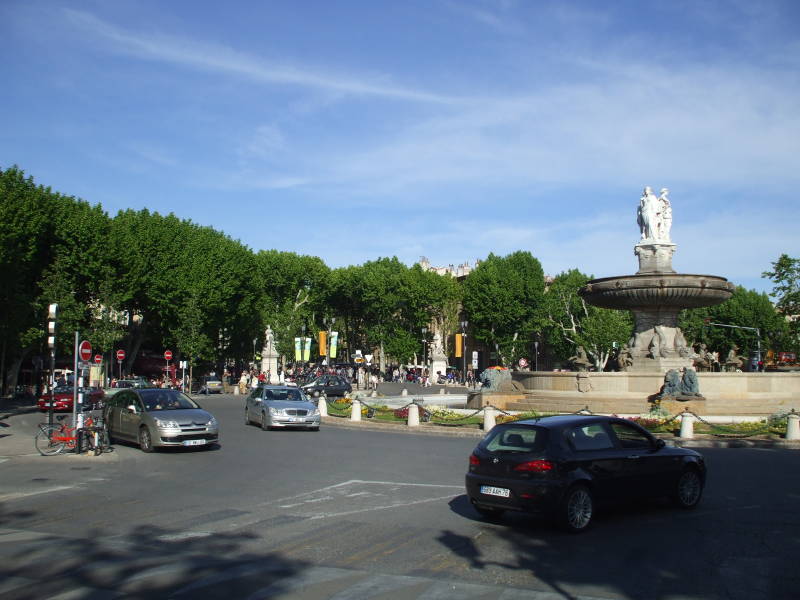 Aix has been a university town since 1409, when Louis II of Anjou granted a royal charter for a university here.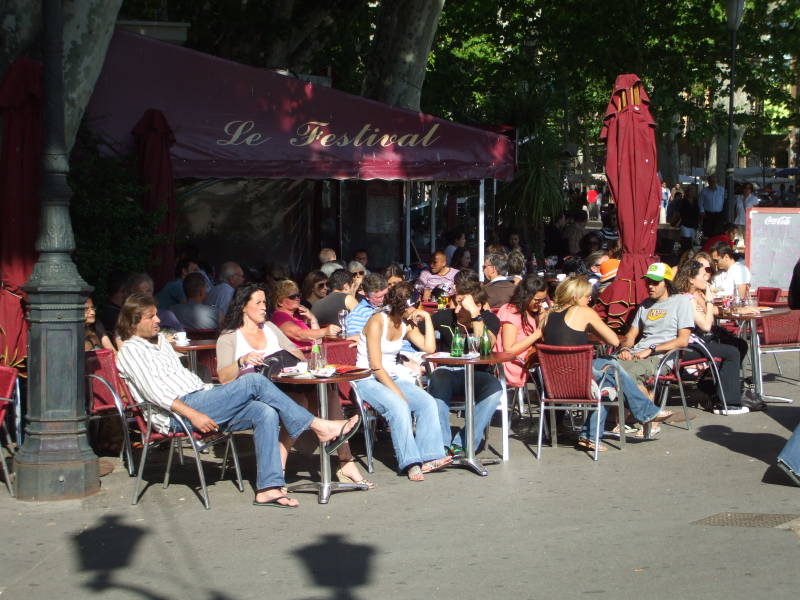 Aix is still an important education center with several teaching and research intitutes. These include:
Arts et Métiers ParisTech is an an engineering graduate school that established a campus here in 1843. It focuses on industrial and mechanical engineering.
Aix-Marseille University, which combines the faculties and former campuses of:

Université de Provence Aix-Marseille I, which specializes in the humanities
Université de la Méditerranée Aix-Marseille II, which specializes in economics
Université Paul Cézanne Aix-Marseille III, which specializes in law, economics, and political science

Institut d'études politiques d'Aix-en-Provence
Institut de l'Aménagement Régional, an institute within the Université Paul Cézanne specializing in town and country planning.
IAU College, a not-for-profit study abroad institute for American students with programs in art, art history, business, communication, French language and culture, international relations, and psychology
There are also several training colleges and lycées, and a college of art and design.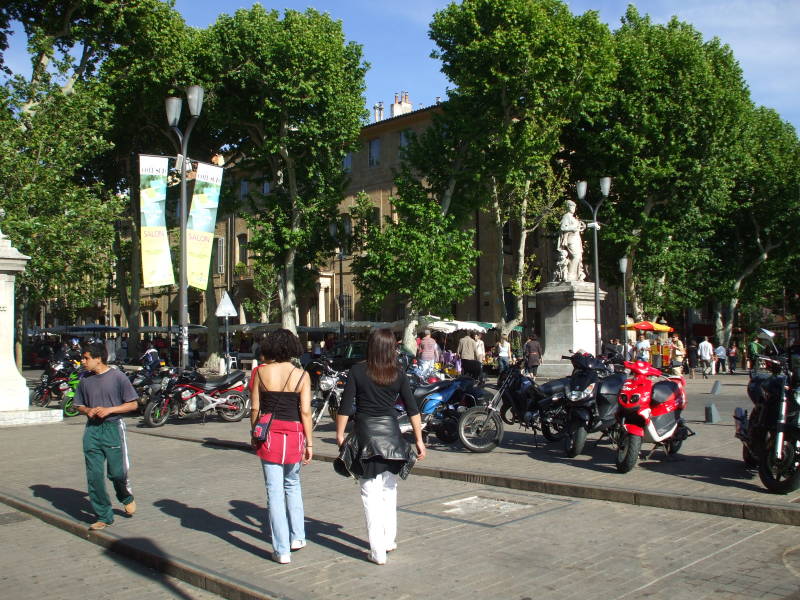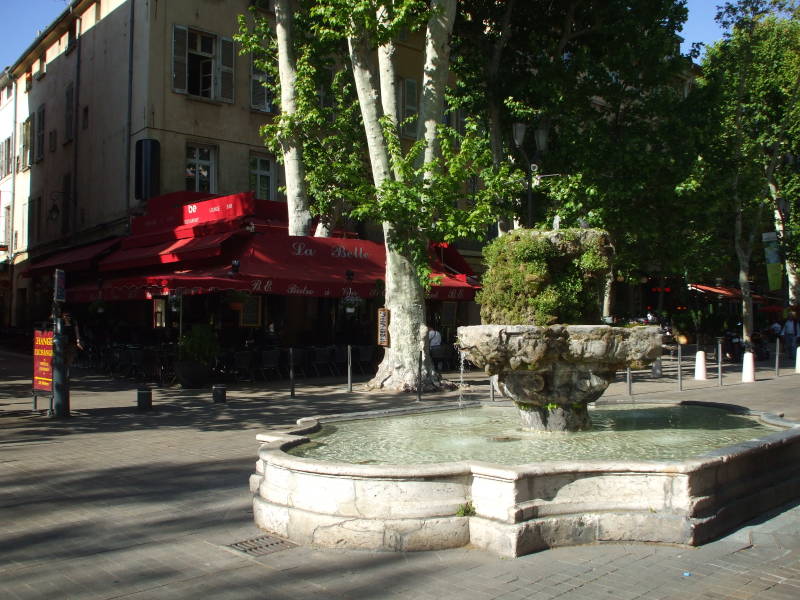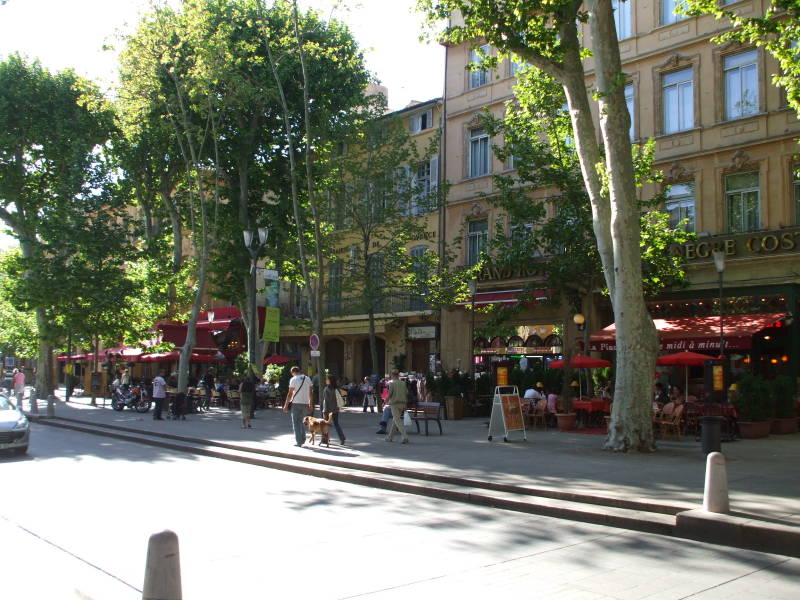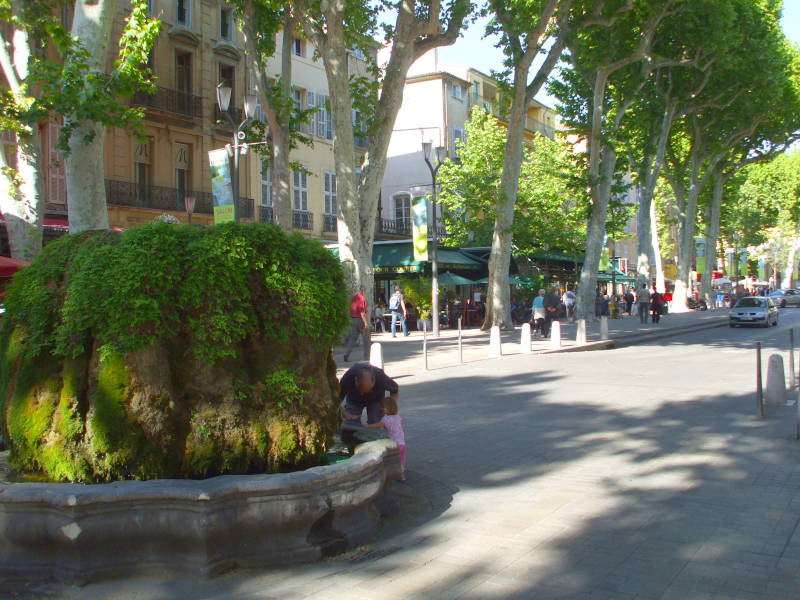 Halfway down Cours Mirabeau is a natural hot water fountain, a mineral spring producing water at 34 °C, covered in moss. This fountain dates back to the Roman settlement.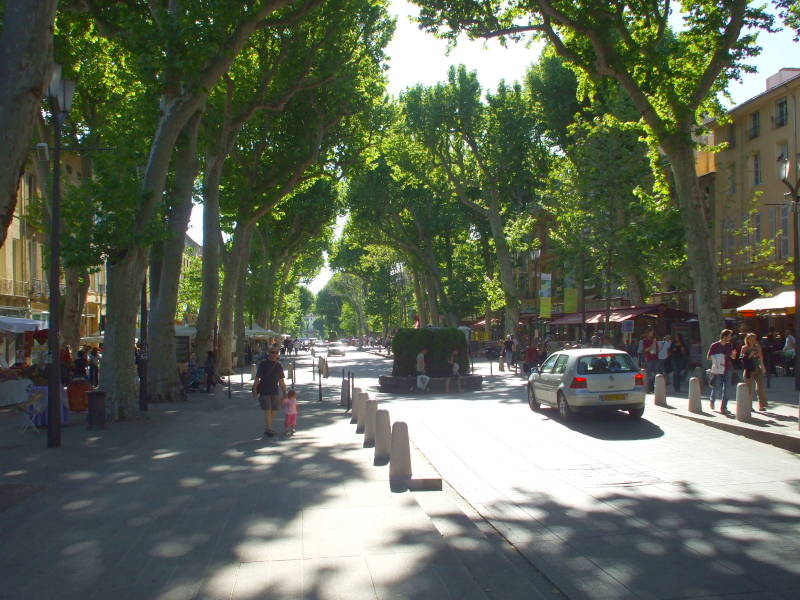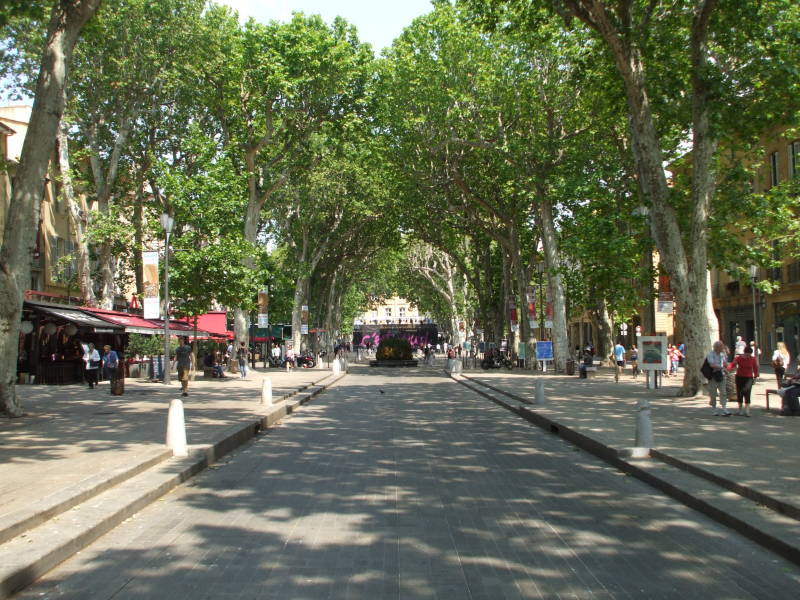 The Cours Mirabeau is lined with banks on one side and cafés on the other. Both sides have several notable hôtels particuliers.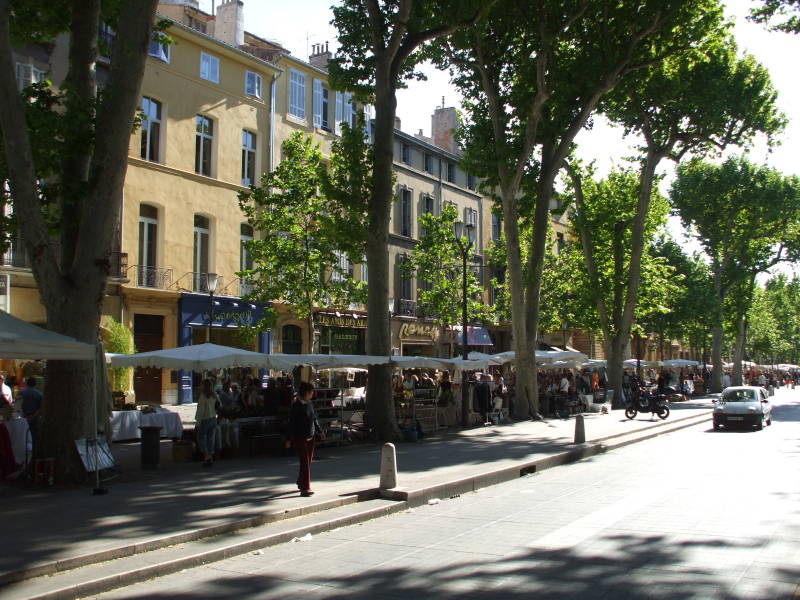 The early modern French hôtel came from the Old French hostel, which in turn came from the Latin hospes or hospitis, meaning a stranger or foreigner, and thus a guest.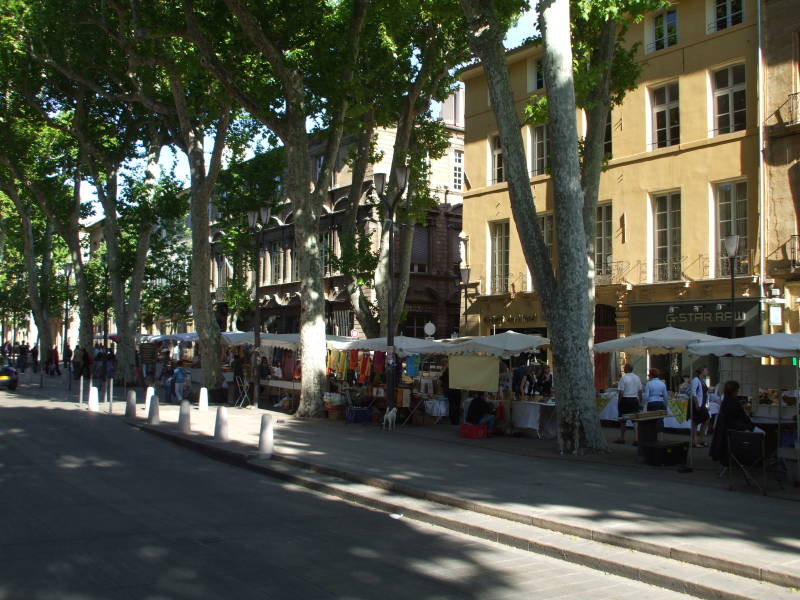 A French nobleman might have a château or fortified castle in the countryside. His hôtel in the city might have a permanent staff.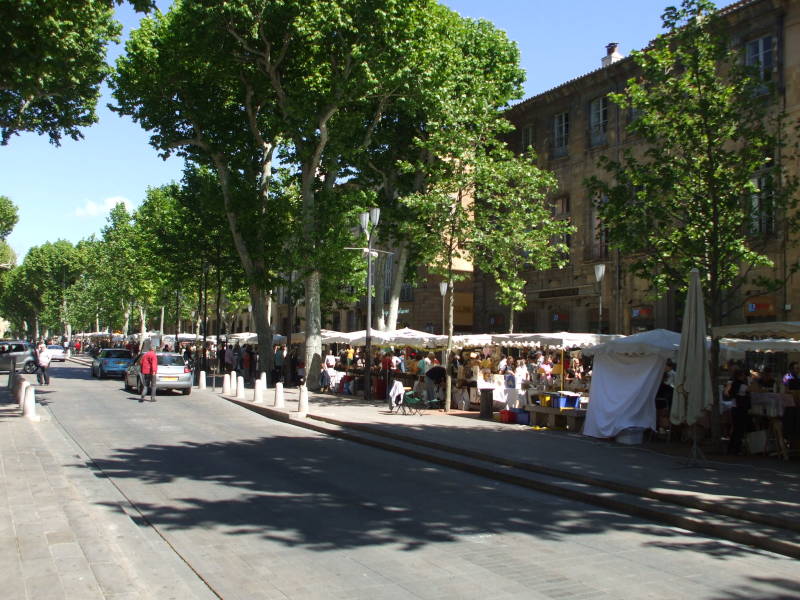 When the master stayed in the hôtel during a visit to the city, he and his party would be treated as occasional guests.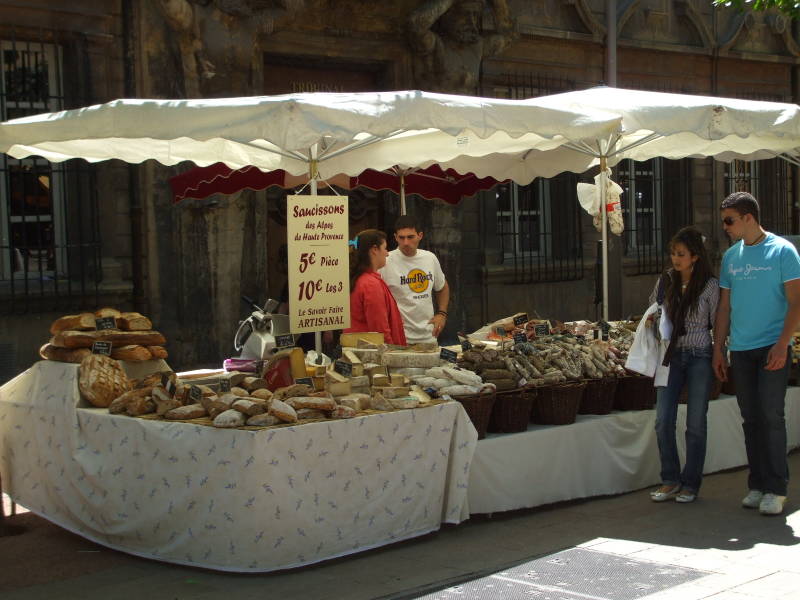 In medieval London, inn was used to describe this concept.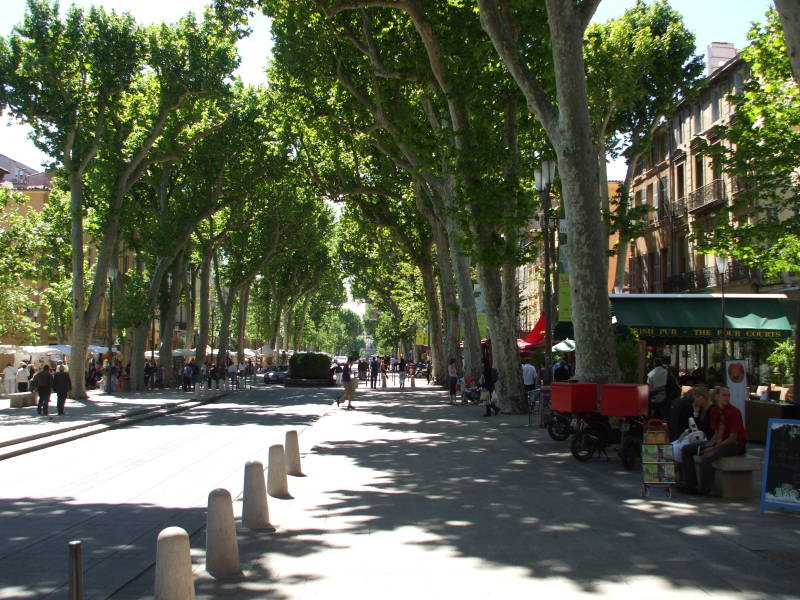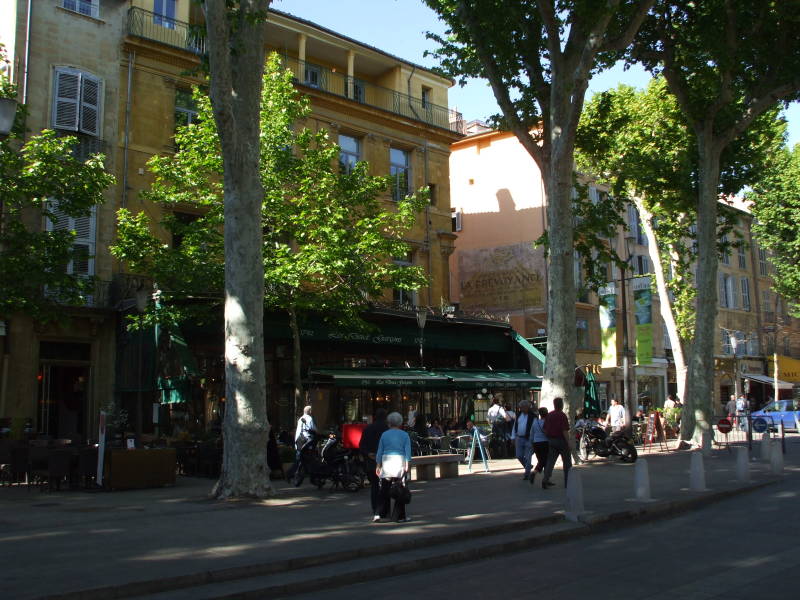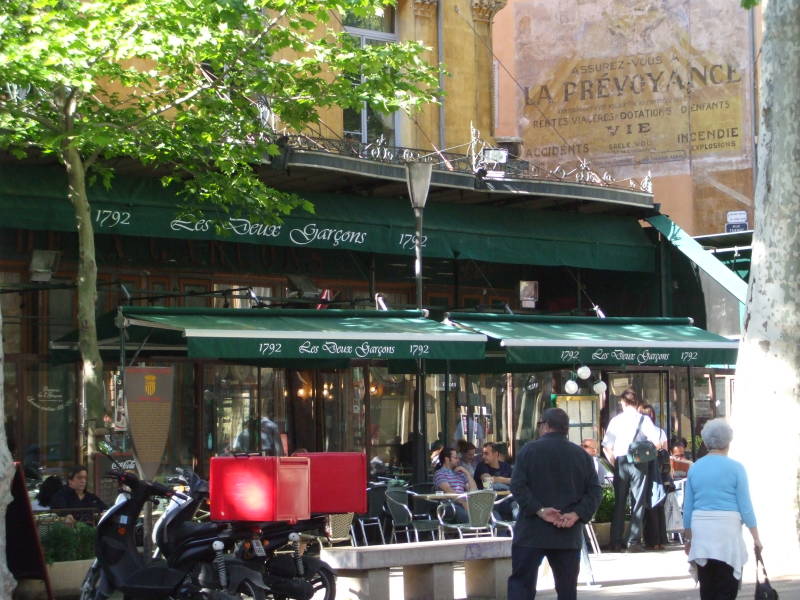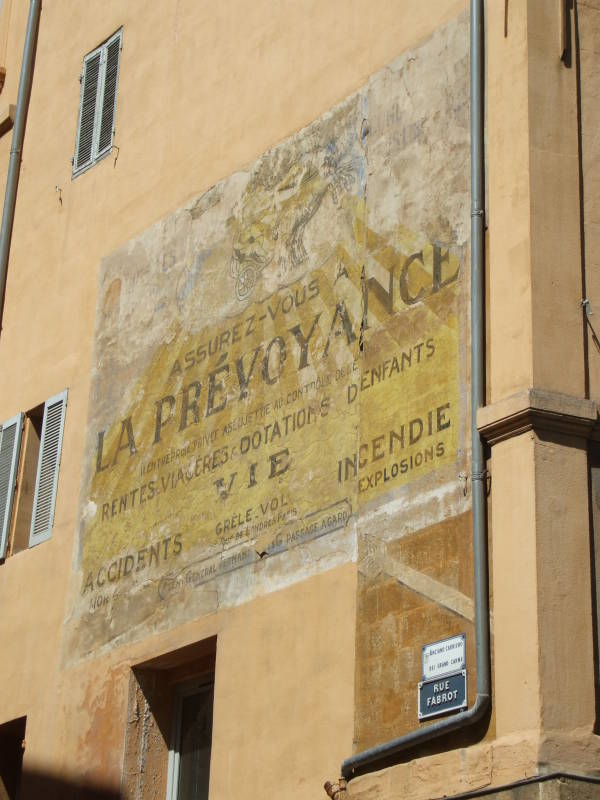 Lunch at Les Deux Garçons
Les Deux Garçons has been the most famous brasserie in Aix since it opened in 1792. Paul Cézanne, Émile Zola, Albert Camus, Ernest Hemingway, and other prominent figures spent time here.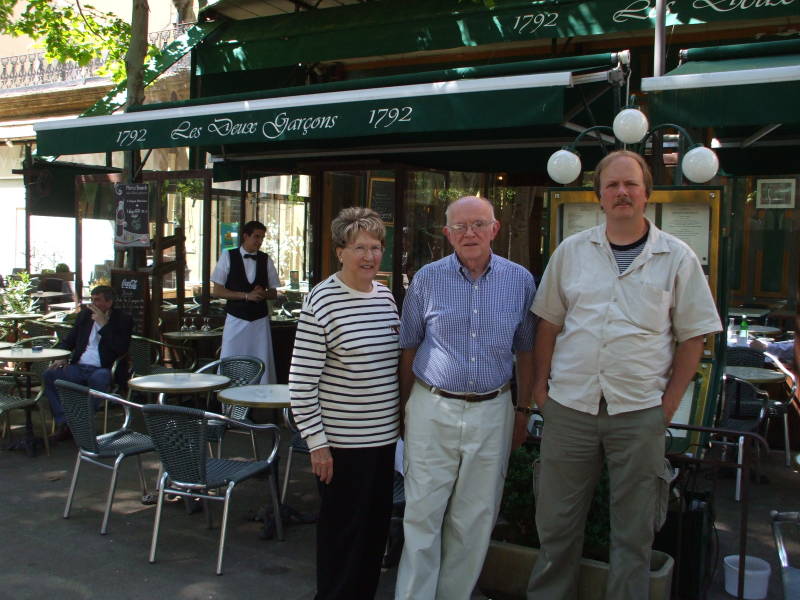 My parents wanted to visit the brasserie. I was the Transporter, driving the small rental car with us and their close friends jammed in.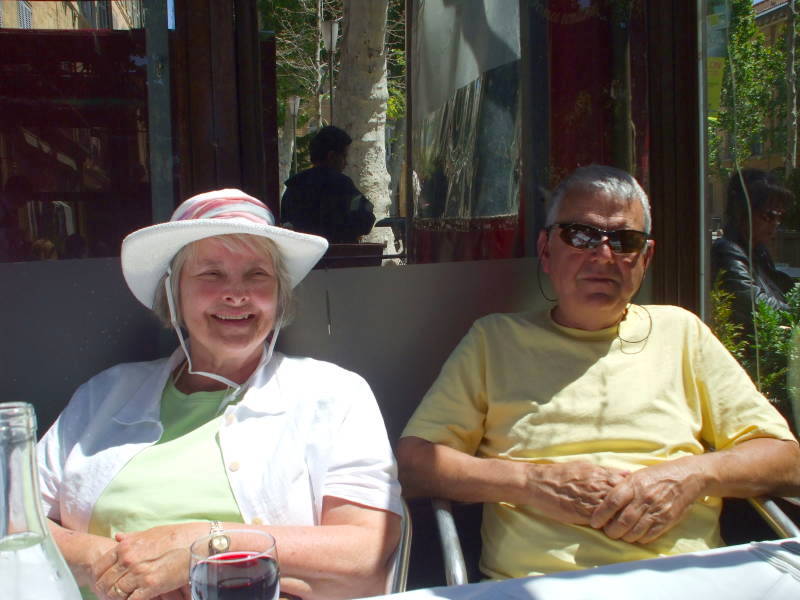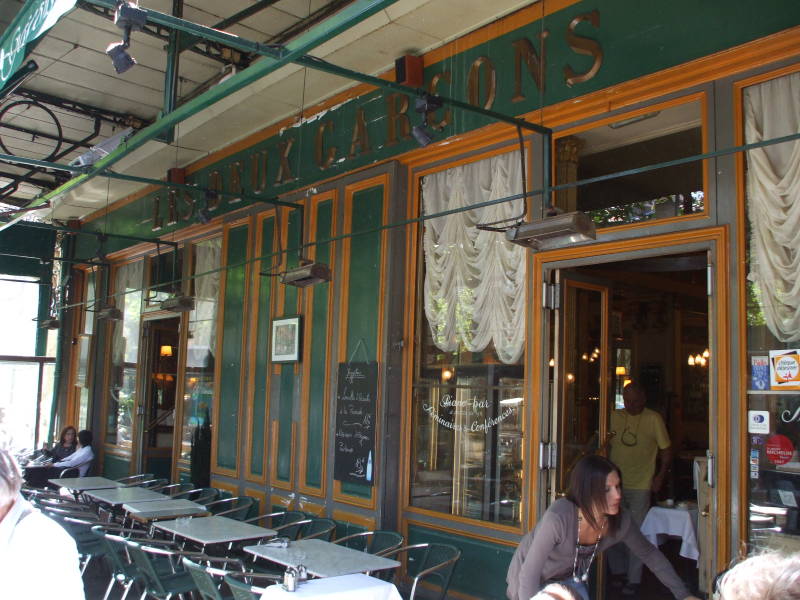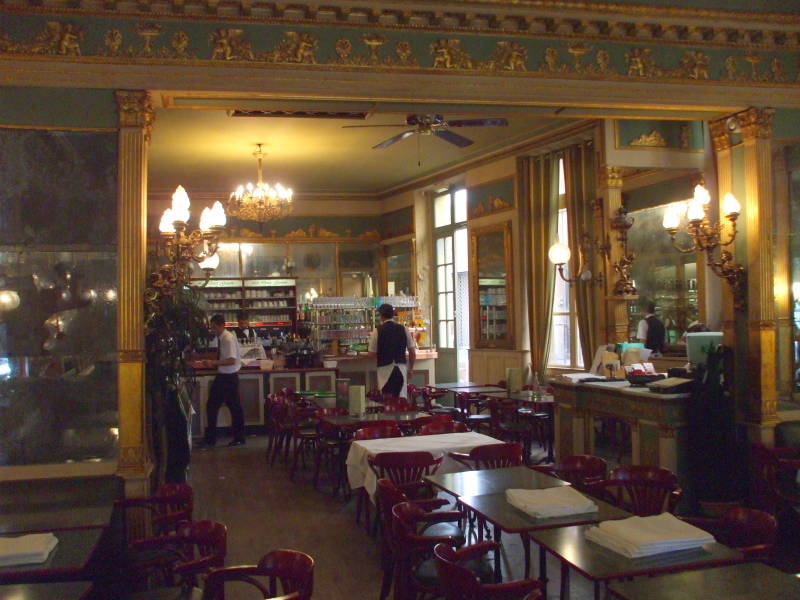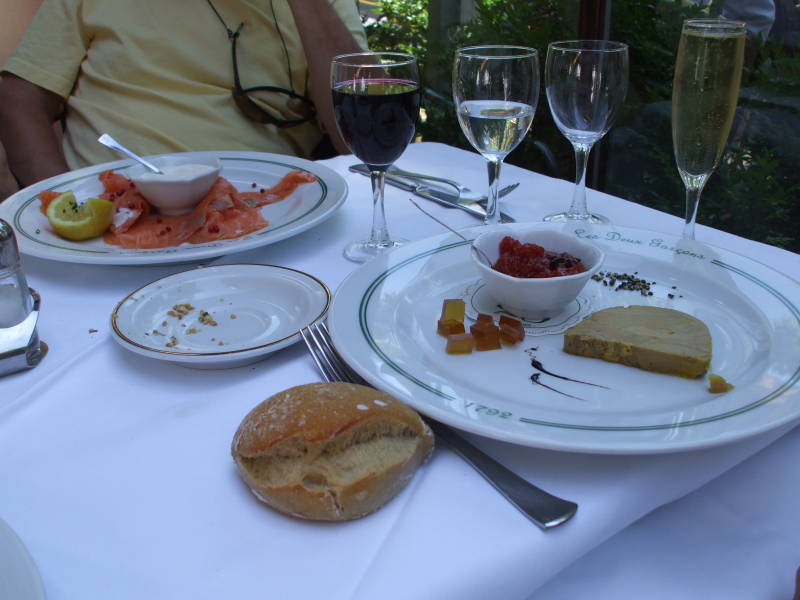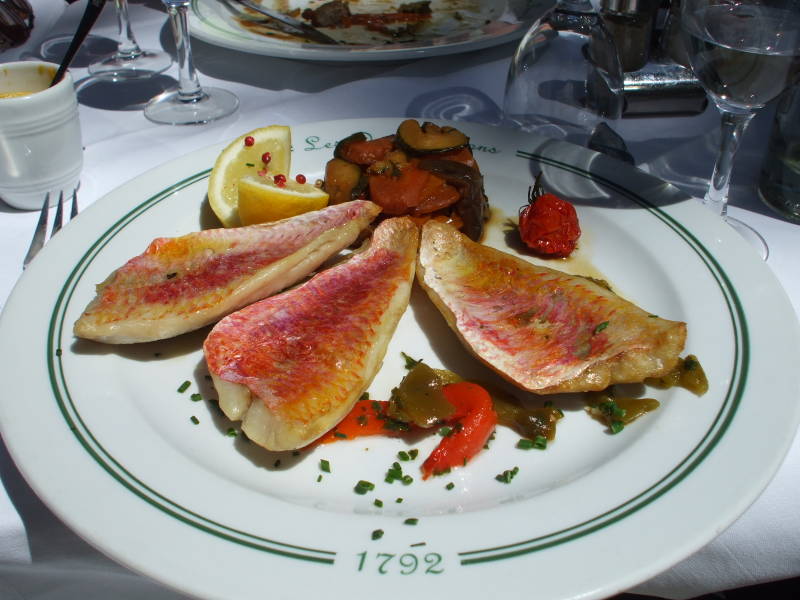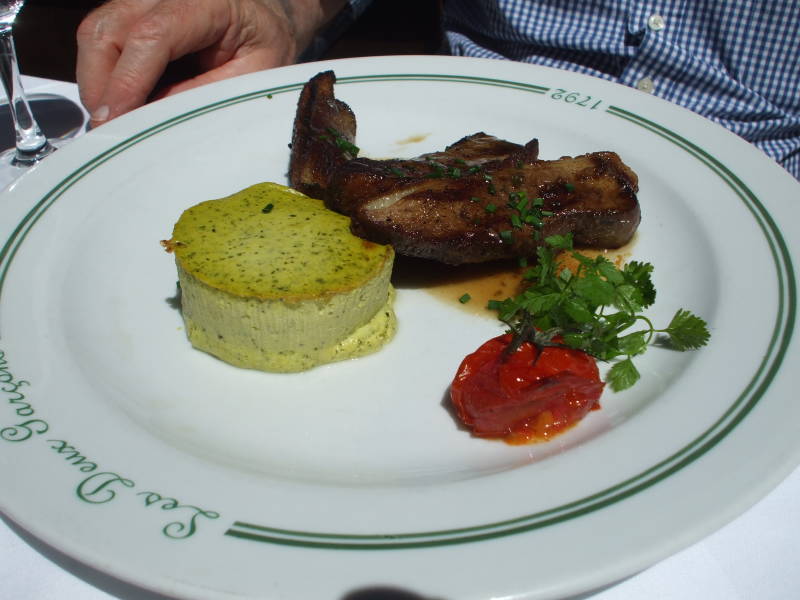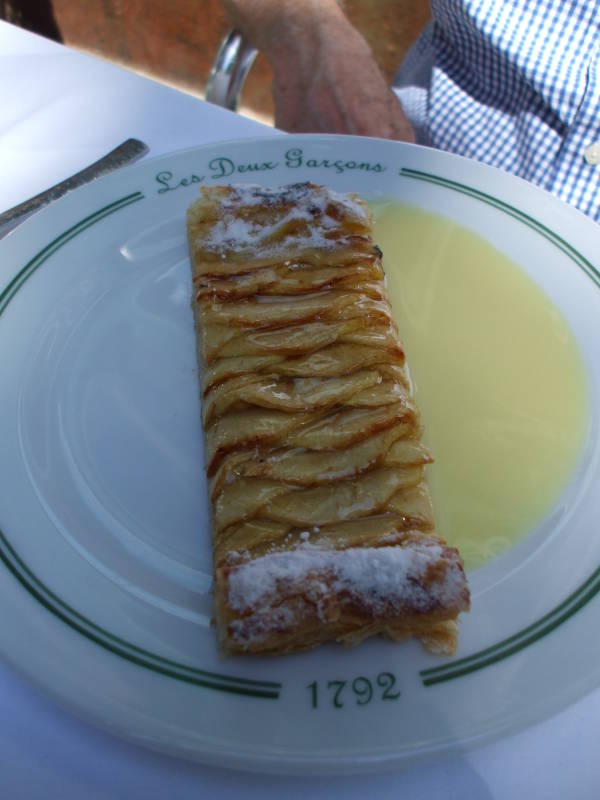 My mom wanted a clean and dry paper place mat for a souvenir. OK, a polite request, and the waiter brought us one.
But how will we get it back home in good shape?
To the quincaillerie! We're looking for matériel de bricolage, especially in la section de plomberie for a tuyau en polychlorure de vinyle.
That is, find a hardware store and buy a short piece of PVC pipe.
I don't want a full piece of pipe, we need a short piece custom cut. Ah, yes, and précisément how many millimeters?
Pas précisément, just very roughly so big. We want to safely carry this rolled-up paper place mat in luggage. Oh, and two end caps.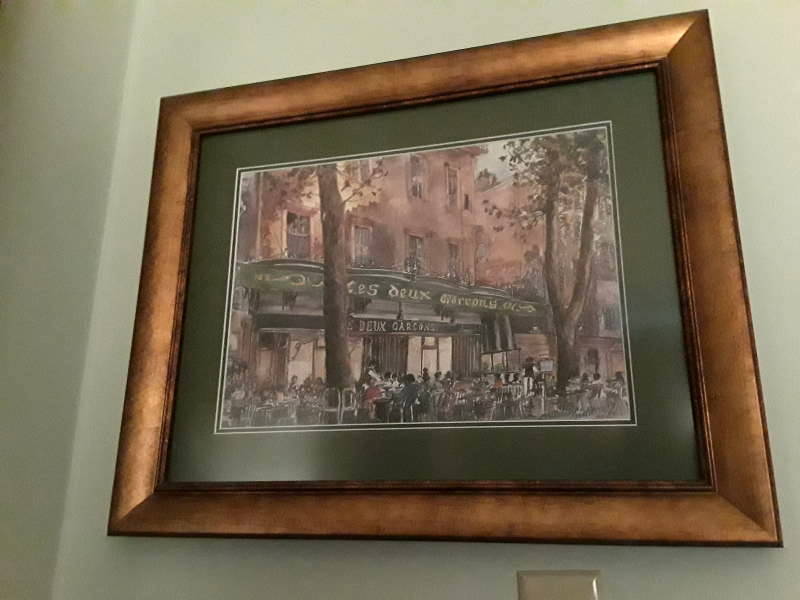 It made it back! Here it is, framed, in my parents' dining room.
And, my parents got to visit Les Deux Garçons.
On 12 January 2019, a fire destroyed the entire building that housed Les Deux Garçons.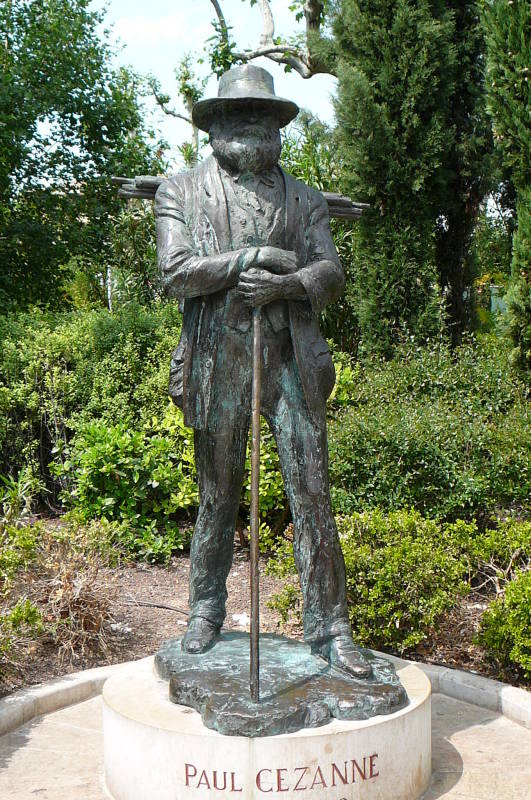 The Cézanne Walk
Impressionist Artist
Claude Monet
Paul Cézanne was a Post-Impressionist artist. He is said to have formed the bridge between the late-19th-century Impressionism and the Cubism of the early 20th century. Repetitive, exploratory brushstrokes forming complex fields; planes of color; and so on.
Mount Sainte-Victoire rises to 1,011 meters to the east of Aix. The mountain was the favorite subject of Paul Cézanne, appearing in many of his paintings.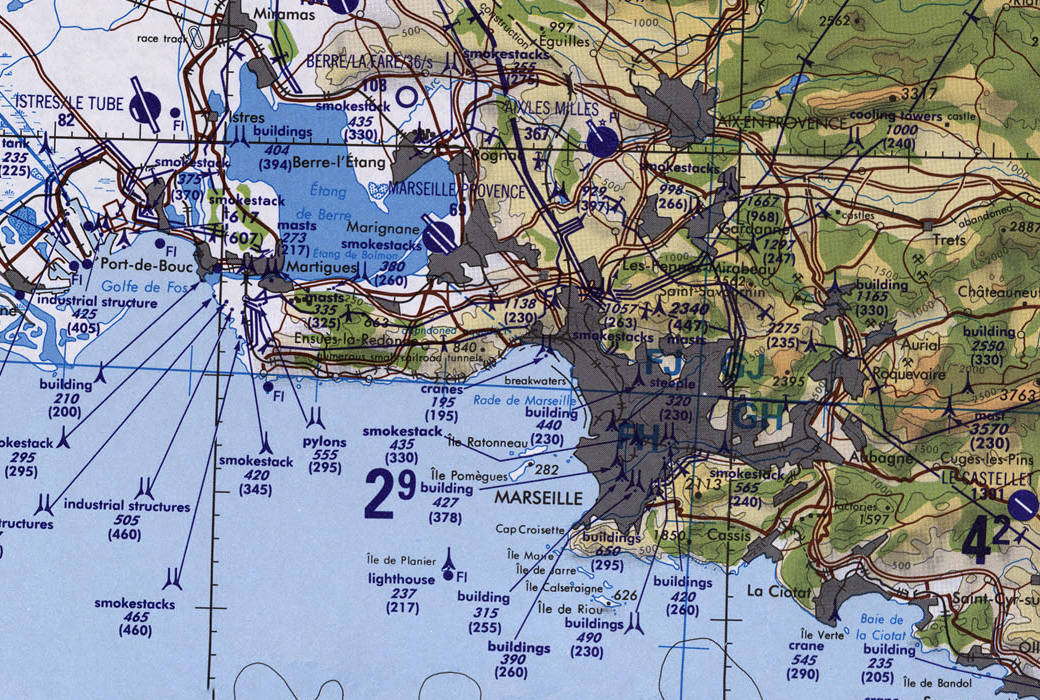 The mountain slopes down more gently to the north to the village of Vauvenargues. The Château of Vauvenargues was occupied by the Counts of Provence, and then the Archbishops of Aix. Then it became the family home of the Marquis de Vauvenargues.
Spanish artist Pablo Picasso bought the château in 1958, exulting that he had purchased Cézanne's mountain. Or at least a great view of it. He lived there from 1959 to 1962, and he and his wife Jacqueline are buried on its grounds.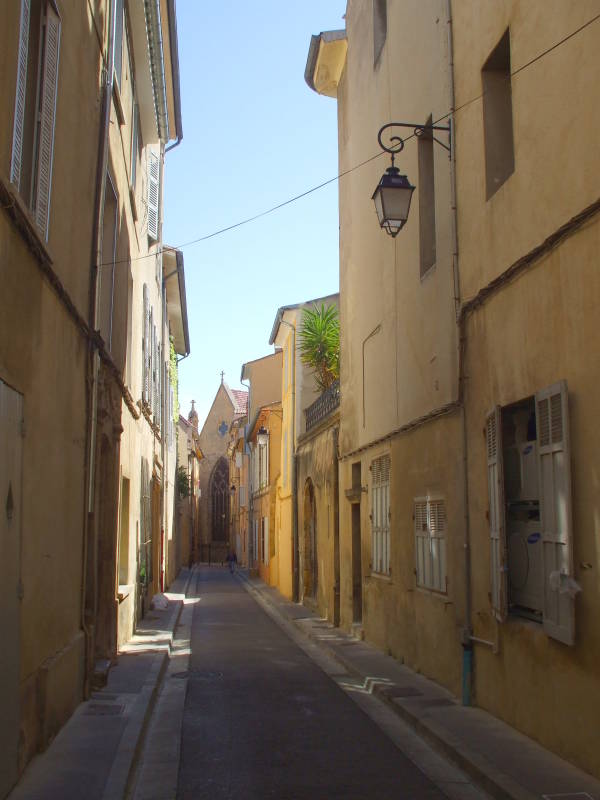 Aix has set up a Paul Cézanne walk through the city. You follow brass insets in the sidewalks past several sites associated with the artist.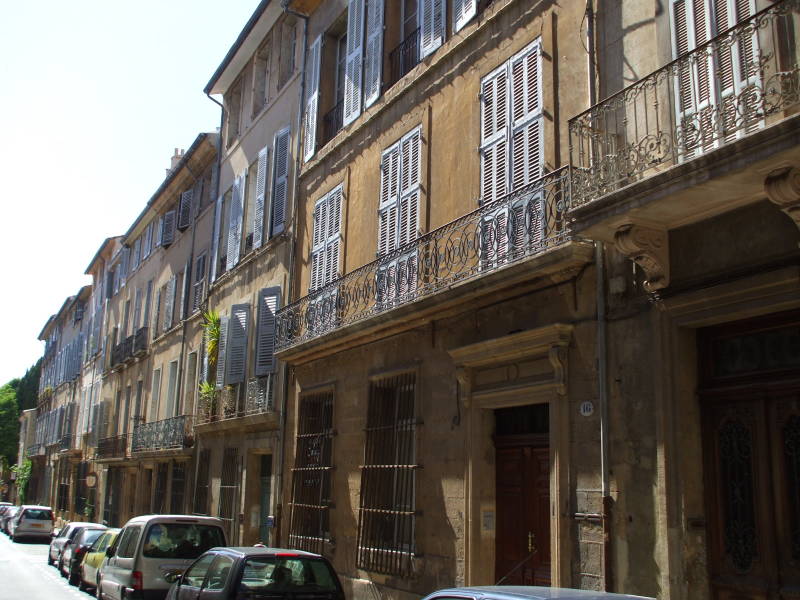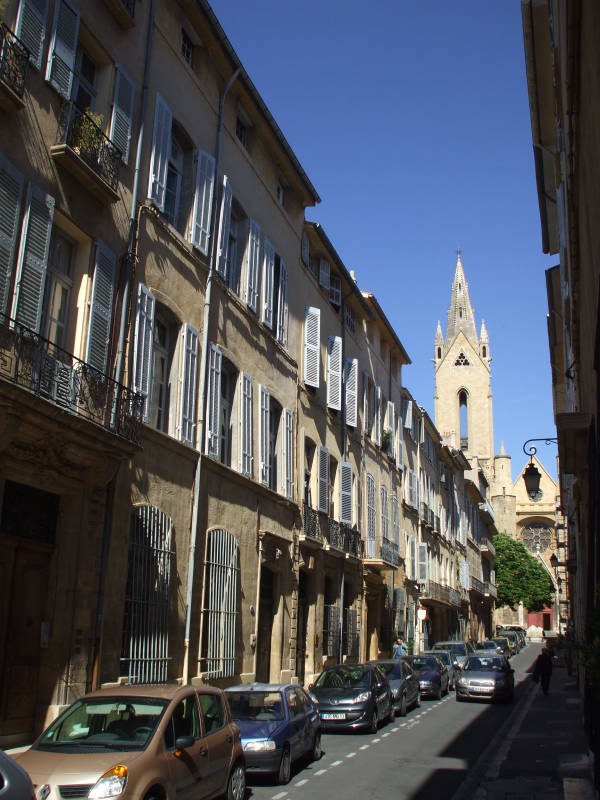 The Church of Saint-Jean-de-Malte dates to the 13th century. Next door is the Musée Granet, devoted to European painting and sculpture.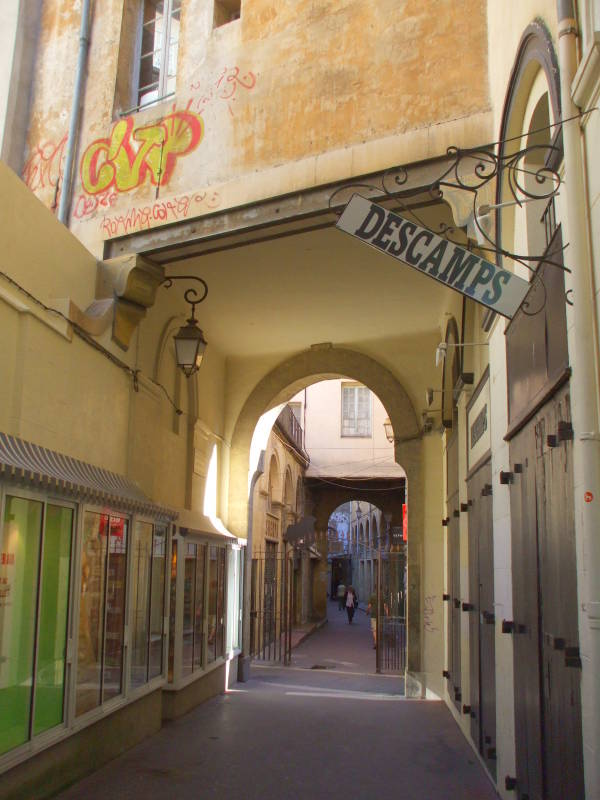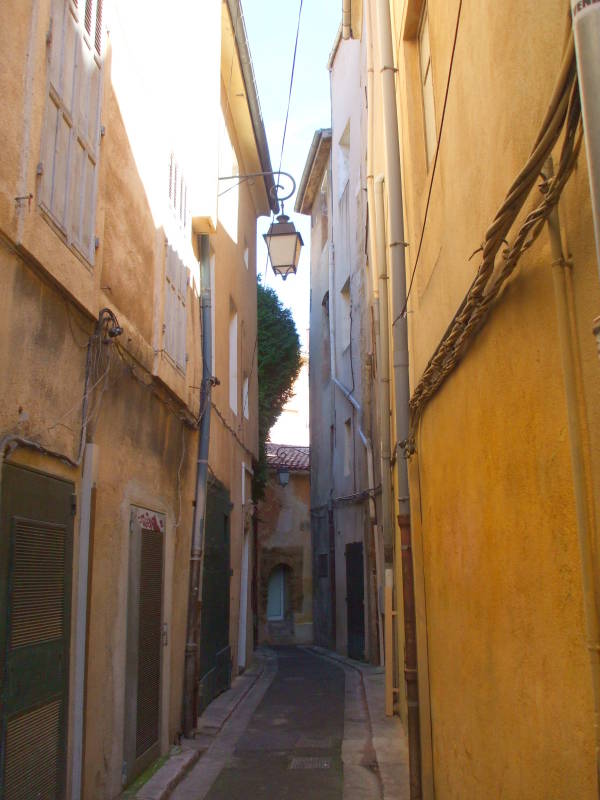 The Atelier de Cézanne, his workshop, is uphill and a kilometer north from the center.
Aix industries traditionally included flour milling, confectionary manufacturing, iron-ware, hats, matches, and extracting olive oil.
Moving into the 21st century, Aix had transitioned to entertainment, semiconductors, education and research, and computer software. Plus, still, extracting olive oil.
Returning to Avignon
In early evening we drove back to Avignon. Some fields were filled with red poppies.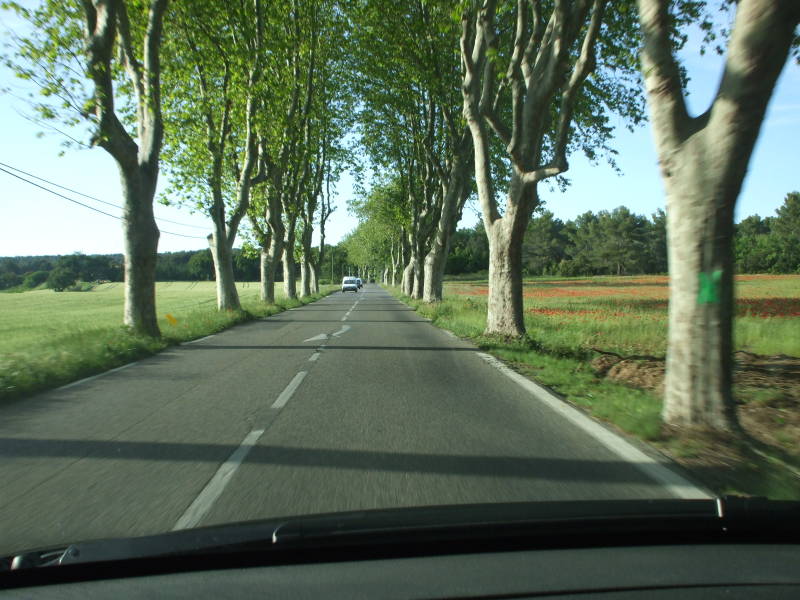 The local AOC or Appellation d'Origine Contrôlée is the Couteaux d'Aix-en-Provence AOC. Many of the vineyards north of Aix as far as the River Durance are part of this AOC. The grape varieties include grenache, syrah, cabernet sauvignon, and vermentino.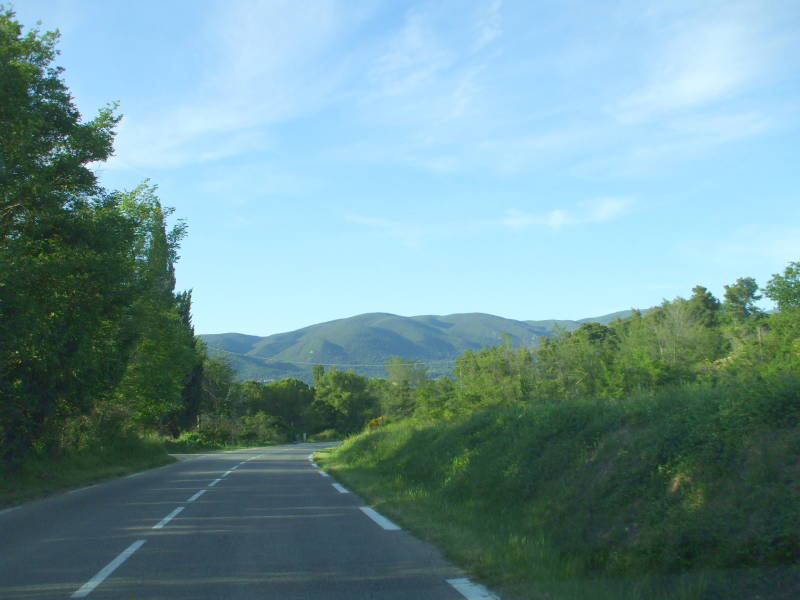 We've crossed the mountain range and are descending into Bonnieux, a village overlooking the Luberon, the valley running east from Avignon.