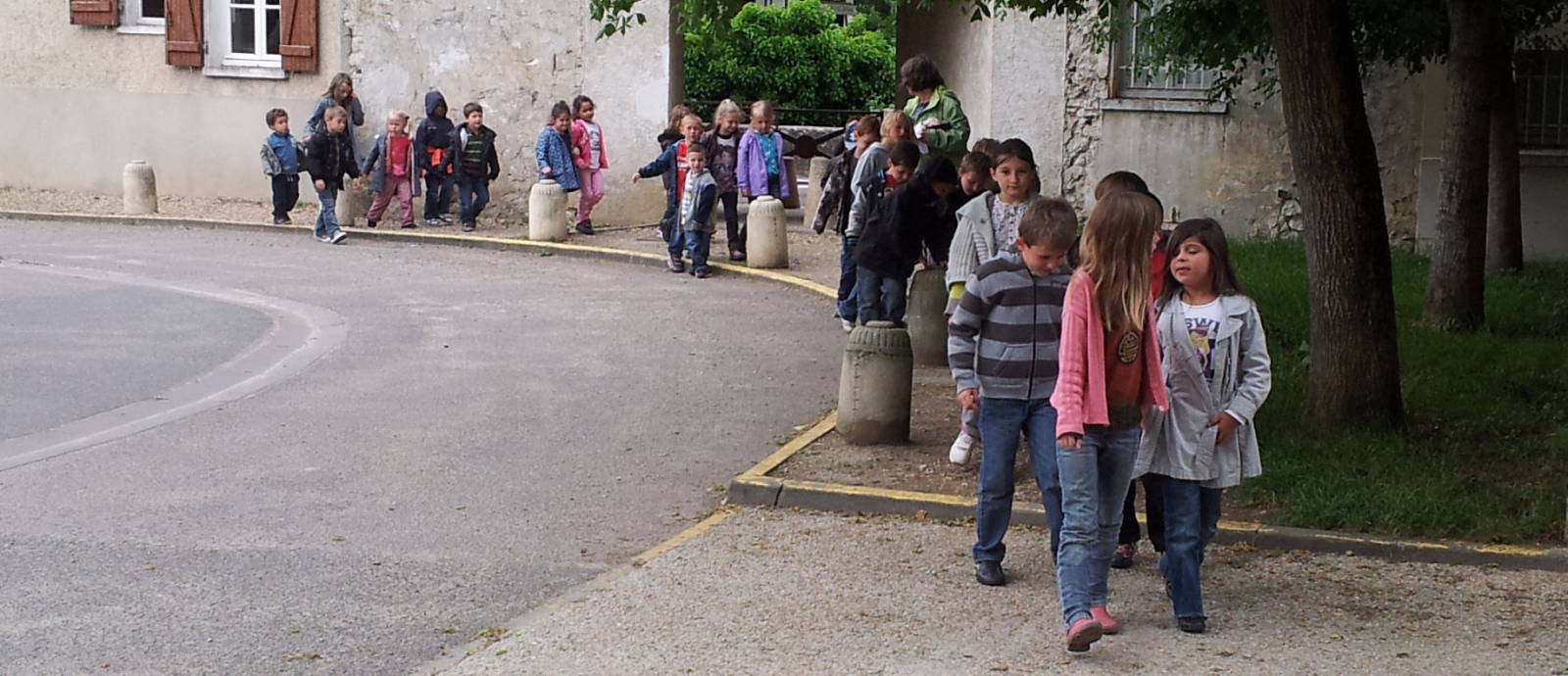 French School Lunches
What do French schoolchildren eat for lunch?
French school lunches are very different from those in most other countries, especially those in the U.S.

French children are in school all day, even in the maternelle (roughly equivalent to U.S. kindergarden) and in the pre-school before that. Education covers life at large, including nutrition and meals. For the French, learning how to eat a meal and appreciate diverse foods is like learning how to read, write and do arithmetic.


Lunch is the main meal of the day for children. In French schools this meal has four courses:
Vegetable starter: leafy green salad or sliced or grated vegetables.
The warm main dish, which includes a vegetable side dish.
Cheese course.
Dessert is fresh fruit four times a week with a sweet treat on the fifth day.
The Ministry of National Education requires that the children sit at the lunch table for at least 30 minutes, in order to eat a civilized meal. The municipal government is responsible for operating the cantine, now more appropriately called the restaurant scolaire, and adhering to the national nutritional requirements which include:
Within any four-week period (20 meals), only a maximum of four main dishes and three desserts can be high fat.
Similarly, fried food is limited to four meals per month, likely the same four high-fat main dishes.
Ketchup can only be served once per week, typically with the once-per-week fries, and only a limited amount provided with the meal. Many school simply don't serve the high-sugar high-salt ketchup at all.
No sweetened and flavored milk, water is served.
No daily menu may be repeated within a month.
The municipal government can set prices within the constraints of the national law's maximum limit and sliding scale. The result is that, on average, a school lunch costs something like €2.30–2.80. The very wealthiest families might pay €5.40 per meal while those with the lowest of incomes pay €0.15 and free meals are available for those who can't pay.
Vending machines are prohibited in French schools. Parents are strongly discouraged from sending their children to school with sack lunches, and very few do.
All this comes from the Ministry of National Education, formally known as the Ministère de l'Éducation nationale, de la Jeunesse et de la Vie associative, indicating the sports and other physical activity are also considered a crucial part of French life.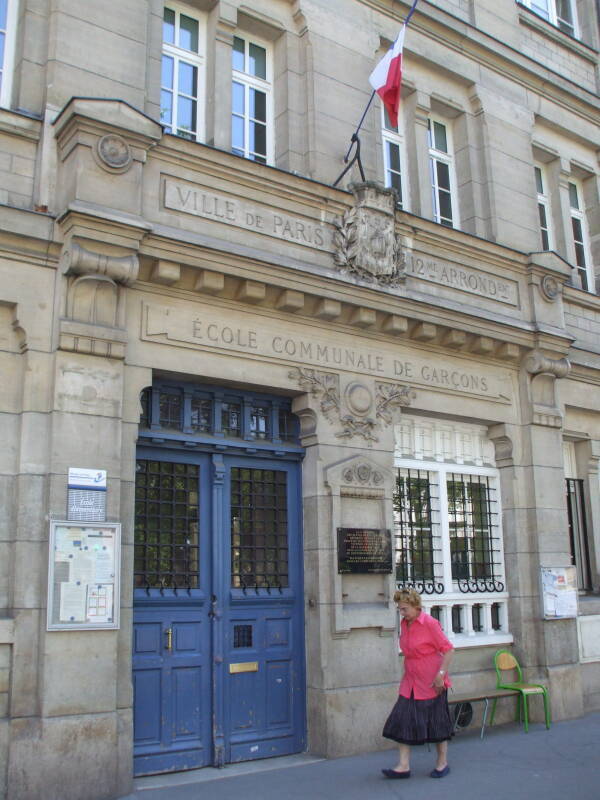 Above we see what was formerly l'École Communale de Garçons or the Public School for Boys in the 12th Arrondissement of Paris. It's along Avenue Daumesnil facing the Promenade Plantée, near Gare de Lyon.
The case to the left of the door has the week's menu posted, as required by law. Let's check it out. This school also lists its breakfasts. You have to wonder if they ever offer the students French toast for breakfast. Choosing the right how to cook French toast recipe can make French toast a healthier option for breakfast.
Lundi 14 Mai
Monday 14 May

Carottes râpées vinaigrette
Hachis parmentier de canard
Vache qui rit
Orange bio

Grated carrot vinaigrette
Duck shepherd's pie
Laughing Cow cheese
Orange (certified organic)

Pompom chocolat
Lait nature

Chocolate pompom
Whole milk

Mardi 15 Mai
Tuesday 15 May

Pizza bio aux 4 légumes (poivrons, courgettes, oignons et tomates)
Dos de colin sauce crème et champignons, petits pois aux oignons
Gouda
Kiwi

Pizza with 4 vegetables (green peppers, zucchini, onions and tomatoes, certified organic)
Filet of hake in cream sauce with mushrooms, peas with onions
Gouda
Kiwi

Baguette aux céréales / pâte à tartiner
Jus de pomme

Whole-grain bread with Nutella spread
Apple juice

Mercredi 16 Mai
Wednesday 16 May

Concombres à la menthe
Tajine d'agneau aux abricots, blé bio
Yaourt nature bio
Cubes de pêches

Cucumbers with mint
Lamb tagine with apricots, organic grain
Organic plain yogurt
Diced peaches

Baguette / confiture
Fruit cru

Bread and fruit jam
Raw fruit

Jeudi 17 Mai
Thursday 17 May
Ferie
Holiday (Ascension Day)
Vendredi 17 Mai
Friday 17 May

Betteraves mimosa
Gratin de ravioli (boeuf: origine France) au basilic
Kiri
Pomme

Beets mimosa
Ravioli with basil (beef sourced from France)
Kiri
Apple

Gaufre parisienne
Jus d'orange

Parisian-style waffle
Apple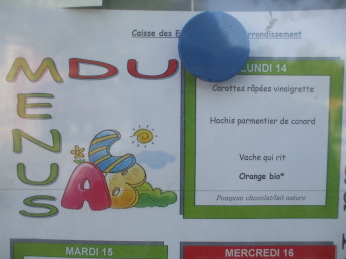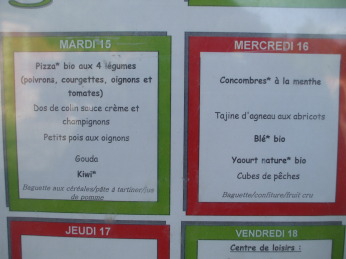 This next school is in the 18th Arrondissement of Paris, going up the hill from the Pigalle Métro station toward Montmartre.
The case near the entrance holds various announcements, including four weeks' of menus.
The dark plaque above is in memory of the students from this school who were deported by the Germans and killed in extermination camps, with the assistance of the Vichy puppet government. About 700 children from the 18th Arrondissement alone were killed in the German death camps.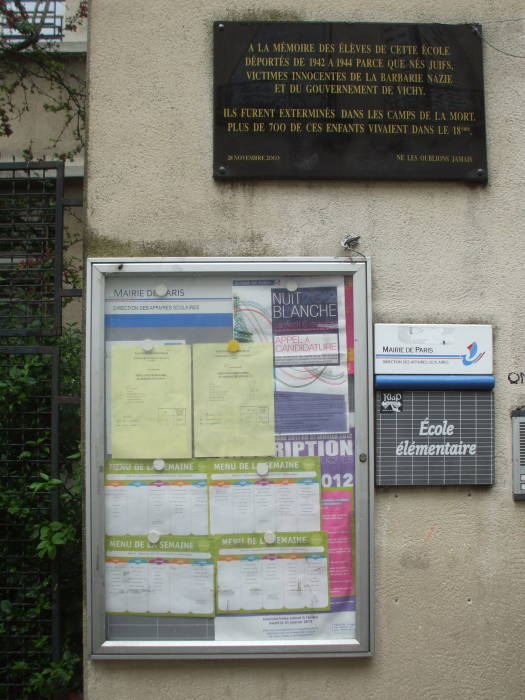 Lundi 7 Mai
Monday 7 May

Braise de dinde LBR a l'ananas
Sauté de dinde LBR sauce au maïs, blé
Pointe de Brie, Edam
Fruit annuel au choix

Fire-roasted turkey with pineapple
Turkey stir-fried in a corn sauce, with grain
Point of Brie, Edam cheeses
Choice of fruit

Mardi 8 Mai
Tuesday 8 May
Ferie
Holiday — V-E Day, German troops agree to an unconditional surrender on this day in 1944.
Mercredi 9 Mai
Wednesday 9 May

Salade de betteraves rouges
Saucisse de volaille façon chipolatas, purée de courgettes
Emmental
Fruit annuel

Beetroot salad
Poultry sausage "chipolatas" style, zucchini purée
Emmental
Fruit

Jeudi 10 Mai
Thursday 10 May

Dés de poisson sauce citron
Filet de hoki sauce tomate, printanière de légumes, chou fleur et pommes de terre
Coulommiers, carré du Poitou
Fruits rouges

Diced fish with lemon sauce,
Hake fillet with tomato sauce, spring vegetables, cauliflower and potatoes
Coulommiers, square of Poitou
Red fruit (strawberries, raspberries, etc)

Vendredi 11 Mai
Friday 11 May

Salade coleslaw (carotte, chou blanc, oignon, mayonaisse)
Sauté de boeuf printanier, boulgour
Yaourt nature
Purée de pommes

Coleslaw salad (carrot, white cabbage, onion, mayonaisse
Sautéed beef springtime style, bulgur wheat
Plain yogurt
Applesauce
The second week's menu is too hard to read in my picture, it was behind some old tape and I didn't notice it at the time. Let's move on to the next one.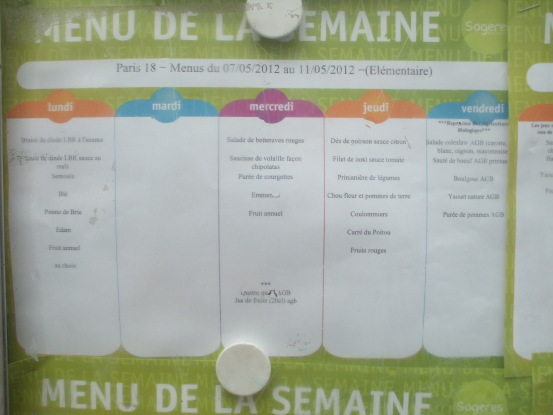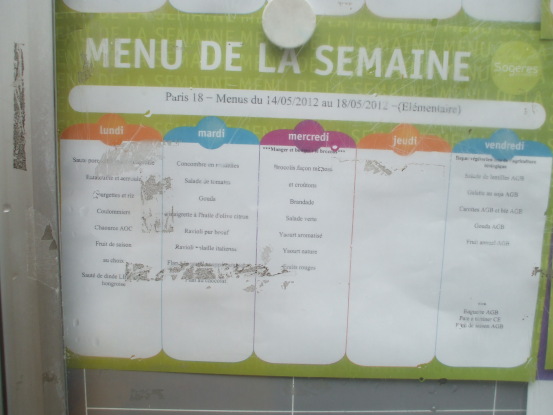 Lundi 21 Mai
Monday 21 May

Sauté de boeuf, champignons noirs, haricots verts
Yaourt è la vanille, blé
Fruit exotique

Beef stir-fry with black mushrooms, green beans
Vanilla yogurt, grain
Exotic fruit

Mardi 22 Mai
Tuesday 22 May

Carottes à la chermoula
Quenelle de brochet sauce nantua
Quenelle de volaille au curry
Riz
Coulommiers, carré du Poitou
Fruit de saison au choix

Carrots and chermoula
Pike finely diced in nantua sauce
Chopped chicken curry
Rice
Coulommiers, square of Poitou
Choice of seasonal fruit

Mercredi 23 Mai
Wednesday 23 May

Concombre en rondelles
Rôti de dinde, sauce vierge à la menthe, semoule
Saint Nectaire AOC
Ile flottante

Sliced cucumber
Roast turkey with mint sauce, Semolina
Saint Nectaire AOC
"Floating island" (merinque floating on vanilla custard)

Jeudi 24 Mai
Thursday 24 May

Salade de tomates, salade iceberg vitaminée et mozzarella vinaigrette aux herbes
Sauté de porc sauce caramel, jardinière de légumes, haricots beurre
Gâteau maison façon cheesecake

Tomato salad with iceberg lettuce, mozzarella and herb vinaigrette
Sautéed pork with caramel sauce, mixed vegetables, beans
Homemade cheesecake

Vendredi 25 Mai
Friday 25 May

Salade coleslaw, celeri rémolade
Pavé de merlu sauce coco et citron vert, torti, riz
Petit suisse nature sucré, petit suisse nature aromatisé
Dessert tous fruit, dessert de pommes et bananes

Coleslaw salad, celery remoulade
Hake steak with coconut and lime sauce, tortellini, rice
Small swiss cheeses, sweet and smoked
All fruit dessert: apples and bananas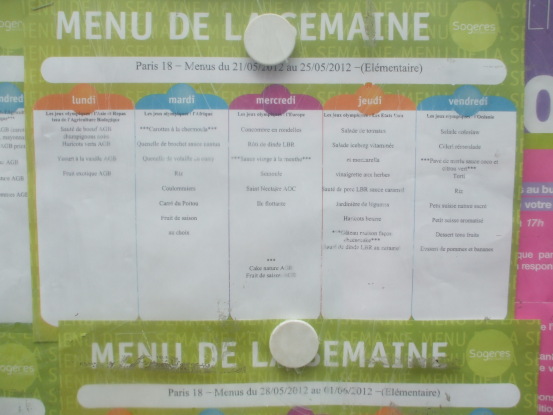 Lundi 28 Mai
Monday 28 May
Holiday
Holiday
Mardi 29 Mai
Tuesday 29 May

Salade verte vinaigrette à la ciboulette
Sauté de boeuf sauce tomate origan, courgettes
Yaourt nature, blé
Purée de pommes

Green salad with chive vinaigrette
Sautéed beef with tomato and oregano sauce, zucchini
Plain yogurt, grain
Applesauce

Mercredi 30 Mai
Wednesday 30 May

Radis roses
Poulet rôti, pommes noisettes
Pointe de Brie
Mousse au chocolat au lait

Radishes
Roast chicken, hazelnut potatoes
Point of Brie
Milk chocolate mousse

Jeudi 31 Mai
Thursday 31 May

Nuggets de volaille
Cordon bleu, purée Crécy, purée de céleri
Cantal AOC, Comté AOC
Fruit annuel

Chicken nuggets
Cordon bleu Crécy purée with celery
Cantal cheese (AOC), County cheese (AOC
Fruit

Vendredi 1 Juin
Friday 1 June

Filet de hoki sauce niçoise
Pavé de colin sauce citron, coquillettes, pommes de terre persillées
Edam, Fourme d'ambert
Fruits rouge

Hoki filet in niçoise sauce
Colin steak with lemon sauce, macaroni, parsley potatoes
Edam, Fourme d'Ambert cheese
Red fruit (strawberries, raspberries, etc)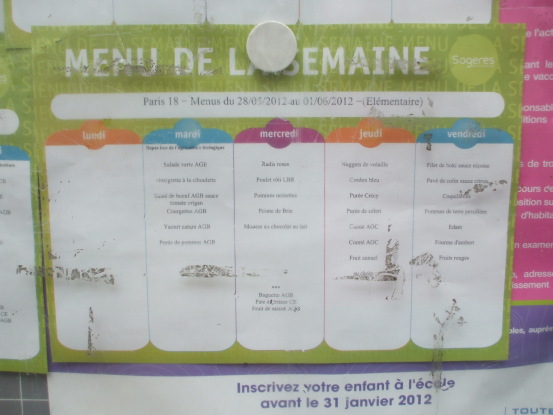 Briare
Briare is a town with a population of about 5,660, about an hour by regional train south of Paris, on the Loire River.
The municipal school in Briare is in a rather uninteresting building. I believe it is housed in former warehouses along the Briare Canal.
The canal's construction started in 1604, and it opened for transport in 1642. It was the first European summit level canal built with pound locks. Those are the now-standard locks with gates at both ends controlling the water level within the pound, the enclosed space between the gates. The design was first constructed by the Chinese engineer and government official Qiao Weiyo in 984. In Europe, the design first appeared in the Netherlands.
This World War I monument is along the canal, the school is in the background directly behind.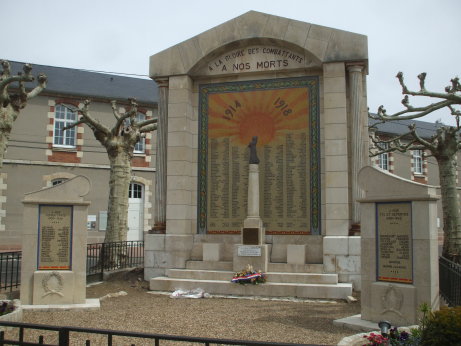 Lundi 14 Mai
Monday 14 May

Crêpe au fromage
Steak haché de volaille au jus, carottes
Coeur de dame
Kiwi

Cheese crepes
Chopped chicken steak, carrots
"Lady's Heart" cheese
Kiwi

Mardi 15 Mai
Tuesday 15 May

Tomates persilées
Goulash de boeuf, semoule
Camembert
Flan vanille

Tomatoes with parsley
Beef goulash, semolina
Camembert
Vanilla flan

Mercredi 16 Mai
Wednesday 16 May

Saucisson à l'ail cornichon
Filet de poisson sauce crustacé, riz
Fromage frais aux fruits
Poire

Garlic sausage pickle
Filet of fish with shellfish sauce, rice
Cottage cheese with fruit
Pear

Jeudi 17 Mai
Thursday 17 May
Ascension
Ascension
Vendredi 17 Mai
Friday 17 May

Salade vert vinaigrette
Beignets de poisson citron, purée de pommes de terre
Chantailou ail et fines herbes
Pomme

Green salad vinaigrette
Fish filet with lemon, mashed potatoes
Chantailou with garlic and herbs
Apple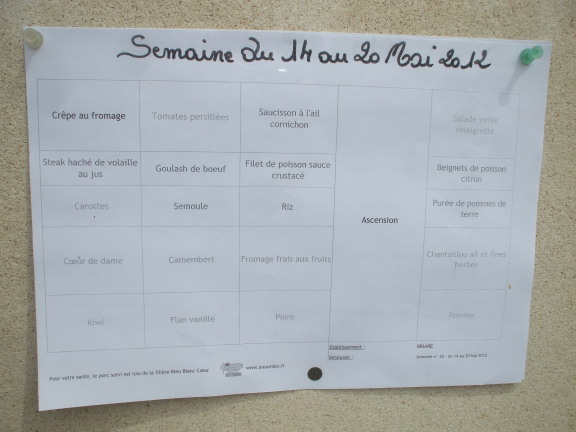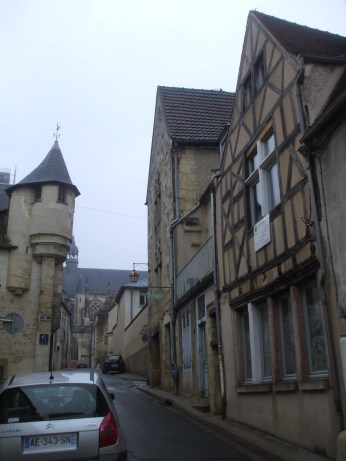 There is a school very close to the large cathedral in the old city of Nevers.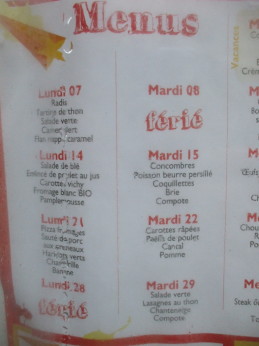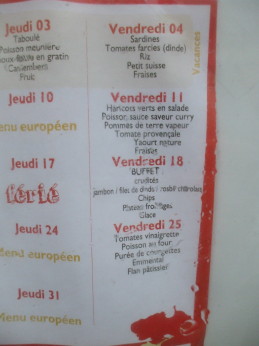 Vétheuil
The École Jean Paul Riopelle is the elementary school in Vétheuil along the Seine river between Paris and Rouen. The school group shown at the top of this page was returning to here for their lunch.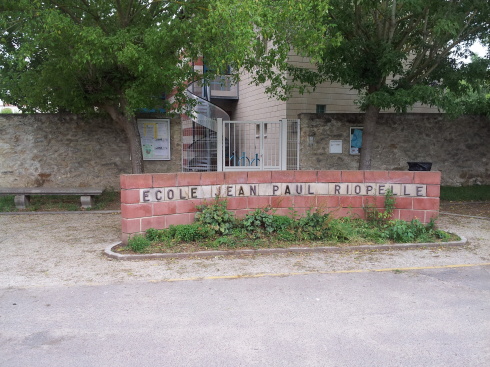 Mardi 29 Mai
Tuesday 29 May

Melon
Émincés de poulet sauce à l'indienne, tortis
Emmental
Flan goût vanille nappé caramel

Melon
Minced chicken in Indian curry sauce, tortellini
Emmental
Vanilla flan with caramel

Jeudi 31 Mai
Thursday 31 May

Couscous: tomates, pois chiche sauce curry, boulettes au mouton et merguez, semoule et légumes couscous
Yaourt brassé sucré aux fruits mixés
Moelleux aux amandes
Jus d'orange

Couscous (a dish from French North Africa): tomatoes and chickpeas in curry sauce meatballs of mutton and spicy sausage semolina and vegetables in couscous sauce
Stirred yogurt sweetened with mixed fruit
Almond smoothie
Orange juice

Vendredi 1 Juin
Friday 1 June

Salade pépinette printanière
Colin d'alaska pané et citron
Carottes au jos
Spécialité fromagière
Fruit frais de saison

Pépinette spring salad
Breaded Alaskan pollock with lemon
Carrots
Special cheese
Fresh seasonal fruit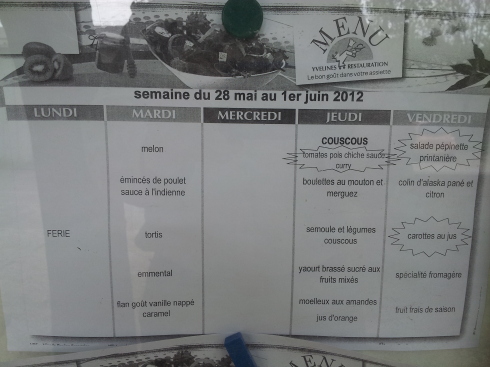 Lundi 4 Juin
Monday 4 June

Radis beurre
Rôti de porc sauce paprika, pois forestiers
Coulommiers
Spécialité pomme fraise

Radish with butter
Pork roast with paprika sauce, forest peas
Coulommiers
Apple-strawberry special

Mardi 5 Juin
Mardi 5 June

Betteraves vinaigrette
Nuggets de volaile, chou fleur au gratin
Yaourt sucré
Fruit frais de saison

Beet vinaigrette
Chicken nuggets, cauliflower gratin
Sweetened yogurt
Fresh seasonal fruit

Mercredi 6 Juin
Wednesday 6 June
Holiday
The anniversary of the D-Day landings in 1944 are a national holiday in France.
Jeudi 7 Juin
Thursday 7 June

Concombres vinaigrette
Sauté de boeuf à l'estragon, mezze penne
Tome
Banane

Cucumber vinaigrette
Sautéed beef with tarragon, mezze penne
Tome
Banana

Vendredi 8 Juin
Friday 8 June

Carottes râpées
Omelette au fromage, purée épinards pomme de terre
Suisse sucré
Tarte aux pommes

Grated carrots
Cheese omelette, mashed potatoes with spinach
Swiss
Apple pie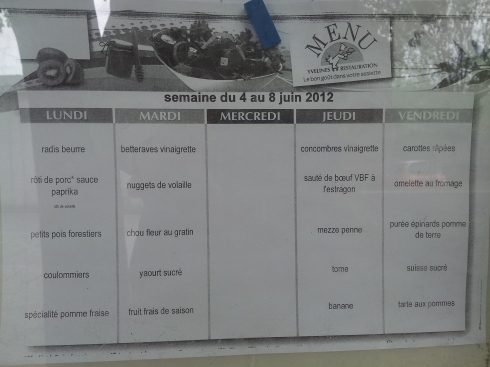 In the U.S., Time magazine's "School Lunches in France: Nursery-School Gourmets" seems to have been one of the articles that drew significant attention in America to French school menus.
Related to this, see the CBS News story "Why my child will be your child's boss", which explained how Swiss school children are regularly taken into the forest and allowed — no, required — to use saws.
Lenore Skenzay's book Free-Range Kids describes how a U.S. high school principal threatened to suspend a group of seniors (that is, 18 years old, in their final year of school) for the "dangerous act" of riding their bicycles to school, and a group of parents protested because their 17- and 18-year old children were sent home from school on a train without an adult supervisor. Meanwhile Swiss children as young as three are given saws to play with, and their kindergarten system advises parents to let 4- and 5-year-old children walk to school alone.
Then there are American school lunches and their concept of ketchup as a vegetable and frozen pizza as a vegetable.
Ronald Reagan's FY1982 budget proposed US$57 billion in spending cuts, This budget was modified and passed as the Gramm-Latta Budget, cutting US$1 billion from the school lunch program while significantly increasing military spending.
The U.S. Department of Agriculture or USDA was then tasked with the impossible task of maintaining nutritional requirements for school lunches despite the loss of a billion dollars in funding.
On September 3, 1981, the U.S. Secretary of Agriculture announced a joint proposal by the USDA and the Food and Drug Administration to reclassify ketchup and pickle relish as vegetables. Public outrage led to the eventual retirement of this specific proposal. However...
By 2011, USDA standards accepted just two tablespoons or 30 ml of tomato paste as counting for a full serving of vegetables. This allows a slice of cheese and meat pizza to also count as a full serving of vegetables.
The USDA wanted to change this to require at least a half-cup or 118 ml of tomato paste before counting it as a full serving of vegetables, also requiring more green vegetables and limiting the amount of potatoes served to one cup per week and thus significantly cutting back on the amount of French fries.*
The U.S. Congress would have nothing to do with that healthy nonsense, and quickly passed a bill barring the USDA from changing its existing nutritional guidelines.
This was an enormous victory for manufacturers of pre-processed French fries and frozen pizza. The American Frozen Food Institute is a trade association that lobbied heavily and successfully on behalf of frozen pizza manufacturers including ConAgra and Schwan Food Company, and French fry manufacturers McCain Foods Ltd and J.R. Simplot Company, the last of which was already a supplier to McDonald's. Meanwhile the actual French people, including their school children, eat only a tiny fraction of the amount of "French fries" consumed by their American equivalents.