Driving the Ring Road Around Iceland
Hali to Höfn
Today would be a short segment, just 66 kilometers from the cluster of guesthouses at Hali along the coast to Höfn.

There were plenty of things to see along the way — unexpected historical markers and geological explanations, several glaciers, and the first fjord of the trip. I would still be traveling through the flat plain between the Atlantic ocean and the immense Vatnajökull National Park. Vatnajökull or the Vatna Glacier covers about 8% of Iceland.

I took my time leaving Hali, waiting almost until 1100, and I still arrived shortly after 1330. Stops and side excursions had added an hour and a half.

This was my first overnight stop along the trip where I arrived before it was getting dark. It was, however, extremely foggy with I arrived, with a tongue of thick fog coming down off the glaciers and out through the fjord.

But it cleared off that evening and the aurora made an appearance.
Getting Started
Most guesthouses say you can't check in until 1600, and many require you to be checked out by 1000. If it's just a one-night stay, as mine was at Hali, then at this time of year you arrive in the dark and would leave in almost complete darkness.
I got packed up and out of my room, putting my things in the car and turning in the key, by 1000. Then I hung out in the kitchen and dining area until close to 1100, having two cups of tea.
Services are cut way back in the winter, the Icelandic national beverage of coffee may be unavailable!
Just before 1100 I started northeast on Highway 1, the Ring Road. By then it was more than light enough to proceed.
Sights Along the Ring Road
I pulled off the highway onto a gravel road to stop and get a better look at the mountains. Then I noticed the Mysterious Winglet on a column a little further along the gravel road.
There's a detailed explanation, but it's all in Icelandic. There's no date, so it isn't a memorial for a plane crash. I don't know...
I had pulled off to look at the basalt formations looming above it. Iceland was formed by many thick layers of lava.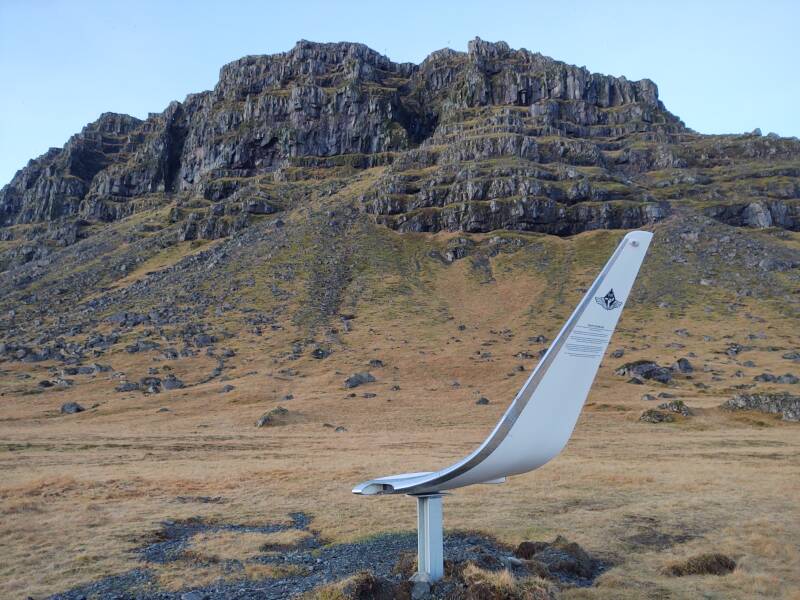 At 1115 the rising sun was only then hitting the mountain peaks.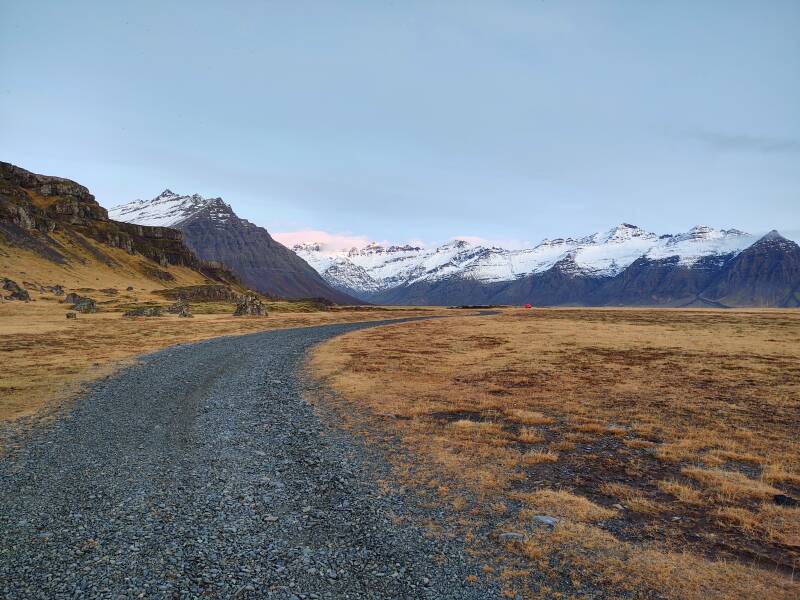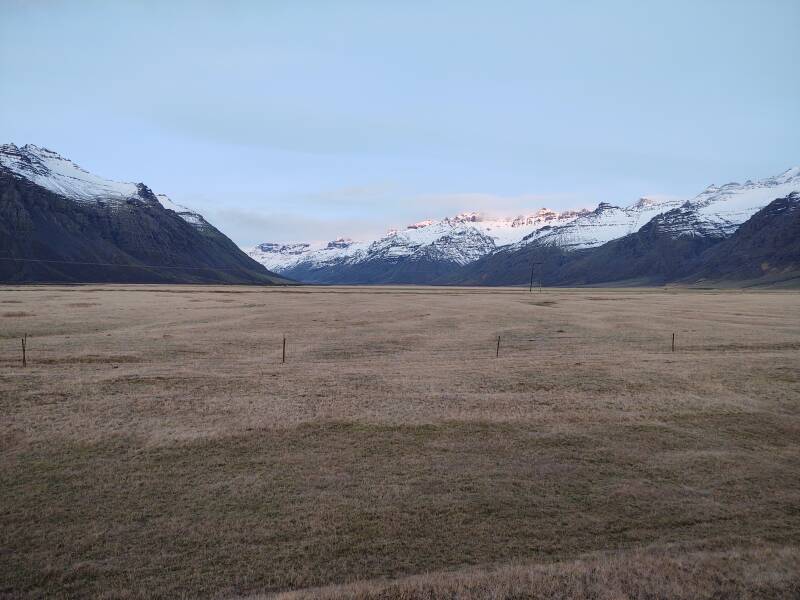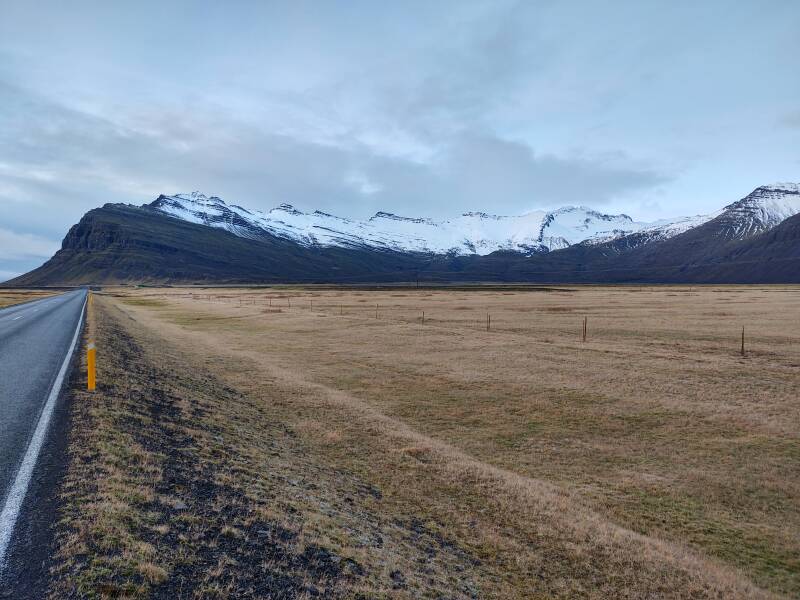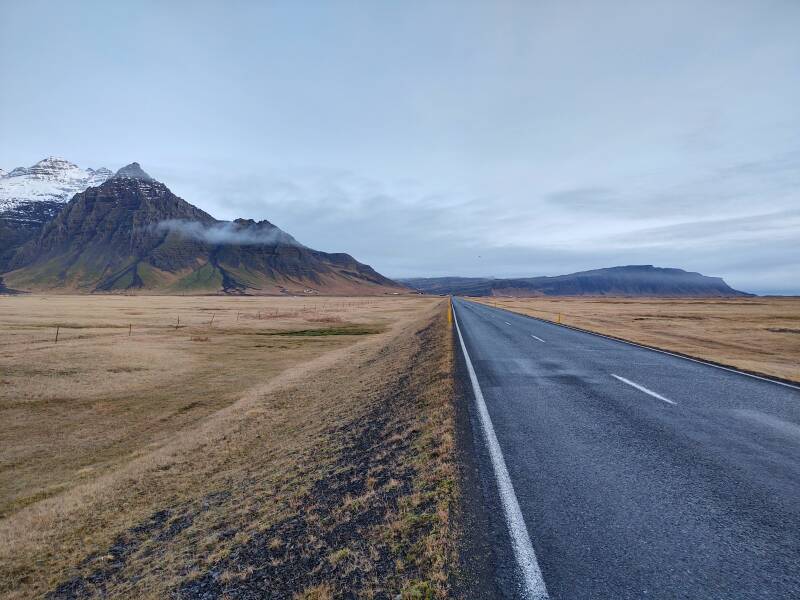 Jón Eiriksson was a local boy who did well. He was born in Skálafell in 1728. The Reverend Ludvig Harboe, who later became Bishop of Zealand in Denmark, was impressed with the boy and took him back with him to Scandinavia and paid for his education in Denmark and Norway. Back then, that didn't sound nearly as creepy as it does now.
Jón became Professor of Law at Søro Academy in Zealand, and then worked for government offices in Copenhagen and was appointed to the board of the Royal Library.
Jón became one of the leaders of the Enlightenment in Denmark, a movement that later spread to Iceland.
This memorial to Jón stands next to a pull-off area along the Ring Road.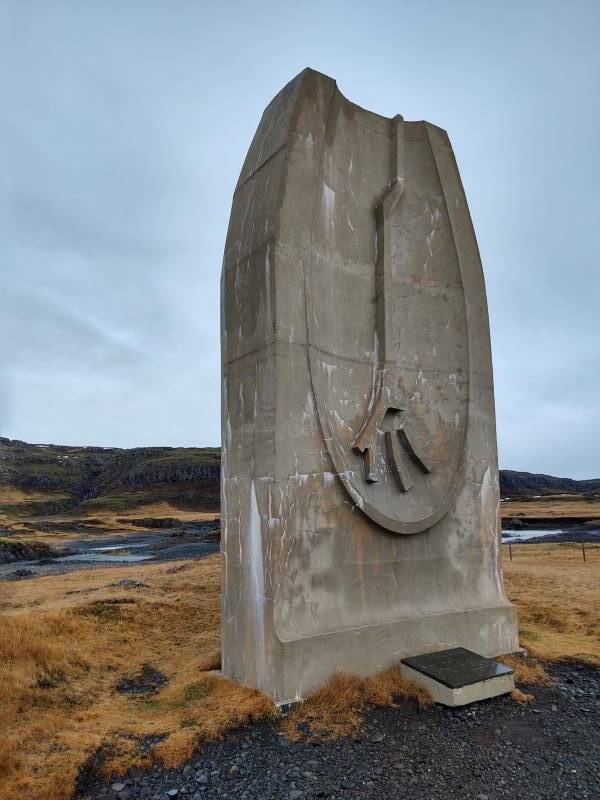 Ð/ð is voiced,
as in
th

is;
Þ/þ is unvoiced,
as in
th

ick.
Jón became deeply depressed and died at the age of 58.
His depression was driven by the indifference shown to proposals for reform and advancement in Iceland, and also by the ravages of the eruption of Laki in 1783 and the subsequent famine known as Móðuharðindin or the Mist Hardships. Over half the livestock and about a quarter of the people died.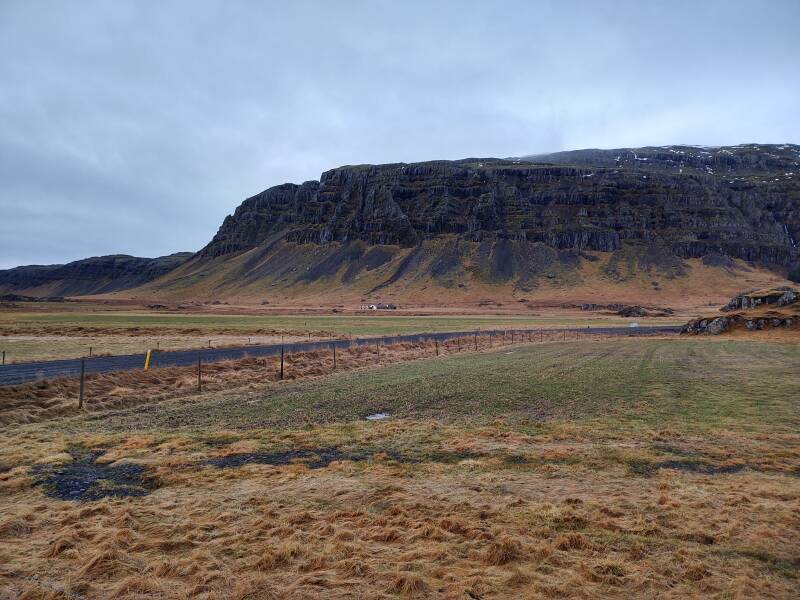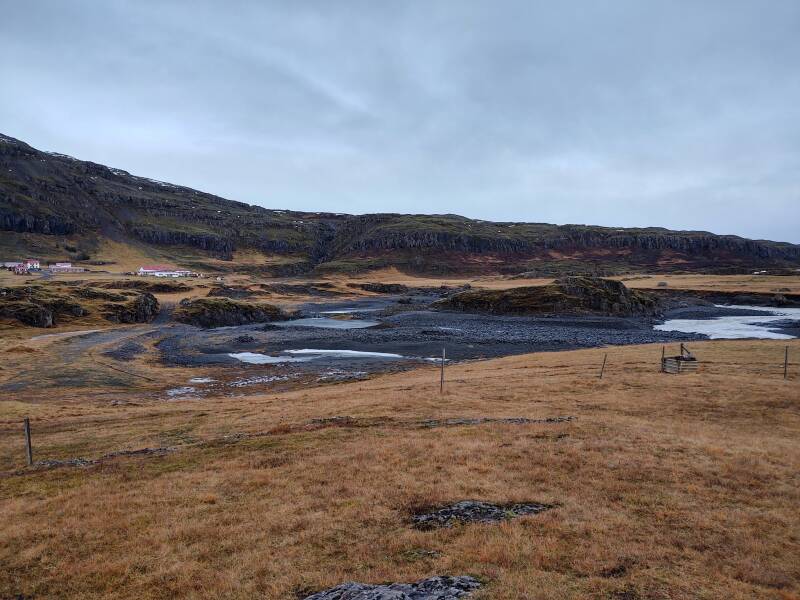 Across the Mýrar Wetlands
When glaciers melted at the end of the Last Glacial Maximum, that meant that only some of them completely melted in Iceland.
Glaciers are enormously heavy, and so the land that had been underneath the melted ones rose up some. That plus millennia of glacial outflow carrying sediment made for an extended flat coastal plain.
The Mýrar district is one of these areas of wetlands and marshes or myres.
The first thing I noticed when entering Mýrar was the Heinabergsjökull glacier.
A little further along, with the very low clouds shifting, I could see that that three glaciers extended down to the Mýrar — Skálafellsjökull, Heinabergsjökull, and Fláajökull, left to right.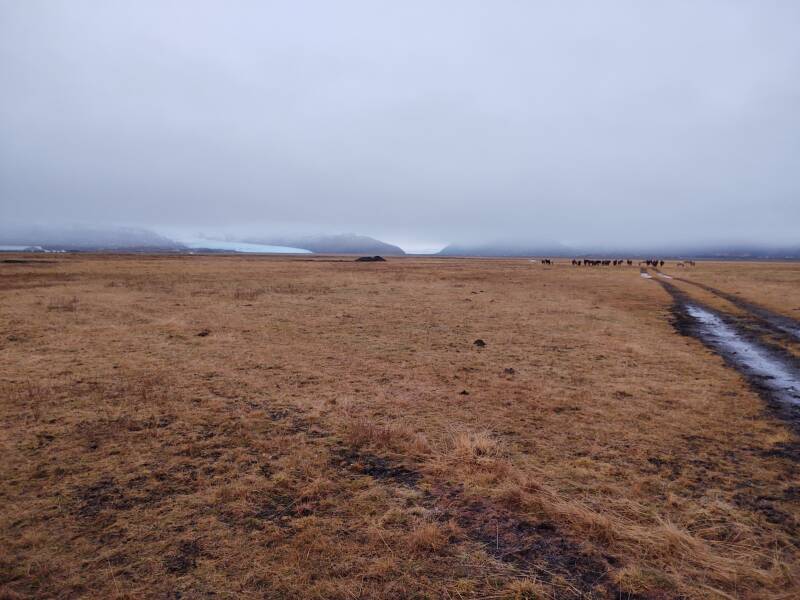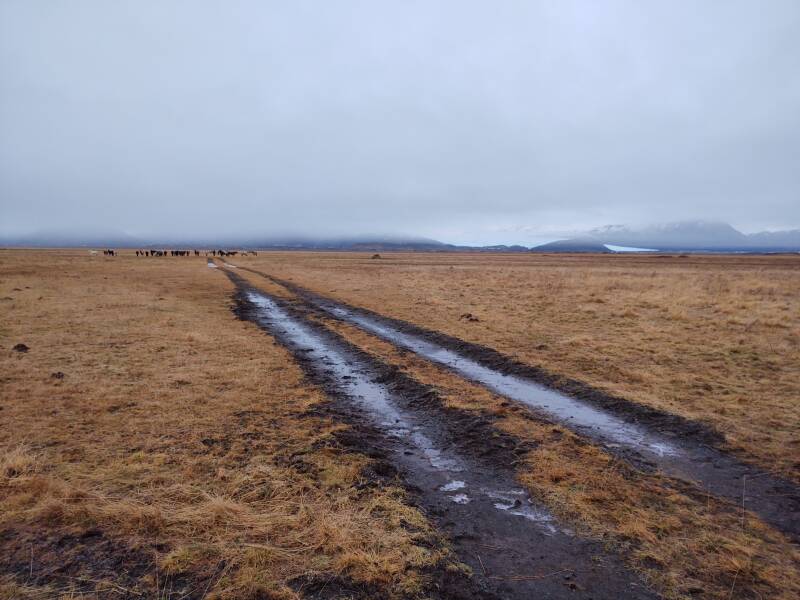 A pull-off area at Eskey had a map at a high vantage point, along with pictures labeling what you were seeing, plus this map: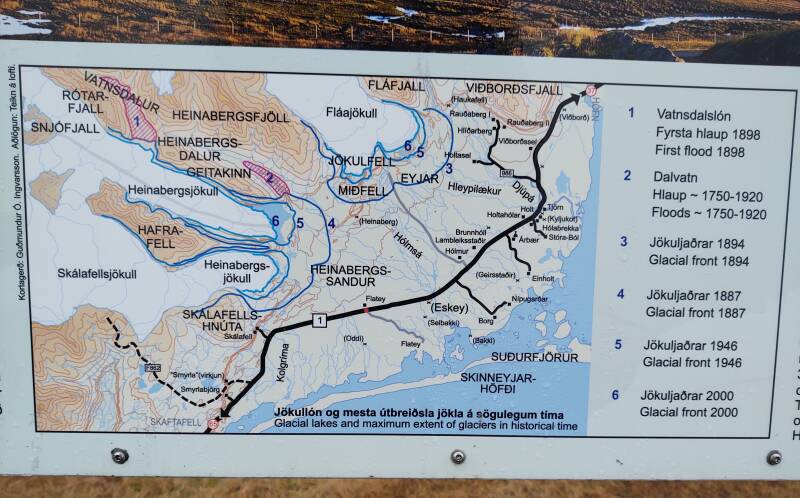 Here's the view southwest, back toward Hali: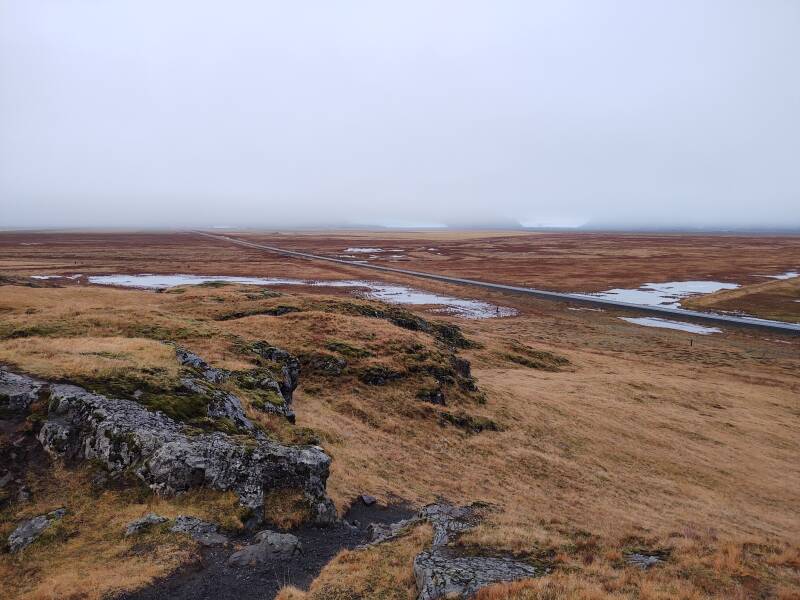 And to the north, toward the glaciers: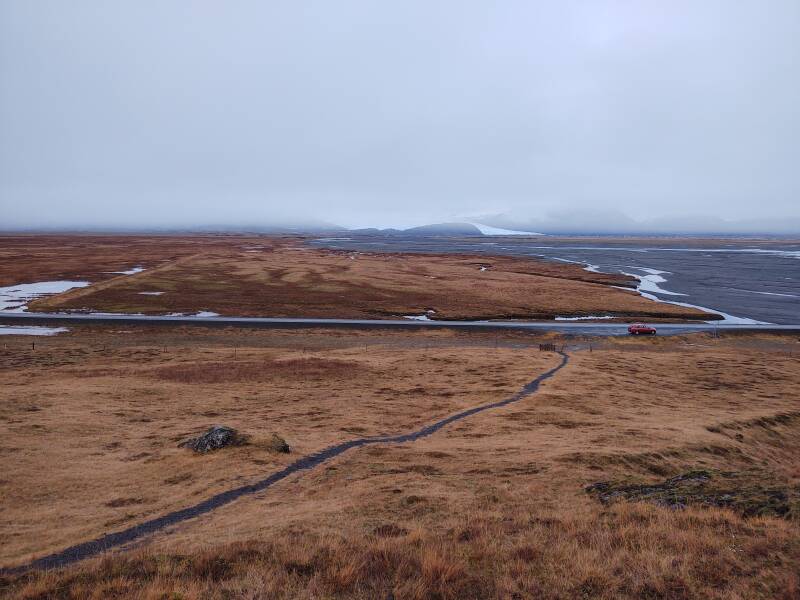 And to the northeast, toward Höfn: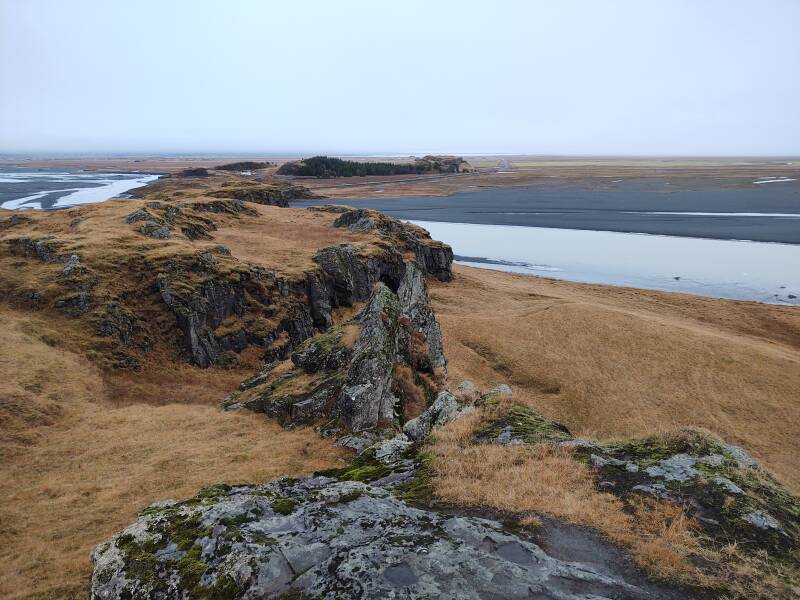 And to the south, toward the Atlantic: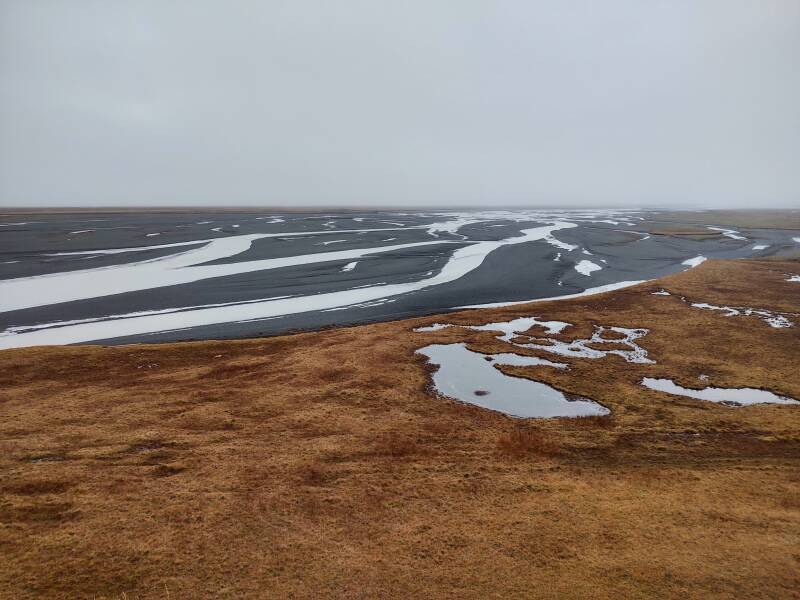 A little further along the highway, an easily passable side road takes you closer to Fláajökull.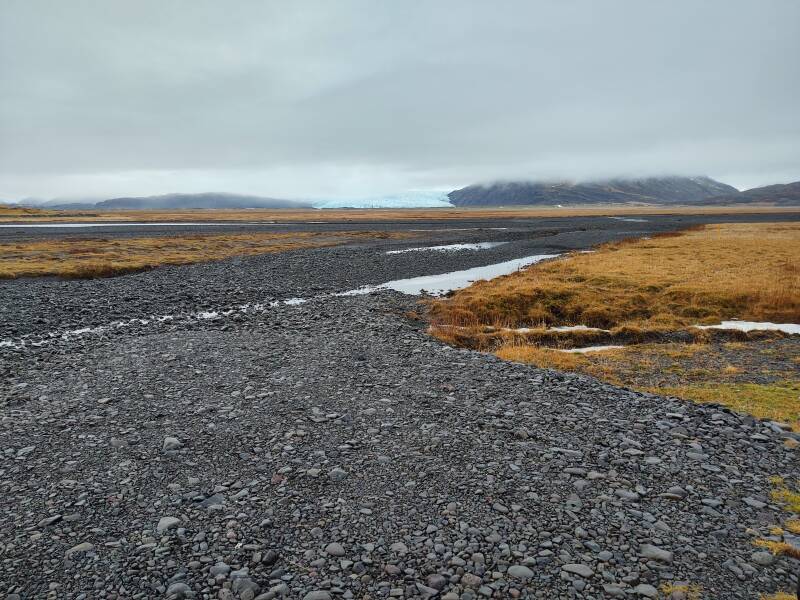 A narrower track with much thinner gravel and softer support purports to get you closer, which it would, but I was skeptical that it would get me back again.
Crossing Hornafjörður
Highway 1 loops 5 to 7 kilometers to the north to cross Hornafjörður, the first fjord of my trip. Here I'm looking up the fjord to Hofellsjökull, its glacier.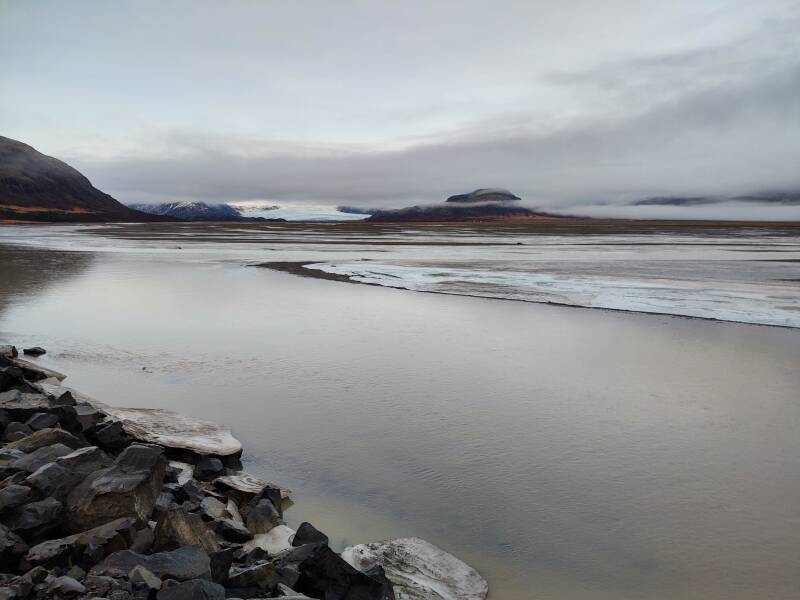 The Hornafjarðarfljót drains the runoff of Hornafjörður.
Hofellsjökull the glacier,
Hornafjörður the fjord,
Hornafjarðarfljót the river.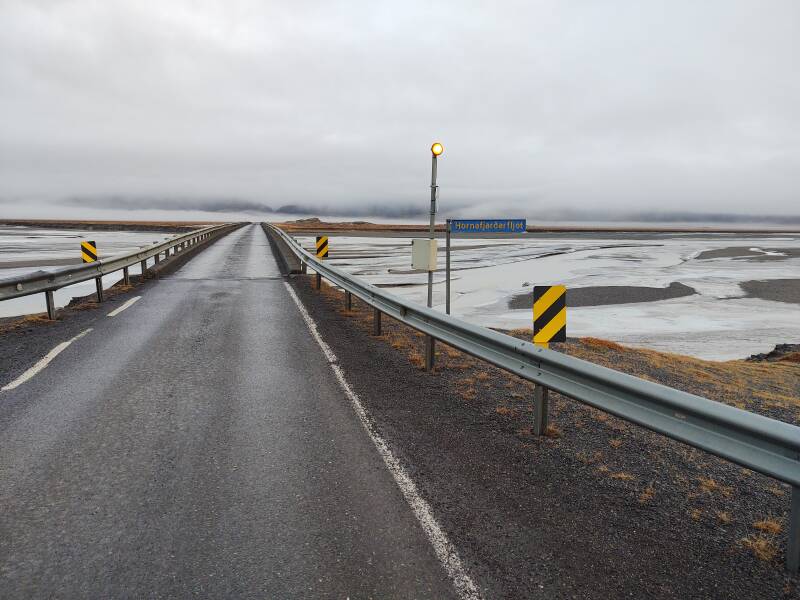 The bridge across the Hornafjarðarfljót is, of course, a single-lane bridge.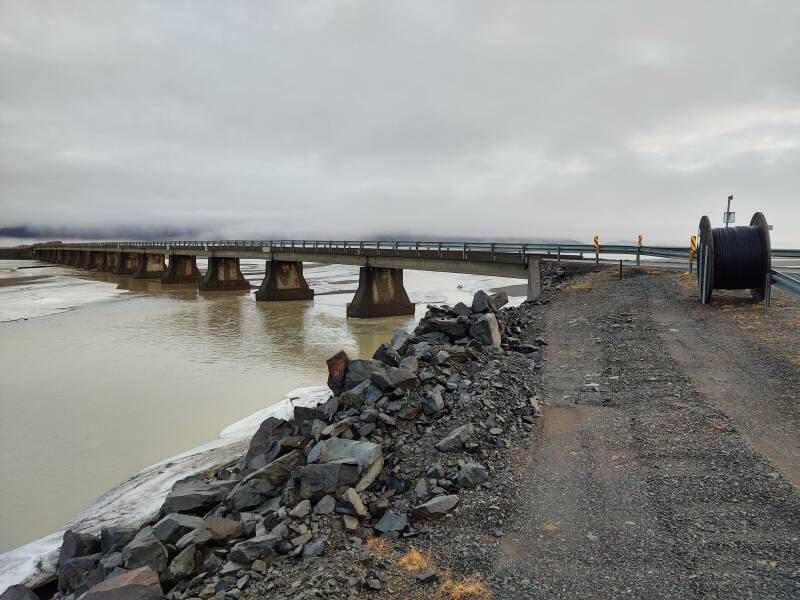 I'm standing at the west end of the bridge looking back toward where I had started that morning in Hali.
Notice the sun, shining dimly through the clouds at far left. I took this picture at 1248. This is, within a small fraction of a degree, as high as the sun will get today.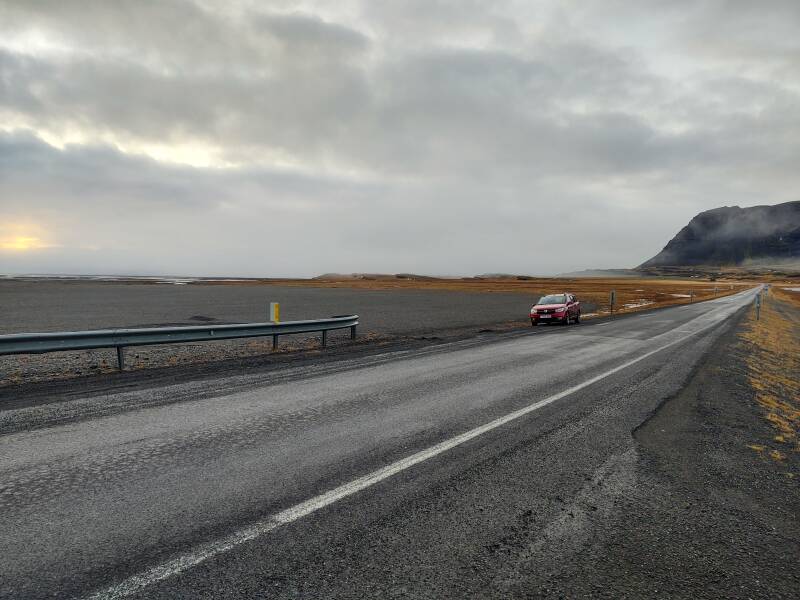 This is a significant location in aviation history, as the world's first aerial circumnavigational flight landed here in August, 1924. It was an effort by a team of eight pilots of the U.S. Army Air Service, they took 175 days to fly from east to west around the world.
I did a couple of detours north off the Ring Road up into Hornafjörður.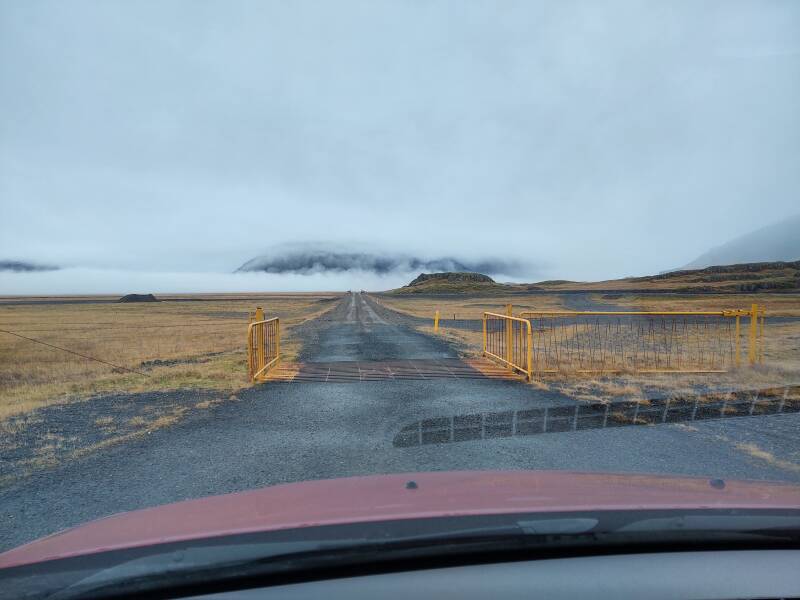 It was atmospheric, but everything soon ended at a guesthouse.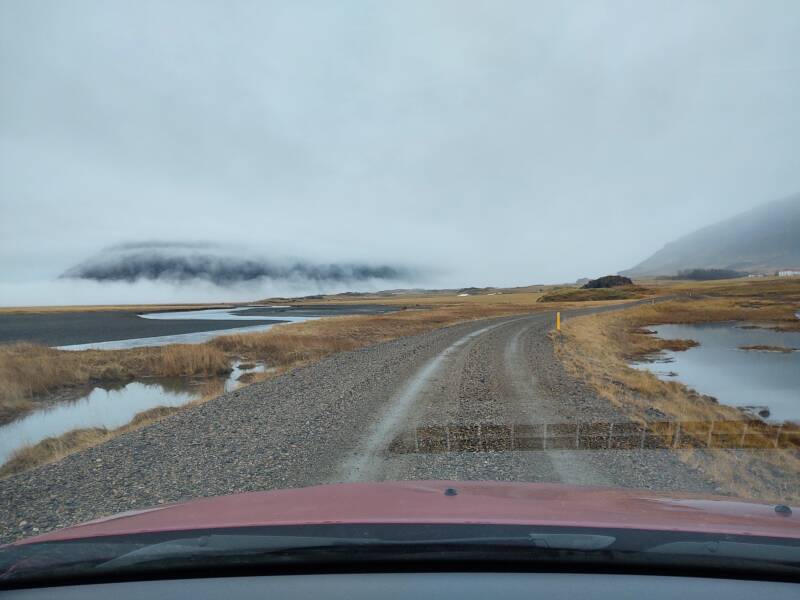 So, back onto Highway 1 and continue south to Höfn under the lowering clouds.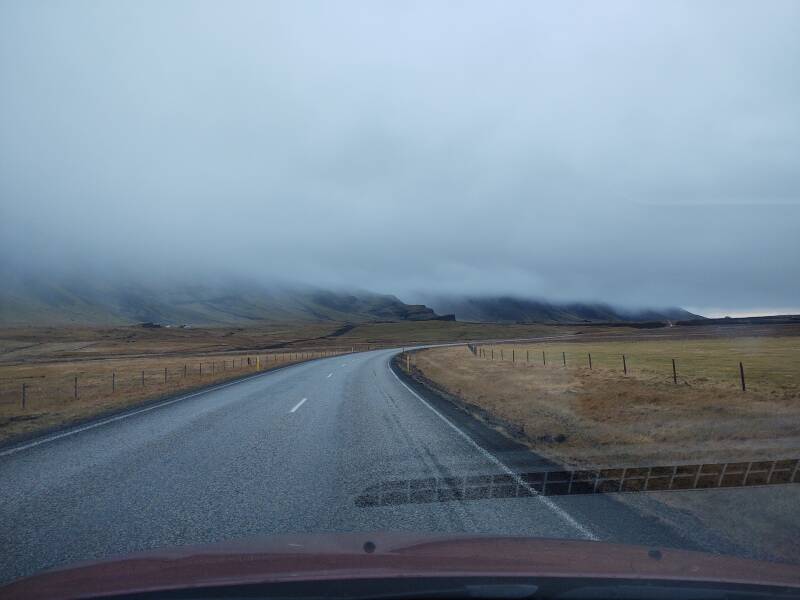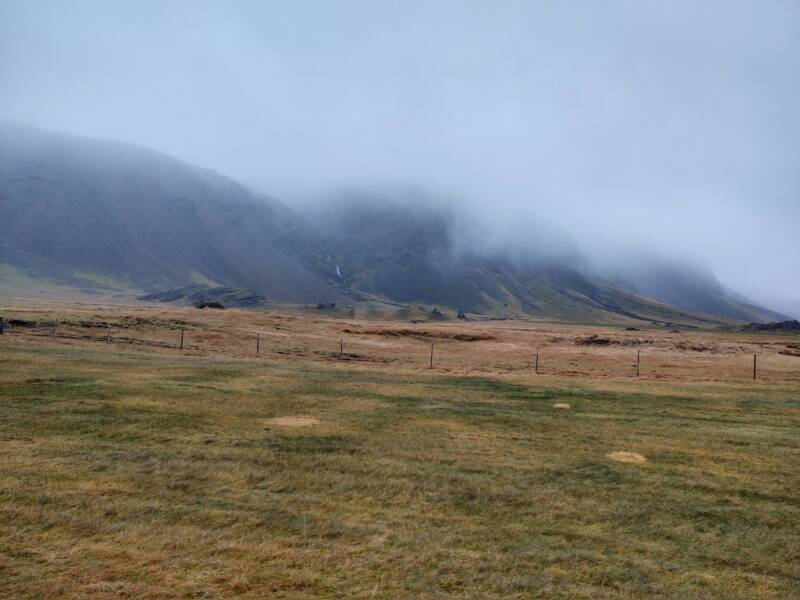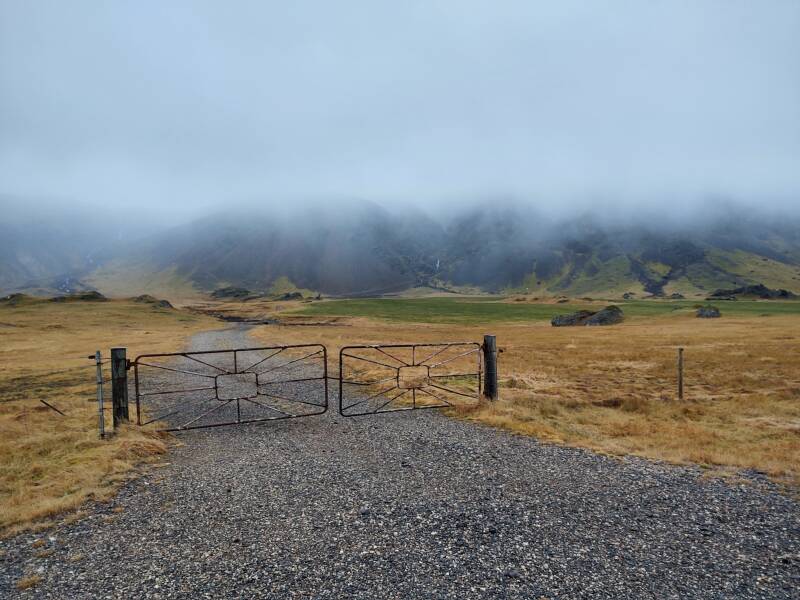 Guesthouses at Booking.com
Höfn
I soon turned off Highway 1 onto road 99 leading another 3–4 kilometers into Höfn, where I stayed at the Höfn Hostel.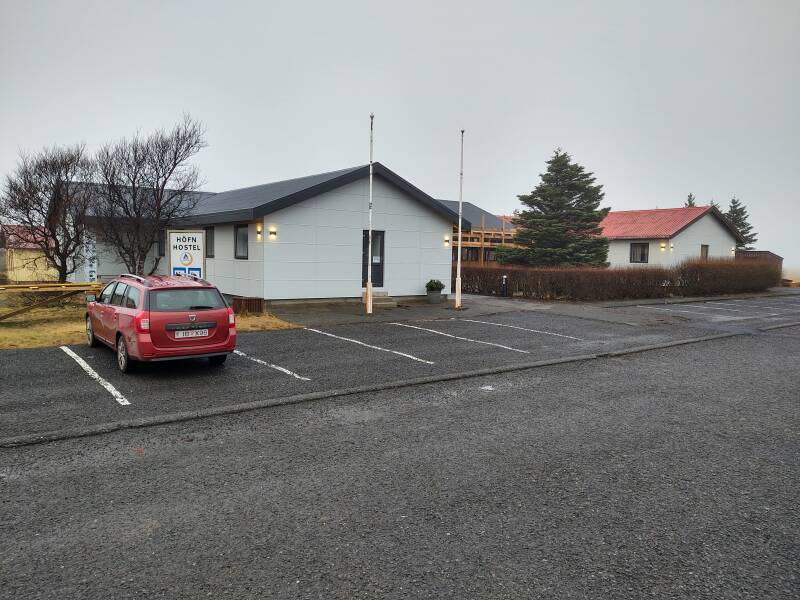 Notice the raven perched on a nearby street light.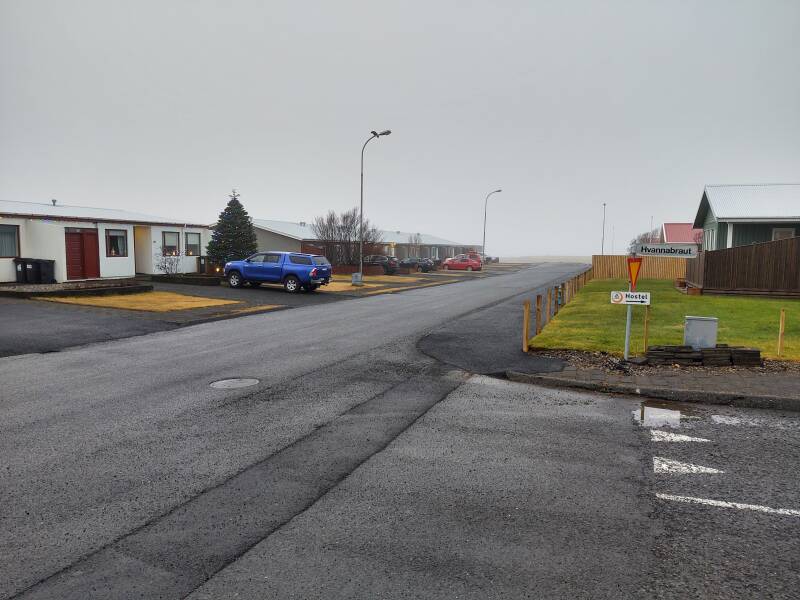 Like Odin, or Óðinn in Old Norse (and if you don't use Old Norse to reference Óðinn, when would you?), I invited the raven to perch on my shoulder and whisper secrets into my ear.
The raven said, "You have been exposed to Corvid." 1
It soon became even more foggy in Höfn as a thick band of fog came down out of Hornafjörður.
Walking into the center, I came across the first of many historical markers in Höfn. This one described the history of the municipal water supply system in Höin. This tank was built in 1949, it can hold 200 tonnes of water. It's on Fiskhóll, "Fish Hill", a small hill once at or beyond the north edge of town but now in the center.