Driving the Ring Road Around Iceland
Seyðisfjörður to Akureyri
Ð/ð is voiced,
as in
th

is;
Þ/þ is unvoiced,
as in
th

ick.
I wrote that the previous segment took me through the most epic driving of the trip so far.

That's correct.

So far.

This segment was longer than any previous day at 293 kilometers, without any side trips. It took from an hour before sunrise until close to an hour after sunset. Of course this was a short subarctic winter day. The sun rose at 1112 where I was starting, and set at 1447 at my destination.

Along the way I saw, well, not very much compared to earlier days of this trip. Snow was falling and the clouds were low. But it was an epic drive across the Icelandic highlands.
Over The Fjarðarheiði Pass
I had been in Seyðisfjörður over Christmas. Which, this being a small Icelandic town mid-pandemic, was pretty quiet. I and a few locals walked around town and greeted each other from a distance. Now it was the morning of the 26th, time to get moving west across northern Iceland.
Sunset and
Sunset Times
Here's the view down the main street at 1013, one minute after official sunrise. My car was warmed up and ready to go. Notice the film of ice on the street. Use studded tires. Wear crampons.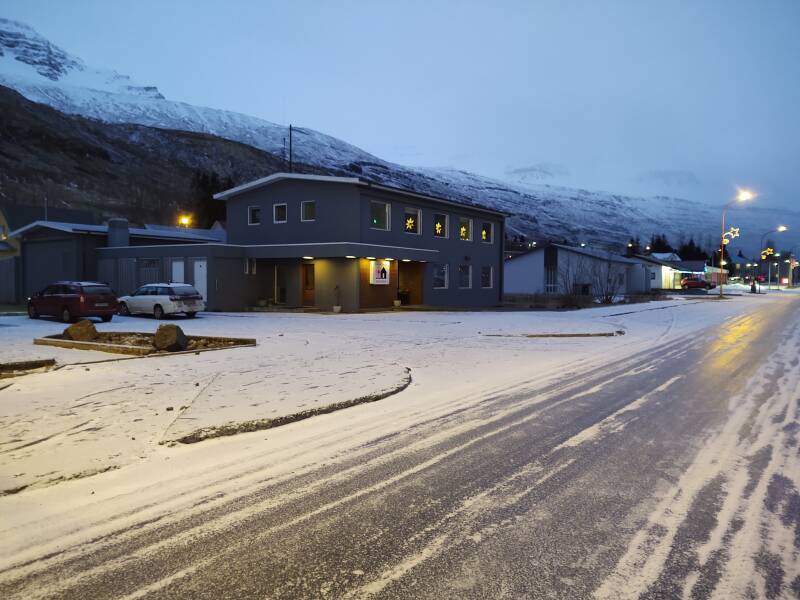 A local driver, much more comfortable with driving the steep and twisting roads under a fresh coating of snow, had caught up to me while we were ascending out of the fjord. I was glad to reach the relatively flat road near the peak and let them get around me. They're already far ahead of me, about to go under the high-voltage transmission line. We're crossing the 600-meter-high Fjarðarheiði pass.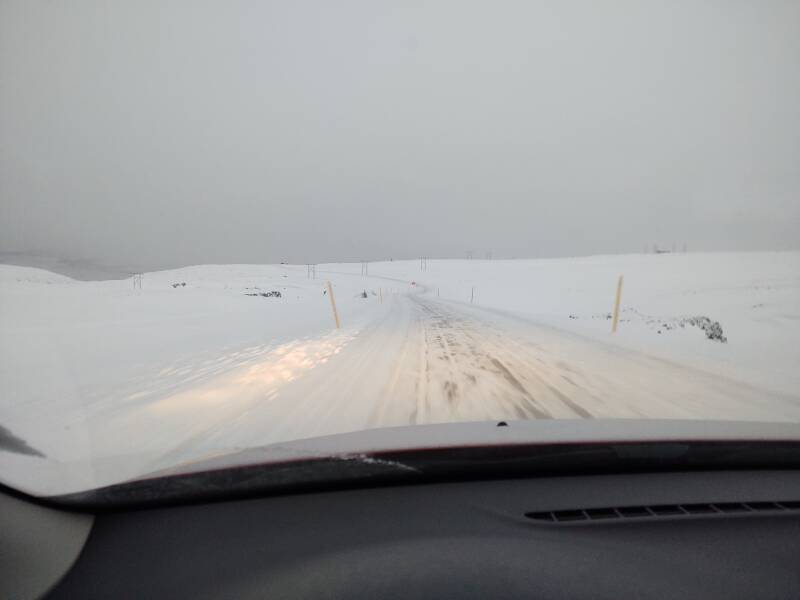 The road had less snow when I got down to Egilsstaðir.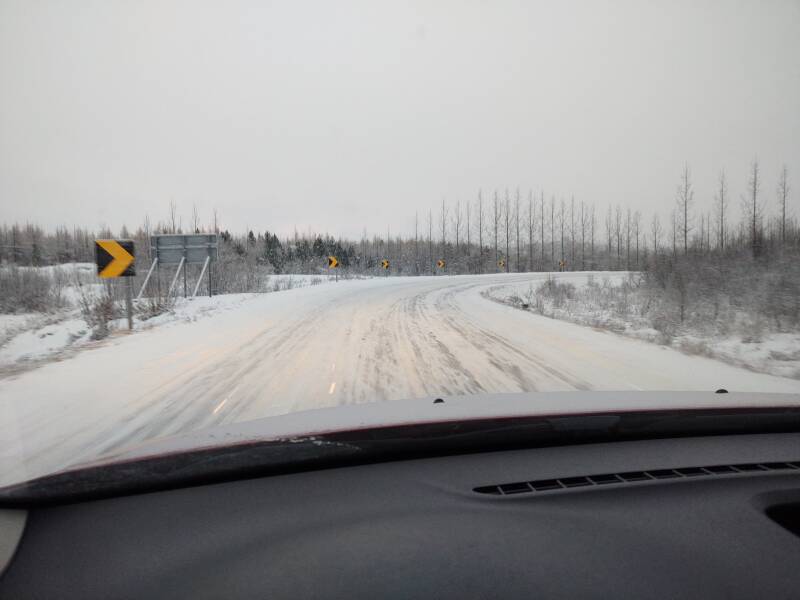 A friend of mine1 had asked me about dining opportunities in Seyðisfjörður over Christmas. An Icelandic town with less than 700 inhabitants. During winter. During a global pandemic. Over December 23–26.
Would there be a diner as one sees in film noir? Or maybe more of a Beat diner, where a junk-addled William S Burroughs might sit for hours with his coffee cup on a napkin?
Umm, probably not.
But look what I found when I pulled in to Egilsstaðir, wanting to ensure I had a full load of fuel and drinking water.
It's an "American Diner", straight out of the 1970s US "nostalgia" for a fictional notion of the 1950s, started by George Lucas's 1973 American Graffiti, then 1978's Grease, and further amplified by TV series like Happy Days. Complete with a fiberglass Big Boy!
I had my baggie of dark-chocolate-covered espresso beans and my two-liter bottle of pure Icelandic tap water. I was already personally prepared. But I did top off the car's fuel tank. The next community would be Reykjahlið, 165 kilometers away on the shore of Lake Mývatn.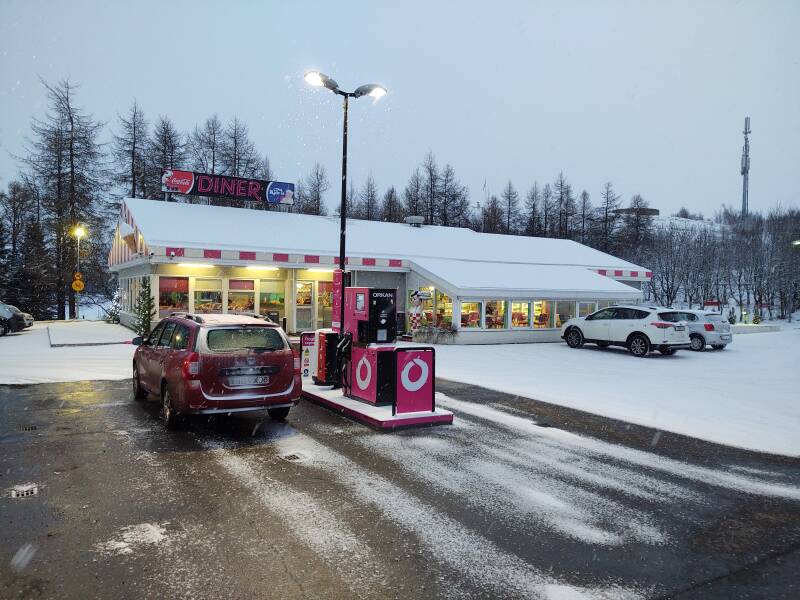 Into The Highlands
My westbound lane of Highway 1 has been cleared. Here comes a plow clearing the way east.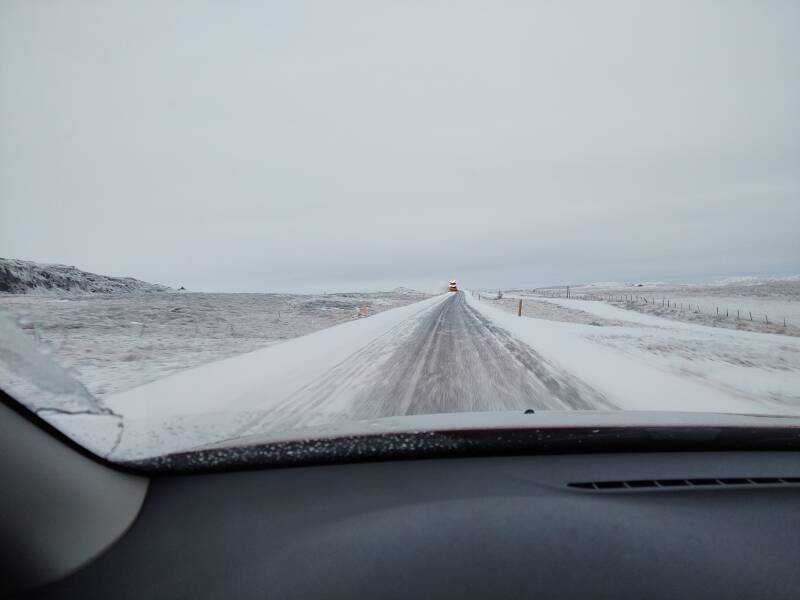 Grindavík
VLF Mast
RÚV, the Icelandic National Broadcasting Service, uses a 221-meter steel mast for their longwave broadcasts on 201 kHz with a power of 100 kW. An earlier page described the design and construction of antennas at these extremely low frequencies and correspondingly long wavelengths.
RÚV's 221-meter transmission mast at Eiðar could have been visible here about 7–8 kilometers away. But not today. It was past sunrise, the high-intensity lights were turned off.
My car's radio covered the AM (MW) and LW broadcast bands, but it was completely deaf on both of them. I had already found that it picked nothing up even when you were close enough to see the transmitting antenna.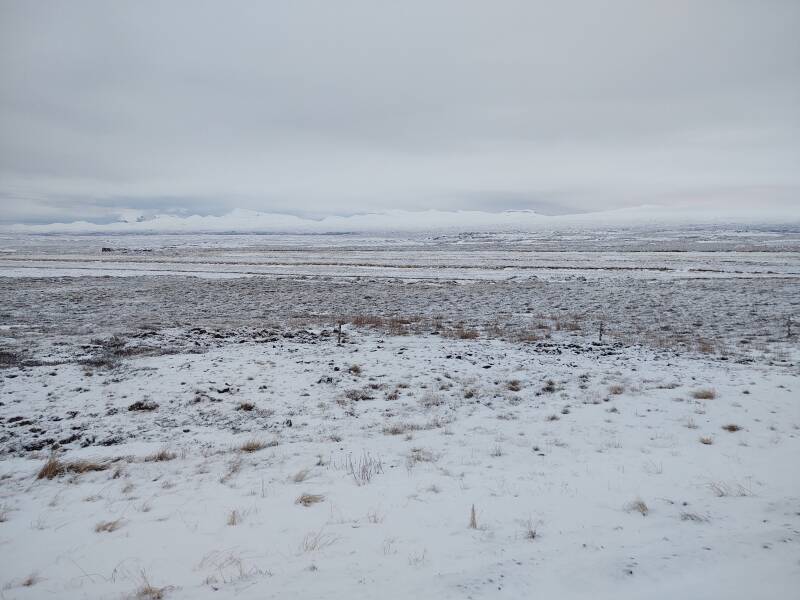 Into The Abyss
Out of Egilsstaðir the road runs nearly straight north for about 22 kilometers to cross the Jökla river, running north to the ocean. Then the road does an almost 180° turn.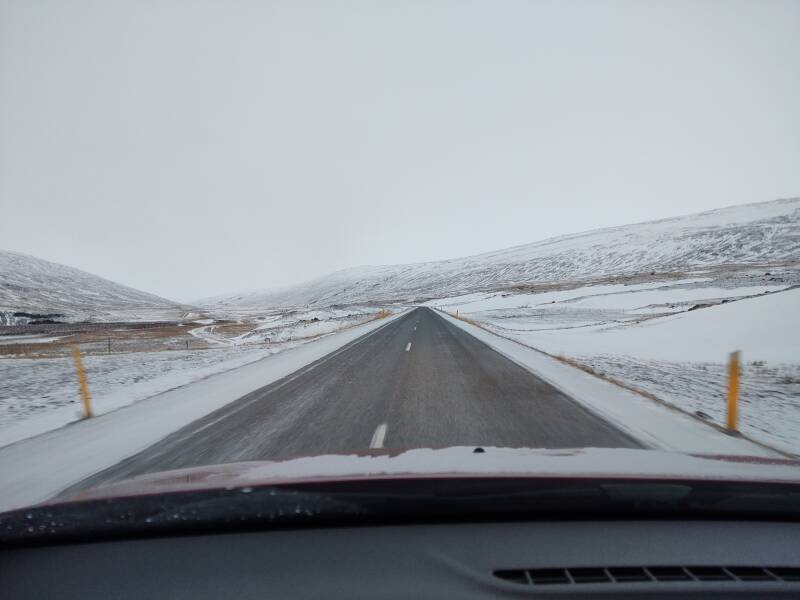 Then it runs very generally to the west, with broad sweeping half-loops to the north and south.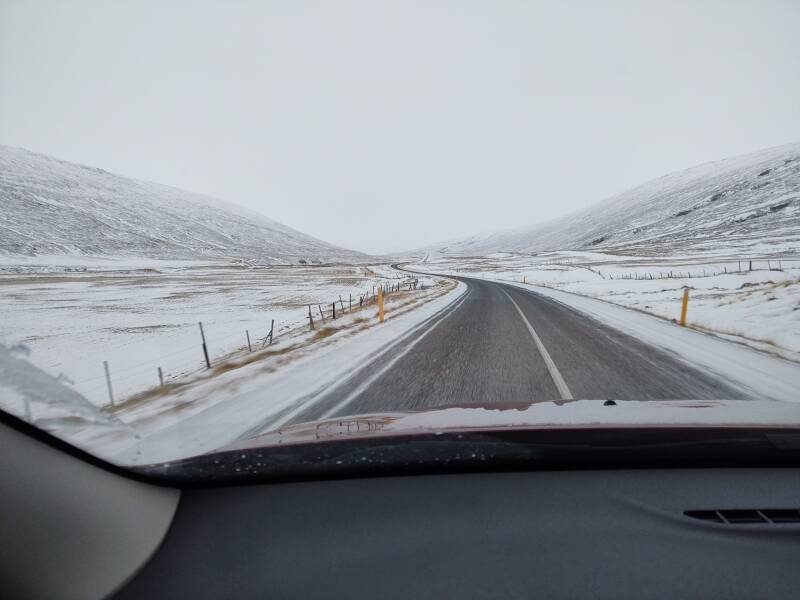 On this day the weather and road condition gradually worsened as I continued to the west.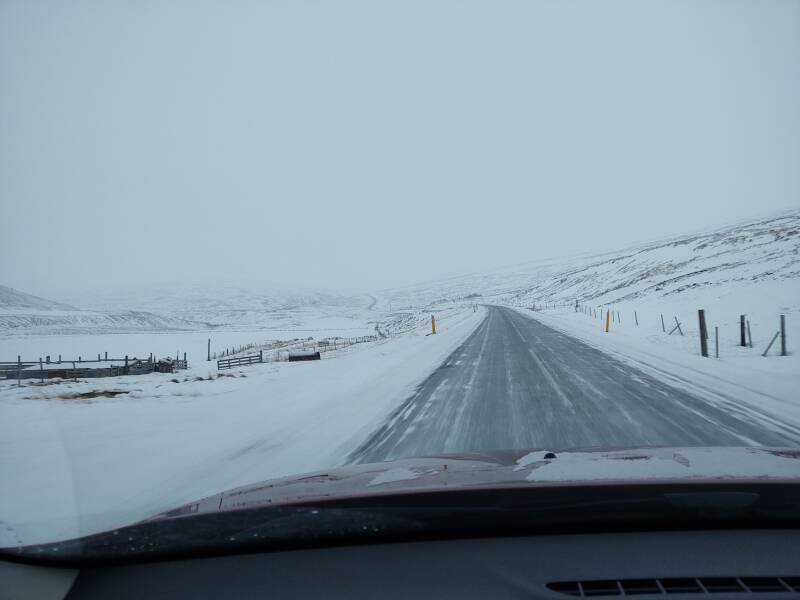 I was driving through the base of the clouds as light snow fell. There was some other traffic. Someone has just overtaken me. By this point on the entire trip I had overtaken just one car but had been passed many times. I'm new here, I don't want to go fast. It's understood, you slow down and get to the right, and they pass you.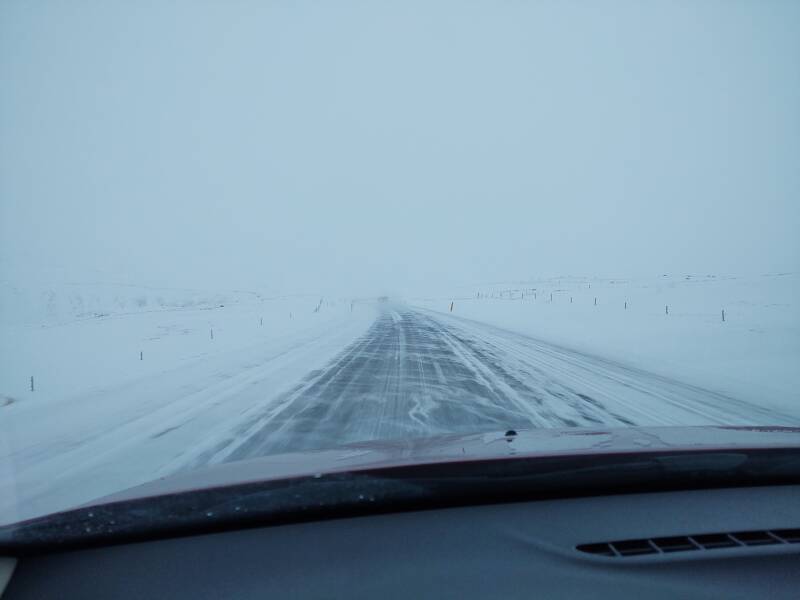 The yellow plastic poles are essential.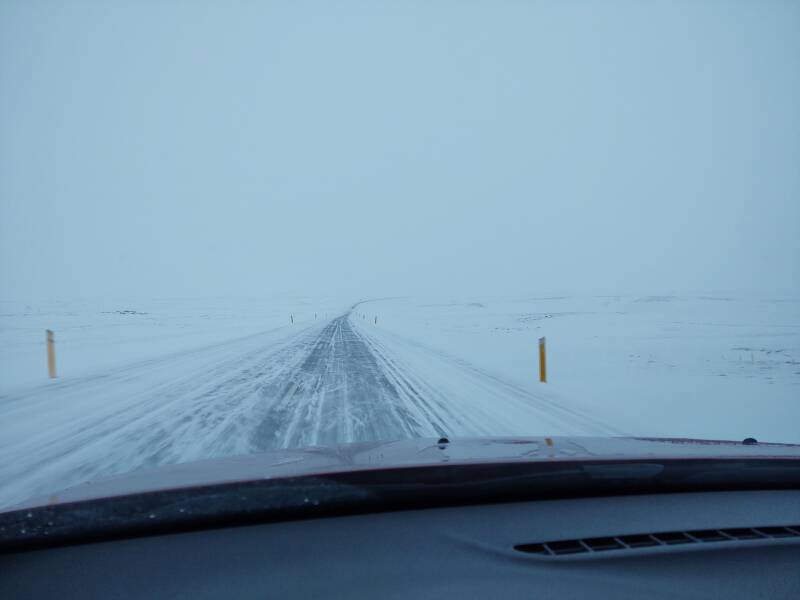 RÚV has two broadcast channels. Rás 1 and Rás 2. They have transmitters all over Iceland. Almost everywhere on this trip, one or both came in. They are mostly spoken programming. Endless monologues or conversations in Icelandic. A third national network, Bylgjan, has some popular music. But you're not always in range of one of their stations.
It was Sunday morning as I was traversing this region. I was within range of one RÚV station, and they had a program of Bach organ music. So I could crank that up while driving through the bleak wilderness. That was nice.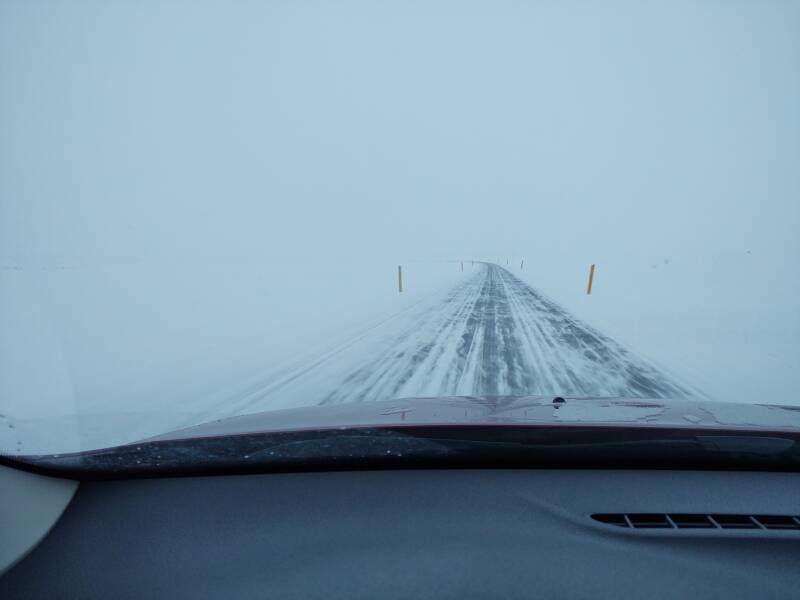 And it continued like that for another hour. My car carried me through it like Sleipnir, Oðinn's eight-legged horse. Eight legs provide more traction in these conditions.
Just over an hour later I had finally exited from the region of falling snow and clouds down to the ground.
Side road 862 offered a 24-km detour to the Dettifoss waterfall. Road 862 isn't quite a 900-series road, but it would be close to that 900 level of not-quite-forest-road sketchiness. The last time I had checked road.is this one didn't look good. And, temperatures in the interior had been -8 °C or colder for some time, so waterfalls would largely be ice structures.
So, no. Something for my next trip to Iceland, assuming it's not also at mid-winter.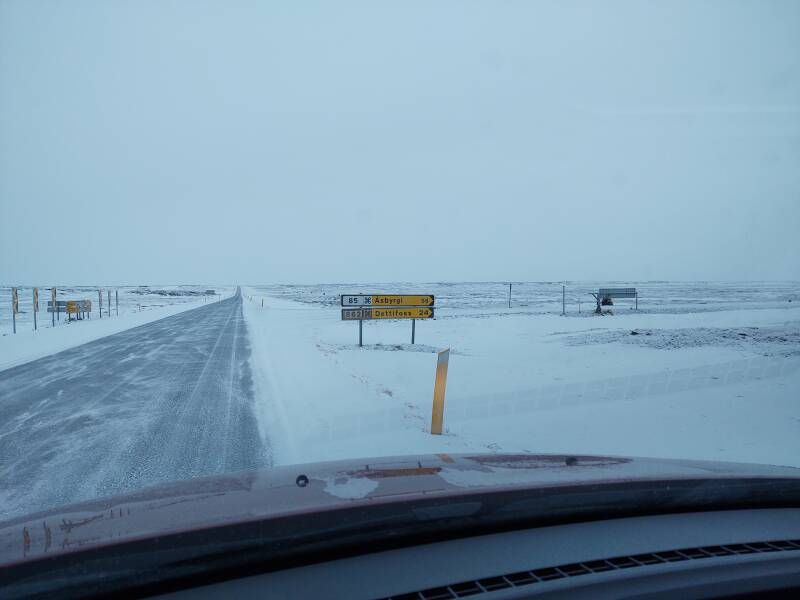 Mývatn Lava Fields
Just past the 862 road north past Dettifoss toward Asbyrgi, you cross the Jökulsa Á Fjöllum river, flowing north to the sea. Highway 1 soon starts traversing the northern perimeter of a large area of hraun or lava flow.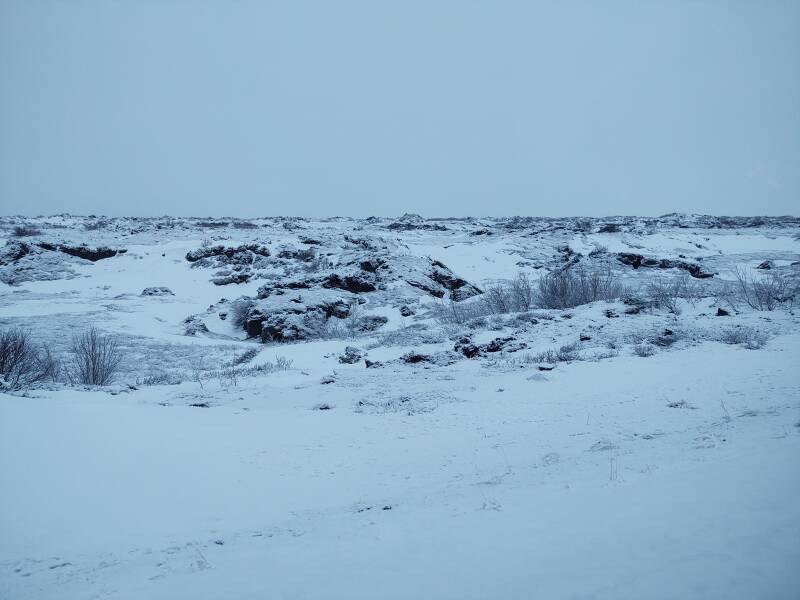 For the most part the highway runs around this area, because no one wants to build a road right through this rugged terrain. But it cuts across smaller arms of it, and you see the large jumbles of broken lava on both sides of the road.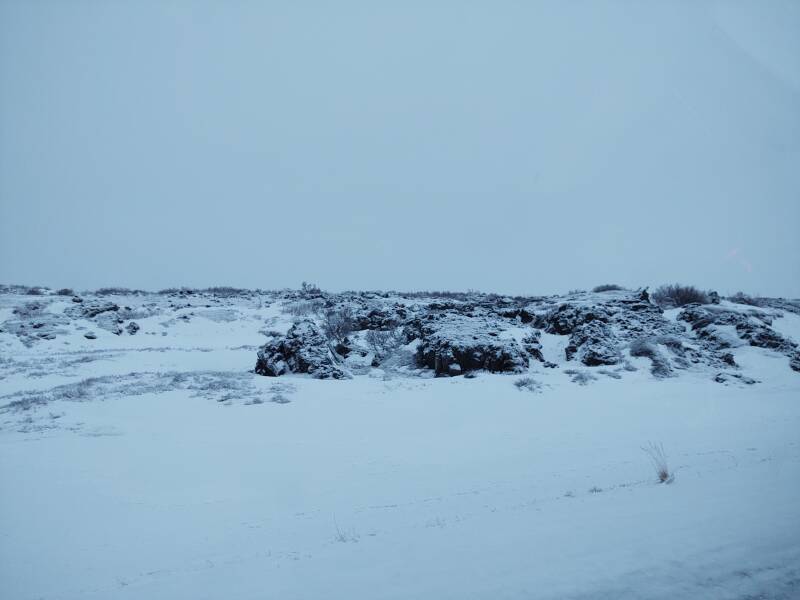 This area was formed by eruptions before the last glacial period, and by eruptions beneath the most recent glaciers.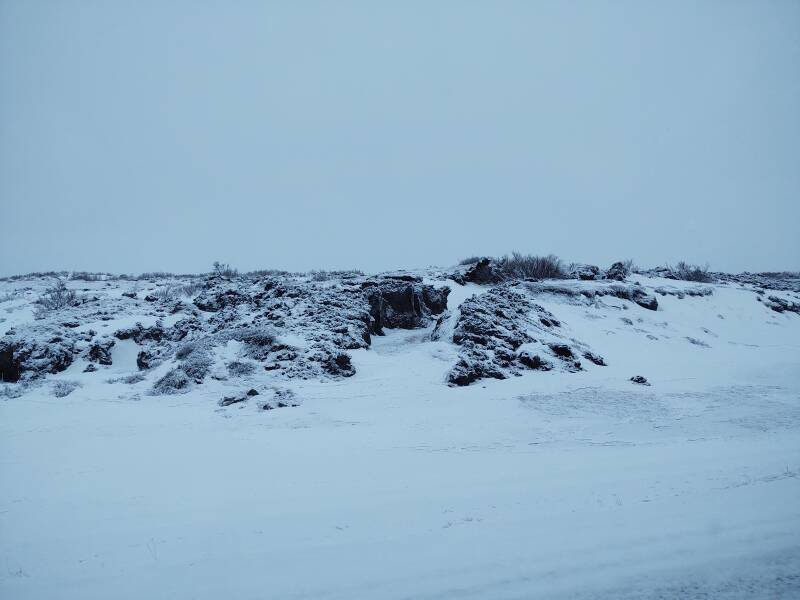 Eruptions and explosions have continued since the last glacial period.
There were major eruption cycles about 3,800 years ago, 2,500 years ago, and in 1724–1729.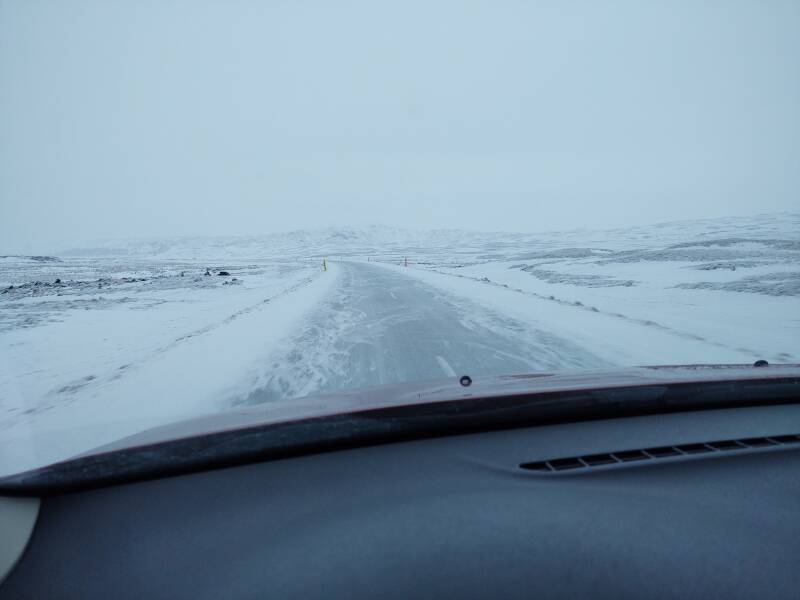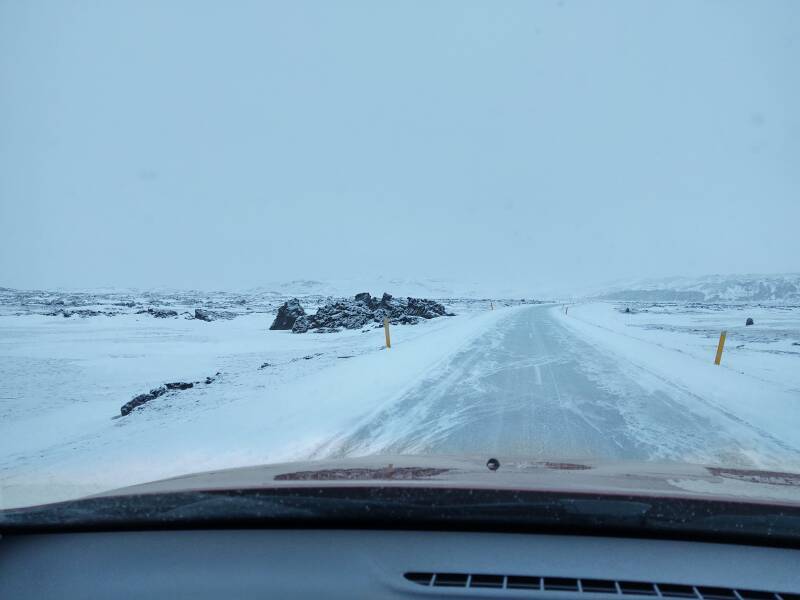 Road 863 branches off to the north to run 7 kilometers to the Kröflustöð thermal power station, as Highway 1 begins to ascend a broad ridge.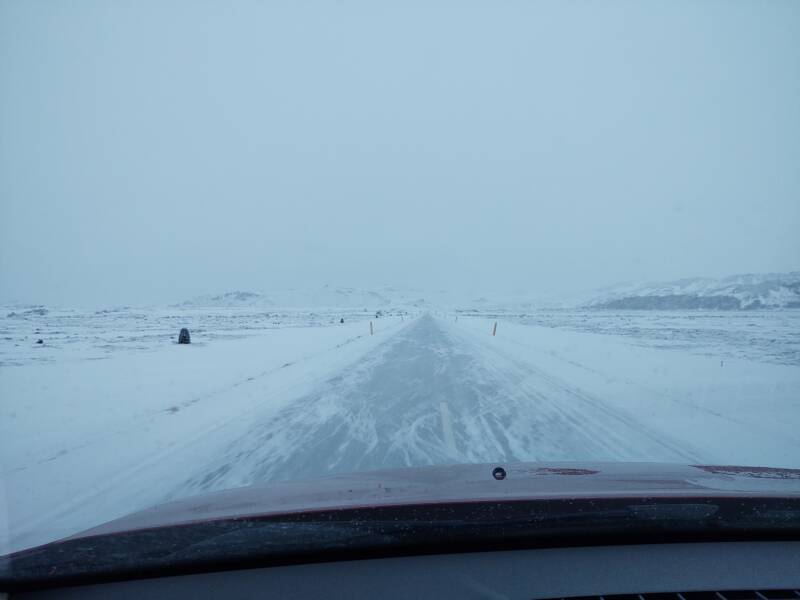 Mývatn Geothermal Area
You cross that ridge and descend into the Mývatn area. Several geothermal power stations are on either side of the highway.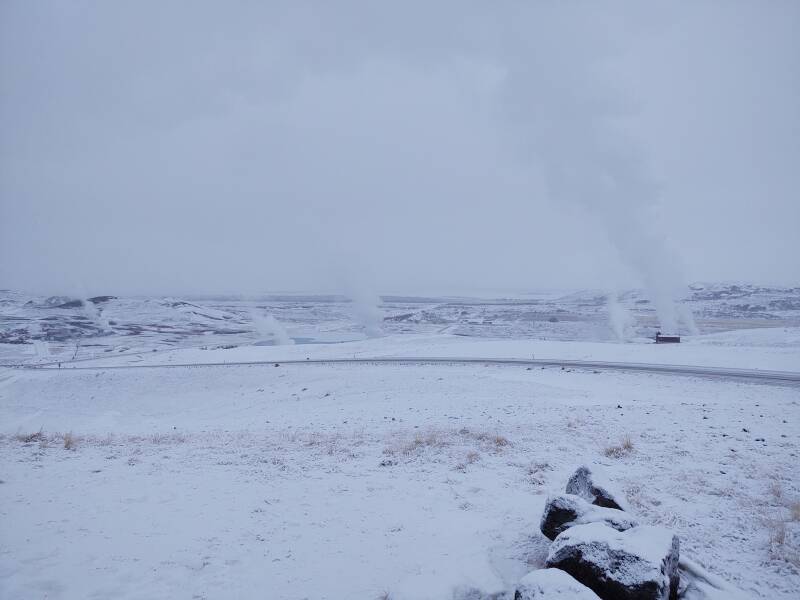 Mmmmm. Hydrogen sulphide.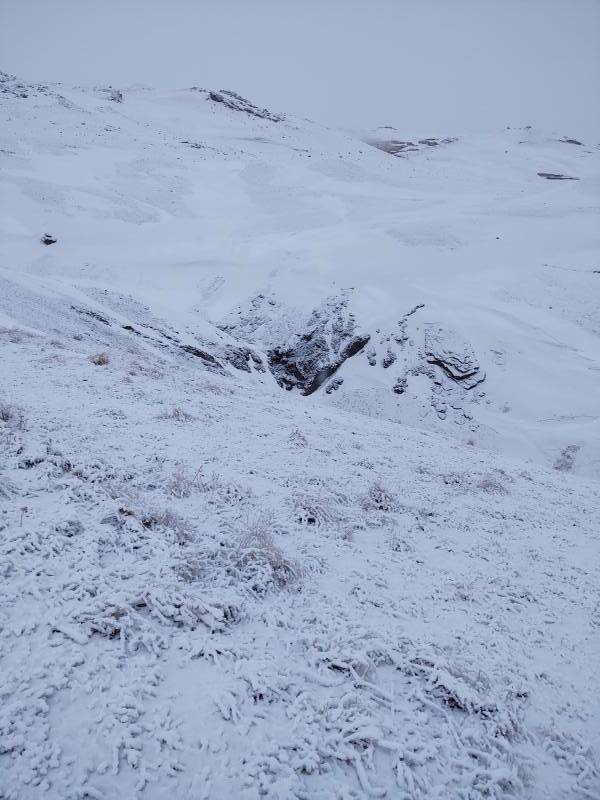 There are hot springs for bathing all around Lake Mývatn, but there are also many beyond-boiling-hot springs tapped for thermal power.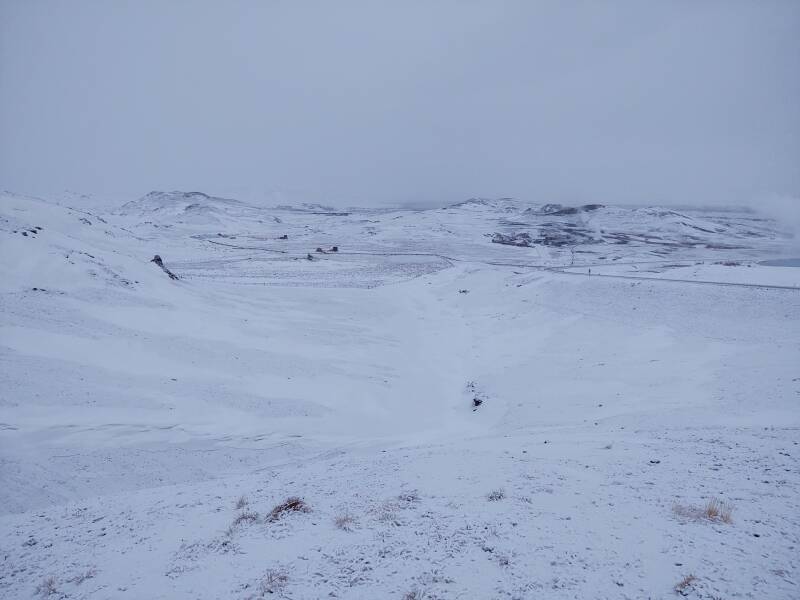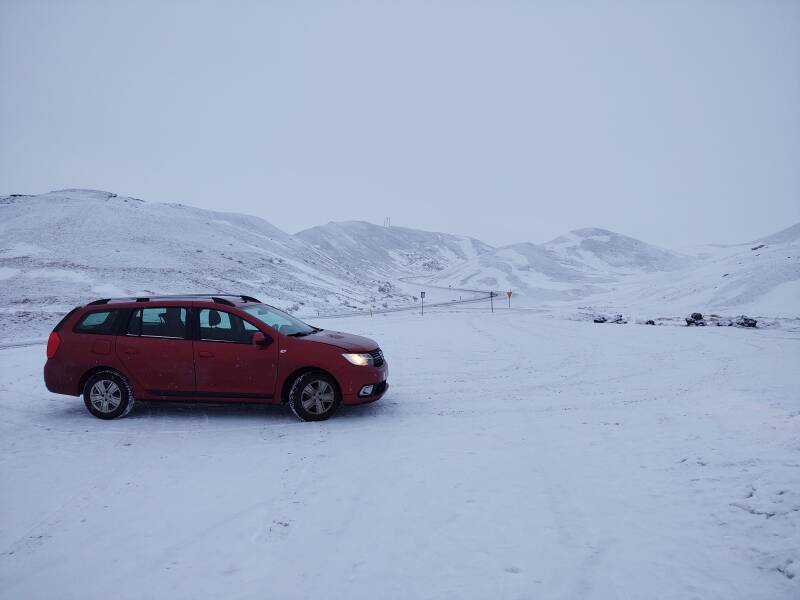 Large insulated pipes carry the hot water.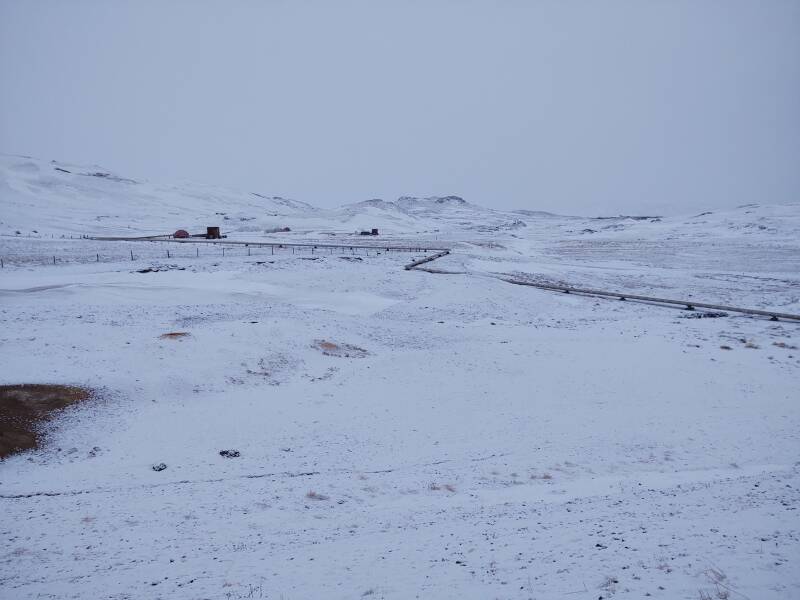 Lake Mývatn began forming during eruptions about 2,300 years ago. There was a large lake here at the time. Lava flowed down over it, trapping water-logged lake sediment beneath it. Steam explosions then violently reformed the terrain.
Today's resulting lake is large but shallow — 37 square kilometers in area, but with an average depth of just 2.5 meters.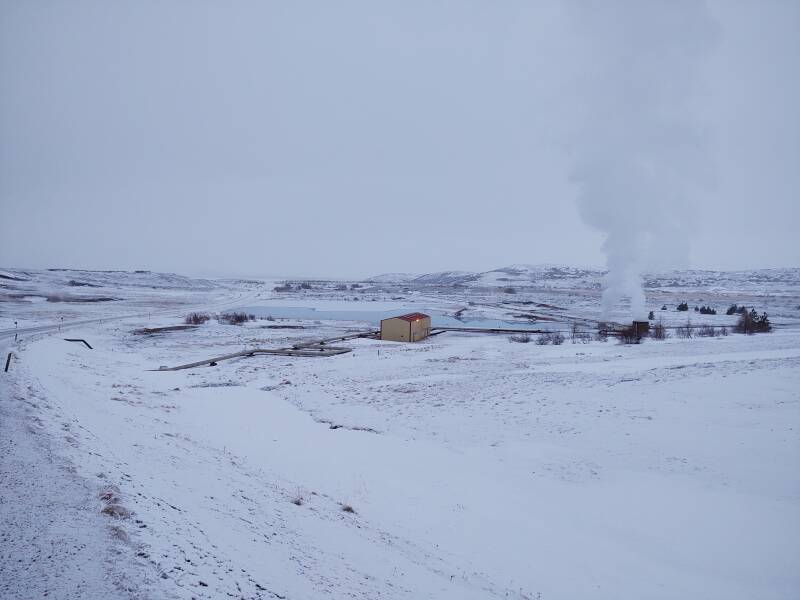 The lake is home to fifteen species of ducks during the summer. And if you come in summer, be aware that the name mý vatn means "Midge Lake". However, Iceland is essentially free of mosquitoes. So, clouds of midges in your eyes, but nothing biting you.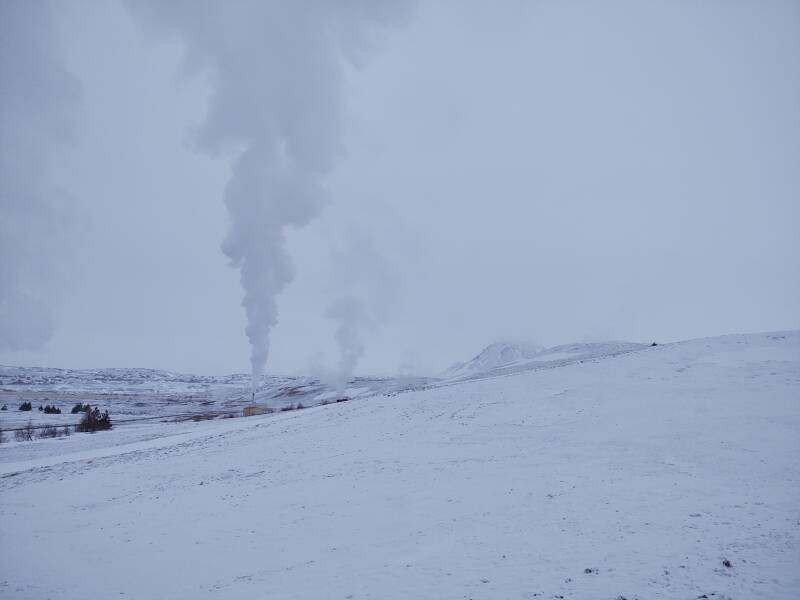 Here's a standalone bright pink Orkan fuel pump. There was no town between Egilsstaðir and Mývatn. The closest thing was an isolated guesthouse with a pump like this.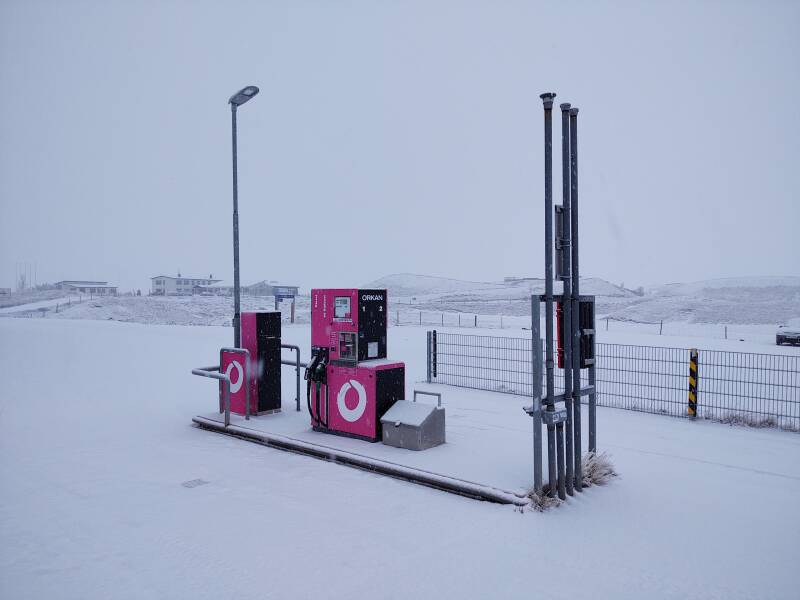 The town of Reykjahlið is at the northeast corner of Mývatn. Highway 1 runs around the lake's north and east shores. Road 848 runs the other way to rejoin Highway 1 at the lake's southwest corner. 848 had a ⌘ "area of interest" sign, so I went that way.
Into Akureyri
It was getting darker as I continued west from Mývatn. The sun was going down, and the clouds were thickening.
Sunset and
Sunset Times
However, I would be getting to Akureyri before it got completely dark. Sunset would be at 1447. So, instead of taking the 7.4 kilometer Vaðlaheiðargöng toll tunnel, I turned off Highway 1 to take the loop of Road 84 around to the north, the old main highway route. I was soon descending Road 84 to Eyjafjörður, the fjord on which Akureyri sits.
Road 84 was closed within a few days, and stayed closed for at least the following week.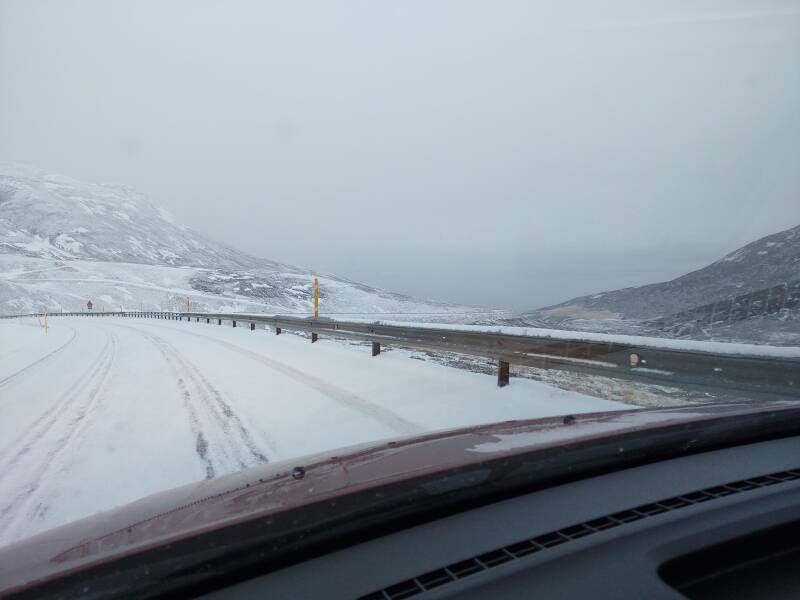 Akureyri was a big change for me. It's Iceland's "second city", with a population of 18,191 at the most recent census. It's the largest settlement outside the area around Reykjavík. I encountered the first red-yellow-green traffic light I had seen in Iceland. Until now, even around Keflavík, everything had been roundabouts and yield signs. This reminded me that I had seen just two stop signs, I think in Selfoss and either Vík or Höfn, at T-intersections with poor visibility.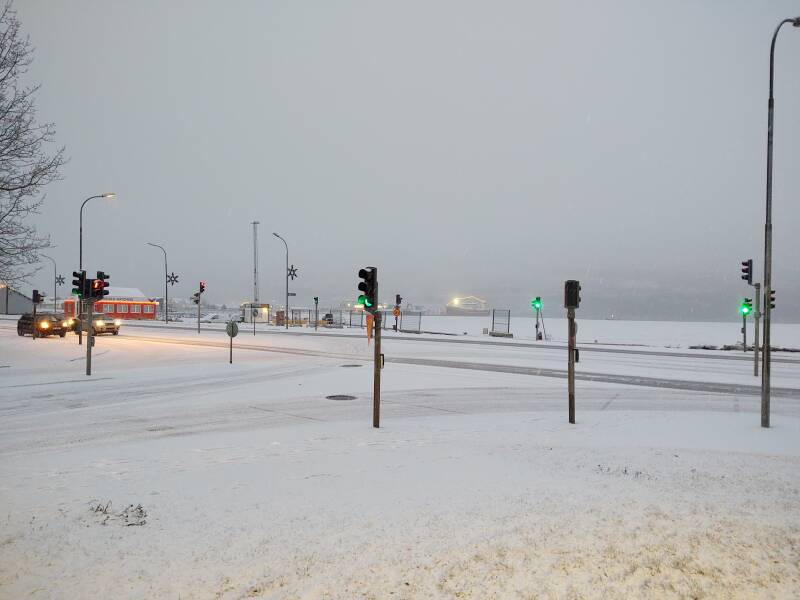 It wasn't yet time for me to check in at the guesthouse where I would be staying, almost visible down the street to the left in this picture.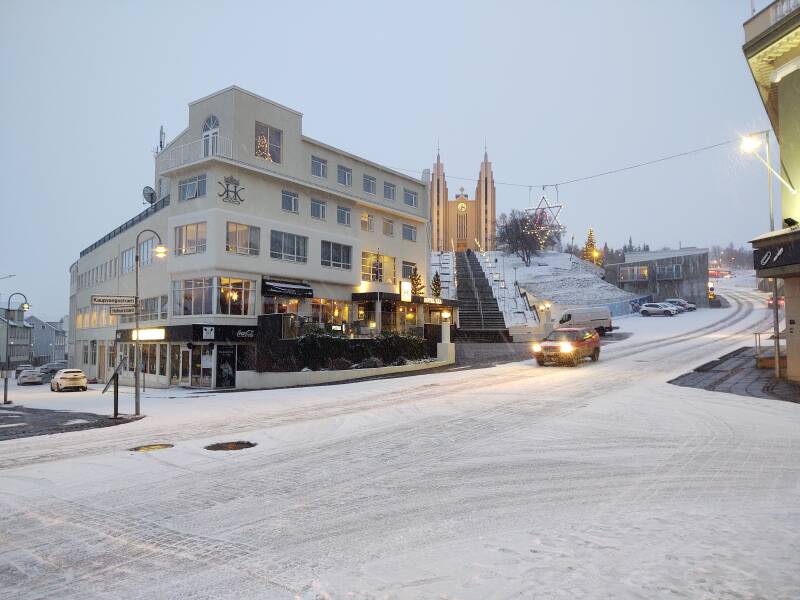 I parked at the guesthouse and walked back to the main intersection, then another block down the main shopping street to the Akureyri Backpackers hostel and cafe/bar. They were closed for accommodation through the holidays, but the bar and kitchen were operating. I got there at the beginning of their 1600-1800 happy hour. It was happy hour and pandemic days, so less expensive drinks while everyone had to fill out a contact-tracing slip.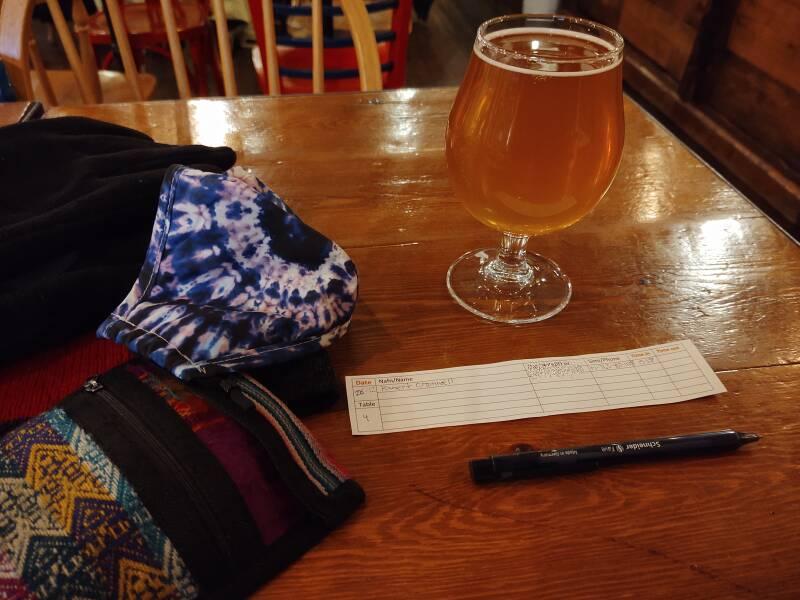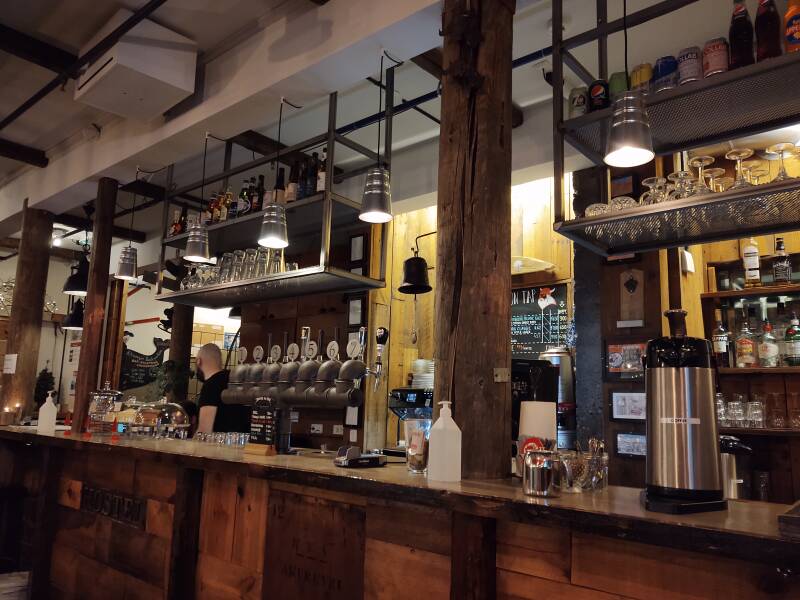 A notification arrived about my lodging, but I had the smoked salmon before moving on.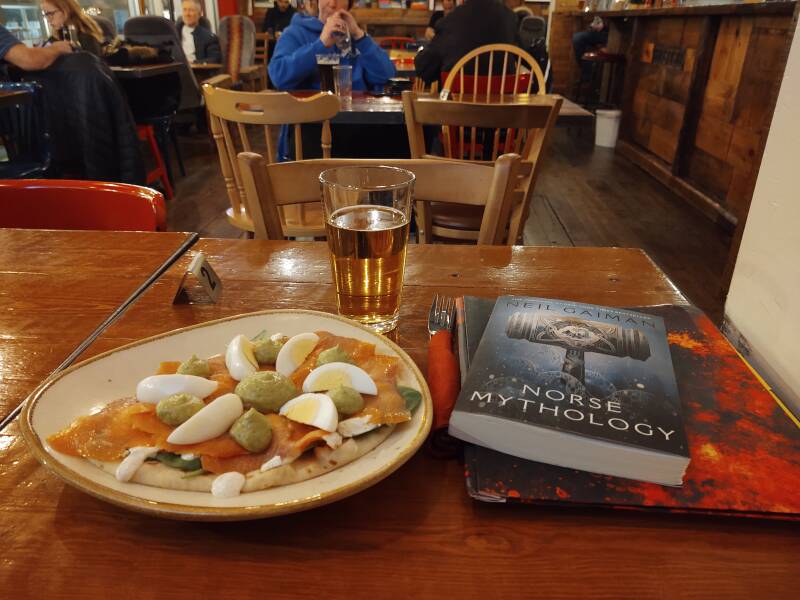 I finished reading Neil Gaiman's Norse Mythology, which I thought was quite good. And, it turns out that the Marvel movies with Thor contain some real mythology — Surtr the fire giant, Fenrir the wolf, Hel, Heimdall, and so on. They changed some of the relationships between the Asgardians, although so did different sources of the myths.
Guesthouses at Booking.com
I had a room reserved at 600 Guesthouse at Hafnarstræti 82, just a block or two down from the main shopping area.
The building at Hafnarstræti 82 was built in 1919 for the construction department of the company KEA or Kaupfélag Eyfirðinga.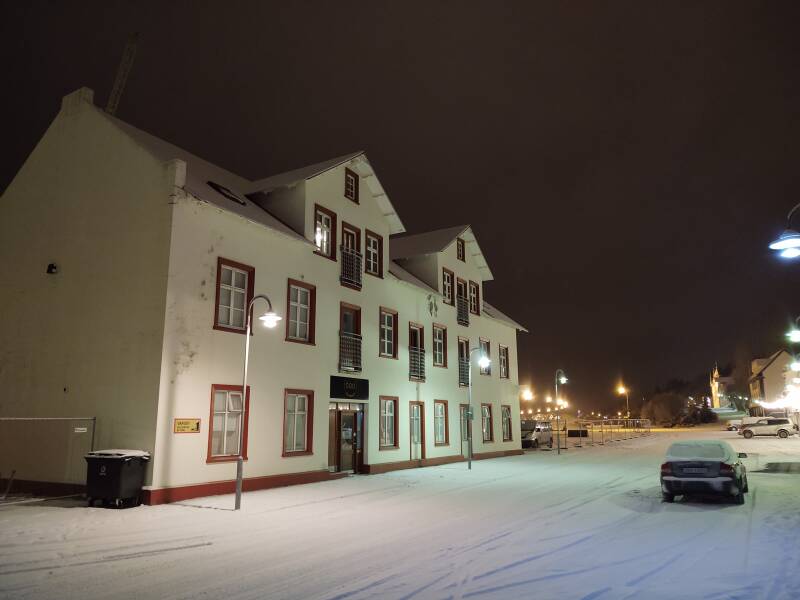 Although the building was built out of concrete, the company traded timber and construction materials here and it came to be called Timburhúsið or the Timber House.
The timber shop moved out in 1963. The building became a municipal information center and traffic center. In 2015 the middle and top floors became a guesthouse.