Driving the Ring Road Around Iceland
Vík to Hali
I'm off on my third segment of the Ring Road around Iceland. I had stayed for two nights in Vík seeing the basalt cliffs and sea stacks, and watching the violent waves pounding the shore.

Now I would leave Iceland's southernmost point and drive northeast along the coast on Highway #1, the Ring Road.

I had been worried about the weather in this area — not about ice and snow, but sand storms! Yes, my Capital One MasterCard said that it provided full coverage for damage to rental cars, but I didn't want the hassle associated with needing that coverage. So, I would try to prepare for needed delays along this segment.

Instead of pushing all the way to Höfn, I would stop at a guesthouse along the way in Hali, a small cluster of a few guesthouses, a few homes, and a combination restaurant and museum dedicated to a local author.

Given the short hours of daylight at this time of year, that plan worked out well. I had left Vík between 1000 and 1030, when it was just getting light enough to see things outside your headlight beams, and there were only twenty to thirty minutes of light left when I arrived at Hali. That was because I had stopped to see so many things: the subarctic vegetation of moss and lichen, several waterfalls of a wide variety of heights and shapes, vast open areas of little more than lava or sand, glaciers, and mini-icebergs that had calved off a glacier. I would be traveling through the flat plain between the Atlantic ocean and the immense Vatnajökull National Park. Vatnajökull or the Vatna Glacier covers about 8% of Iceland. It's the largest ice cap in the country, and the largest in all of Europe outside the Severny Island ice cap in Novaya Zemlya.
Where Am I Going?
Both Rick Steves and Lonely Planet mention Hali very briefly. However, Google Maps can't find a town by that name. It will show you various guesthouses with "Hali" in their name, scattered in this general area and also showing up in distant areas of Iceland.
Then, when you get into the details of individual guesthouses, some say they're in the unfindable Hali. Others say that they're in Reynivellir, which Google Maps will show you, vaguely, if you zoom in to the correct area. Others say they're at Þjóðvegur, which Google Maps can show you, and give you directions between there and Vík to the southwest and Höfn to the northeast.
But then I found that multiple locations around Höfn appeared when I searched for Þjóðvegur. Hmmm, let's plug that into Google Translate instead of Maps.
Ah. Þjóðvegur is Icelandic for "highway".
Don't over-think things. At least for the guesthouse I chose, Google Maps knows about it and can lead you directly there. But, it may insist on silently adding "Along The Highway", depending on where you were when you did your search, and also on any unpredictable map updates.
So, enter your guesthouse's name and whatever you have for an address into Google Maps. Then keep motoring along Þjóðvegur 1 or Highway 1 until you get close and then you see a sign pointing to whatever settlement your guesthouse is in.
Leaving Vík
I made sure to fill the fuel tank and bring some apples and a large water bottle with me. As we'll see, there are few opportunities for fuel, water, and food along the way.
I was leaving between 1000 and 1030. I had checked road conditions at road.is and safetravel.is, and the weather at vedur.is.


The first two indicate road condition by color, and road.is adds logos showing weather and traffic. In this example it was -3 °C with a 2 kph wind blowing to the west, 3 cars had passed in the past 10 minutes, and 60 had passed since midnight.
I had read multiple warnings about sand storms in Iceland. Iceland is windy. The high winds can sandblast a car, quickly ruining its finish. The area I would be crossing included long stretches of flat, open, sandy terrain, as you'll see further down this page. The road.is site has a specific icon to indicate paint-destroying sandstorms.
The people at IceRental 4x4 had warned me about hazards including blowing sand. Yes, I know, I will check the travel and weather web sites before starting into the worst areas. And, while I'm sure it's a hassle to collect, my credit card provides full collision/damage coverage if you make a point of turning down all additional coverage offered by the rental company. So, no added insurance.
Then they moved on to other hazards. First, don't drive on any roads with a designation starting "F", as those are Forest roads and meant for use only by forest rangers in specially equipped vehicles. No problem, I won't go on any F roads. Not that Iceland has much at all in the way of forests, but there are F roads and I will stay off of them.
Then there were multiple warnings about how I mustn't damage the undercarriage. "We will check this," the woman said ominously. OK, I'll keep that in mind.
Then the final, most adamant, and probably most important warning: Be very careful when opening the car door. Don't just casually open it! Carefully open it while tightly holding the handle.
If you let the door swing freely, the strong Icelandic wind will quickly fold it forward 180° against the front fender, or even tear it clean off.
Today's segment had worried me before I reached Iceland, with its long crossing of open sandy terrain with frequent high winds. But the road condition sites showed my entire path in green, and as best as I could tell, the weather should be good. Here we go.
Crossing the Lava Flows
fjall = mountain
eldfjall = volcano
foss = waterfall
hraun = lava
hver = hot spring
jökull = glacier
sandur = sands
vík = harbor, port
Highway 1 runs nearly straight east out of Vík, then curves inland to the north, and then runs northeast for quite a distance.
You will cross or travel parallel to large flat lava flows with names ending –hraun, such as Bólhraun and the larger and bleak Eldhraun.
The Eldhraun, at 565 square kilometers, is Earth's largest lava flow.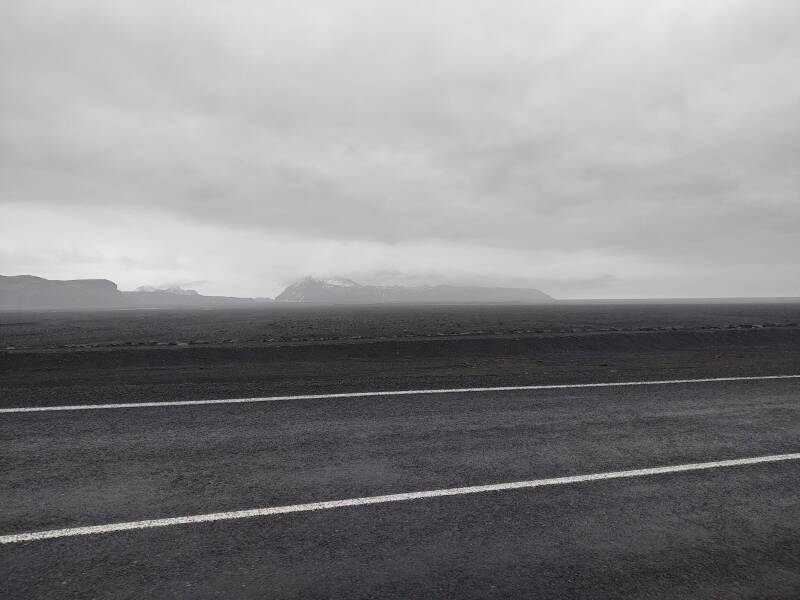 Longer stretches further along will cross vast expanses of sand. These are glacial outflows with names ending –sandur, such as Mýrdalssandur, Brunasandur, and the enormous Skeiðarársandur.
These areas are mostly flat, but volcanic plugs protrude here and there.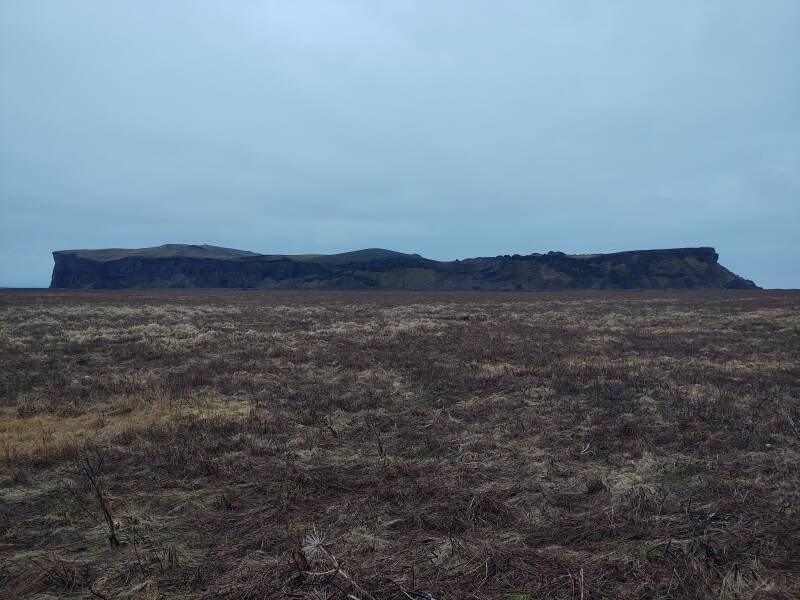 To the north you see the volcanic massif, if clouds and fog allow.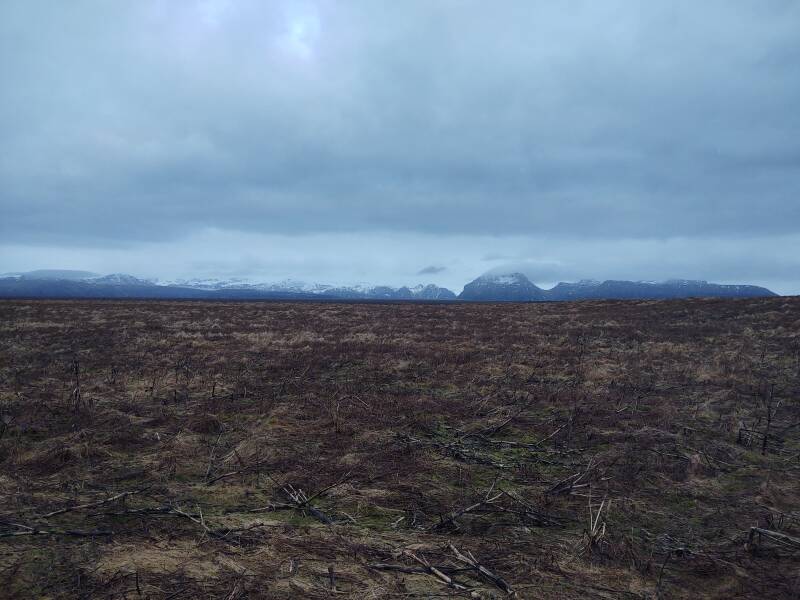 Grey-green moss and lichen covers the rocks in the hraun area.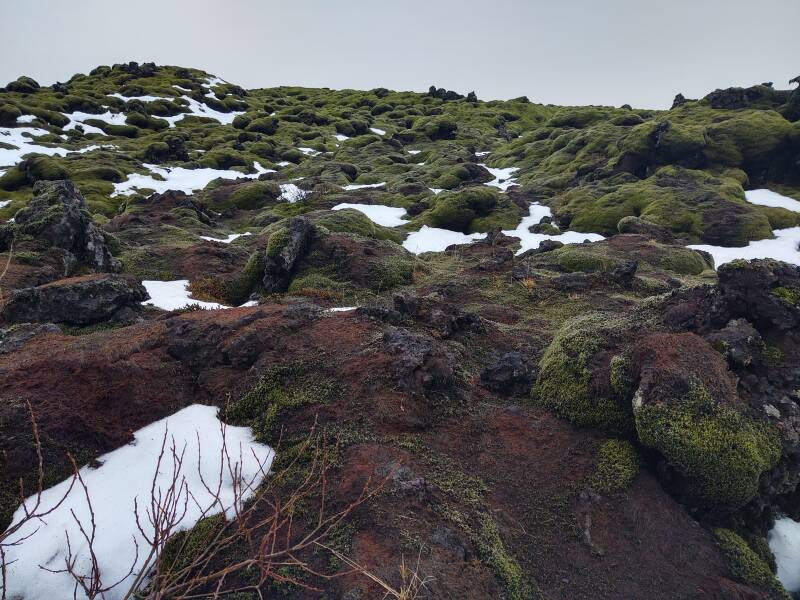 Pull-off areas have chains to keep people from stepping off the path.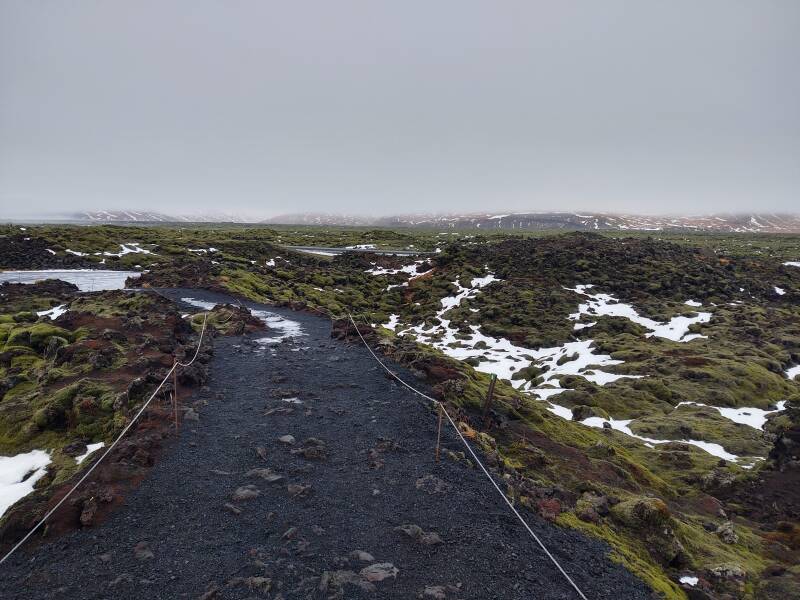 Moss and lichen grow very slowly, and they have no root structures. If you step off the path, you kill the vegetation. Your footprint would remain for many years before any new growth began to appear.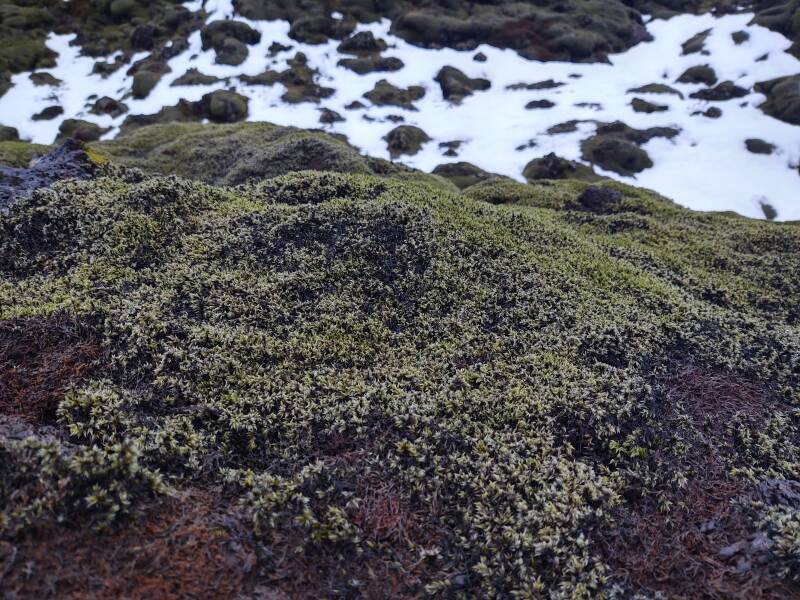 Tough grasses appear further along, once you're out of the hraun or lava flows. There are fences to confine livestock, although I didn't spot any. Many waterfalls drain melting snow and glaciers on the high massif.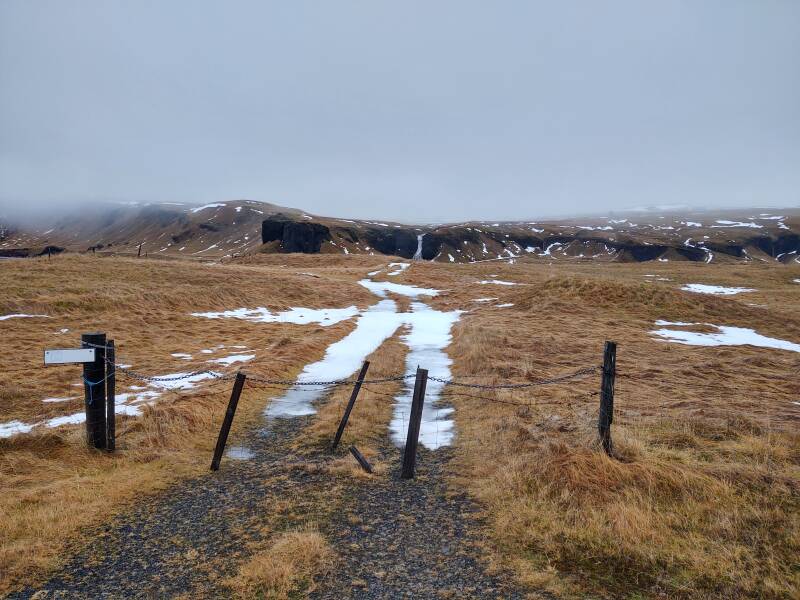 Crossing the Brunasandur
I'm approaching the village of Kirkjubæjarklaustur.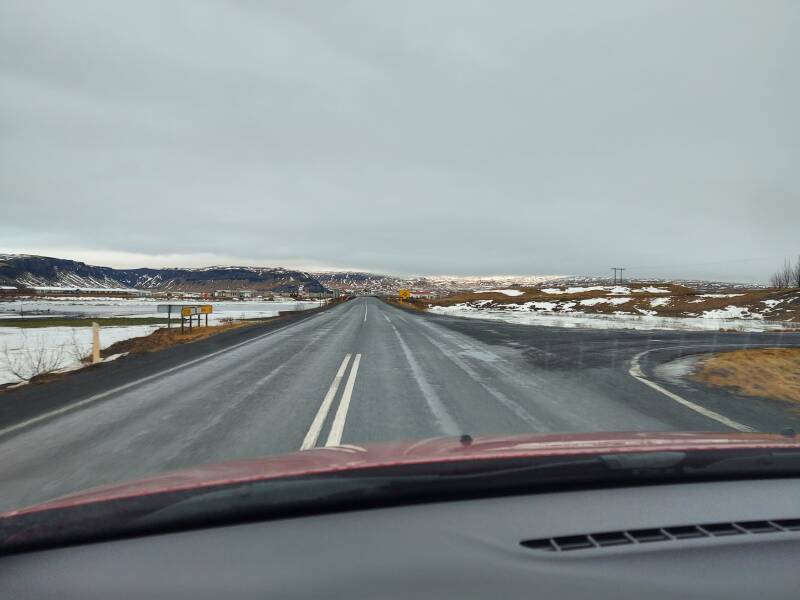 Highway 1 crosses the Skaffá river and the paved highway 204 branches off to the southeast. That's the only paved road turning off Highway 1 between Vík and Höfn. 204 makes a loop out toward the shore where it turns into gravel to return to Highway 1 closer to Vík.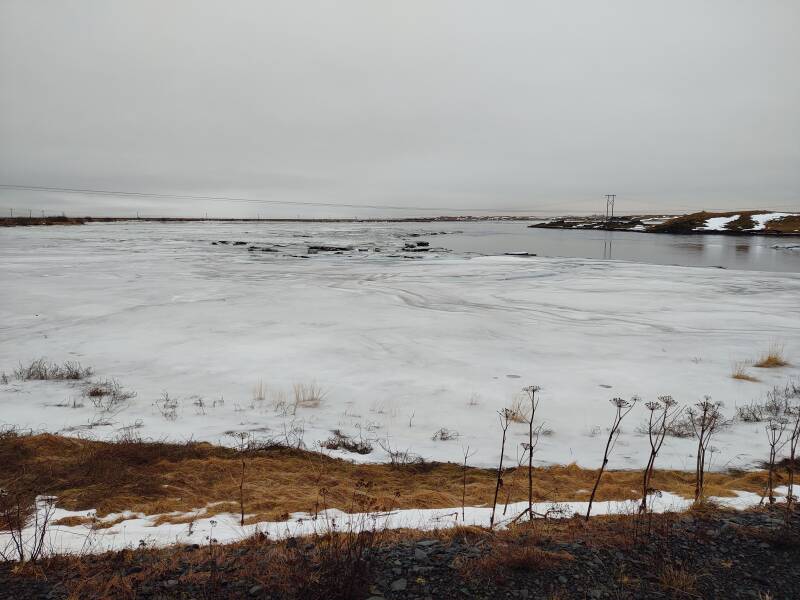 About 500 people live in and around Kirkjubæjarklaustur.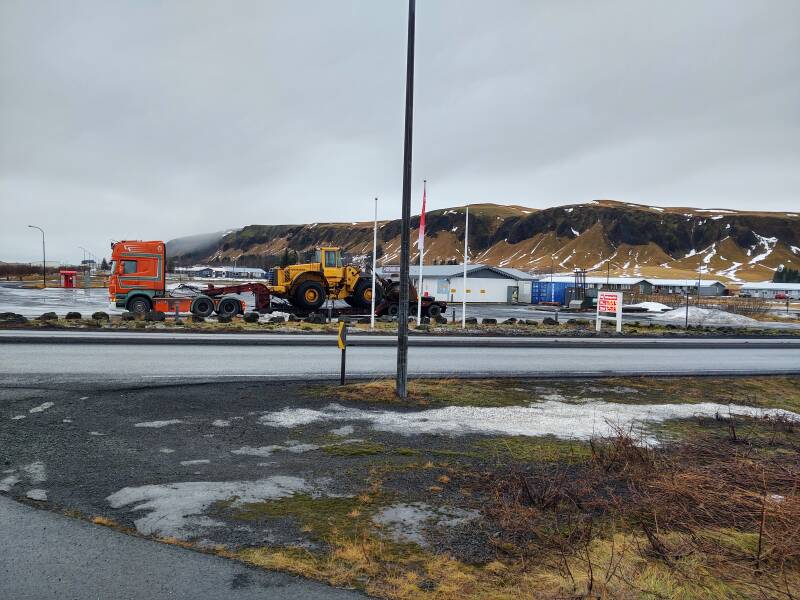 This is the only place between Vík and Höfn with a fuel station, supermarket, post office, and bank.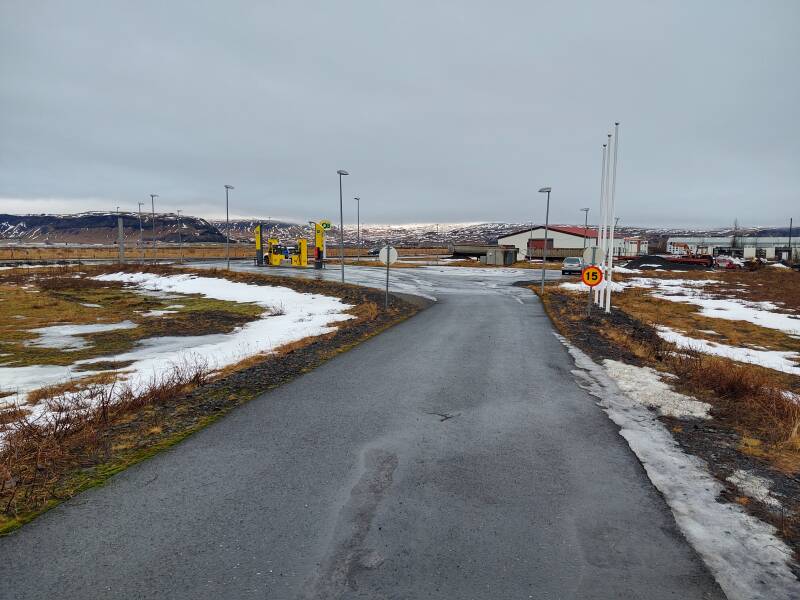 And in no time at all I was out of Kirkjubæjarklaustur and continuing northeast on Highway 1. I quickly approached the first of many single-lane bridges. Here is the distinctive sign.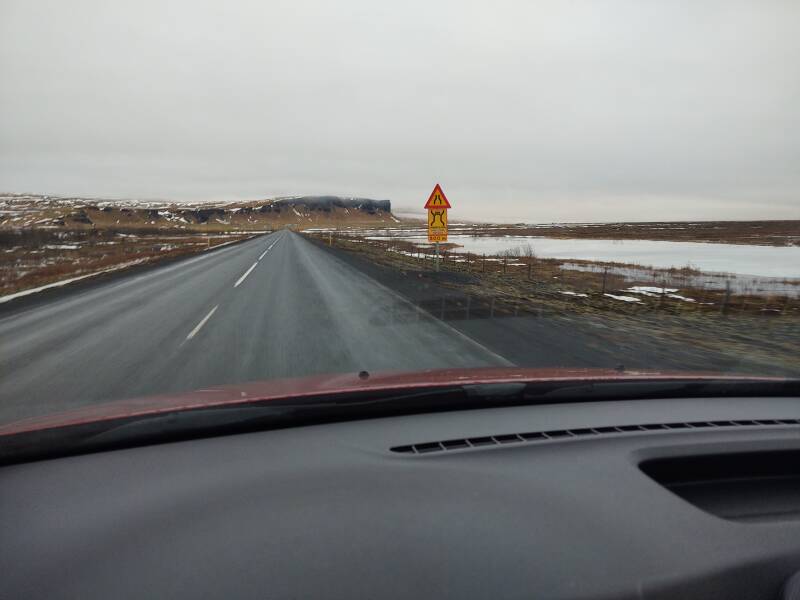 And, the distinctive blinking yellow light. In places you can see these five kilometers or more ahead of you.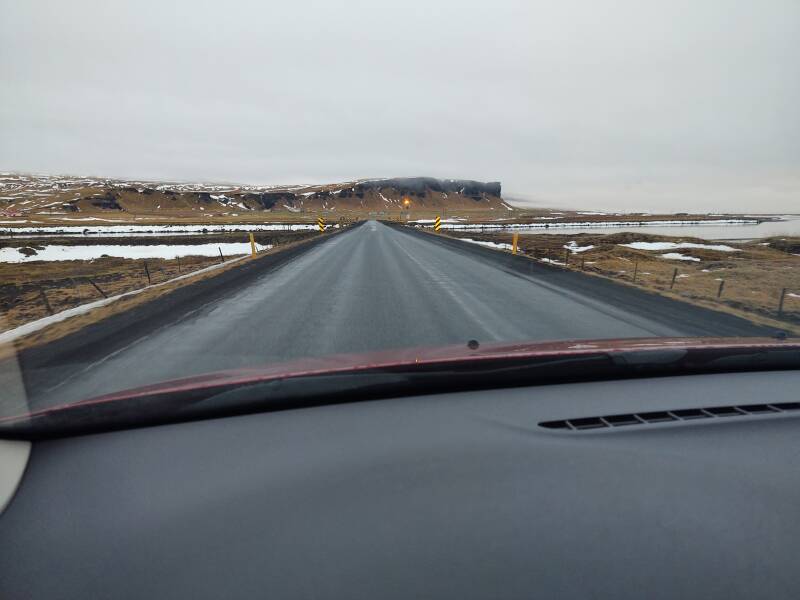 I've read that these single-lane bridges remain along the Ring Road because it's much easier and faster to repair a single-lane bridge when it's washed out by a violent flood coming down off the glaciers. That's "when", and not "if".
Every so often you pass a cluster of guest houses or vacation homes. There isn't much traffic, at least not at this time of year, but there are many guesthouses along the road.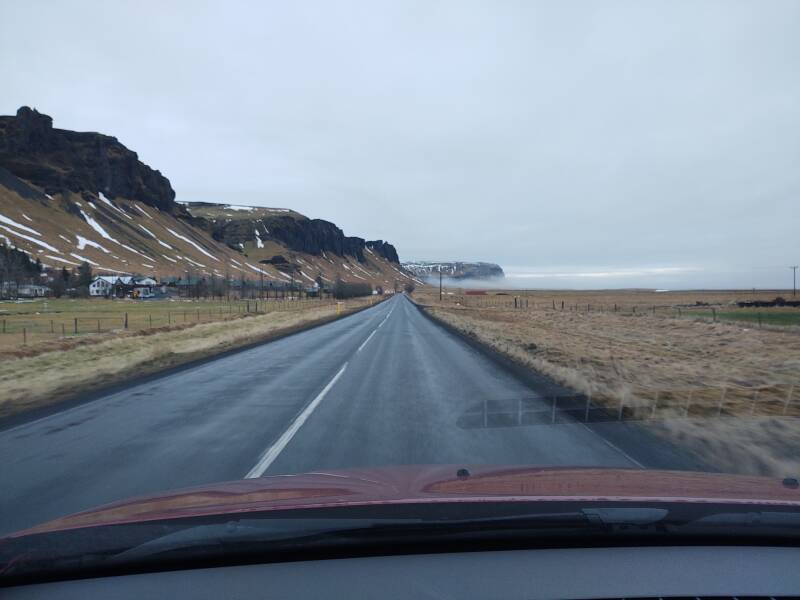 Iceland is above what's called a hot spot on the Mid-Atlantic Ridge, where molten lava flows up from beneath the Earth's crust.
The lava forms basalt, a dark and finely grained stone. It's the same type of stone as what forms the so-called "seas" on the Moon, the large darker areas. Basalt frequently crystallizes in hexagonal or similar multi-sided columns, as I saw along the shore back at Vík.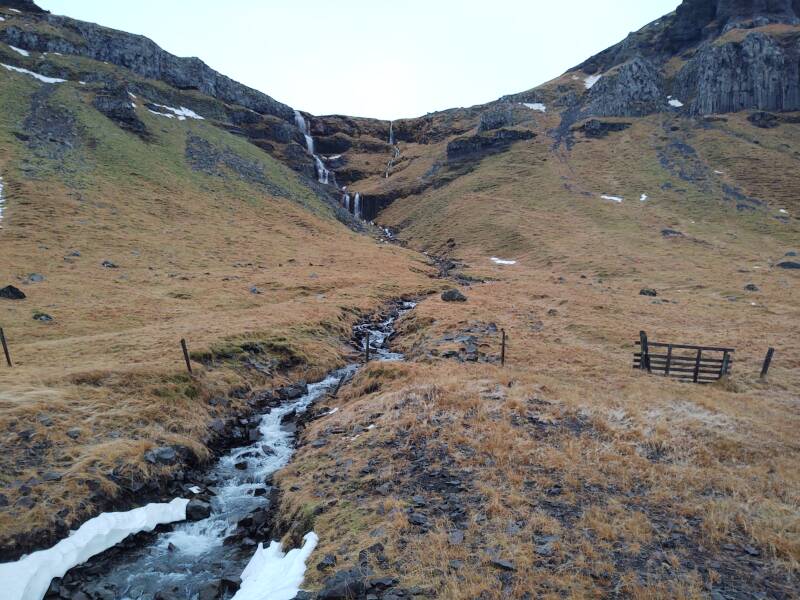 Visiting
Thera
Other volcanoes may do something entirely different. Thera in the Aegean, commonly called Santorini by the international tourism industry, exploded in an enormous cataclysm around 1650 BCE. The result is a dramatic immersive geology lesson. You can see the many multicolored layers within the remaining caldera, which is about 12×7 kilometers in size, filled 400 meters deep by the sea, and surrounded by 300 meter cliffs.
However, what you see there is largely tephra, or ash, plus stones ranging upwards in size from sand through gravel and well beyond.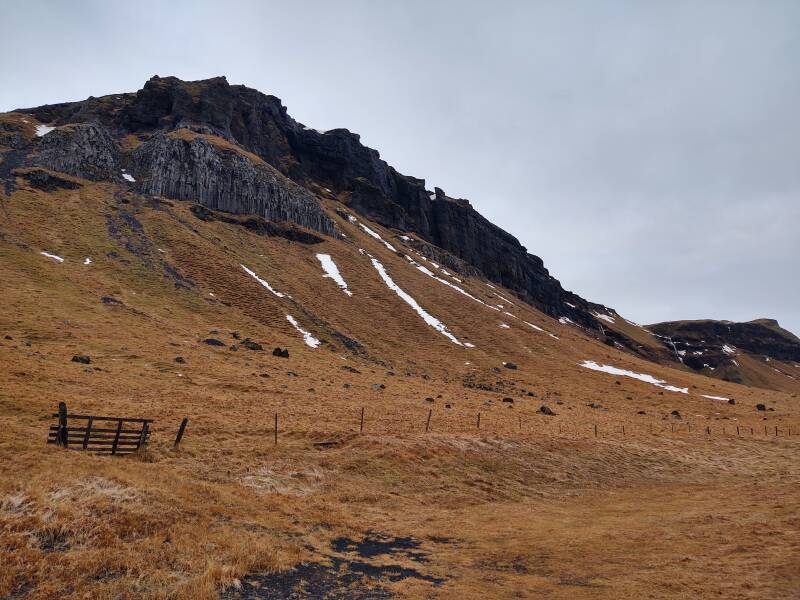 Here, it's solid basalt.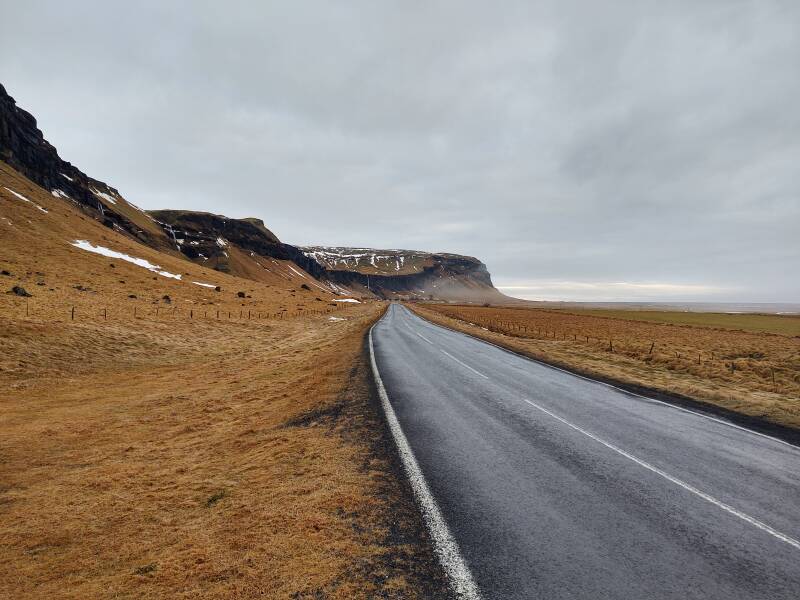 For the most part, it's a solid impermeable basalt layer. Water flows across the top and falls over the edge, rather than absorbing down into the massif.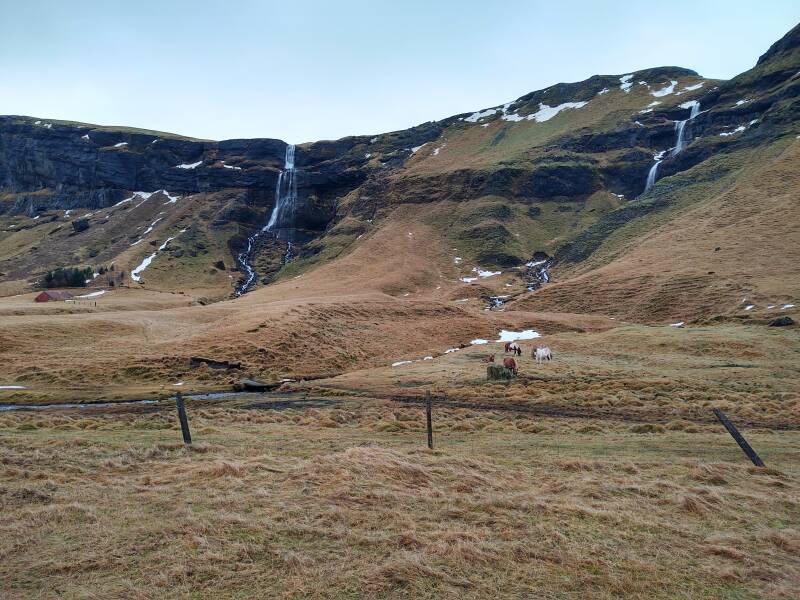 That's a large waterfall ahead of me. I had been seeing it in the distance for several kilometers.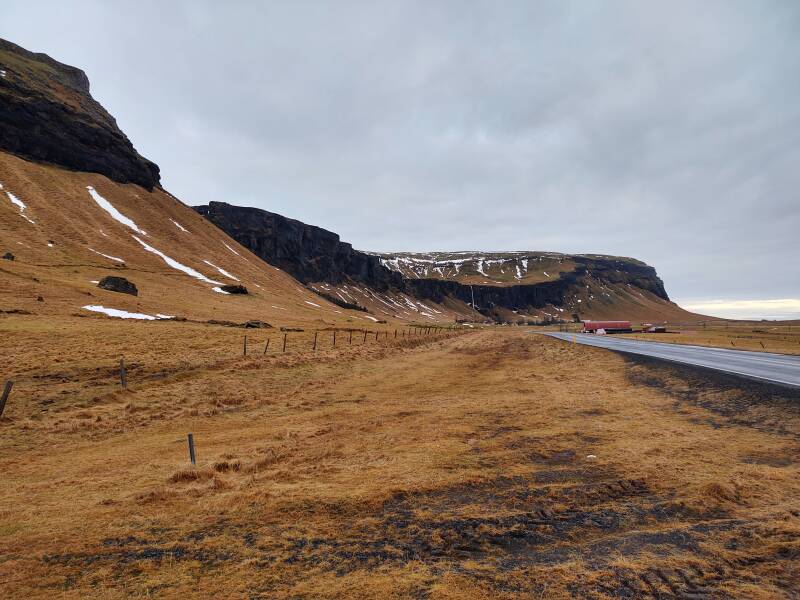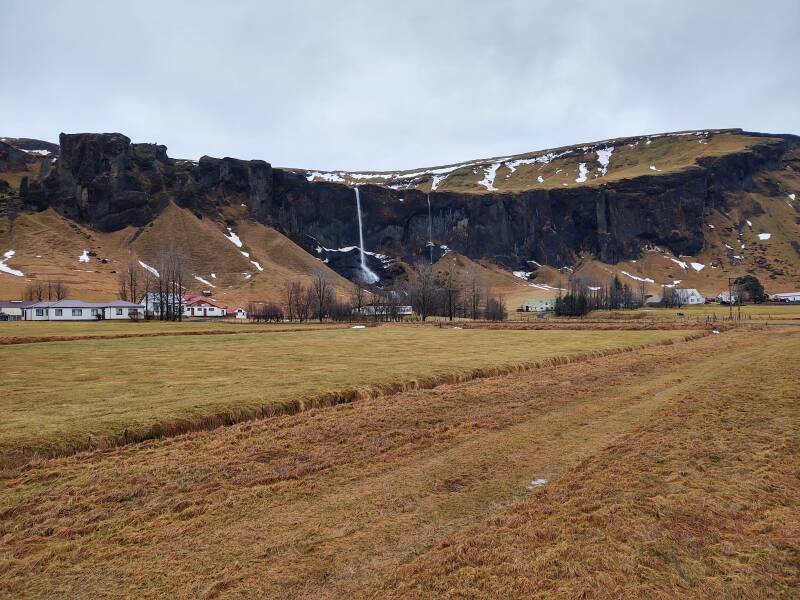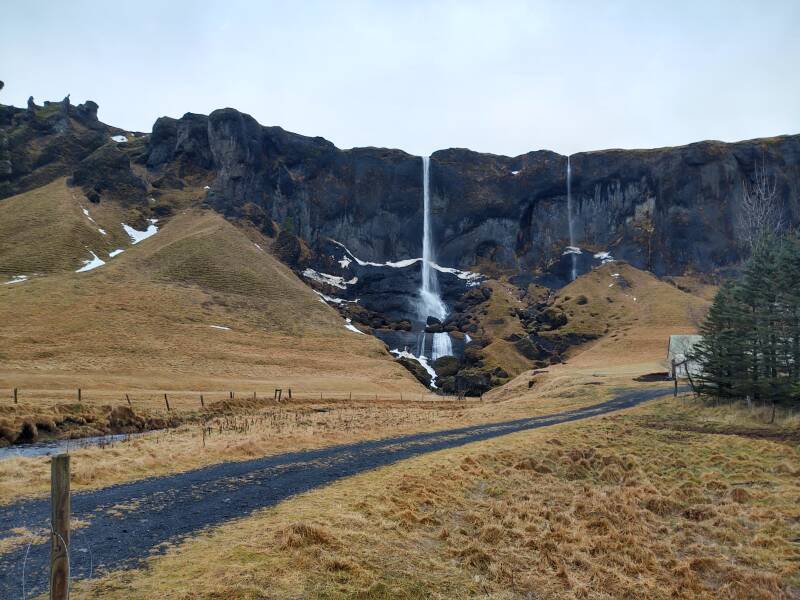 A friendly local guide has adopted me!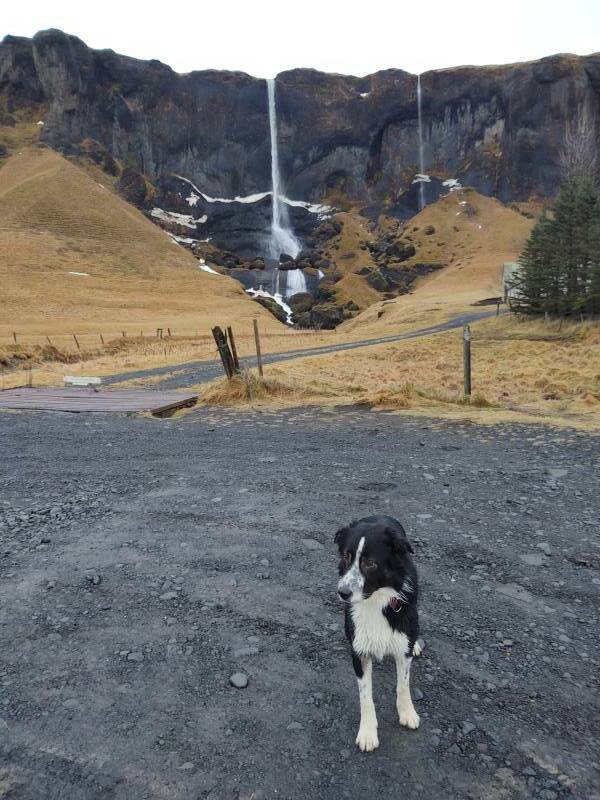 Crossing the Skeiðarársandur
I'm starting across Skeiðarársandur, which is Earth's largest glacial outflow delta. It covers 1,300 square kilometers.
The highway will curve inland, weave back and forth some, and eventually reach and go around that distant headland in the below picture. That's the other side of the delta, about 50 kilometers away in a straight line and further by road.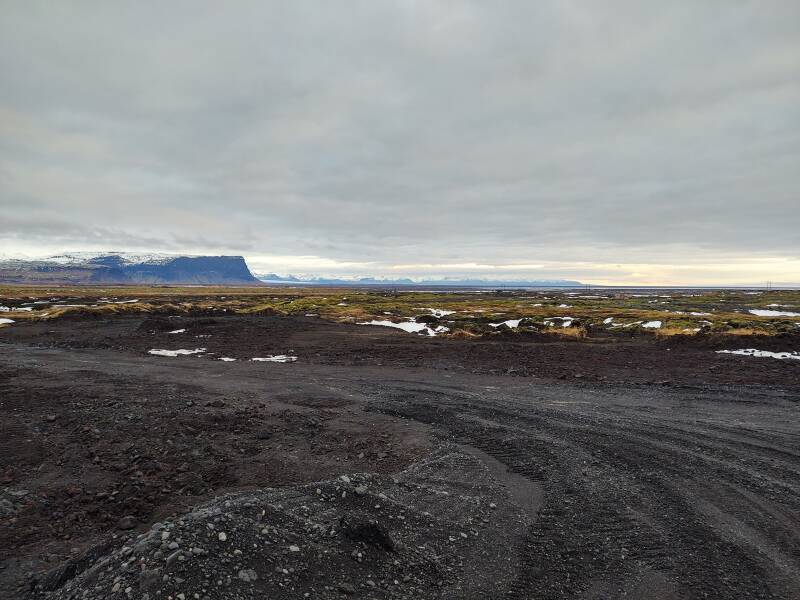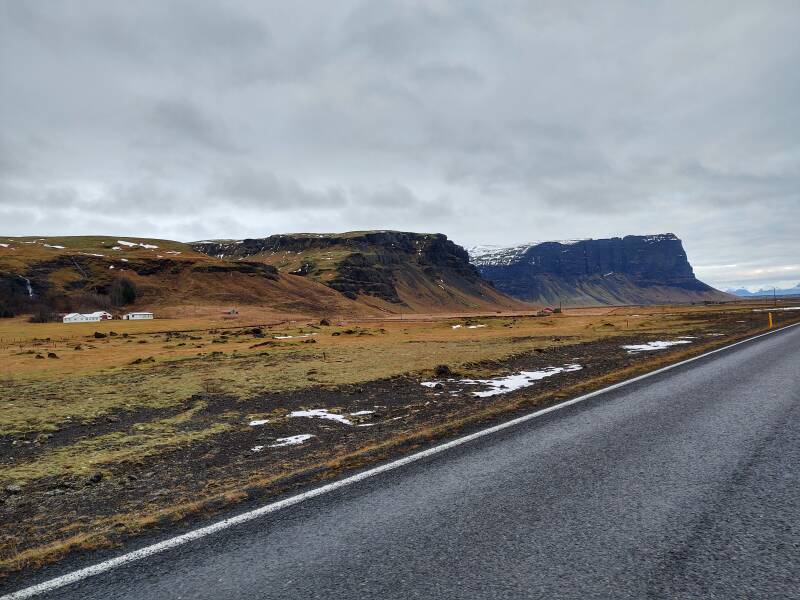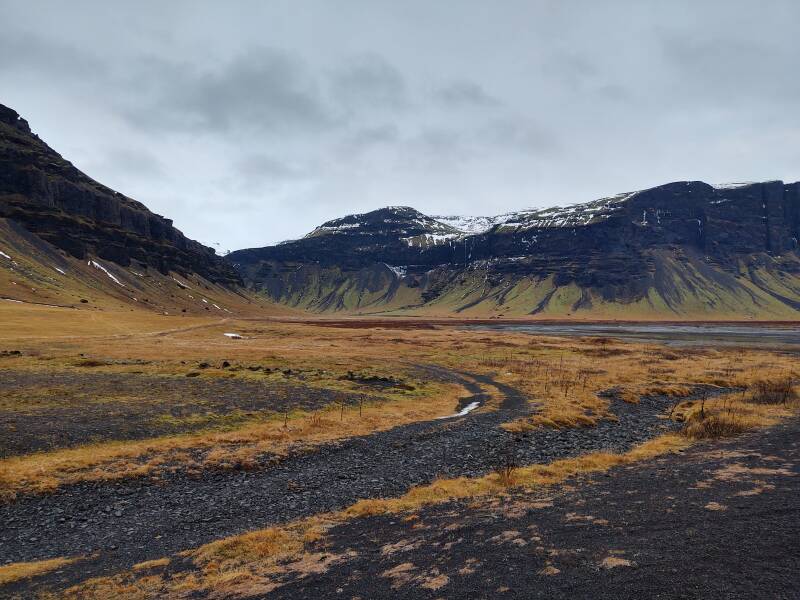 I'm approaching the south end of the Lómagnúpur ridge.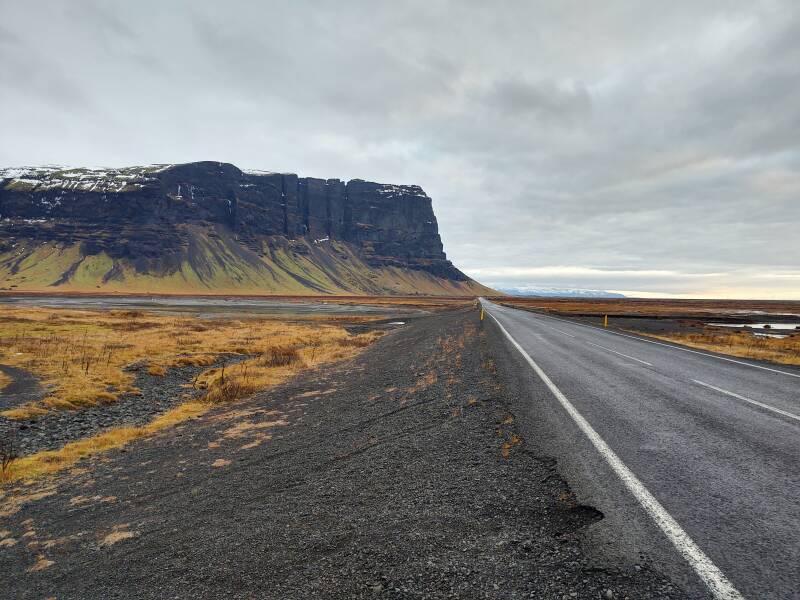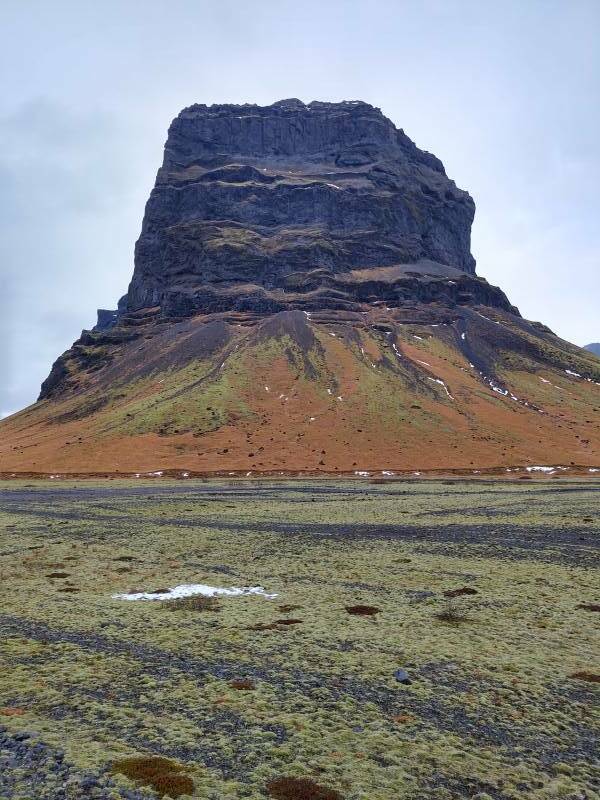 Skeiðarárjökull, a large glacier and the source of the Skeiðarársandur outflow, comes into view.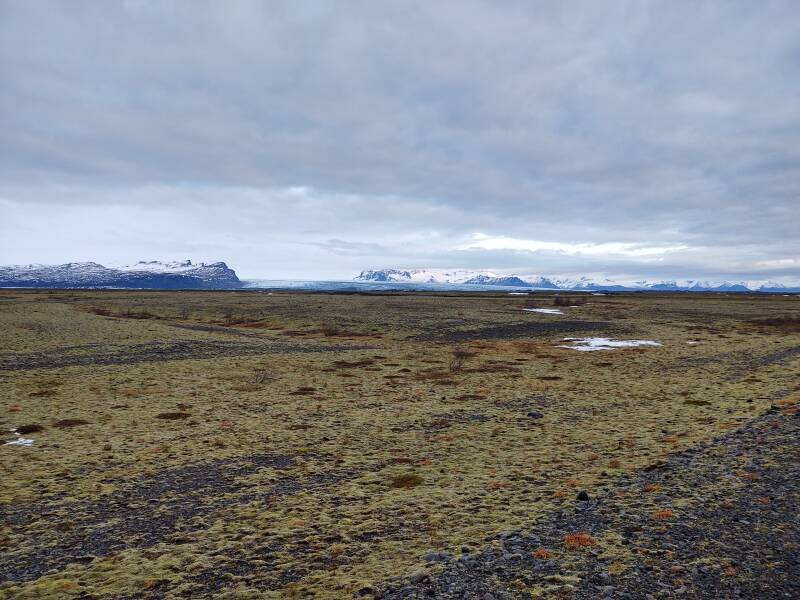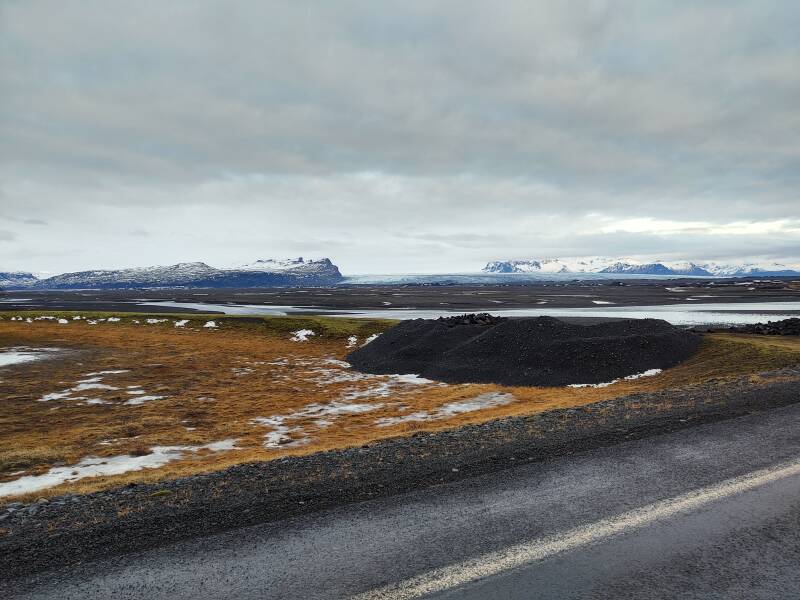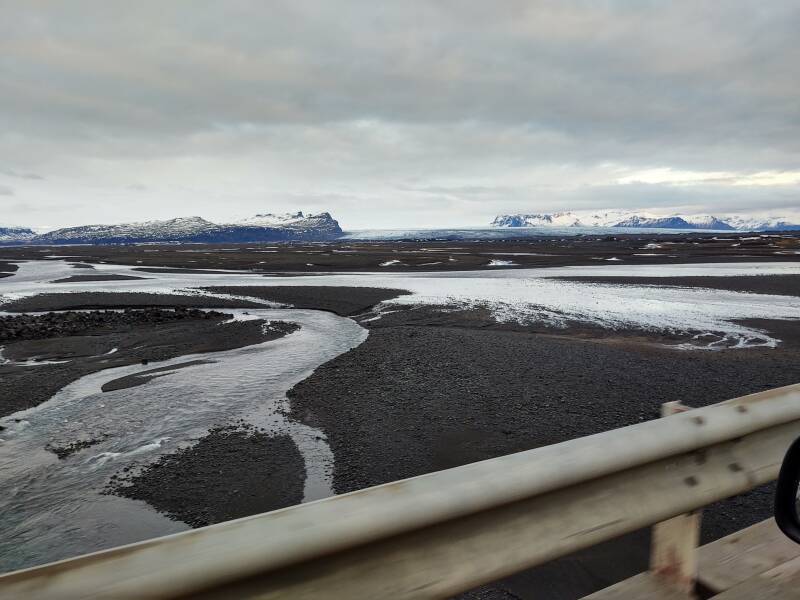 This long single-lane bridge over one of the primary drainage streams has two passing points within its length.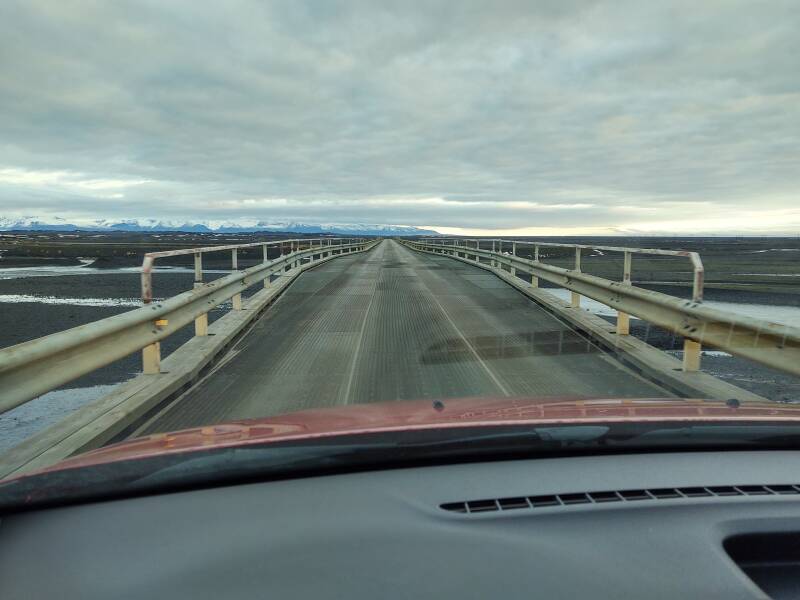 Two smaller glaciers, Morsanjökull and Skaftafellsjökull, come into view.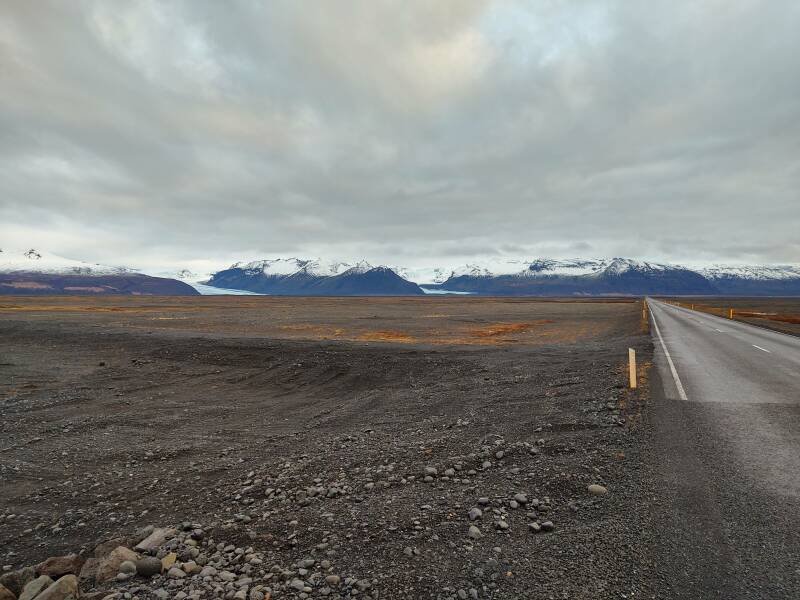 It's sand as far as you can see and beyond. Drive without rhythm, so you don't attract the worm.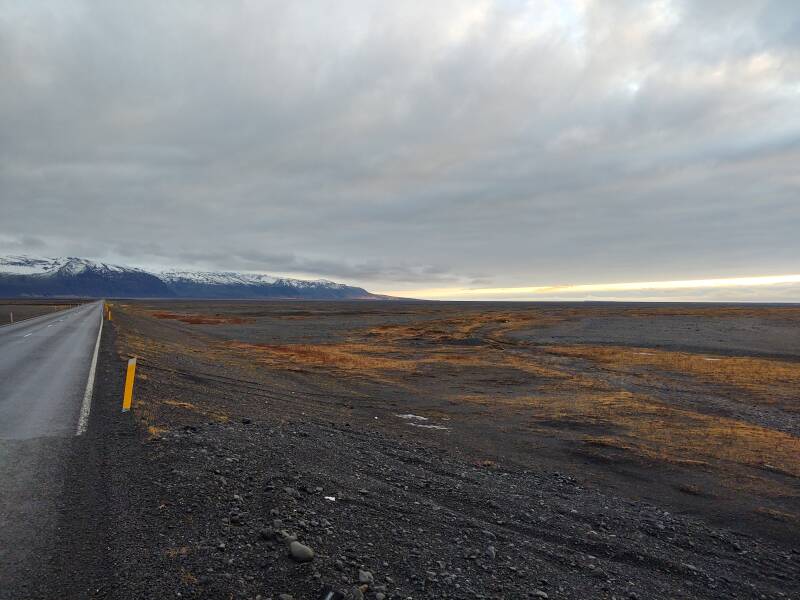 Other valleys hold more glaciers. I'm making my way toward that headland that I had seen earlier from 50 kilometers away. That means going around Öræfajökull, whose summit is at 2,110 meters. The ridgelines dividing its many valleys extend almost to the sea.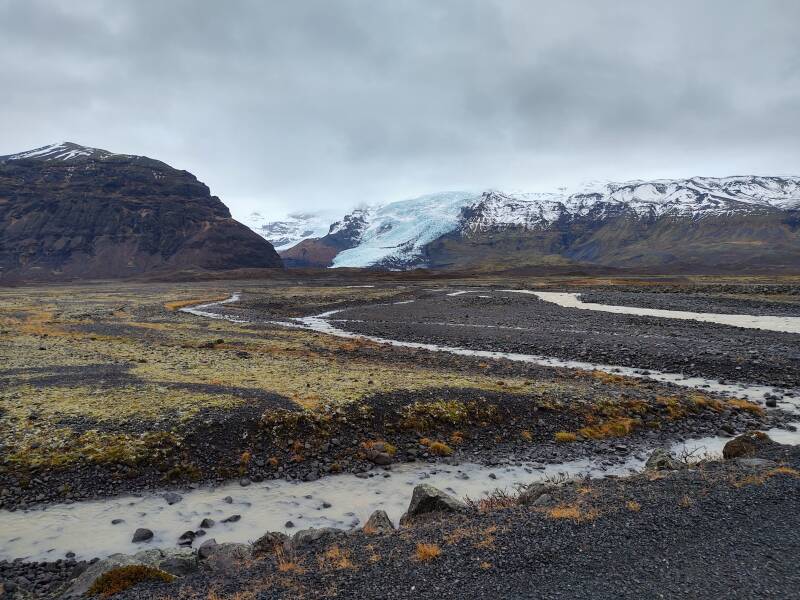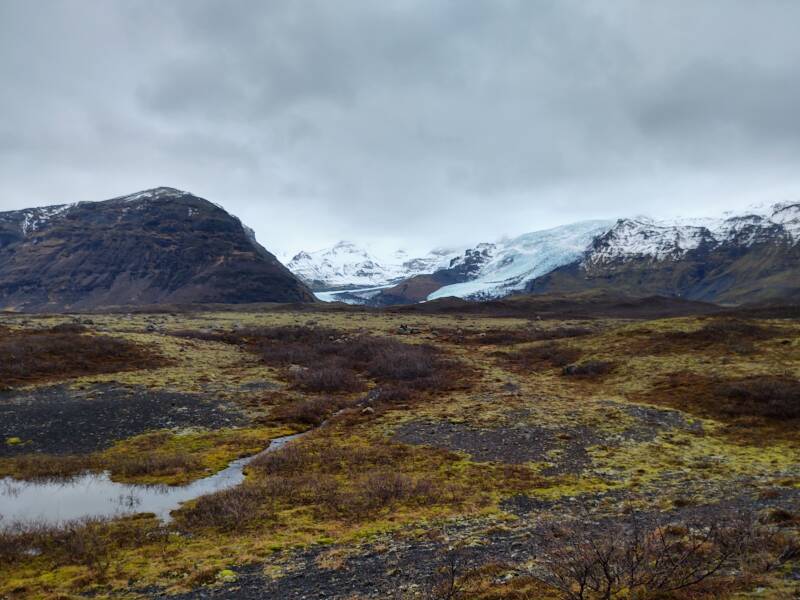 The road was now running in a narrow flat shelf between the mountains and the sea.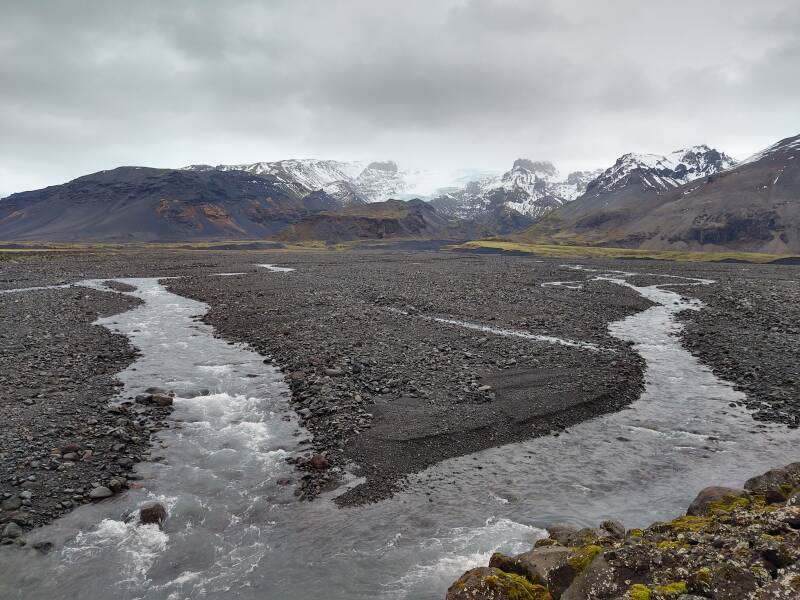 Glacier Lagoon and Diamond Beach
Before long I reached Jökulsárlón, called the "Glacier Lagoon". I'm impressed that they needed this sign.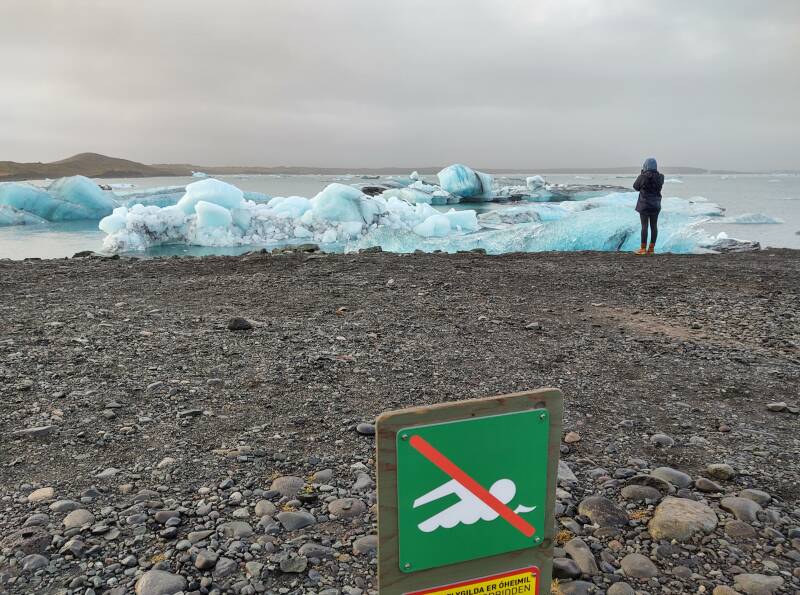 Miniature icebergs calve off Breiðamerkurjökull, a rapidly receding glacier.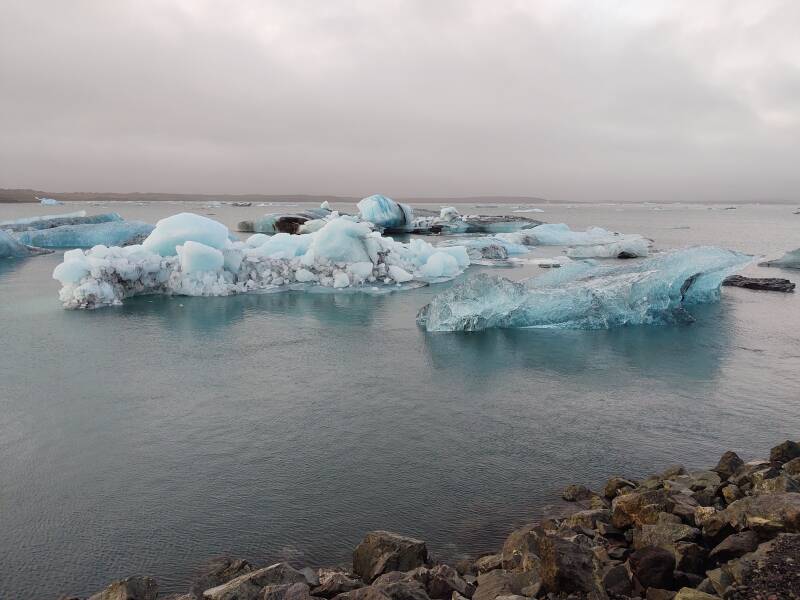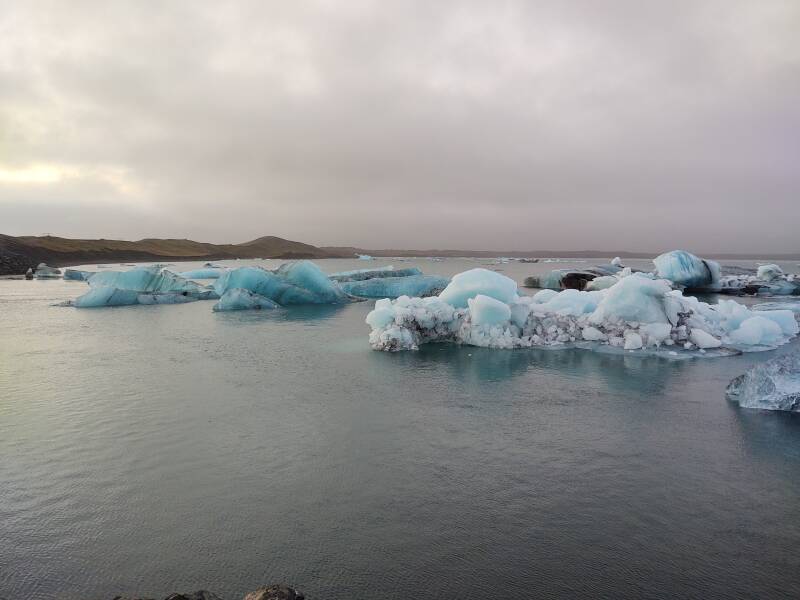 Three seals were swimming around, spending most of their time underwater. I swear that they're down there. They had just disappeared when I took this picture.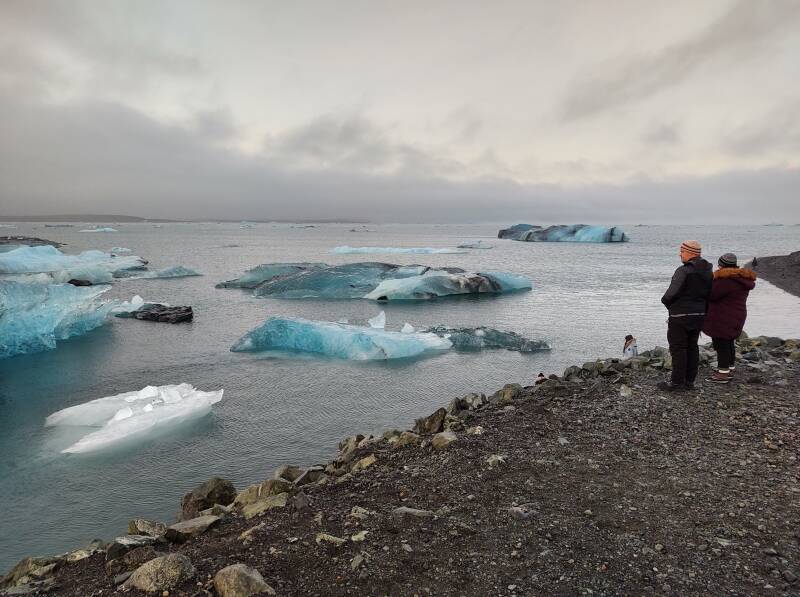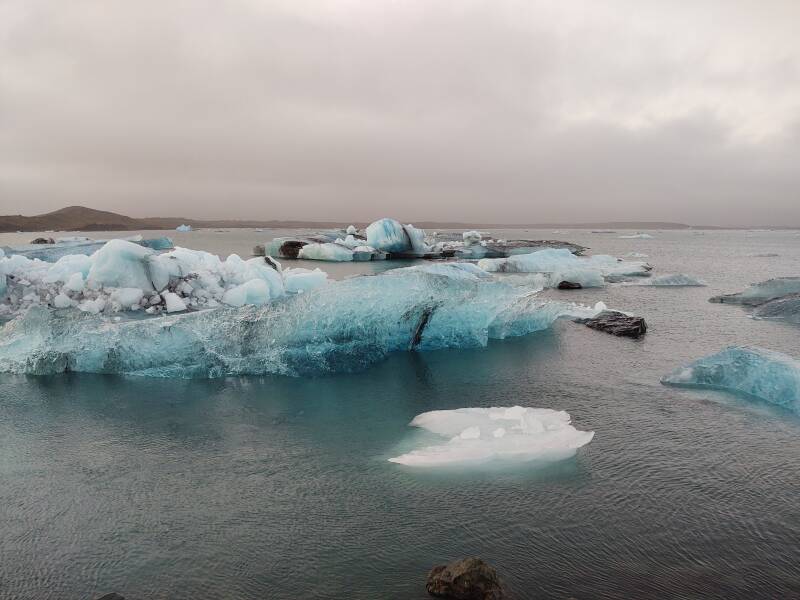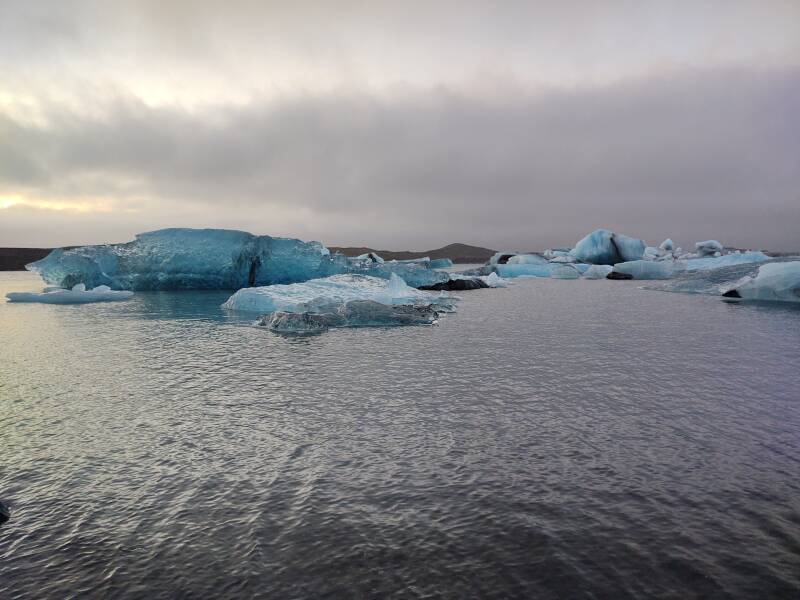 The lagoon connects out to the sea through Iceland's shortest river, the Jökulsá.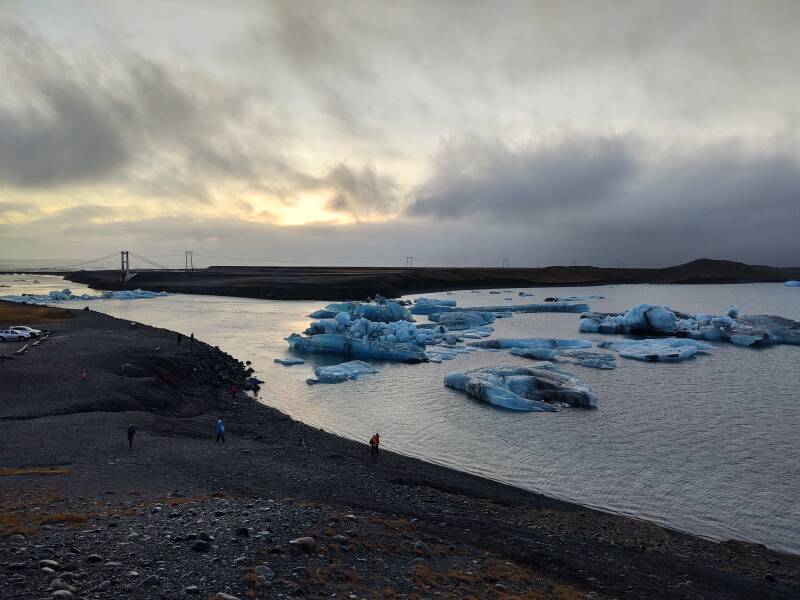 That suspension bridge was built in 1967. The complete Ring Road opened in 1974.
Across the highway is Diamond Beach, where chunks of ice have been tumbled and polished in the strong waves and washed up onto the beach.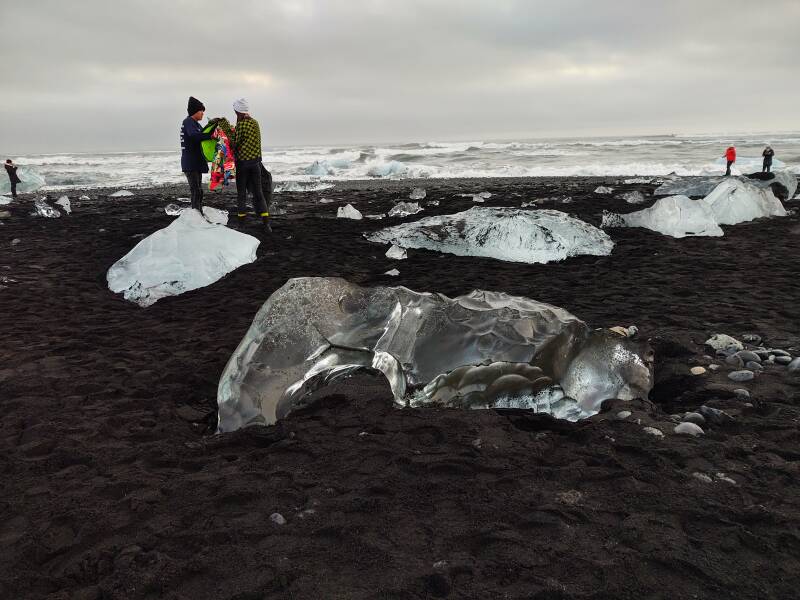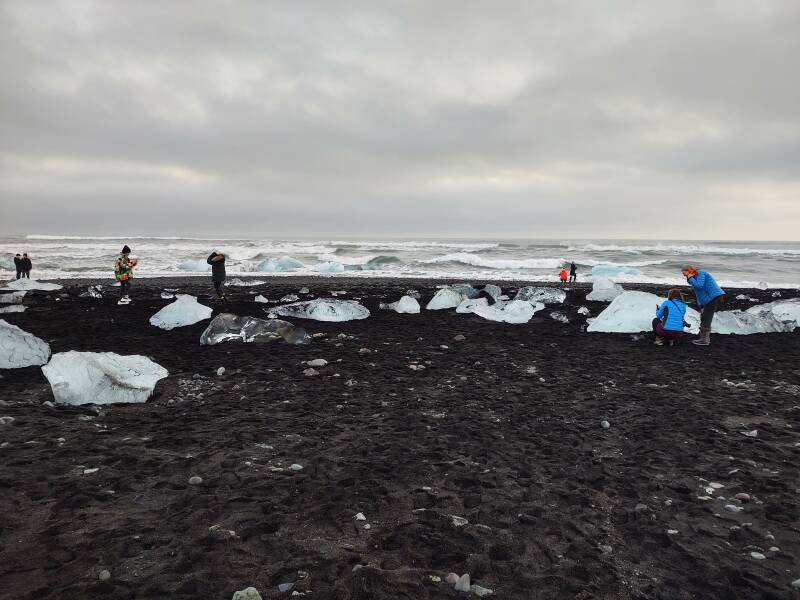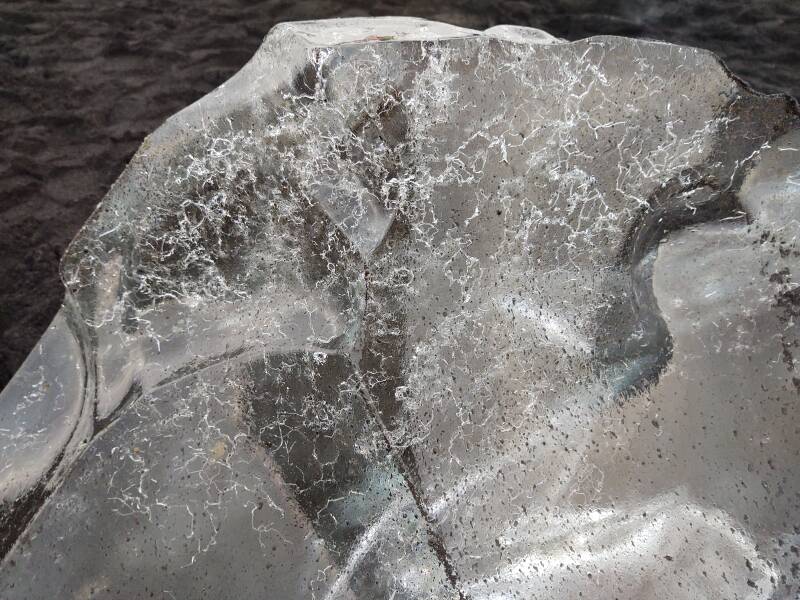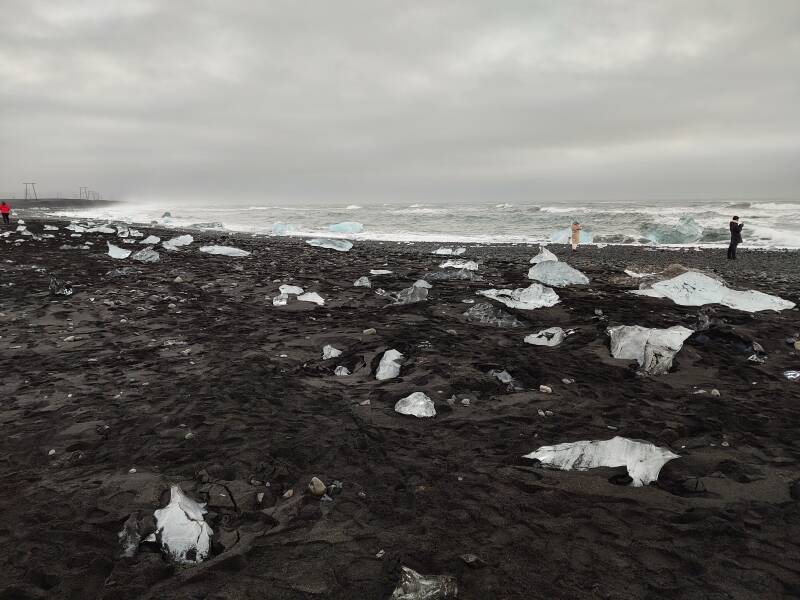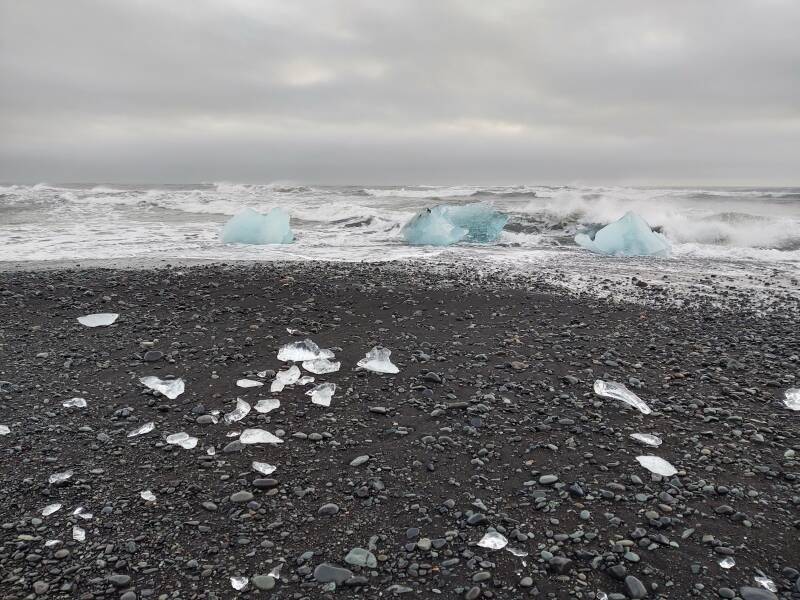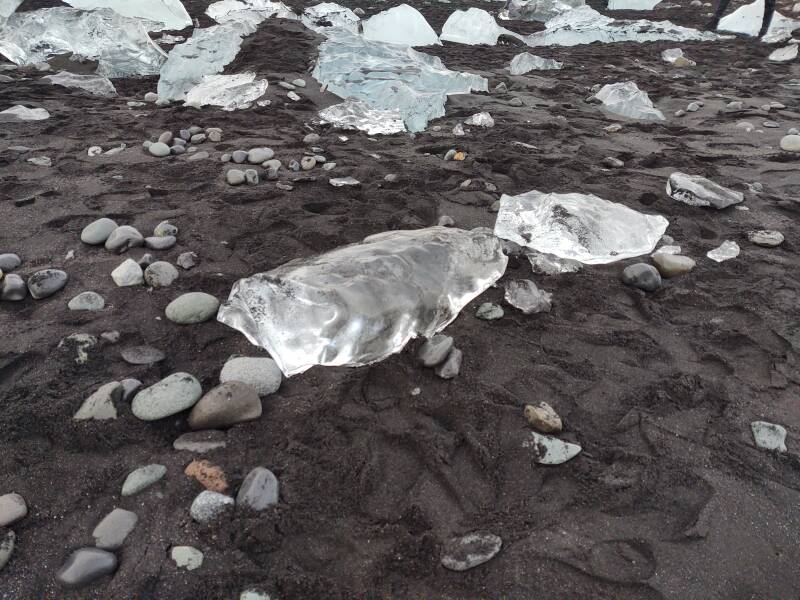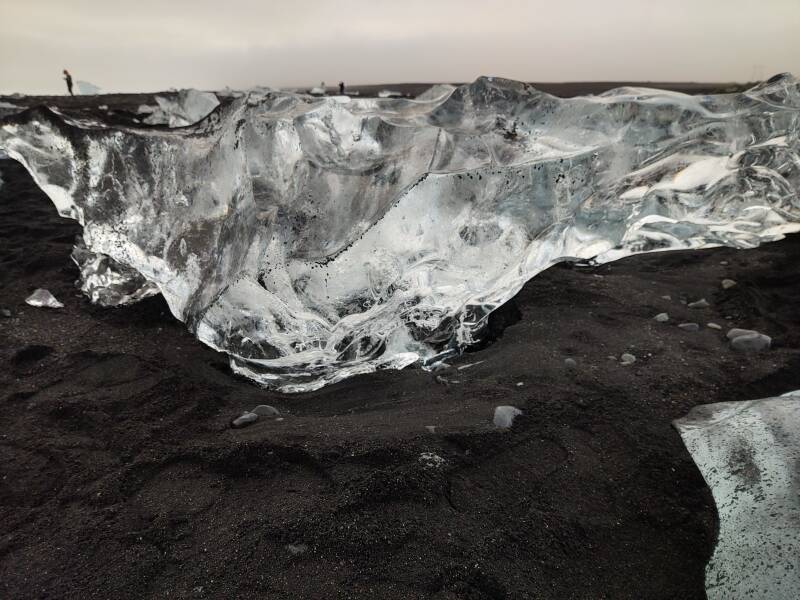 Arriving in Hali
The easy way to find Hali is to spot the giant illuminated bookshelf.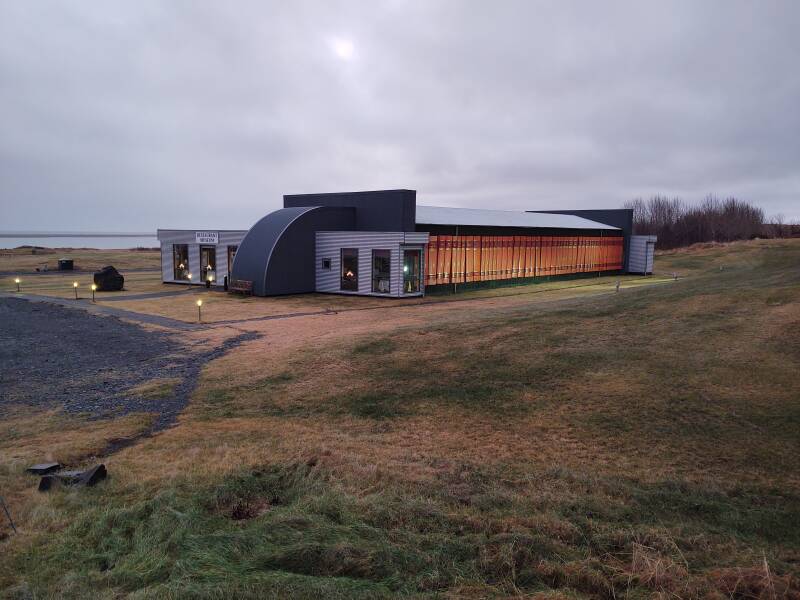 It's a memorial for Þórbergur Þórðarson, one of Iceland's more significant twentieth-century authors. He was born and grew up here. The building houses a museum explaining him and his works, plus a restaurant.
Þórbergur is remembered for his humorous, self-deprecating essays, his break-out novel Bréf til Láru or Letters to Lara, his autobiographical novels Íslenskur aðall or In Search of My Beloved and Ofvitinn or The Eccentric, and his memoir The Stones Speak.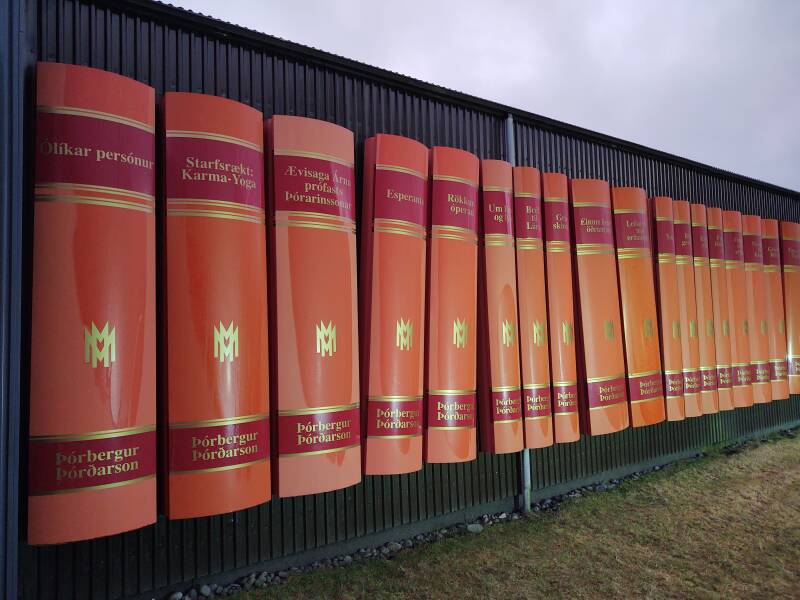 Guesthouses at Booking.com
The Skyhúsið Guesthouse where I stayed is just across the lane from the Þórbergur Center in Hali.
This was an isolated place when Þórbergur was growing up. The glacial rivers weren't bridged until the 1970s.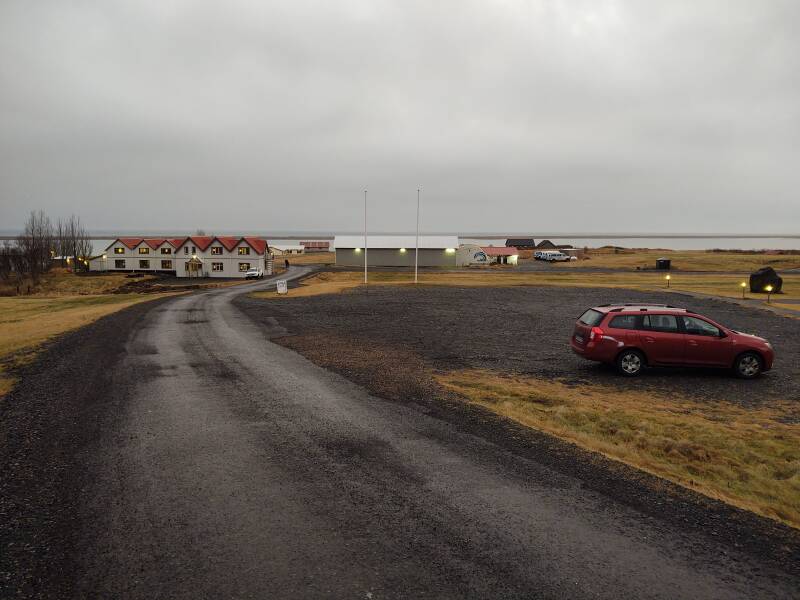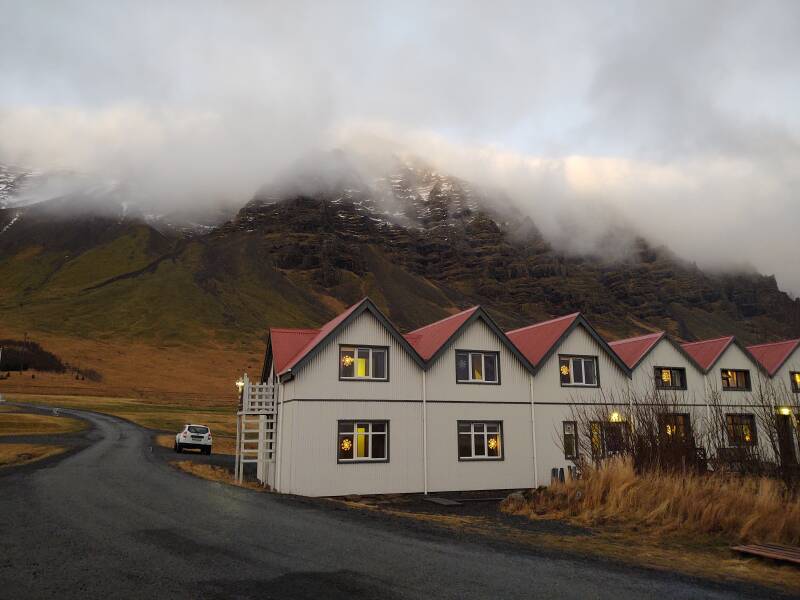 Onward to Höfn
Next: On to Höfn
The next segment will be short, just 66 kilometers to Höfn.