Markets and Meals in Ameya-Yokochō
Ameya-Yokochō
Ameya-Yokochō or just simply Ameyoko is a busy market area in Tōkyō. It is alongside and underneath the elevated Yamanote Line running south from Ueno Station toward Akihabara. The market houses somewhere over 180 businesses.

Keisei Ueno Station is adjacent to Ueno Station, underneath the south end of Ueno Park, and just across a busy intersection from the north end of Ameya-Yokochō. That's the terminus of the Keisei Electric Railway joining Tōkyō and Narita International Airport, so this area might be your entry point to Japan.

The area had been destroyed by US bombing during the last year of World War II. It became an open-air market immediately after the war. None of the stalls were licensed businesses. It was a black market operation with goods selling for up to 10 times official prices. Organized (and disorganized) crime became involved, with gunfire breaking out and the U.S. Military Police frequently involved. But by late 1946, just a year after the end of the war, businesses started to become organized.
The scene just to the west, where the major street runs south from the train stations, is busy and colorful enough. But it's not Ameyoko.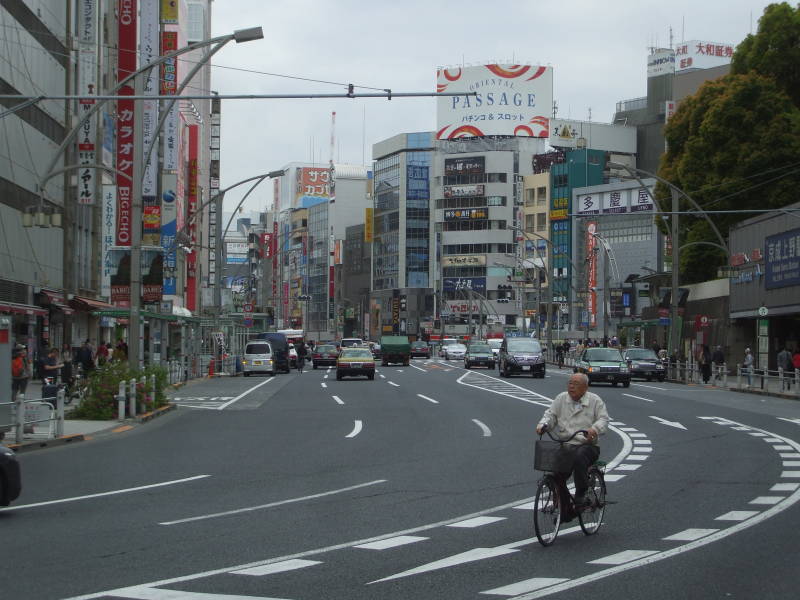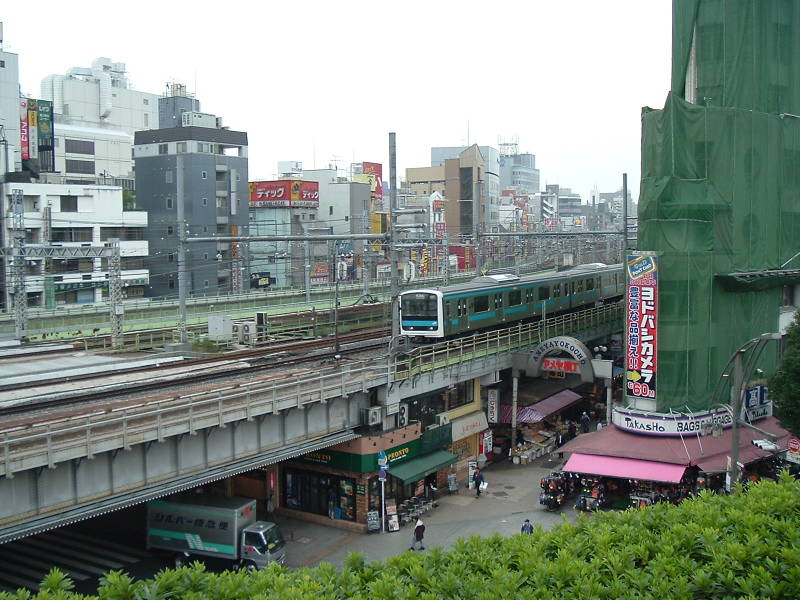 The pictures above and below are from an earlier trip, when I only had a morning and part of an afternoon in Tōkyō after teaching a Linux server course up north at Misawa Air Base.
These two pictures are from very early on the Sunday morning, when this area can be quiet. It's usually much busier! We're looking down from the southern tip of Ueno Park, above the Keisei Ueno Station and next to the statue of the last true samurai and his dog.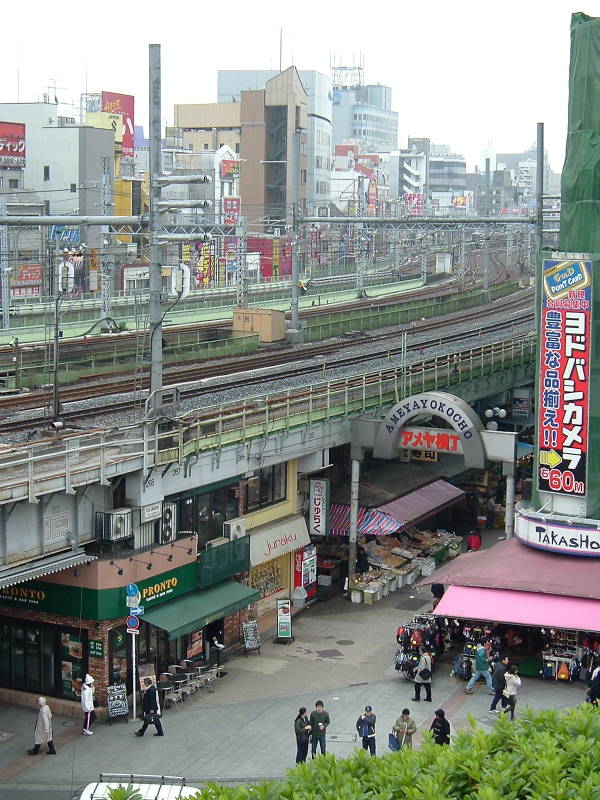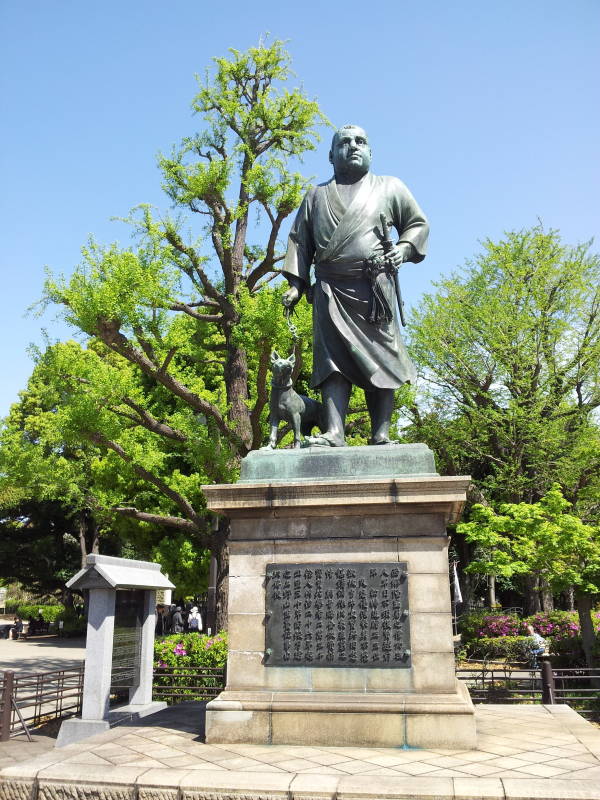 Saigō Takamori is considered to be the last true samurai. He was involved in the civil war between Shōgunate and the Emperor's forces. He led the Imperial army toward Edo, the old name for Tōkyō, and personally accepted the surrender of the last Shōgun.
This statue depicts Saigō and his dog, looking out toward Ameya-Yokochō from the south end of Ueno Park.
Entering Ameya-Yokochō
Let's get into the market! In the first picture we're waiting patiently to cross from Keisei Ueno Station to the north end of Ameya-Yokochō. Of course we wait for the lights to change, no one jaywalks in Japan.
Those are the elevated rail lines disappearing off to the left to enter Ueno Station. We'll go under the arch to the right of the rail line, that's the north end of the market area.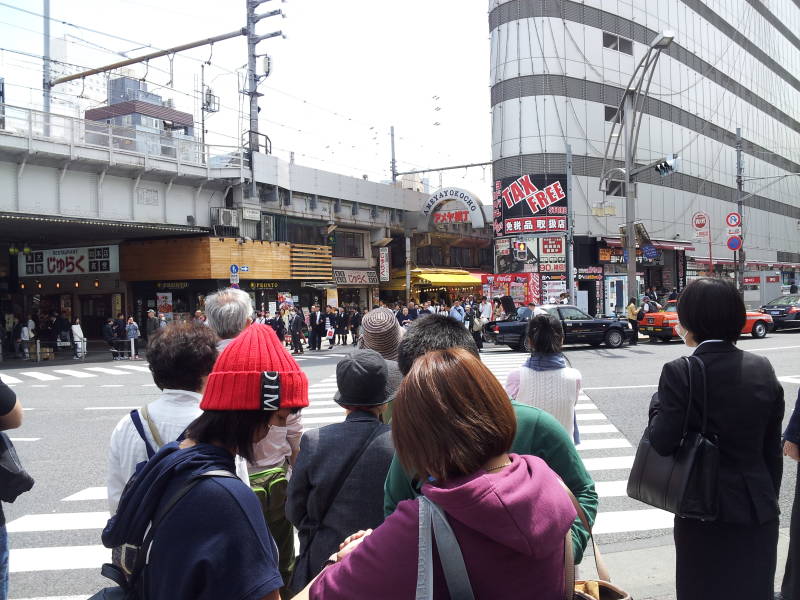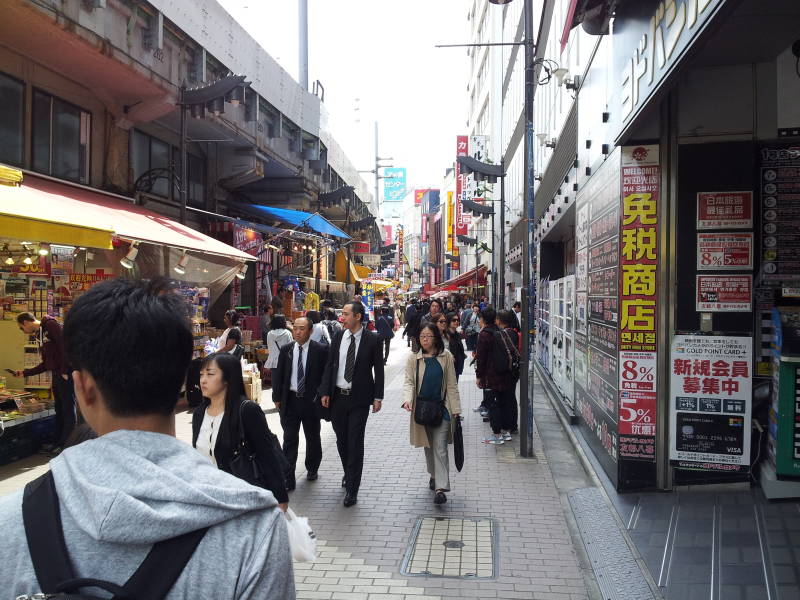 Why is the area called Ameya-Yokochō? No one really knows. One theory is that it came from the word ameya or candy shop. Sugar was scarce after the war and there were a lot of candy stores here.
Katakana &
Hiragana
Another theory is that the name refers to アメリカ or a-me-ri-ka, America, because shops here sold U.S. military surplus after the war.
All we can really say is that it's called Ameya Alley or アメヤ 横丁. Or, more simply, Ameyoko or アメ横.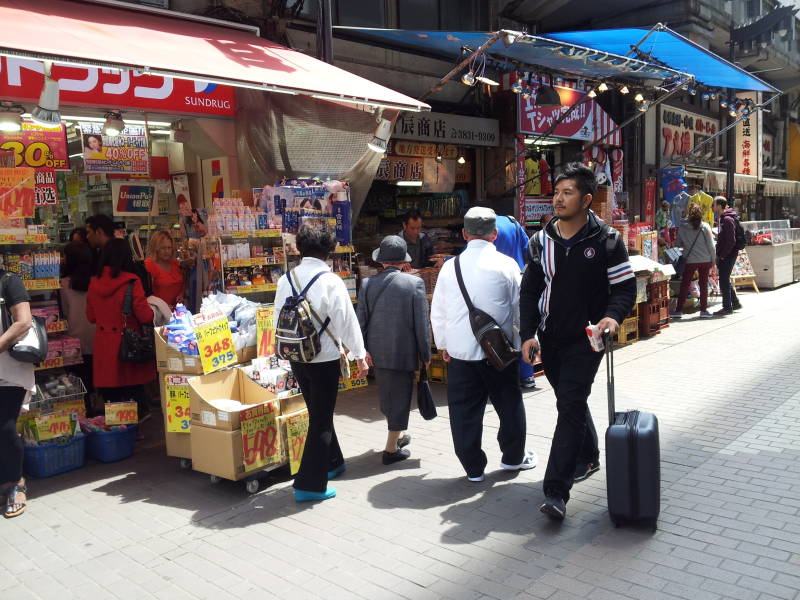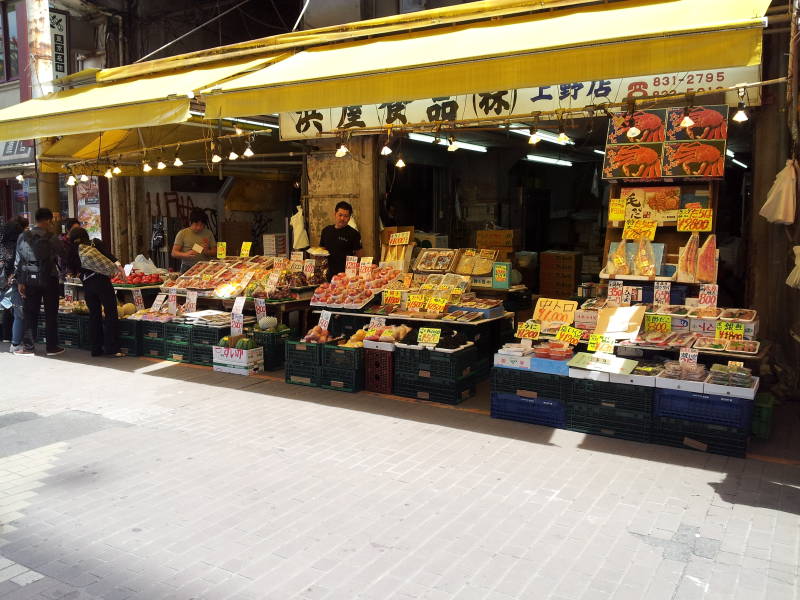 It gets very busy. About 100,000 people pass through on a typical day. That goes up to about 500,000 near the end of the year when people are shopping for a New Year's feast.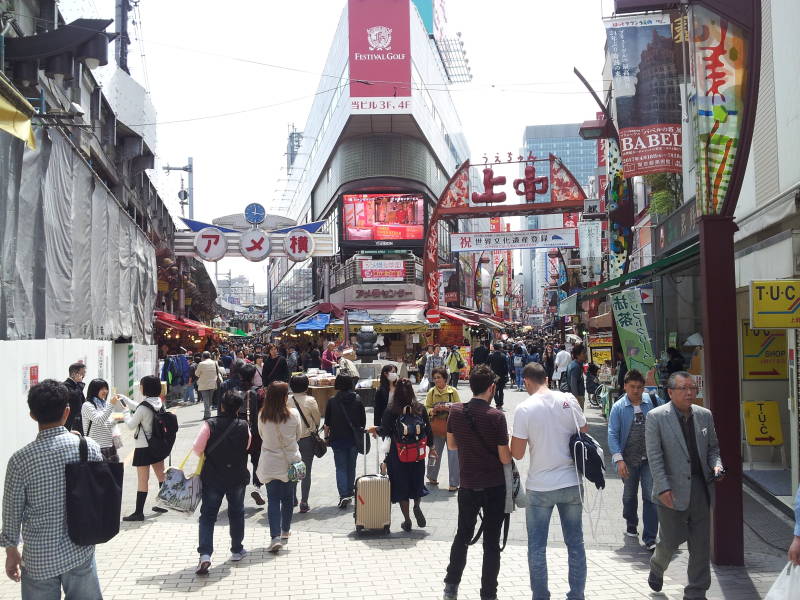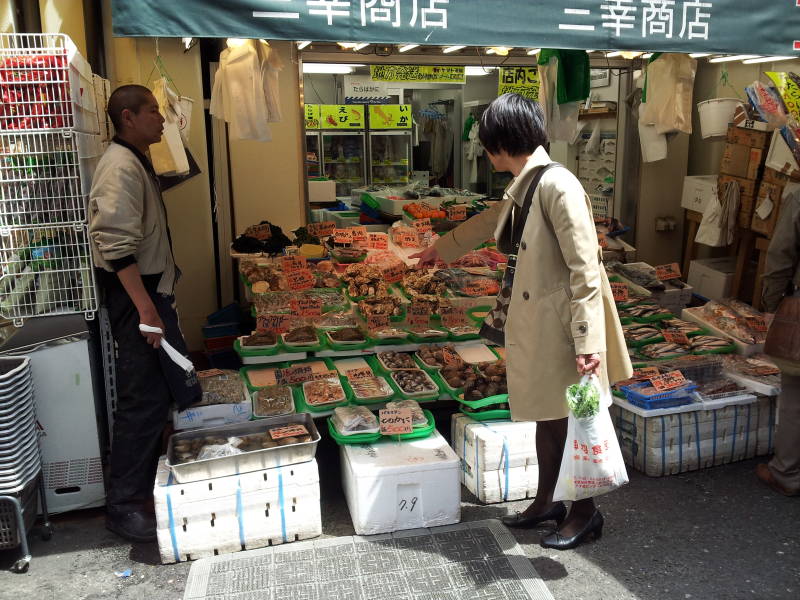 There are now many Chinese vendors, Chinese goods, and Chinese shoppers. There are visitors from other East Asian nations shopping here. Now there are some African vendors. About 10% of the shops are foreign owned.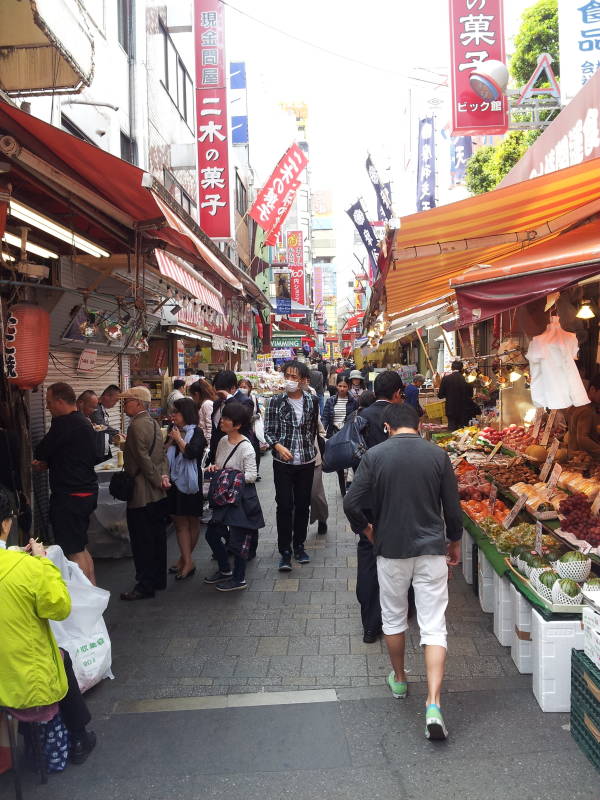 Lunch in Ameya-Yokochō
I will get lunch here. They have a visual menu, so you can select and point out your choice.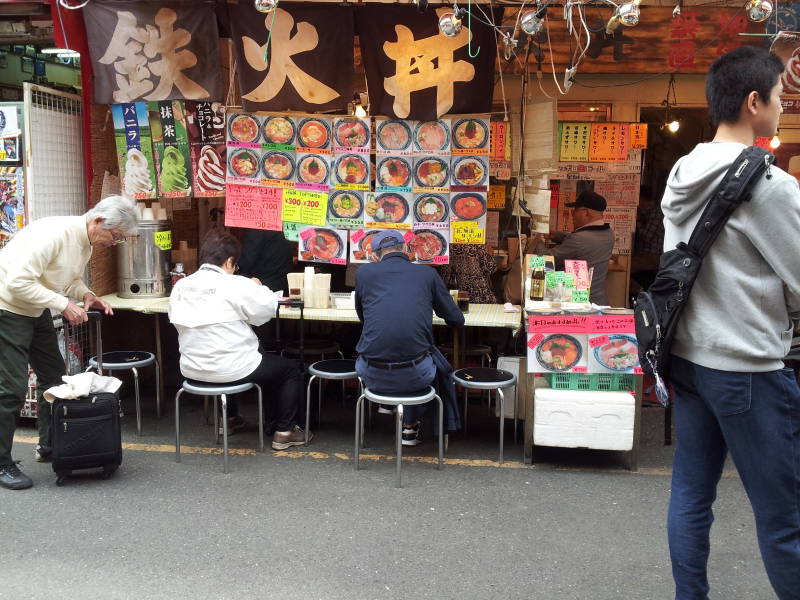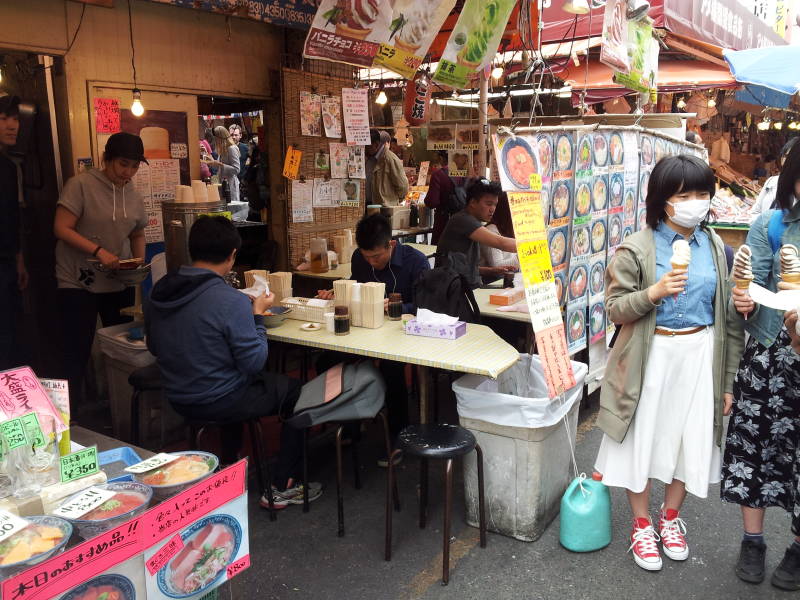 How do you eat soft-serve ice cream through a facemask? Very carefully.
From my seat I can watch the world pass by.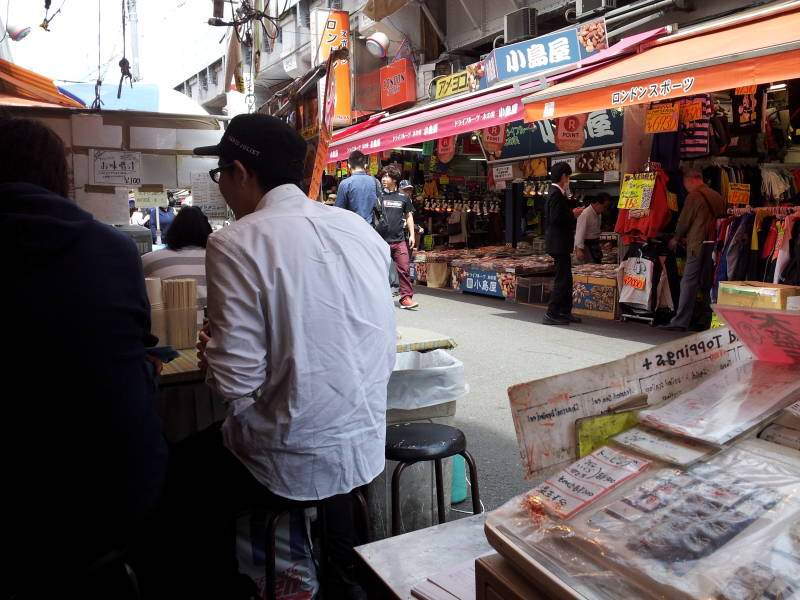 Other foreign visitors stop here, along with the locals.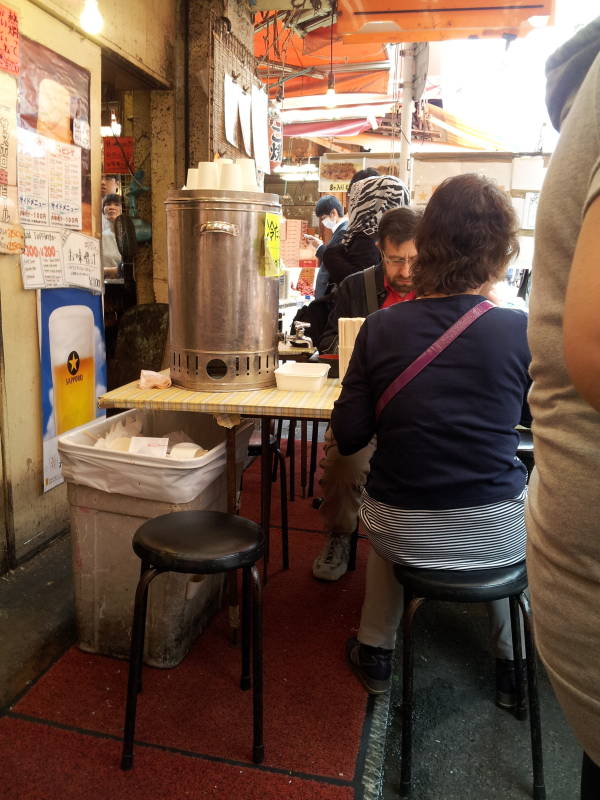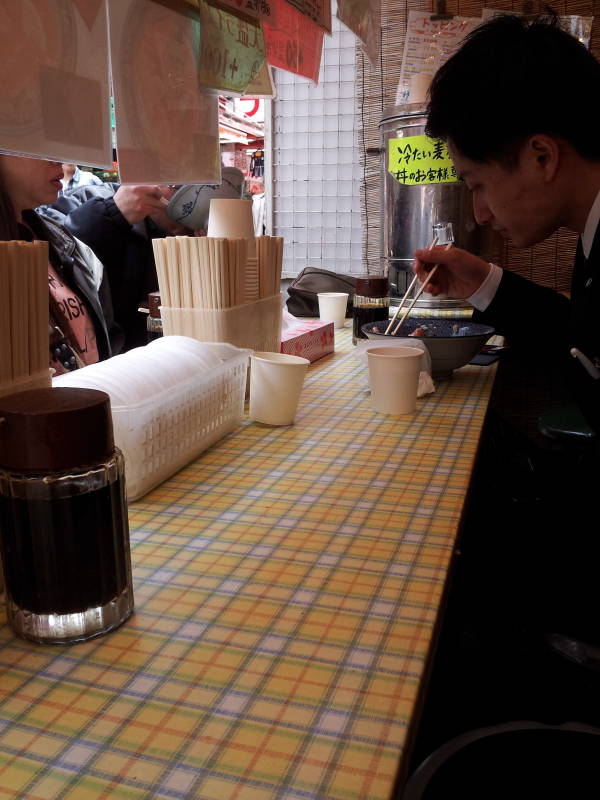 My meal arrives! Salmon and tuna donburi, over rice.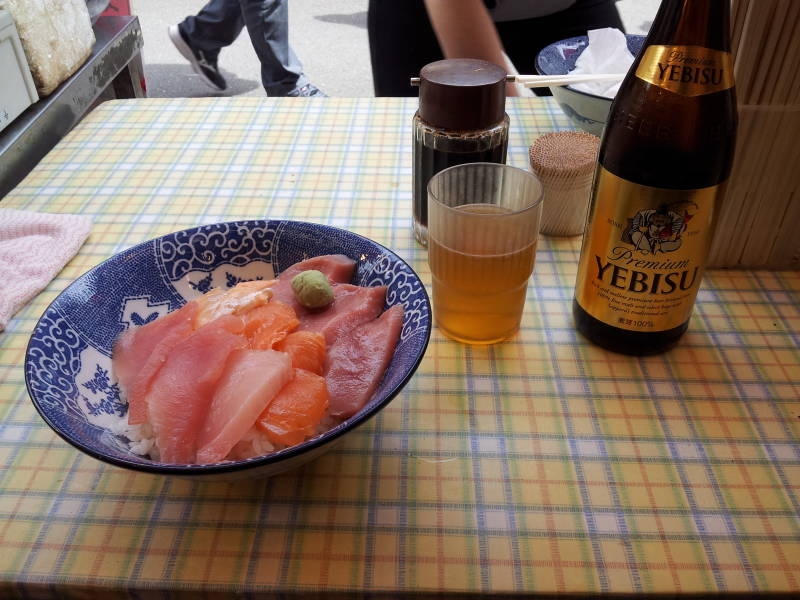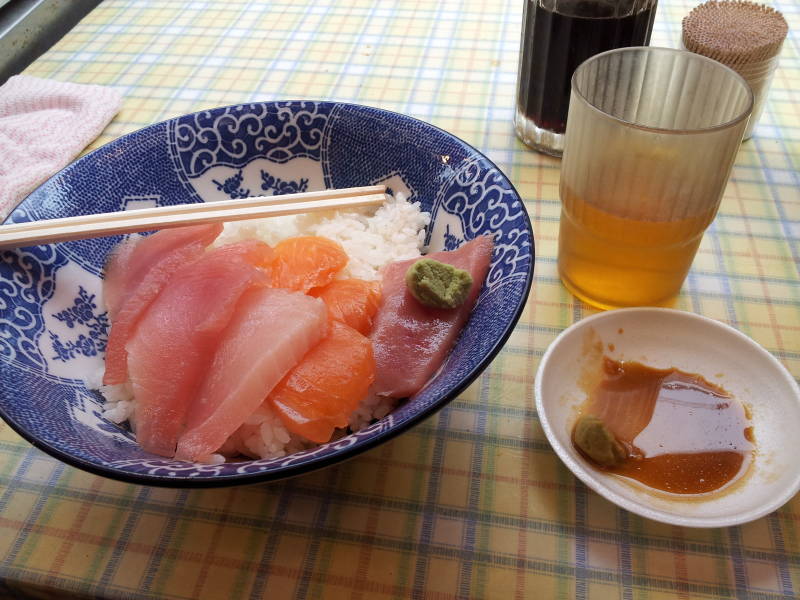 Now I'm ready to continue south toward Akihabara.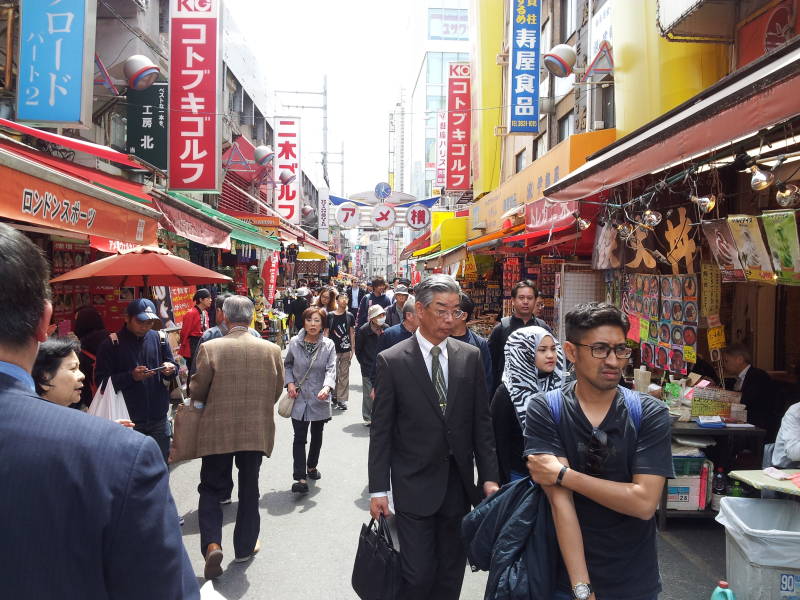 Returning to Ameya-Yokochō
The above pictures were from my first real visit to Ameya-Yokochō. I walked through it on that early Sunday morning after the Misawa job, but I now realize that it was very strangely shut down and quiet.
Now I've come back on another typically busy day. I am again walking south from Ueno Park to Akihabara.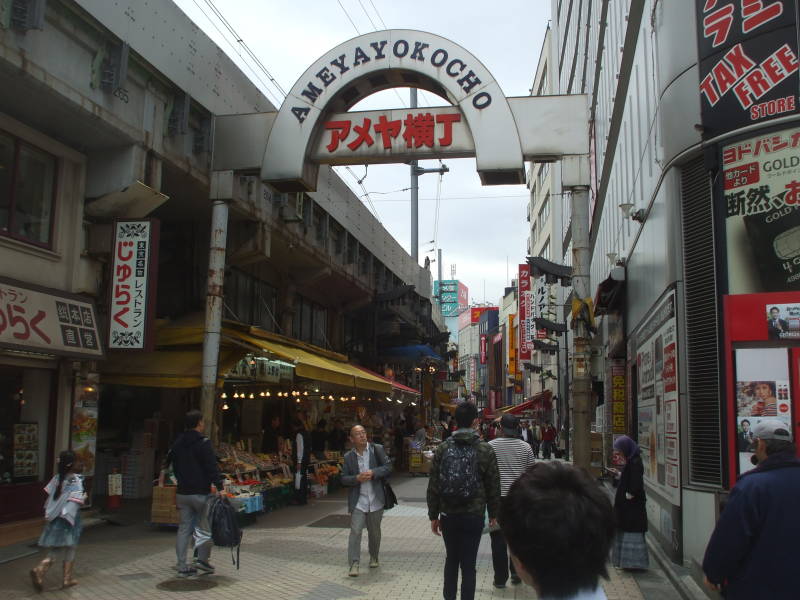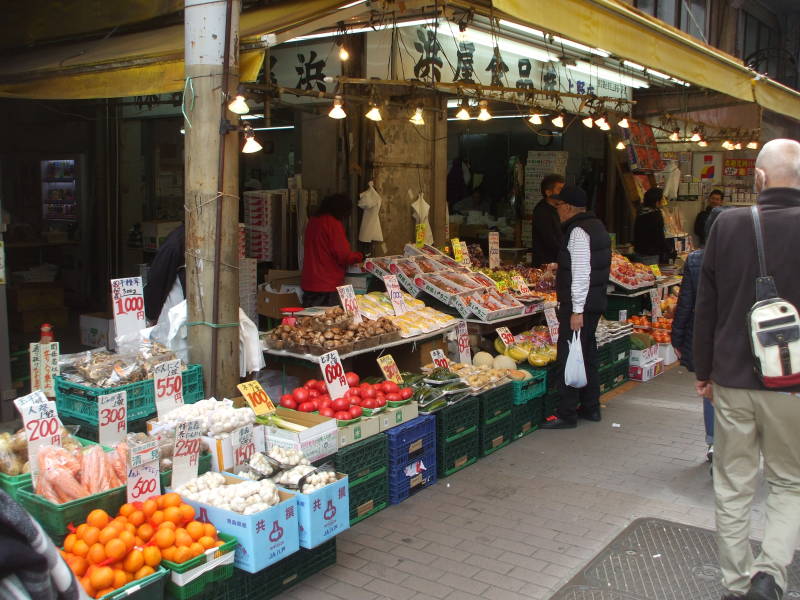 Some shops sell fruits and vegetables. Others sell nuts, seeds, and spices.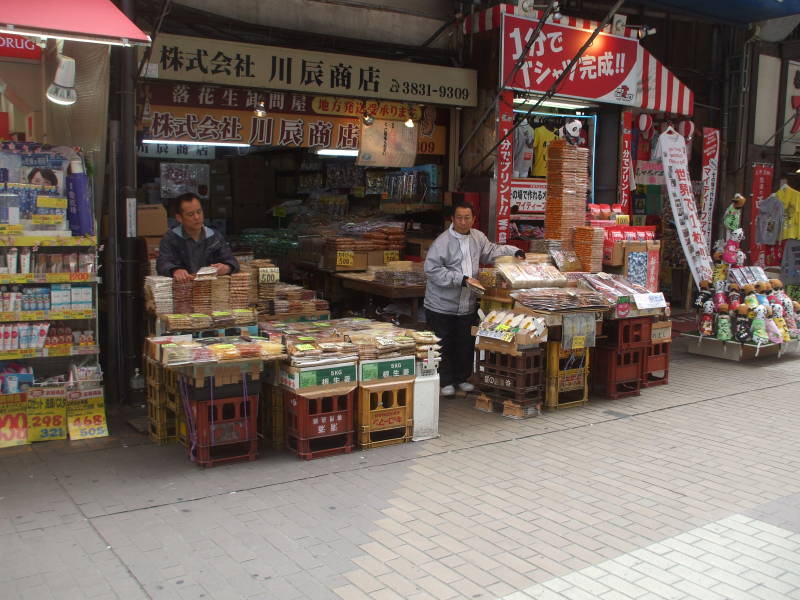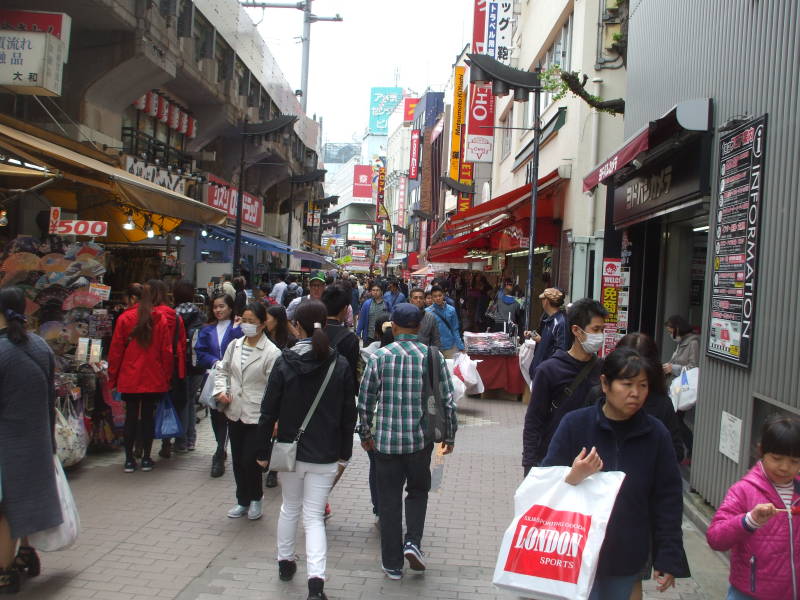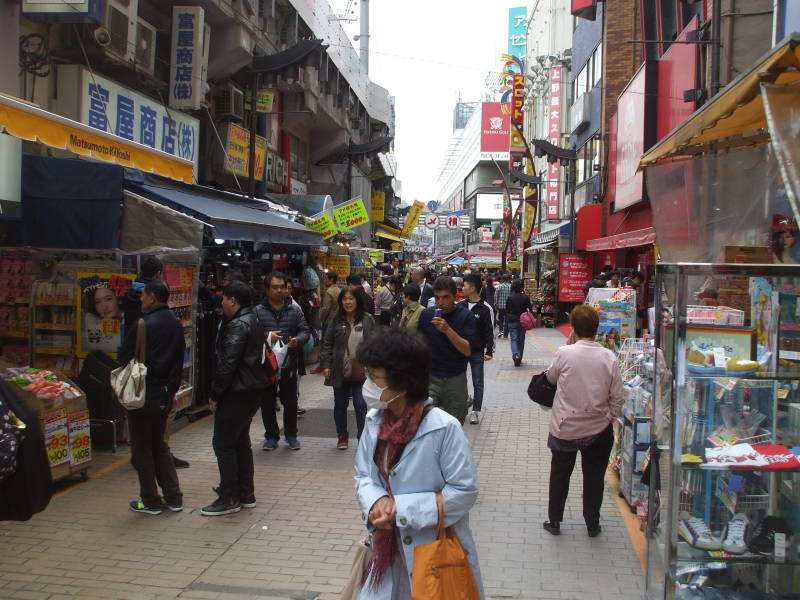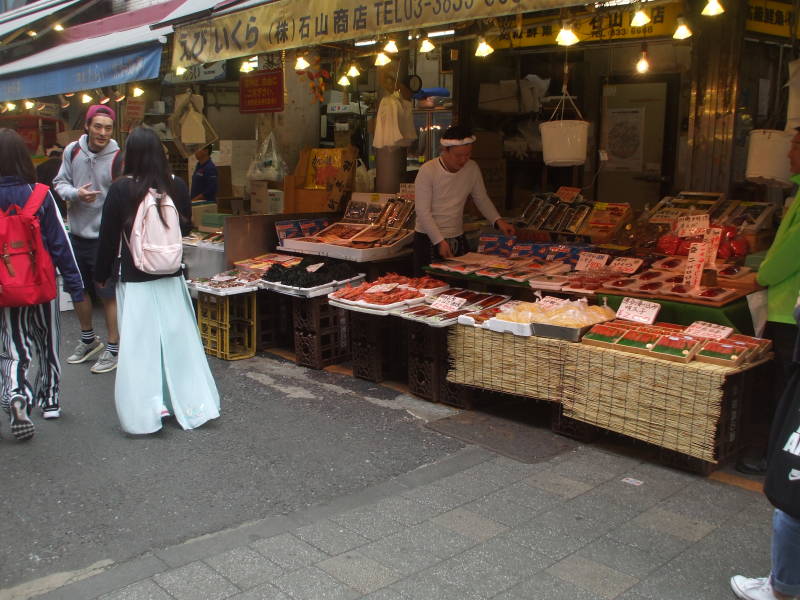 Many places sell fresh seafood.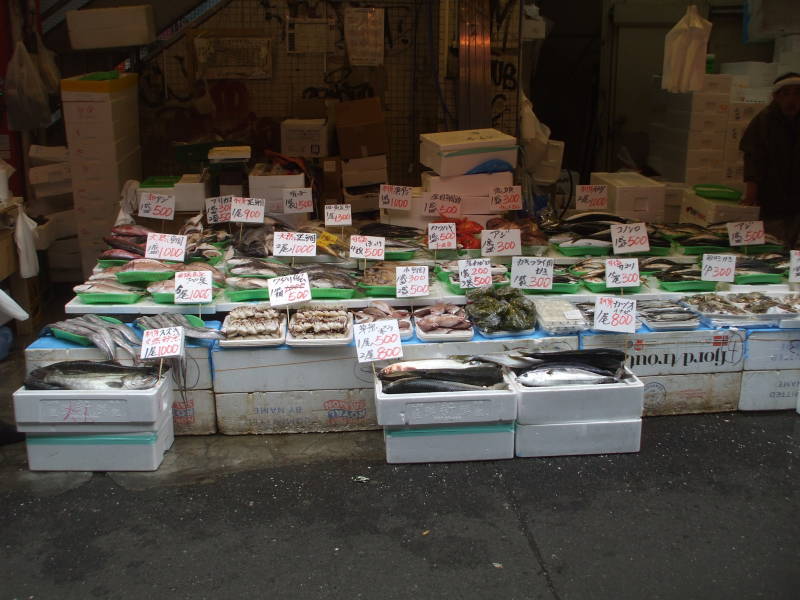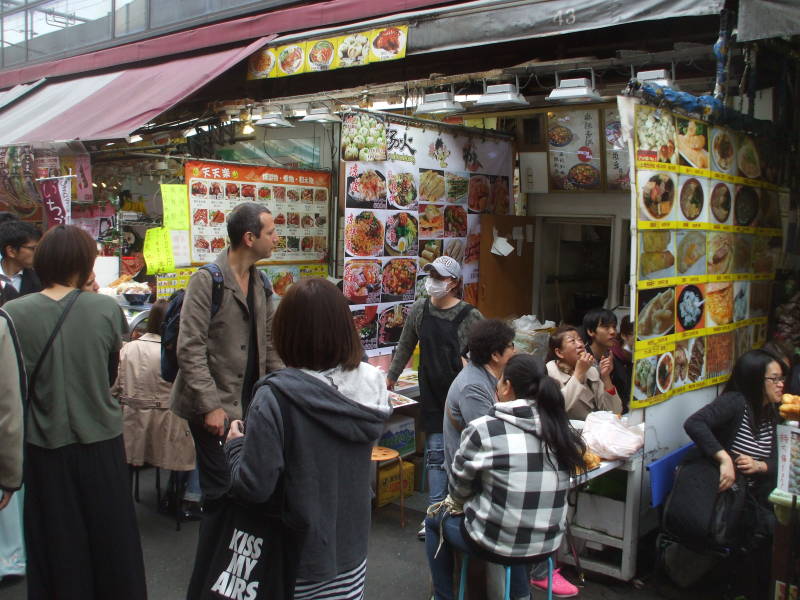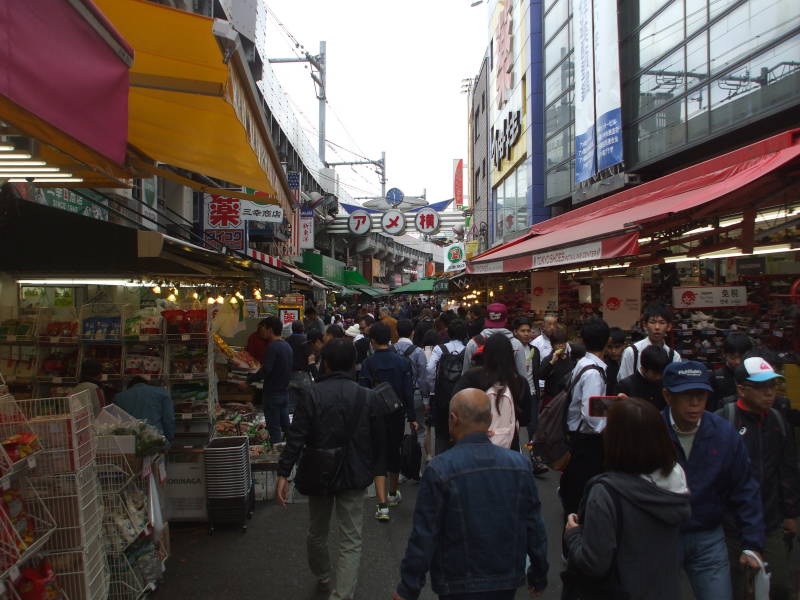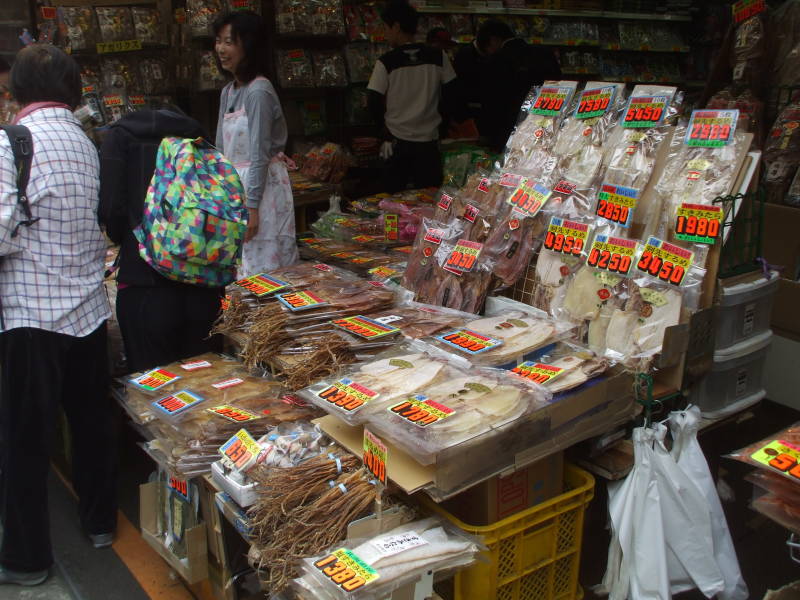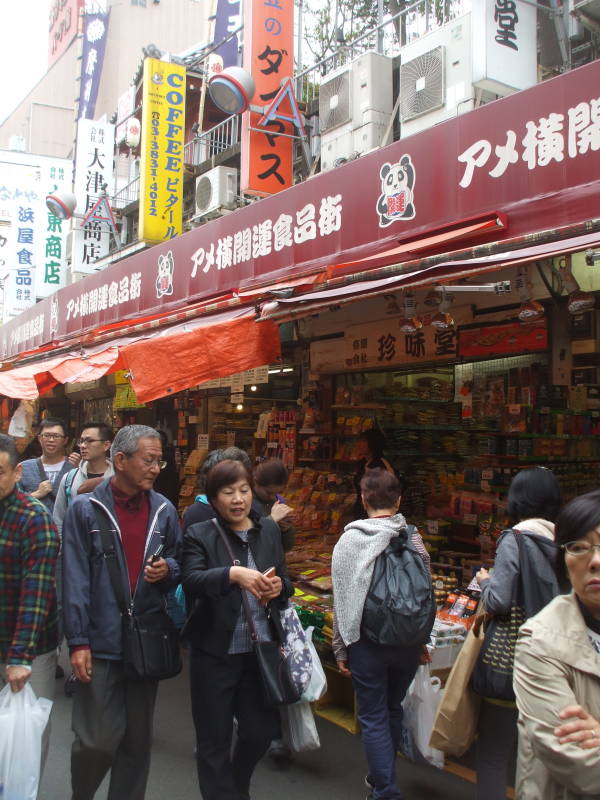 Lunch in Ameya-Yokochō, Again
Now it's once again time for lunch.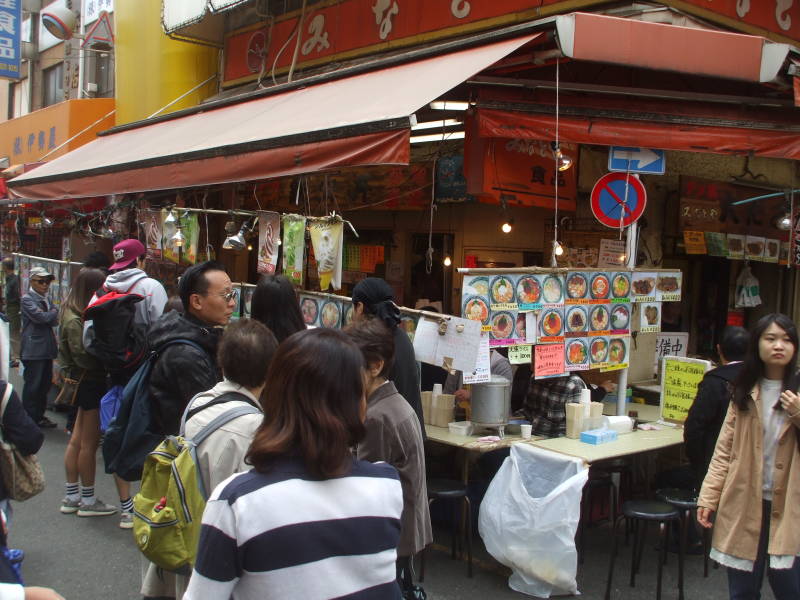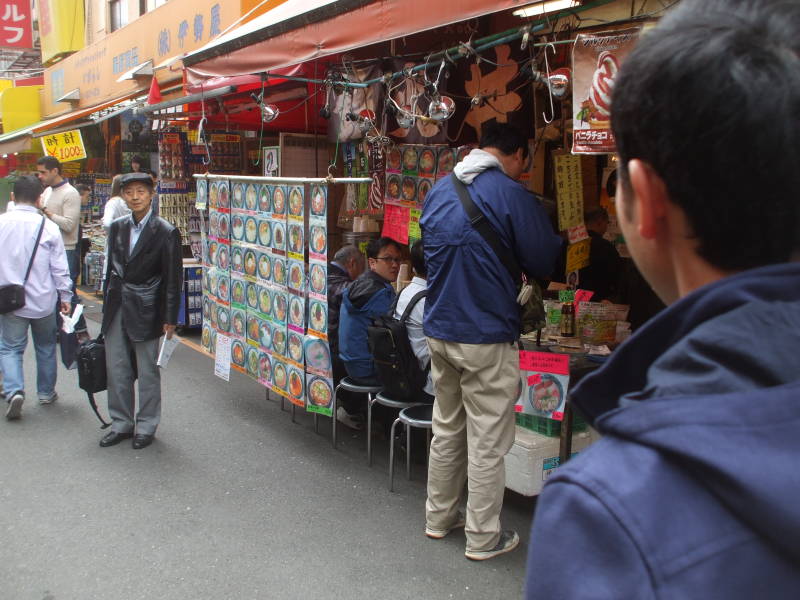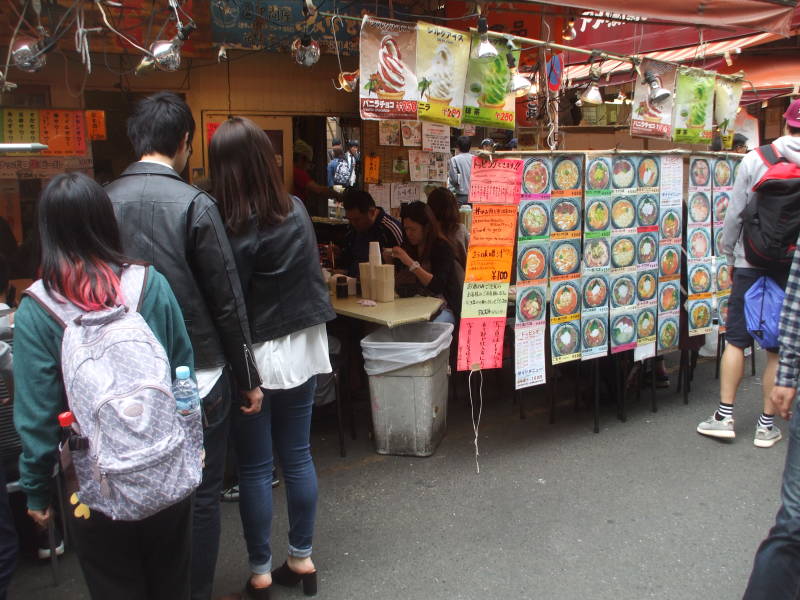 There is a large array of choices, and they even have English labels if you can't figure it out from the pictures.
Most meals are ¥500 to ¥650, equivalent to about US$4.40 to US$5.75, or €3.80 to €5.00.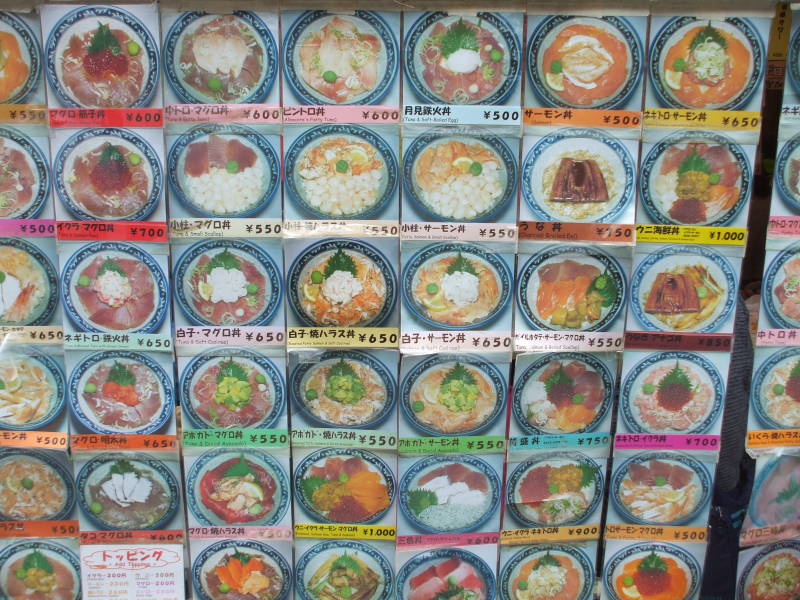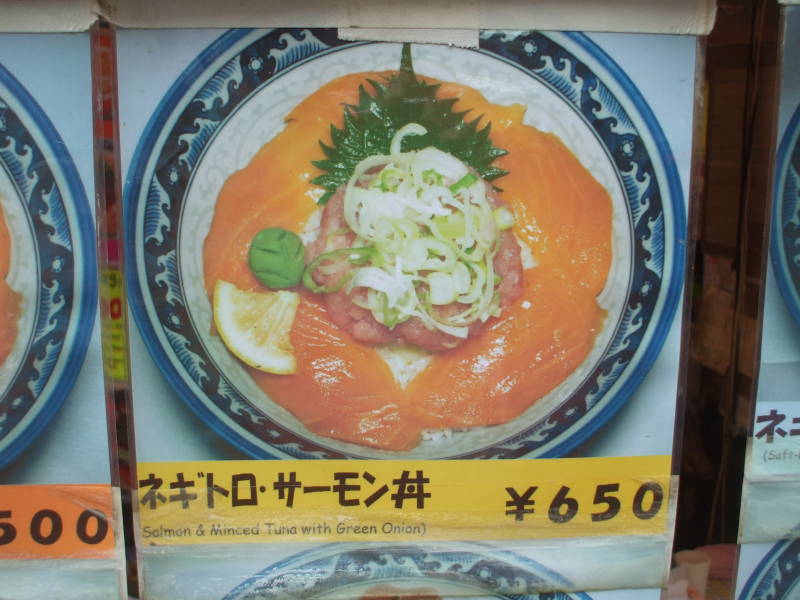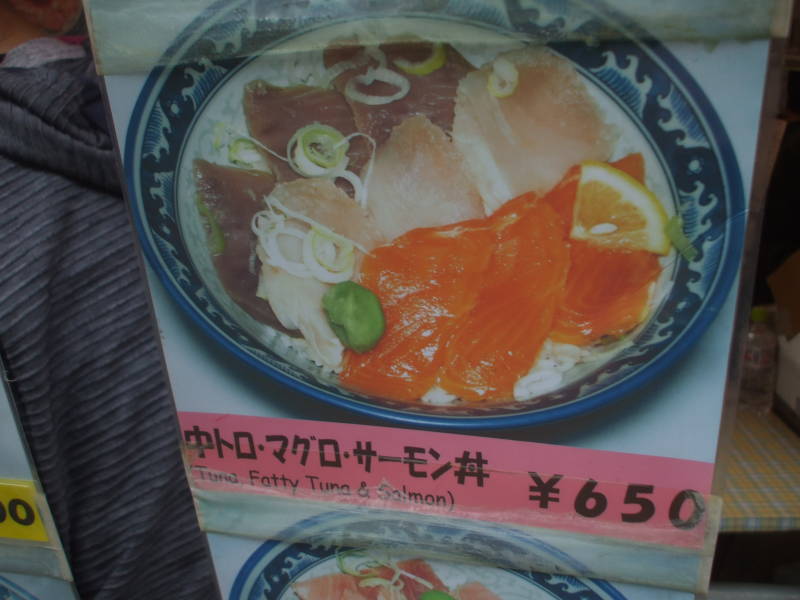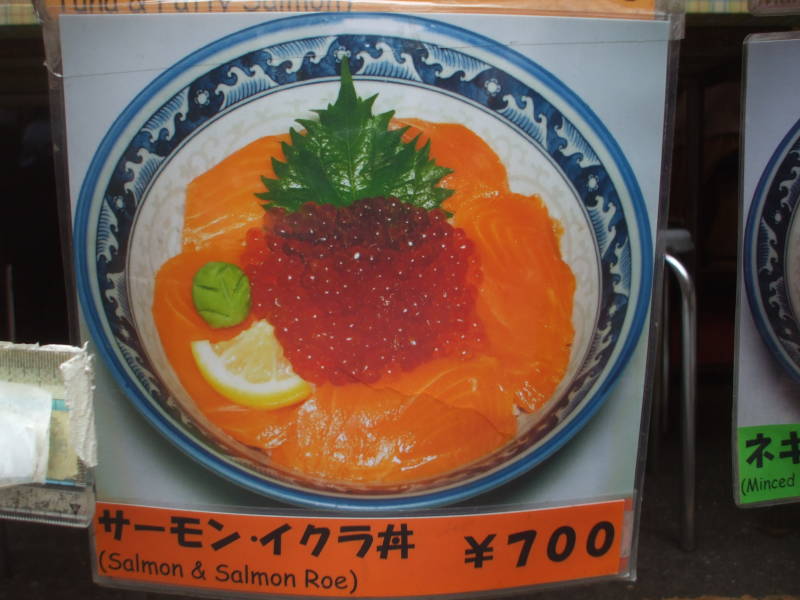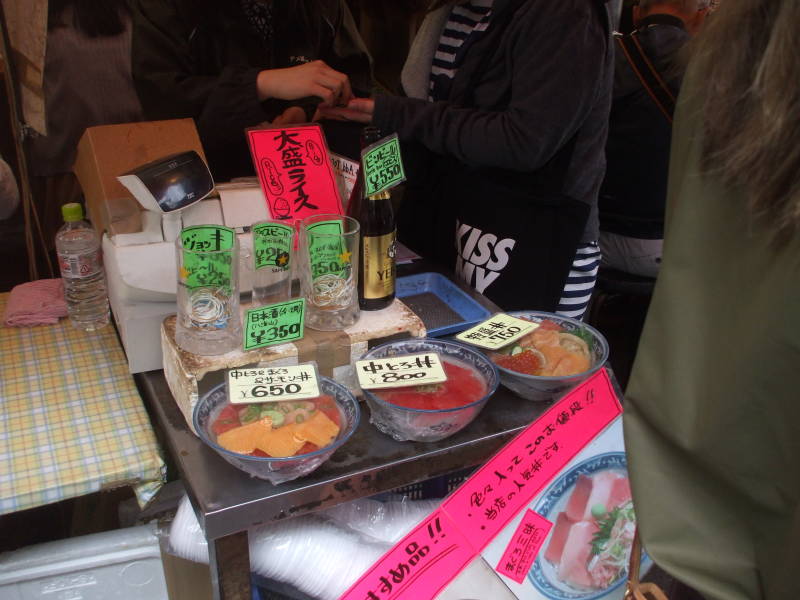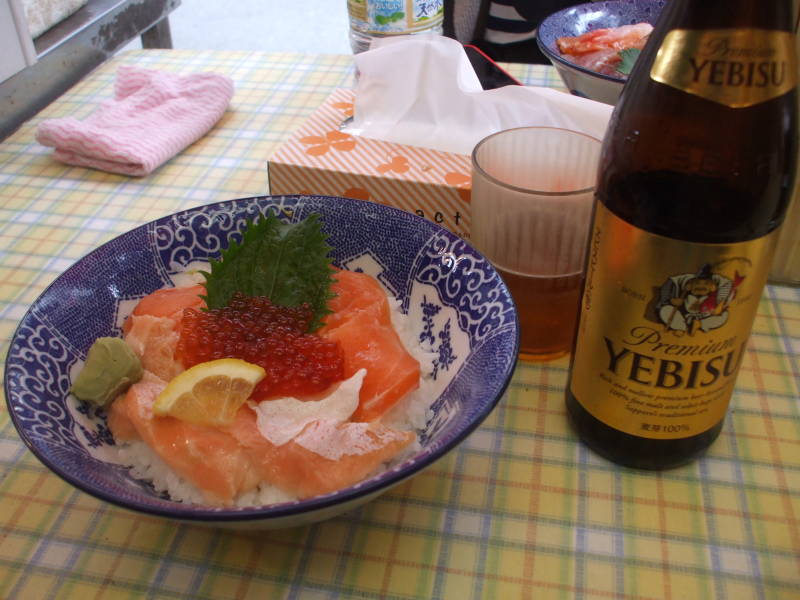 This time I got salmon with salmon roe over rice. ¥700, not quite US$6.20.
There are small paper cups you can fill from the water cooler, and racks of hashi or chopsticks. There are containers of soy sauce, and small dishes for mixing soy sauce and wasabi.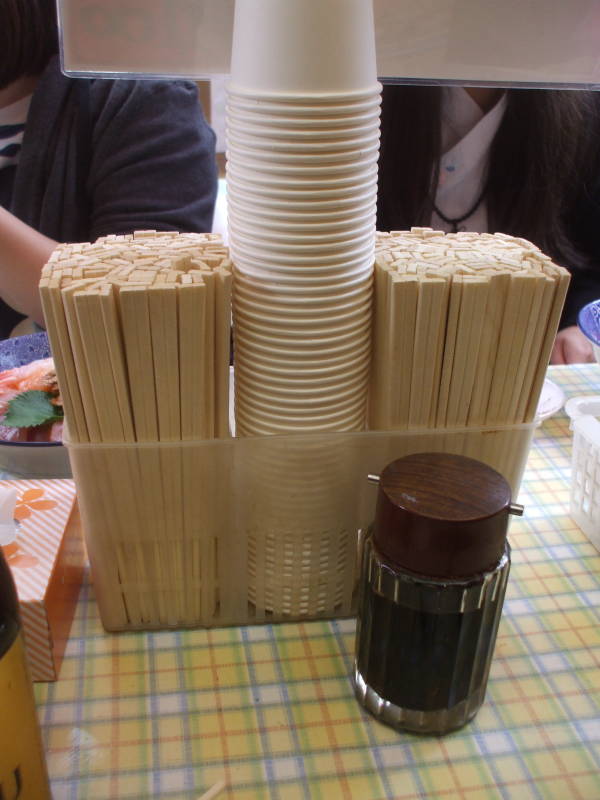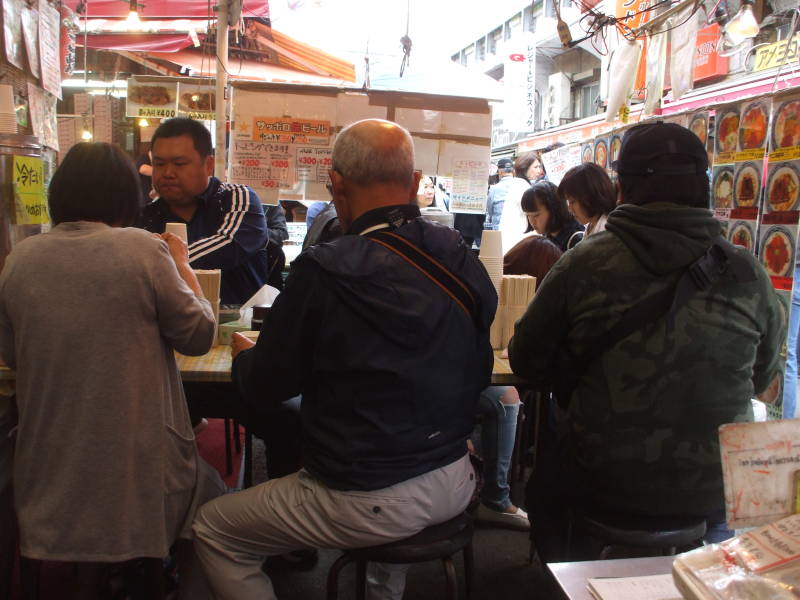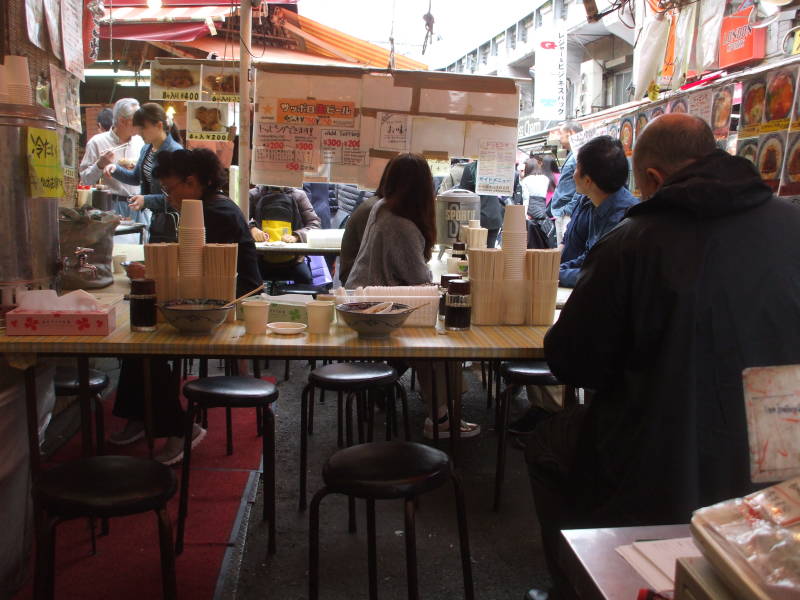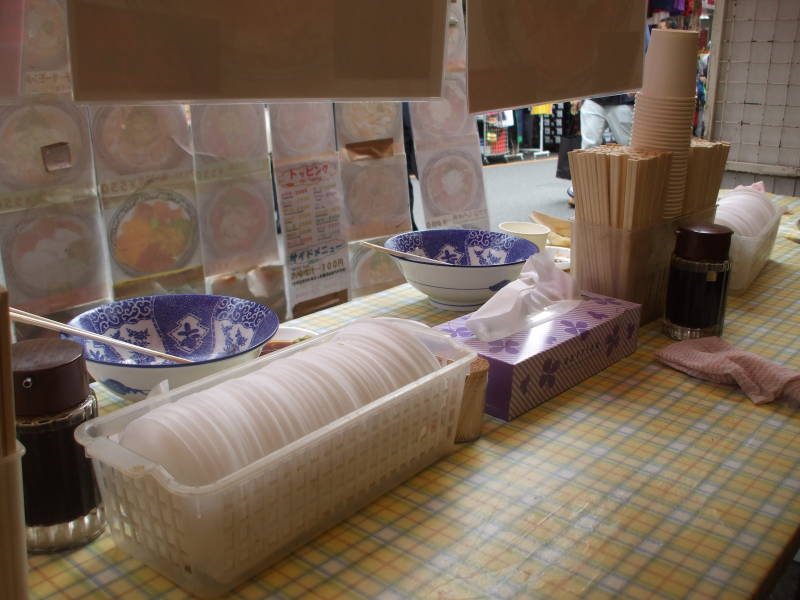 Continuing Through The Market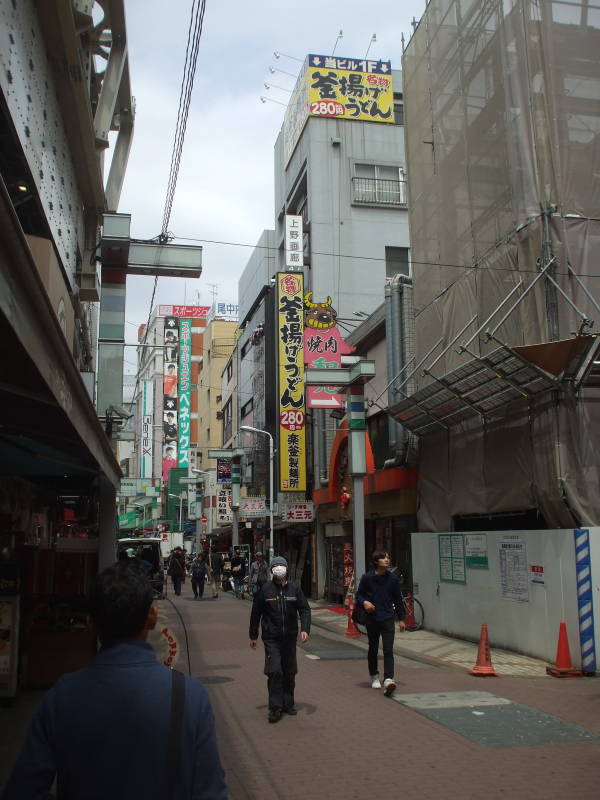 There are shops through the enclosed passageways beneath the several parallel rail lines.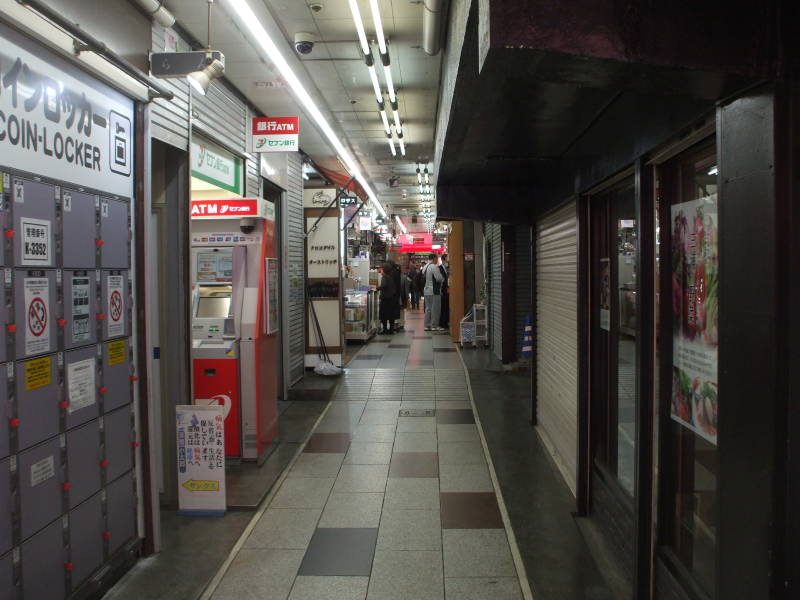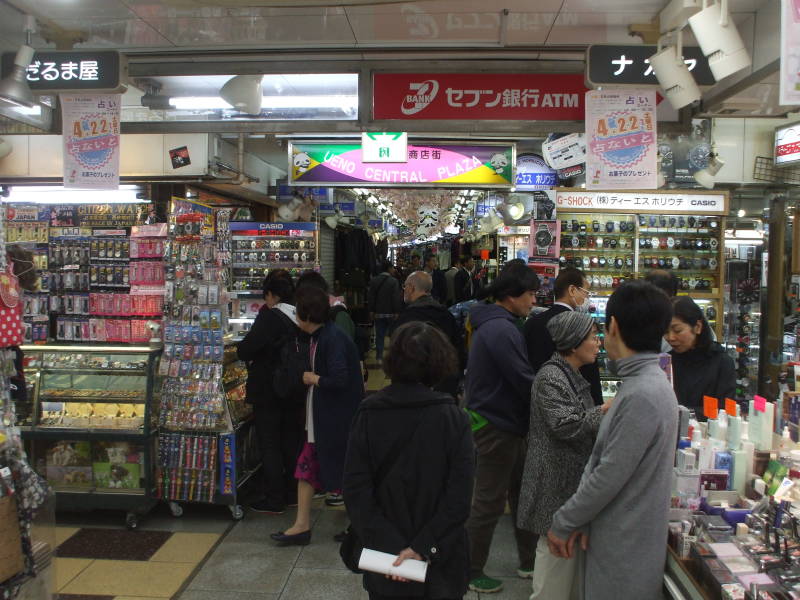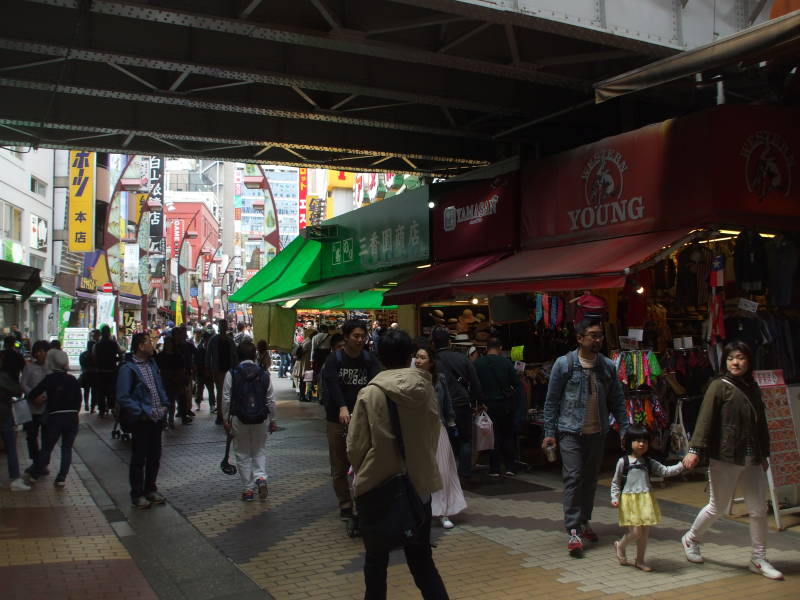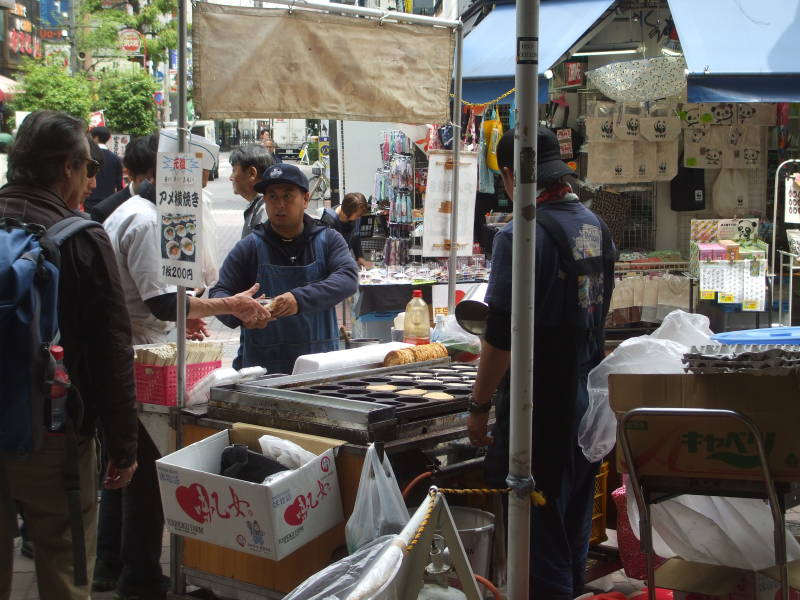 Some vendors do it in the old style, with just a portable stand where they cook food.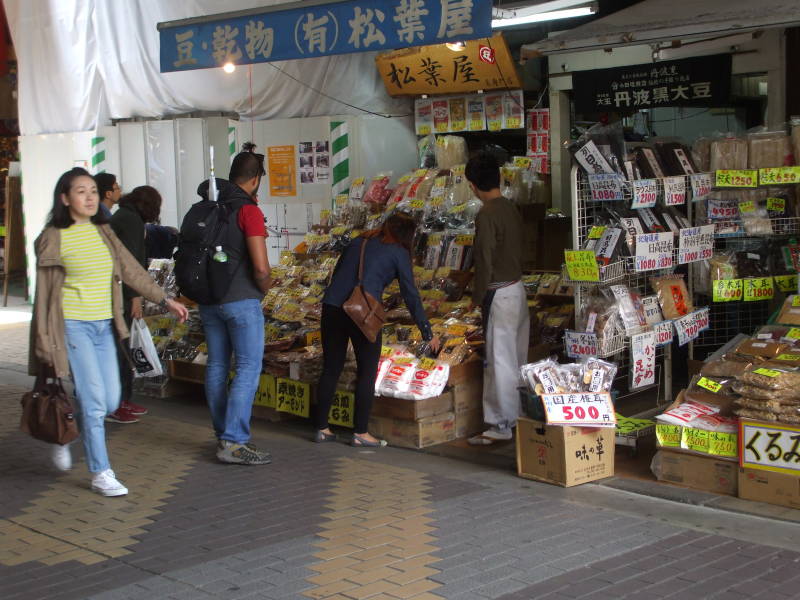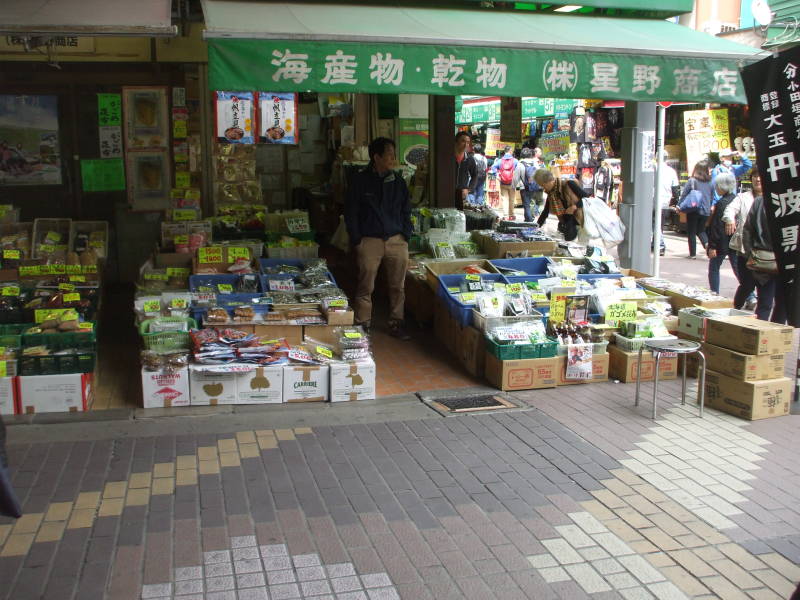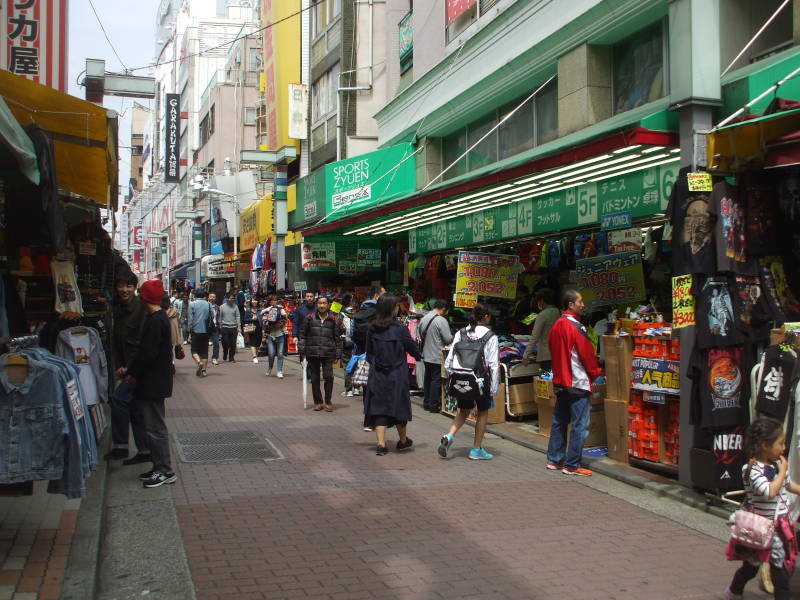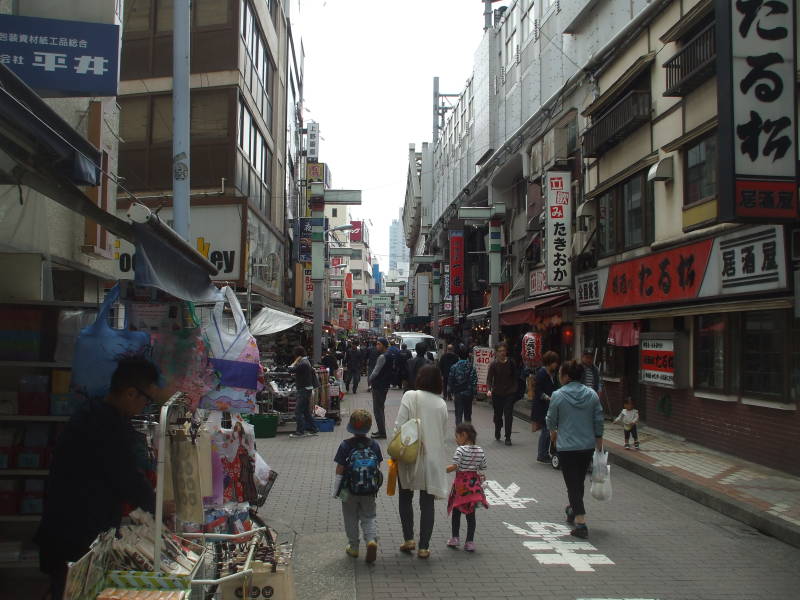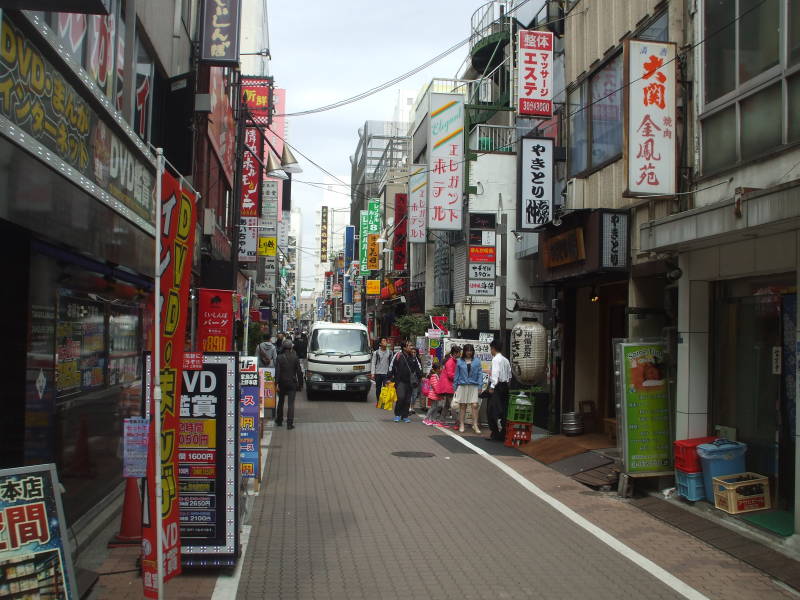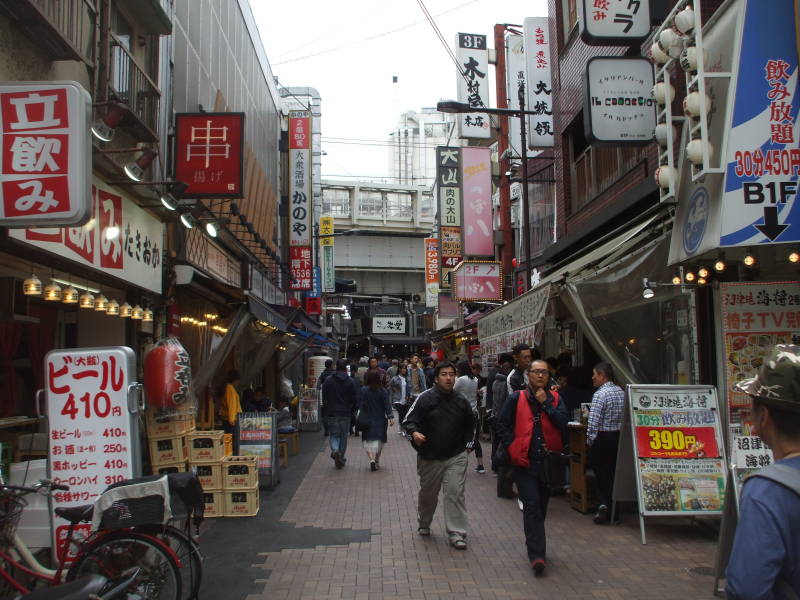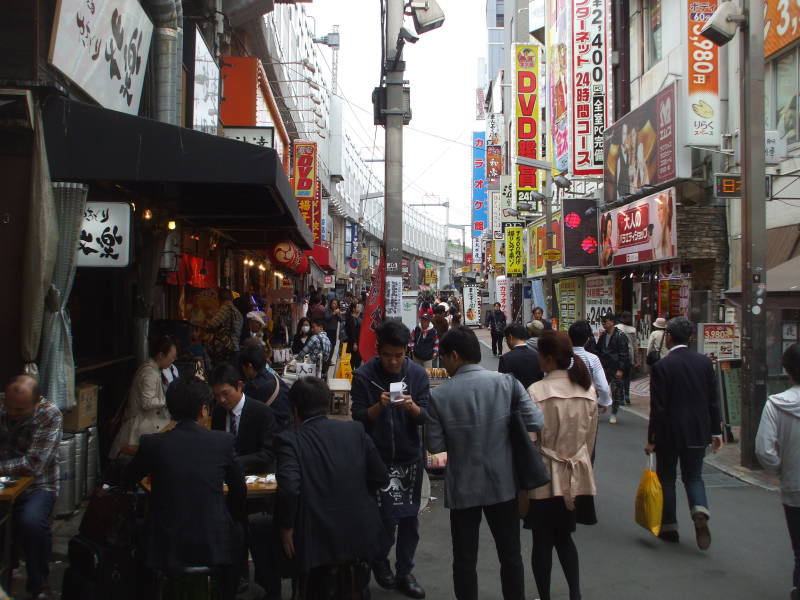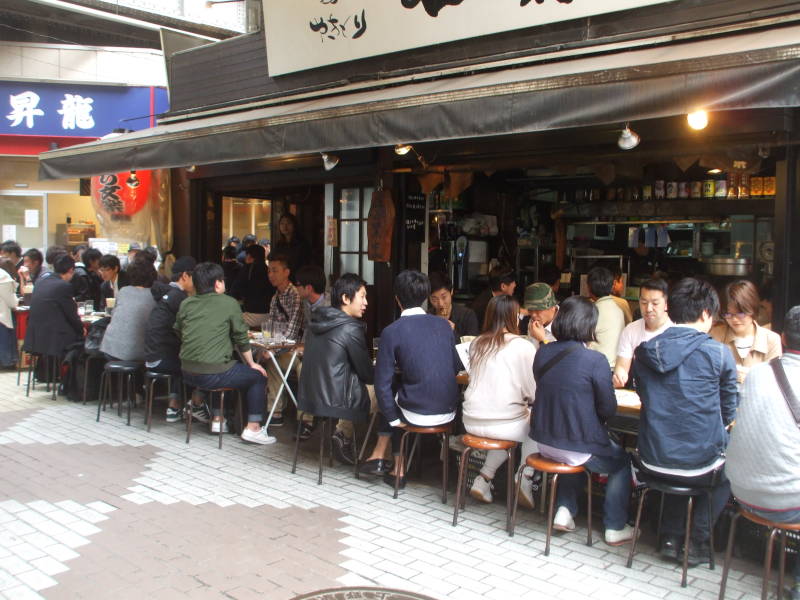 Some places are izakaya, more of a tavern.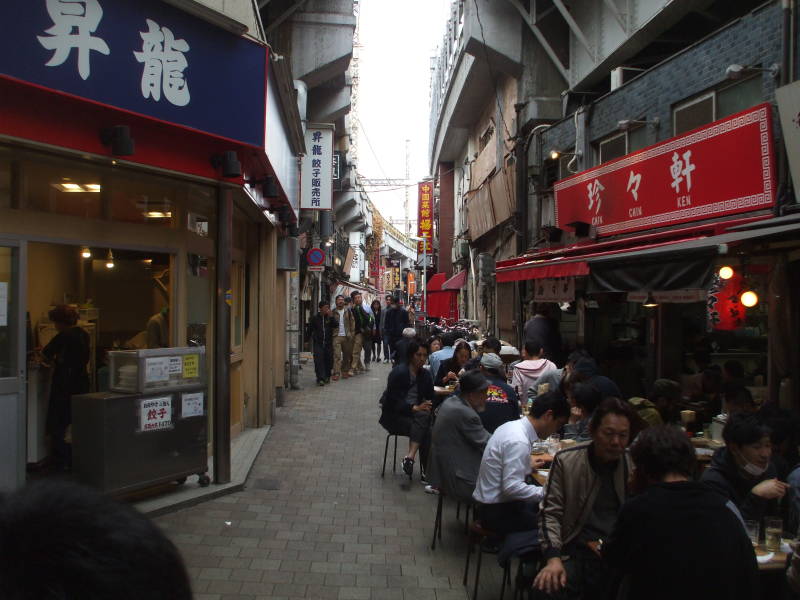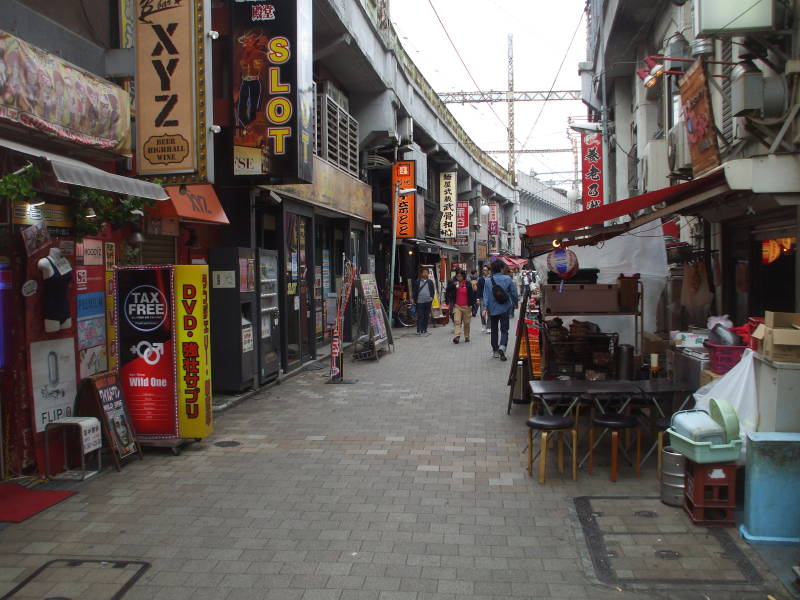 Love Hotels
There's a wide range of businesses in the market area, including some love hotels or ラブ ホテル, rabu hoteru. They're designed for trysts, and list prices for a "rest", typically one to three hours, and a "stay", meaning overnight. An overnight stay may only be available starting around 10 PM in some love hotels. If you've seen The Wolverine, you have some idea of the concept.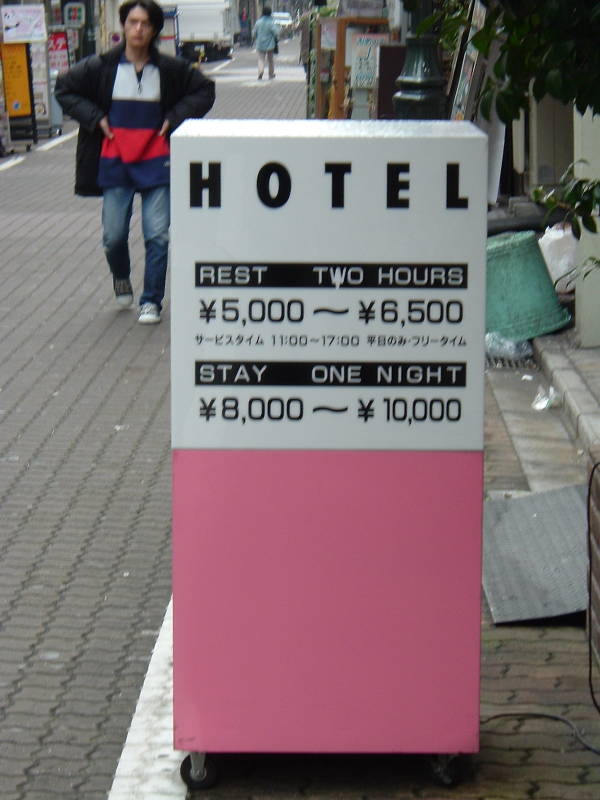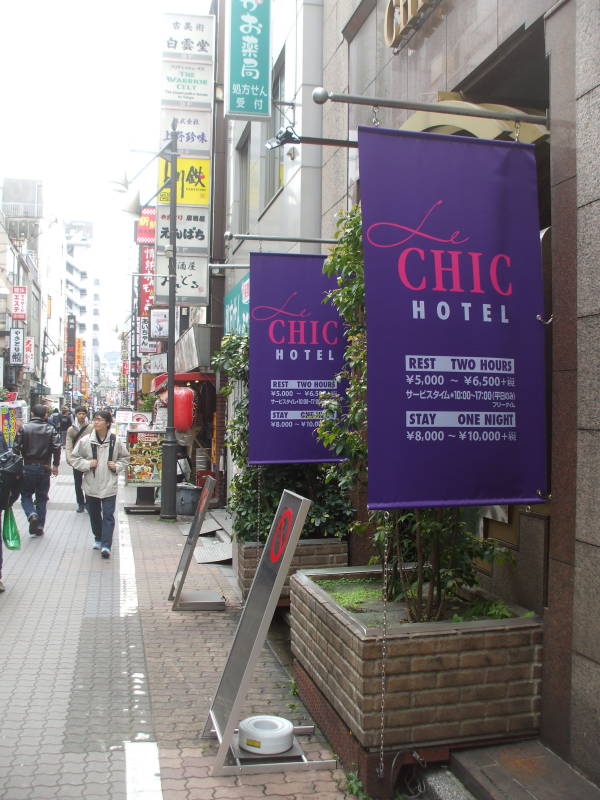 The concept goes back to the early years of the Edo Period, the time between 1603 and 1868 when the Tokugawa Shōgunate ruled Japan from Edo, today renamed Tōkyō. Some inns and teahouses in Edo and Kyōto had specific procedures for discreet entry and exit, sometimes to the extent of excavating tunnels.
After World War II the Occupation forces and the legality of prostitution made these establishments very popular in this district around Ueno. Those came to be called tsurekomi yado or "bring-along inns". When prostitution was made illegal and pushed underground in 1958, the love hotel business boomed.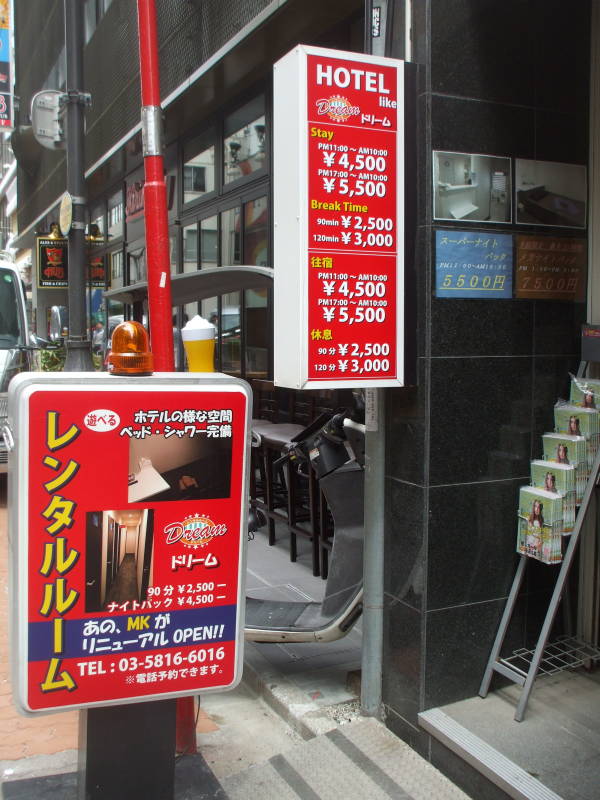 Vending Machines
Japan has many vending machines. You can buy a soft drink, cold coffee, hot coffee, and a range of other drinks, food, and goods most any time and place.
Notice the bins to collect used cans. There are very few places to discard trash in Japan. But at the same time there is almost no litter. If you unwrap something, you carry the wrapper until you find somewhere to put it, possibly all day long. But if you get a canned drink, you will find a vending machine selling canned drinks before very long, and it will have a bin for recycling the can.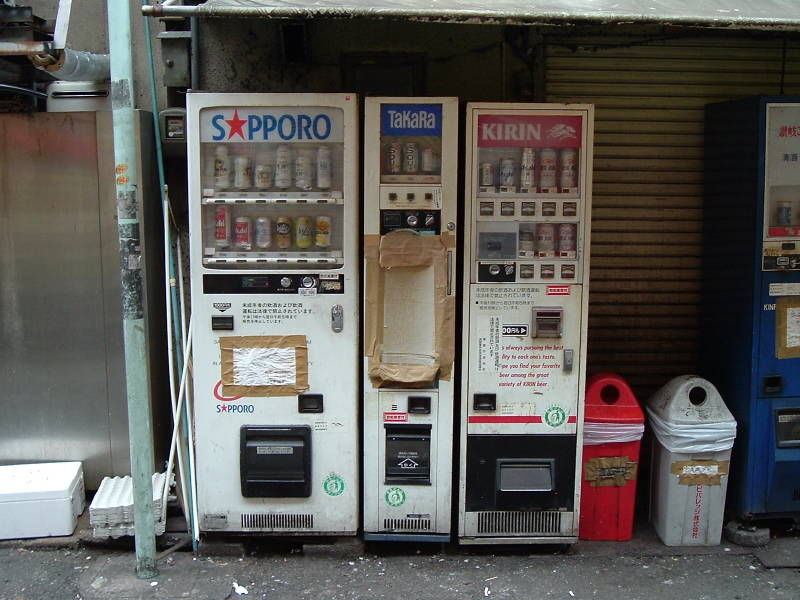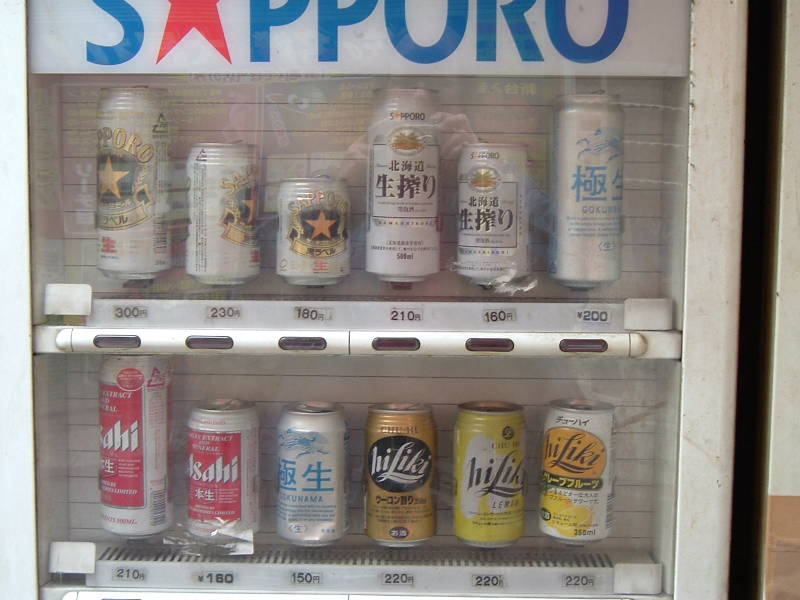 Since almost everyone follows almost all the rules in Japan, they can even get away with selling alcoholic beverages in vending machines. I can not imagine that going well in most countries. Even in Japan, alcohol vending machines have become pretty uncommon.
Vending machines exist to sell almost anything. In the early 1990s into the early 2000s there were machines selling used schoolgirl underpants. Yes, there was a market for used underpants, sold in shrink-wrapped packages for the equivalent of about US$40.
My theory was that the underpants packages are were together in sweatshops (ha! get it? sweat!) staffed by overweight chain-smoking middle-aged women pulling on and removing underpants as fast as they can while simultaneously taking calls on sex-chat-line phones. But maybe I'm just a cynic about machine-vended used underwear.
The used underpants craze seems to have disappeared, as ephemeral as the roughly contemporaneous earliest wave of ルーズ ソックス or rūzu sokkusu, oversized loose socks (which returned in the mid to late 2010s). Now the used underwear market is dominated by pervy Americans.
On the topic of used underwear, perhaps you would prefer to buy fake skidmarked underwear to camouflage your valuable possessions.
Or perhaps not. Let's move on. Akihabara is to the south, Ueno Park is to the north, and there are plenty of other places to visit:
Other topics in Japan: