Travel in Japan
Tōkyō — Higashi-Ueno District
Higashi-Ueno District near Keisei Ueno
I am on a very brief visit to Japan. I flew into Tokyo Narita airport and took a bus to a hotel near Haneda Airport. Then I got up very early the next morning and flew north to Misawa Air Base, a joint base of the U.S. Navy, U.S. Air Force, and Japanese Air and Naval Self-Defense Foces. I taught a Linux server course there.
Life on a U.S. overseas military base is largely a Halliburton-operated simulation of the Confederacy. For meals you have a choice between Taco Bell and Popeye's Chicken.
Now I'm on my way back, with a morning and part of an afternoon to see just a little of Tokyo. I got a very early start.
I have just wandered out of the Keisei Ueno train station adjacent to Ueno-kōen Park. It's early Sunday morning, so it's very quiet by Tōkyō standards.
Here is the view looking south down the main street from just outside the train station. The Ueno-Kōen Park is up the hill behind me.
Lots of brightly colored signs line the streets and I have no idea what most of them say!
That was a major thoroughfare.
Here is a street scene near Ueno-kōen park along a small side street beside the park.
Markets in Higashi-Ueno
These are the markets in Higashi-Ueno below the rail lines and just south of the station.
These pictures were taken early on a Sunday morning so the markets are just setting up and few people are there.
People are bustling around setting things up in some areas, but in others things are still largely deserted.
All types of sea food are on sale in the markets in Higashi-Ueno.
This area just south of Keisei Ueno railway station is Ameyayokocho. This market district evolved out of the open-air black market created after World War II.
Bright Lights and Love Hotels
See what I mean about the garish colors? Just imagine all this illuminated at night!
Tōkyō often looks like part of a project to pave the planet, roof it over, and illuminate it with garish neon and fluorescent lighting.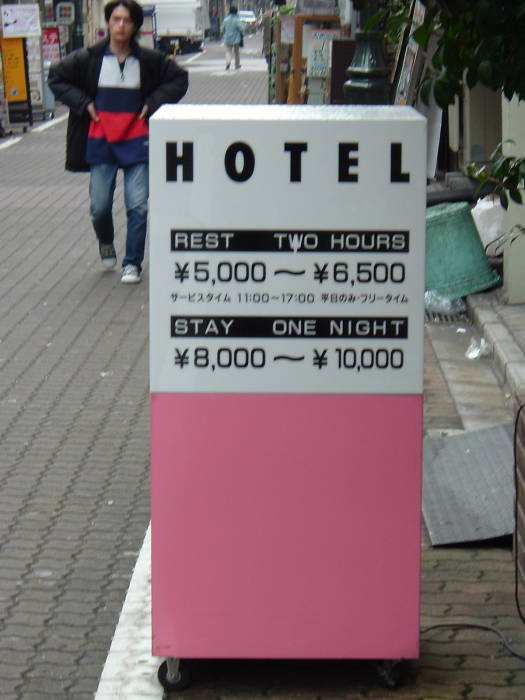 This is the sign outside a "Love Hotel" catering to men with prostitutes and mistresses.
They list prices for a "rest" and a "stay". Ho ho!
A "rest" is typically one to three hours. A "stay", meaning overnight, is only available starting after 10 PM in typical "love hotels".
"Love hotels" or rabu hoteru date back to the early Edo Period in Japan (1603-1868). Alternative names being cycled through today include romance hotel, fashion hotel, leisure hotel, amusement hotel, couples hotel and boutique hotel".
Transport through Higashi-Ueno
This is the view to the south-east from an overlook in Ueno-kōen park. We'll visit this park next.
Here comes the train!
You get an idea of how Tōkyō is so densely packed.
Down below the tracks you can see the market area we just visited.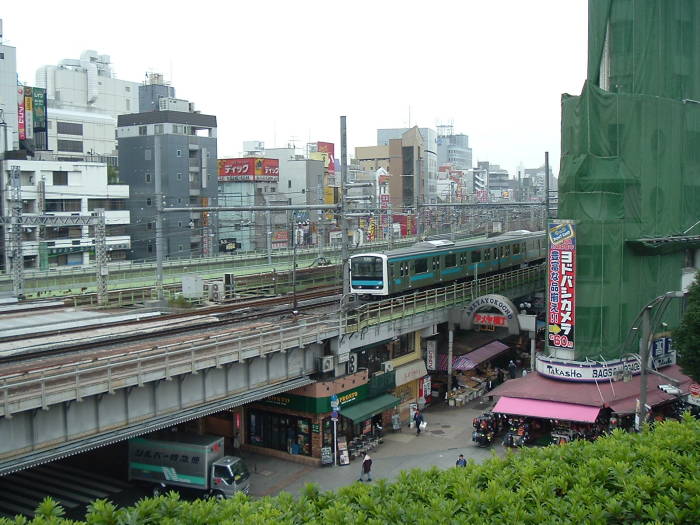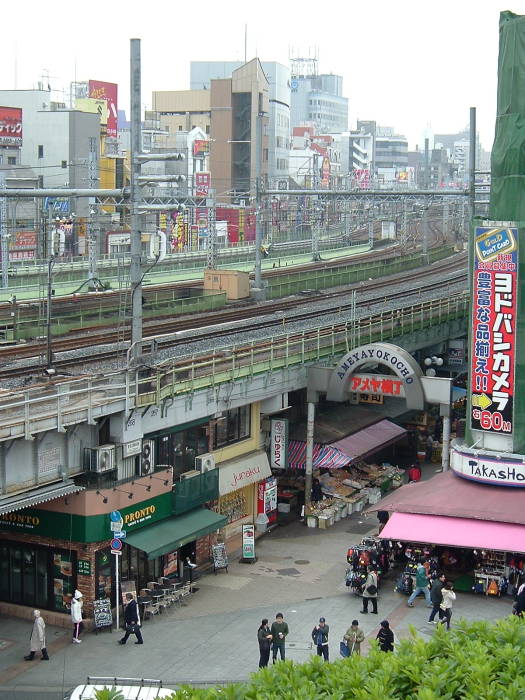 Vending Machines! (and Schoolgirl Underpants)
This business is based entirely on vending machines and rental lockers.
Soft drink corner!
Refresh!
¥200 for a locker.
This line of beer vending machines is in the market area under the tracks.
Beer vending machines just would not work in the U.S....
But here they are undamaged, fully functional and stocked, and cans are recycled and trashed neatly thrown away.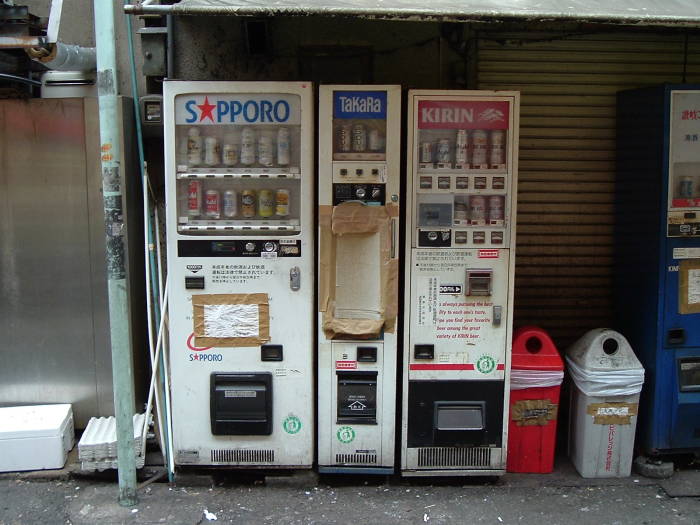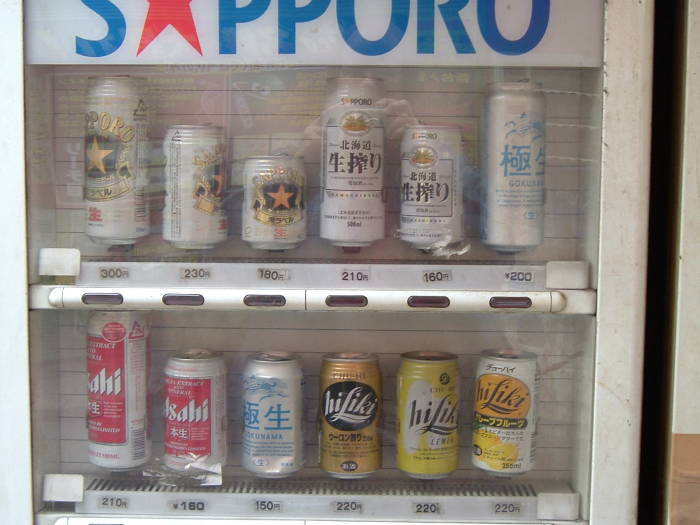 See, beer. From a machine. I am not making this up.
I was not able to find any vending machines selling used schoolgirl underpants during my short visit, but they do exist. Yes, there is a market for underpants supposedly worn by young schoolgirls. Preferably underneath their school uniforms, or their sailor suits, or other fetishistic garb. They're sold in shrink-wrapped packages for something like the equivalent of US$ 40. That sounds expensive to me, but maybe it's a good deal to the fetishistic salaryman.
My theory is that the underpants packages are put together in sweatshops (ha! get it? sweat!) staffed by overweight chain-smoking middle-aged women pulling on and removing underpants as fast as they can while simultaneously taking calls on sex-chat-line phones. But maybe I'm just a cynic about machine-vended used underwear.
See Doug Mann's PhotoMann site for some collections of vending machine photography, including one with used schoolgirl underpants (along with the hot canned coffee, the boiled eggs, the 10 kg bags of rice, the fried foods, the pornographic DVDs, the mobile phones, and more). My travel photography speciality lies elsewhere.
On the other hand, perhaps you would prefer to buy fake skidmarked underwear to camouflage your valuable possessions.
In other Japanese underpants news:
Armed teacher steals boys' undies
A teacher at a Tōkyō school has been arrested for making a group of boys undress at knifepoint and stealing their underpants. A group of eight boys aged 12 to 13 were playing in school grounds earlier this month when the 26-year-old man, who teaches at a different school, approached them, Kyodo news agency said. Two of the boys ran away but he made the other six take off their trousers and underpants, it quoted local police as saying. The knife touched one boy, causing minor injuries, it said. The teacher is also suspected of taking a mobile phone from one of the boys and making nuisance calls to his home afterwards, Kyodo said. The principal of the school where he taught was shown on TV saying he was a dedicated teacher. Tōkyō police declined to comment on the case.
— news.com.au