How to Replace the SIM Card in your Mobile Phone
Avoid expensive international roaming charges
I could simply take my mobile phone on an overseas trip and turn the thing on and use it, but then I might get hit with incredibly expensive international roaming charges. Here is how to avoid those high charges by using a local SIM card.
First, however, you must unlock the phone so it will operate with a different SIM. See this page for details on unlocking your smart phone.
Below is my Samsung Galaxy smart phone that I have unlocked. I installed CyanogenMod on it, this process works the same whether you are running the stock Android OS that came with the phone or a custom OS like CyanogenMod.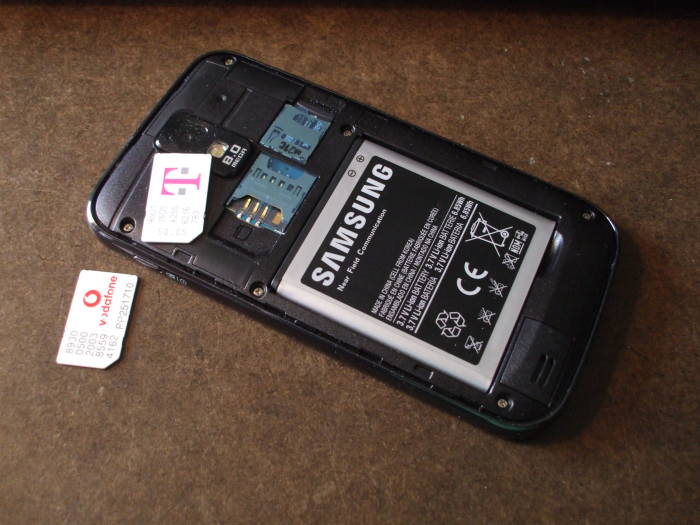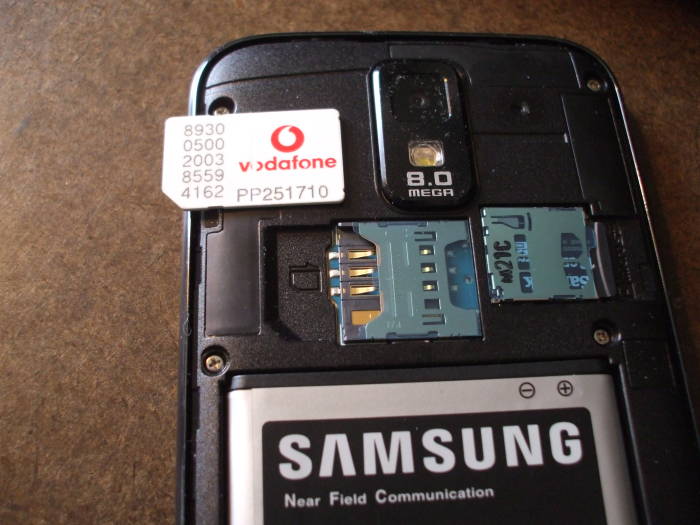 Start by removing the existing SIM card. On the Samsung Android, the SIM card is visible as soon as you snap off the back cover. On the Nokia handset shown below, the SIM card is in a carrier in the bottom of the battery compartment. So, start by removing the battery cover. It just snaps off by sliding it as if you were going to slide it off the end of the phone.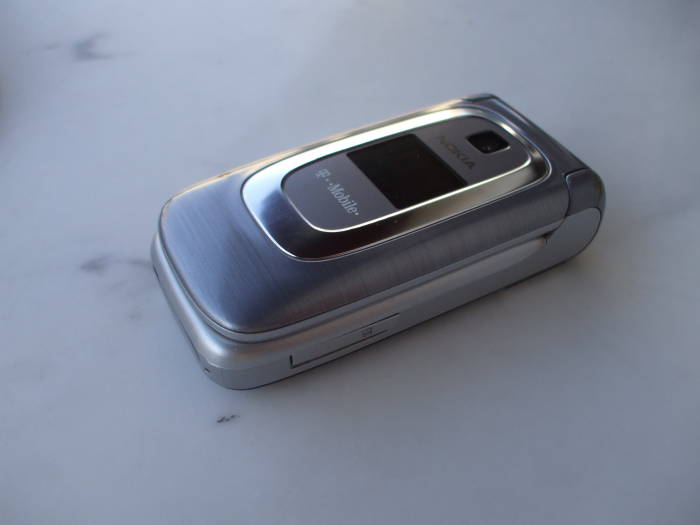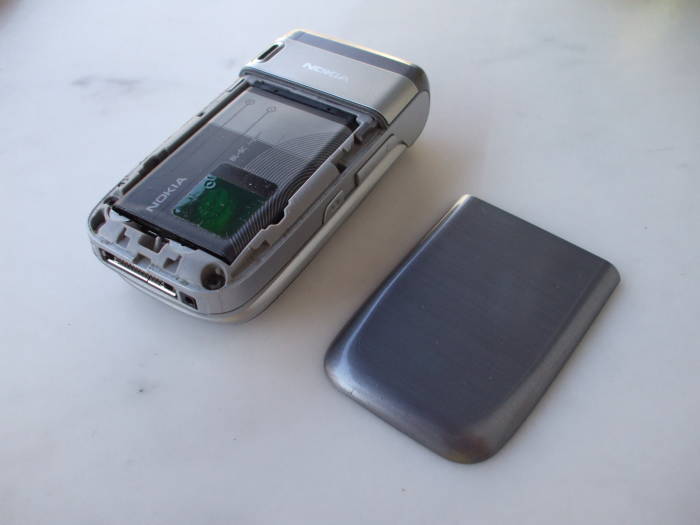 Then remove the battery. On this Nokia handset, that is done by lifting the end of the battery nearest the end of the phone and rotating it up.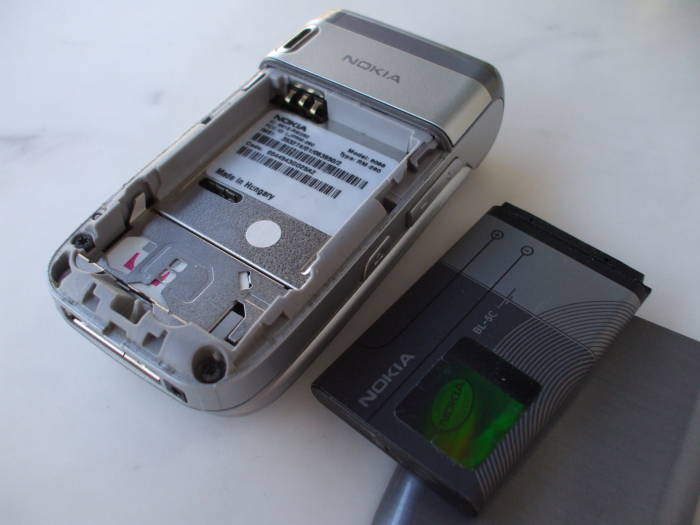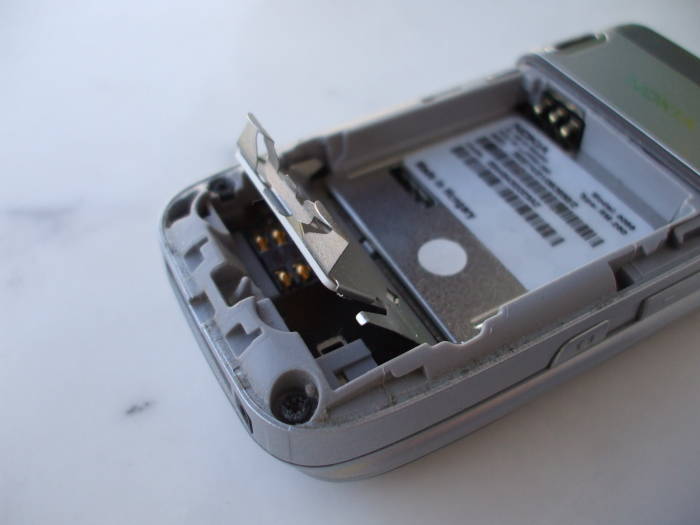 The SIM card is on the bottom side of a carrier beneath the battery compartment. You can see the white and bright pink T-Mobile SIM card peeking through that carrier in the picture above. Here you see that carrier being rotated upward.
The SIM carrier has been rotated about 180° and we are looking at the contact side of the SIM card. Its panel of electrical contacts is held against the 2×3 array of electrical contacts seen here to its left.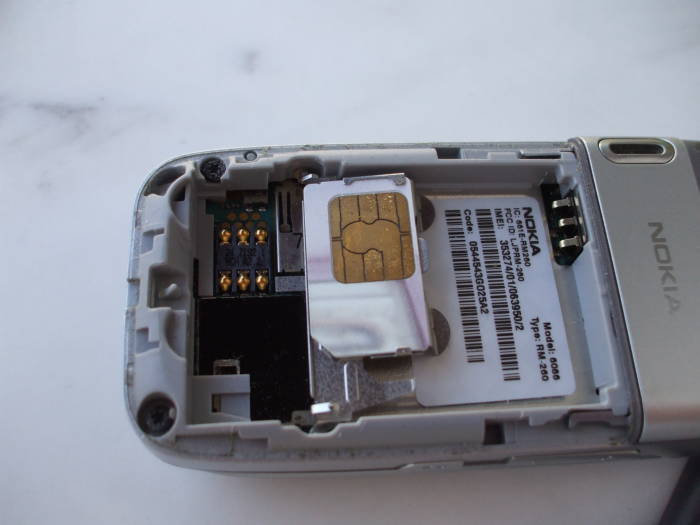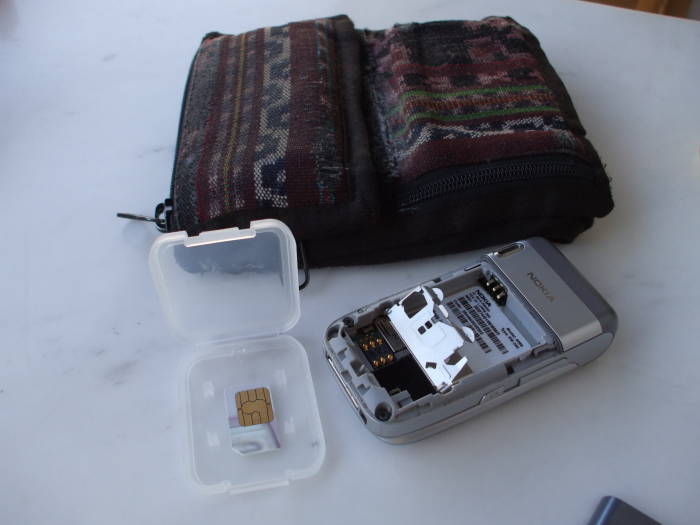 Be very careful to hang on to your original SIM card, as this is effectively your phone's identity. Lose the SIM card and you lose your number. And anyone who finds the SIM can can put it in their handset and make calls at your expense.
I had purchased an xD memory chip for a FujiFilm digital camera long before starting on this trip. That memory chip had come in a small and thin plastic container that I had kept. It was a reasonably close match in size to a SIM chip. I brought the container along on this trip, carrying it in the large cloth wallet I was using. I kept my SIM chip in that plastic container inside my wallet.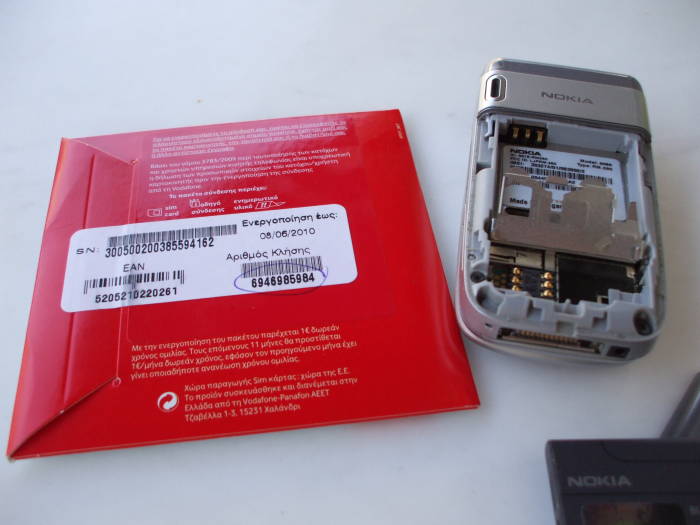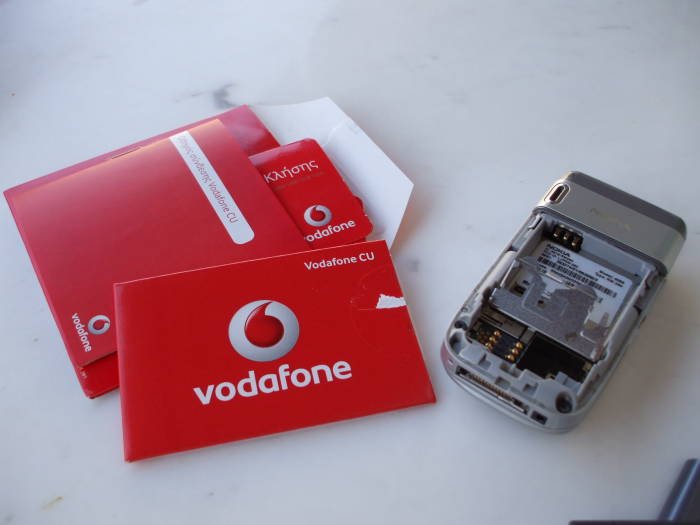 These pictures are from a trip to Greece. Vodaphone is a dominant carrier in Greece.
At least in Greece, the process was:
Go to the Vodaphone store and purchase the SIM card. This involves signing 5-page contracts written entirely in Greek. They record your detailed information, and you cannot pick up the SIM card then as they have to do something. Turn your information in to the authorities, or check whether or not you're a dues-paying member of al Qaeda, or, more likely, take several cigarette and coffee breaks.
Wait about three hours and then return to the Vodaphone store. Now you sign more copies of 5-page contracts written entirely in Greek. Ask the girl at the counter, "So, now I'm in the Greek Army, right?" Greek Vodaphone employees don't seem to appreciate irony.
You now pick up your brightly colored Vodaphone pack. You have plenty of time to do the replacement operation shown here because the new number won't function for several hours. More coffee and cigarette breaks, I would imagine.
About two or three hours after picking up and installing the SIM card, you get a text message. That just indicates that it is potentially operational.
At this point you could return to the Vodaphone shop for the third visit. But since it's likely up in the evening now, you can go to any kiosk along the street. What has to happen is that you have to call a Vodaphone number on another phone and enter the SIM number and a PIN. Of course, the voice menus are in nothing but Greek and I need help with that.
Now you have a Greek phone number. Mine was +30-69469-85984.
Open the packet and see what you have. It's mostly Vodaphone marketing material, in Greek. There is also a brochure explaining how you can enter sequencies of punctuation marks and get things that look vaguely like smiling and frowning faces if you look at them sideways and squint. For example, ;-) looks kind of like a smiling and winking face. Wow! Isn't technology wonderful.
The thing that you're looking for is a plastic card about the size of a credit card.
The SIM chip is actually a part of this card. You punch the SIM chip out of this card. Hang onto the card as it has a PIN that you have to use to enable the phone each time you use it.
There are actually two authentication numbers. A PIN to enable normal handset use, and the PUK (PIN Unlock Key) used for unblocking the blocked card.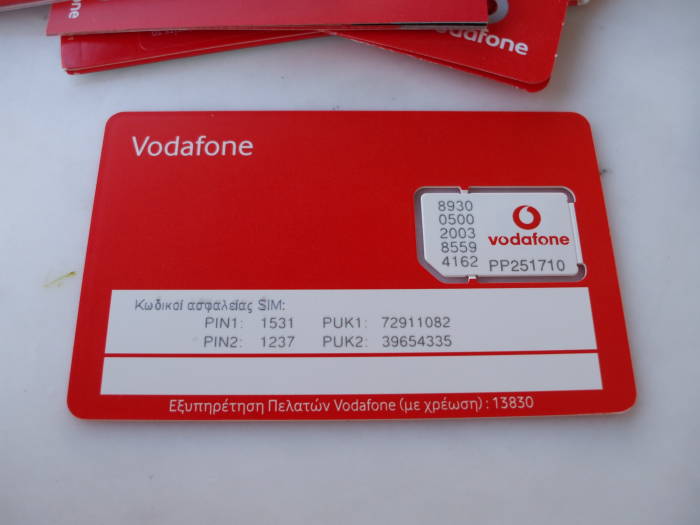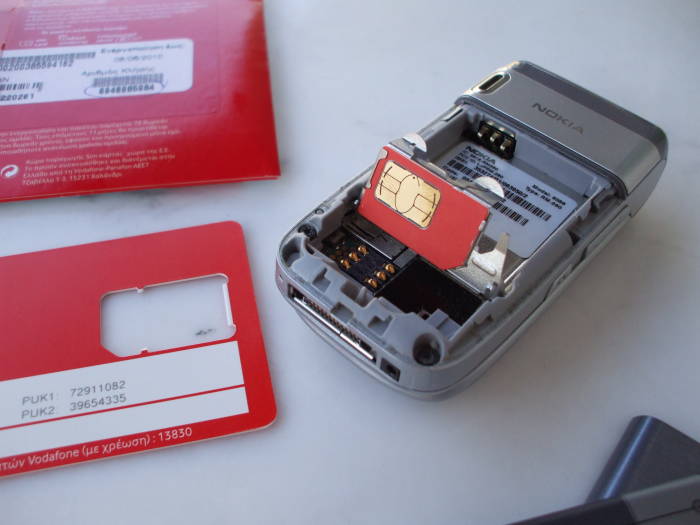 Put the new SIM chip into the carrier. It can only fit in there one way, and it's pretty obvious because the SIM chip grid of contacts must align with the contacts in the handset body.
The PIN is needed each time you turn on the phone. In the traditional method used for computer passwords, I wrote the PIN on a Post-It note, on the opposite face from the sticky strip. I then cut out just a little square of the sticky part and put that just below the display.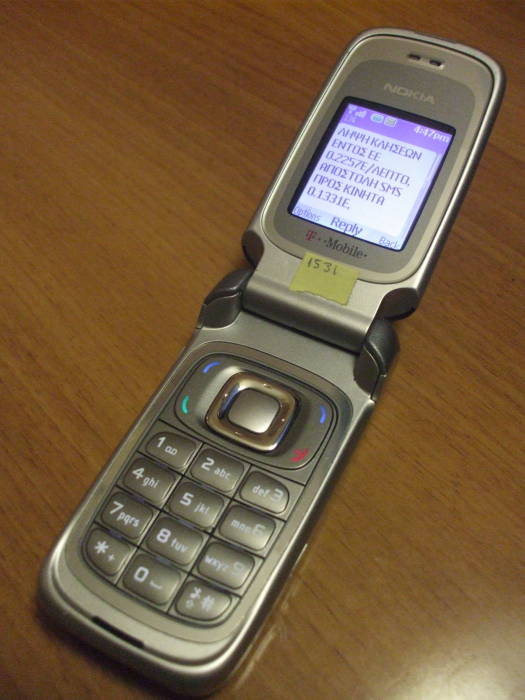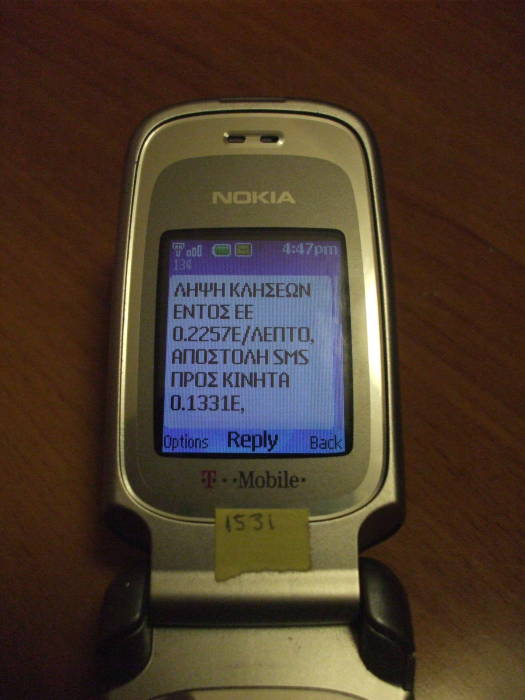 As I said, you get your first text message from the provider telling you that the phone is ready to use.
The first text message said:
ΑΠΟ ΣΗΜΕΡΑ ΕΧΕΙΣ ΑΥΤΟΜΑΤΑ ΔΩΡΕΑΝ ΑΠΕΡΙΟΡΙΣΤΗ ΟΜΙΛΙΑ+SMS ΜΕ ΚΑΘΕ ΑΝΑΝΕΩΣΗ ΜΕ 5€ ΠΡΟΣ ΟΛΗ ΤΗ CU ΠΑΡΕΑ, ΜΕ 10€+ΠΡΟΣ ΟΛΗ ΤΗ VODAFONE & ΤΟ ΠΟΣΟ ΤΗΣ ΑΝΑΝΕΩΣΗΣ ΑΘΙΚΤΟ
Well, that's certainly helpful.... That message came in at 20:29:30 that evening. About five minutes later, at 20:34:20, another message appeared to clarify matters:
ΦΕΡΕ ΤΟΥΣ ΦΙΛΟΥΣ ΣΟΥ ΣΤΟ VODAFONE UNLIMITED ΓΙΑ ΝΑ ΕΠΙΚΟΙΝΩΝΟΥΝ ΚΙ ΕΚΕΙΝΟΙ ΔΩΡΕΑΝ ΚΑΙ ΑΠΕΡΙΟΡΙΣΤΑ! ΑΝ ΔΕΝ ΕΙΝΑΙ VODAFONE ΜΠΟΡΟΥΝ ΝΑ ΕΡΘΟΥΝ ΚΑΛΩΝΤΑΣ ΔΩΡΕΑΝ 13894
Well, whatever. I was just waiting to get some message as that was the signal to take it to a kiosk and get it turned on. That prompted yet another message, at 23:28:47, telling me:
Hey, it worked, now I could make calls.
ΕΧΕΤΕ ΣΤΗ ΑΙΑΘΕΣΗ ΣΑΣ ΑΠΕΡΙΟΡΙΞΤΑ ΛΕΠΤΑ+SMS ΠΡΟΣ ΣΥΝΔΡΟΜΗΤΕΣ ΣΥΜΒΟΛΑΙΟΥ Κ' ΚΑΡΤΟΚΙΝΗΤΗΣ VODAFONE ΣΤΗΝ ΕΛΛΑΔΑ ΕΩΣ 03- 07-2010 ΠΟΛΙΤΙΚΗ ΟΡΘΗΣ ΣΡΗΣΗΣ: 1500'+1 500 SMS
Then, when you cross the border into Bulgaria, you get a flurry of messages explaining the new rates and how to contact emergency services in that country.
ΧΡΕΩΣΕΙΣ DATA 0.992E/10KB, VF PASSPORT 0.0742/10KB, ROAMING CONTROL 0.0709E/10KB, MMS 0.8349E. ΣΤΗΝ VIVACOM. FIA ΧΡΕΩΣΕΙΣ: 12579 ΑΡ.ΕΚΤ.ΑΝΑΓΚΗΣ 112
ΛΗΨΗ ΚΛΗΣΕΩΝ ΕΝΤΟΣ ΕΕ 0.2257E/ΛΕΠΤΟ ΑΠΟΣΤΟΛΗ SMS ΠΡΟΣ ΚΙΝΗΤΑ 0.1331E, ΑΠ ΙΘΜΟΣ ΕΚΤ. ΑΝΑΓΚΗΣ 112
ΧΡΕΩΣΕΙΣ DATA 0.992E/10KB, VF PASSPORT 0.0742E/10KB, ROAMING CONTROL 0.0709E/10KB, MMS 0.8349E. ΣΤΗΝ VODAPHONE ΓΙΑ ΧΡΕΩΣΕΙΣ: 12579, ΑΡ.ΕΚΤ.ΑΝΑΓΚΗΣ MMS 0.8349E. ΣΤΗΝ VODAPHONE ΓΙΑ ΧΡΕΩΣΕΙΣ: 12579, ΑΡ.ΕΚΤ.ΑΝΑΓΚΗΣ 112
It seems like there's some overlap, and maybe contradiction, in that flurry of three messages that arrived within a period of three minutes. So what, the phone works. If the account runs out of money, I'll have to go to the local Vodaphone or other mobile phone shop anyway.
Wherever you go, of course the local carrier uses the local language. Hence the above sequence in which my phone insisted on speaking Greek. On a trip to Italy I re-chipped my phone with Wind, a prominent carrier in Italy, and received this message:
Gentile Cliente, abbiamo scalato dal suo credito 2 Euro per il rinnovo di Noi Wind SMS. Per verificare il bonus disponibile digiti *123*3# ed invio