Travel in Japan
Logistics and Other Details
Getting to Japan
It's a long plane ride from the U.S. to Japan. Something over 10,000 km and possibly up to almost 14 hours from Chicago. The time en route depends on routing and winds, and given the long overall time the variation between planned and actual can be significant. Plus, you cross the International Date Line. So it's something like leave Chicago around noon, then arrive in Tōkyō mid-afternoon of the following day. Coming back is even stranger — leave Tōkyō in early evening and then arrive in the U.S. mid-afternoon of that same day.
Lonely Planet and Rough Guide are very useful guide books. Lonely Planet books are not nearly as practical as they used to be, as they have significantly shifted away from the independent traveler, but it's still the best general series of guidebooks for practical guidance on getting around places.
Get cash at an ATM before leaving Narita Airport. You need plenty of cash in Japan, and ATMs can be scarce.
From the Airport to Tōkyō
This map of Japan from the University of Texas' Perry-Castañeda Map Collection shows Narita Airport, well outside Tōkyō to its east. The company I was working for (and more on the jobs that took me there on the next page) had recommended that I take a shuttle bus that would stop at several hotels and get me to mine in two or three hours.
No thanks, I'll take the train!
The Narita Express, or the Narita ekusupuresu, commonly abbreviated as N'EX, runs about every 30 minutes through most of the day and about every 60 minutes at other times. It takes just 55 to 60 minutes to go between the airport and Tōkyō Station.
The N'EX stops at a number of stations, including Tōkyō Station, Shinagawa, Shibuya, Shinjuku, Musashi-Kosugi, Ikebukuro, Yokohama and beyond Tōkyō as far as Ōmiya to the north, Ōfuna to the south, and Takao to the west.
There is a special deal for foreign visitors. If you have a non-Japanese passport you can purchase a joint Suica-Narita Express card. This includes the N'EX fare to the greater Tōkyō area and leaves you with ¥1,500 credit you can use for train and bus fares throughout the Tōkyō metropolitan area, and some establishments accept the card as a form of payment.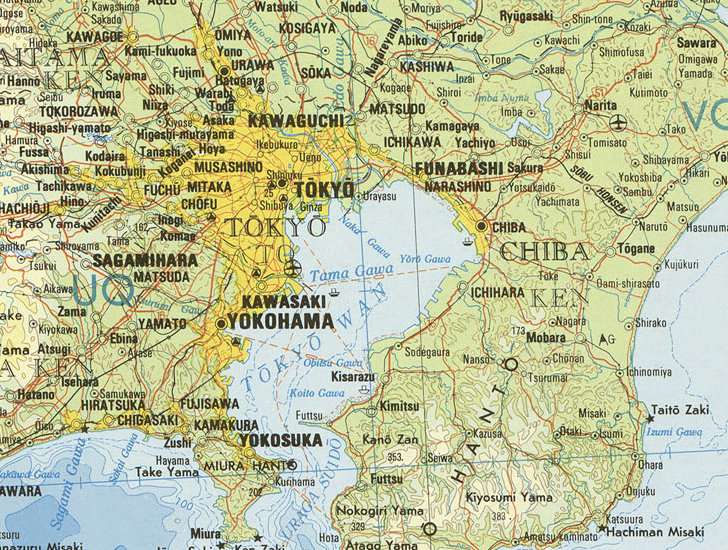 If you're going to the Ueno area, northeast of central Tōkyō (see it above on the map), then the Skyliner operated by Keisei Electric Railway is the way to go.
This picture shows a train approaching the Ueno Station. Beware — the Ueno Station is the obvious train station in this neighborhood. For transport to Narita you want the Keisei-Ueno Station, which is located underground, beneath the Ueno Park. The picture at left is taken from the edge of the park, above the Keisei-Ueno Station entrance. It's a short walk of just a block or two between the entrances to the two stations.
It's Japan, there is a lot of public transport that moves quickly and often.
Your biggest problem will be figuring out how to use it!
There are detailed maps, but the Tōkyō transportation system is so complicated that the maps tend to be overwhelming.
Of course, major train stations like Shinjuku Station are worlds of their own. It's the main connection hub for travel between central Tōkyō and the sprawl of Tōkyō and its suburbs to the west. An average of over 3.6 million people passed through Shinjuku Station every day in 2007. There are 35 platforms and over 200 entrances to the complex. So if you can't find your way out of the train station, you still have plenty to see and do.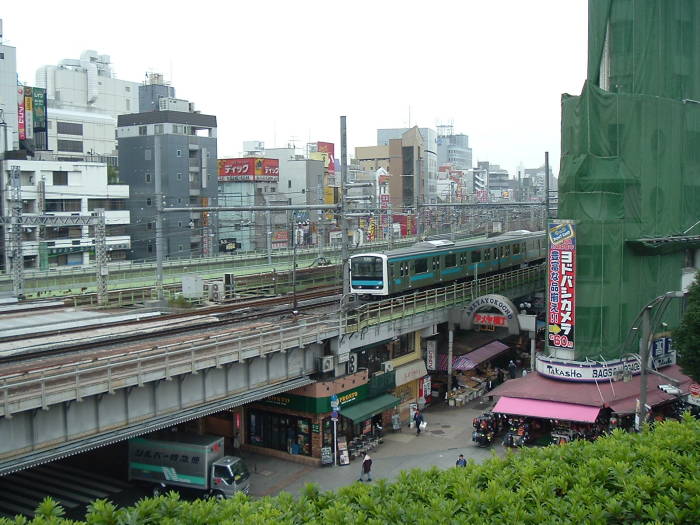 Getting Around
As for getting to Nikkō, I simply went to the Asakusa train station and bought a ticket. Take the subway to the Asakusa train station. As in any country with a radically different language, it is a huge help to have a note with your desired destination and travel date and time written on it.
Here I'm on the bus from a hotel near Haneda Airport, south of Tōkyō. They drive on the left. Not that you're likely to operate a motor vehicle there, but look both ways when crossing the street so you don't get hit. Bus drivers wear white cotton gloves. So do railway attendants, police, customs officials in the airport, pretty much anyone working in public.
Every county has their quirks. The U.S. has rent-a-cop security guards everywhere wearing vaguely police-like costumes and often sporting Russian prison haircuts for a more intimidating look. Compared to that, white cotton gloves are interestingly distinctive but not at all strange.
I had flown down from Misawa the night before and stayed at a hotel near Haneda Airport. This bus will take me from the hotel to Tenkubashi, where I can get on the monorail train to Hamamatsuchō and then transfer to the JR Yamanote line to Ueno. My Russian backpack rode in spacious grandeur in a nearly empty commuter train from Hamamatsuchō to Tōkyō very early on a Saturday morning.
Hey, what's with all the diacritical marks over the o's?
Kind of like Tōne-Lōc and Drānō, no? There are also some over a few of the ū's.
They're macrons, used in the Rōmanji system of writing Japanese words in Latin characters. It marks a vowel as being long.
That's long in terms of time duration, and not in the grade school phonics sense of "long vowels are those in the words bait, beet, bite, boat beauty, and short vowels are those in bat, bet, bit, bought, but."
Haneda Airport handles almost all of the domestic flights to and from Tōkyō, while Narita handles most of the international flights. Haneda handled over 64 million passengers in 2010, making it the second-busiest airport in Asia after Beijing Capital Airport. That same year a fourth runway was completed and a new international terminal opened, increasing its capacity to an anticipated 90 million passengers per year.
There are major complaints with international flights in and out of Haneda — the Ministry of Transport restricts international flights to operation between 11 PM and 7 AM, when there is no affordable public ground transportation in and out of the airport and most of shops and restaurants in the airport are closed.
Haneda is also a busy cargo airport, the third-largest cargo hub in Japan after Narita and Kansai. The airport is located next to the Tōkyō Freight Terminal, the main rail freight yard serving Tōkyō.