The J-Pole or Half-Wave Zepp Antenna
What is it?
The Half-Wave Zepp is an end-fed half-wave antenna. That is, it is a piece of wire one-half wavelength long with the feedline connected at one end.
The very common dipole antenna is a half-wave wire that is broken at the center for connection to the feedline. Think of the Zepp antenna as a dipole that is fed from one end instead of the center.
Like a dipole, it might be an odd multiple of half wavelengths: λ/2, 3λ/2, 5λ/2, and so on.
Unlike a center-fed dipole, an end-fed antenna has a very high input impedance.

The end-fed antenna's name comes from its first common application. The Zeppelin airships used a resonant antenna consisting of a dangling wire an odd number of half-waves in length.
How do you build one?
Vertical end-fed half-wave antennas are commonly used on VHF and UHF FM, as they are easy to build and perform well. In that setting they are often called J-pole antennas because of their shape, especially when made from copper pipe.
A copper pipe J-pole is certainly sturdy, but it's even easier to make one from television twin-lead transmission line. That is, as long as terrestrial television broadcast continues, and twin-lead is commonly available...
The general design for a twinlead Zepp is a feedline, a short stub to match the feedline to the antenna's input impedance, a λ/4 matching section, and a λ/2 radiating section.
The most commonly used practical design seems to be as follows. The shorted L3 is the tuning stub. L2 is the λ/4 matching section, and L1 is the λ/2 radiating section.
Punch a small hole through the dielectric near the far end to suspend the antenna from a non-conductive cord. You can place the entire antenna inside a 0.5" PVC pipe.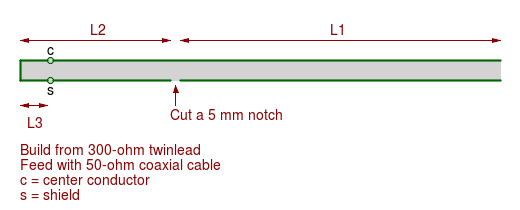 Lengths, where F = frequency in MHz
L1
135/F m
13500/F cm
442.91/F feet
5315.0/F inches
L2
57/F m
5700/F cm
187.01/F feet
2244.1/F inches
L3
5/F m
500/F cm
16.40/F feet
196.9/F inches
The simple impedance bridge described by Harry Lythall, SM0VPO, could be very useful when experimenting with antennas.
Other J-Pole pages
Basic article on the twinlead J-pole
K4ABT's J-pole calculator for arbitrary frequency
---
Back to the KC9RG radio page