Greenland From The Air
Greenland
Greenland is the largest island and most sparsely populated country in the world. Yes, country, Greenland is an autonomous country within the Kingdom of Denmark. It was claimed by Denmark-Norway for centuries, became a Danish colony in 1814 and part of the Danish Realm in 1953. Denmark granted home rule to Greenland in 1979, and in 2008 the Greenlanders voted for the Self-Government Act in which it will become increasingly responsible for legal matters while Denmark remains in control of defense and foreign affairs.
No, I haven't been to Greenland, but I have taken some pictures while flying over it a few times on the way back from Europe. Flights from northern Europe may cross southern Greenland on the way to Canada and the northern U.S.
Flights from Amsterdam or London might pass over southern Greenland on their way to Chicago or Minneapolis, depending on winds and routing. Flights from further northeast such as Helsinki, Sankt-Peterburg, or Moscow, to points further west such as San Francisco, Seattle, or Vancouver are much more likely to provide views of Greenland. Get a right-side window seat when flying west just in case. Besides, that will keep the sun out of your lap.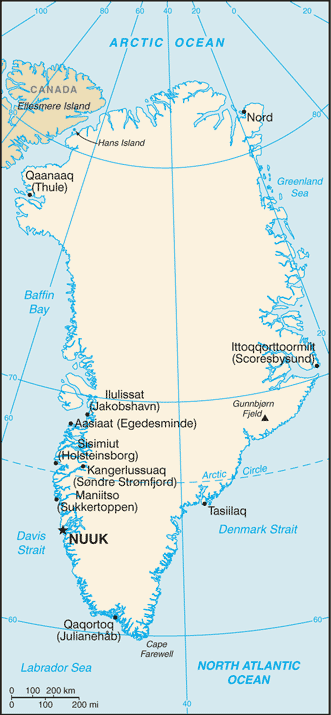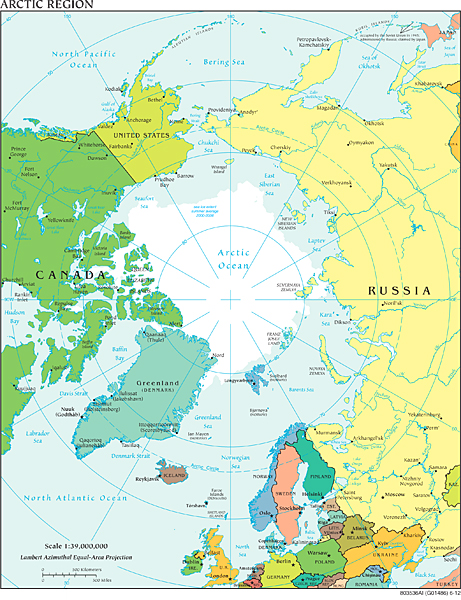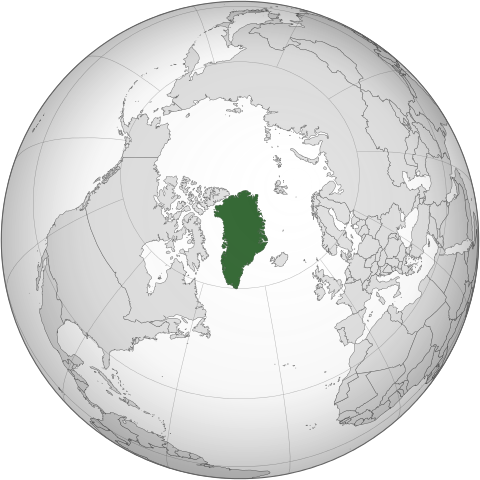 September 2006
These pictures are from on board Air Canada flight 857 from London Heathrow to Toronto on 20 September 2006. This was on board an Airbus 330. Flights westbound commonly climb to FL 400 or 40,000 feet by mid-flight as the fuel is burned off.
The first pictures here show us crossing the east shore of southern Greenland. Then we cross southern Greenland and leave by its west coast along the Davis Strait, snow-free in September.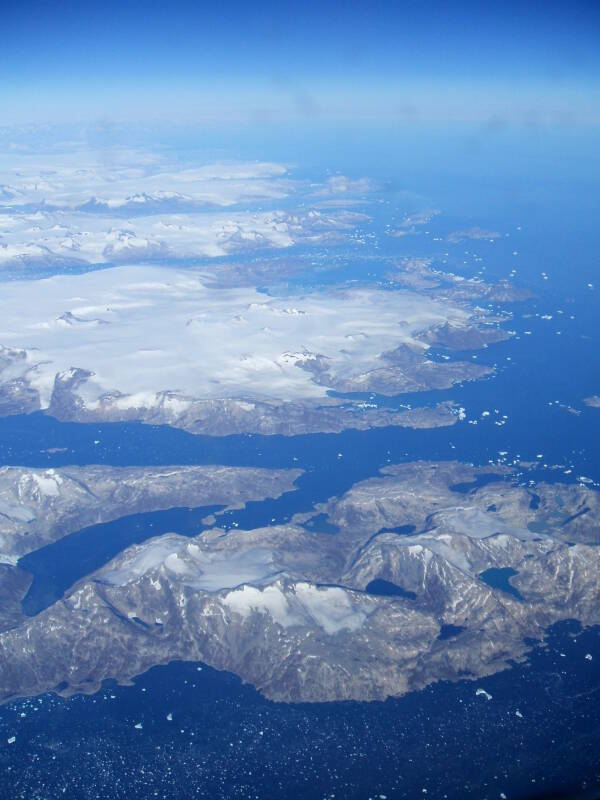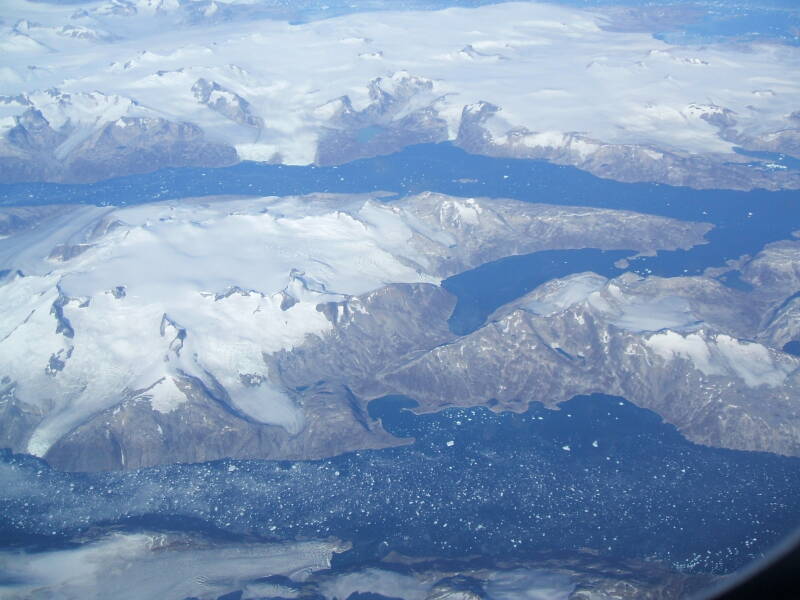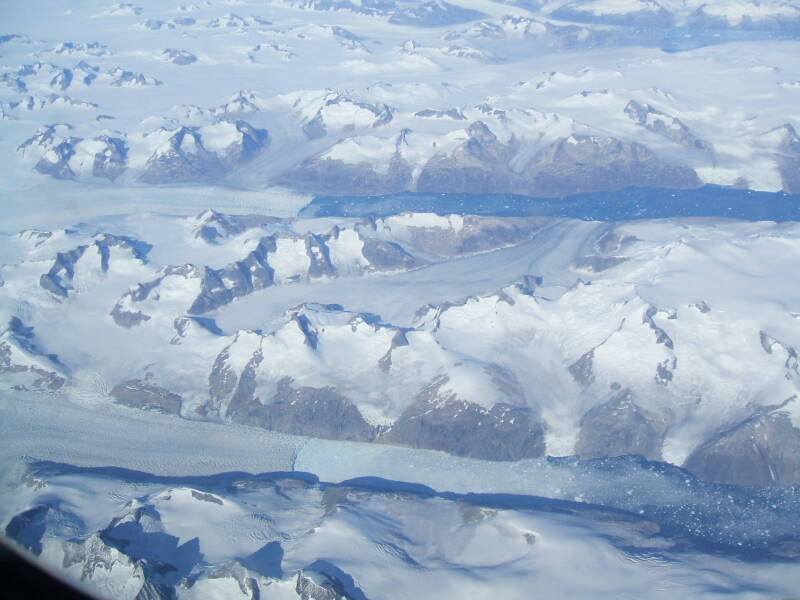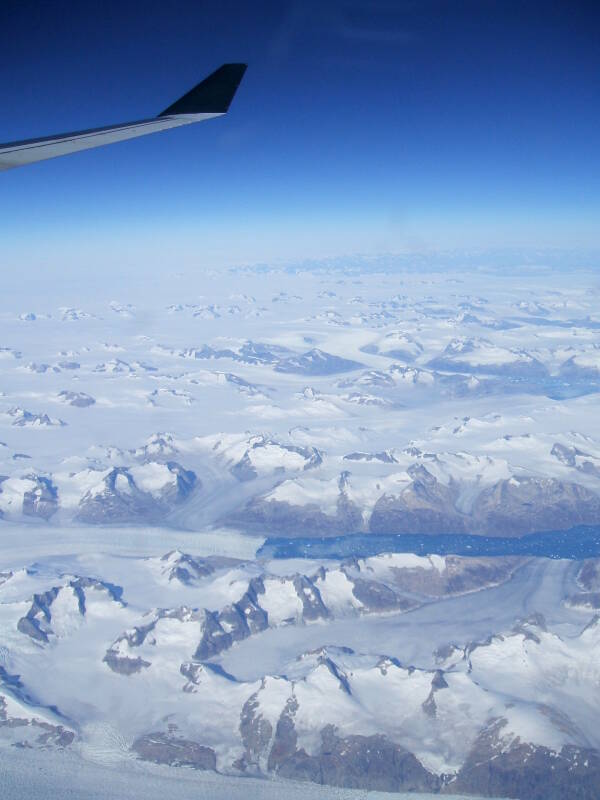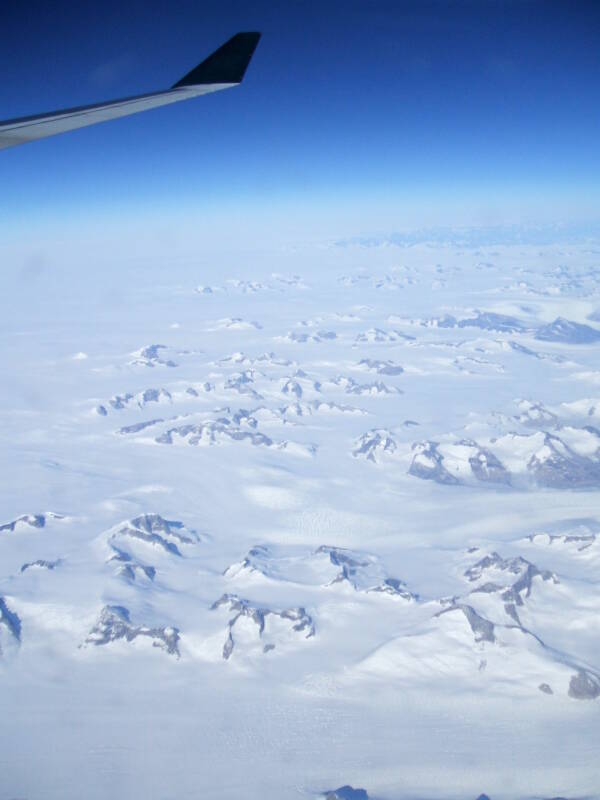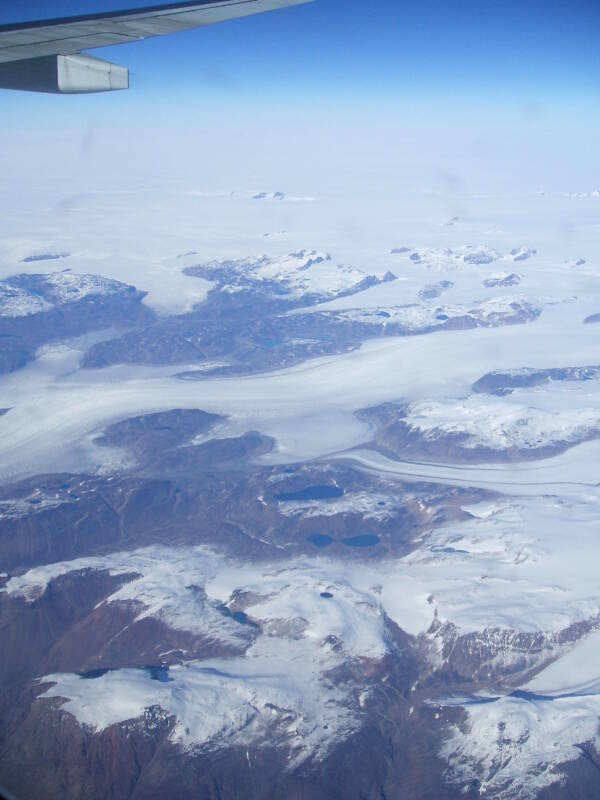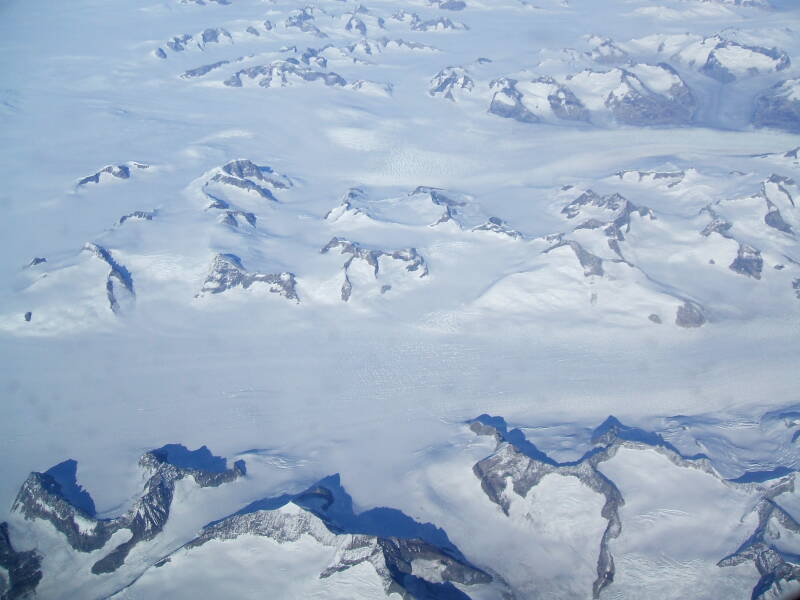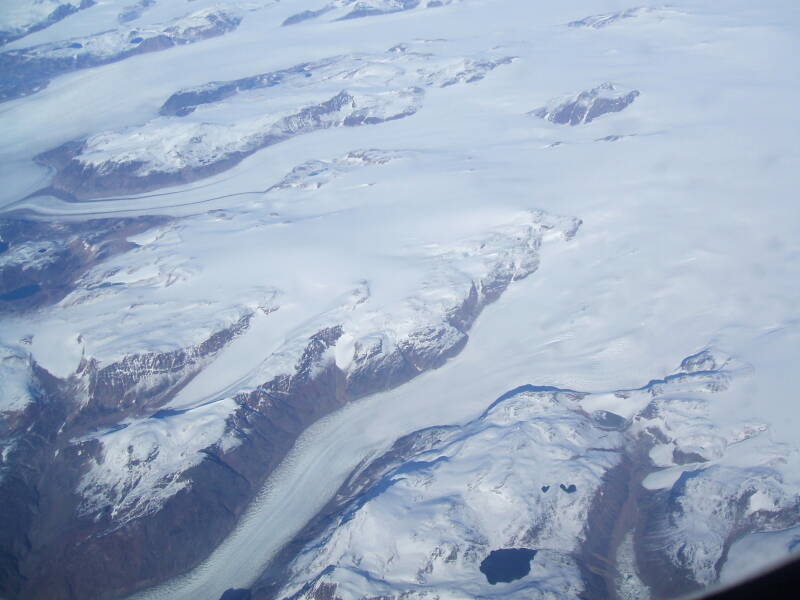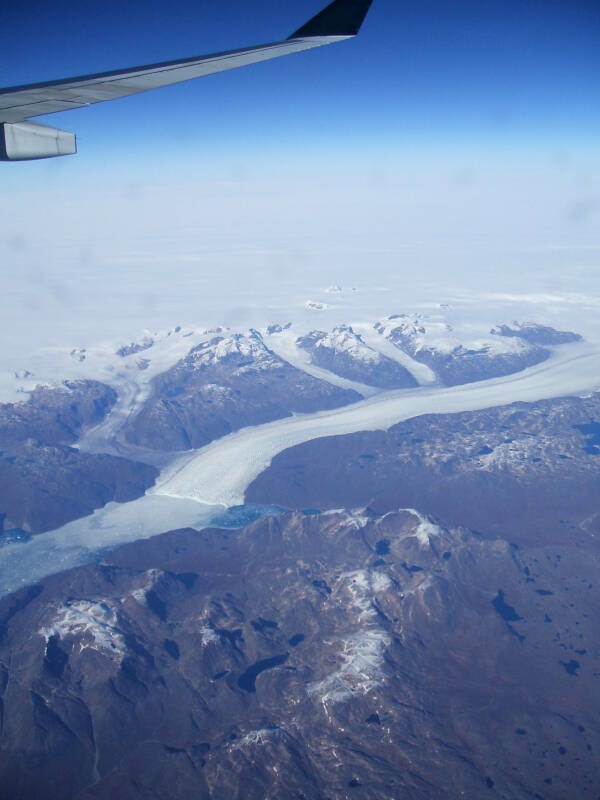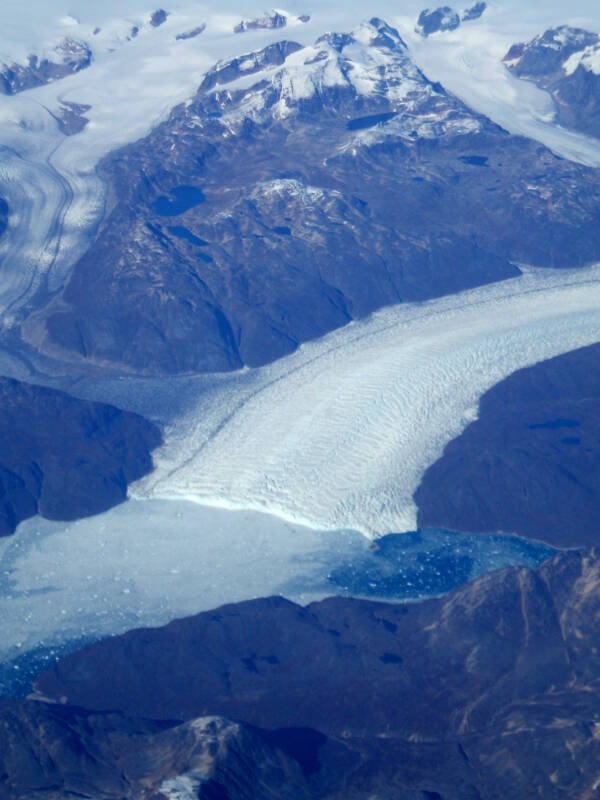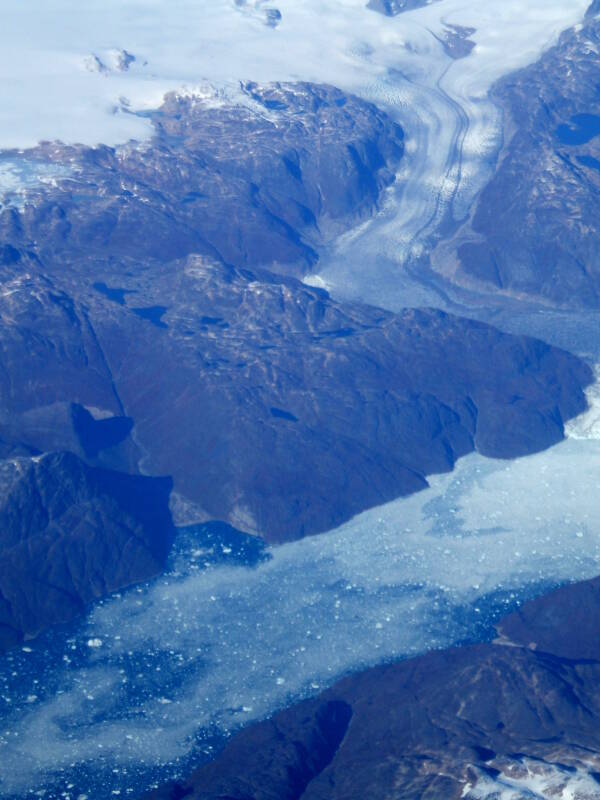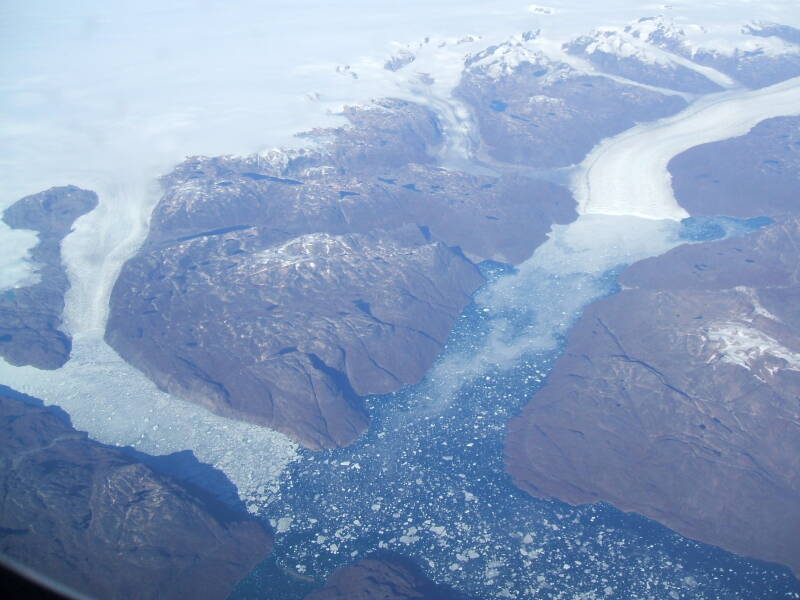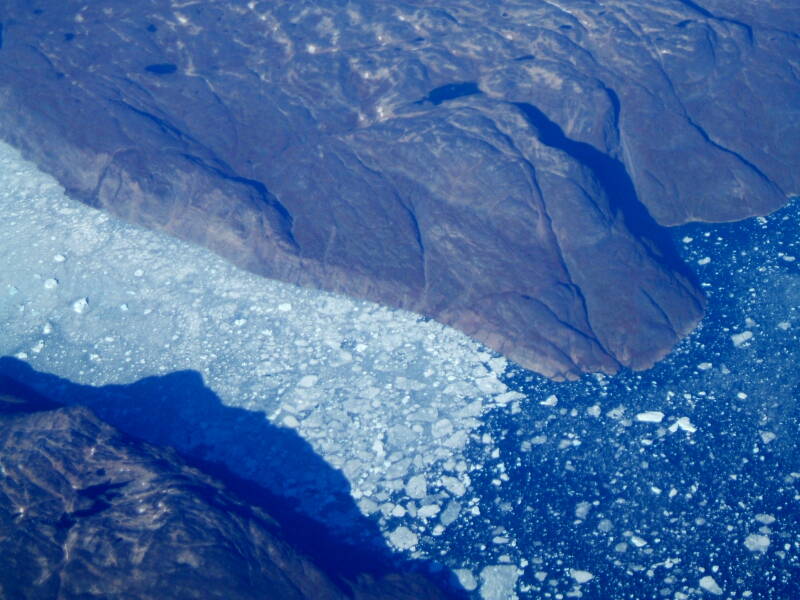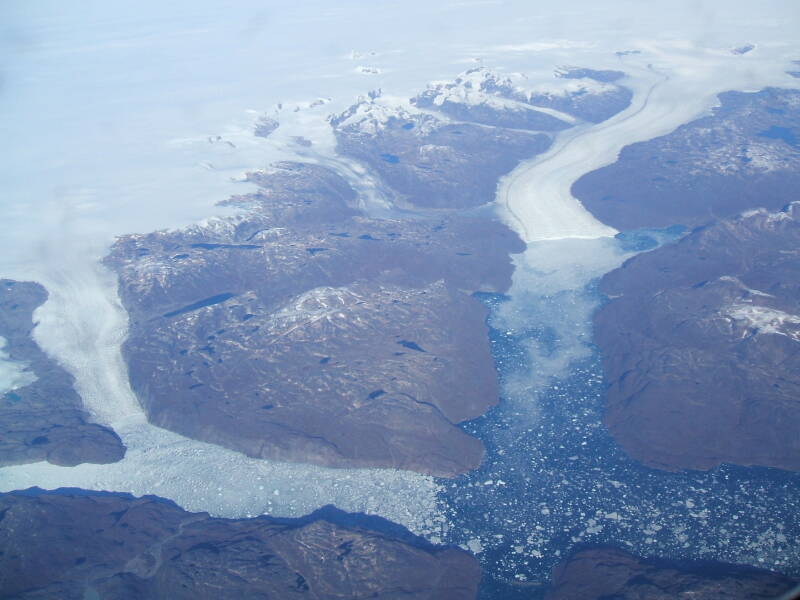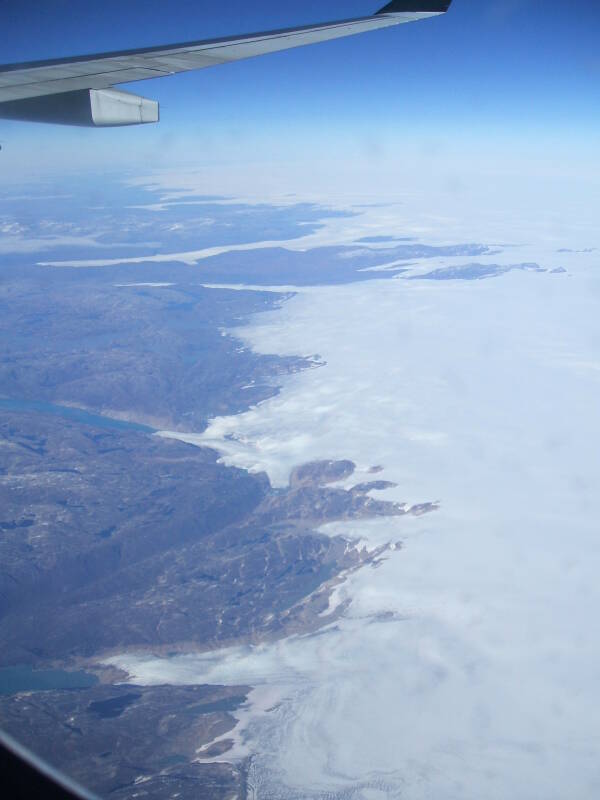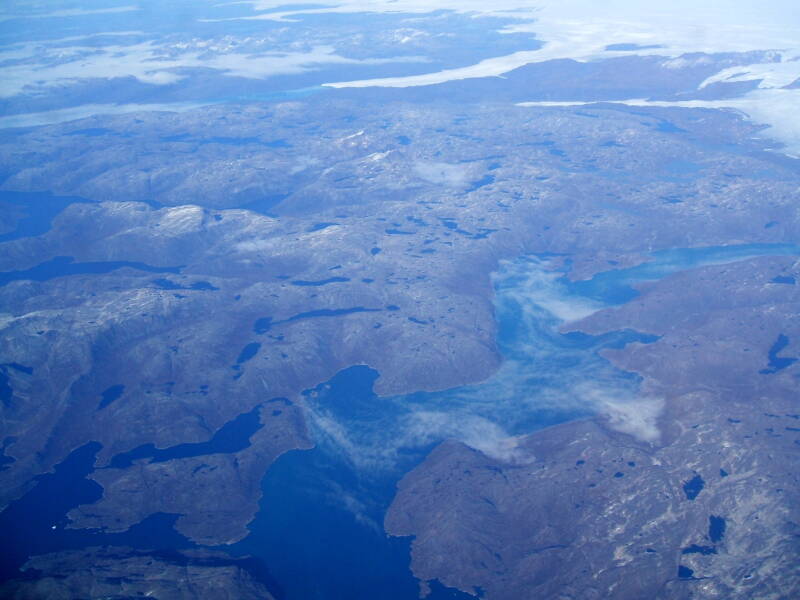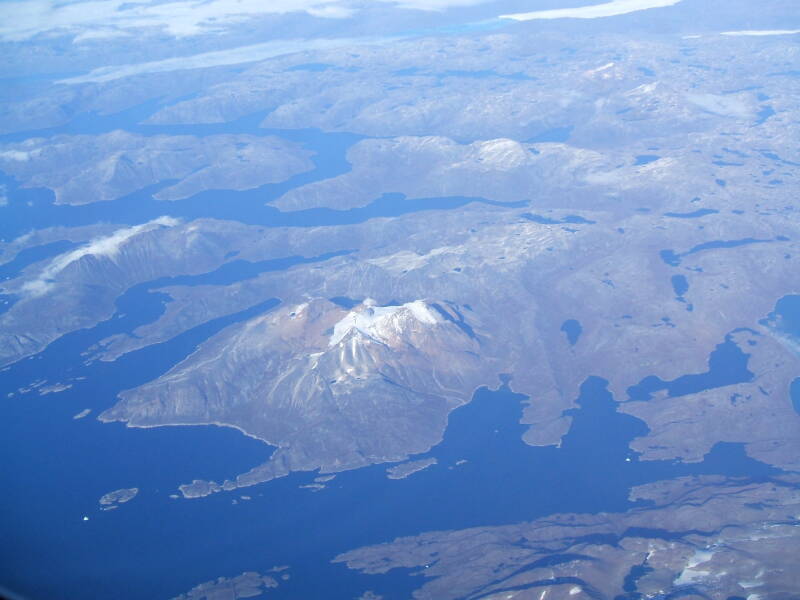 Above we are crossing outbound over the western shoreline to the Davis Strait. Flights between points further northeast in Europe and northwest in America might cross over parts of Nunavut, Canada's largest and northernmost territory, and possibly over Baffin Island before that. It's more likely to pass well south of Baffin Island and cross over Nunavik, the northern third of Quebec.
In 2007–2008 Air Greenland had direct service to the Baltimore-Washington International airport. Now the only international air service to Greenland is from Denmark and Iceland.
December 2006
On a Northwest flight from London Gatwick to Minneapolis we crossed Greenland south of Nuuk, known as Godthåb to the Danes. Nuuk is the word for "cape" in the Kalaallisut or West Greenlandic dialect, a member of the Eskimo-Aleut family and closely related to the Inuit languages of Arctic Canada and Alaska.
Nuuk is the capital and largest city of Greenland, the cultural and economic center. The population is just over 16,400.
The sun was very low. The town is at 64° 10' N, very close to the Arctic Circle. The sun barely clears the southern horizon in mid-December.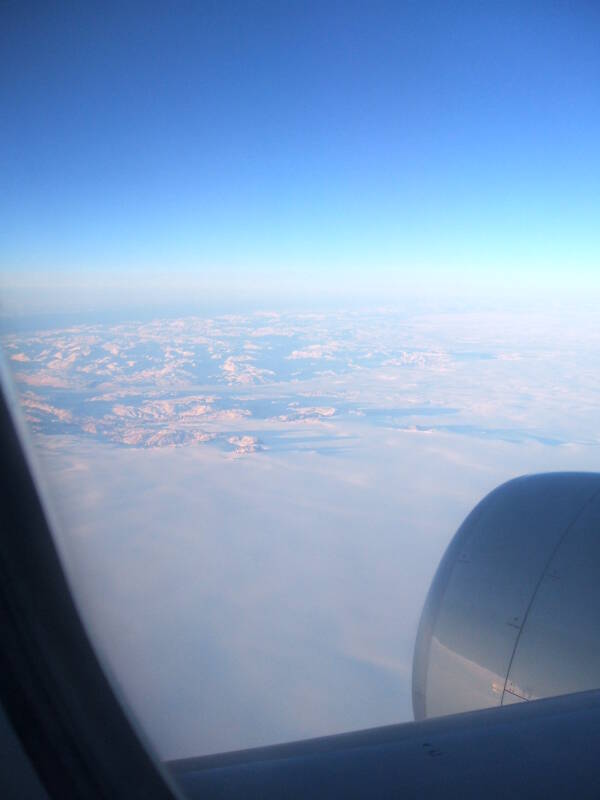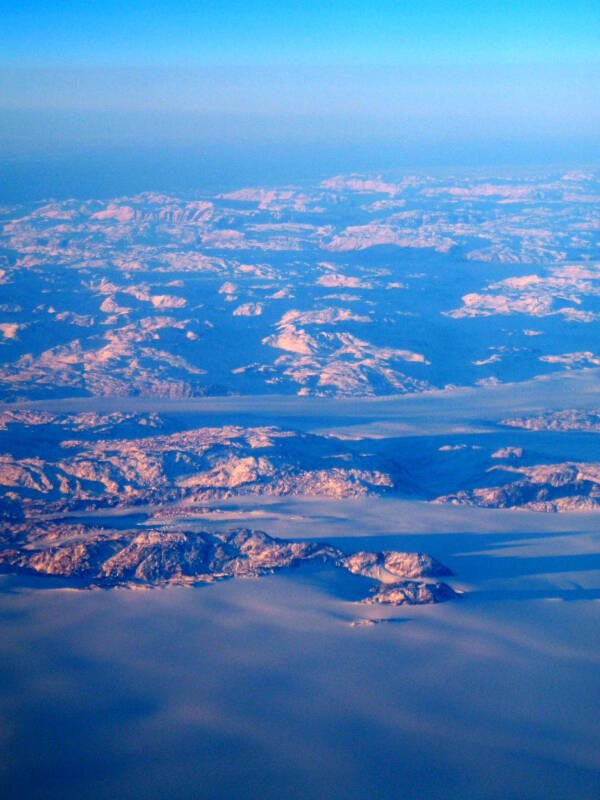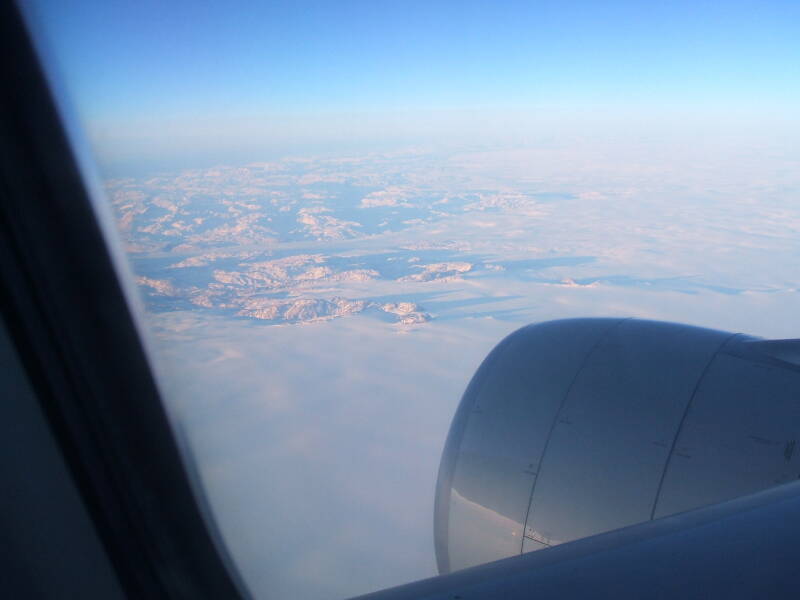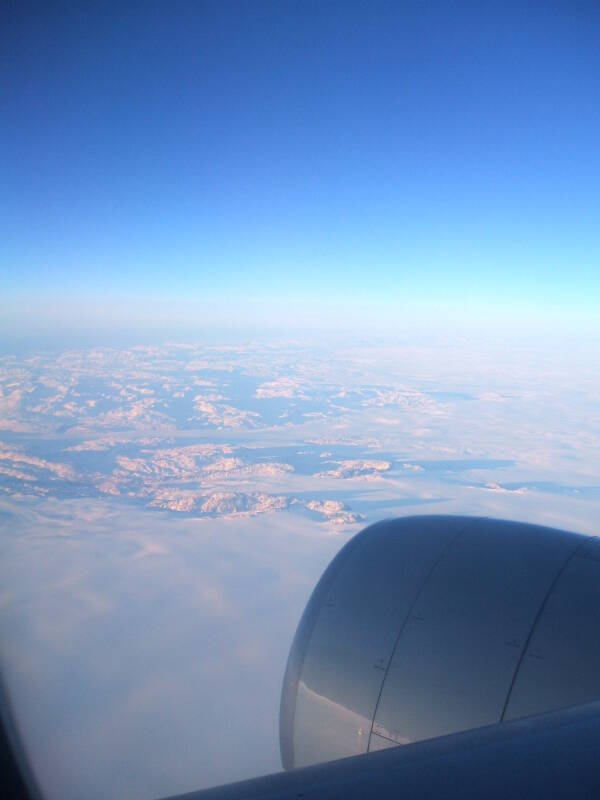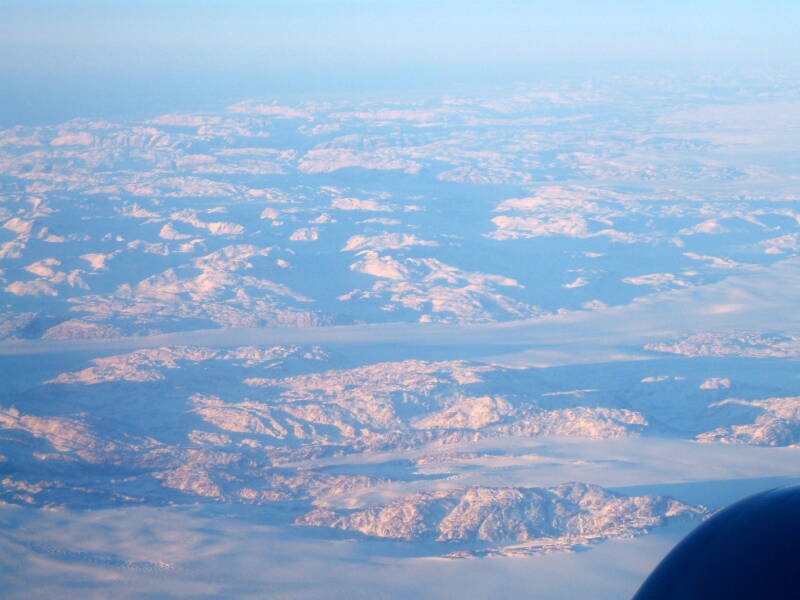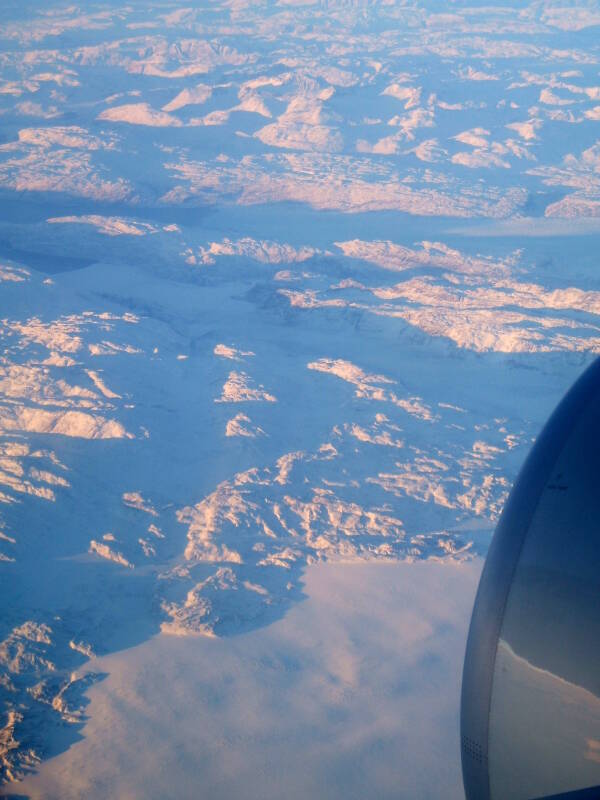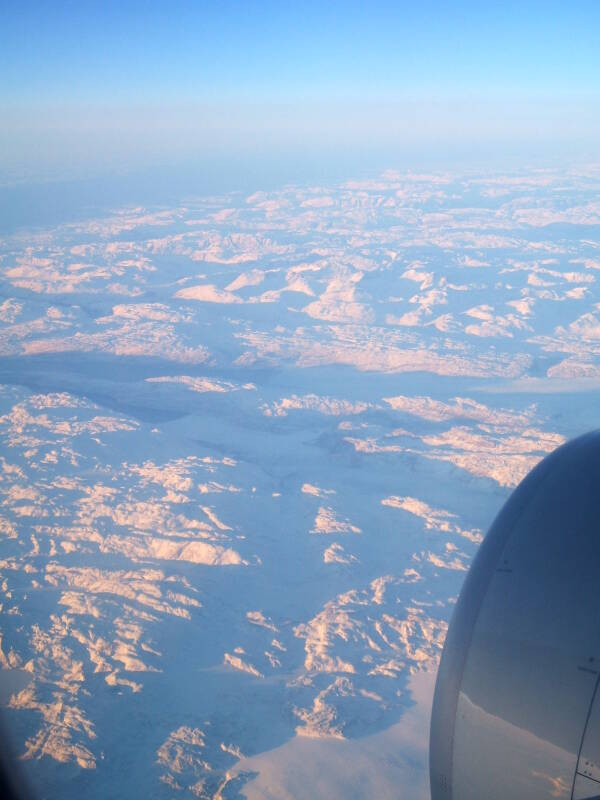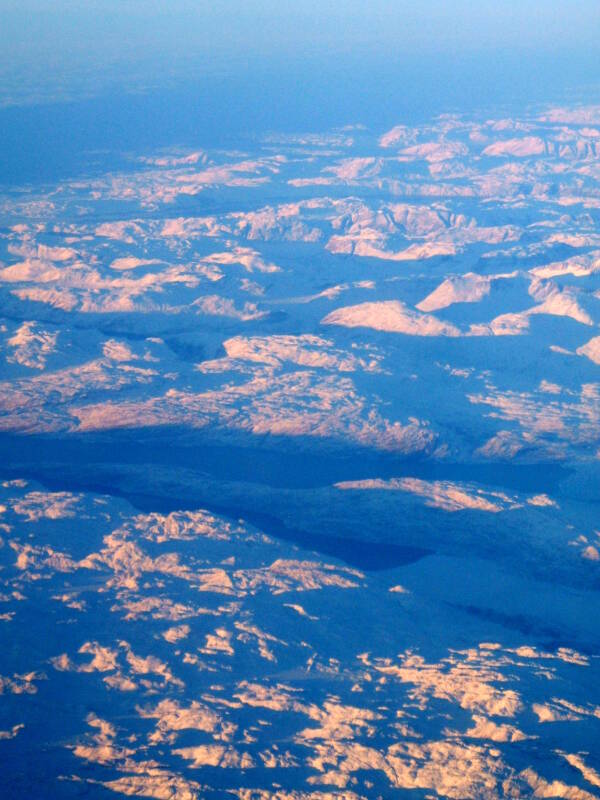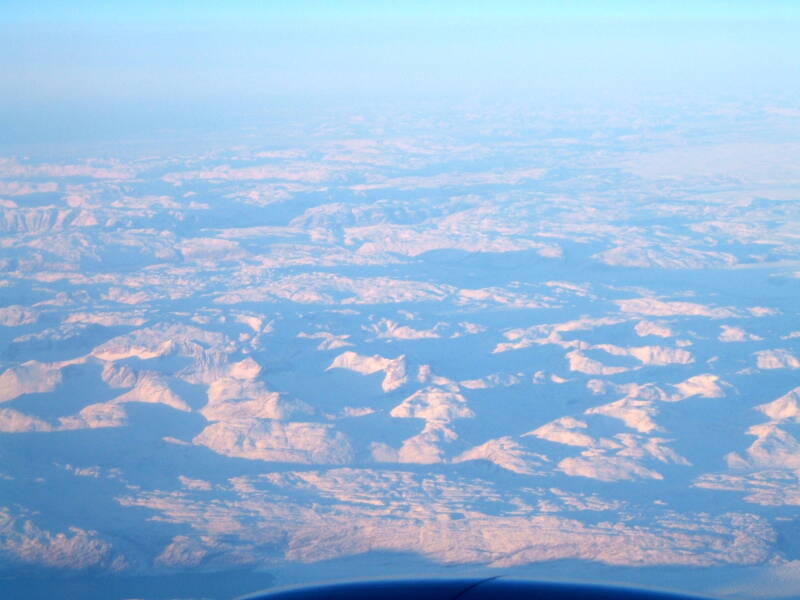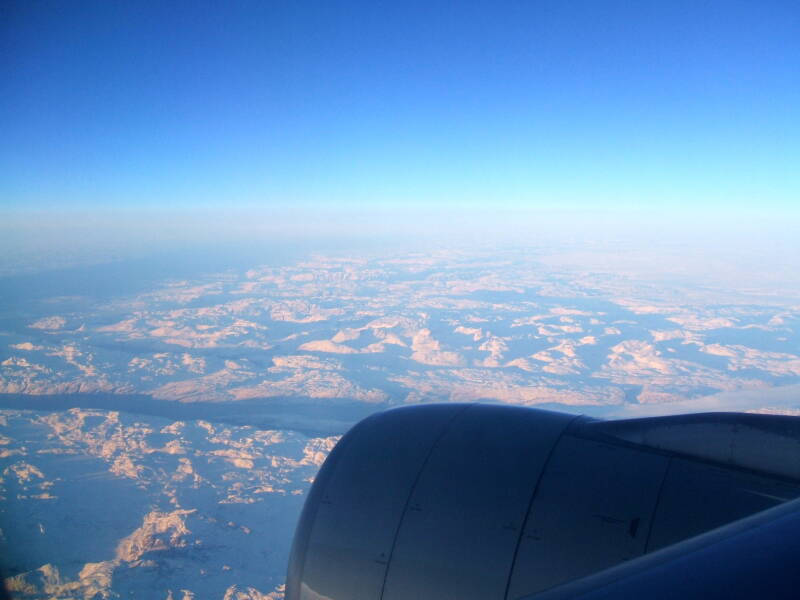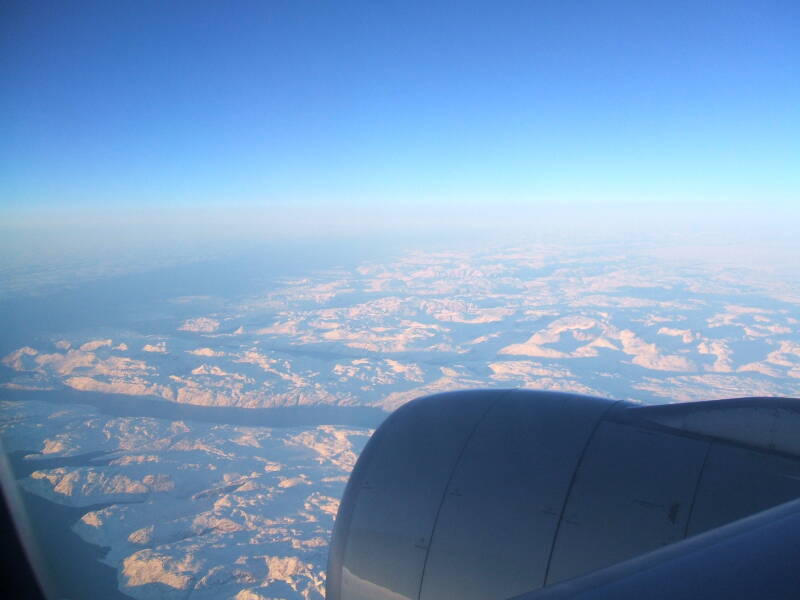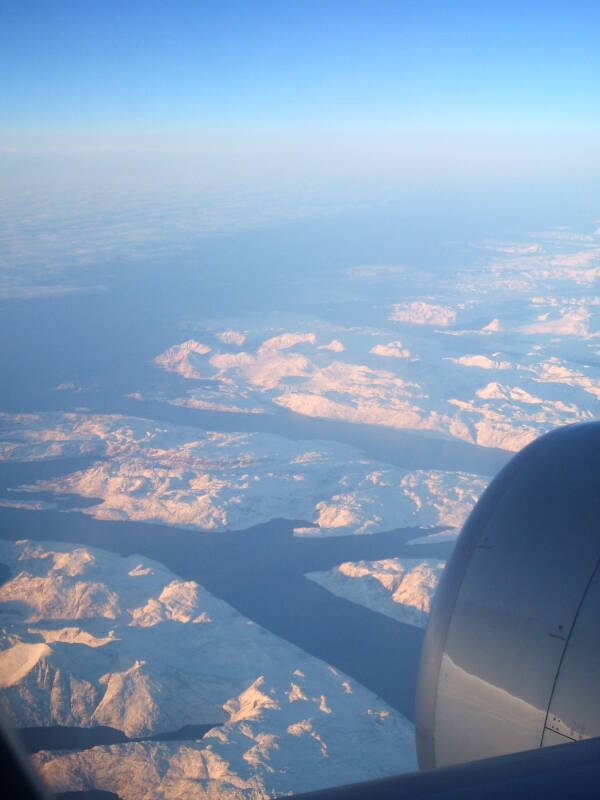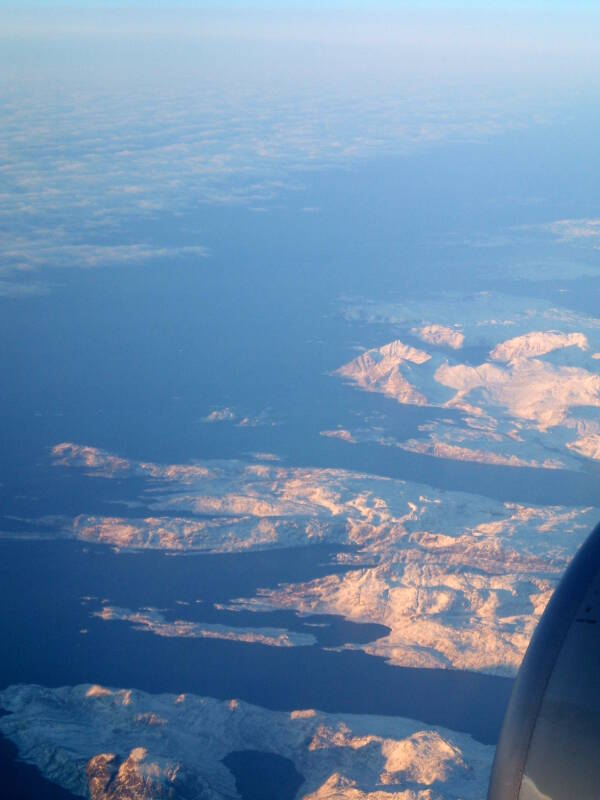 January 2022
These are from an Iceland Air flight from Reykjavík's Keflavík airport to New York JFK.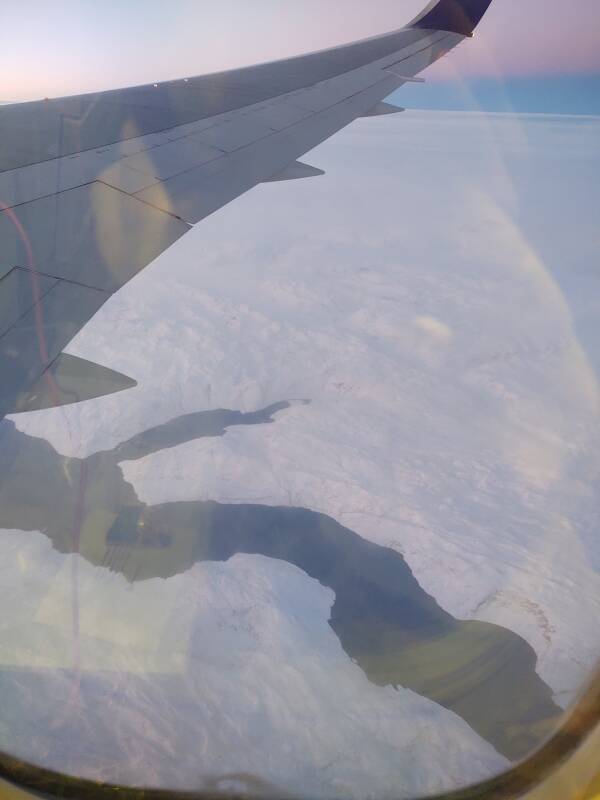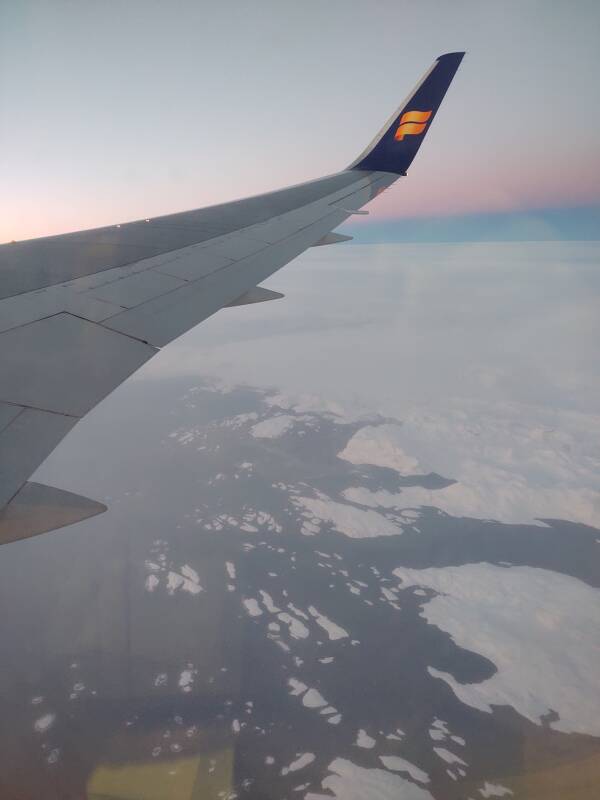 Early Settlements
It's thought that the first human inhabitants of Greenland arrived around 2500 BCE, moving across the islands of far northern Canada. They were the descendants of people who crossed from Siberia some time between 16,000 and 10,000 BCE.
The Saqqaq culture of about 2500–800 BCE and the Independence I culture of about 2400-1300 BCE seem to have descended from separate groups that crossed from far northern Canada.
The Independence II culture arose about 800 BCE in the area occupied by the Independence I culture 500 years earlier. It was then followed by the Dorset culture, which existed from 700 BCE to 200 CE.
During the period 200–800 CE Greenland was uninhabited. The Late Dorset culture crossed over from far northern Canada about 800 CE. They were there when the Norse arrived and settled southern Greenland in the 980s, with the Dorset culture continuing until about 1300 CE.
The Norsemen first arrived when Gunnbjörn Ulfsson was blown off course when sailing from Norway to Iceland. They gave it the name Grænland in Old Norse, Grønland in modern Norwegian and Danish, to make it sound better than it really was. Íslendingabók or the Book of the Icelanders, a history from the early 1100s, and Eiríks Saga Rauða, the Saga of Erik the Red, both say of Erik the Red that "He named the land Greenland, saying that people would be eager to go there if it had a good name."
The Thule people had arrived from northern Canada around 1000. They had dogs and used them to pull sleds, hunted with bow and arrow, and used drills, none of which the earlier Dorset people had. They migrated south and come in contact with the Norse in the 1100s. The Norse referred to both them and the inhabitants of Vinland as the Skrælingjar. There was some trade, but more raiding, predominantly native Skrælingjar against outsider Norse.
Vinland was what the Norse called the Atlantic coast of Newfoundland, which they settled probably as far as the Gulf of Saint Lawrence and northeastern New Brunswick. Leif Erikson had landed there around 1000 CE, about five centuries before Christopher Columbus made it to the Caribbean and thought he was in southeastern Asia. The settlement now known as L'Anse aux Meadow is probably the camp Straumfjörð described in Eiríks Saga Rauða.
The Norse settlements in Greenland had a population between 2,000 and 10,000 at their peak. The Norse community accepted the rule of the Norwegian King in 1261, leading to Greenland's link to Denmark–Norway lasting to today.
The Norse settlements failed in the period 1450–1500, the reasons are unclear. One of many difficulties was the complete lack of trees in Greenland, meaning that they couldn't build ships and had to rely on connections to the Norse homelands. Unless, possibly, they could use the ships they had to bring timber from Vinland.
On the purely fictional side, H. P. Lovecraft wrote in The Call of Cthulhu about Inspector Legrasse coming to the annual meeting of the American Archaeological Society with a mysterious statuette or idol connected to a murder case:
And yet, as the members severally shook their heads and confessed defeat at the Inspector's problem, there was one man in that gathering who suspected a touch of bizarre familiarity in the monstrous shape and writing, and who presently told with some diffidence of the odd trifle he knew. This person was the late William Channing Webb, Professor of Anthropology in Princeton University, and an explorer of no slight note. Professor Webb had been engaged, forty-eight years before, in a tour of Greenland and Iceland in search of some Runic inscriptions which he failed to unearth; and whilst high up on the West Greenland coast had encountered a singular tribe or cult of degenerate Esquimaux whose religion, a curious form of devil-worship, chilled him with its deliberate bloodthirstiness and repulsiveness. It was a faith of which other Esquimaux knew little, and which they mentioned only with shudders, saying that it had come down from horribly ancient aeons before ever the world was made. Besides nameless rites and human sacrifices there were certain queer hereditary rituals addressed to a supreme elder devil or tornasuk; and of this Professor Webb had taken a careful phonetic copy from an aged angekok or wizard-priest, expressing the sounds in Roman letters as best he knew how. But just now of prime significance was the fetish which this cult had cherished, and around which they danced when the aurora leaped high over the ice cliffs. It was, the professor stated, a very crude bas-relief of stone, comprising a hideous picture and some cryptic writing. And as far as he could tell, it was a rough parallel in all essential features of the beastial thing now lying before the meeting.