Los Perros Chilenos
People in Chile Love Dogs
I saw very few cats in Chile, but there were a lot of dogs.

People take their pet dogs with them when shopping or running other errands. These aren't the "emotional support service animals" so common in the U.S., as Chileans seem to be in good shape emotionally. These are pets, which people have because they like them.

But the Chilean people also don't just tolerate the numerous stray dogs, or perros comunales, they take care of them.

The people along Calle Templeman in Valparaíso have even built a couple of dog houses for local strays.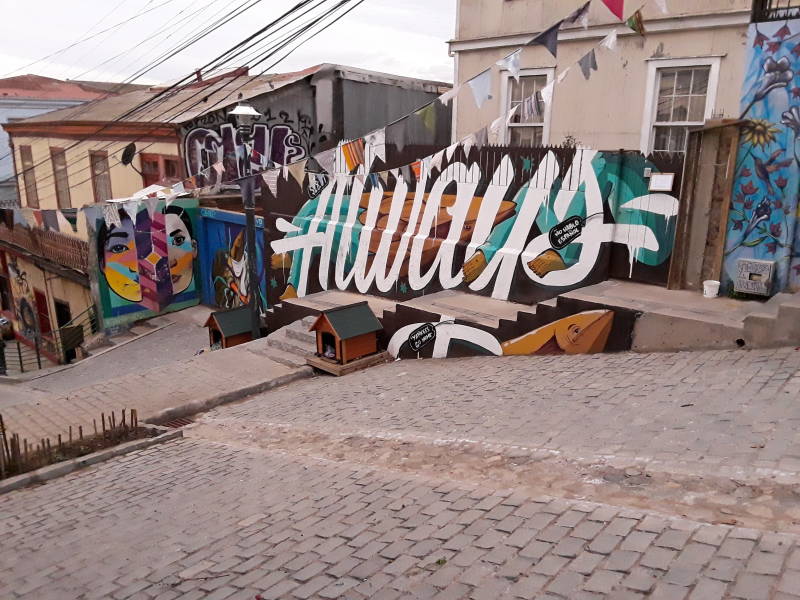 I was there in mid-winter, when it got down close to freezing at night.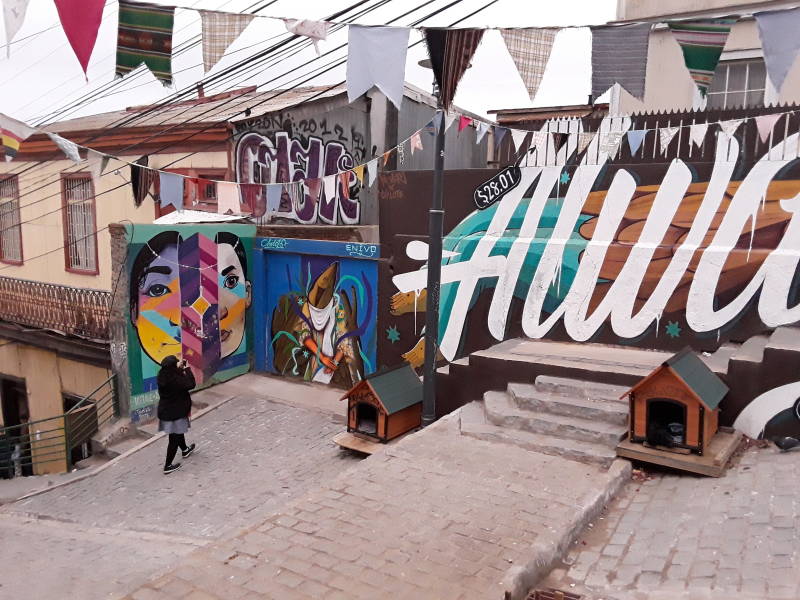 The stray dogs had an enclosed space and a scrap of old carpeting.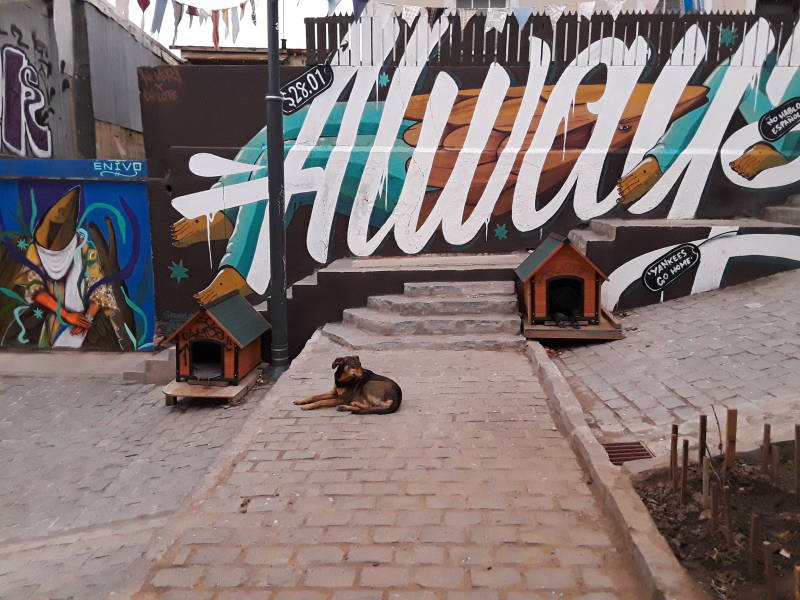 The Chilean love of dogs struck me as a very good sign. Sure, there is income inequality, and homelessness, and panhandling in Chile, but it's not nearly as extreme as in, say, Washington D.C. On the whole, people in Chile are doing well enough to care not just for their pets, but also for stray animals. A few decades ago, that would have seemed very unlikely.
Augusto Pinochet took power in a US-backed military coup in 1973, overthrowing the democratically elected government of President Salvador Allende. Pinochet imprisoned up to 80,000 people, tortured tens of thousands, and executed from 1,200 to 3,200 victims.
Guided by the "Chicago Boys", Chilean economists who had studied under Milton Friedman and Arnold Harberger, Pinochet imposed changes that led to a dramatic increase in economic inequality and the 1982 economic crisis, Chile's worst since the Great Depression. Meanwhile, Pinochet himself made a fortune through real estate deals, embezzlement, tax fraud, and possibly commissions on arms deals, hiding his fortune in dozens of secret bank accounts overseas.
Pinochet was voted out of office in a referendum in 1989 and relinquished power in 1990. Almost 30 years later, Chile was doing well. Well enough to be kind to stray dogs.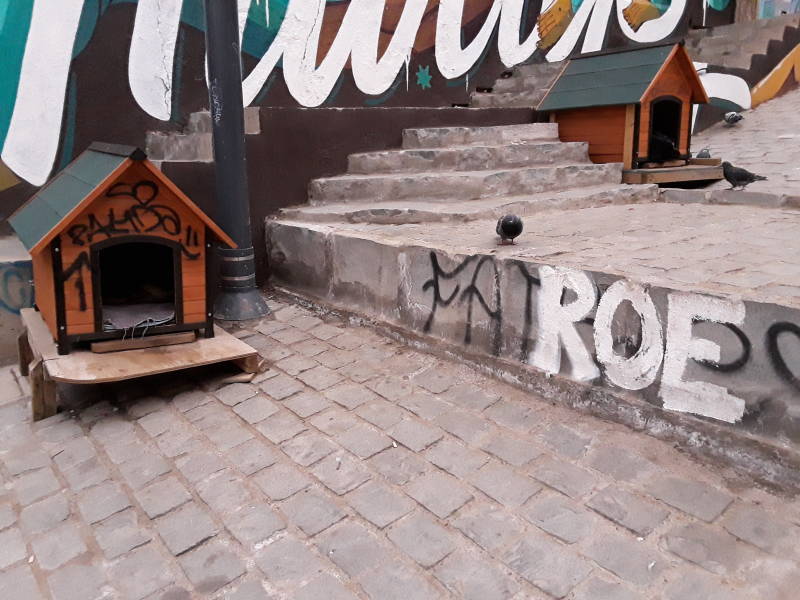 More Dogs in Valparaíso
Some of the residents further up Calle Templeman set out water bowls for the neighborhood dogs.
I saw no strays that looked sick or malnourished. They got water, and adequate food, and maybe even the occasional bath.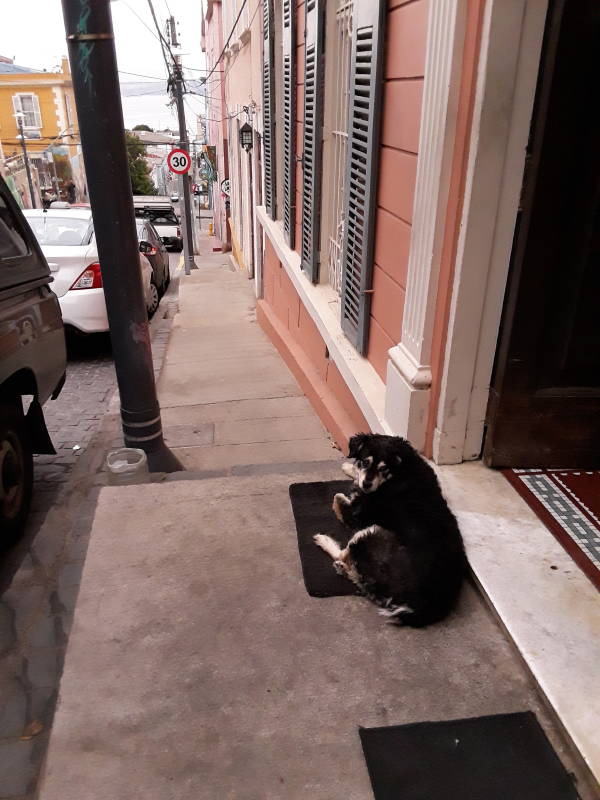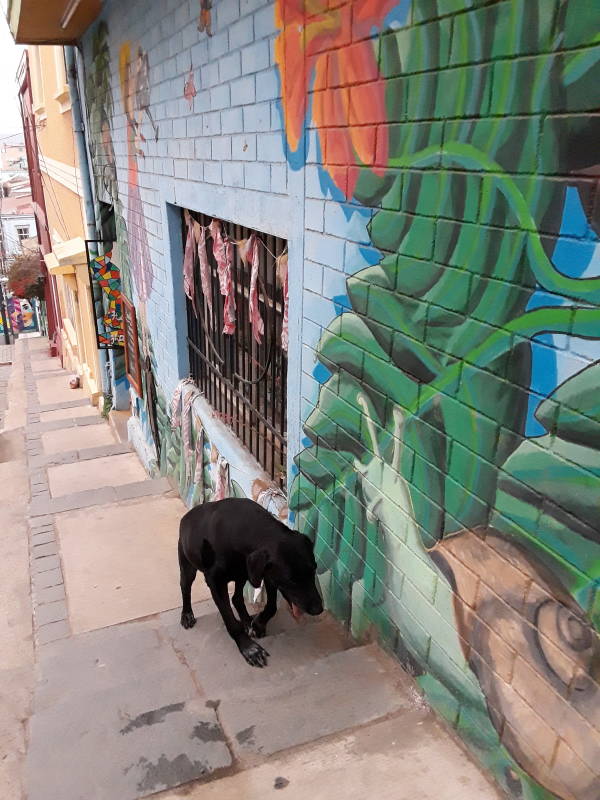 Stray dog populations undergo rapid evolution. Genes for aggression are under lethal pressure. Surviving generations are soon very mellow and friendly.
It's an informal version of the research project at the Institute of Cytology and Genetics in Novosibirsk, where Dmitry Belyayev and Lyudmila Trut have bred domesticated red foxes that behave much like pet dogs.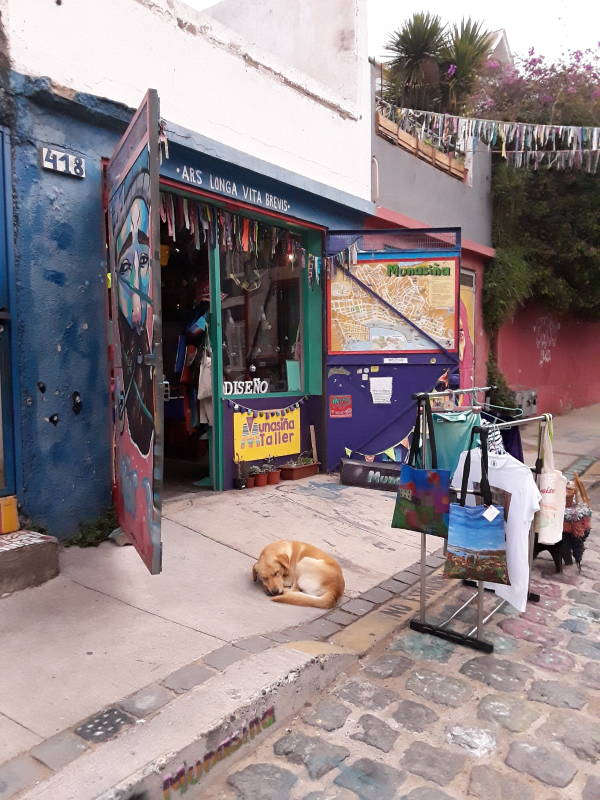 2019 Solar
Eclipse
As I said, I was in Chile at the end of June and first of July, the middle of winter. That's not the most popular time for tourism, but that was when the 2019 solar eclipse happened.
The mid-winter visit showed me the popularity of dog vests in Chile. Many people dress their pet dogs in warm fleece dog vests. They even put them on the strays.
I assume most of the strays in vests were wearing worn ones previously worn by pets. Like this one down by the port in Valparaíso.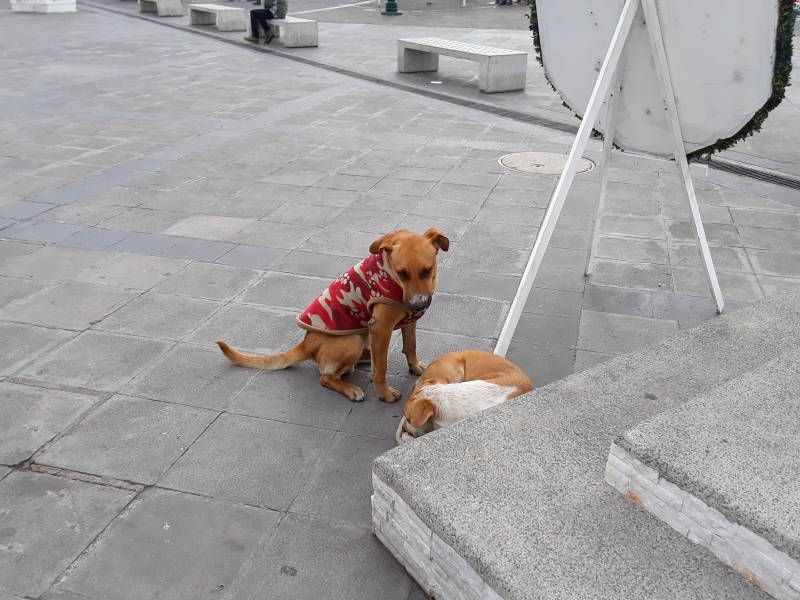 But I think I saw a few cases of strays in nearly new vests.
And, a few were in worn-out human fleece jackets with the sleeves cut off.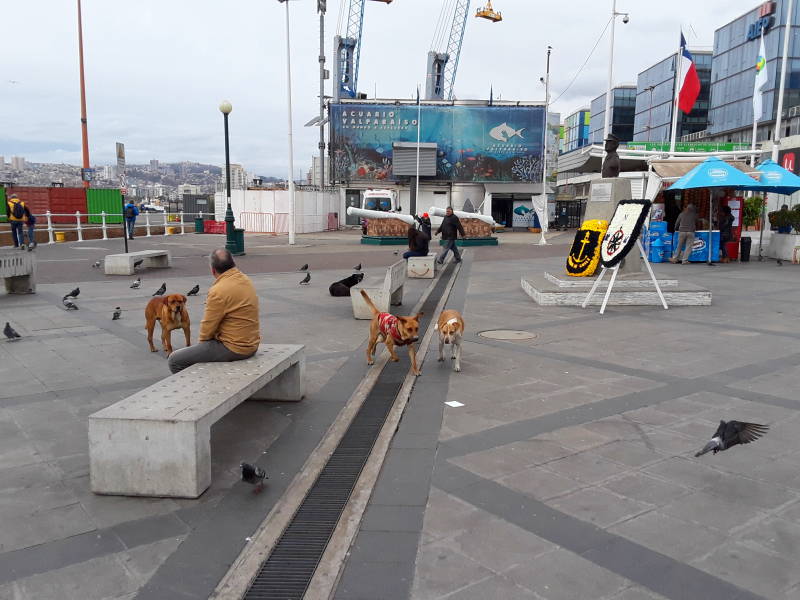 Coquimbo
This dog on the beach in Coquimbo has found a comfortable bed of seaweed.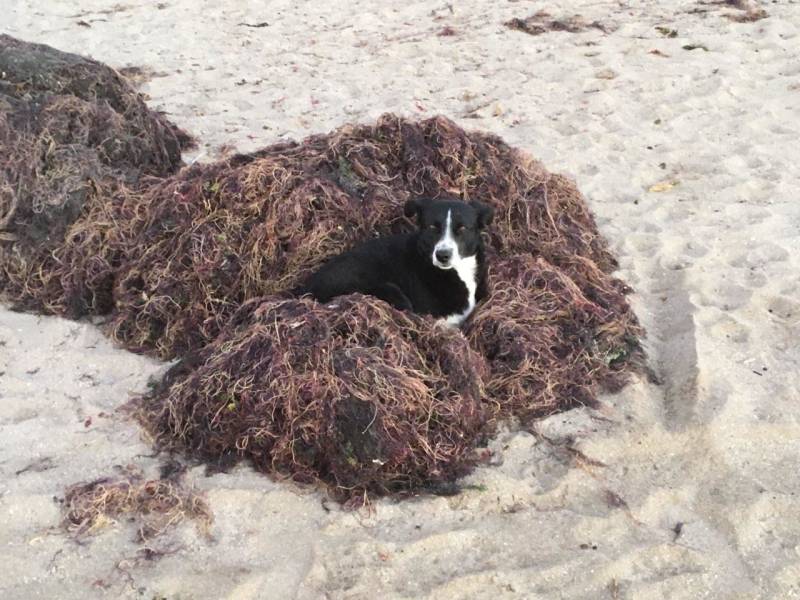 This dog is relaxing outside the fish market in Coquimbo. If there were lots of stray cats in Chile, they would be swarming all over and stealing food.
The dogs mind their own business.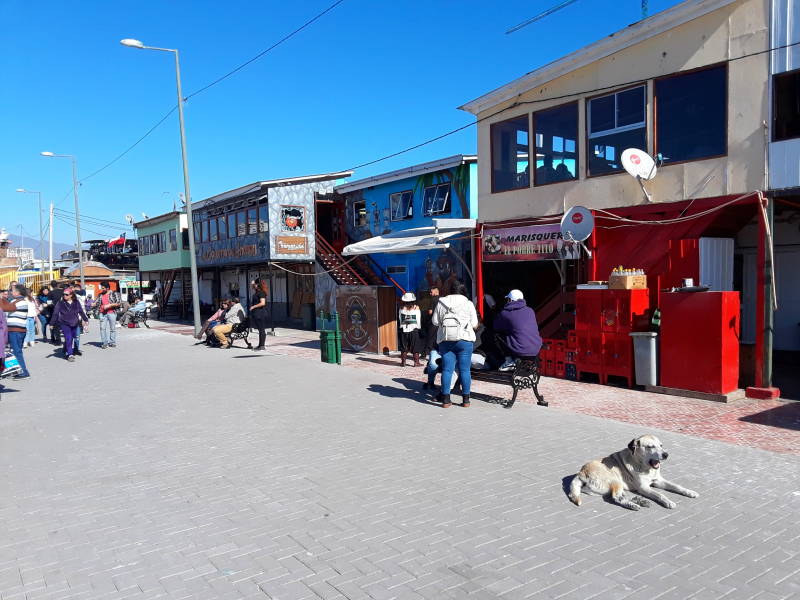 Rancagua
This dog is taking in the warm sun in front of a Banco de Chile branch in Rancagua.
Notice the multi-colored dog-print motif of his vest. Very colorful in the mid-day sun! Of course, to a dog it's all shades of grey.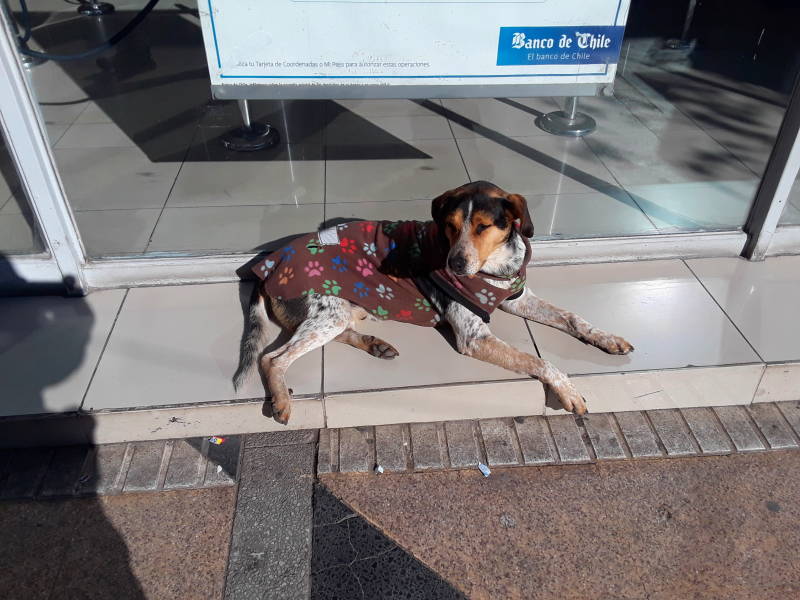 Talca
Some of the dogs in Talca find the railway station a comfortable place to relax. There's plenty going on with the frequent service on the Santiago—Chillán line, but they sleep through much of it.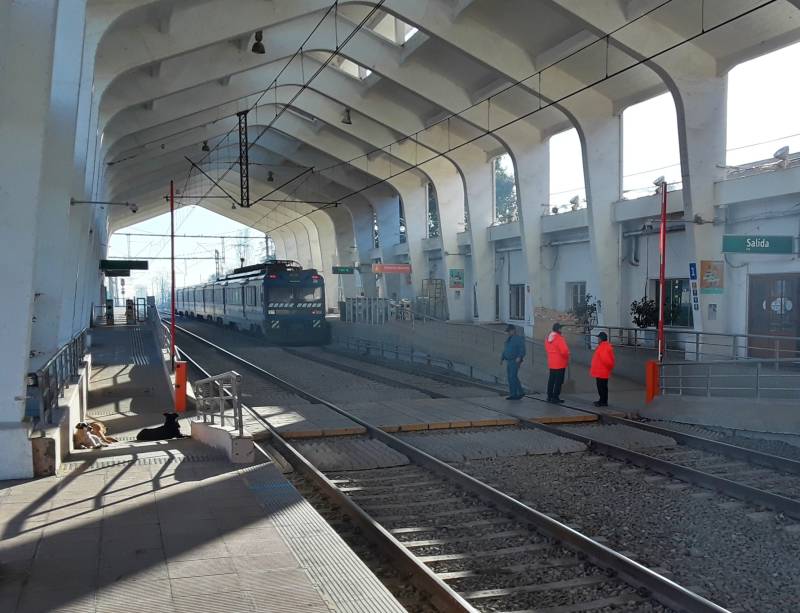 The trick is total relaxation.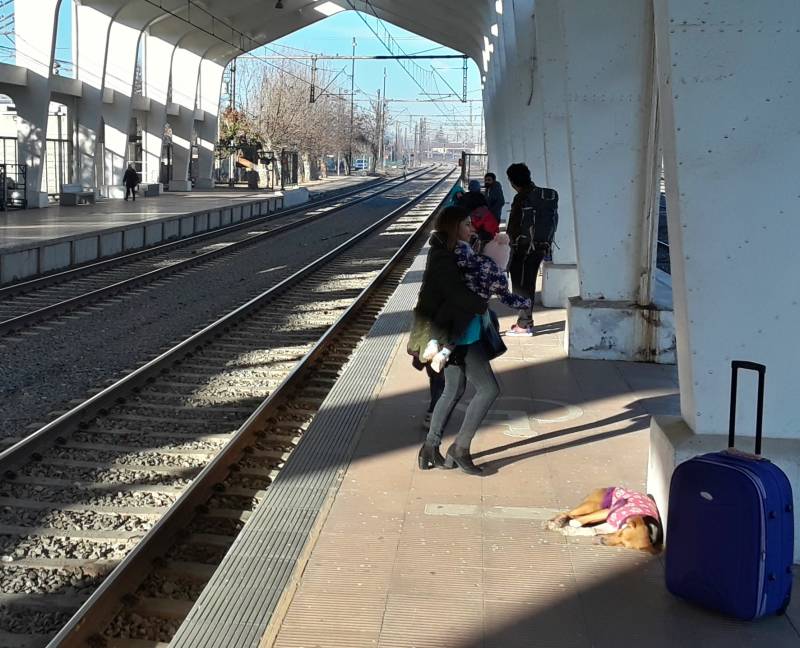 This little guy was strolling around downtown Talca.