Arriving in Guangzhou /
​​​​​广州​​​​​
Guangzhou Part 1 —
Logistics, Shamian Island and the Pearl River
I had flown to Hong Kong and taught a one-week information technology course. Now I was headed inland, across the border from the Special Administrative Region of Hong Kong into the People's Republic of China. I was going to Guangzhou. The first time I was in southeastern China I only went as far as Guangzhou. The second time I stayed there for a day and then continued by overnight train to Guilin and minibus from there to Yangshuo. There are frequent trains between Hong Kong and Guangzhou, leaving every 60-90 minutes and taking from 90 minutes to two hours depending on whether it stops at Dongguan. I started by looking around Shamian Island and getting outraged by the reason behind the brisk trade in Chinese orphans.
Hong Kong businesses for arranging onward travel include the standard China Travel Service, very obviously a state organ of the People's Republic but a necessary evil for arranging things like Chinese visas. For HK$ 750 (about US$ 96 at the time) they set up an express train from Hong Kong to Guangzhou, a soft sleeper train berth Guangzhou to Guilin, and visa pictures and a Chinese visa. The soft sleeper berth made up about half of that cost, but it seemed like a good deal.
Make sure to write down detailed notes on what you get from CTS, as what they give you will likely be entirely in Chinese. For example, for the sleeper berth that was: when to arrive at the station, when the train departs, when it is scheduled to arrive, and which car, compartment, and berth.
I also dealt with Phoenix Services Agency Ltd, 96 Nathan Road, Milton Mansion, 7/F. You turn off Nathan Road onto a narrow side street, into a passageway running through the building called "Milton Mansion", then up the elevator to the 7th floor. It's in a battered crowded room, chaotic, like an image of a Chinese travel agency from an old movie. Phoenix specializes in travel to Vietnam, but they're also good for travel in China. Through them I got a flight on China Southern from Guilin to Shenzhen for HK$ 670 (US$ 86 at the time). A day or more on buses could have covered that for maybe 20% of the cost, but that trip was right before Christmas and my time was limited. Paying a little more gave me two more days in Yangshuo.
Hong Kong is an SAR, Special Administrative Region, so while it's part of the People's Republic of China in some ways, for the time being left largely alone, China does some complicated things. Chinese citizens are not allowed to go to Hong Kong without getting special permission and a visa. There really is immigration and customs at each end of the train ride. They are careful to call it a "through train", not an "international train", although the passport stamps telegraph the significance.
This map does a good job of showing you the topography, how Guangzhou, Hong Kong, and Macau are in the complex delta of the large Pearl River and several smaller rivers. However, the map dates from 1996 and this area has undergone incredible growth. The town of Dongguan and the fishing village of Shenzhen have exploded into enormous industrial cities with populations over 8.2 million and 10.3 million respectively. The entire "Pearl River Delta Mega City" is now estimated to have a population of up to 40 million people. That doesn't include Hong Kong's estimated 7.1 million people.
Shenzhen is home to many of China's most successful high-tech companries, and is the second largest export region in China behind #1 Shanghai. Dongguan is home to major manufacturing facilities for foreign firms including DuPont, Samsung Electronics, Nokia, Coca-Cola, Nestlé, and Maersk, and is the third largest export region in China. It's also China's "sin city". The prostitution sector of the service industry (including brothels, massage parlors, sex hotels, sauna centers, and more) includes around 300,000 prostitutes and contributes 20 to 30 percent of the city's service industry revenue, according to stories in the South China Morning Post, The Telegraph, and News.com.au.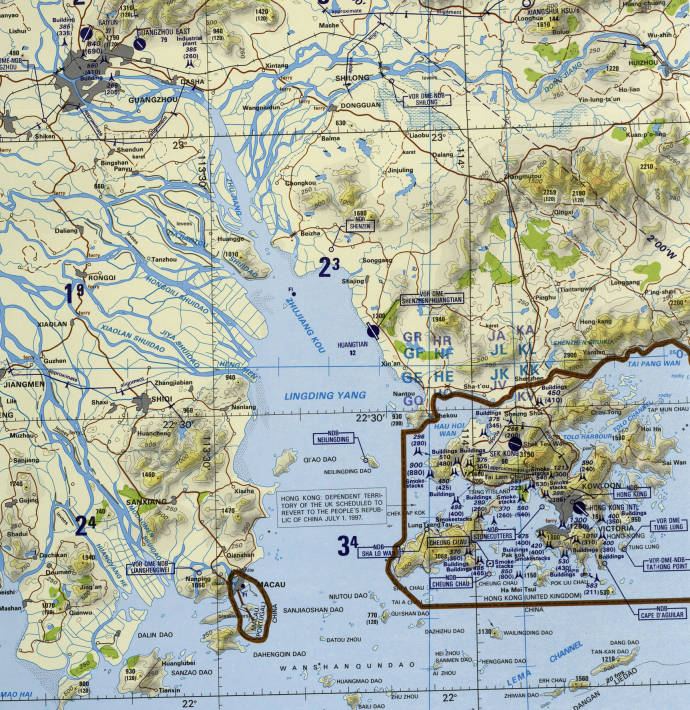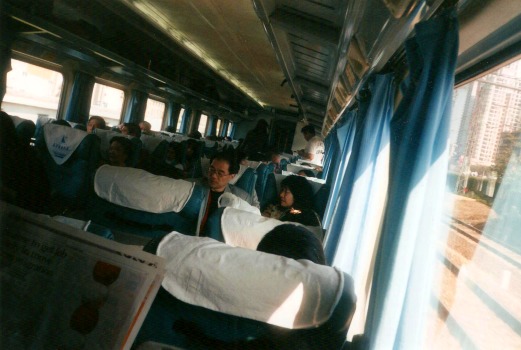 The train was OK — about like a coach on a standard Turkish express train, although this was a top-of-the-line train for China. As we boarded, they handed us decadent capitalistic advertising for cognac! During the entire ride the train stewards pushed carts up and down the aisles selling "duty-free" cigarettes and liquor, candy, soft drinks, picture books of Deng Zhaoping, and barbequed chicken legs out of a large metal bowl. This was not what I had expected.
The arrival hall at Guangzhou is classic socialist architecture — a big dramatic hall, looking vaguely like something the past would have thought looked futuristic but now just looks dated, with almost no lights turned on. Tacky, deserted, gloomy, with plenty of extruded aluminum. Despite the socialist enthusiasm for immense hydroelectric dams, they don't use much of that electricity. Maybe it all goes to the aluminum smelting and extrusion, to put useless swooping handrail-like trim where it's not needed.
They had passed out arrival forms on the train before we got in with blanks for name, passport details, and so on. You have a huge space to fill in your sex, about three times the space allocated for squeezing in your birthday. Completely backwards, which makes perfect sense. There's a multiple-choice section for occupation:
Legislators and administrators
Professionals and Technical
Clerk
Commerce
Service
Farmer
Worker
Other
Jobless
It's amusing that "Legislators and Administrators" requires its own category and is listed first. I, of course, checked the box for "Worker".
The local currency is Renminbi, meaning "The People's Currency". It's abbreviated RMB, or Y (short for "yuan"), sometimes written ¥. Some old signs and notices talk about FEC's, the Foreign Exchange Coupons which foreigners used to be required to use in place of RMB, although FEC and RMB traded one-for-one. Because "Renminbi", "RMB", "Y", "¥", "yuan", and "FEC" provide only six ways of referring to the same thing, you also hear kuái. Common bills go down to 50 fen, half an RMB. There are smaller bills, but they're not often seen.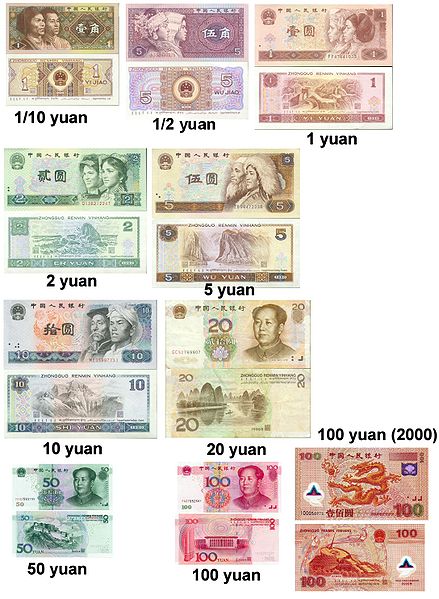 The bills are marked in Mandarin and Pinyin Romanization. In a move stolen from the Soviet Union, each bill also has writing in the languages of four of the oppressed minorities. The languages I could identify were Mandarin in Pinyin Romanization, Mongul, Tibetan, and Uyghur in Arabic script. The other is Zhuang, a cluster of members of the Tai language group spoken in Guangxi Zhuang Autonomous Region. It's written in a script that's mostly Latin plus some symbols that resemble something like Armenian or Georgian.
I asked a few people about the languages while I was there. Not only could none of them tell me anything about the languages, but none of them knew that Tibetan and Uyghur were two. Just some vague notion that there was non-Chinese scribbling on the bills, and allegedly "they are there because China is very large."

I tried to ask about changing money at the "information" desk downstairs in the main hall of the train station. As expected, not only could they speak no language besides Mandarin and maybe Cantonese (and my attempt at Russian only seemed to alarm them), but they demanded 1.5 RMB per question. Since my question was to have been about where to change money, this was just as useless an "information" desk as I would expect. In fact, I didn't go there with any hope for information. My goal was to experience a clumsy denial of information.
There are a lot of little stalls in the station. I bought a can of Pepsi with Hong Kong money, widely accepted in Guangzhou, and got change in RMB. Those capitalist roaders are handy! I went out the main entrance to squat in the grime and drink Pepsi with the locals. The exterior of the train station was covered in an even thicker layer of grime than the inside had been.
Guangzhou has a metro with very nice trains and station interiors. Ticket purchases are amusingly socialist. You have to buy your ticket with coins. To get the coins, you have to stand in line for a booth manned by someone who makes change all day. But they can't sell tickets, you must get those from the machine.
The Guangzhou Metro has significantly expanded since I was there. It now has nine lines in operation through 164 stations and 260 kilometers of track. Over 2 billion rides in 2013 made it the sixth busiest metro system in the world.
Shamian Island
I got off at the stop near Shamian Island. While the underground station is very nice, the topside was battered. It looked like it had been there for decades, as it's built from what appear to be pre-aged ceramic tiles.
From there you cross a small dusty bus station lot, go under a concrete overpass, and across a chaotic traffic circle. There is a sign in Chinese and English telling you to use the "subway", the underground passageway, but of course it's blocked off with corrugated metal sheeting.
Shamian Island is, as Guangzhou goes, the nicest place to stay. It really is a small sandy island along the bank of the Pearl River as it passes through the city. It's about 900 meters along parallel to the river, about 300 meters wide, and is separated from the mainland on the back side by a canal that appears to be filled with raw sewage slightly diluted with stagnant river water.
Shamian Island was where the Qing Dynasty allowed some French and English traders to settle and do business in the 1800s. Many buildings are the old business buildings or large homes from the 1800s through the early 1900s. It's very quiet and peaceful compared to the rest of the city, and other than its malarial and infectious moat, it's relatively clean.
Shamian Island was connected to the mainland by two bridges, which were required to be closed at 10 PM. The bridge to the British section was guarded by Sikh troops, and the bridge to the French section was guarded by Vietnamese troops.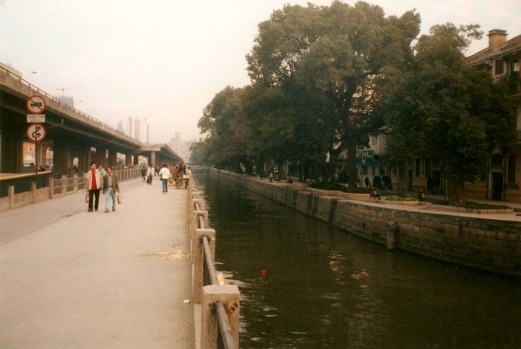 The river's name is either very old indeed, or it's a modern exercise in irony. Pearl River is a very picturesque name for a river, particularly one where the best thing you can say is that it's not as sewage-clogged as the canal separating Shamian Island from the main northern bank. But it is picturesque in the afternoon, as the sun sinks into the murk of the coal-smoke-filled thick orange air.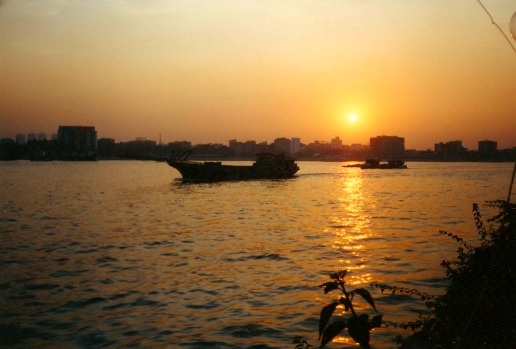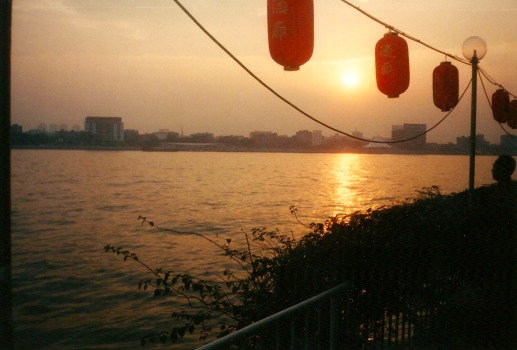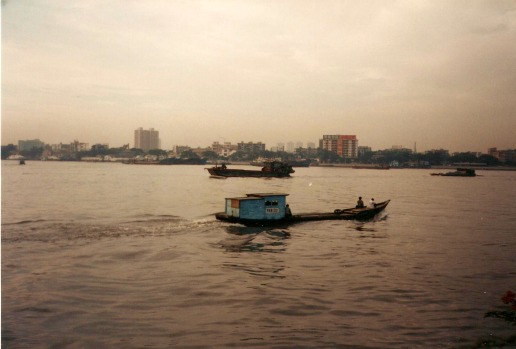 XXIV. The Canal
Somewhere in dream there is an evil place
Where tall, deserted buildings crowd along
A deep, black, narrow channel, reeking strong
Of frightful things whence oily currents race.
Lanes with old walls half meeting overhead
Wind off to streets one may or may not know,
And feeble moonlight sheds a spectral glow
Over long rows of windows, dark and dead.
There are no footfalls, and the one soft sound
is of the oily water as it glides
Under stone bridges, and along the sides
Of its deep flume, to some vague ocean bound.
None lives to tell when that stream washed away
Its dream-lost region from the world of clay.
From Fungi from Yuggoth
H. P. Lovecraft 1929–1930
I went to the Shamian Hostel, really the only budget housing in which foreigners are allowed to stay, at least at that time. One of the many duties of the PSB, the People's Security Bureau, is keeping foreigners and locals from mixing improperly. To read their official brief: preventing Falun Gong or other illegal meditation, sex between locals and foreigners, and other forms of "public disharmony".
A single room was 100Y. It was a narrow room with a single bed and just enough room to walk alongside it. It had a small table and stool, and a TV set on top of a cabinet. There was a nice incandescent lamp on the wall, and a truly socialist fluorescent tube on the ceiling (extra buzz and sickening color). Luckily the two lights were on separate circuits. The walls were covered in Boys' Locker Room ceramic tile.
A list of rules posted in the room included:
Do not move or dismantle the electric appliances and equipments.
You are not allowed to bring in inflammable, explosive, poisonous, and radioactive materials, livestocks, and rancid materials. You should not cook food, light a fire or firecrackers in room, as well as smoke in bed.
Visiting prostitutes, prostitution, drug taking, and group gambling in room are strictly forbidden.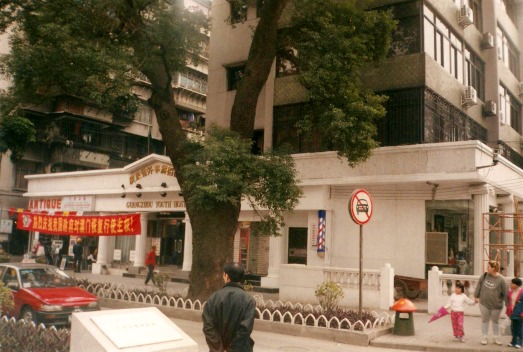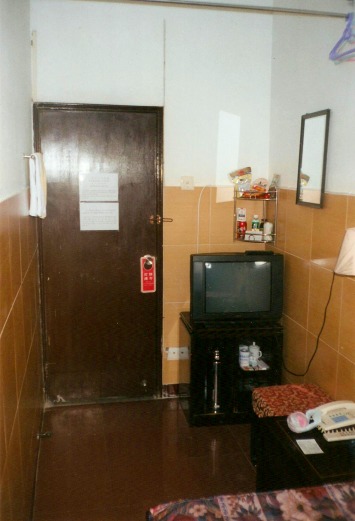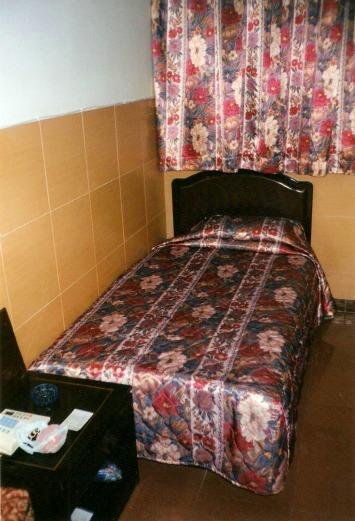 I supposed they've had problems in the past with radioactive drug-taking prostitutes dismantling the electrical equipment.
As for the television, the local cable system carries some Hong Kong channels. However, the state censors replace that signal with a test pattern during the periods the Hong Kong station relays a Taiwanese news program. The censors are careful to block the signal in plenty of time, but they don't get around to unblocking it until several minutes into the next program.
The local cable television also carries the U.S. ESPN sports channel! I suppose China is pretty well guaranteed that they will get no politically unacceptable content on that.
Note to Amnesty International — get rebellious university students to wear "Free Tibet!" T-shirts and wave pro-Tibet signs. See how much ESPN panics, and to what extent they're willing to admit the reason why.
Back down by the desk I found a room with two signs over the door, "Coffee shop" and "Ticketing".
I went in, thinking I could find about trains to Zhaoqing, an interesting place to spend a day or two. Although there was a computer behind the counter, there was no evidence of either tickets or coffee, let alone information on schedules of any sort of public transport.
Meanwhile, outside the door, a PSB guard sat at a desk and stared at the wall, preventing public disharmony in the stairwell. His main job was probably preventing the entrance of non-foreigners. (or flammable prostitutes, or radioactive livestock, or...)
The hostel staff had no idea about train or bus schedules. They told me to call CTS, or China Travel "Service". It did, and they were utterly useless. They did speak English, but they told me, "Trains go to Zhaoqing but we don't know the schedules. You would have to ask at the train station." They kept pushing travel on the bus. I finally decided that was the only way despite being slower and far less comfortable. So then they told me, "Buses go to Zhaoqing but we don't know the schedules. You would have to ask at the bus station."
It left me wondering just what they were able to do.
I walked around Shamian Island. It's really very pleasant compared to the rest of Guangzhou, with broad walking areas under large trees. It has some "colonial style" architecture, plus some Soviet-style dumps with doors hanging open into dank stairwells exuding musty air. Kind of an Addams Family effect. There was a very incongruous White Swan luxury hotel a block down the street from the hostel.
Trading companies from the U.S., Holland, Italy, Germany, Portugal, and Japan joined the British and French in building large stone mansions to house their trading companies.
The company buildings and churches were all seized by the government in 1949. The trading houses became government offices and apartment buildings, and the churches were turned into factories.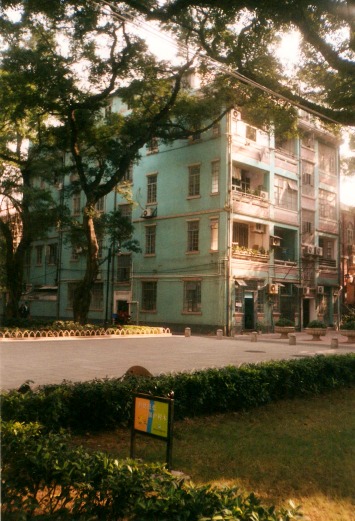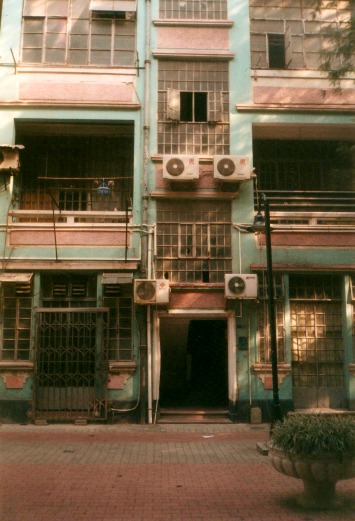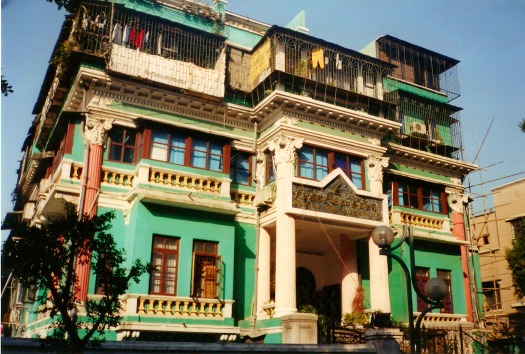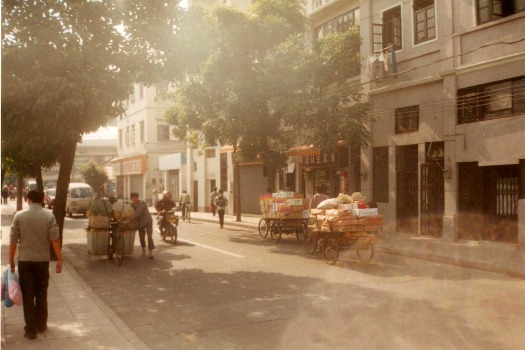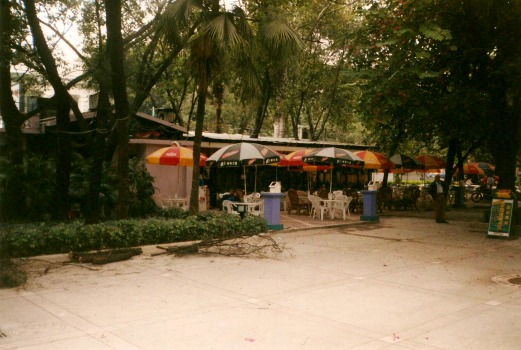 I got dinner at Lucy's Grill, a fairly westernized cafe with outside tables on the edge of the park. Yangshuo style fried rice, which was with pieces of egg, shrimp, ham, and onion, and some local draft beer.
Lucy's is a nice place to eat, or just hang out, and watch the old folks doing Tai Chi and the other locals just strolling through the park. But it has a very odd atmosphere for a foreign bar, as there are always lots of American couples there with infants.
"Orphan" is a code word in the Glorious People's Republic for "Female infant that will be starved to death in a setting just a step above a concentration camp (unless some westerners adopt her)."
There is a strong preference for boys in China. Well, that's putting it lightly. The strict government policies limit couples to one child,and cultural traditions pretty much require at least one male child. So, female infants are mostly unwanted. Poor families have tended to sell their unwanted girls to brothels or to older men, or just to kill them after birth.
The UN clinically says, "The abnormally high sex ratio at birth (SRB) and excess female child mortality (EFCM) recorded in China in recent years reflect not only women's continuing low social status, but also the deteriorating survival environment for girls." The normal male:female ratio at birth is about 105:100. In China it was 111.3:100 in 1990. By 2000 it was 116.9:100 given increases in pre-natal sex determination and abortion. The ratio of boys to girls by 2004 was about 120:100 overall and in Hainan and Guangdong it had reached 135:100 by 2008.
It has been observed throughout history that countries with skewed sex ratios often engage in military misadventures, although not necessarily as an intentional reaction to the imbalance. One may also observe that India now has a similar (although less extreme) imbalance, and China and India not only share borders, but have a long-standing border dispute.
Place your bets now.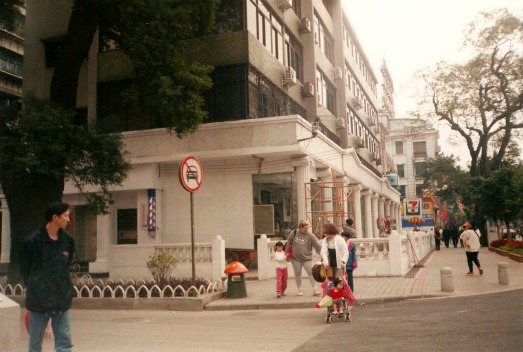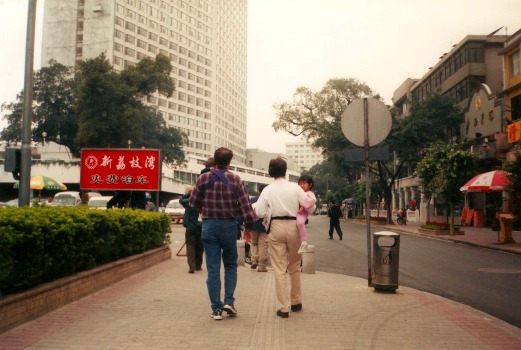 Many of the girls that aren't selectively aborted before birth or killed immediately after birth are put into government-run "orphanages". They're called "orphanages" although they're really more like concentration camps where the almost exclusively female "orphans" are physically restrained and left without food until they starve. The lucky few are matched with adoptive parents. Guangzhou has relatively good air connections to North America, and many of those little girls avoiding state-sanctioned starvation pass through here.
The Dying Rooms
on YouTube
The UK's Channel 4 released a documentary The Dying Rooms in 1995, in which hidden camera video showed infants and young children strapped to beds and starved to death in medium-security orphanariums. From the Lonely Planet guidebook to China: "The children in the video were tied up with ropes and were clearly starving to death. The video also revealed that all the children, with the exception of a few handicapped boys, were girls. Informal interviews with the caretakers at the orphanages, secretly filmed, indicated that most of the children were abandoned by their parents. The staff implied that they fully expected all these children to die, not from disease but from sheer neglect and starvation."
Every evening there would be from four to twelve couples at Lucy's, usually with one infant each, but a few with two. Lots of infants were being adopted and passing through Lucy's. Listening in on the conversations, several things became obvious.
All the couples seemed to be from the U.S. Most children seemed between maybe 6 months and two years of age. Practically all the children were girls. One couple had a boy, but they were explaining to another couple that he had rickets and thus couldn't walk yet, despite being significantly older than when that would be expected. The couples didn't necessarily know the age of their children, meaning abandonment followed by lack of attention at the "orphanage". For those girls whose age was known, most had some sort of developmental problems related to nutrition. None of the children seemed to be in terrible shape, but presumably the adoption oriented "orphanages" only parcel out the cream of the crop and put the others on the fast track to starvation.
The couples were all staying at the White Swan hotel, and all of them were on pre-arranged adoption trips. They all seemed to have flown directly from the U.S.. China Southern has three direct flights a week between Guangzhou and Los Angeles. The U.S. Consulate was just the other side of the White Swan, convenient for some of the paperwork. The adoption trips seemed to be pretty short — a day or two there (largely getting over jet lag), a day to pick up the girl, another day or two to get the paperwork in order, then head back. This would make for a lot of turnover, which is good for the business model.
It did make a strange atmosphere for a bar, but it was good to realize that every little girl passing through there was being rescued from certain lingering death.