Les Flics
Detectives in French Fiction and Real Life
The First Private Detective Was French
France was the home of the first private detective, Eugène François Vidocq, and detective fiction is also closely connected to the country. Edgar Allan Poe invented the modern detective story. While he was an American author, his fictional detective C. Auguste Dupin was French, and the story was set in the Rue Morgue of Paris.
Eugène François Vidocq was born into a wealthy family in Arras in 1775. He stole his parents' silver plates when he was thirteen. His father arranged for his arrest and two weeks in jail to teach him a lesson, but it did not stick. A year later, in 1789, the first year of the French Revolution, he stole a large amount of money from his parents' bakery and ran away to Ostend on the Belgian coast. He planned to go to America but instead he was defrauded and left penniless. He joined a group of traveling entertainers, then worked as a peddler's assistant, and finally returned to his parents in Arras.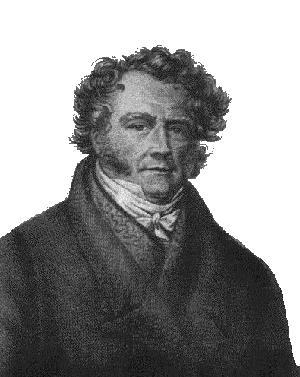 A year later, at 15, he joined the military, where he was involved in official action against Austria and a number of duels. Three years later he resigned from the army as he was no longer welcome there and returned to Arras. A year later, in 1794, he briefly re-joined the army and then deserted it for Brussels, where he supported himself by frauds.
In 1795 Vidocq joined the armée roulante or the flying army, a group of con-men and raiders who wore fake uniforms and stayed well away from the actual battlefields. Later that year he moved to Paris, squandered all his money on loose women, and moved north and joined a group of Bohemian gypsies. He left the gypsies for Francine Longuet, a woman he had fallen in love with. Francine cheated on him with a soldier, he beat up both of them, was sued by the soldier, and sentenced to three months in the Tour Saint-Pierre prison in Lille.
He escaped several times in the following weeks but was always captured soon afterward. Then he was convicted of forgery used in the improper release of another prisoner during an earlier prison stay, and sentenced to eight years of hard labor.
He was sent to Brest to serve in the galleys in 1798, but he escaped dressed as a sailor. He was picked up for a lack of papers after a few days, but he was not recognized as an escaped prisoner and placed in a prison hospital. He stole a nun's habit and used that as a disguise for his next escape.
He traveled to Rotterdam, where he was shanghaied by the Dutch, had a short career as a privateer, was arrested yet again, identified as the escaped Vidocq, and transferred to a prison in Toulon.
Vidocq escaped from that prison in 1800, returning to Arras where his father had died the year before, around the end of the French Revolution. He gradually started trying to turn his life around, but he was plagued by angry women and former fellow thieves.
He was arrested again in July 1809, and decided to offer his services as an informant to the police. They placed him in prisons where he gathered information from his fellow inmates. He was released from jail after close to two years of spying, still obliged to Jean Henry, the police chief of Paris. He continued working as a secret informant for the Paris police.
In late 1811, Eugène François Vidocq organized an informal plainclothes unit known as the Brigade de la Sûreté or the Security Brigade. In October 1812, the Brigade de la Sûreté became an official police unit with Vidocq as its leader under the Prefecture of Police. Napoleon Bonaparte signed a decree in December 1813 making it a state security police force, known henceforth as the Sûreté Nationale.
Vidocq hired and personally trained his agents, frequently ex-criminals, some of them hired immediately on their release from prison. By 1820 Vidocq's Sûreté Nationale had significantly reduced crime in Paris. He was paid a salary of 5,000 francs, and on the side he worked as a private investigator.
In the 1820s Vidocq befriended the author Honoré de Balzac, who used him as a model for several characters in his books. Later in that decade, the police organizations in Paris went through major changes. Vidocq resigned in 1827. Then after revolution in 1830, he was back as chief of the Sûreté for 1830-1832. He resigned again in 1832, at which point the Sûreté was dissolved and then immediately re-formed with a restriction against even the most minor criminal history in its agents.
Vidocq founded Le Bureau des Renseignements or the Office of Information in 1833. This company, a mixture of detective agency and private police force, is considered to be the first detective agency. His eleven detectives, largely ex-convicts, worked for businessmen and private citizens against a variety of criminals and con artists, not always restricting themselves to strictly legal methods.
To no one's surprise, Vidocq's detective agency did not get along well with the official police due to its methods and its relations with government agencies including the War Department. Meanwhile, Balzac was writing several plays and novels featuring characters based on Vidocq.
Vidocq was in and out of courts and prisons over the following years. His Bureau des Renseignements shut down in 1848.
Vidocq is described today as the father of modern criminology, and is credited with the introduction of undercover work, ballistics analysis, and the first plaster cast impressions of shoe prints. His clerk Alphonse Bertillon developed a system of recording body dimensions on cards sorted to form an early criminal database.
Victor Hugo used Vidocq as the basis of both main characters of Les Misérables, the reformed criminal Jean Valjean and the obsessive police Inspector Javert. Alexandre Dumas also based a character on him, and Herman Melville and Charles Dickens mentioned him by name in Moby Dick and Great Expectations. Gérard Depardieu played him in the 2001 fantasy film Dark Portals: The Chronicles of Vidocq.
Fictional Detectives in the French-Speaking World
Edgar Allan Poe's 1841 short story "The Murders in the Rue Morgue" is generally considered to be the first true detective story. Poe referred to it as one of his "tales of ratiocination", where ratiocination is itself a French word meaning reasoning or conscious deliberate inference. Poe's biography Jeffrey Meyers wrote that the story "changed the history of world literature."
Poe wrote his story when people were conscious of crime because cities were rapidly growing. London's first professional police force had just been established, and U.S. cities were trying to start scientific police investigation. The story features C. Auguste Dupin, the first detective of fiction, a character created before the word detective had been coined. Who knows, we might have come pretty close to having stories, movies and television shows about private and police ratiocinators. Dupin reappears in Poe's stories "The Mystery of Marie Rogêt" and "The Purloined Letter". Poe apparently based Dupin on Eugène François Vidocq.
Dupin was the prototype for Arthur Conan Doyle's Sherlock Holmes and Agatha Christie's Hercule Poirot. Poirot was French-speaking, from Belgium rather than France, and featured in stories written and set from 1920 through 1975.
Poe's stories about Dupin established several standards of detective fiction including the brilliant but eccentric detective dealing with a bumbling official police force. The Dupin stories are first-person narratives, from the viewpoint of a close personal friend rather than Dupin himself.
French Enthusiasm for Detective Fiction
The French people, along with the Francophone Belgians, are enthusiasts for detective fiction. The Belgian author Georges Simenon wrote almost 200 novels, 75 of them featuring his fictional detective Jules Maigret. Simenon lived in France 1922-1945, the U.S. and Canada 1945-1955, and then back to Europe, first France and then Switzerland, until his death in 1989. In addition to his nearly 200 novels, he also wrote over 150 novellas and dozens of pulp novels published under more than two dozen pseudonyms. Some 550 million copies of his works have been printed.
French publishers had a concept for a compact and cheap book format since the 1800s, but the livre de poche or "pocket book" as we know it today first appeared in significant numbers in the late 1920s and early 1930s, really taking off in the early 1950s.
In 1905, éditions Jules Tallandier began publishing their Livre de poche series printing popular novels in small size and low price.
Then in 1925, Albert Pigasse, a literary adviser at Grasset, founded the publishing house Libraire des Champs-Élysées. Through that he established the series "The Mask" in 1927, specializing in detective novels printed in a form of reduced size and cost.
The German publisher Kurt Enoch is often credited with the initial experiments in paperback publishing, but he didn't start this until 1931-1932, four to five years after Pigasse's series "The Mask" started printing.
The French paperback publishing industry really took off in February, 1953 with Libraire Générale Française and its literary series "Le Livre de Poche" or "The Pocket Book".
Here is some classic American detective fiction published for French readers. The two at top are Raymond Chandler's novel Le Grand Sommeil, The Big Sleep, and the long story Un Mordu, literally Bitten but originally the story The Man Who Liked Dogs. Chandler used the second of those for parts of his novel Farewell, My Lovely.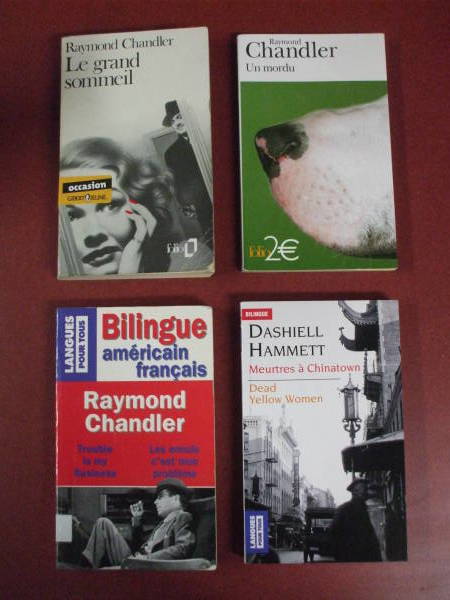 The opening to The Big Sleep appears as a scan at the top of this page and as text here:
Il était à peus près onze heures du matin, on arrivait à la mi-octobre et, sous le soleil voilé, l'horizon limpide des collines semblait prêt à accueillir une averse carabinée.
Je portais mon complet bleu poudre, une chemise bleu foncé, une cravate et une pochette assorties, des souliers noirs et des chaussettes de laine noire à baguettes bleu foncé. J'étais correct, propre, rasé, à jeun et je m'en souciais comme d'une guigne. J'étais, des pieds à la tête, le détective privé bien habillé. J'avais rendez-vous avec quatre millions de dollars.
It was about eleven o'clock in the morning, mid October, with the sun not shining and a look of hard wet rain in the clearness of the foothills.
I was wearing my powder-blue suit, with dark blue shirt, tie and display handkerchief, black brogues, black wool socks with dark blue clocks on them. I was neat, clean, shaved, and sober, and I didn't care who knew it. I was everything the well-dressed private detective ought to be. I was calling on four million dollars."
Those two books at top simply show the French enthusiasm for well-crafted detective stories, translated into French. The two books at bottom, however, are something entirely different and rather impressive.
Those books are the Chandler story Trouble is my Business and the Dashiell Hammett story Dead Yellow Women, each presented in a dual-language form. This is how some of the French people improve their English skills — they read Chandler and Hammett in the original!
One page has the original English text, with footnotes explaining, in French, the terms and phrases probably not covered in the typical English course. The facing page has a French translation of that same text.
As for the difficulty of translating detective fiction, see The Multilingual Falcon for a linguist's discussion of machine translation of some dialog from The Maltese Falcon into French, Hungarian, and Turkish, and then back into English.
Detective Agencies in Paris
On the east side of Rue Tronchet, a little north of Place Madeleine toward Gare St-Lazaire, you may see a sign for the Dubly Détective agency.
The Dubly agency was founded in 1923 by a Monsieur Piat, who adopted the pseudonym Dubly at that time.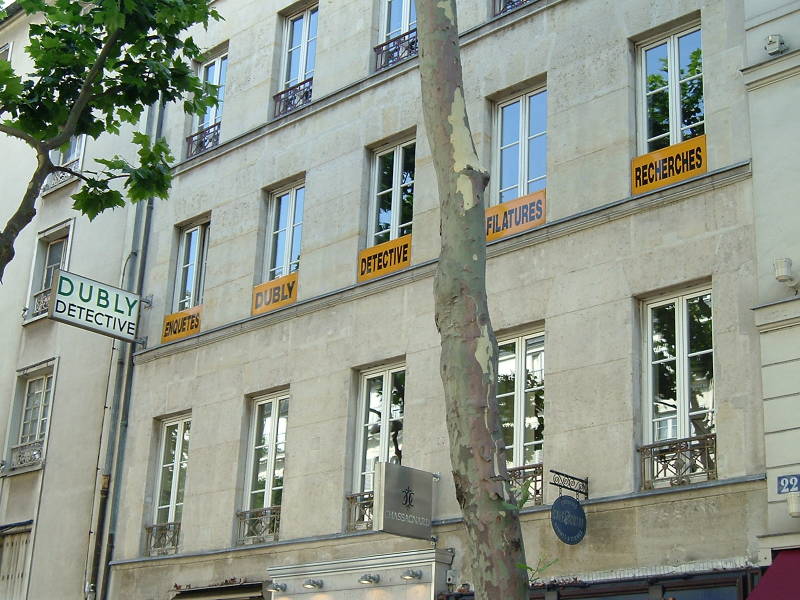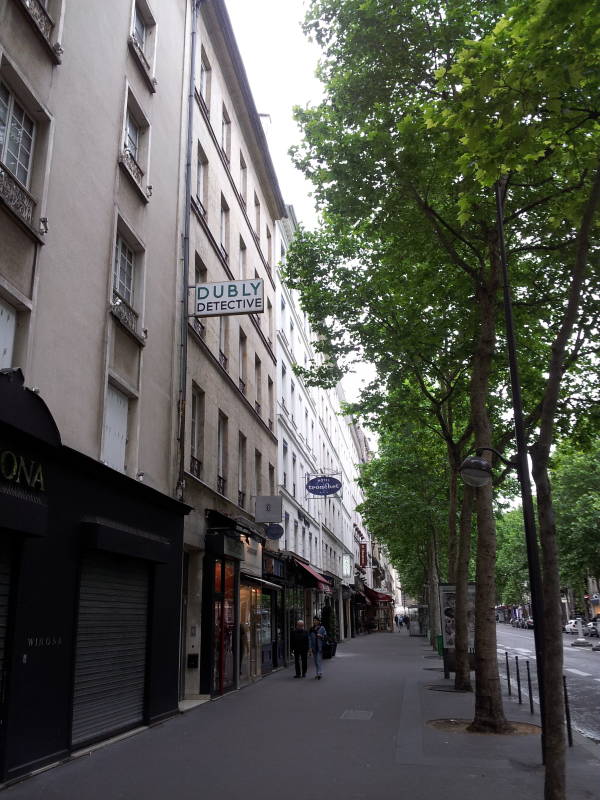 Their windows list some of their investigative offerings:
ENQUETES, FILATURES, RECHERCHES
SURVEYS, SHADOWING, RESEARCH
They're at 24 rue Trochet, 75008 Paris, 01-48-65-16-49, fax 01-42-66-53-85.
The U.S. Embassy has them on a list of detective agencies with at least one employee or agent able to speak English.
Another detective agency with even more art deco signage is Duluc Détective just off Rue Rivoli, close to Châtelet les Halles.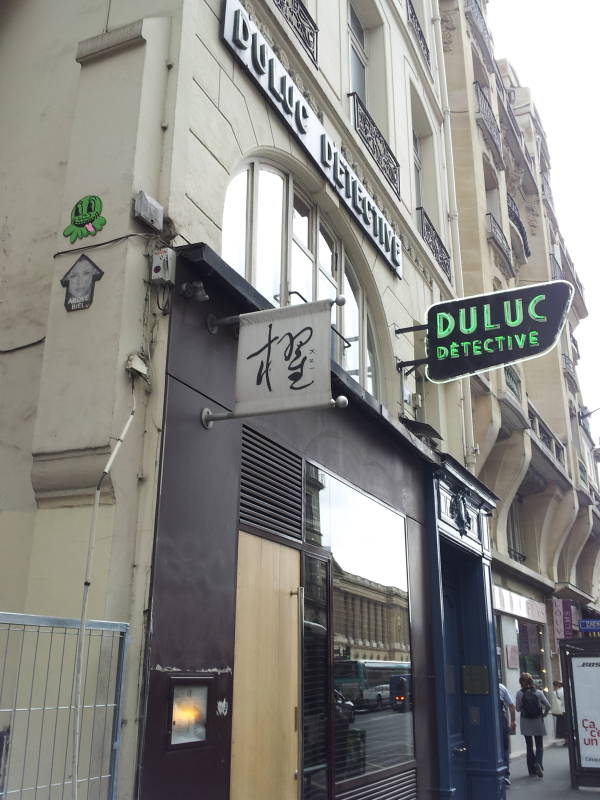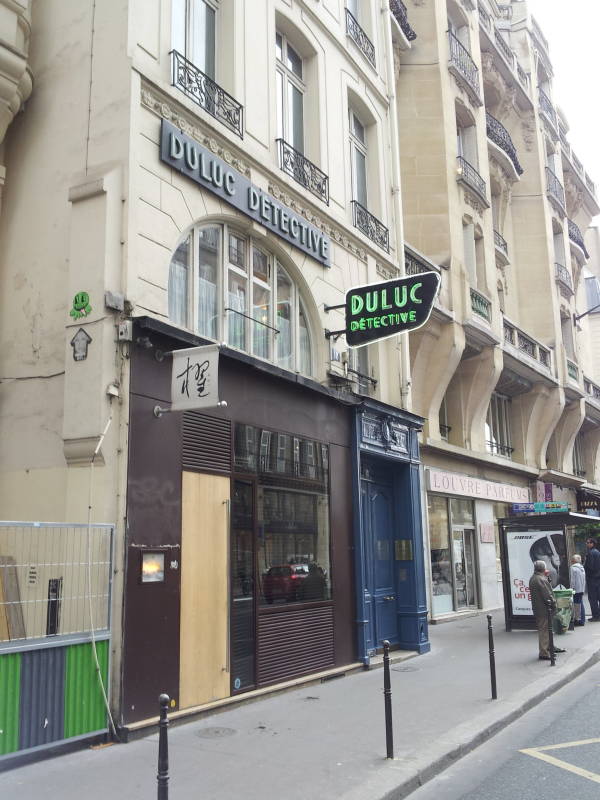 Duluc is located at 18 rue du Louvre, 75001 Paris 01-42-60-20-71, fax 01-42-61-02-75.