Tecate and Ensenada
Tecate
Tecate is a nice town just an hour or two by bus from the mess that is Tijuana. There is no particular reason to visit, which is the reason to visit. This is going to be much more like a central Mexican pueblo or two than anything else close to the U.S. border. I had been in San Diego for a few days, and I took the trolley down to San Ysidro and walked across the border into Tijuana.
Yes, it really is San Ysidro, the U.S. Geological Survey misspelled it on their 1947 map seen above. As for Tecate, its name appears on the U.S. side of the border on the map. But the town itself isn't really marked. There is a circle indicating a town on the U.S. side, it's hard to make out as the circle touches the border and the bottom of the "T" in "Tecate". However, that is really Tecatico, the small community on the U.S. side. The larger and more prominent Mexican town isn't shown at all.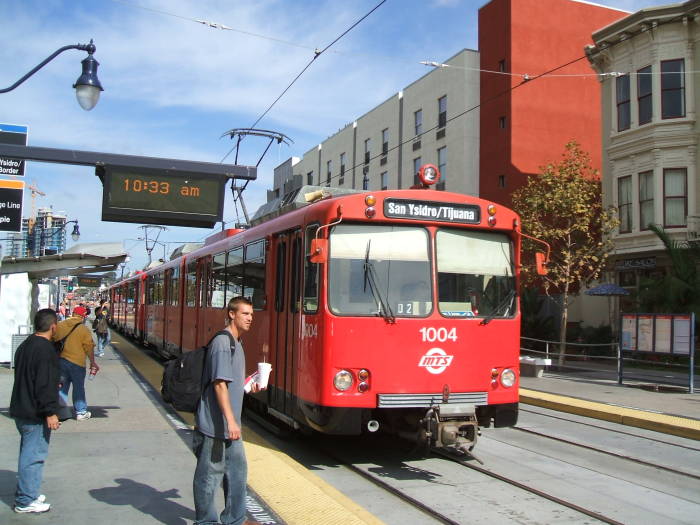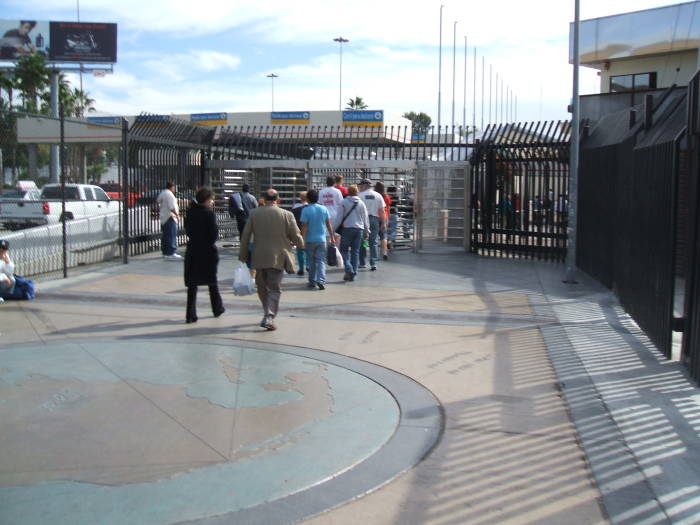 You just walk right into Mexico. There's no border check, just a revolving one-way gate. There is an immigration office just across the border. I asked, but U.S. citizens don't need to do any paperwork or even show an ID unless you're going beyond about half-way down the Baja California peninsula or staying more than a few months.
I got an early lunch at a taqueria in Tijuana. Then I walked to the bus station off Calle Comercio just before reaching the main Avenida Revolución. It was about M$ 40 (or about US$ 4) for a bus ticket to Tecate. The bus was hot and simple with bag storage overhead.
Tecate's claim to fame is that the town's name was given to the brewery that is one of the main employers. So this is a little like visiting Miller, Wisconsin or Budweiser, Missouri. Cerveceria Cuauhtémoc Moctezuma, or Tecate Brewery, now produces Tecate, Carta Blanca, Sol, and XX.
The economy relies more on the maquiladoras, the cross-border assembly plants used by U.S. industry for conveniently located cheap labor. Schlage Locks is the big one in Tecate.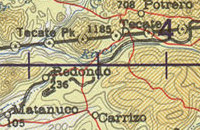 Tecate sits in a bowl-shaped valley surrounded by mountains, with the town at about 500 meters elevation and the peak of Mount Cuchumá at 1185 meters. Mount Cuchumá is sacred to the Kumeyaay tribe, and their surviving elders and shamans hold occasional ceremonies on its summit.
Mount Cuchumá is labeled as Tecate Peak on the map. And yes, even in 1947 the USGS marked elevations in meters.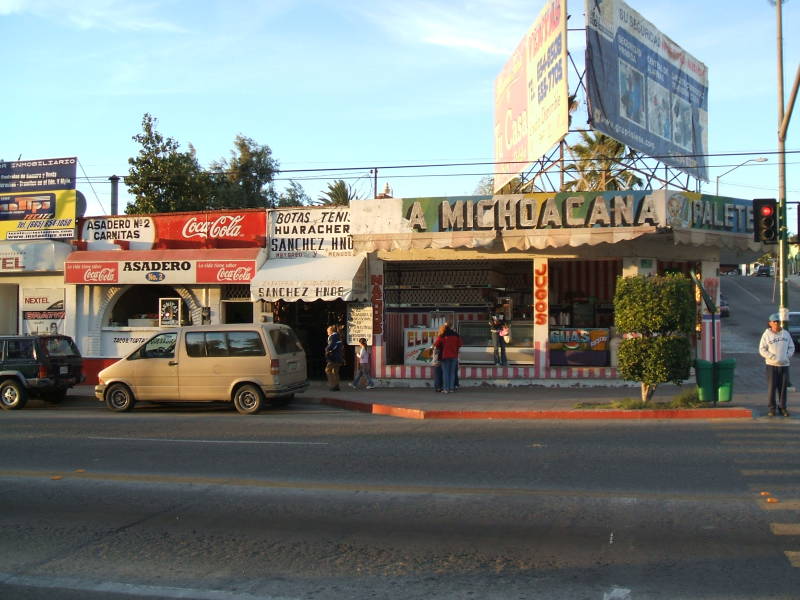 There is a shaded zócalo at the center of town, Parque Hidalgo. It's a nice place to sit at a table outside a cantina and watch the people.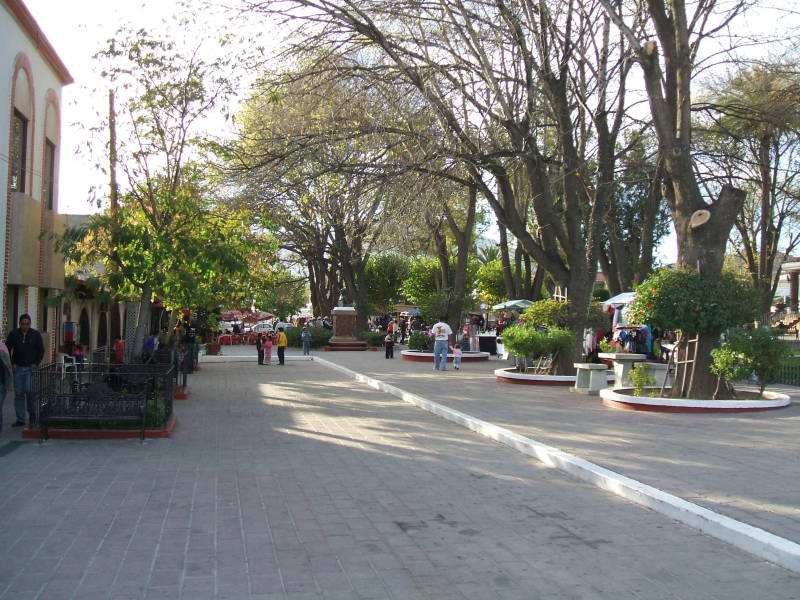 The mariachis sell songs of love and death on the shaded zócalo.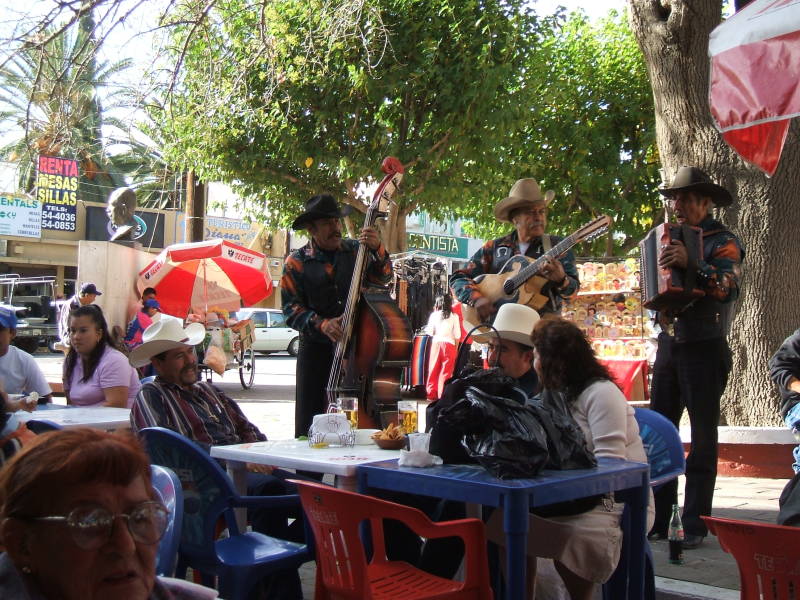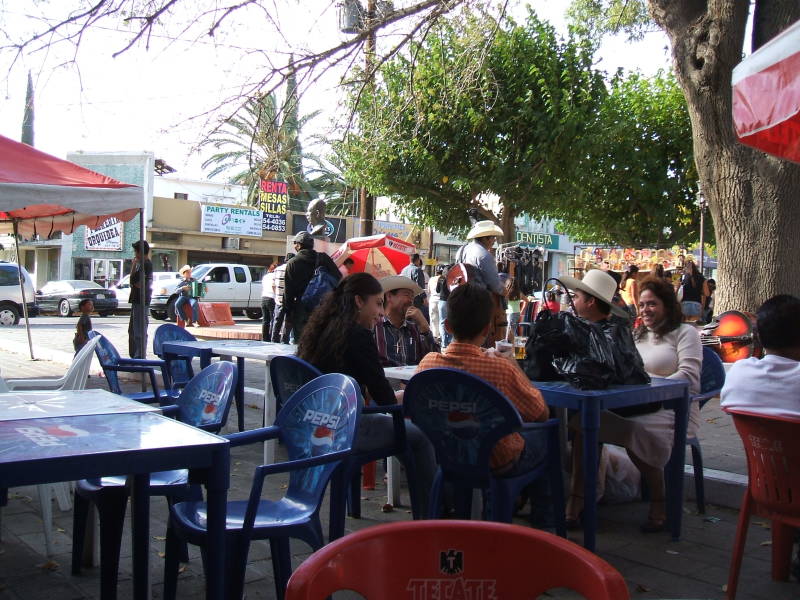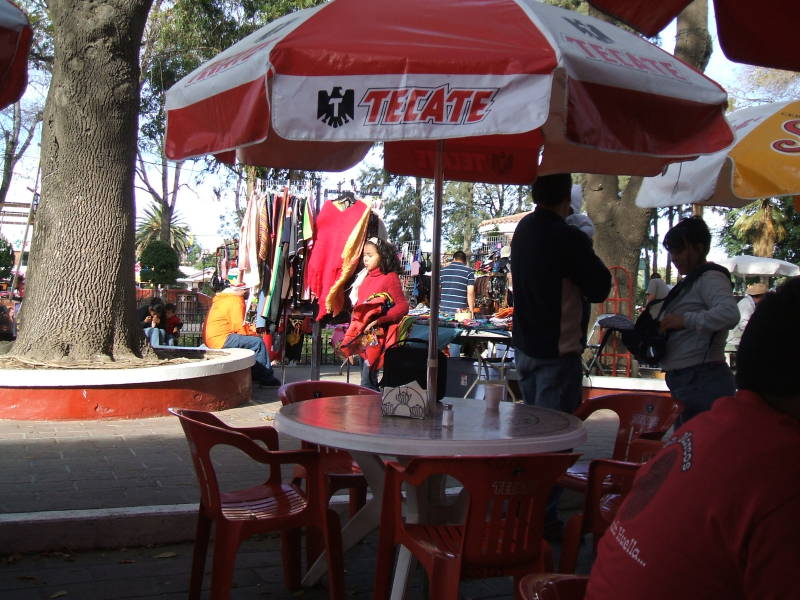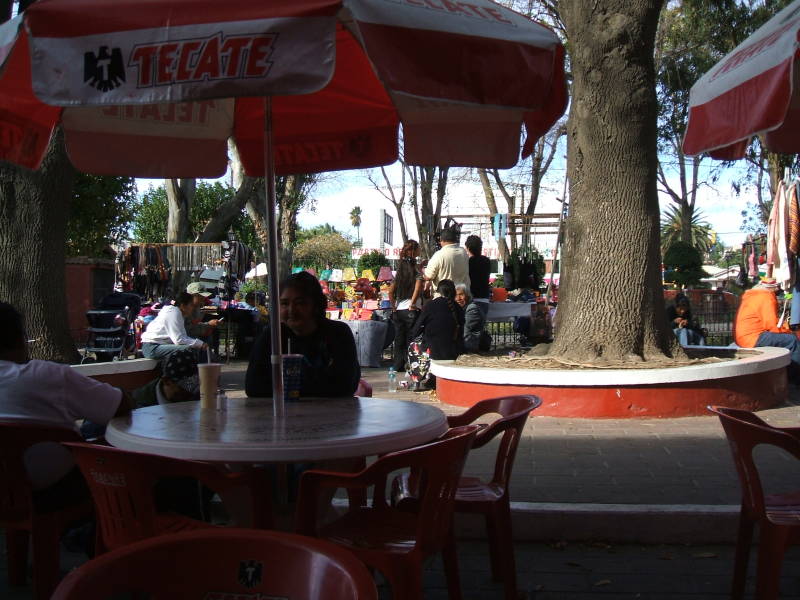 These men can wear cowboys hats and look right, unlike the many midwestern and south-eastern Americans who wear them as a costume.
If you have no real business wearing a cowboy hat but you insist on wearing one anyway, then you really ought to also wear a pair of Roy Rogers toy cap pistols. There's no point in looking just a little bit stupid, so finish the job.
I'm talking to you, country musicians.
These guys, however, can pull it off!
¡Muy authentico!
Other mariachis await work.
There's music everywhere in Mexico, and the parks are really nice places frequented by families.
There are plenty of well-supplied cantinas in Tecate, as the Cerveceria Cuauhtémoc Moctezuma is just beyond the train station.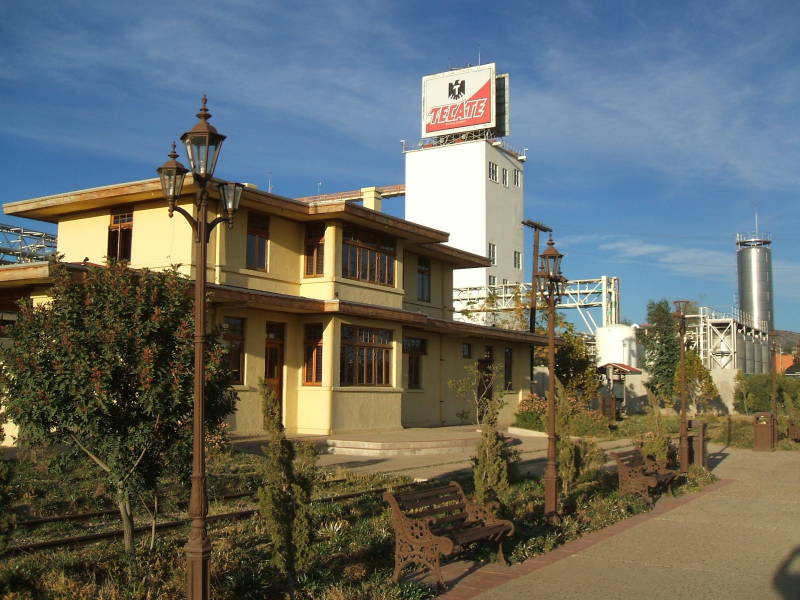 The railroad linked Tecate to Arizona and Tijuana in 1919. Tecate's whiskey distillery flourished during Prohibition, then folded with the repeal of Prohibition and the re-establishment of legal distilling in the U.S. The malt factory of 1928 expanded into a brewery by 1944, when it was bought by the conglomerate with Cerveceria Cuauhtémoc Moctezuma.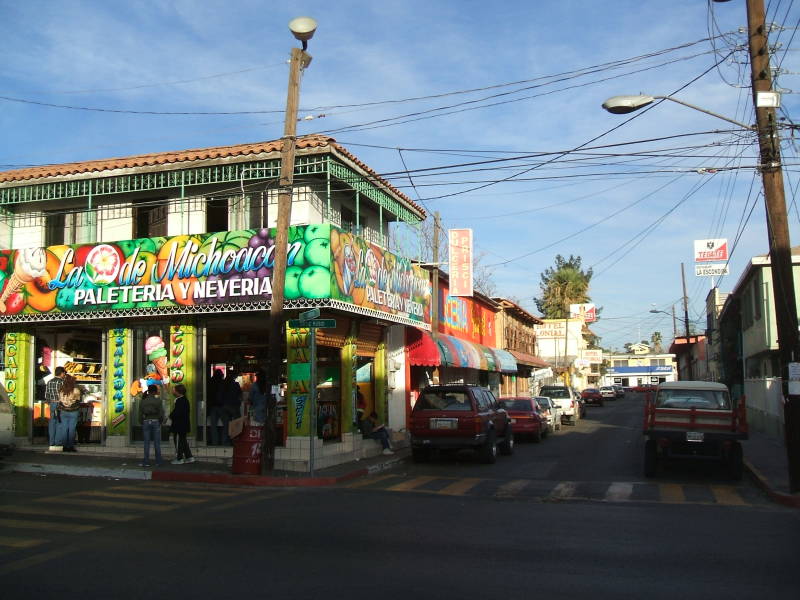 The businesses are colorful, and even the graffiti is neatly done and multi-colored.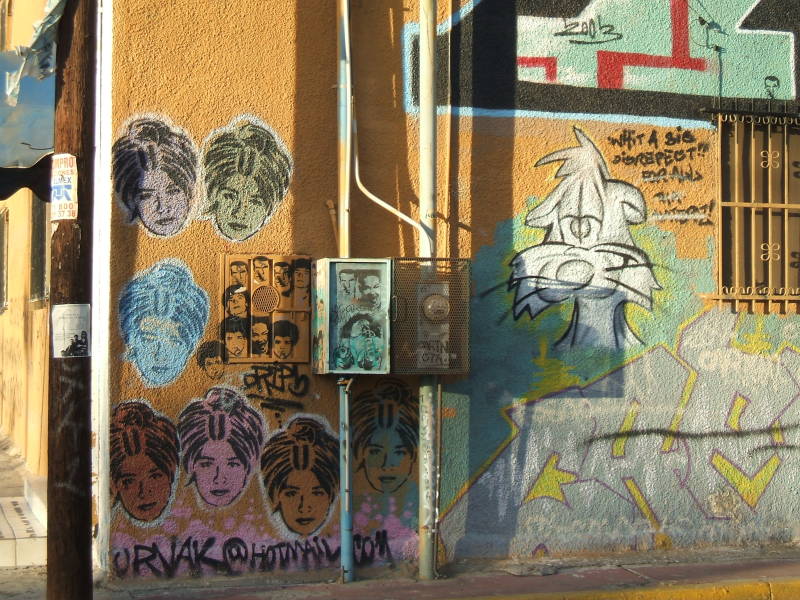 The Motel Paraíso is a nice place to stay. It's just five blocks west of Parque Hidalgo along Avenida Juárez:
Motel Paraíso
Calle Aldrete 83
+1-665-654-1716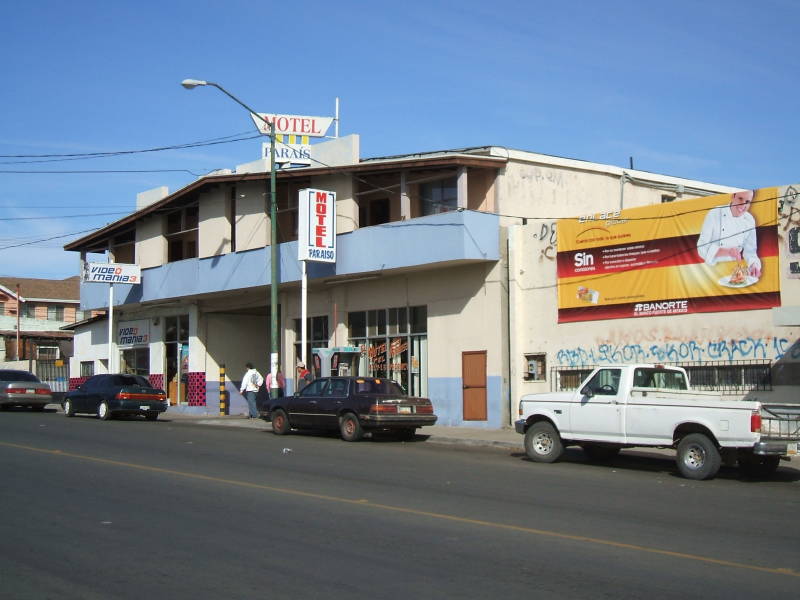 If you're just arriving in Mexico, you can get pesos from the ATM half-way between the hotel and the park along Avenida Juárez. I had purchased my lunch and bus ticket in Tijuana using U.S. currency and received some change in pesos, but I needed to stop at the first bank machine and get a fistful of pesos for my stay in Tecate and continuing travel southwest to Ensenada.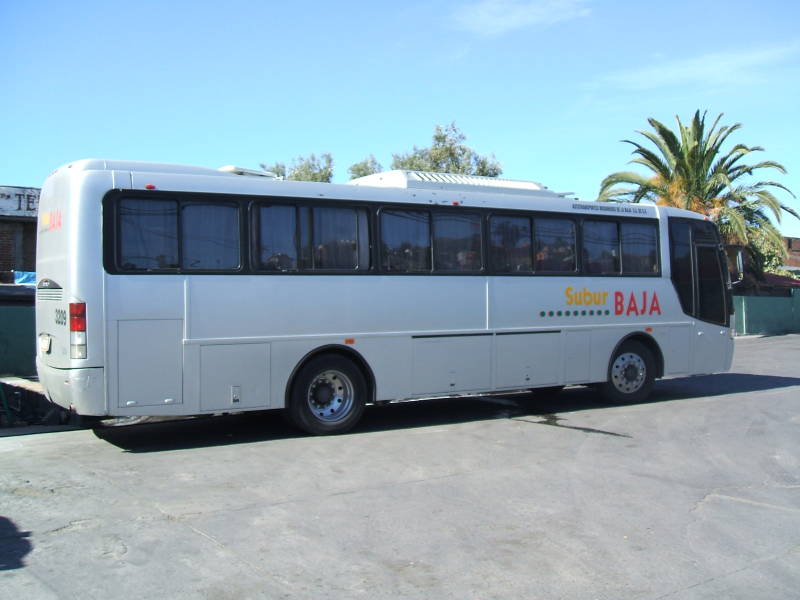 A bus from Tijuana's central bus station to Tecate takes 60 to 90 minutes depending on the route. There's a bus about every hour.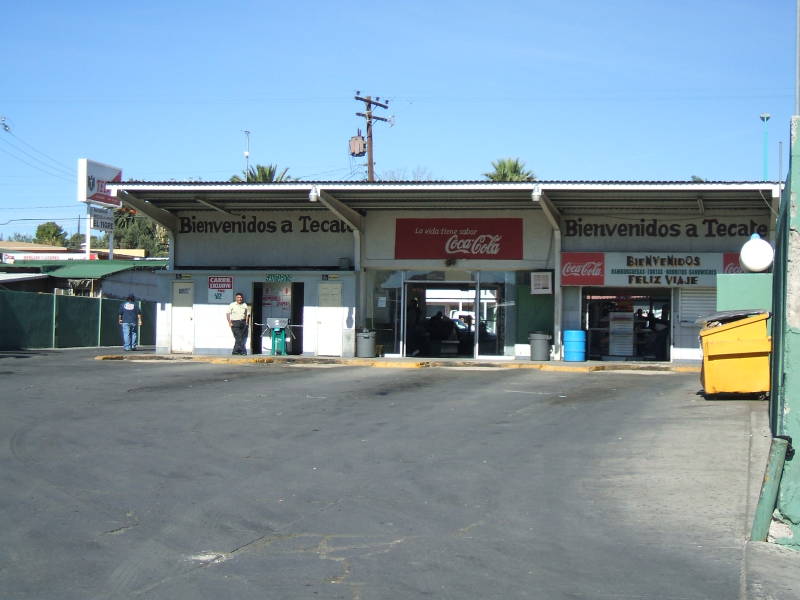 Onward to Ensenada
From Tecate I continued on to Ensenada by bus. There are about four buses a day, tickets are about M$ 90 or US$ 9.
I had purchased a ticket for the early afternoon bus in advance. I just barely caught it, as it was leaving a few minutes early because it was already overfilled. This did not stop them from adding me and several others.
I stood in the front stairwell, and three more people got on down two blocks down the street. Five more got on board on our way out of town. Seven more got on at the edge of town. Two or three more had gotten on here and there. There were seven of us standing in front of the white line. For a while I sat on the far right side of the dashboard with my pack down on the bottom step. There was no complaining, this was all fun and adventure, even though this is their everyday ride. What a great attitude!
About 30 kilometers out of town people started getting out. I managed to get a seat, and the passenger load got down to about 30% capacity before long. We went down to Ensenada on the highway through the valleys through the mountains. You can see the route in this map. Southwest to Carrizo, then southeast through a valley toward Valle Seco, then turning southwest through Valle de Guadalupe.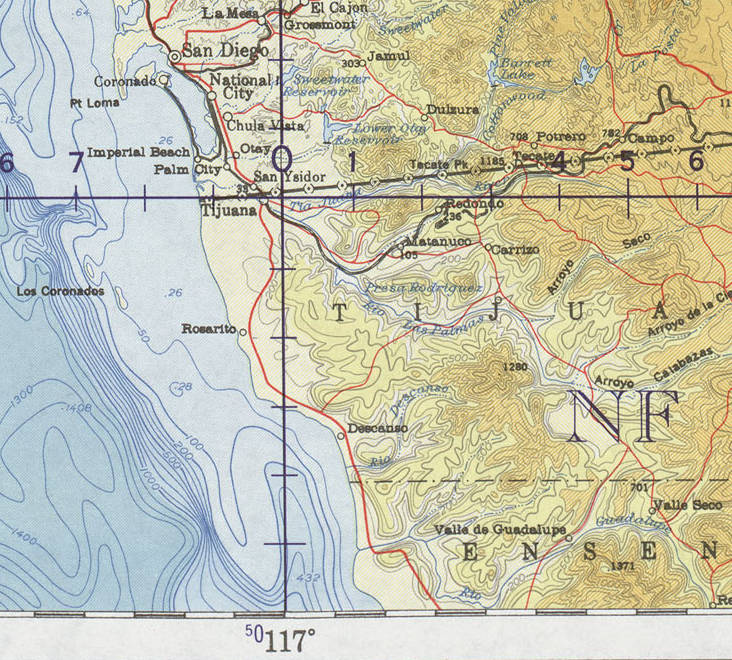 Valle de Guadeloupe was founded by a Dominican missionary in 1834, the last mission established in the Californias. More recently it is associated with a sect of Russian religious refugees, the Molokans or Молокане.
The Molokans formed during the reign of Ivan the Terrible in the mid to late 1500s. They refused to obey the Russian Orthodox Church authorities, for example by drinking milk (молоко being Russian for "milk") on the 200 days out of the year the church hierarchy had decreed to be fasting days. By the 1600s this had expanded to include their refusal to bear arms or otherwise perform military service. They adhere to Old Testament kosher dietary laws and do not eat pork, shellfish, or other "unclean" food. Some refuse to serve on juries or file lawsuits against fellow Molokans.
They called themselves "true Spiritual Christians" instead of "Milk-Drinkers", as they no longer accepted the doctrines of the Russian Orthodox Church, or the Roman Catholic church, or any of the protestant sects.
There were about a half a million Molokans within the Russian empire by 1900. They had split in a 1833 schism into the Constants or Постояные and the Jumpers and Leapers or Перемычек и Прытуны. In the early 1900s about 2000 of the Jumpers and Leapers sect of Molokans left Russia so their men would not be drafted into the Czarist army. Most settled around Boyle Heights in Los Angeles. Some stayed in Los Angeles and influenced later Pentecostal movements. Others received a land grant from the Mexican government around 1905 and established a settlement in Valle de Guadeloupe. It was just about 40 hectares or 100 acres, which they dedicated to wine grapes.
Later they largely moved back to Los Angeles, but there are still some signs of them in some villages around Valle de Guadelupe. Mostly, just Russian tombstones.
Meanwhile, about 90% of Mexican wine production is based in Valle de Guadelupe and the nearby Calafia.
Ensenada
Ensenada is a playground for gringos a couple of hours south of Tijuana by bus. The locals call the city La Cenicienta del Pacifico, or The Cinderella of the Pacific.
Ensenada's economy is based largely on tourism. There are many places to stay, in a wide range of prices and styles. Similarly, you will not complain about a lack of places to eat and drink.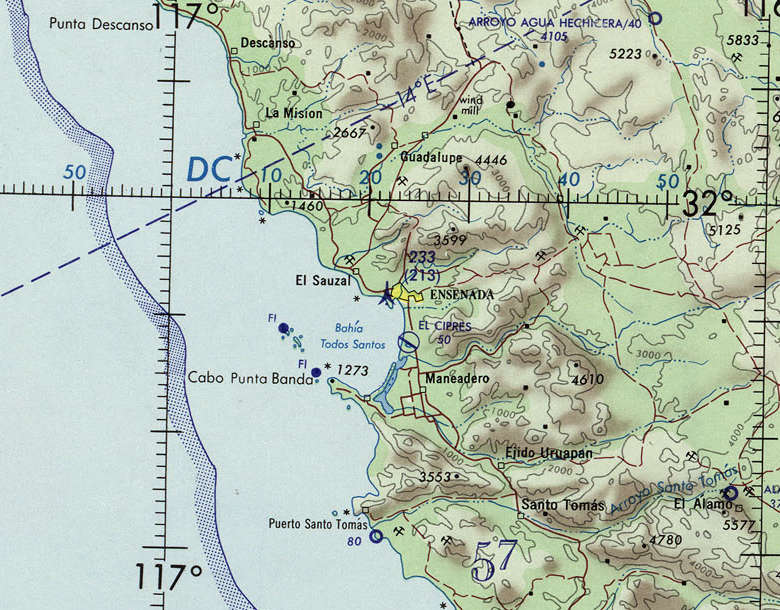 Here you see the interior road from Tecate passing through Guadelupe on its way to the coast at El Sauzal, just north of Ensenada. A more prominent coastal road, actually a pair of roads, follows the coast from Ensenada to Tijuana.
If you're going to visit, the Hotel Plaza Fiesta is a nice place to stay. It's the big pink building on the left in the first picture. It's at Avenida López Mateos 542, +52-(646)-178-2715.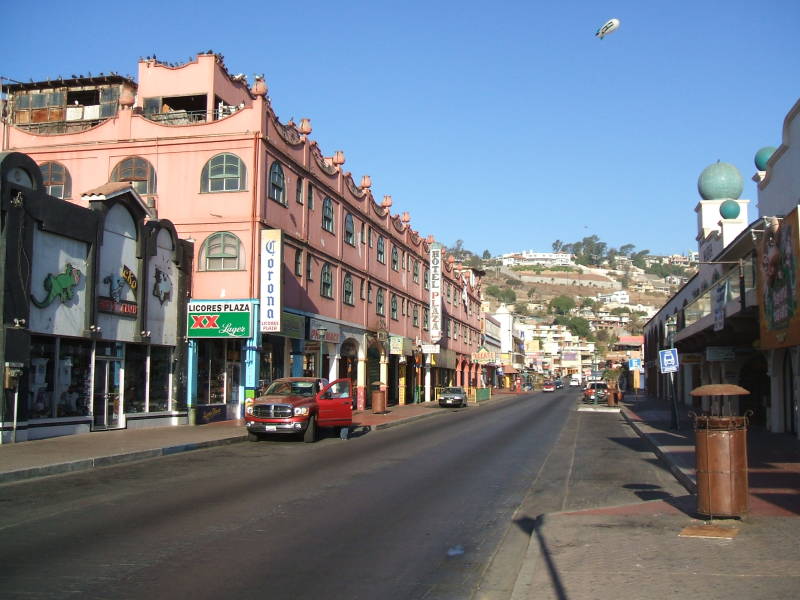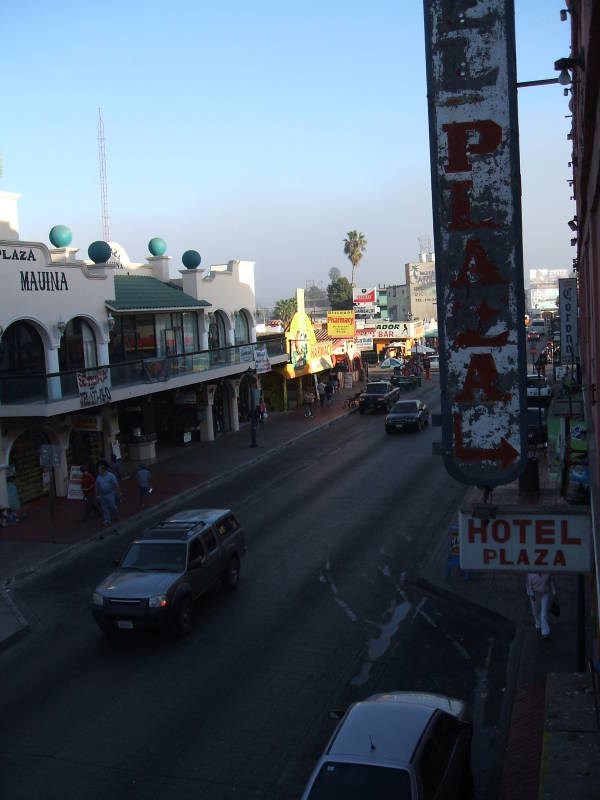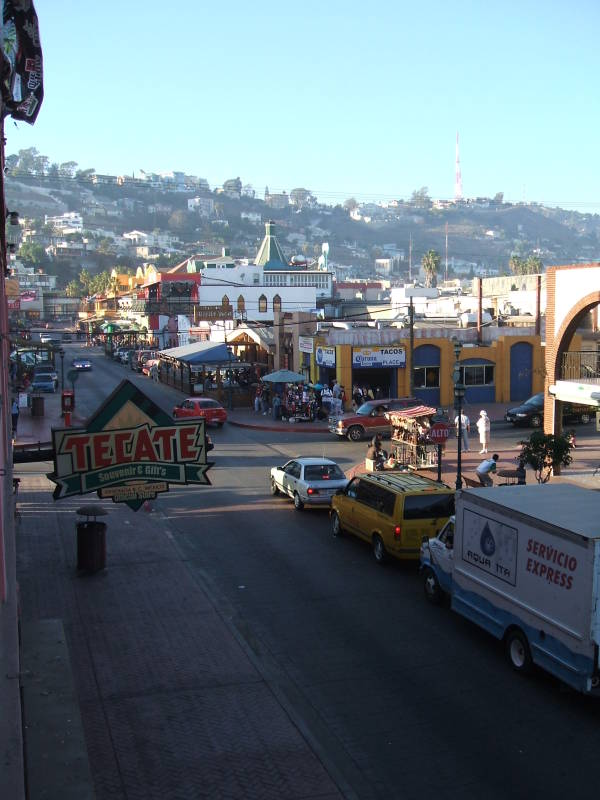 Here are the views to the north and south along Avenida López Mateos from my room at the Hotel Plaza Fiesta.
As you can see, most of the city is no higher than two or three stories. And much of that, at least near Avenida López Mateos, is bars and restaurants.
Ensenada was inhabited by the Yuman people, who lived around the bay and in the interior valleys.
The Europeans first showed up in 1542, when they renamed the bay Bahia de Todos Santos, the Bay of All the Saints. They founded a settlement they called San Mateo (or Saint Matthew) until it was renamed in 1602 as Ensenada de Todos Santos, "Cove of All the Saints".
In the early 1900s the town was renamed again to simply Ensenada to avoid confusion with Todos Santos, further south in Baja California Sur.
Prohibition in the U.S. and its proximity to the border fueled the growth of Ensenada in the early to mid 1900s. First Tijuana, then Rosarito, and then Ensenada became tourist destinations for Americans. From about 1930 until 1960 it was visited by more adventuresome Americans, and by celebrities wanting to relax outside the view of the U.S. media.
Now the MX-1D highway is a four-lane high-speed toll road running between Tijuana and Ensenada by way of Rosarito. It parallels a two-land free road.
The price and time for a bus ride between Ensenada and Tijuana depends on which road it takes. Either way, it's pretty fast and cheap. I took one of the first-class buses, with air conditioning and comfortable seating. It cost just US$ 9 and took a little over an hour on the toll highway.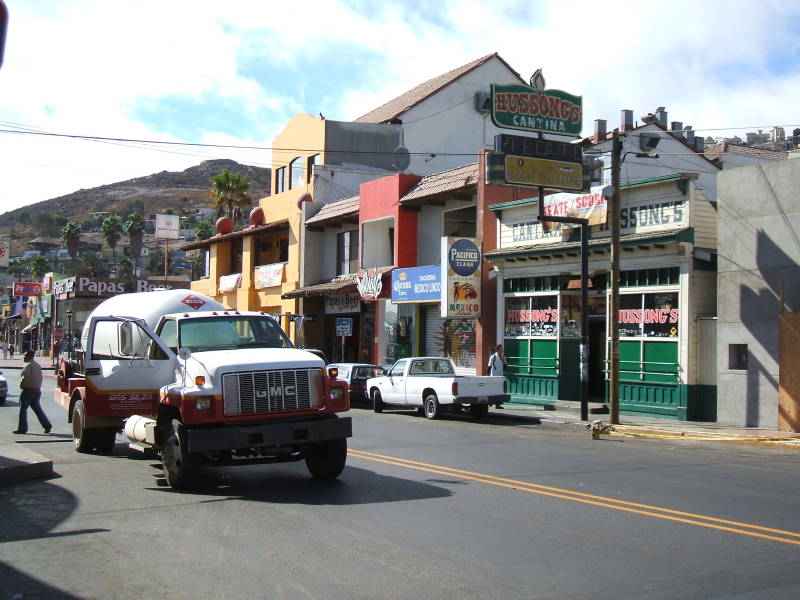 Hussong's Cantina is a fairly simple place with battered wooden floors and bar and furniture, and sometimes roving mariachis. It claims to be the place where the margarita was invented. Then again, so does another place or two in Ensenada.
Hussong's was one of the places frequented by U.S. movie stars between 1945 and the early 1960s.
I just happened to visit Ensenada right before the start of the Baja 1000 off-road races. It was coincidence, as my trip was timed around a work trip to Los Angeles. Baja 1000 is the crazy time in Ensenada. Things go until almost daybreak, at which point they start up again.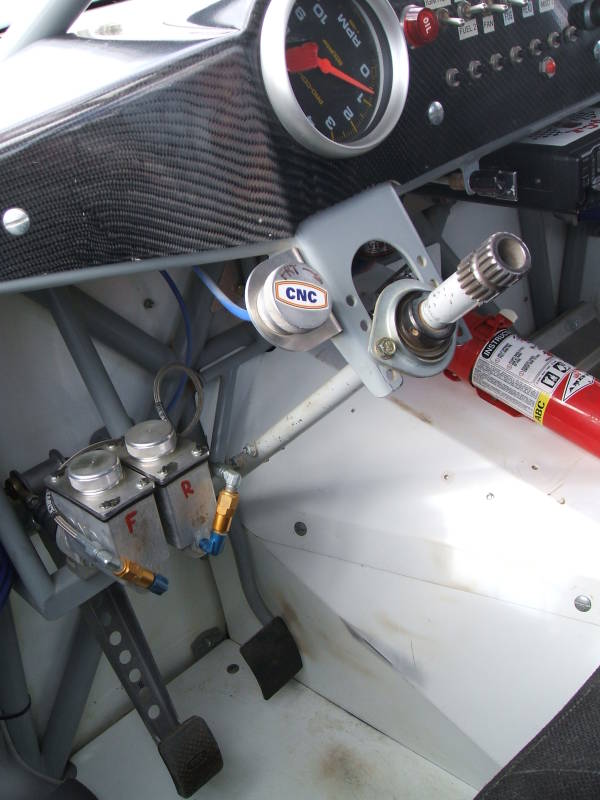 The Baja 1000 is run in late November. Its name is misleading, the distance depends on whether it is point to point or a loop, and it has referred to a very approximate distance in kilometers in the past. The point to point runs tend to be about 1000 kilometers, while the loops can total over 1000 miles.
Most years have used more or less the same course, either point to point from Ensenada to La Paz or a loop starting and finishing in Ensenada.
The first officially organized race was in 1967, a 1,366 km run from Tijuana to La Paz, with the winner taking just 27 hours and 38 minutes.
There are many classes of car, truck, buggy, and motorcycle.
The bars all show continuous off-road racing. When the actual race is not on, there are many compilations of vehicles racing through the desert, going over jumps, skidding through turns, throwing dust everywhere.
Spectators add to the danger for the racers by constructing dirt ramps on the course. The drivers warn each other by radio if they see a large group of spectators gathered at some obscure point in the desert. There's a good chance that they're there to see the racers go off their ramps, which are not necessarily constructed as a safe jump ramp.
They're more like booby traps.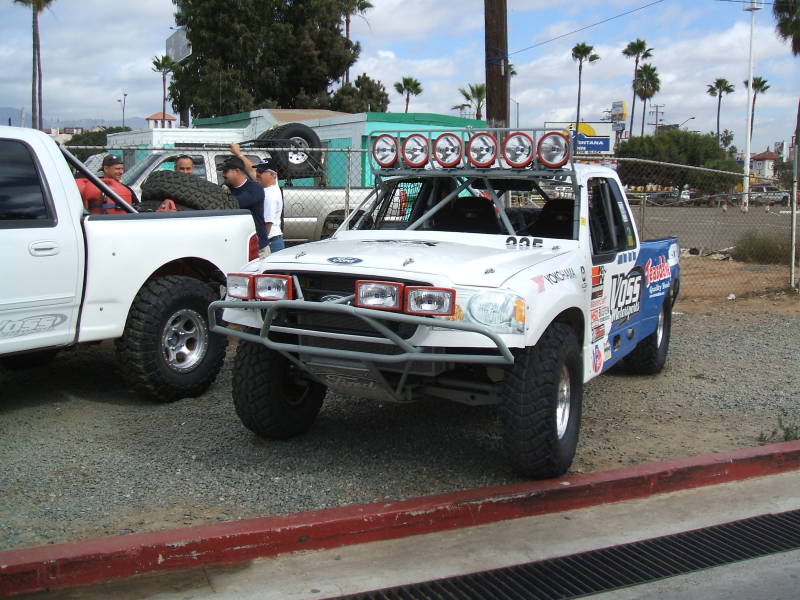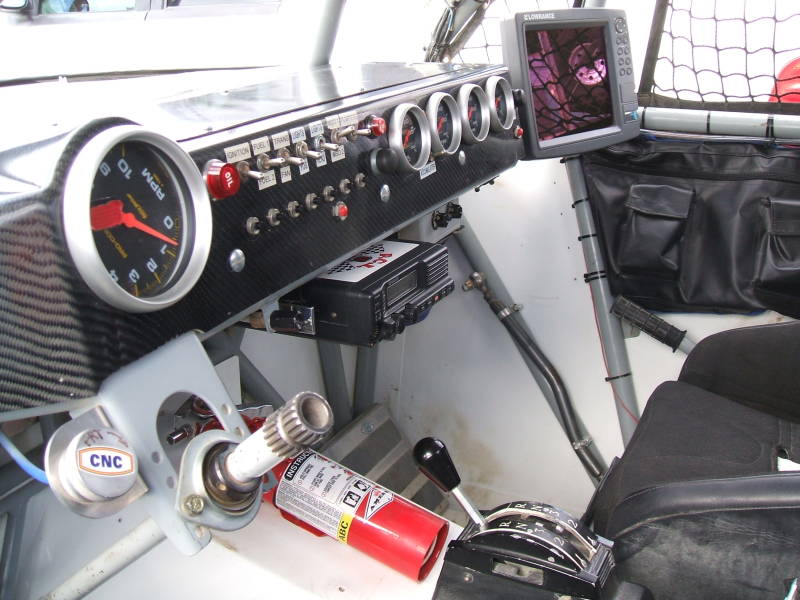 Ensenada is an important port for both fishing and cargo. Commercial fishing is still important in these waters, and offshore tuna farms have been created along the coast. From the highway you see large rings of floats on the surface, the top of the large vertical cylinder of netting. Sport fishing is also a popular activity here.
Ensenada is the only deep-water port in Baja California. This is the main cargo port for this region of Mexico. The Mexican Navy and Coast Guard have bases here, and enormous cruise ships make port calls.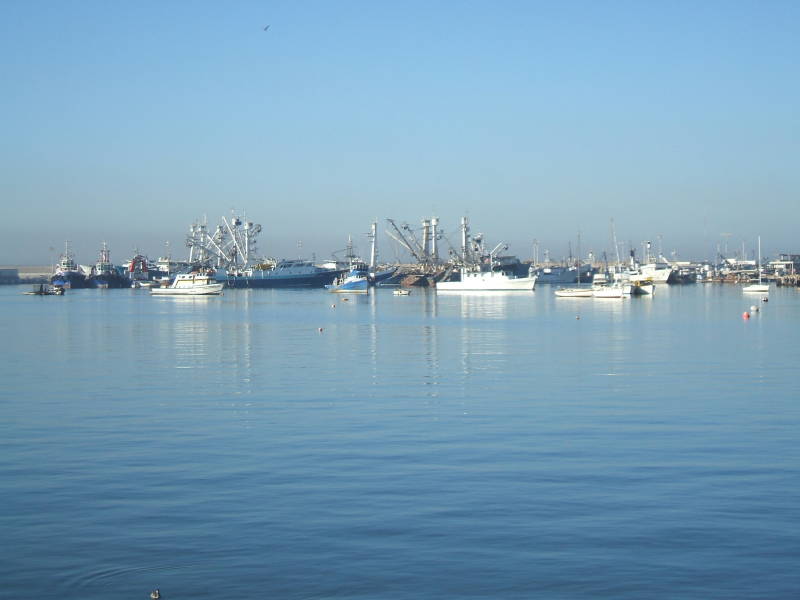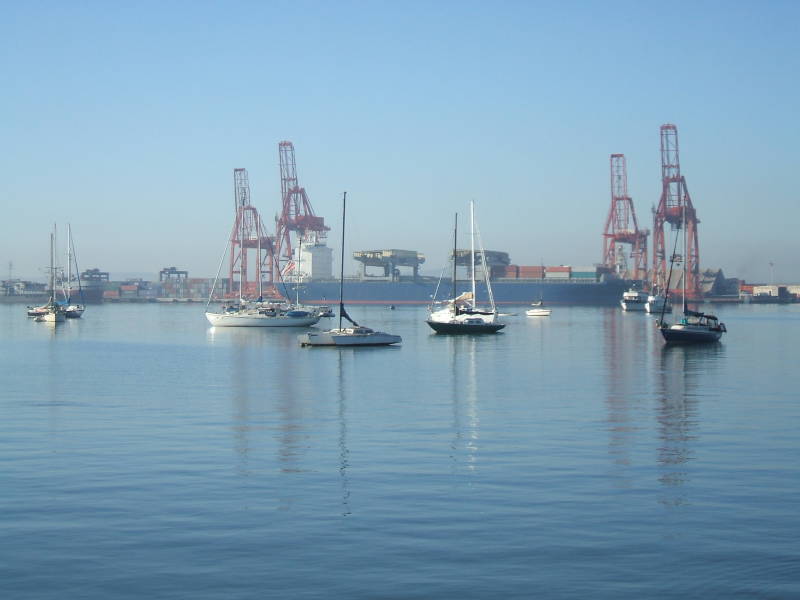 Looking down from Trinidad Peak on the north side of the city, you can see one of those cruise ships. Also, the huge flag that flies over the harbor.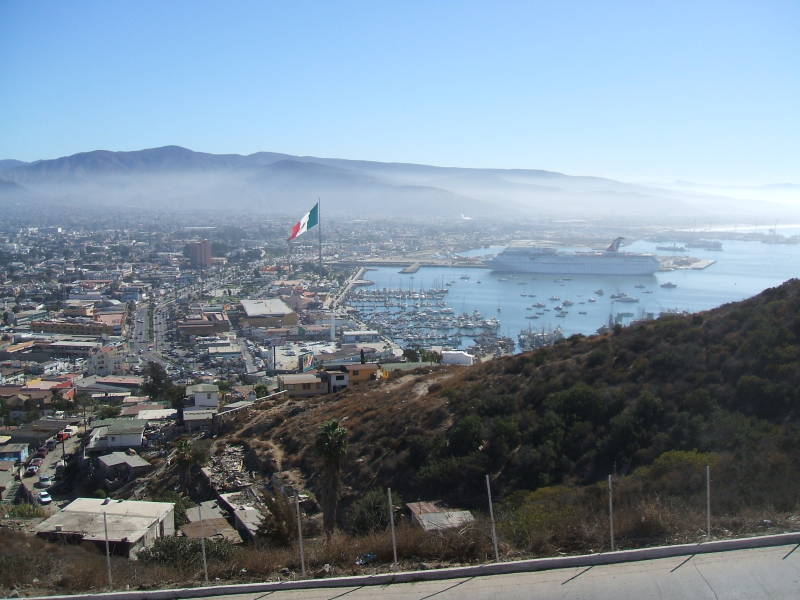 The specifications and a dire warning are painted on the base of the tall flag pole. The pole is about 104 meters tall, the flag weighs about 250 kg and is about 30 by 50 meters.
And yes, it would be rather dangerous to stand near the pole during an electrical storm.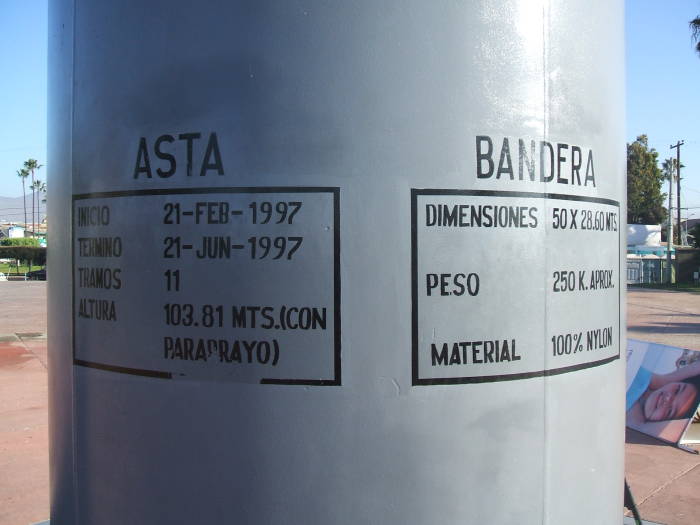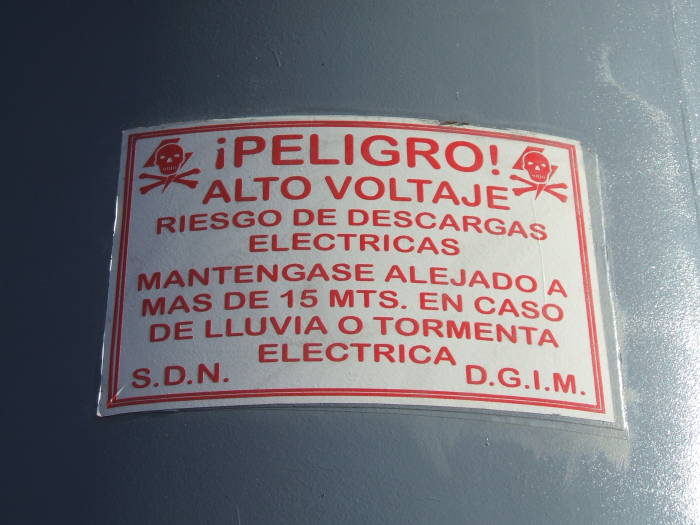 Ensenada is largely dedicated to a cruise ship when one is in port. My theory is that cruise ships are a complicated Norwegian plot to increase the world-wide hatred of Americans.
Think about it — they pack their floating veal-fattening pen with not particularly impressive specimens. They get their passengers all liquored up and convince them that nothing really matters, anything goes, and "it all stays on the boat". Then they sail into a foreign port, and it all leaves the boat for a few hours.
The passengers swarm into town like a plague of locusts, eager to "sample the local culture" in their allotted two to four hours. In Ensenada, this means:
Buy a margarita in a sanitized US-style bar, while stage-whispering racist comments to each other. "It's not as if any of the locals know any English", they figure.
Buy an enormous bottle of vanilla extract. A 20-year supply for even the most avid cook.
Buy a garish "mariachi hat", which the real mariachis do not wear. (see real mariachis in Tecate, above)
Buy a bottle or two of bootleg erection medications.
Hurry back to the ship to try out the purchases.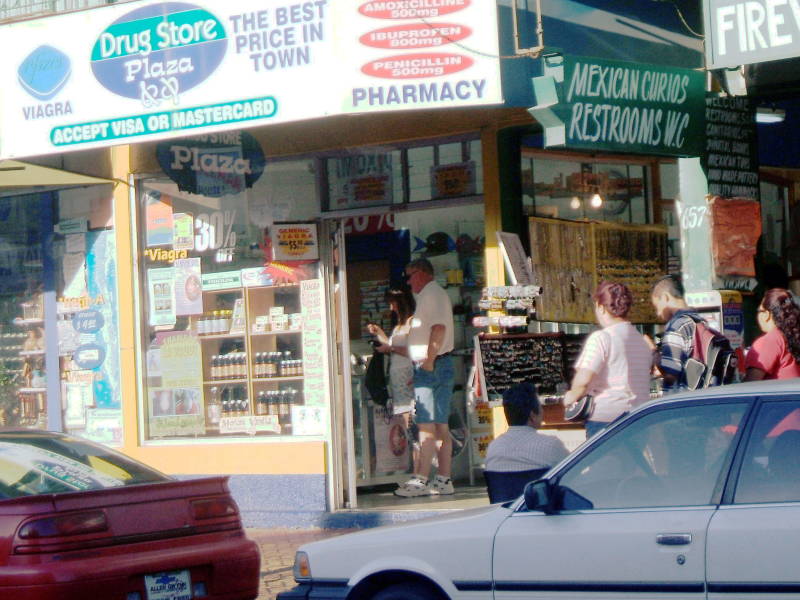 Go on, I would bet that now you cannot help but picture this guy wearing nothing but his "mariachi hat" and a thin glistening coating of vanilla extract.