Hunter S Thompson's Residences in New York
HST in NYC
Hunter S Thompson lived in New York during 1957 through 1962. One of his books is The Proud Highway: Saga of a Desperate Southern Gentleman, a collection of his letters during the period 1955 through 1967. He maintained a voluminous correspondence and the letters include the addresses from which they were sent. This makes it possible to track down the places he lived in New York City. In 1957 and 1958 he lived on the Upper West Side near Columbia University. He then moved to Perry Street in Greenwich village. In later stays in Manhattan he also lived in the East Village and the Upper East Side. Let's track down HST in Manhattan.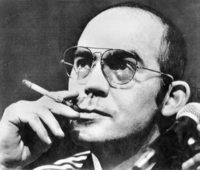 December 1957 — January 1958
The first address that appears in The Proud Highway is 110 Morningside Drive, apartment #53, which he shared with Jerry Hawke. This is on the edge of Columbia University. See pages 86-107, at least as numbered in the first Ballantine paperback edition of April 1998, ISBN 0-345-37796-6, which has 683 pages to the end of its index.
February 1958 — April 1958
He made a short move to apartment 5E5 at 562 West 113th Street, also on the edge of Columbia University. [pp 107-115]
April 1958 — January 1959
He moved downtown to 57 Perry Street in Greenwich Village. He described this as a basement apartment with black walls. [pp 115-150]
December 1959
Thompson returned to the city briefly, staying with Dick Murphy at 69 East 4th Street in the East Village. [pp 198]
July–September 1960
He lived with Sandy Conklin at 107 Thompson Street, just south of Houston Street near Greenwich Village. [pp 220-230]
January 1962 — March 1962
He lived at 531 East 81st Street on the Upper East Side. He wrote his address as "c/o Reynolds", so this may have been a sublet. [pp 309-329]
HST in
Haight-Ashbury
in San Francisco
Other addresses included c/o Cooke at 19 Downing St and c/o McGarr at 245 W 104th St. I'm not sure when he lived in those places, he mentions them but didn't send any letters from there.
He also frequented McSorley's Irish bar, 15 East 7th Street, in the East Village.
110 Morningside Drive, Apt 53
December 1957 — January 1958
Hunter S Thompson first lived in Manhattan on its Upper West Side, at 110 Morningside Drive. This is a named building, Shelburne Hall. He shared apartment #53 with Jerry Hawke.
Above I gave the page numbers in The Proud Highway, or at least the edition I own. But the letters appear in chronological order, so simply search for the range of dates.
This is on the northeast corner of the Columbia University campus. Columbia is a private Ivy League research university, the fifth oldest institute of higher learning in the United States and one of the nine founded before the American Revolution. It moved north from Madison Avenue to its current campus in 1896.
The area is called Morningside Heights. It is a little higher than its surroundings, looking down over Harlem, the northwest corner of Central Park, and the Hudson River.
West 122nd Street crosses Broadway traveling east, then curves to the south as it becomes Morningside Drive. It overlooks Morningside Park as it continues south and angles slightly to the east, becoming Amsterdam Avenue at the corner of 110th Street behind the Cathedral of Saint John the Divine.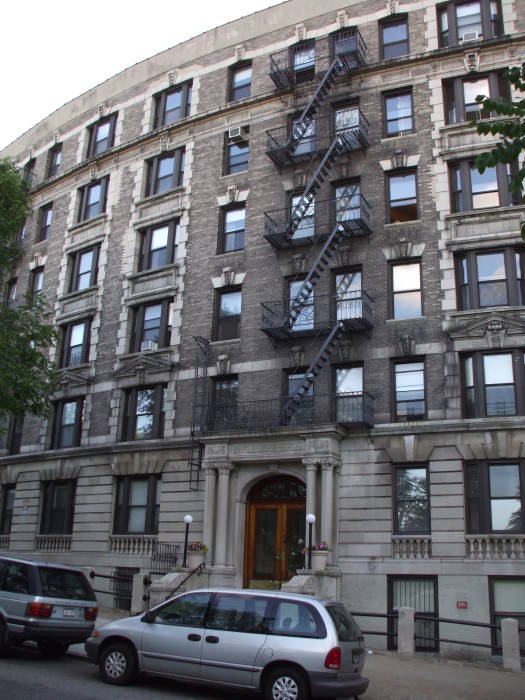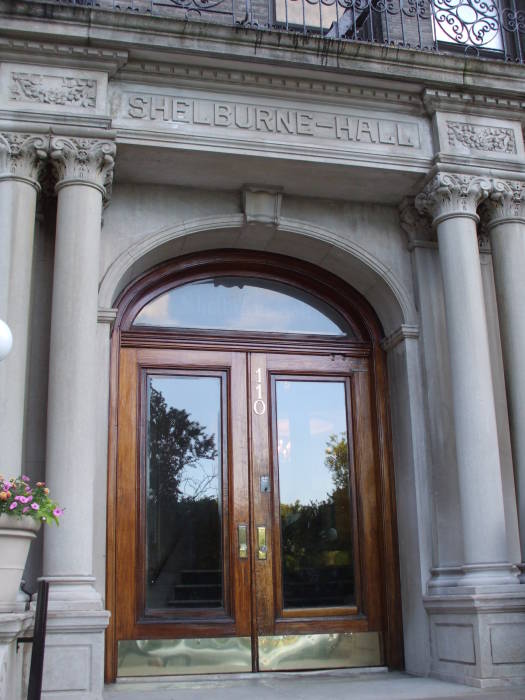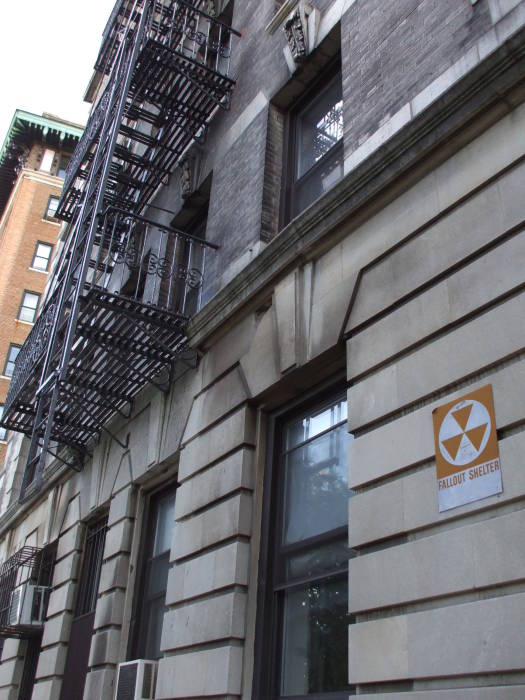 562 W 113th Street, Apt 5E5
February–April 1958
He made a short move in January or February of 1958, just a few blocks to the south across the Columbia University campus. The building with his new apartment is visible below at the end of the block, on the corner of 113th and Broadway.
Tom's Restaurant, seen just as RESTAURANT on Seinfeld, is along Broadway at the south end of the same block.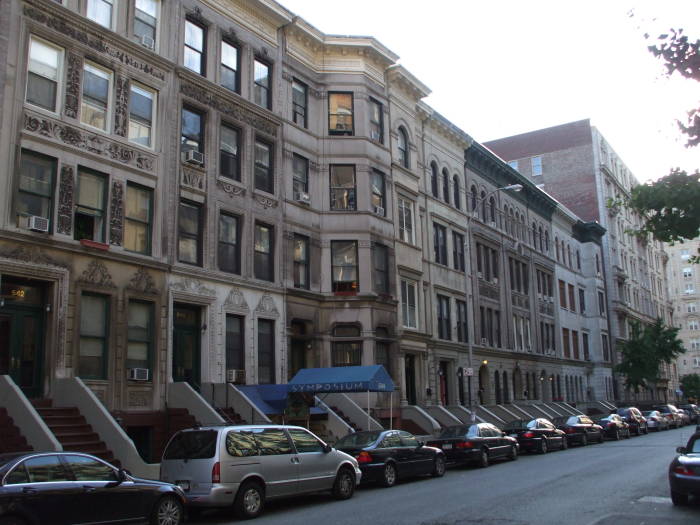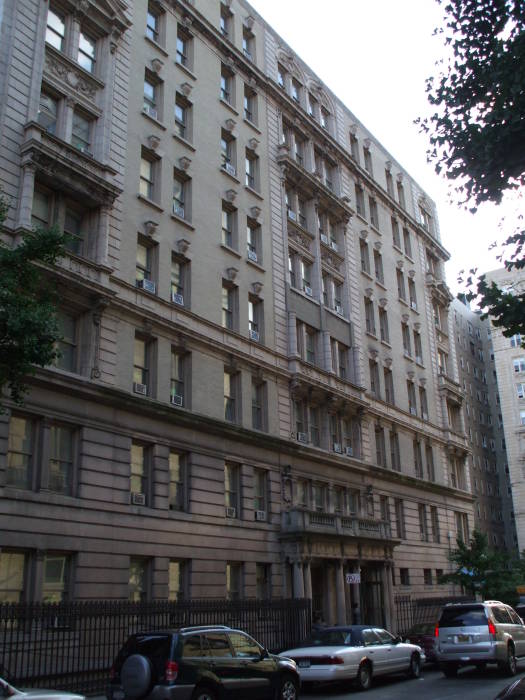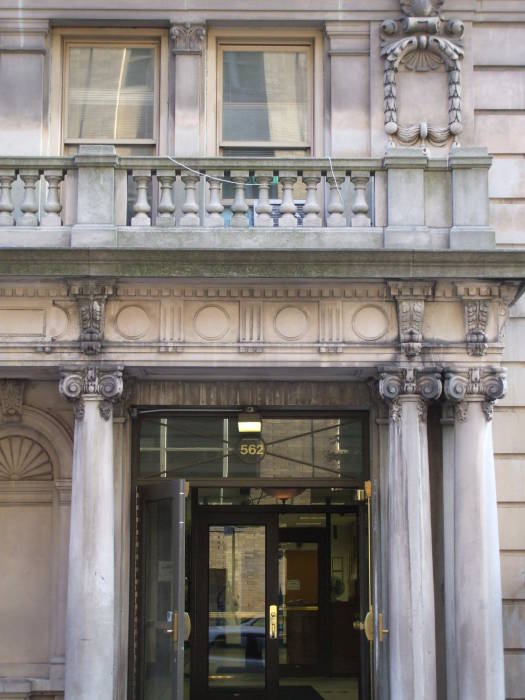 57 Perry Street
April 1958 — January 1959
He made a much bigger move in April of 1958, moving downtown to 57 Perry Street in Greenwich Village.
He described this as a basement apartment with black walls. That sounds oppressive.
The street seems to have been renumbered since he lived there, this building is now #55.
Below are the views north and south on Perry Street.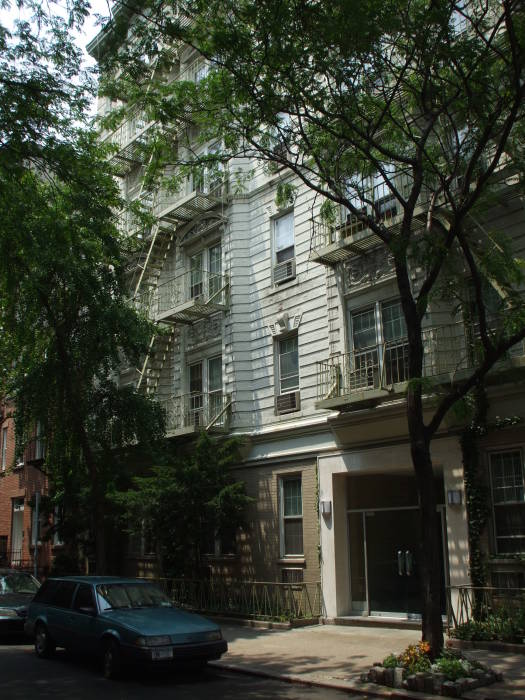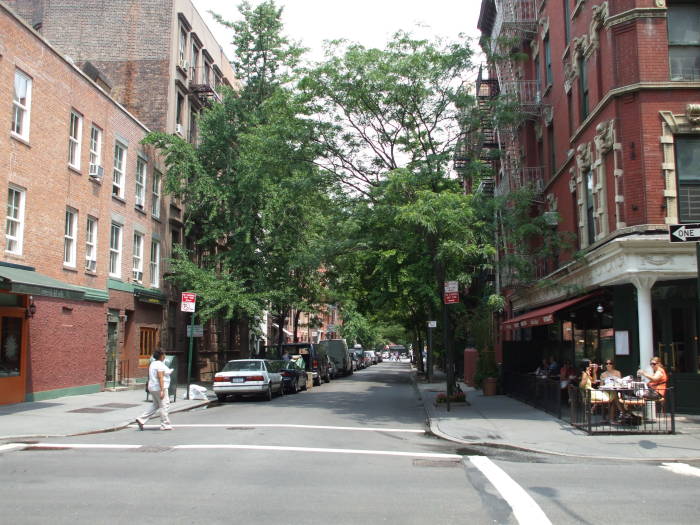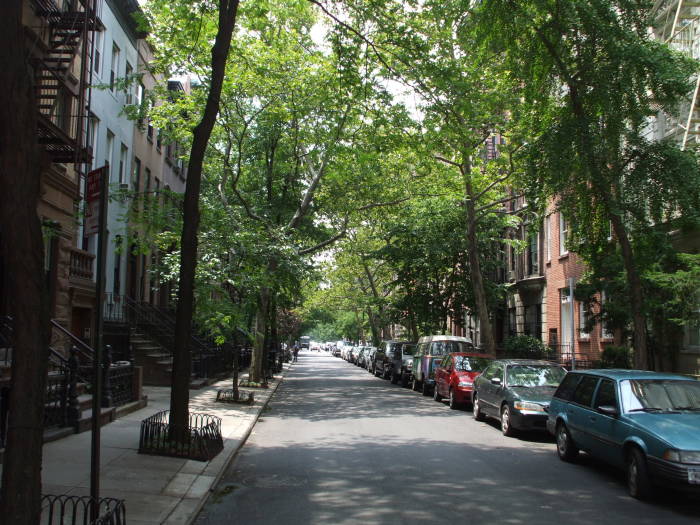 c/o Dick Murphy, 69 East 4th Street, East Village
December 1959
Judging by his letters, he made only a brief return to the city in December of 1959, staying with Dick Murphy in the East Village.
East 4th Street, between Bowery and 2nd Avenue, is lined with buildings generally housing businesses on the ground floor and with five or so floors of apartments above that.
The entrance to #69 is just to the right (east) of what's now the Pageant store, which buys and sells old books, maps, and prints.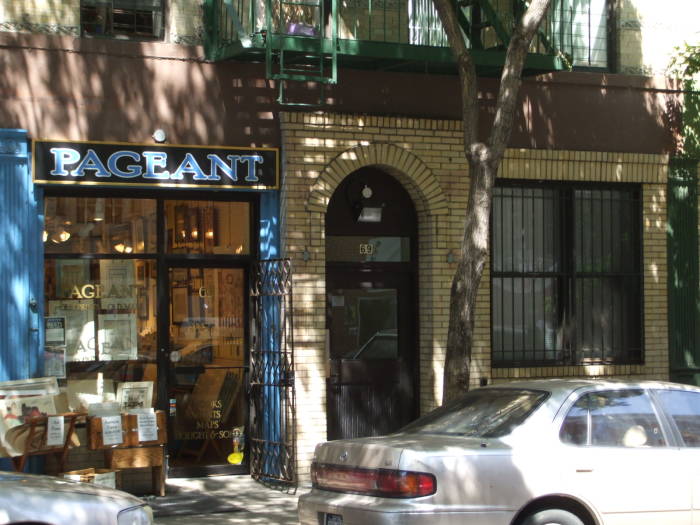 The black boxy station wagon is parked in front of the entrance to #69 in both pictures below.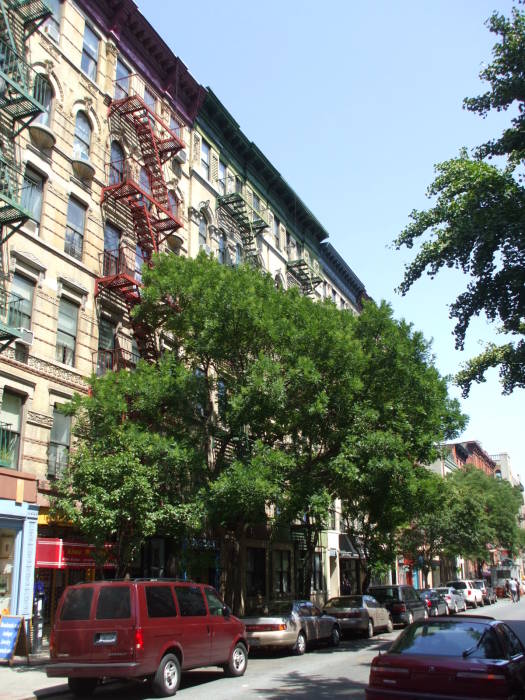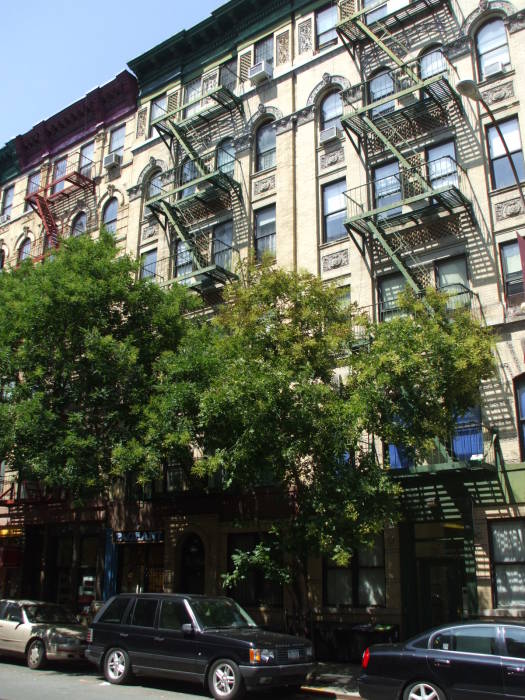 c/o Sandy Conklin, 107 Thompson Street
July — September 1960
He lived here with his girlfriend (and later, wife) Sandra Conklin.
These pictures show the entrance and the building itself. The entrance of #107 is hidden by the tree, between the white doorway and the red "Coffee & Tea" awning. The last picture below shows the view south on Thompson Street.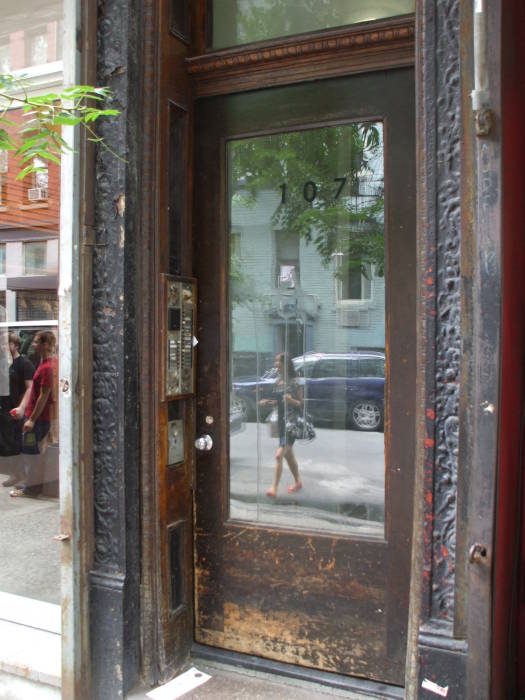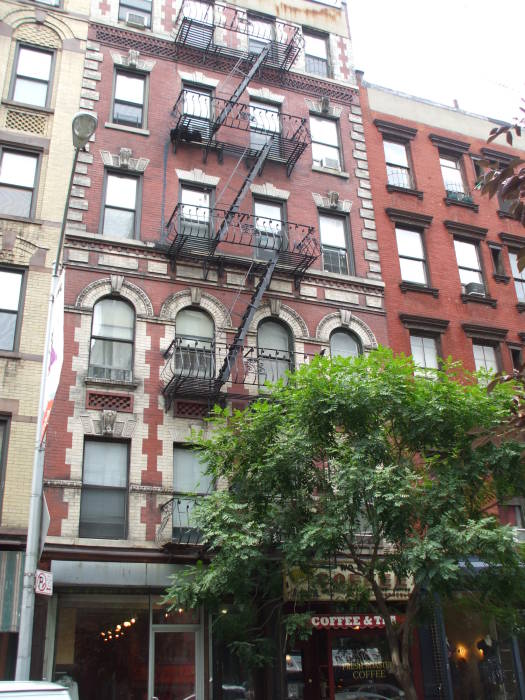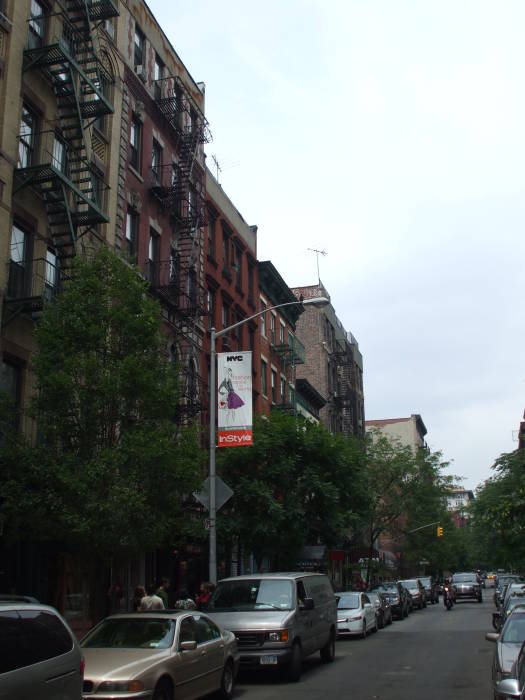 c/o Reynolds, 531 E 81st Street
January–March 1962
Thompson had left New York for close to a year and a half. He returned for a short stay on the Upper East Side. He wrote his address as "c/o Reynolds", so this may have been a short-term sublet.
When you say "Upper East Side" it tends to bring to mind high society and very high-end housing. Yes, parts of the Upper East Side are like that, but many aren't, like this area near the East River. It's nice, but it isn't the area of multi-million-dollar penthouses.
531 East 81st Street is the more reddish building at the center of first picture below.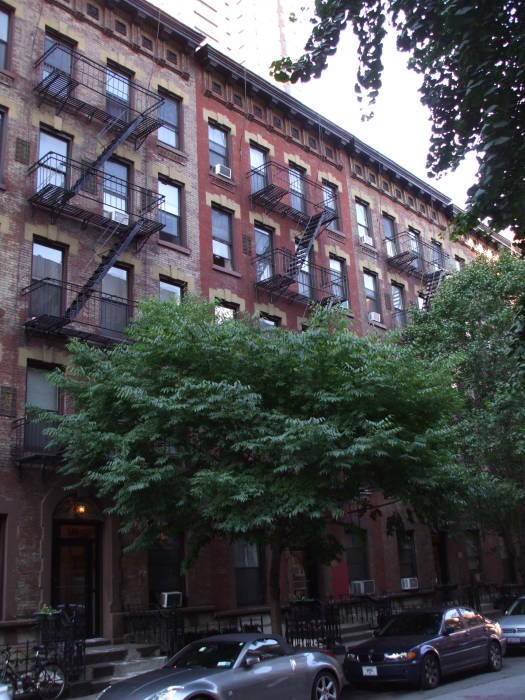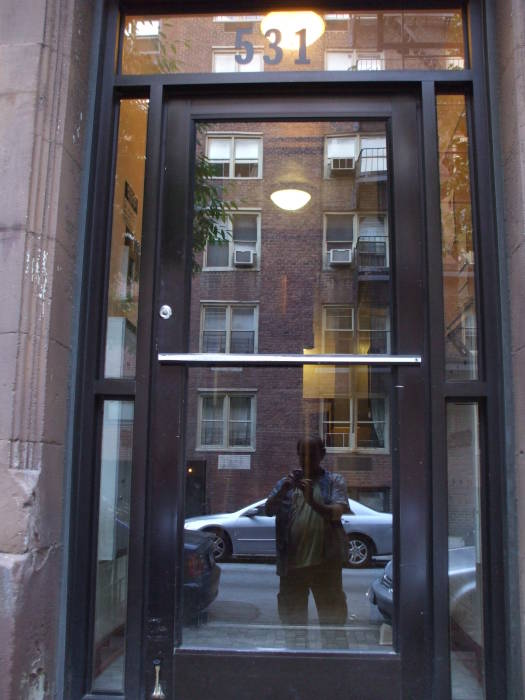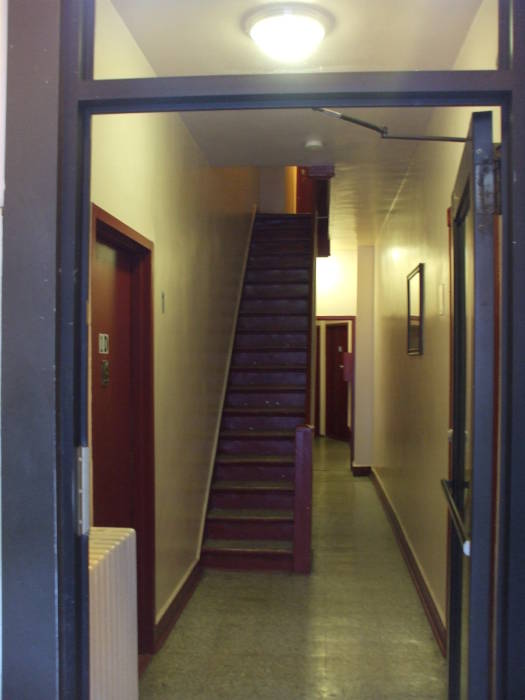 Here's the view east on 81st Street toward #531, in the shadowed area on the left side.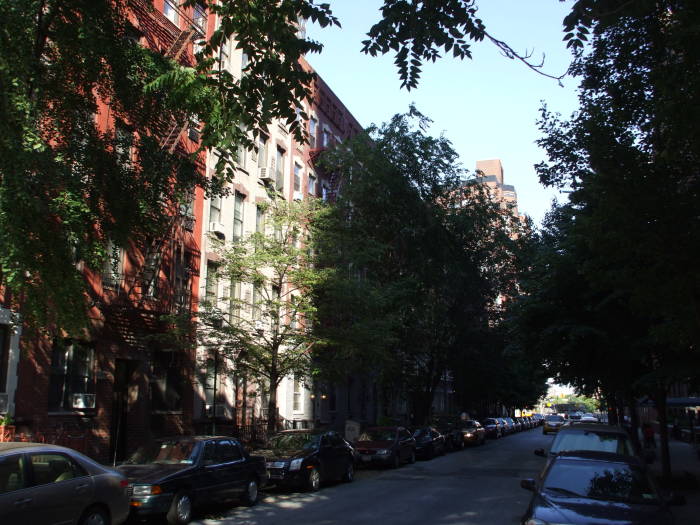 c/o Cooke, 19 Downing Street
He mentions living "c/o Cooke" at 19 Downing Street, but it isn't clear just when that was. This is in Greenwich Village, close to Washington Square Park and just around the corner from Chumley's bar on Bedford Street.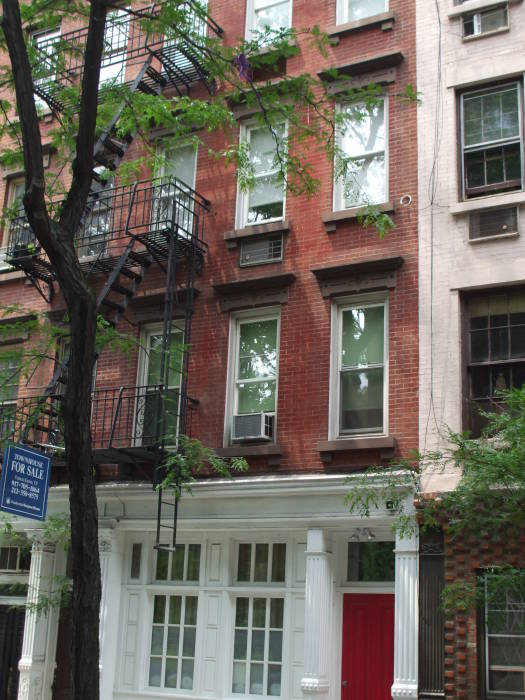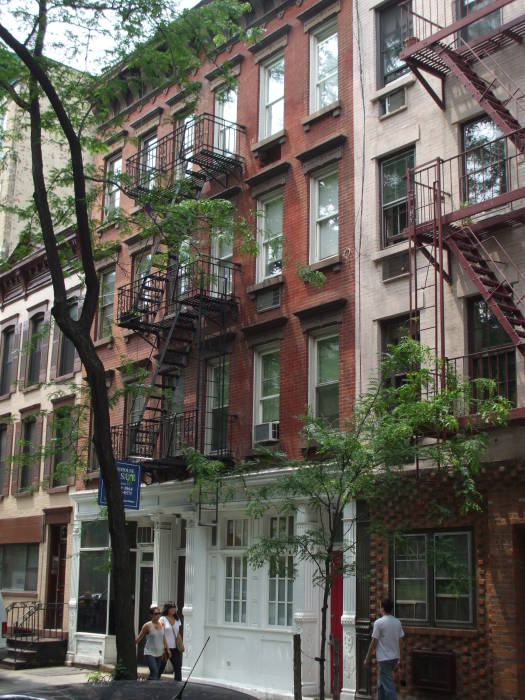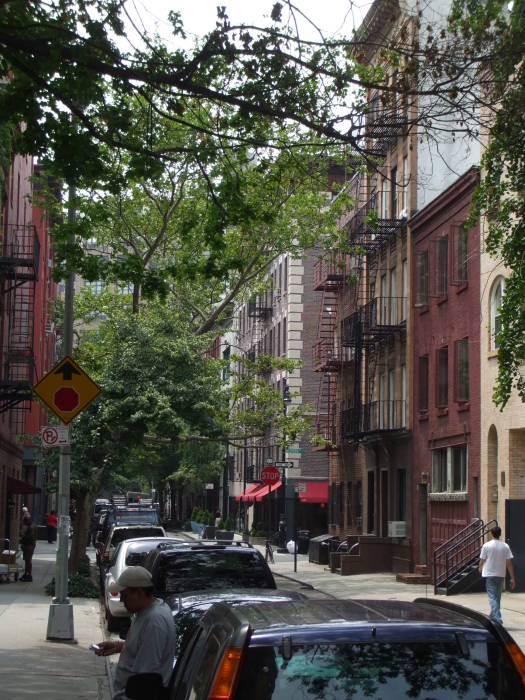 Leland Stanford Chumley was a socialist activist in New York City in the 1920s. There certainly were several socialists and even violent anarchists active in Manhattan at the time.
But Chumley was also a businessman, he open a pub in a former blacksmith's shop at 86 Bedford Street in 1922. Prohibition had started in 1920, so the pub was a speakeasy. The pub came to be known simply as Chumley's, and many authors, poets, journalists, and other writers spent time at Chumley's over the decades. Of course, Prohibition in 1933, long before Thompson came to spend lots of time here.
Chumley's maintained the speakeasy atmosphere until 2007. There was never a sign at either of the two doors into the building. The interior retained hidden doors and a concealed staircase.
The legend is that the term "86" meaning "to eject" originated here, although there are two versions of the legend. One version is that unruly patrons would be ejected through the door at 86 Bedford Street. The legend is that during Prohibition the police would helpfully call ahead with a warning to send the patrons out the #86 Bedford Street door, as the police would soon arrive for a raid at the Pamela Court doorway on the opposite side of the building.
The Friends of Libraries USA placed a plaque at Chumley's in 2000, commemorating Chumley's place on a Literary Landmarks Register and describing it as:
A celebrated haven frequented by poets, novelists and playwrights, who helped define twentieth century American literature. These writers include Willa Cather, E.E. Cummings, Theodore Dreiser, William Faulkner, Ring Lardner, Edna St. Vincent Millay, Eugene O'Neill, John Dos Passos, and John Steinbeck.
A chimney or possibly part of a wall collapsed in Chumley's dining room in September, 2007, and the tavern was closed. The owner has been trying to repair and re-open it, but neighborhood residents have been fighting this plan.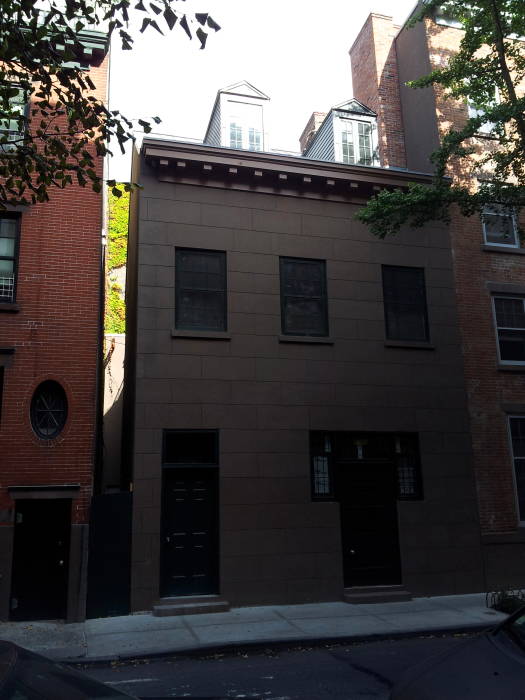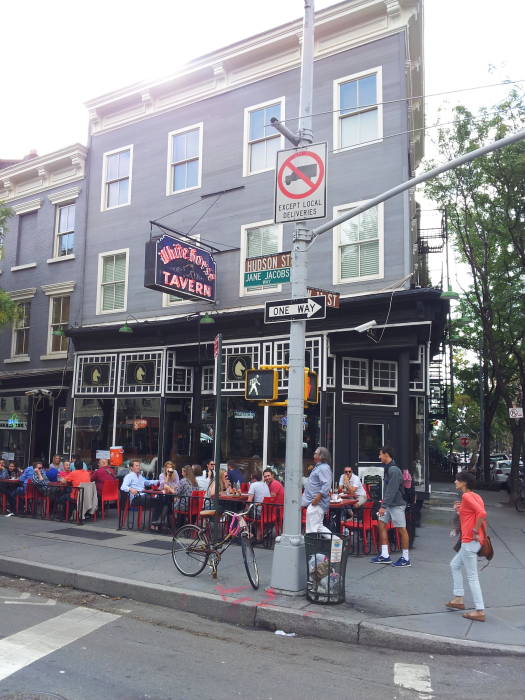 Thompson also spent time at the nearby White Horse Tavern at Hudson Street and 11th Street. It was famous especially in the 1950s and 1960s as a gathering place for writers and artists.
c/o McGarr, 245 West 104th Street
Thompson's friend Eugene McGarr lived in what is now known as The Armstead. Thompson and McGarr had met when both were copyboys at Time magazine.
Thompson lived at McGarr's place, although again it isn't clear exactly when that happened.
The Armstead is one block north of Humphrey Bogart's childhood home.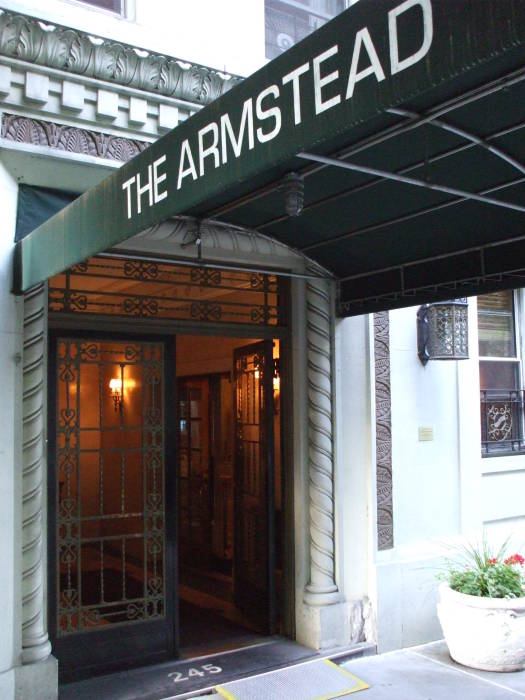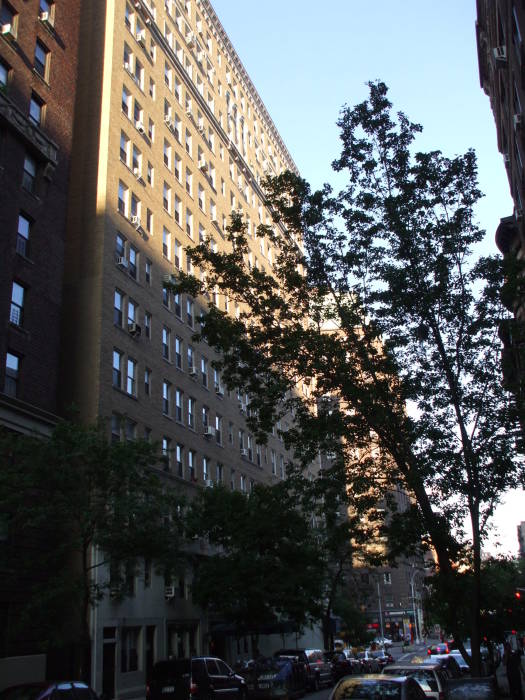 McSorley's Old Ale House, East 7th Street
McSorley's Old Ale House is the oldest "Irish" tavern in New York City, and regularly appears on lists of the top historic taverns in the city. Both Abraham Lincoln and Theodore Roosevelt visited the bar.
Neither Lincoln nor Roosevelt were regulars, but Thompson was.
See McSorley's
plumbing
McSorley's proudly states that nothing has been removed from the walls since 1910, including relics like Harry Houdini's handcuffs locked to the bar rail. The proprieters claim that the bar opened in 1854, but historical research has shown that the site was a vacant lot in 1860 and 1861. So, the tavern business that Lincoln visited may have been in an adjacent building.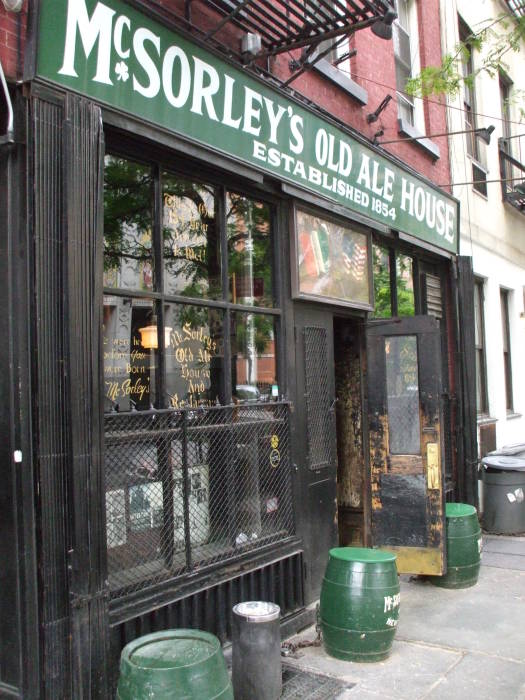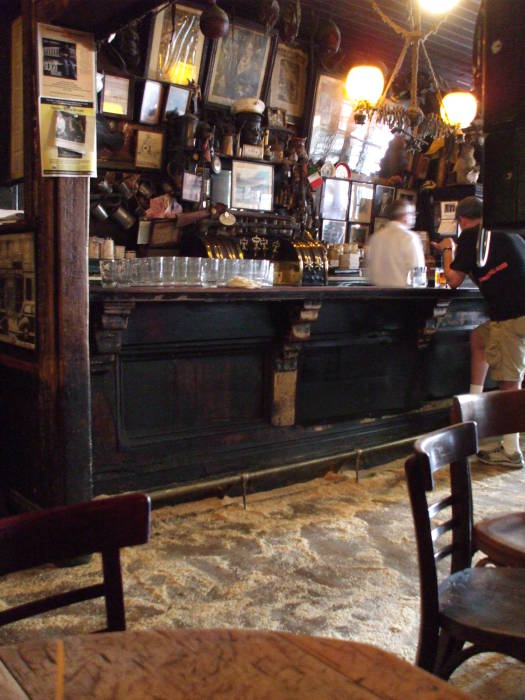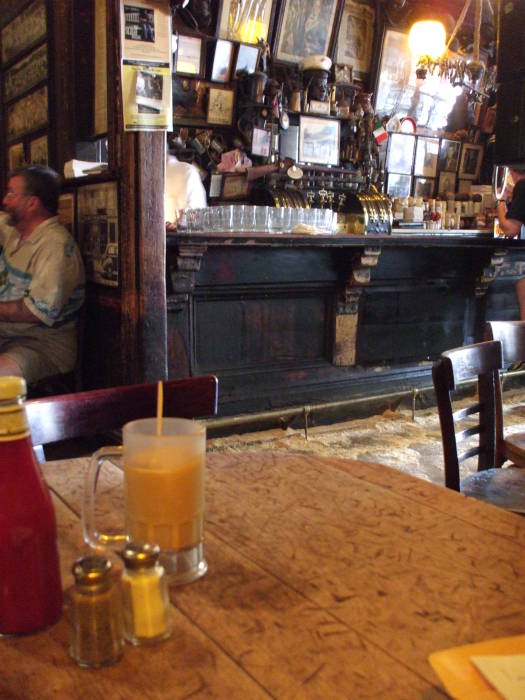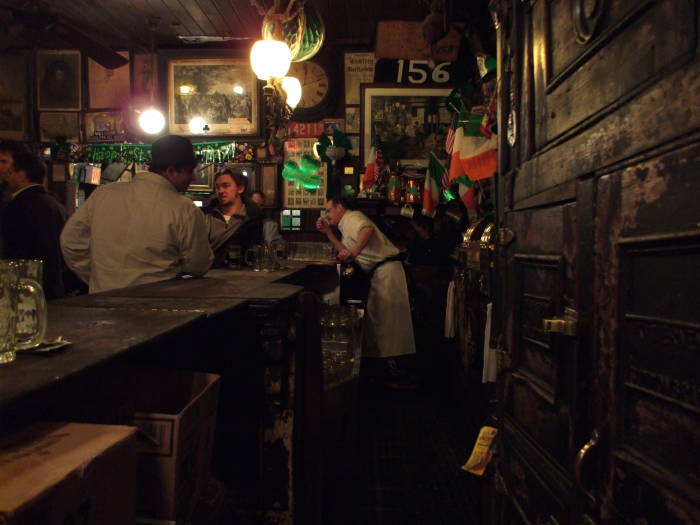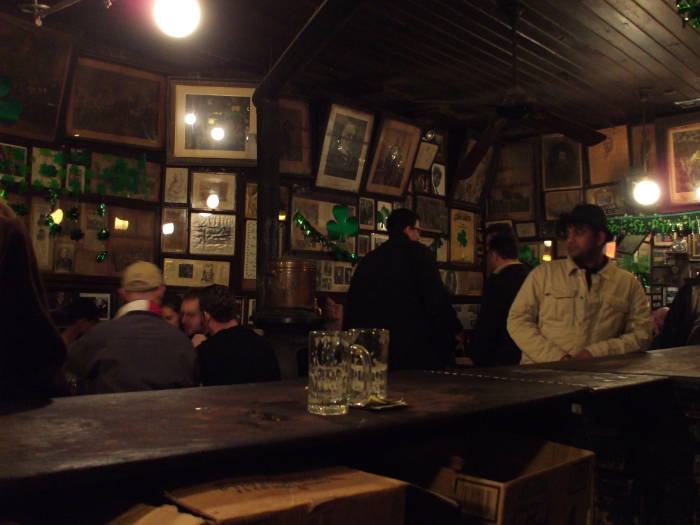 Back to the U.S.A. Travel page
Back to the International Travel Recommendations