The Past and the Future of the Lowermost East Side
Eldridge Street Synagogue
The Eldridge Street Synagogue is often said to be the first Eastern European Orthodox Jewish synagogue in the U.S. If it isn't the very first, it's very close. It was completed in 1887. Services had been held in tenements and small shops. The construction of this grand new synagogue meant that up to 1,000 people at a time could attend services. It's at 12 Eldridge Street near Division.
Synagogue
architecture
& furnishings
The vaulted ceiling is 70 feet high. The main rose window has twelve Stars of David in stained glass, representing the twelve tribes of Israel. On the east wall, facing Jerusalem, is the Aron Kodesh, the ark storing the Torah scrolls. The ark in this synagogue is hand-carved from walnut, lined with red velvet, and was installed when the synagogue was opened in 1887.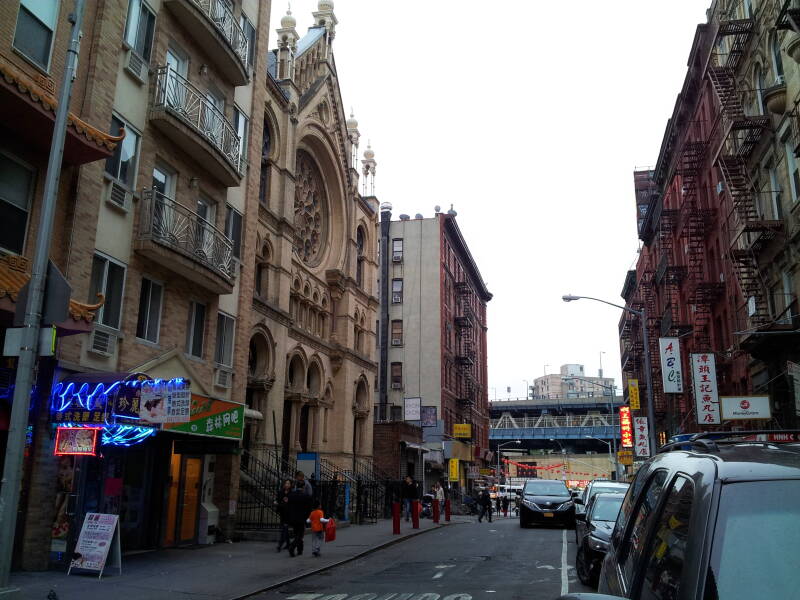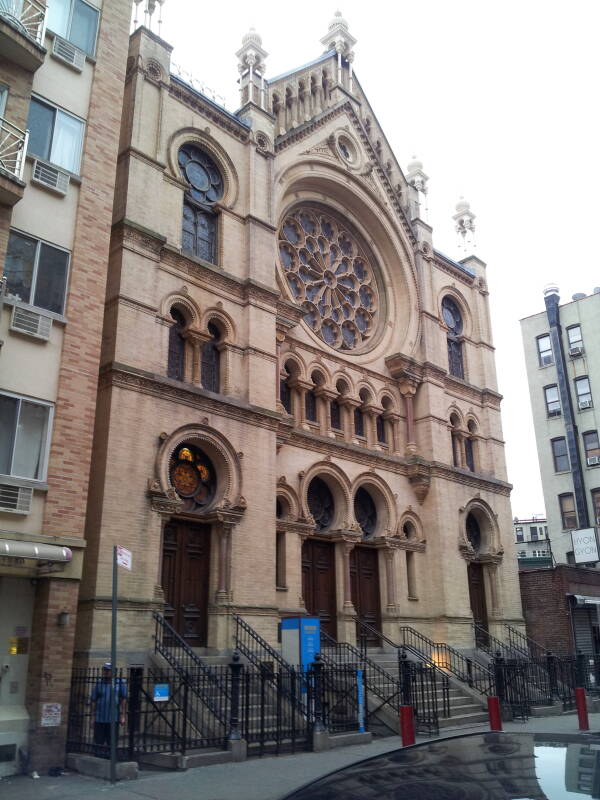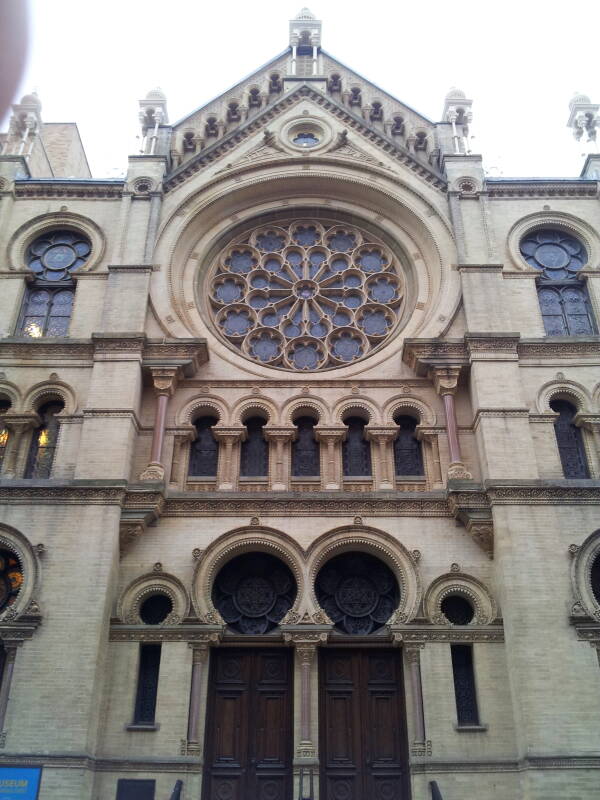 Up to 1,000 people attended services around the turn of the 20th Century, but the Jewish population in the neighborhood began dropping in the 1920s. The Immigration Act of 1924 had cut off further immigration from Eastern Europe. The synagogue was closed in the 1950s. It was restored in 2007 and is now officially the Eldridge Street Synagogue and Museum, although it holds weekly Orthodox services every Saturday.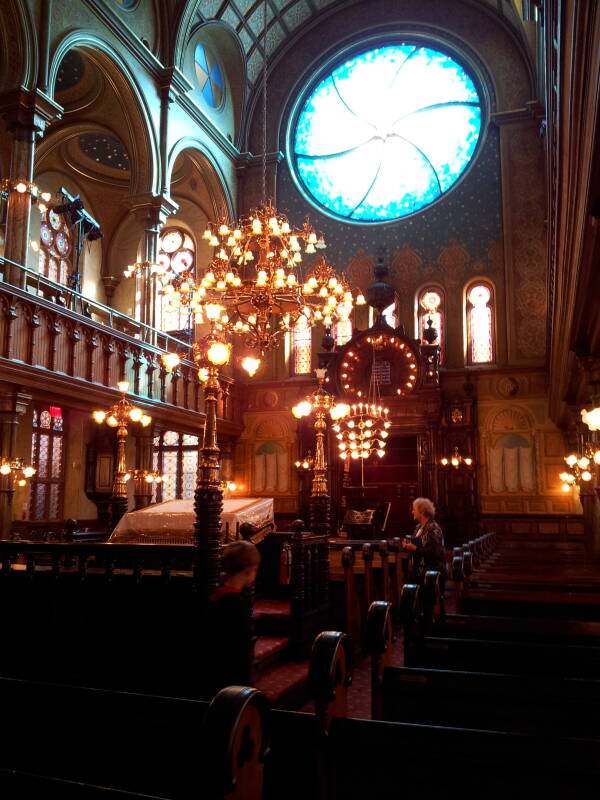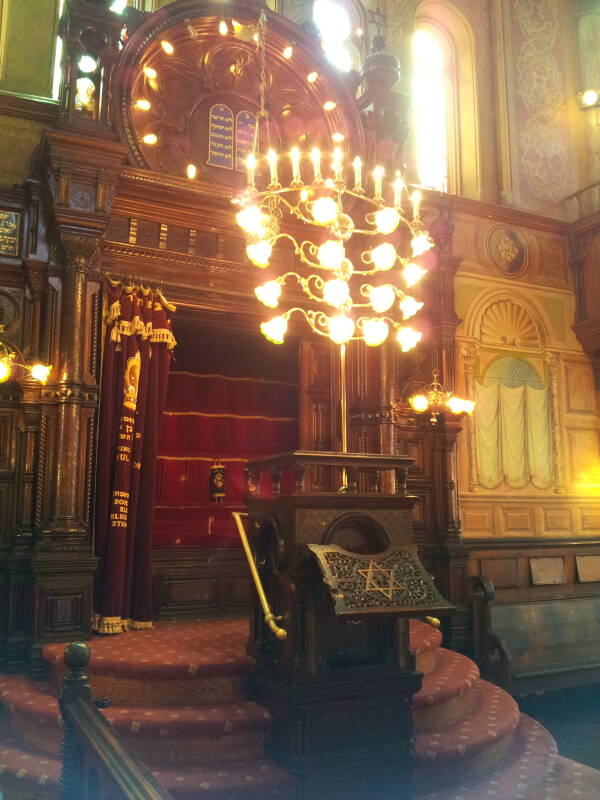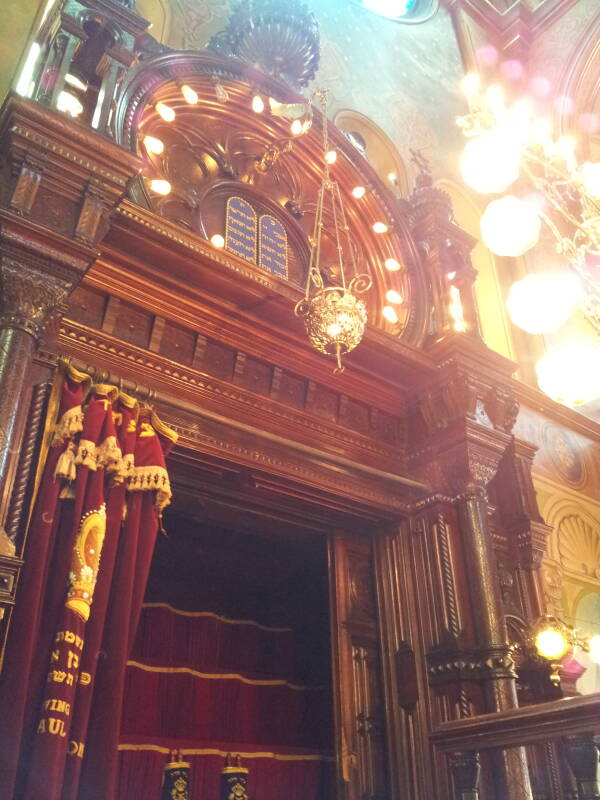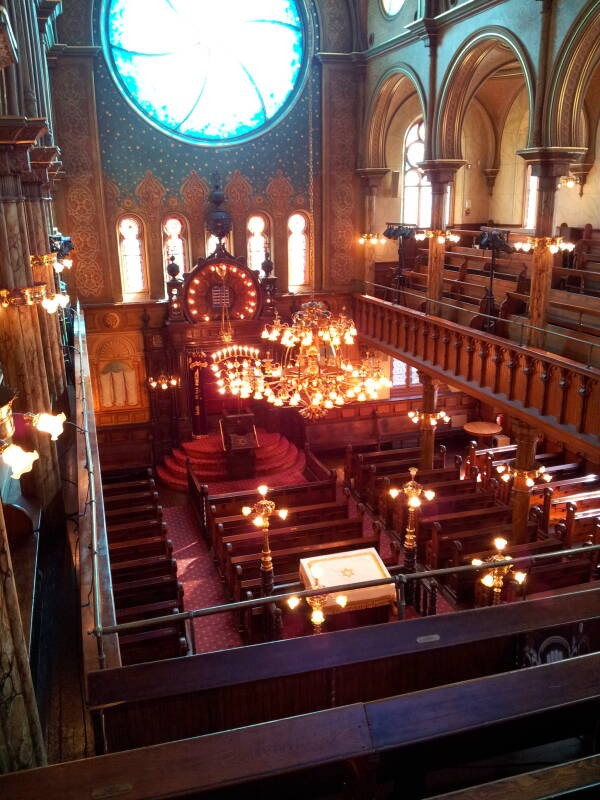 Kletzker Brotherly Aid
The Kletzker Brotherly Aid Association was founded by immigrants from Клецк in Belarus, Kletsk or Kletzk as it was known then in Polish and Yiddish. This was a mutual-aid society, which helped newly arriving immigrants with medical care, moral support, and social activities. The society was founded in 1892. In 1911 they built this headquarters building.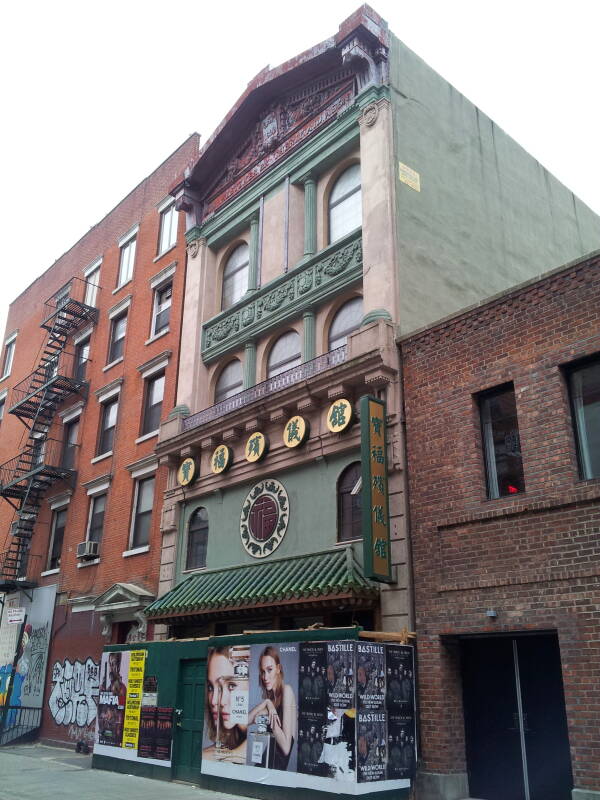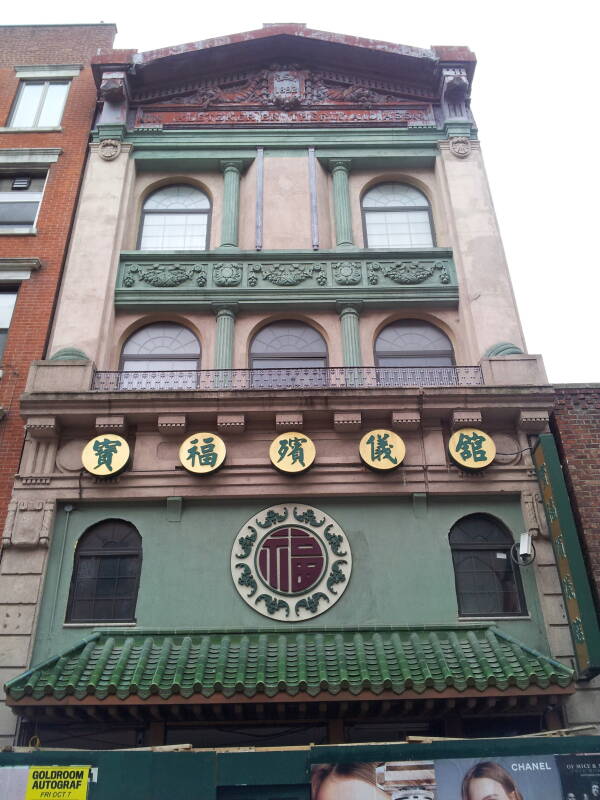 The Kletzker building has housed a series of funeral parlors. First Jewish, then Italian, and most recently Chinese.
In March 2016 the building suffered a fire that spread from a Buddhist funeral in the Boe Fook Funeral Parlor, where papers inscribed with prayers were being burned.
Buddhist and Daoist Temples
Chinatown has expanded northward. Only a few synagogues still operate in the Lower East Side, but the number of Buddhist and Daoist temples has been increasing.
The Eastern United State Taoist Association is on Spring Street, just over a block west of Bowery.
Many of the Buddhist temples are ground-floor operations in former tenement buildings. This puts some of them in the same locations occupied by storefront synagogues in the late 1800s and early 1900s.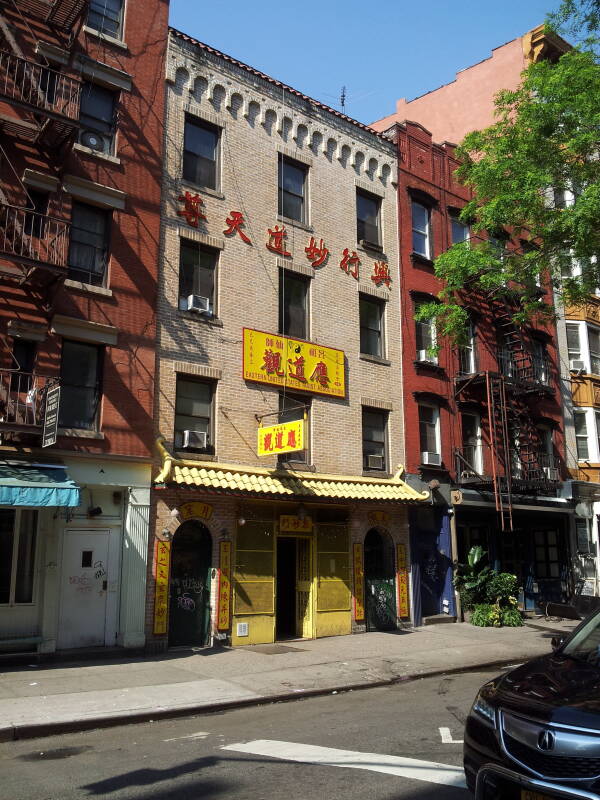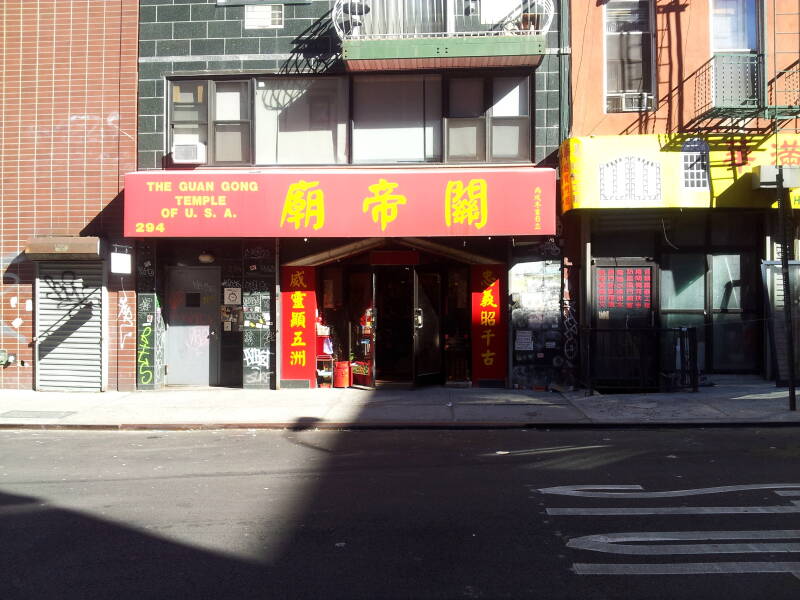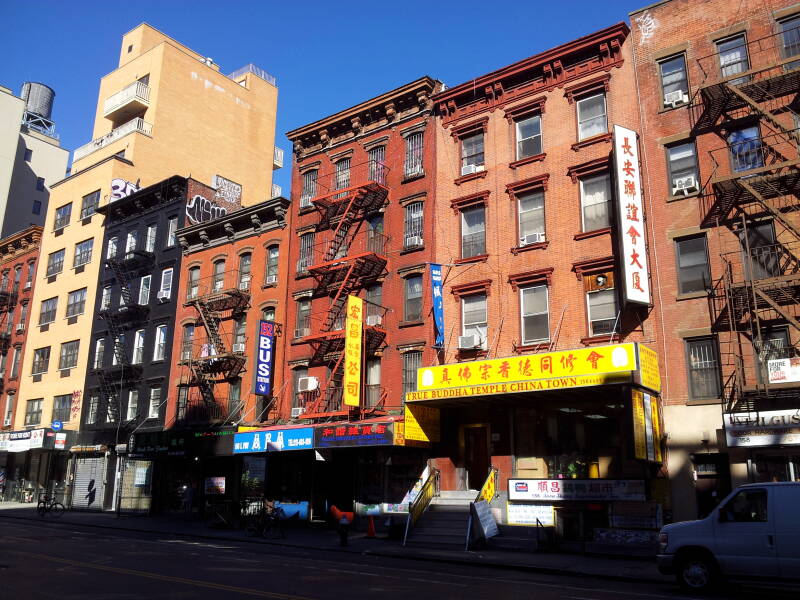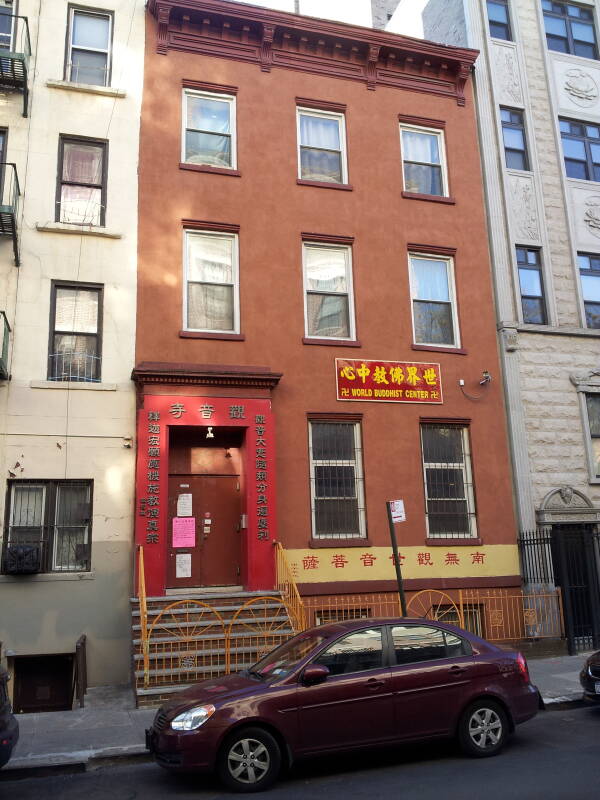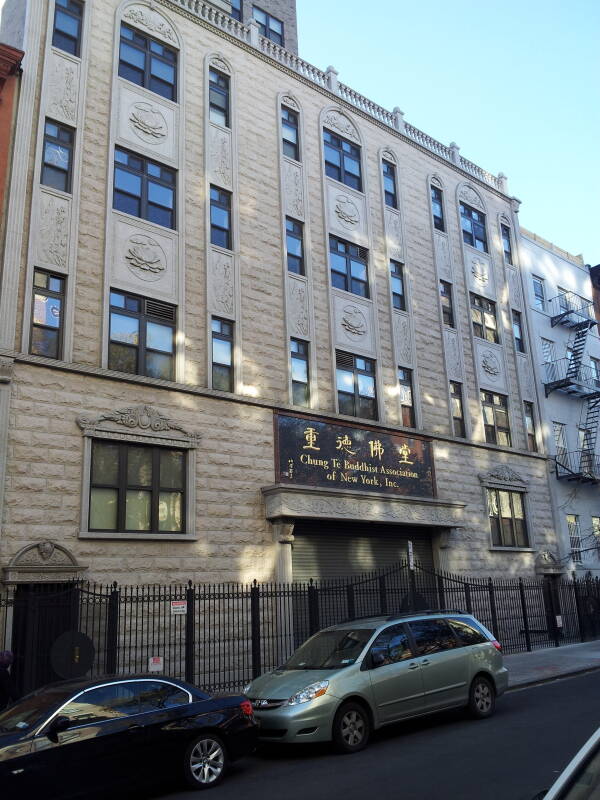 Back to the U.S.A. travel page
Back to the International Travel Recommendations