St. Marks Place
North side of St. Marks Place from Second Avenue to First Avenue
Second Avenue between St. Marks Place and 9th Street is an especially Ukrainian area. The Український Народний Дім or Ukrainian National Home at 140 Second Avenue is the largest single business or organization, A Ukrainian credit union and a few Ukrainian restaurants are found in the block. СУМ or Спілка Української Молоді, Spiilka Ukraïns'koii Molodii, is the Ukrainian Youth Association. It's a scouting organization affiliated with the Organization of Ukrainian Nationalists.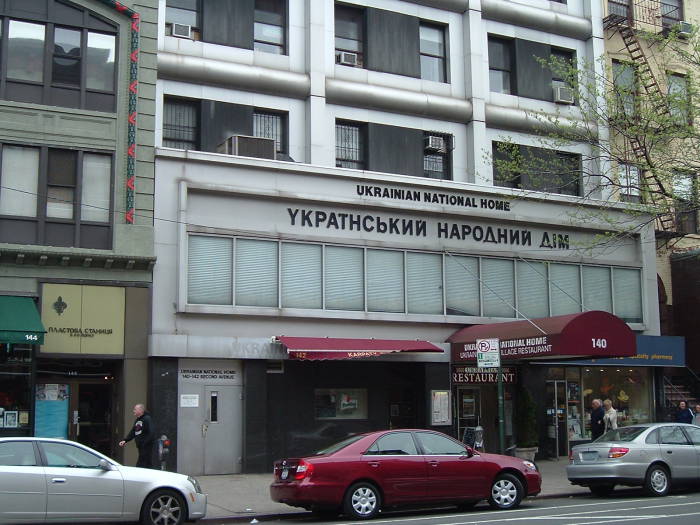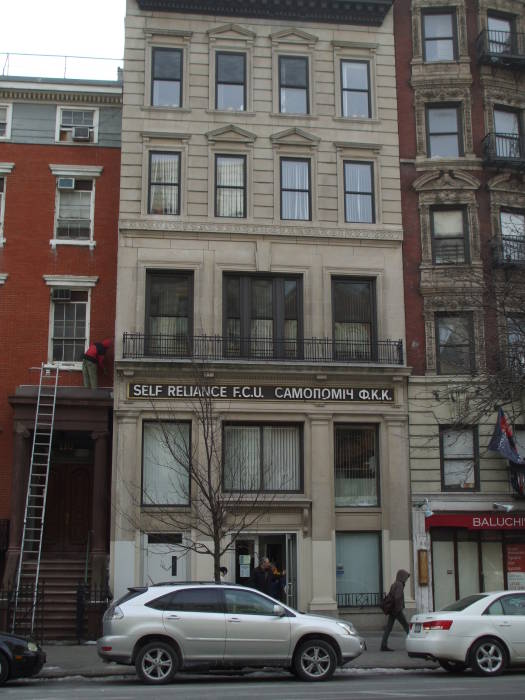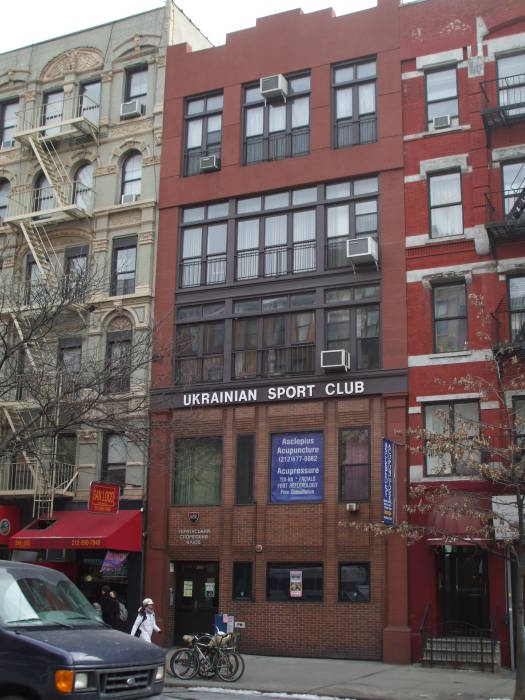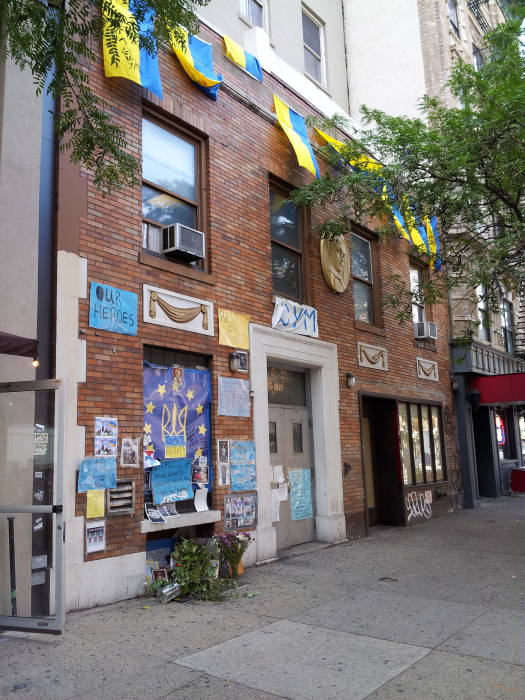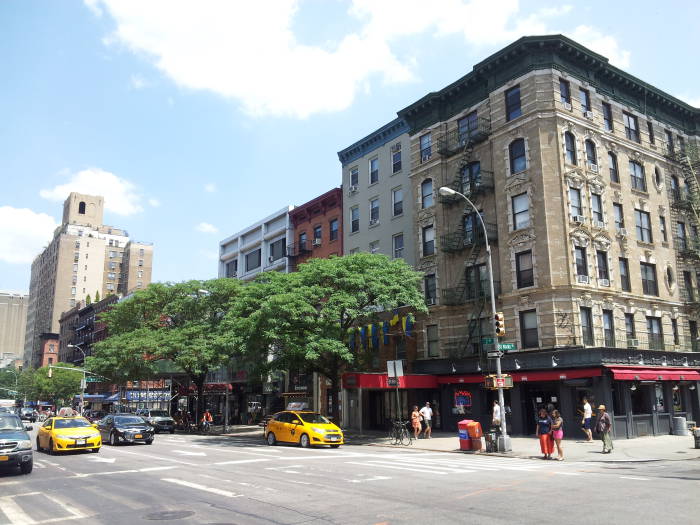 Лис Микита, Lis Mikita, signed in English as Karpaty Bar (or Карпаті Бар) is a small bar in the front corner of the main floor of the National Home, its restaurant is toward the rear of the building.
The English name of the bar refers to the Carpathian Mountains which run south from Ukraine into northern Romania. Meanwhile Лис Микита is a mythical figure from the region, the Trickster Fox.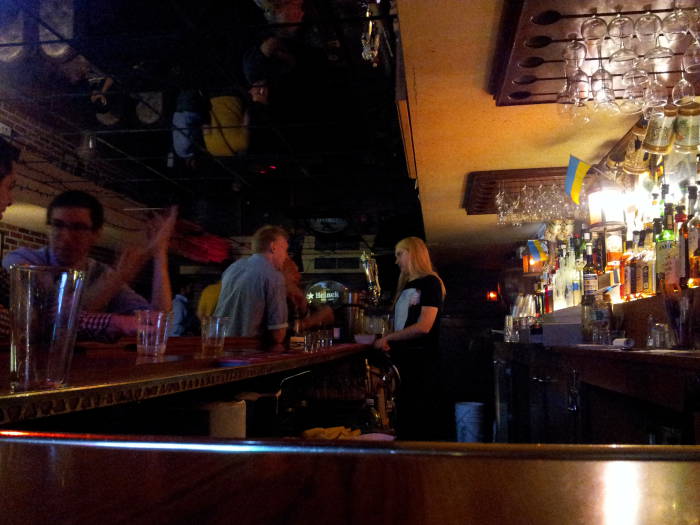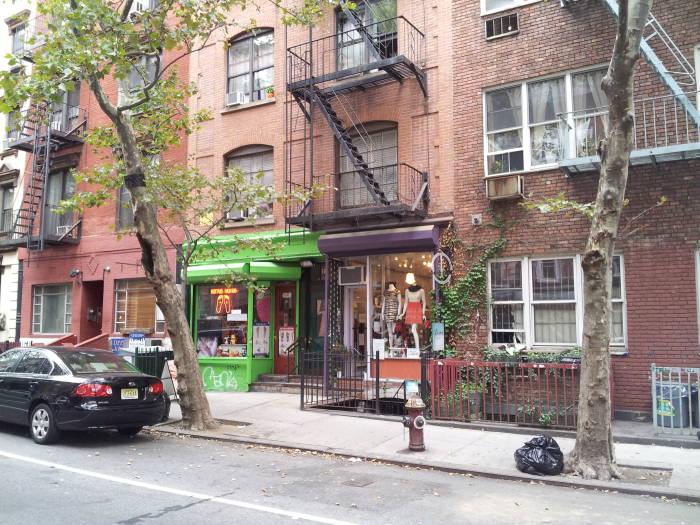 Turning the corner past Karpaty Bar leads us to 321 East Ninth, where Jimi Hendrix had a basement apartment up to 1966 while he was a session player and backup musician. Now it's Uliana's Hairstudio.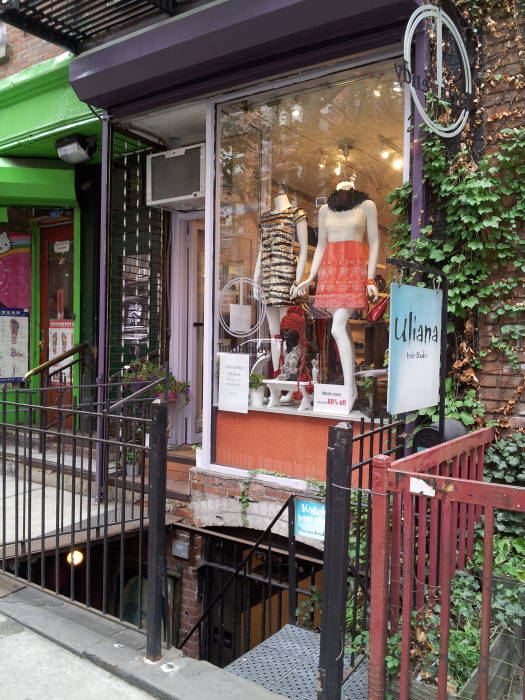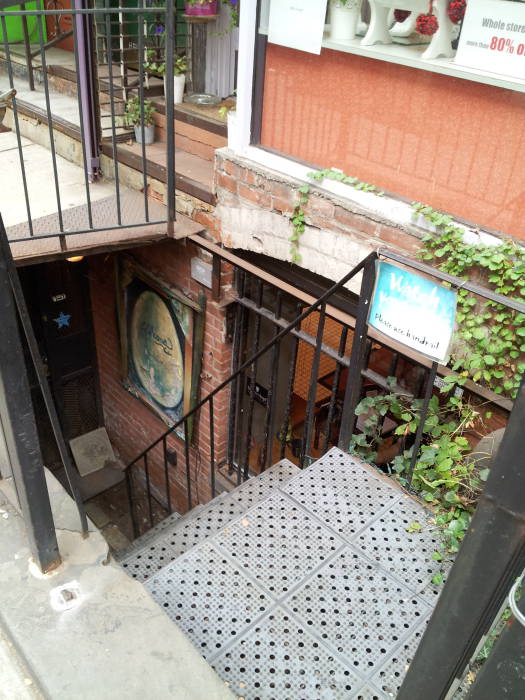 Mudspot is a few doors back toward Second Avenue at 307 East 9th Street. It's a great place for coffee, breakfast, coffee, lunch, coffee, dinner, or coffee.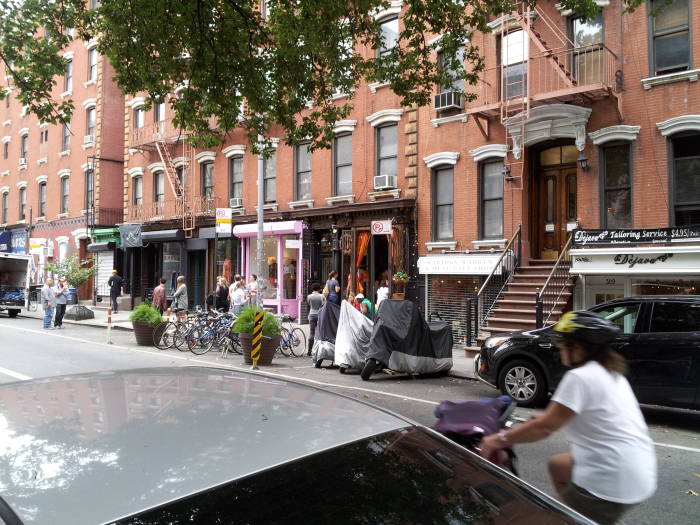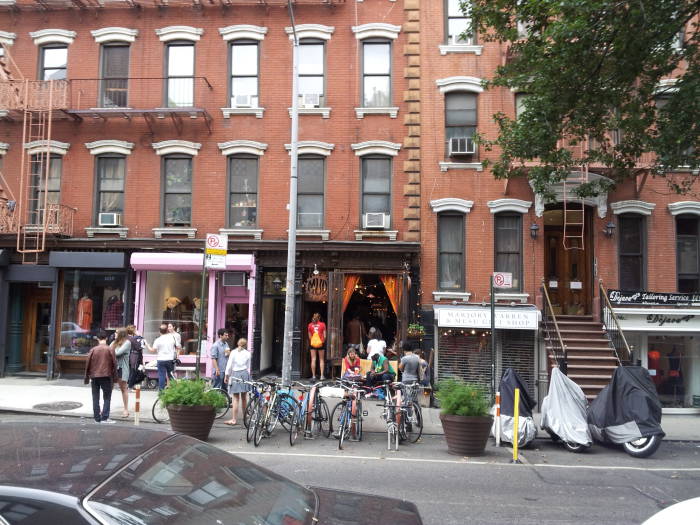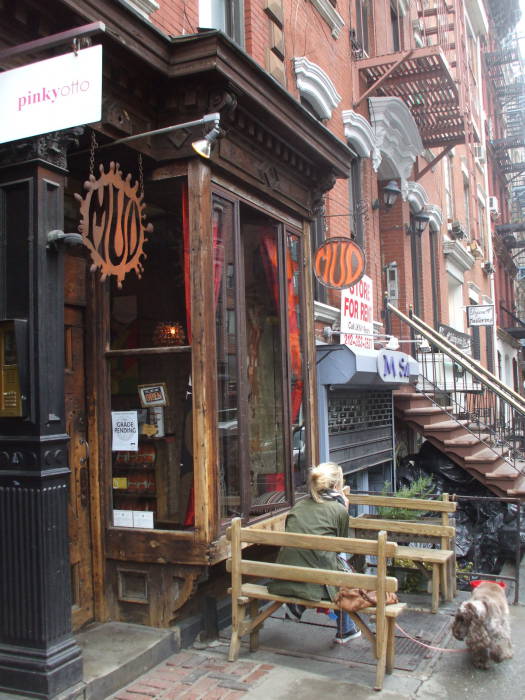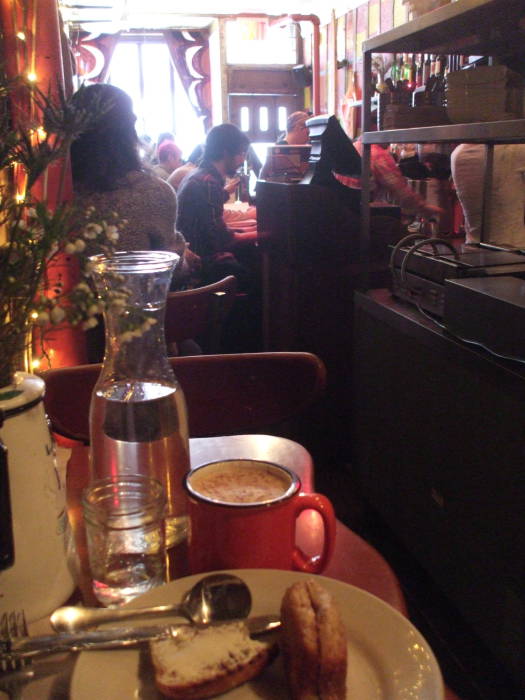 Let's return to the intersection of St. Marks Place and 2nd Avenue and continue to the east. Here we're on the southwest corner looking diagonally across the intersection.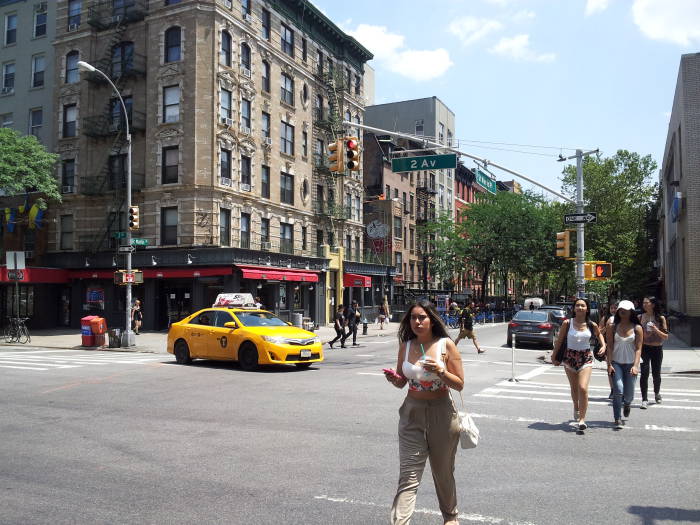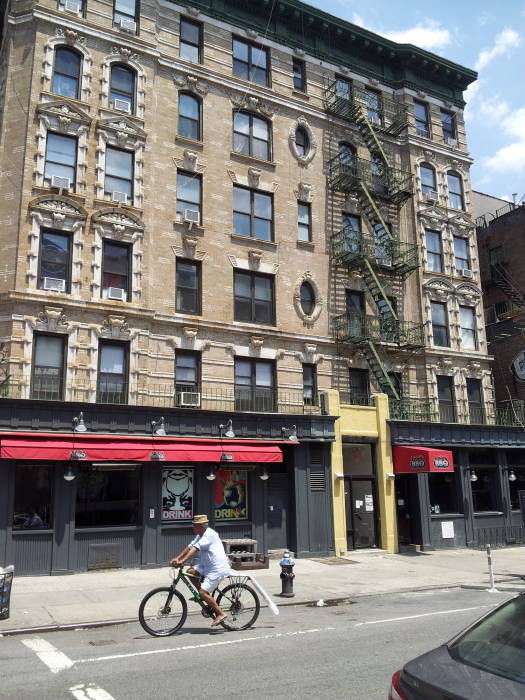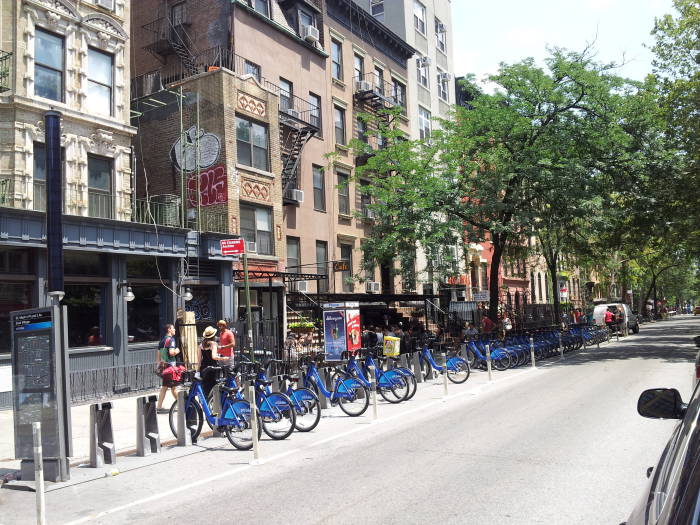 An especially large CitiBike installation is on St. Marks just east of Second Avenue, and we will find another at the far end of the block.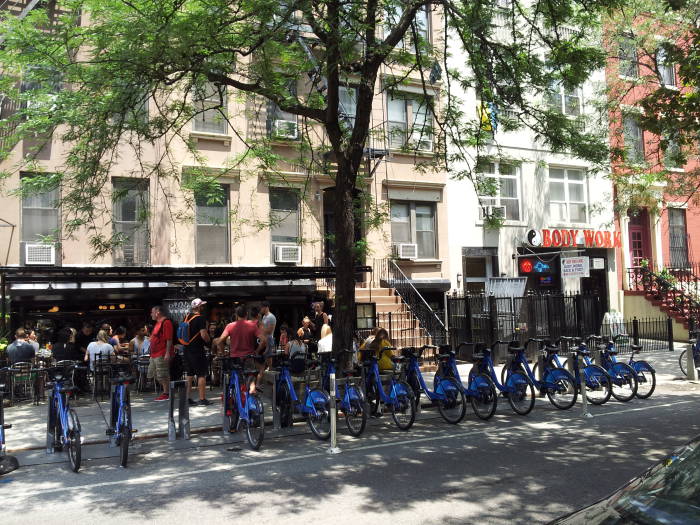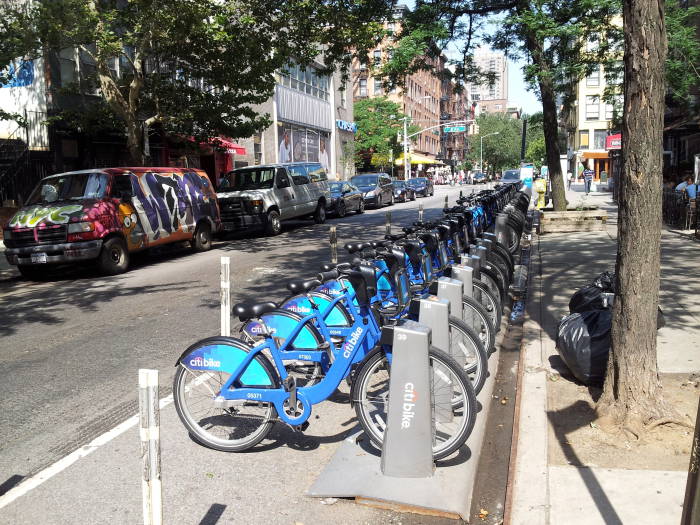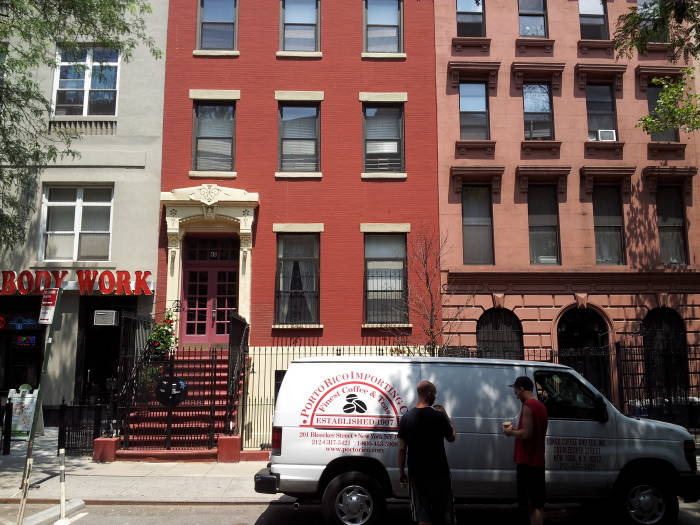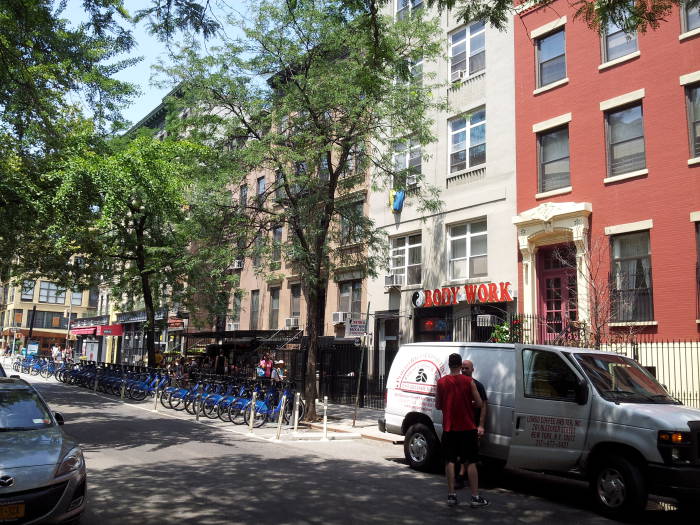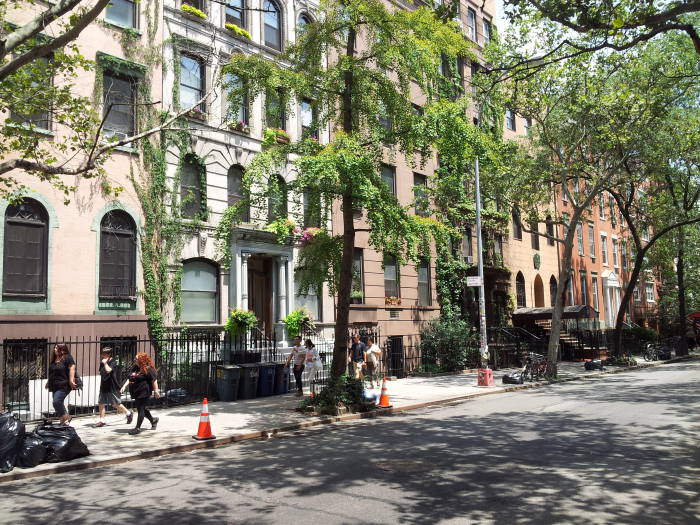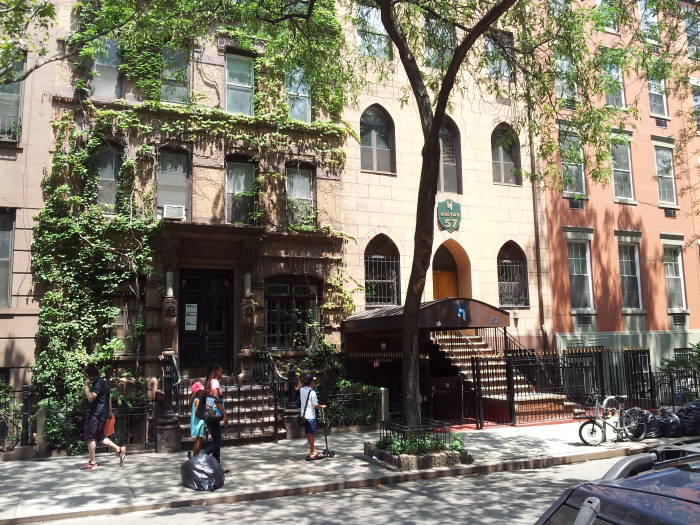 #57 was the Club 57 performance and art space from the late 1970s into the early 1980s. Now it's Unitas, the St. Mark's Place Institute for Mental Health, providing health care services in psychiatry and chemical dependence for Polish and other Eastern European Slavic populations in New York.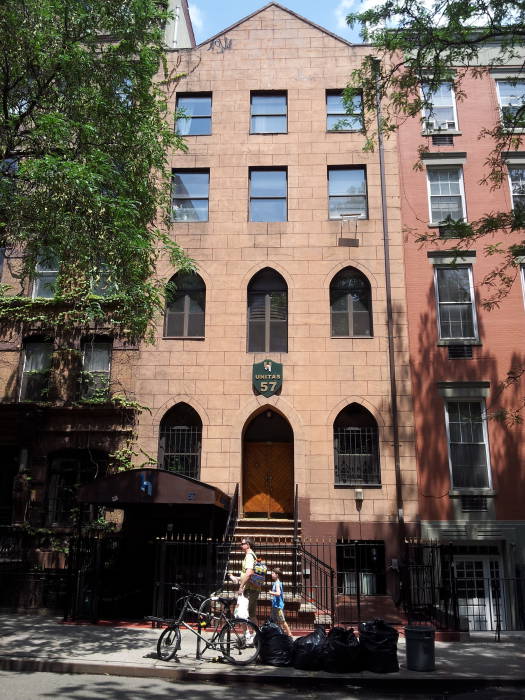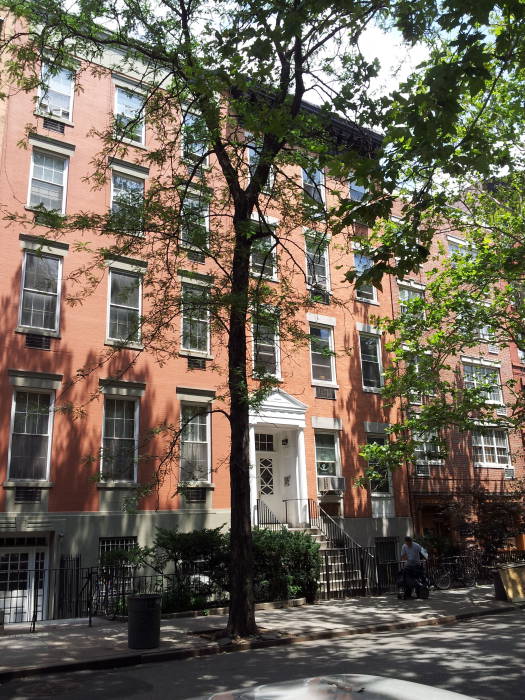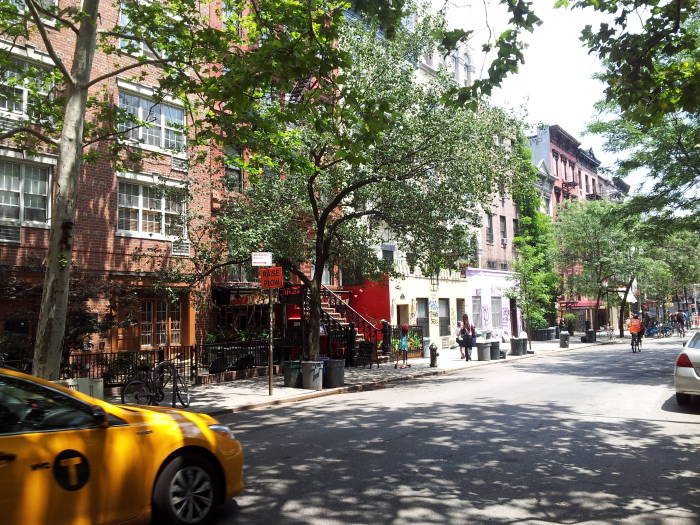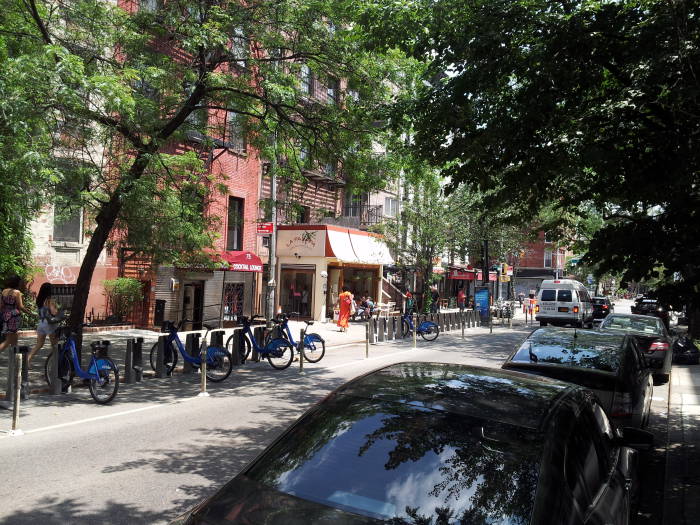 The Holiday Cocktail Lounge is a famous dive bar at #75. Allen Ginsberg and other Beat writers were regulars, along with the bar's next-door neighbor W. H. Auden.
Next door is #77, where Новый Мірь or Novy Miir', the Russian-language Communist paper, was founded in 1916. Leon Trotsky worked here for almost three months in early 1917.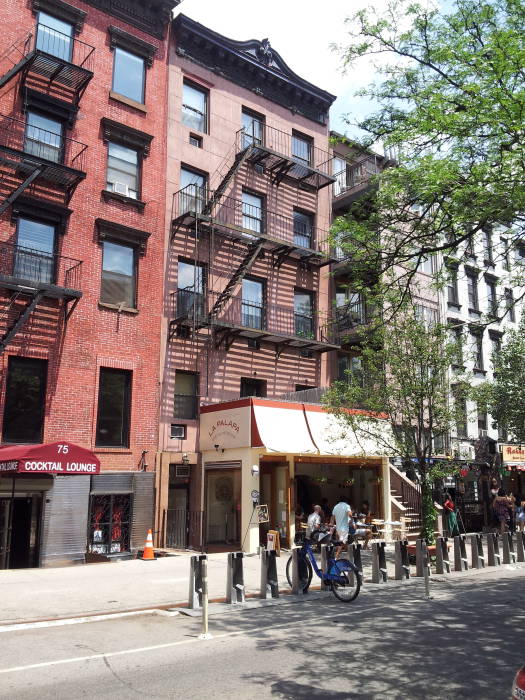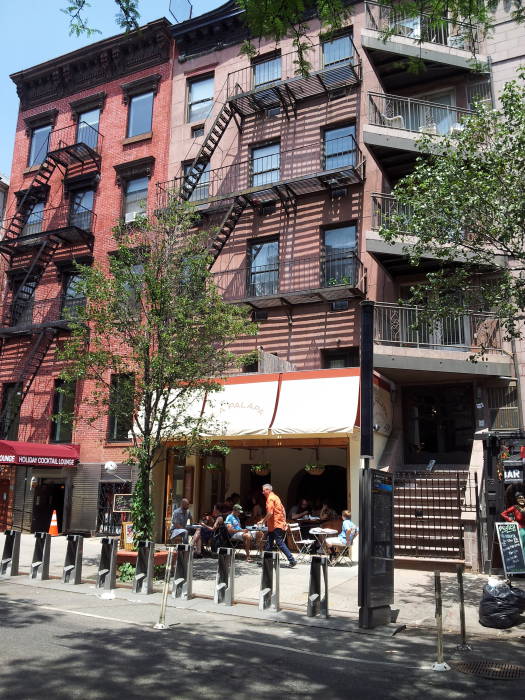 The poet W. H. Auden lived at #77 for almost 20 years, from the early 1950s to 1972. Now the former home of Новый Мірь is a nice Mexican restaurant.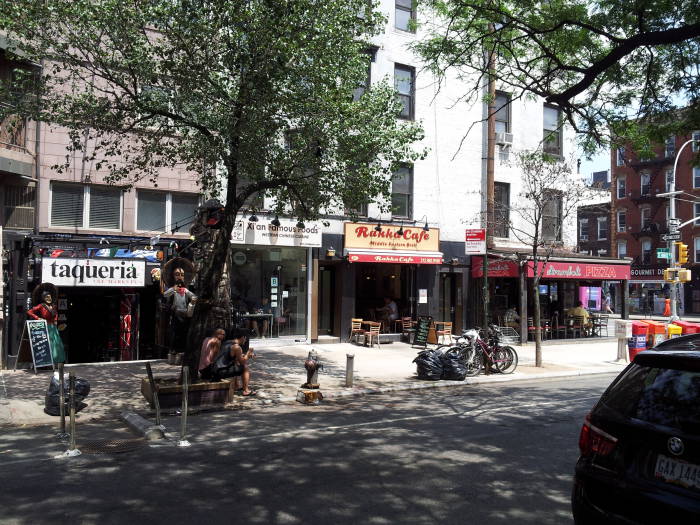 Some of the buildings on the west side of First Avenue north of St. Marks Place are colorful.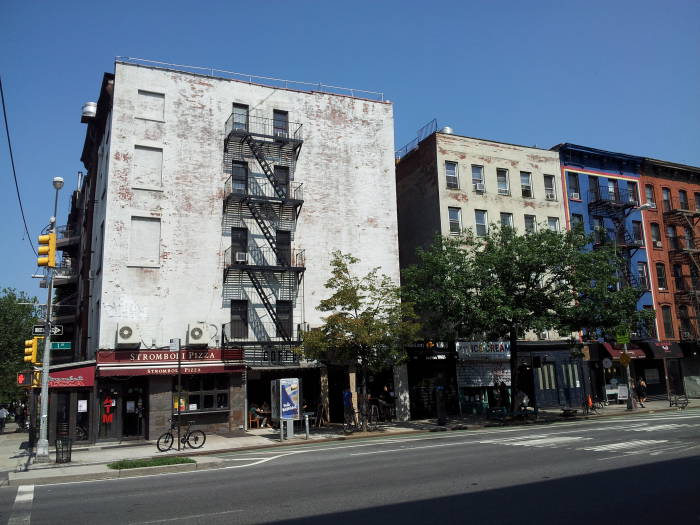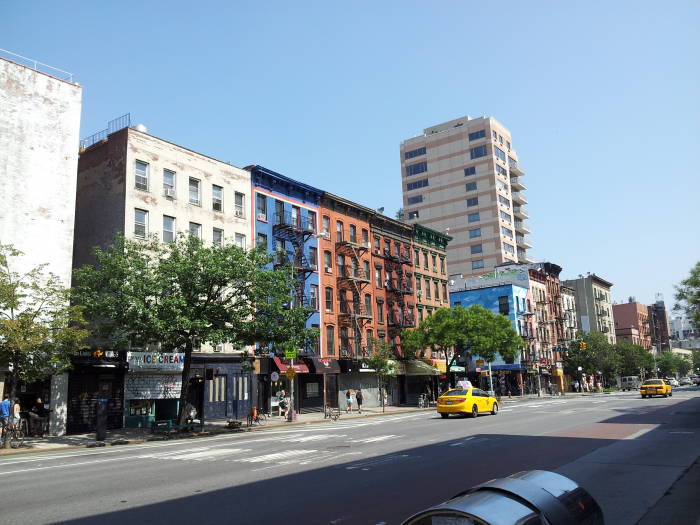 Here we look first to the south and then to the north along First Avenue. The north end of First Avenue is the Willis Avenue Bridge into The Bronx. Going south, its name changes to Allen Street at Houston, and then Pike Street from Division Street to its south end at South Street along the East River waterline.
First and Second Avenues are the longest continuously named and numbered Avenues in New York, stretching north from Houston to the Harlem River shoreline above 125 Street.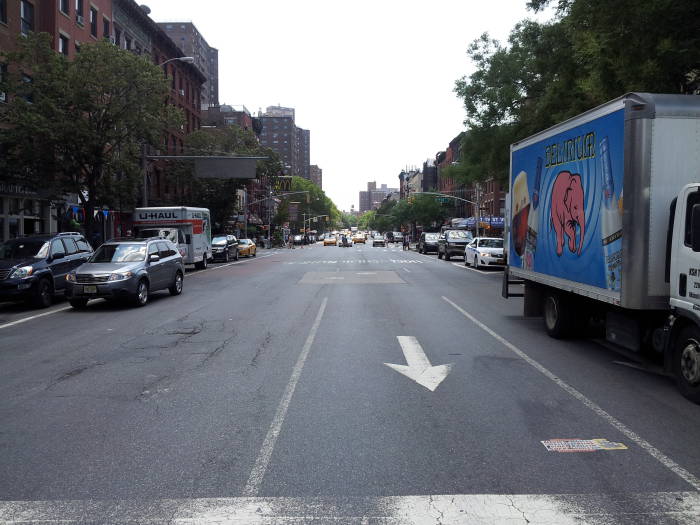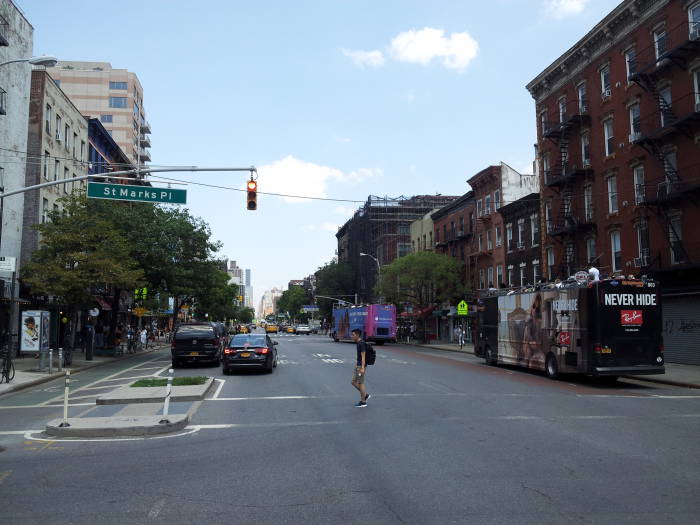 USA Travel Destinations
Back to International Travel