WAN Link Specifications
Wide-Area Networks
Wide-Area Networks or WAN links are telecommunications infrastructure connecting networks across broad geographic areas. They typically have the topology of point to point connections. This is what carriers and backbone providers use to connect cities.
Digital Signal X is a series of digital transmission rates based on DS0. The North American T-carrier and European E-carrier systems use these:
DSX
Bit rate
Number of DS0 links
multiplexed together
with TDM
Used for
DS0
64 Kbps
—
One telephone voice channel
DS1
1.544 Mbps
24
T1
—
2.048 Mbps
32
E1
DS1C
3.152 Mbps
48
—
DS2
6.312 Mbps
96
T2
—
8.448 Mbps
128
E2
—
34.368 Mbps
512
E3
DS3
44.736 Mbps
672
T3
—
139.264 Mbps
2048
E4
DS4/NA
139.264 Mbps
2176
—
DS4
274.176 Mbps
4032
—
—
565.148 Mbps
8192
E5
The T-carrier system was introduced by Bell in the U.S. in the 1960's. It uses time-division multiplexing to interleave multiple pulse-code modulation signals on a shielded conductor in each direction. Twisted pair at lower speeds, coaxial cables or optical fibre at higher speeds. E-carrier is similar, used in Europe. E-carrier can support higher data rates for a given bit rate as it uses all eight bits per channel for signal coding.
SONET (Synchronous Optical Network) is much faster — you're generally talking about Internet backbone links.
| | |
| --- | --- |
| Format | Data rate |
| T1 | 1.544 Mbps |
| E1 | 2.048 Mbps |
| T1C | 3.152 Mbps |
| T2 | 6.312 Mbps |
| E2 | 8.448 Mbps |
| E3 | 34.368 Mbps |
| T3 | 44.736 Mbps |
| T3D | 135 Mbps |
| E4 | 139.264 Mbps |
| E5 | 565.148 Mbps |
| | |
| --- | --- |
| Format | Data rate |
| OC-1 | 51.84 Mbps |
| OC-3 | 155.52 Mbps |
| OC-12 | 622.08 Mbps |
| OC-24 | 1.244 Gbps |
| OC-48 | 2.488 Gbps |
| OC-192 | 10 Gbps |
| OC-256 | 13.271 Gbps |
| OC-768 | 40 Gbps |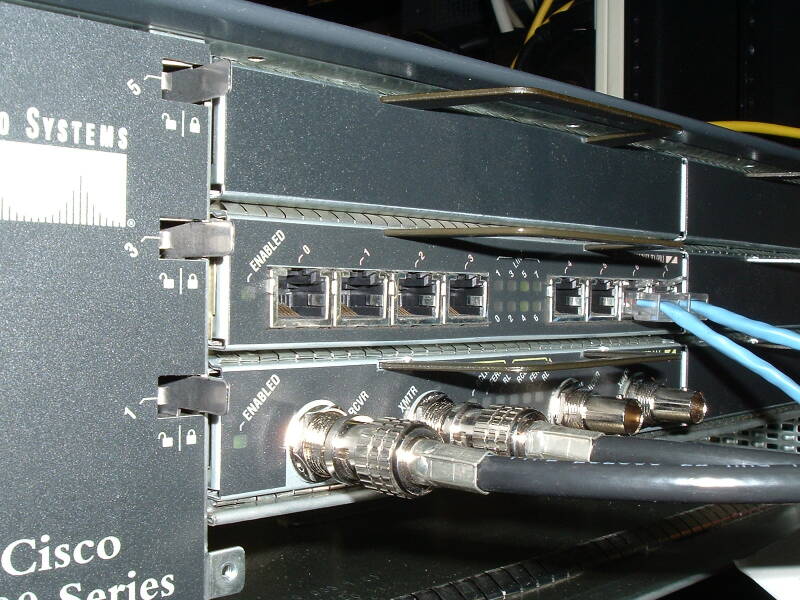 And then there's a grab-bag of other technologies:
Format
Data rate
GSM mobile telephone
9.6-14.4 kbps
POTS (Plain Old Telephone Service)
Up to 56 kbps
GPRS (General Packet Radio System)
56-114 kbps
ISDN BRI
64-128 kbps
IDSL
128 kbps
Frame relay
56 kbps — 1.544 Mbps
DSL
512 kbps — 8 Mbps
SDSL, HDSL
1.544 Mbps
ADSL
16—784 kbps upstream, 1—9 Mbps downstream
VDSL
Up to 52 Mbps downstream (max distance 1000-4500 feet)
Cable modems
512 kbps — 52 Mbps
10 Mbps or less to node
HSSI (High-Speed Serial Interface),
up to 50 feet router-to-WAN connection
Up to 53 Mbps
FDDI (Fiber Distributed Data Interface),
used for corporate/campus WANs
100 Mbps
James Bamford's The Shadow Factory: The NSA from 9/11 to the Eavesdropping on America is an investigative history of the NSA over the period 2001-2008. It summarizes the U.S. landing points of many of the trans-ocean communication cables and some major U.S. IXP (Internet Exchange Point), MAE (Metropolitan Area Ethernet, a form of IXP), and NAP (National Access Point) sites:
California
San Luis Obispo, California is the AT&T landing point for five out of six trans-Pacific cables. They come in under the beach at Montana de Oro State Park and run "2,200 feet through a 5-inch drill pipe to a manhole," then run a mile to 9401 Los Oso Valley Road in San Luis Obispo.
San Francisco, California notoriously has the major IXP on the 7th floor of 611 Folsom Street. One floor down is room 641A, labeled "SG3" for "Study Group 3", where the NSA captures traffic with a Narus STA 6400.
San Jose, California has MAE West on the 11th floor of 55 Market Street.
Los Angeles, California has the Any2 Exchange at One Wilshire. It is a major interconnection point for the Pacific Rim countries.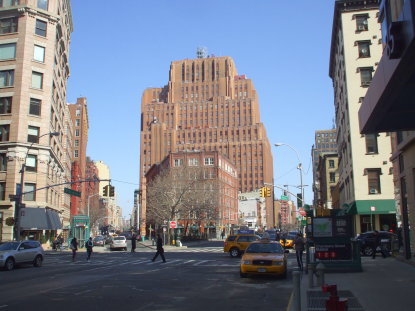 New Jersey / New York
Tuckerton NJ and the surrounding area is the landing site for a number of cables to Europe, the Caribbean, and South America.
New York, New York has 60 Hudson Street, the former Western Union Building and its headquarters until 1973, and still a major world communications nexus. It's a carrier hotel with over 100 telecommunications companies interchanging Internet traffic. Another major carrier hotel is at 60 Broad Street, just off Wall Street.
See my page dedicated to the visible telecommunications infrastructure in Manhattan for more.
Virginia / Washington DC
Vienna, Virginia has MAE East at Suite 400, 8100 Boone Boulevard. It used to be in the corner of the parking garage.... That's just across Leesburg Pike from the Tysons Corner Shopping Center.
Ashburn VA has the Equinex IXP at 21830 UUNET Way.
Florida
Miami, Florida has the NAP of the Americas at 50 NE 9th Street. It's owned by Terramark and routes traffic between Latin American countries and handles about 90% of the traffic between North and South America.
Mid-Continent
Bridgeton, Missouri is the site of AT&T's Network Operations Center, at 12976 Hollenberg Drive.
There are many more, see these links for lists: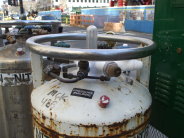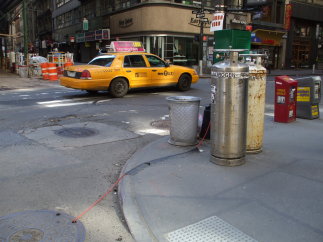 This is the Verizon switching center on Charles Street at East Pleasant, in Baltimore, Maryland. You know that there has to be a fat pipe between here and the nearby Fort Meade.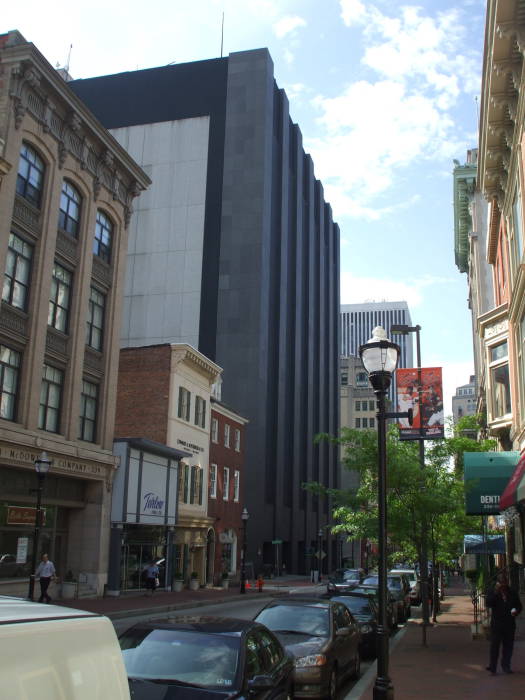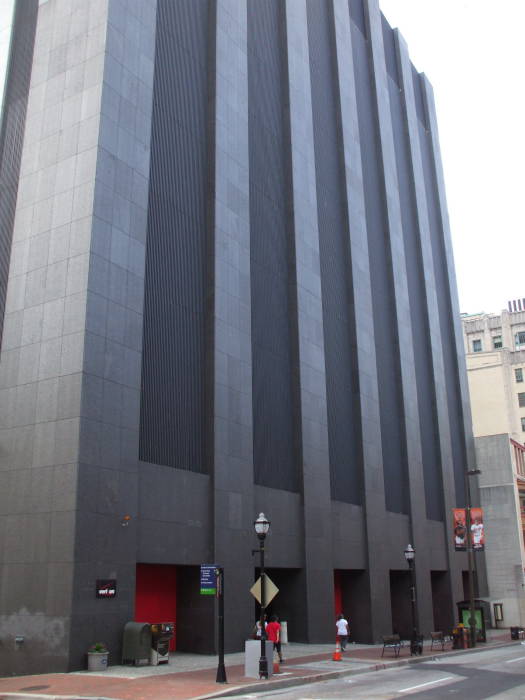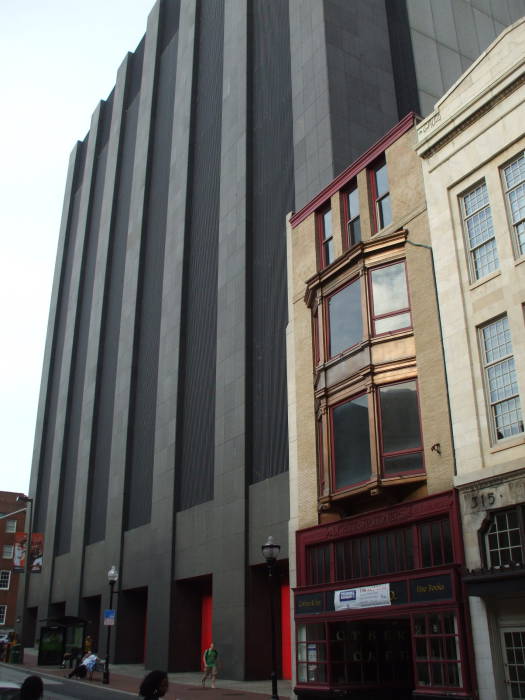 Other Pages