A Fully Metered Home Entertainment Power Controller and Lamp
Power Your Stereo
An outlet strip can distribute power to multiple stereo components, and you can turn the components on and off with their small push buttons. But what's the point of appropriately-sized power controls?

Furthermore, wouldn't it be useful to have a dimmable lamp and have the lamp voltage and total system current fully metered? Dimmable not with those noisy SCR pulse-width modulation units, but with a proper autotransformer feeding smooth sine waves to incandescent lamps?

Here is how to turn your stereo on and off safely with a 60 amp knife switch more suited for Frankenstein's laboratory.
The circuit diagram is below. The switch only controls six volts used to energize the relay that really controls the power.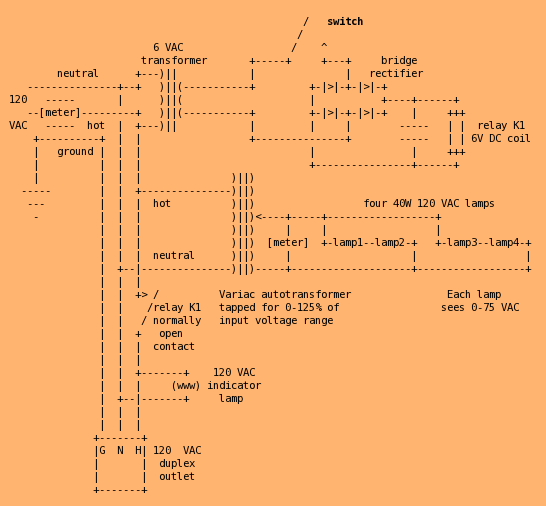 This unit is based on a controller for a Jelenko "Thermotrol Junior" gold casting oven controller originally used in a dental laboratory.
That's why the front panel has two placards specifying the target casting temperatures of various Jelenko gold alloys.
CASTING CHART
JELENKO GOLDS
1 TO 15
DWTS
JELENKO
No. 7
1880° F
JELENKO
STURDICAST
1770° F
JELENKO
ALBACAST
2150° F
JELENKO
PALLORO
2060° F
JELENKO
DUROCAST
1840° F
JELENKO
FIRMILAY
1870° F
CASTING CHART
JELENKO GOLDS
1 TO 15
DWTS
JELENKO
CARMILAY
1830° F
JELENKO
LAMINEER
1920° F
JELENKO
ALBORO INLAY
2060° F
JELENKO
MODULAY
1870° F
JELENKO
PLATINCAST
1880° F
JELENKO
SPECIAL INLAY
1840° F
The meter on the left side was originally a temperature meter connected to a ceramic-clad thermocouple. I have replaced it with an AC voltmeter, albeit (as sharp eyed analysts will have seen) a 400 Hz model. Well, actually one old enough to be a 400 cycles per second AC voltmeter.
The power switch is closed, energizing the relay and illuminating the indicator lamp. The autotransformer has dialed up an input voltage of about 70 VAC, gently illuminating the lamps. With that plus the DVD/CD player driving the stereo receiver and thereby the speakers, and a second DVD player simply powered up, the total system current is still well under 1.0 ampere.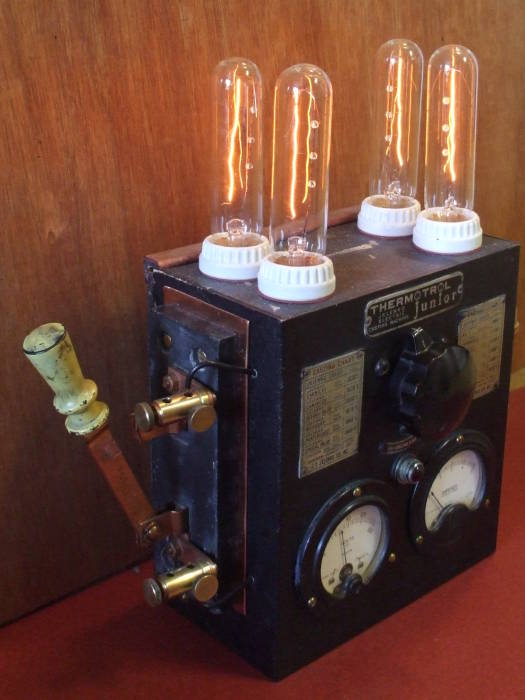 The left face of the unit was originally blank, although some small holes had been drilled when it had been used in a previous non-oven-controlling role. The soapstone-based knife switch was mounted on a copper plate that covered those irregular holes. #12 insulated solid wire was used for the 6 VAC relay coil voltage.
The lamps are 40W incandesdent bulbs. Since each sees, at most, 75 VAC rather than the intended 120 VAC, and since P = V2/R, each lamp will use no more than 15.6 watts of power, with a maximum of 62.5 watts consumed by the lighting array.
Let's briefly turn it all the way up.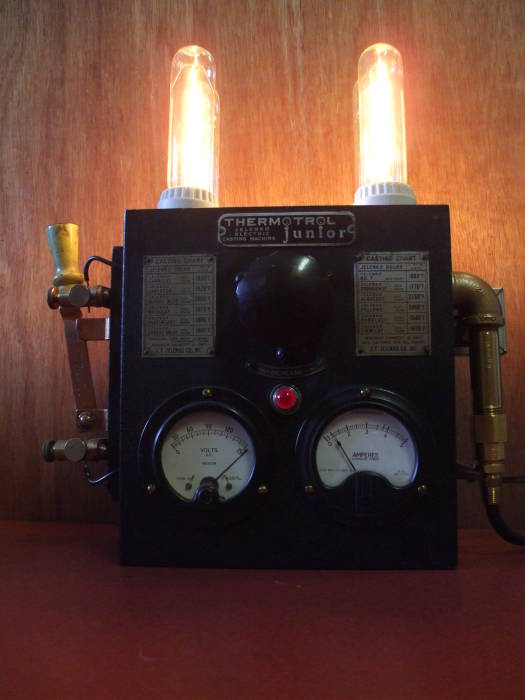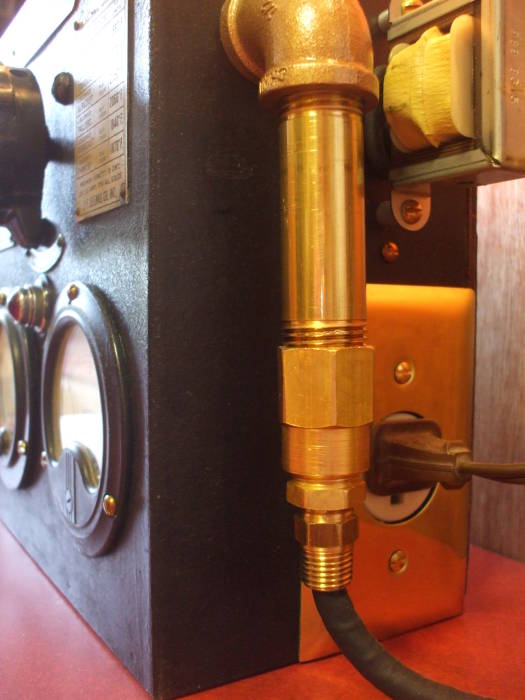 The master power input is through a fitting made up from an assortment of bronze and brass plumbing components. A bronze 90° elbow, then a brass 3" nipple and two brass reducing fittings. The power cord itself is made from a #14 heavy duty extension cord.
The power output is a single grounded outlet with a brass outlet plate. A rather lightweight power cord leading to the stereo system is plugged into that. Well, actually that cord leads to a second power controller with an oversized knife switch, an earlier project.
Other abuses of technology on my site