Budapest — Prague / Praha
By Train from Budapest to Prague
Athens to Paris
by Train
The next stage of our trip was from Budapest to Prague, or Praha as the Czechs call it. This is part of the Athens to Paris by Train series.
We took EuroCity train EC 170, the Hungária, leaving Budapest at 09:25, crossing the southwestern Slovak Republic and passing through its capital of Bratislava, and arriving at Prague late in the afternoon at 16:19. We would get off in Prague, and the train would continue on to reach Berlin at 21:20 that evening. A ticket for all five of us cost 40,600 Forints, so 8,120 Forints or €29 each.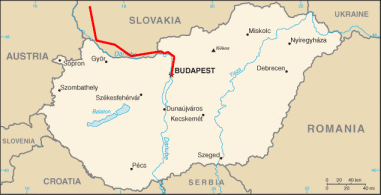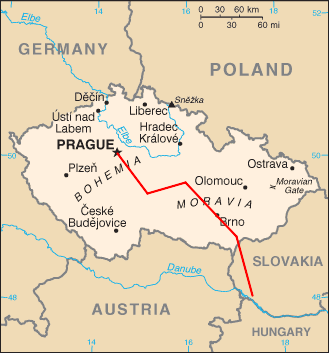 We were leaving from Budapest-Keleti Pu, short for Budapest Keleti pályaudvar, which means Budapest Eastern railway station. Yes, the Magyar language is hard to figure out.
Our arrival station would be Praha hlavní nádraží, meaning Prague Central Station.
The timetable shows that we were travelling through the Lands of the Diacritical Marks.
EuroCity EC170 Hungária
09:25
Budapest-Keleti pu
09:50
Rákospalota-Újpest
10:08
Vác
10:22
Nagymaros-Visegrád
10:34
Szob, Hungary
10:48
Štúrovo, Slovakia
11:15
Nové Zámky
12:09
Bratislava hlavní st.
12:47
Kúty, Slovakia
13:02
Břeclav, Czech Republic
13:35
Brno hlavní nádraží
15:17
Pardubice hlavní nádraží
15:39
Kolín
16:19
Praha hlavní nádraží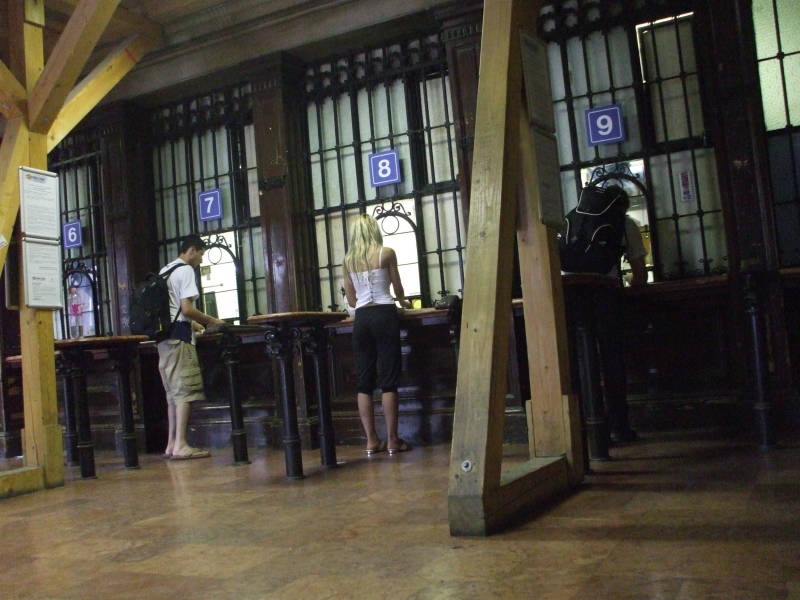 Buying Tickets
I went to Budapest Keleti Pu to buy our tickets. Above are the ticket windows for long-distance tickets.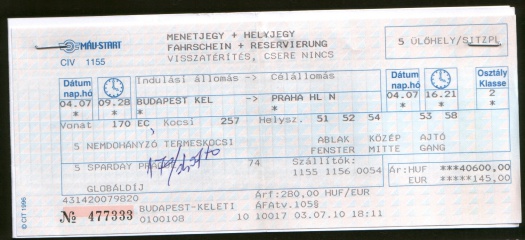 This is the ticket for the five of us on EuroCity EC170 'Hungaria' train from Budapest to Prague.
Vonat means train. These are for vonat 170 EC, kocsi (or car) 257, helysz (or seats) 51, 52, 54, 53, and 58.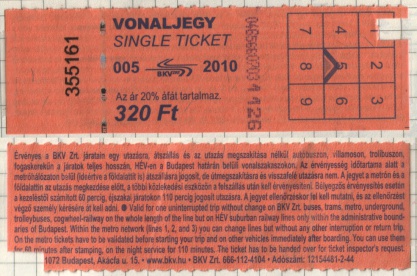 The train stations are, of course, on Budapest's excellent Metro system. These are some examples of Budapest Metro tickets.
Bob, Betty and Larry look around Keleti Pu before departure.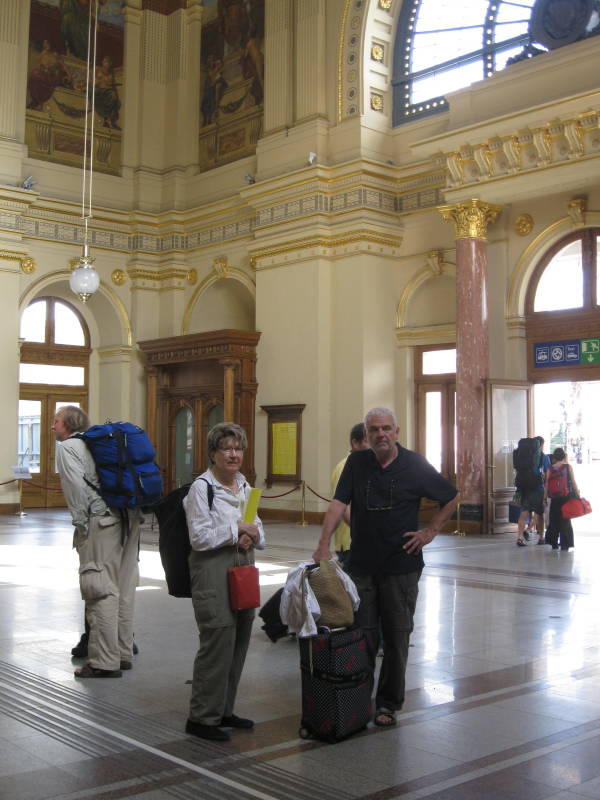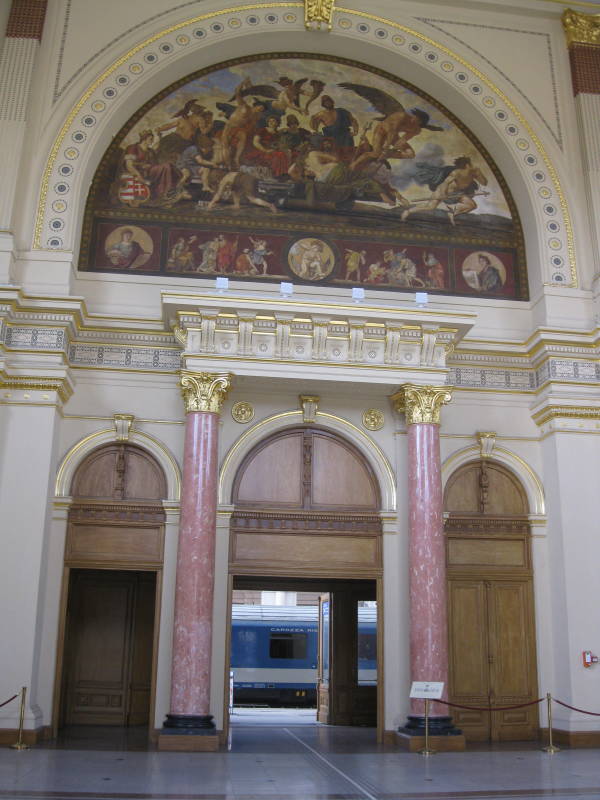 The station was built in the early 1800s and was one of the most modern railway stations in Europe at the time. It has been beautifully restored in recent years.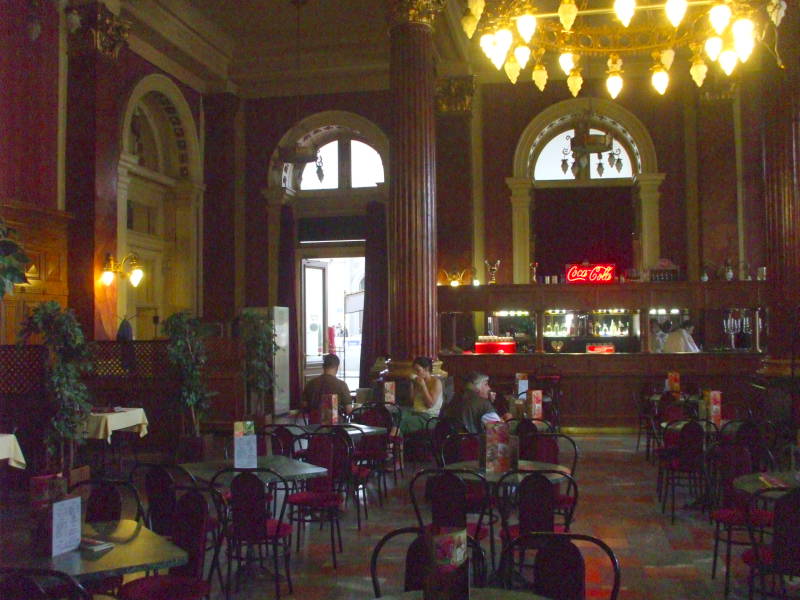 The nice cafe in the station has seen a lot of history!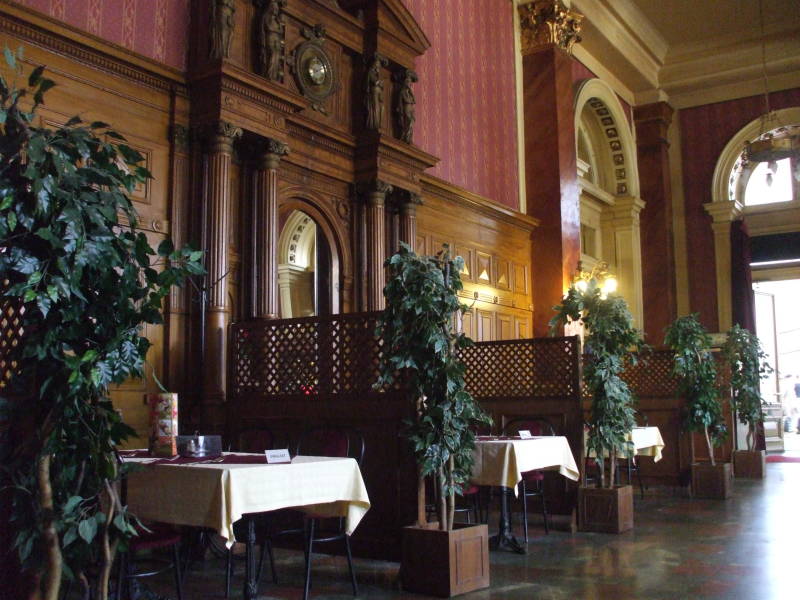 IC or InterCity trains are the fastest in (actually into and out of) Hungary, and EC or EuroCity trains are the next fastest. We will be on a EuroCity train to Prague.
My dictionary told me that gyors means fast, you may also see gyorsvonat, meaning fast train. Sometimes this is indicated by an S on the schedule. Well, there is an "S" at the end of the word gyors...
Személy (or személyvonat) means passenger train, and these move slowly and stop at every tiny station along the way. And of course személy is not abbreviated as "S", as that means the complete opposite type of domestic train. Besides, in Magyar "s" and "sz" are both treated as single letters. There is a section for words starting with "s" in a dictionary, followed by a section for those starting with "sz". So, személy or személyvonat would not be abbreviated as "S" as neither word contains that letter.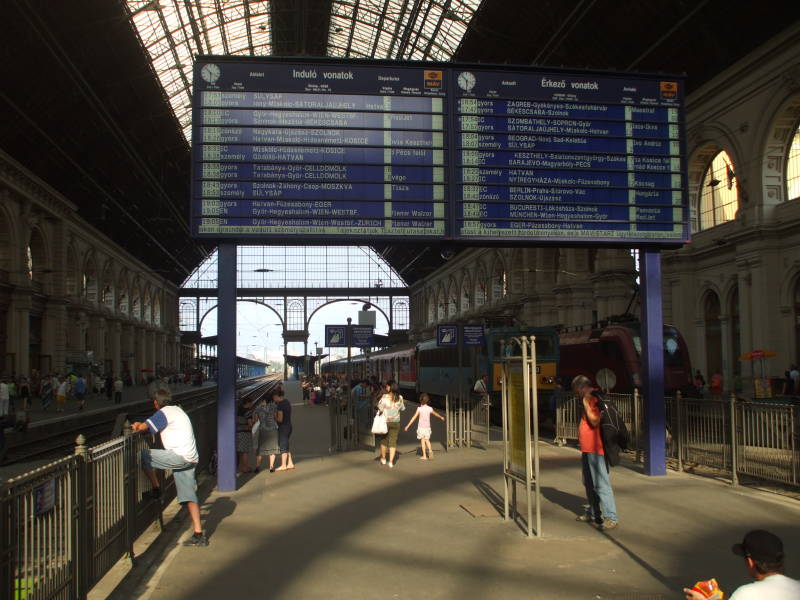 One train here is indicated as zónázó, a word which stumps my dictionary and on-line translation systems.
The 18:43 to Moscow is intriguing. You arrive in Kiev, Ukraine, at 20:02 the following evening. You transfer there to a second overnight train, leaving Kiev at 20:52 and arriving at Moscow's Kievskaya Station at 0643.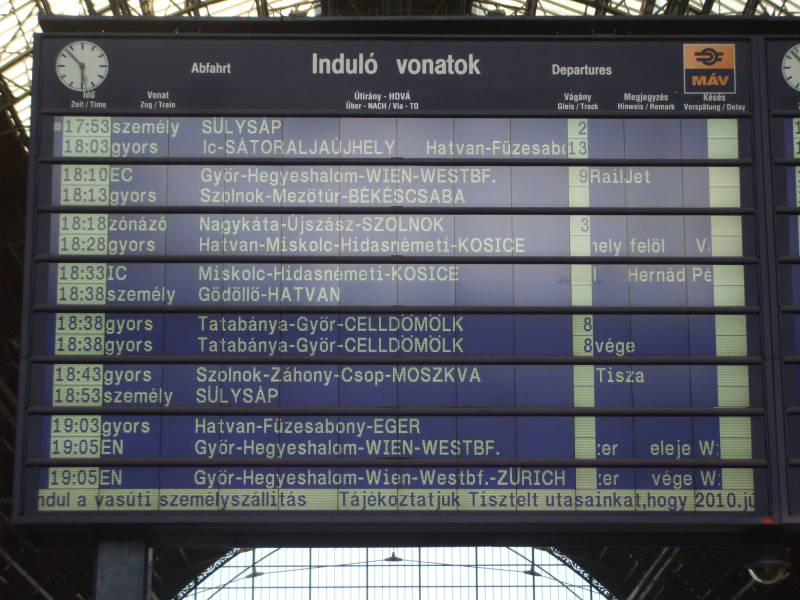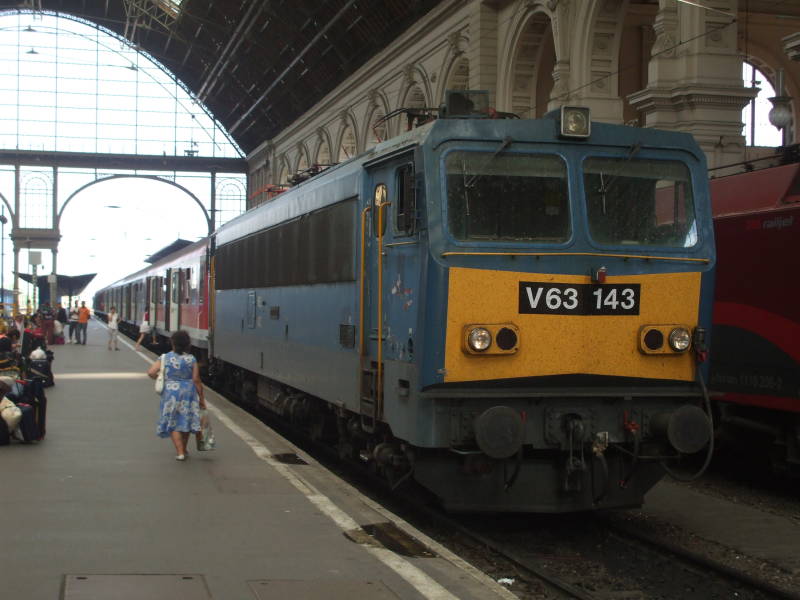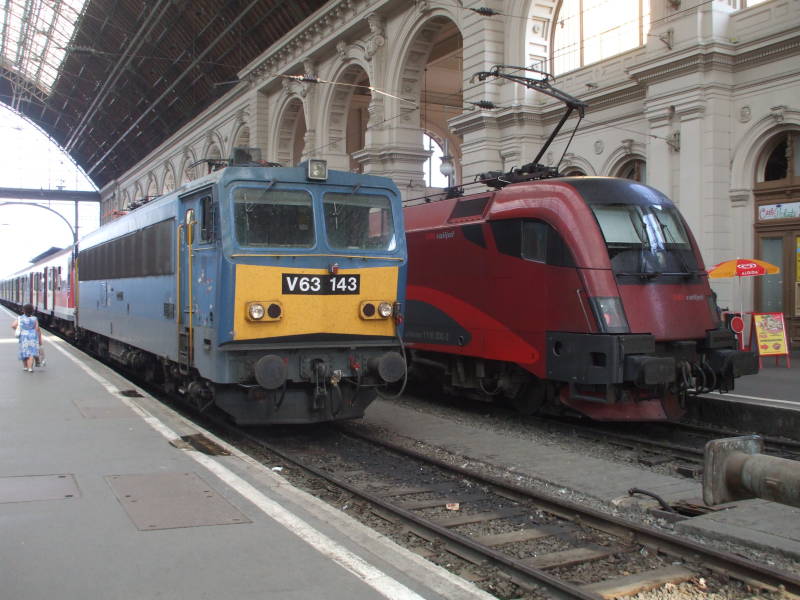 On Board
We're on our way! Somewhere in Slovakia we went to the dining car for lunch.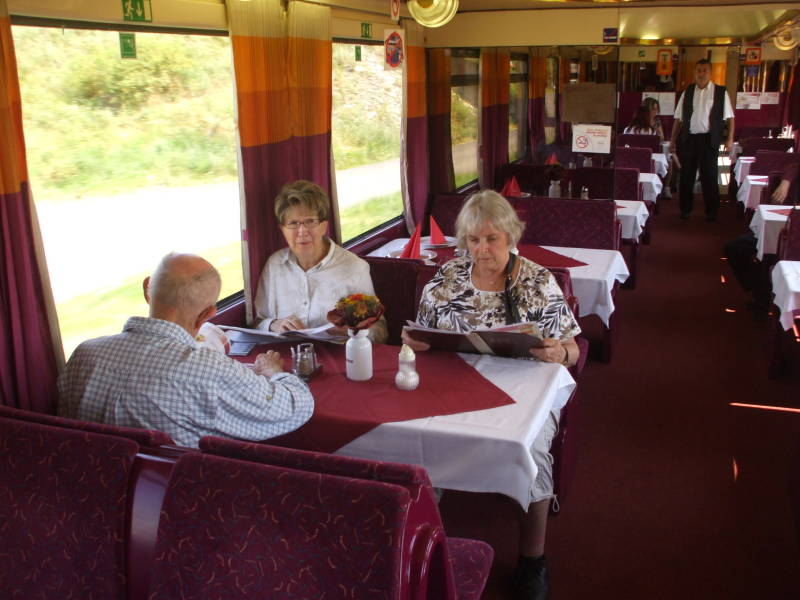 Here's the menu. Goulash, paprika chicken, very Hungarian and very good.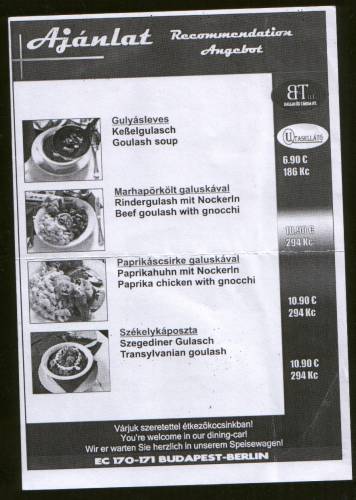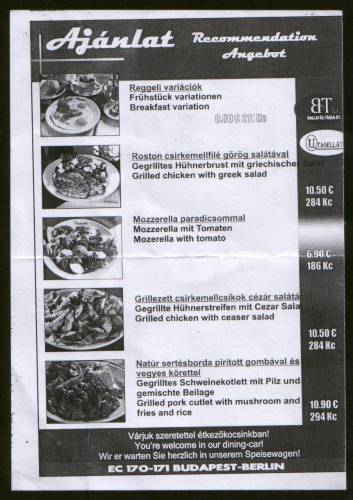 Bob is having the paprikáscsirke galuskával or the paprika chicken with gnocchi.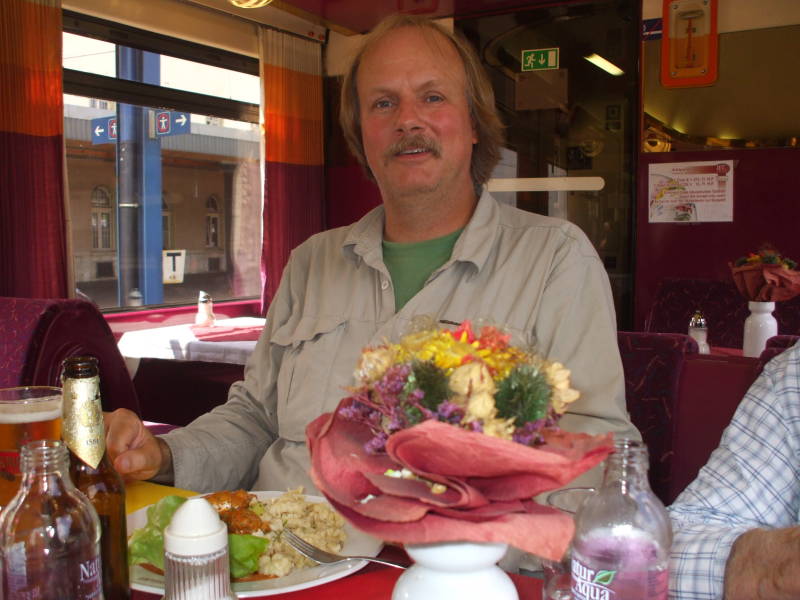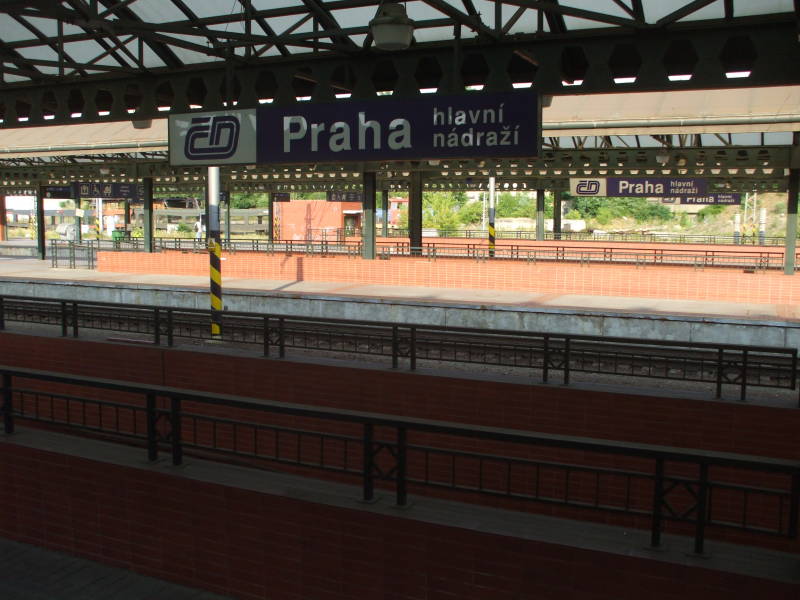 Arrival in Prague
We arrived at Praha hlavní nádraží, or Prague Central Station.
You really want to take the Prague Metro to get from the station to your hotel.
The much worse alternative, which we actually used, was to take a taxi from the station.
Do not take a taxi from the train station in Prague, or from anywhere else for that matter, unless your hotel has summoned one of the rare honest Prague taxi drivers.
The taxi dispatcher at the station promised that the ride would be charged based on the meter reading, but that was a lie. I knew that we were in some sort of trouble when the driver of the cab I was in (and we had to take two) had a bandanna covering the meter.
After a fairly short ride to our hotel we got our bags out of the back, and the drivers then demanded the utterly ridiculous fare of 1500 Kč, equivalent to US$ 75! We stood our ground and told them that that was wrong, that we would pay the fair rate that an honest meter would have charged.
After some shouting back and forth, the two drivers jumped into their cabs and sped away in search of victims who would pay.
So, yes, you can get free taxi rides in Prague if you get dishonest drivers who back down when you call their bluff. But I would not count on that working again, and it was a stressful bother to go through.
Avoid taxis in Prague. Take the Metro.
Here are Prague Metro tickets and a Metro station platform.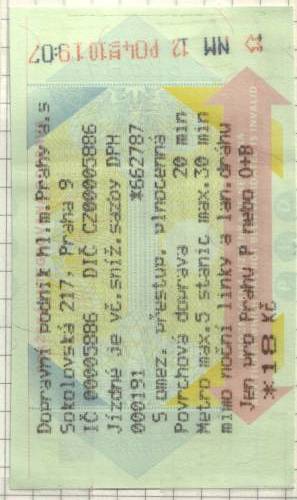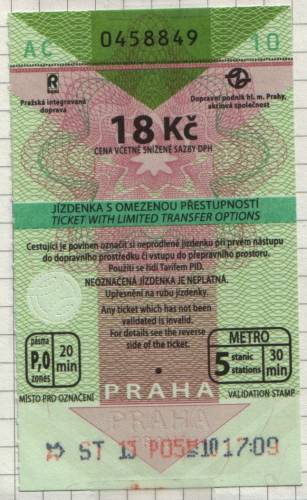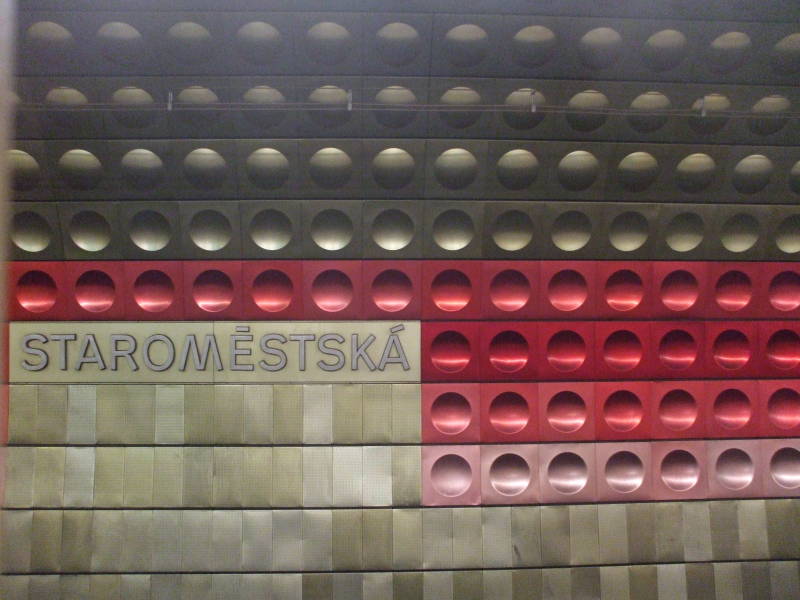 We stayed at Hotel Anna where rooms were €55 each:
Budečskà 17
+420-222-513-111
hotelanna.cz
The next stage of the trip: Sightseeing in Prague
Back to the International Travel Recommendations