Prague / Praha — Paris
By Train from Prague to Paris
Athens to Paris
by Train
The next and final stage of our trip was from Prague, or Praha as the Czechs call it, to Cologne, or Köln as the Germans call it, and from there to Paris. This is part of the Athens to Paris by Train series. We took CityNightLine train CNL 456, the Kopernikus, leaving Prague at 18:31 and arriving at Köln at 06:14. We would get off the train there, and it would continue on to its final destination of Amsterdam. Then we took the Belgian Thalys train 9416, leaving Köln at 07:44 and arriving at Paris Gare du Nord station at 10:59.
The timetable shows the schedules of both of the trains. Hbf is an abbreviation for Haupbahnhof, the German name for a central train station.
The maps below show the approximate route, read them in order to follow our route.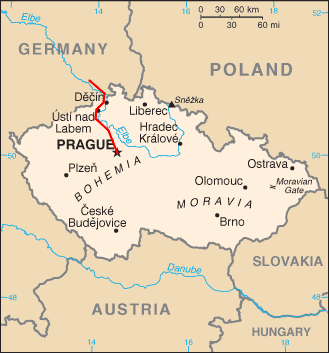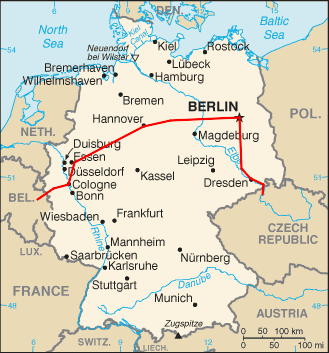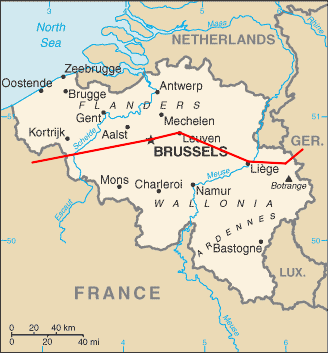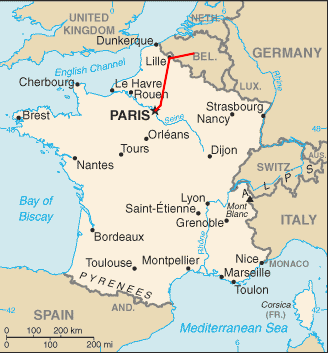 CityNightLine CNL 456 Kopernikus
18:31
Praha hlavní nádraží
18:40
Praha-Holesovice
19:44
Ústí nad Labem hl.n.
20:03
Dĕčín hl.n., Czech Republic
20:20
Bad Schandau, Germany
20:54
Dresden Hbf
21:02
Dresden-Neustadt
23:03
Berlin-Schönefeld Flughafen
23:59
Berlin Ostbahnhof
00:12
Berlin Hbf
Bielefeld Hbf
Hamm
Dortmund Hbf
Wuppertal Hbf
06:14
Köln Hbf
Düsseldorf Hbf
Duisburg Hbf
Emmerich
Arnhem
Utrect Centraal
10:00
Amsterdam Centraal
Thalys 9416
07:44
Köln
08:23
Aachen, Germany
08:49
Liège-Guillemins, Belgium
09:37
Bruxelles-Midi, Belgium
10:59
Paris Gare du Nord, France
This map of northwestern Czech Republic and eastern Germany shows the first part of the trip, if you look from bottom to top.
We left Prague to the north, passing through Kralupy nad Vitavou and Melnik as we followed the Elbe River through an increasingly narrow and deep valley.
It became even more scenic as we passed through Ústí nad Labem and Dĕčín, nearing the German border.
We stopped in Dresden as it was getting dark, and continued north to Berlin, arriving there about midnight.
Then it was west through Germany for an early arrival into Köln.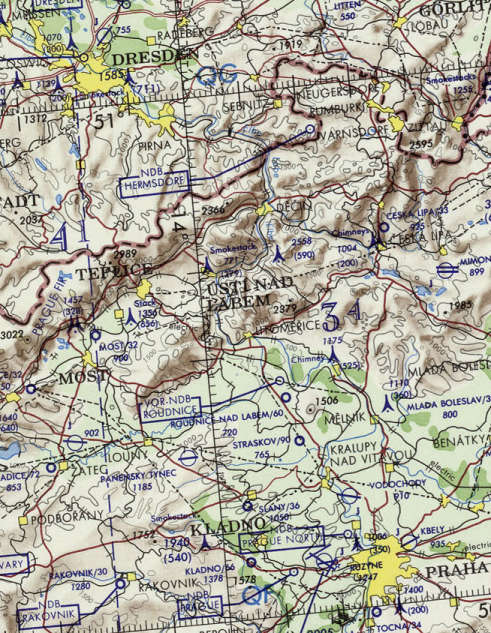 The approach to Köln was through heavily built-up areas, as shown in this second map. The last stops before we got off in Köln were in Dortmund and Wuppertal. The train then turned back to the north to head for its final destination in Amsterdam, stopping in Düsseldorf and Duisburg immediately after leaving Köln. Meanwhile, we would be waiting about 90 minutes for our fast train to Paris.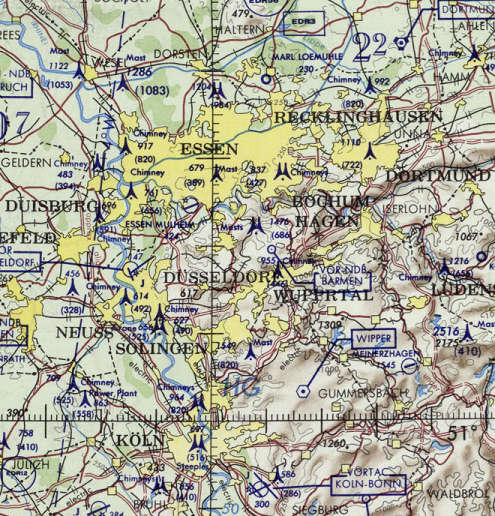 At the Prague Central Station
Praha hlavní nádraží or Prague Central Station has some beautiful Art Nouveau decoration. This is the domed entry to the station and its former ticket offices.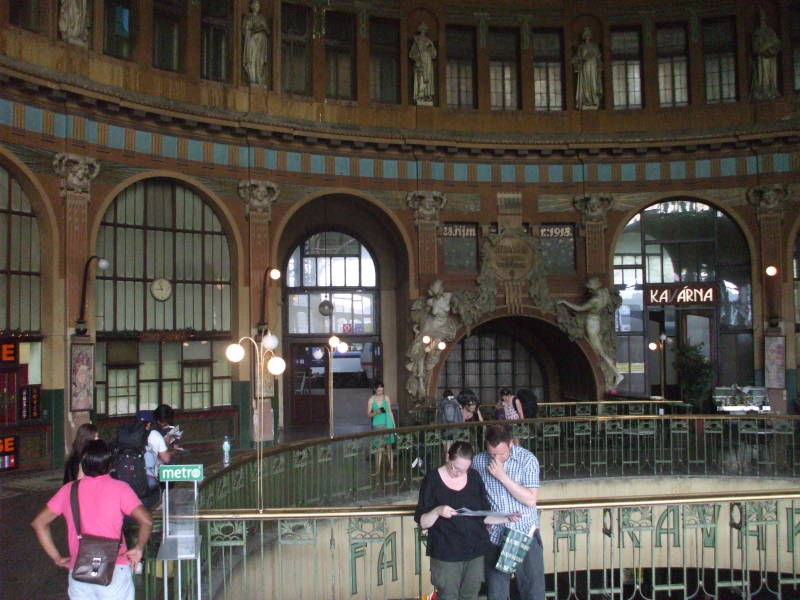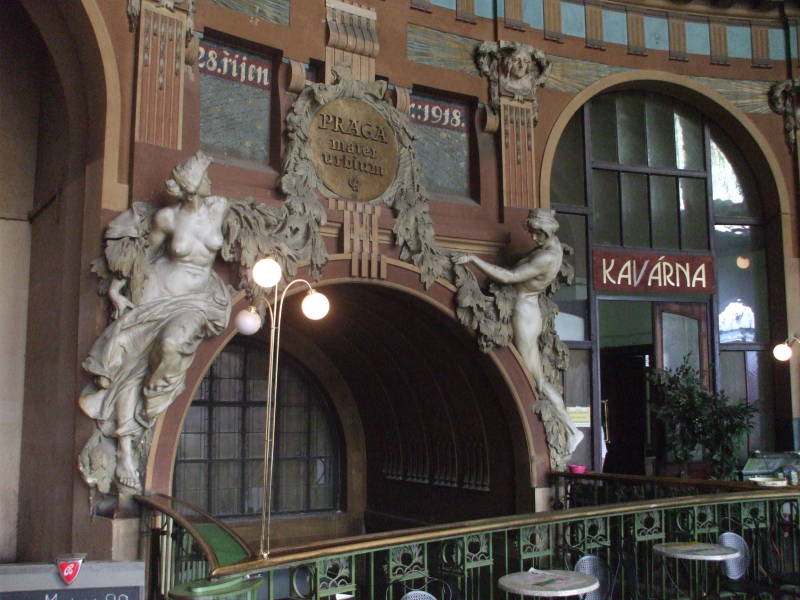 This is our City Night Line train, but the red and white car is just one of the couchette cars.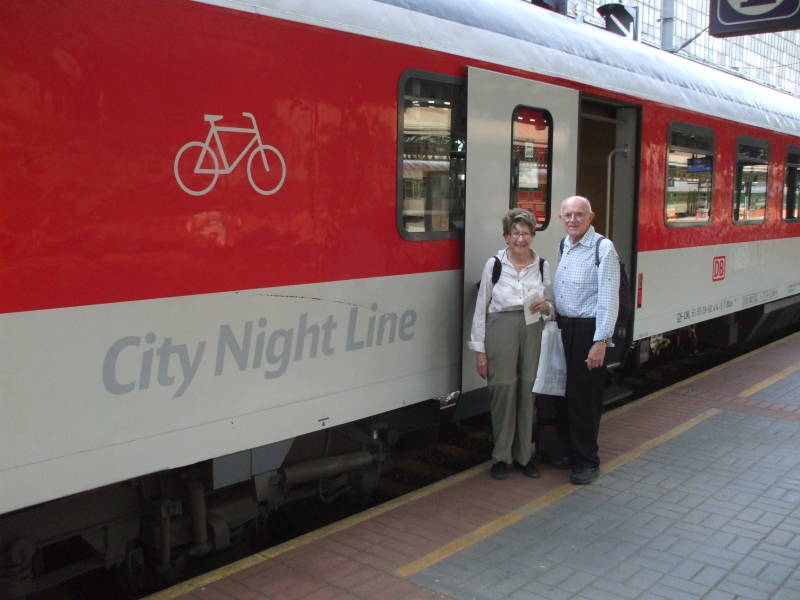 The Deluxe Sleeper Car
Here is the really nice part! My mom and dad are showing their sleeping car tickets to the conductor of the City Night Line.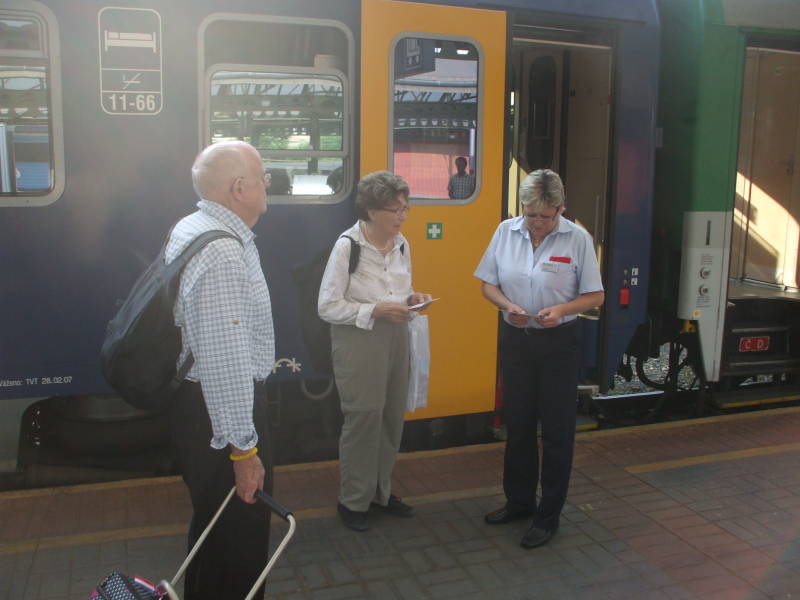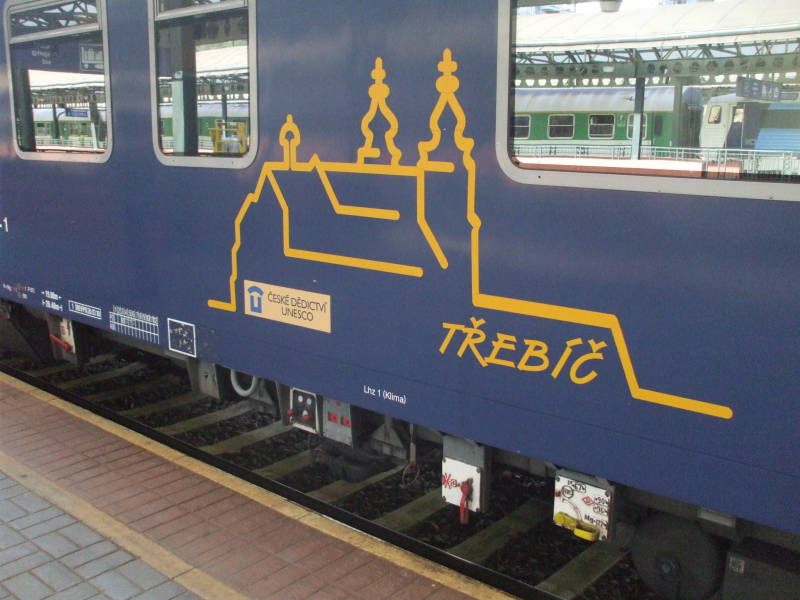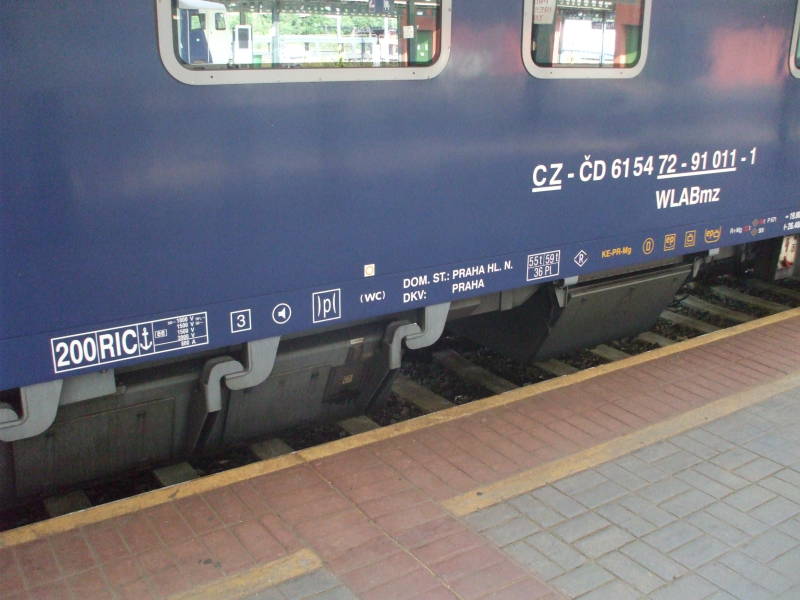 The City Night Line trains run overnight between several city pairs in northwestern Europe. Amsterdam—Copenhagen, Paris—Berlin, Paris—Munich, and several more pairs. It had been a purely German operation, then a joint operation of Deutsche Bahn and the Austrian and Swiss rail companies. Now it has spun off of Deutsche Bahn. As you can see here, this is definitely a Czech car. And it is the nicest overnight train I have ever seen.
This is a Deluxe Sleeper compartment on board the City Night Line train from Prague to Köln. Two beds, and dinner and breakfast are served in the compartment by the conductor.
Here's the startling part: Each compartment has its own very compact toilet and shower! Toilet on one side, shower on the other, a sink and mirror in between.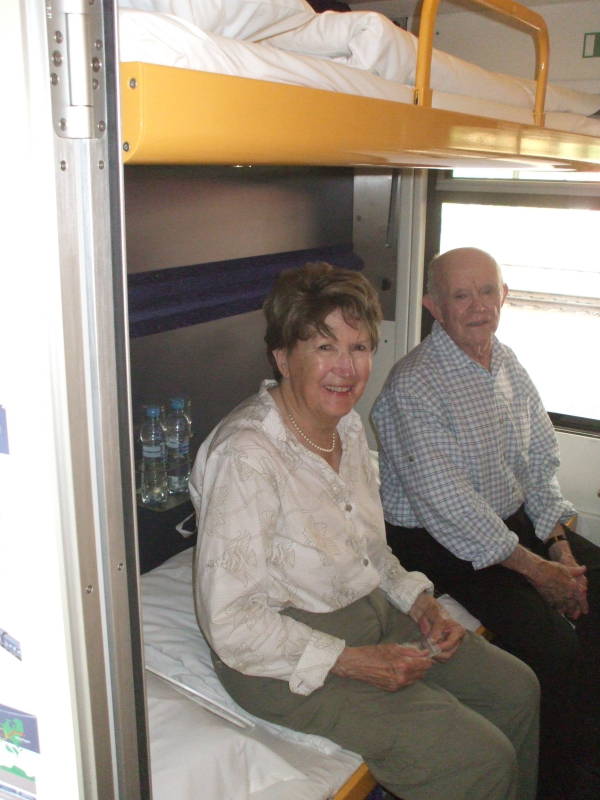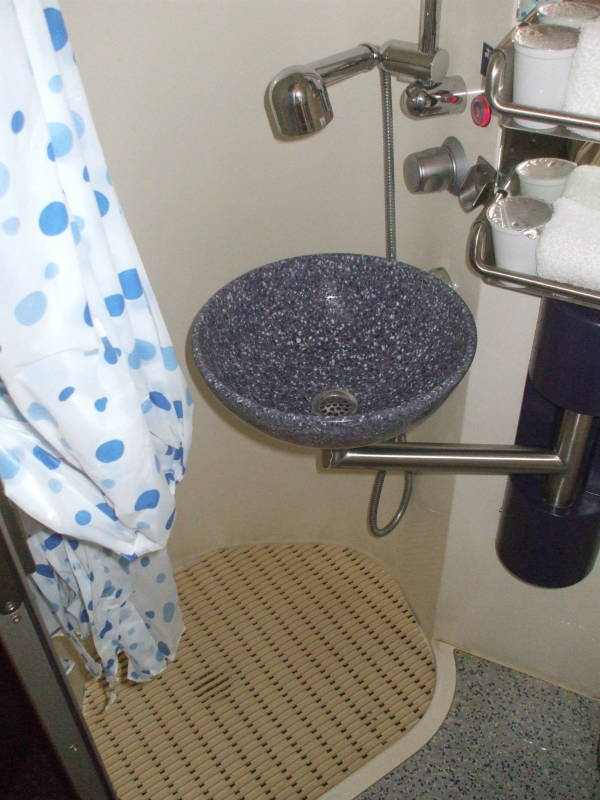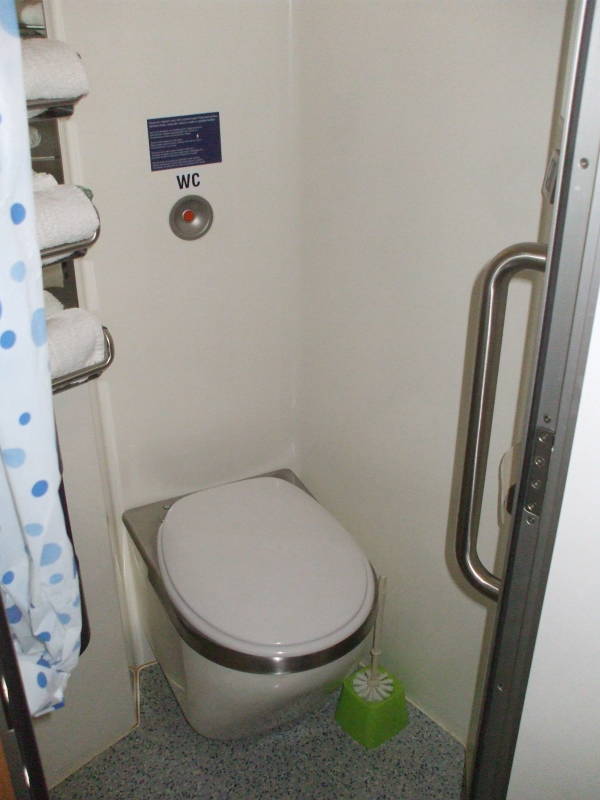 In a Couchette Compartment
I was in a couchette sleeper compartment. We couchette passengers could purchase food and drink from the conductor.
In the first picture below we are looking into the compartment from the passageway. In the second picture, we are standing by the window and looking back across the compartment and out into the passageway. My pack is in the storage area above the passageway.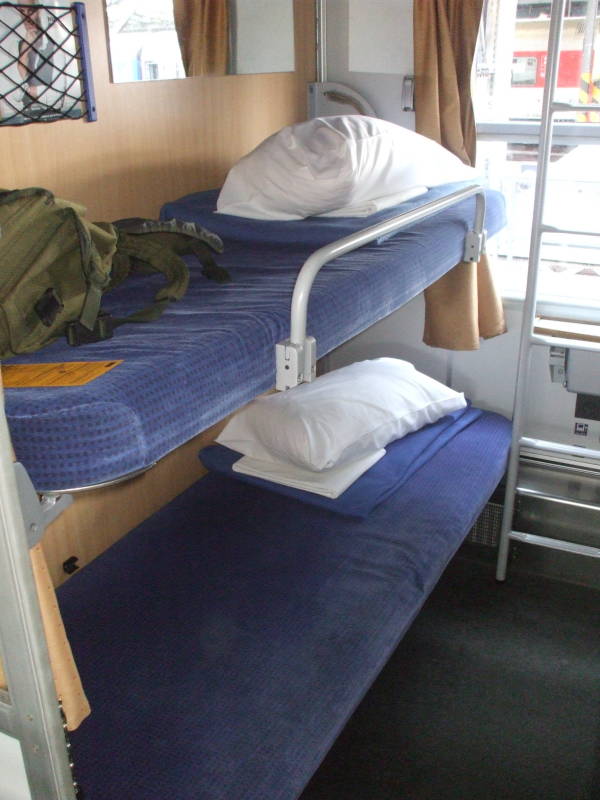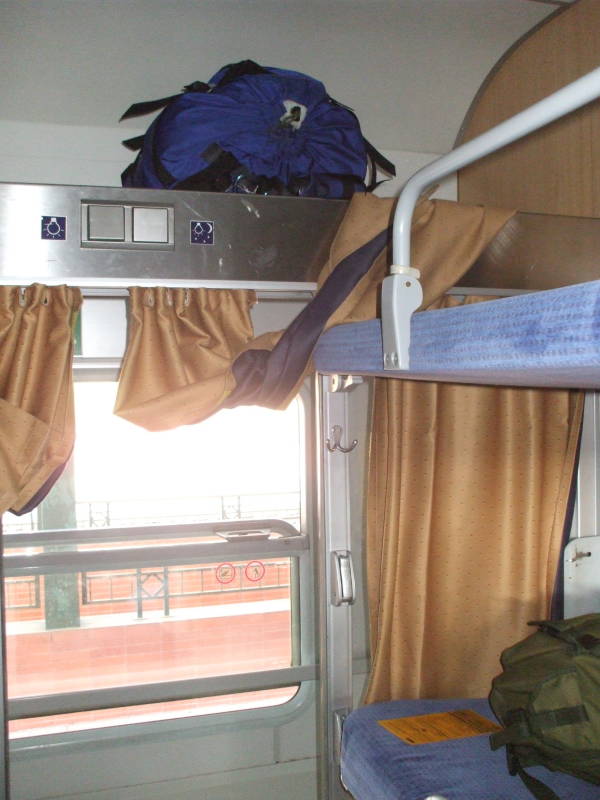 I was worried about getting up in time for the early arrival in Köln, but the conductor comes around and wakes people up. This is why it is very important that everyone sleep in their assigned bunk, as the conductor wakes up whoever is in the bunk designated as getting out at the station we are approaching.
This Czech-operated train was very impressive. I had bought our tickets online through Deutsche Bahn's web site. The deluxe sleeper compartment tickets were shipped, my couchette ticket was more like an electronic ticket.
The conductor had a clipboard with multicolored forms showing who was boarding and disembarking where, from what seats and bunks. Authentication was as simple as showing the credit card with which the ticket had been pre-purchased. When you get on, you are taken directly to your bunk. And when its getting close to time to disembark, the conductor awakens you.
North from Prague
Here we have stopped in Ústí nad Labem as we follow the Elbe River north from Prague.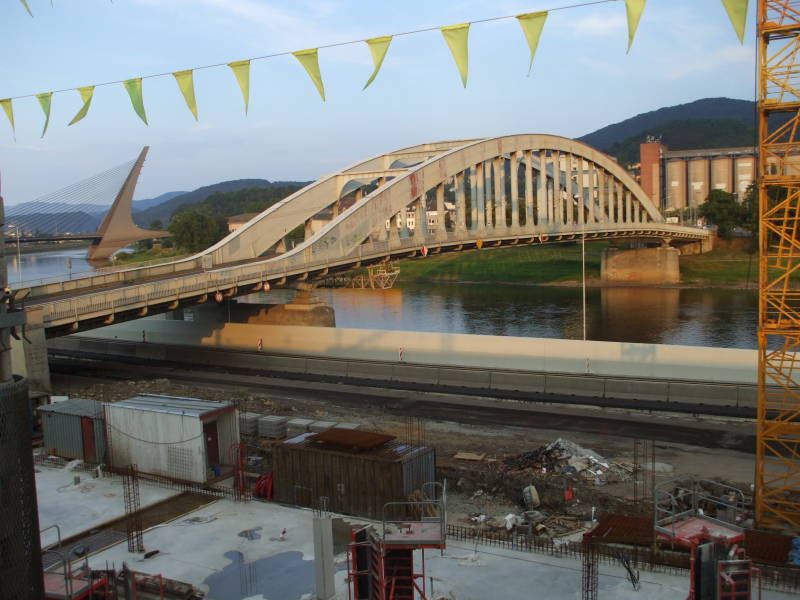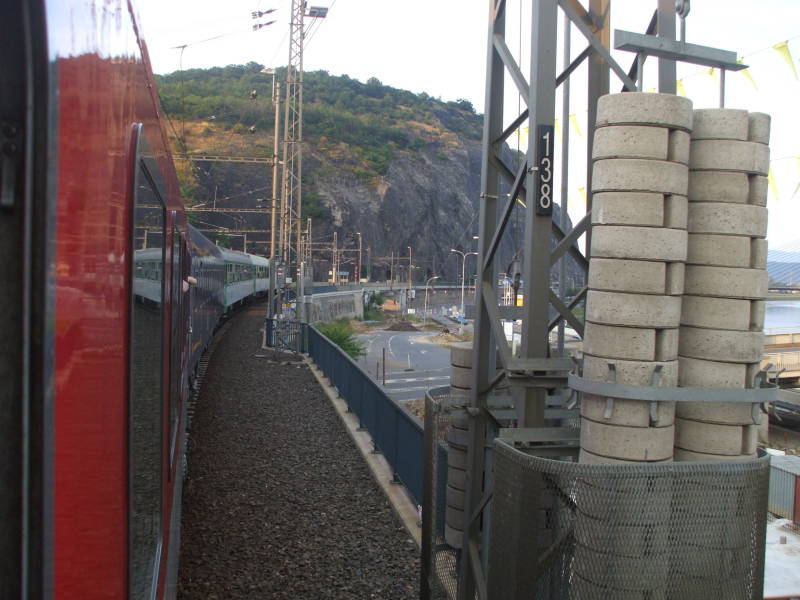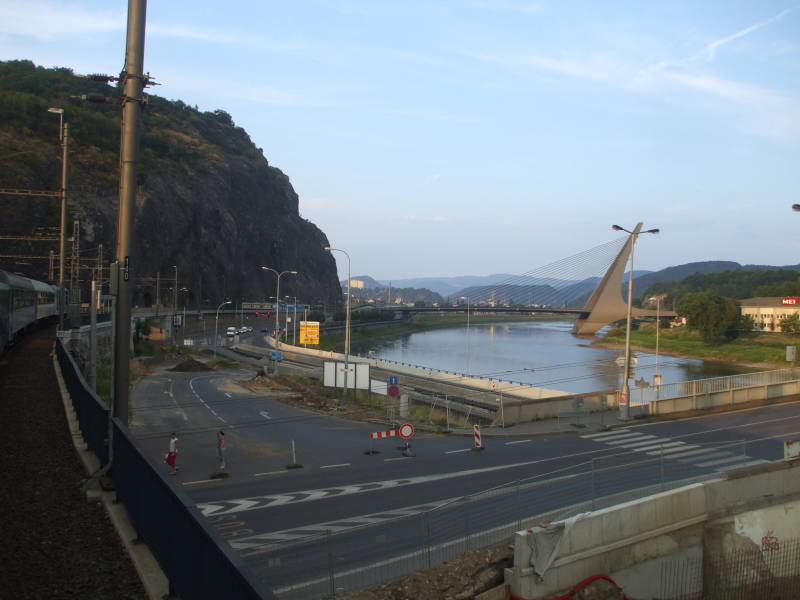 The Mariansky Bridge in Ústí nad Labem was opened in 1998. It won the European Steel Design Award from the European Association of Steel Structures, and has been ranked among the 10 best structures in the world for the past decade by the International Association for Bridges and Civil Engineering.
We're continuing north through the Elbe River valley from Ústí nad Labem toward Dĕčín, and from there we will cross into Germany and continue north to Berlin, and then travel west through the night.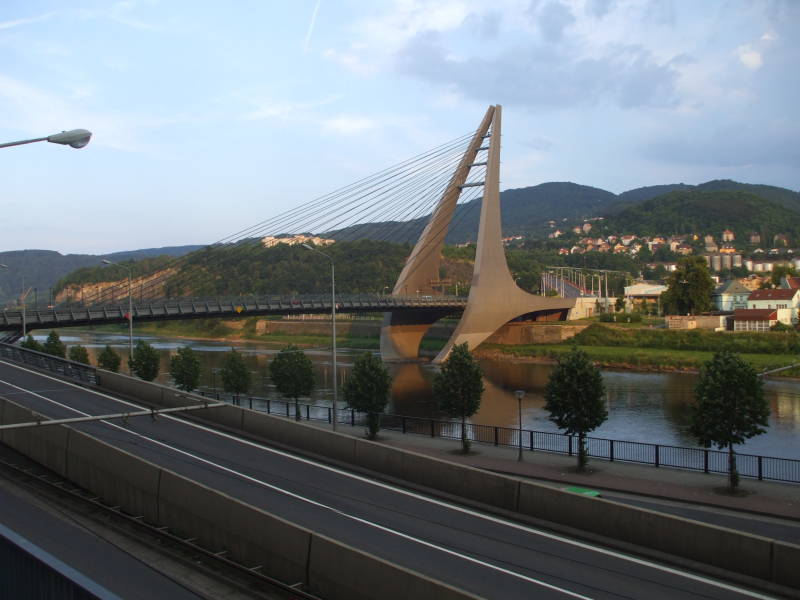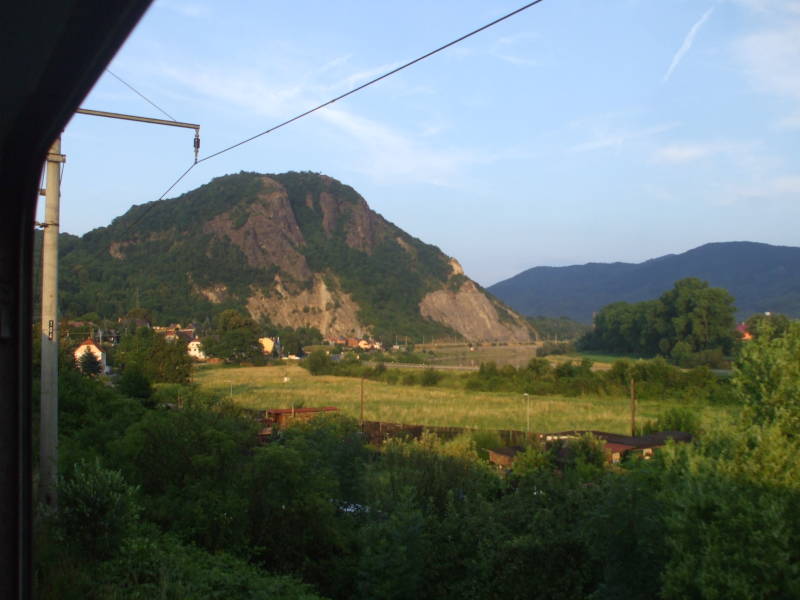 From Köln through Brussels to Paris
After about 90 minutes in Köln early the next morning, we boarded a Belgian Thalys high-speed train. We took it northwest to Brussels, then turning southwest to continue to Paris.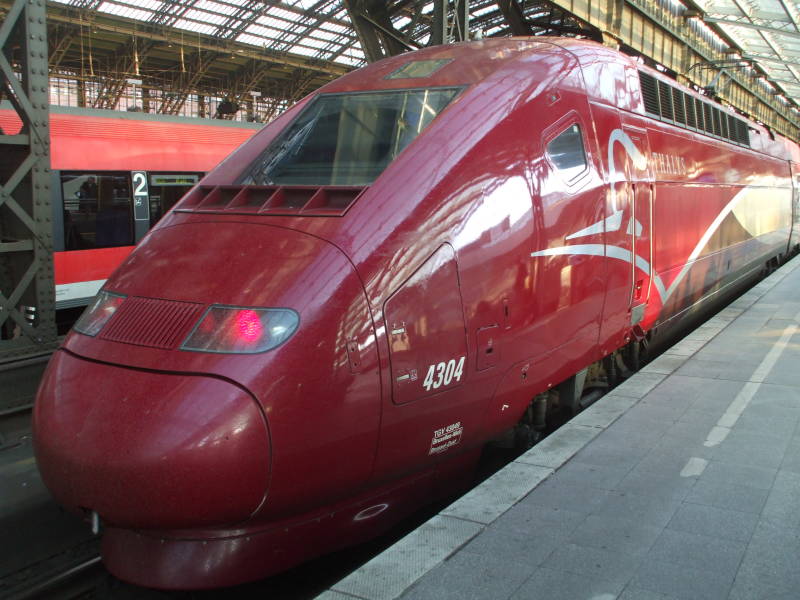 Here is a Belgian Thalys high-speed train on the platform in Brussels Midi station. This is from another trip as we did not change trains or get out along the way. Notice the slightly different design.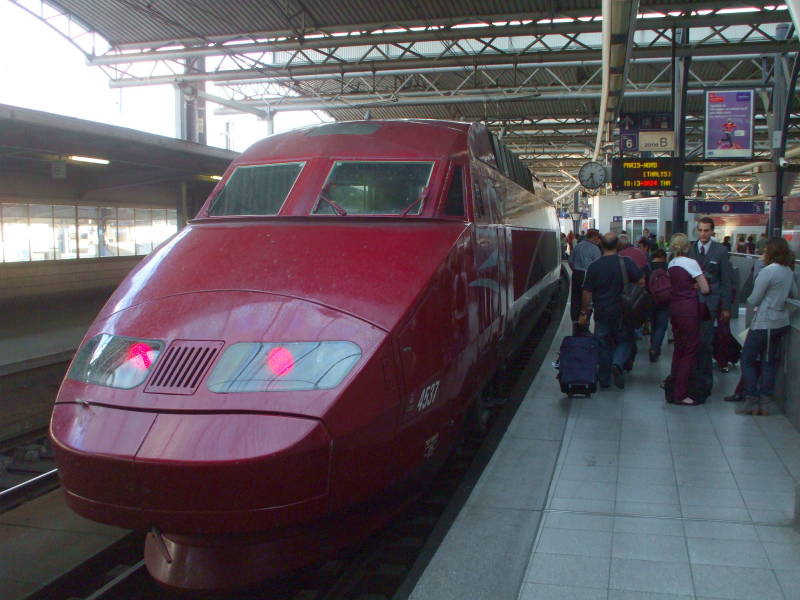 The Thalys and similar French TGV trains run at 300 kilometers per hour. Soon we are speeding across northeastern France toward Paris.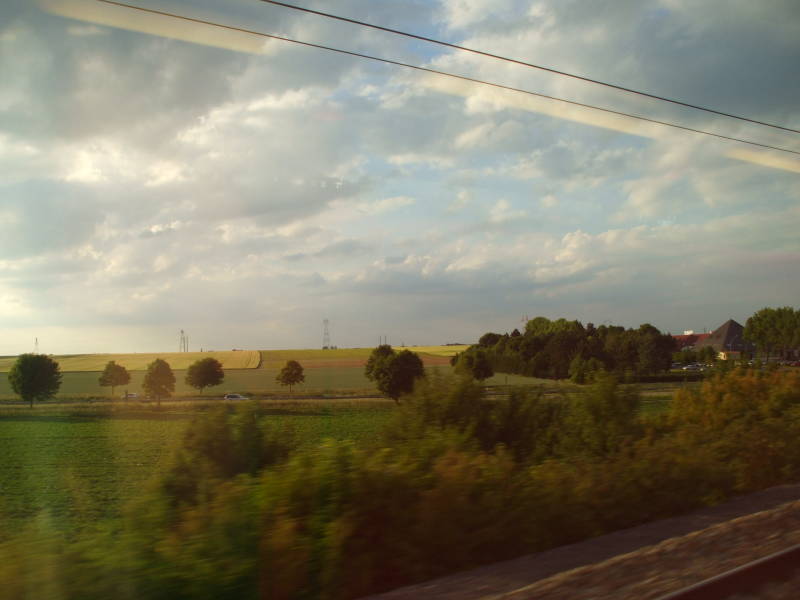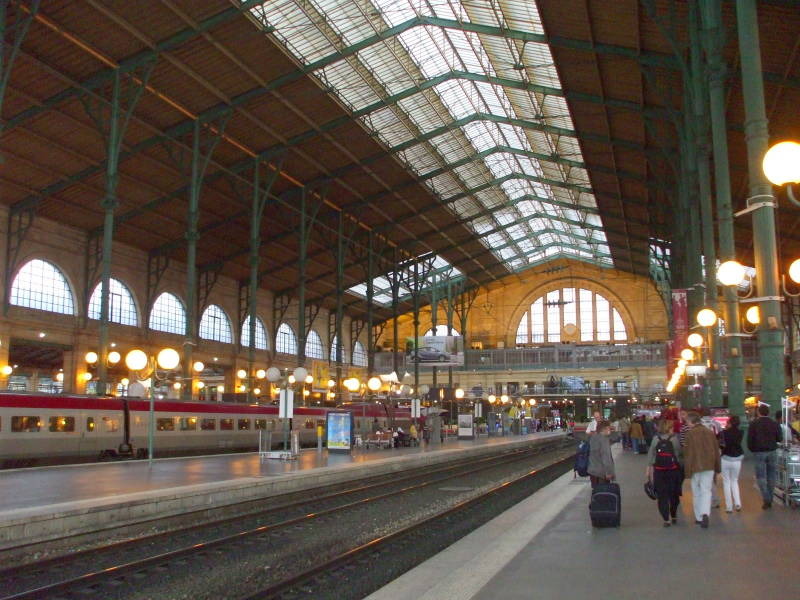 The Belgian Thalys and the Eurostar trains from London arrive at Paris Gare du Nord station, seen above and below.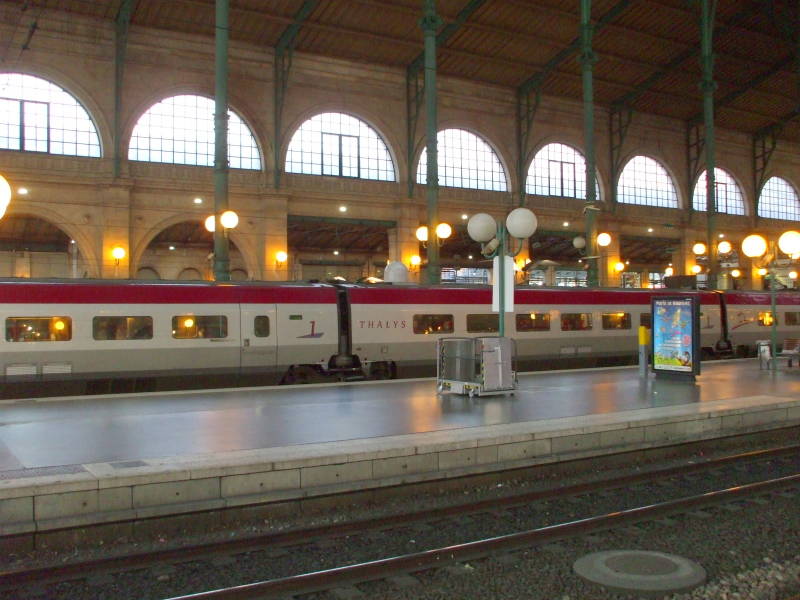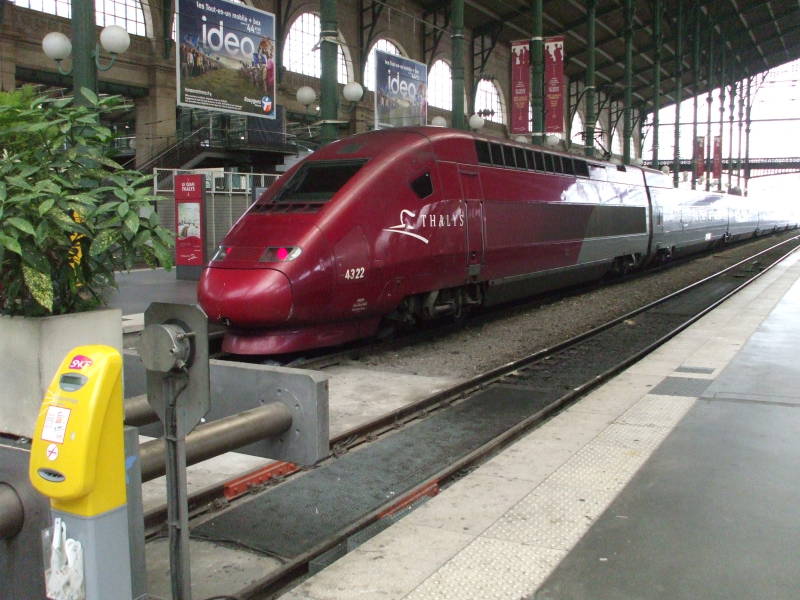 Arrival in Paris
The bright yellow machines like the one seen above must be used to validate your ticket. You must insert your ticket into the machine before going out onto the platform to board your train. This prints a timestamp on the end of the ticket, and commits you to using it immediately.
This is Europe, not the United States. In Europe, you are expected to know what you're doing and take responsibility for doing some things yourself. For example, you purchase a ticket and then you need to validate it for use on that day. An unvalidated ticket might be useful on another day if it is for unreserved seating, or at least you could exchange it for a reservation on another day. If you board a train without validating your ticket, it appears that you are trying to ride for free and you will have to pay a fine.
In the United States, by comparison, train passengers are treated like dimwitted and somewhat self-destructive children. There are constant booming announcements about not losing your baggage and staying off the dangerous tracks, and you have to show your ticket to a series of three or more staff members before you can board your train under careful adult supervision.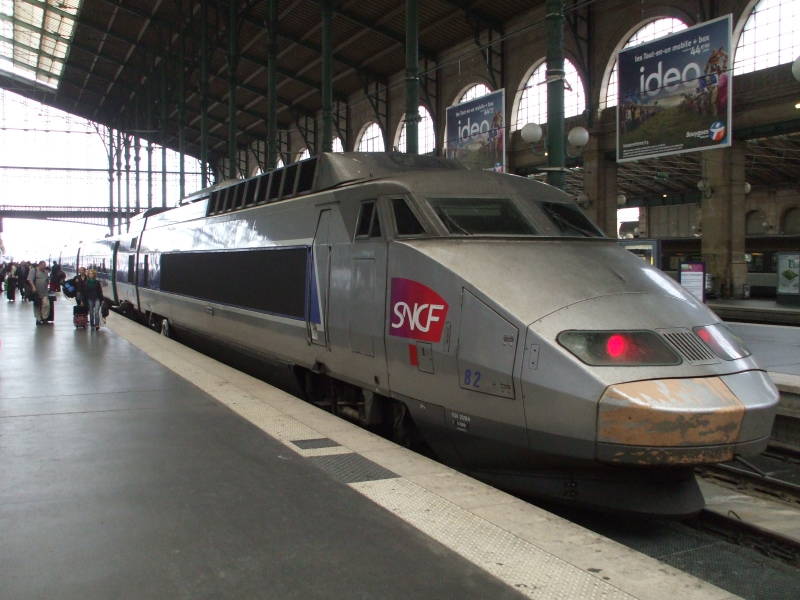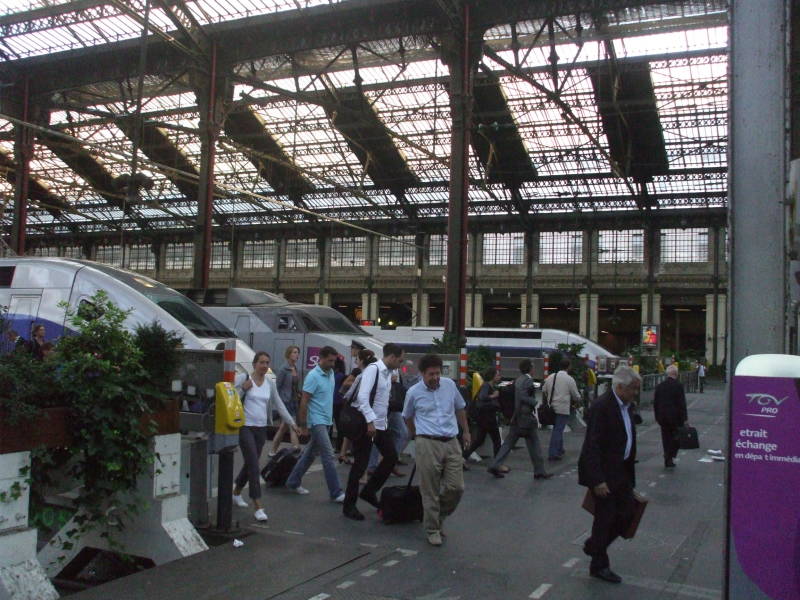 These passengers are disembarking at another large French train station: Paris Gare de Lyon.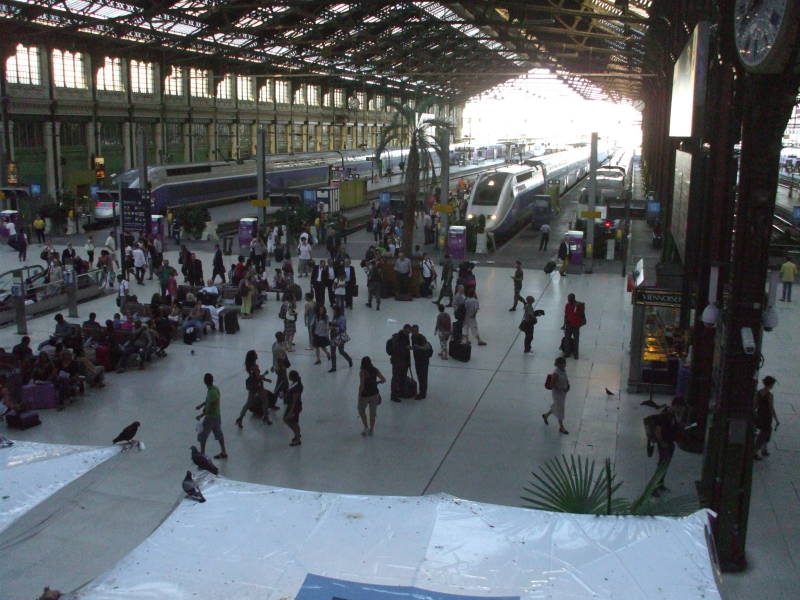 This large array of covered platforms is at Paris Gare St-Lazare.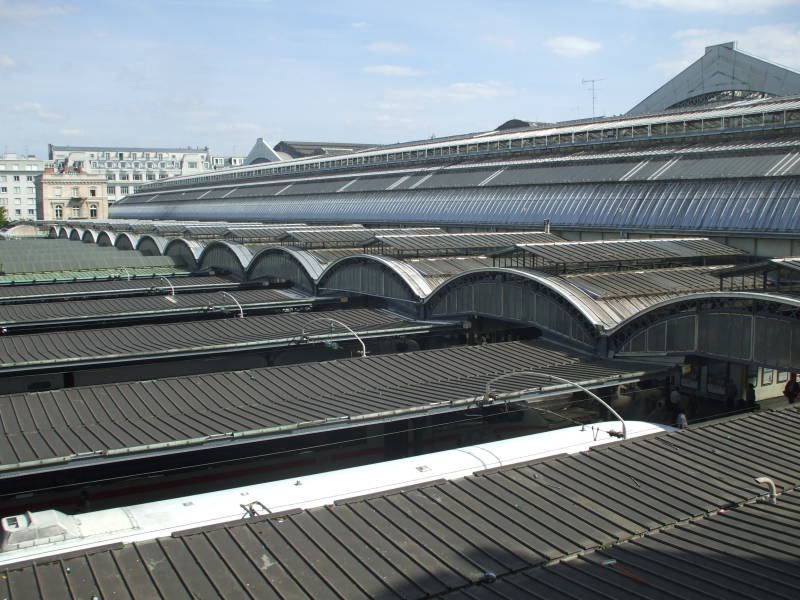 Paris has six major train stations serving domestic and international destinations in different directions. Gare St-Lazare serves Normandy.
Gare du Nord, where we arrived, serves northern France and beyond, with Eurostar trains to London and other international trains to Belgium, Germany, Switzerland, and as far as Moscow.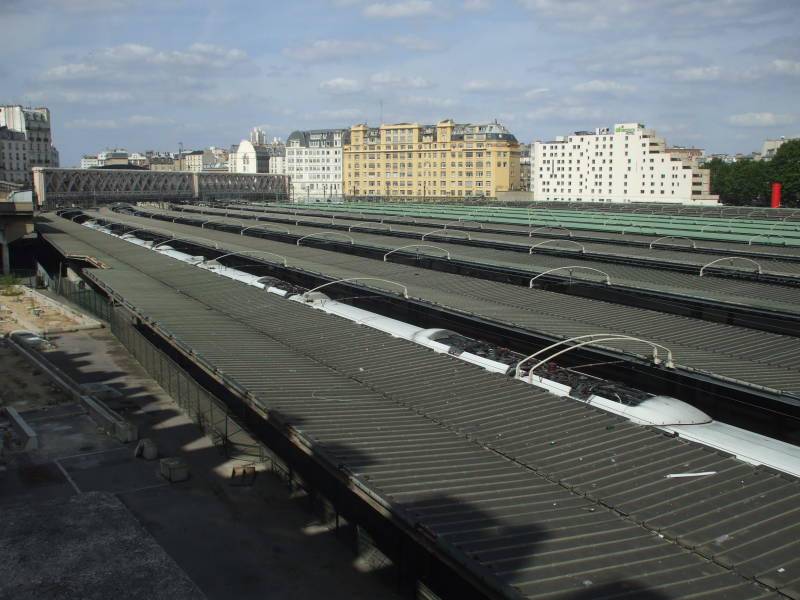 Gare de l'Est serves eastern France, plus Luxembourg, parts of Switzerland and southern Germany and beyond.
Gare de Lyon serves southeastern France, plus parts of Switzerland and Italy and beyond.
Gare d'Austerlitz serves the Loire valley and southwestern France, plus Spain and Portugal.
Gare Montparnasse serves Brittany and other areas of western France.
Across Paris by Métro and RER
The Paris train stations are connected to each other and to the rest of the city by the Paris Métropolitan system.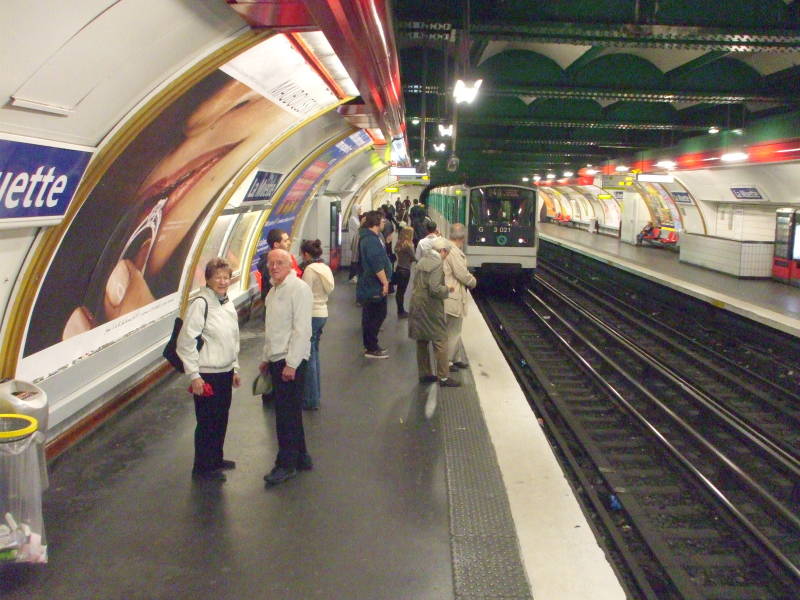 The Réseau Express Régional or RER is a network of five suburban train lines that pass through the center of the city. The RER lines extend well outside Paris to outlying suburbs, and also service the airports.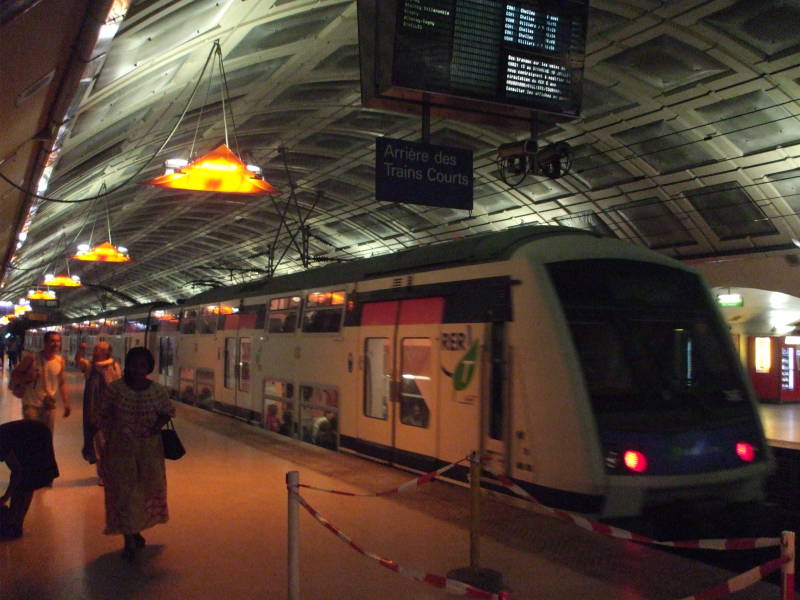 The RER runs much faster and on a precisely planned schedule, but its stops are much further apart. Many destinations, especially on the Left Bank, are easier to reach via the RER.
You use the same tickets on both the Métro and RER, as well as the buses and the Montmartre funicular. One ticket is good for one ride on any of them, at least within zone 1 on RER. You need a supplemental RER ticket to travel outside the central city.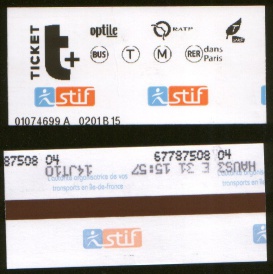 Paris
We're in Paris! This is Palais Garnier at Place de l'Opéra.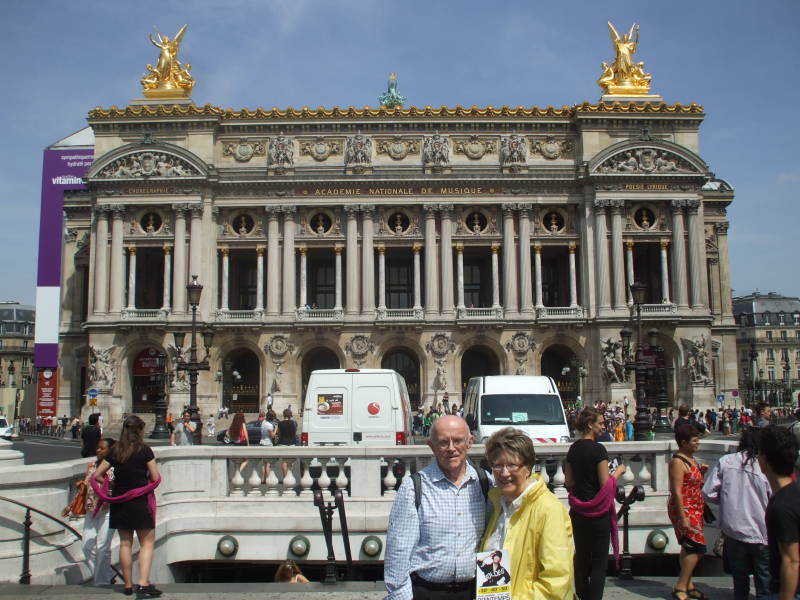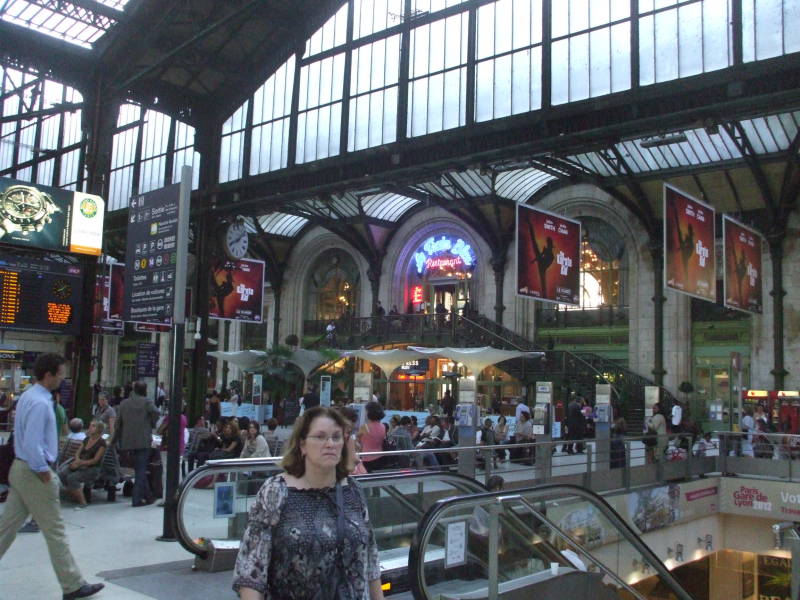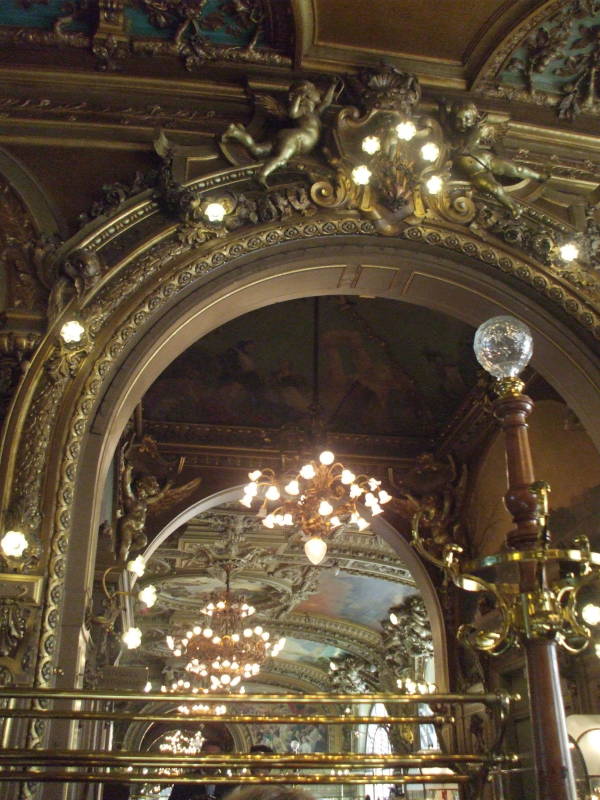 Paris Gare de Lyon railway station contains a very nice restaurant, Le Train Bleu.
This is not what you expect to see when you think of a restaurant in the train station.
Bob is having a very nice meal in Le Train Bleu.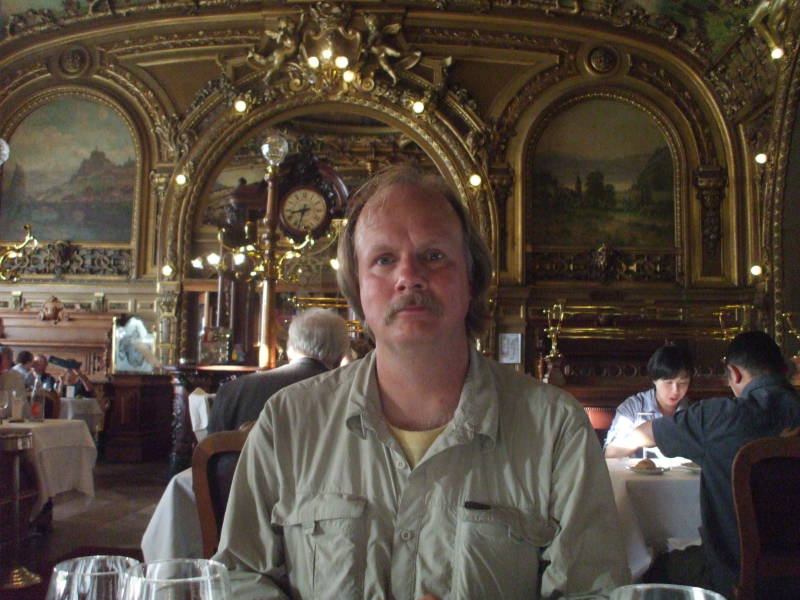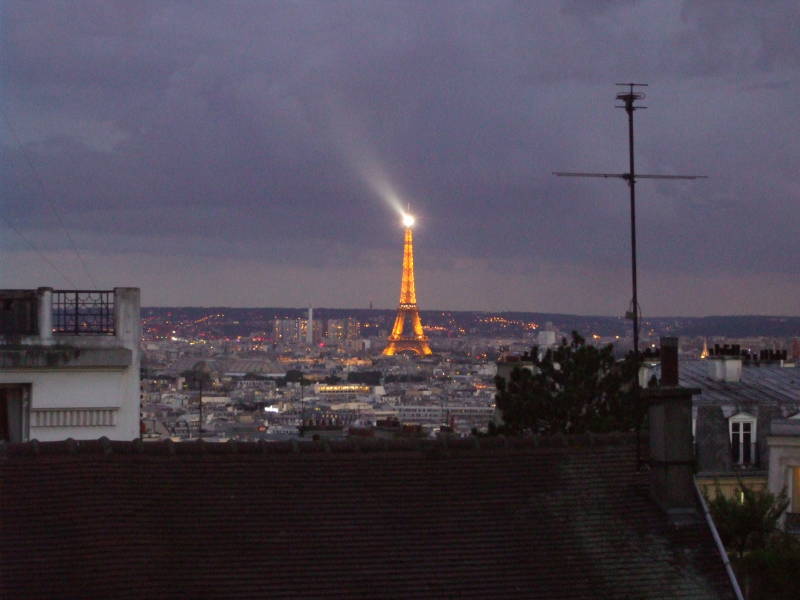 The Eiffel Tower is lighted at night by sparkling lights on the structure and a rotating beacon at the top.
This is not quite the end of the grand trip that started in Athens and crossed eastern and central Europe by train. The next stage of the trip is: