Valparaíso
The Jewel of the Pacific
Until the Panama Canal was opened in 1914, Valparaíso was a major stopover for ships traveling between the Atlantic and Pacific oceans. 19th century sailors called it The Jewel of the Pacific and Little San Francisco. It's still Chile's main container and passenger port, handling 10 million tons of cargo annually, with about 50 cruise ship visits.

The old funiculars go up and down the steep cerros or hills, which come right down to the port. The streets twist and turn up and down the hills. Some of the streets turn into staircases in especially steep areas.

The entire city is a UNESCO World Heritage Site. Many of the houses are painted in various bright colors. Several have murals in a variety of styles.

Valparaíso was my second stop in Chile, after flying into Santiago. Here my bus about to leave Santiago for the one-hour trip to Valparaíso.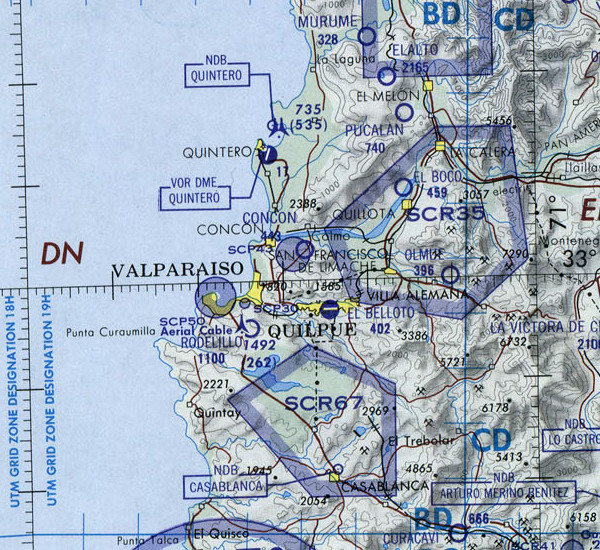 Santiago is at the base of the Andes mountain chain. We cross the Central Valley, which is filled with vineyards and other agriculture. Then we cross the relatively small coastal mountain chain into Santiago.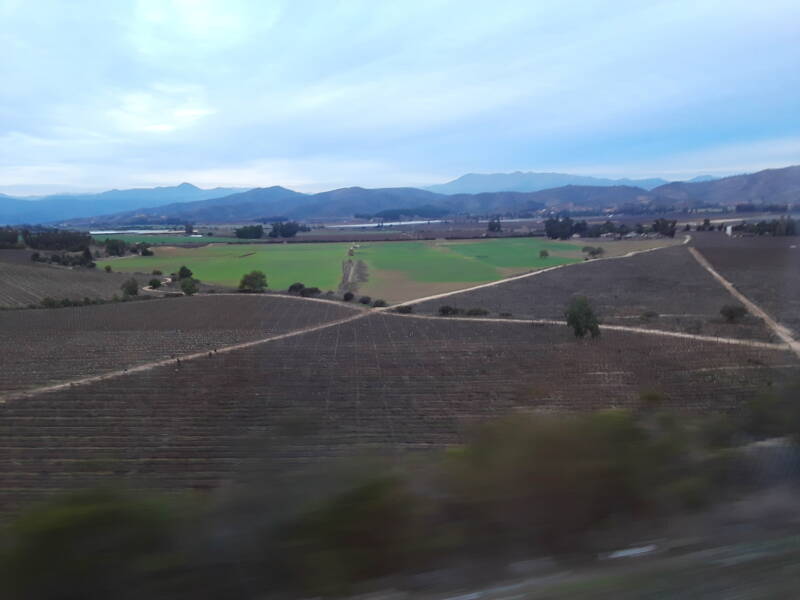 The Valparaíso bus terminal is just a block and a half from the highway that comes in over the mountains.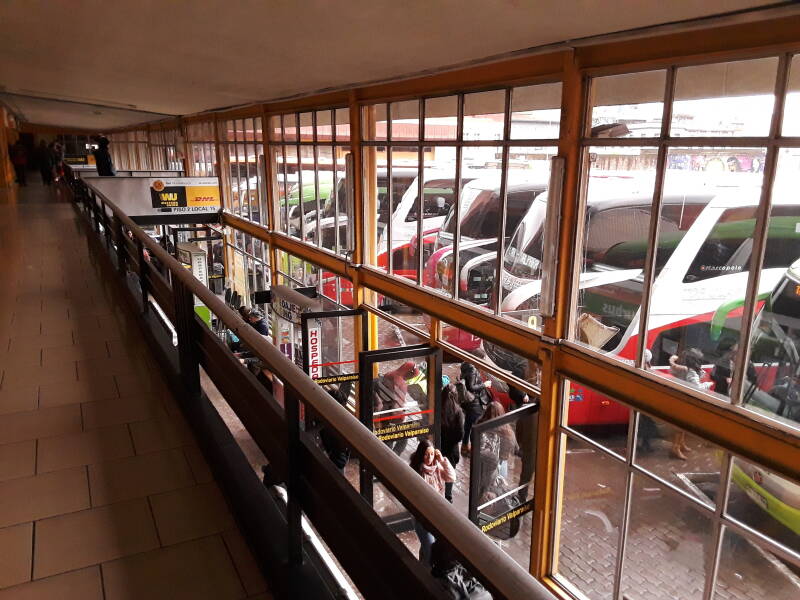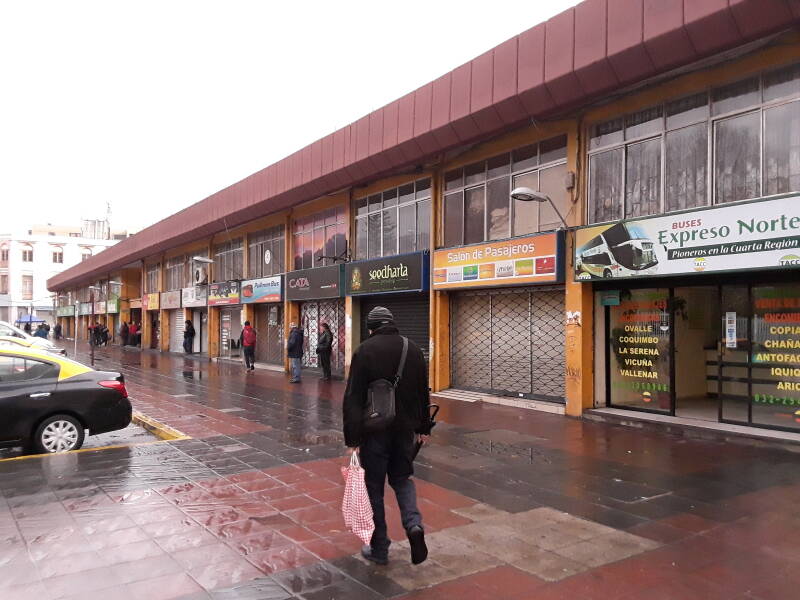 The bus terminal is a kilometer and a half east of the center. The Baron metro station is four blocks north of the bus terminal.
The metro runs along the waterfront. There's just a narrow strip of level land down by the port.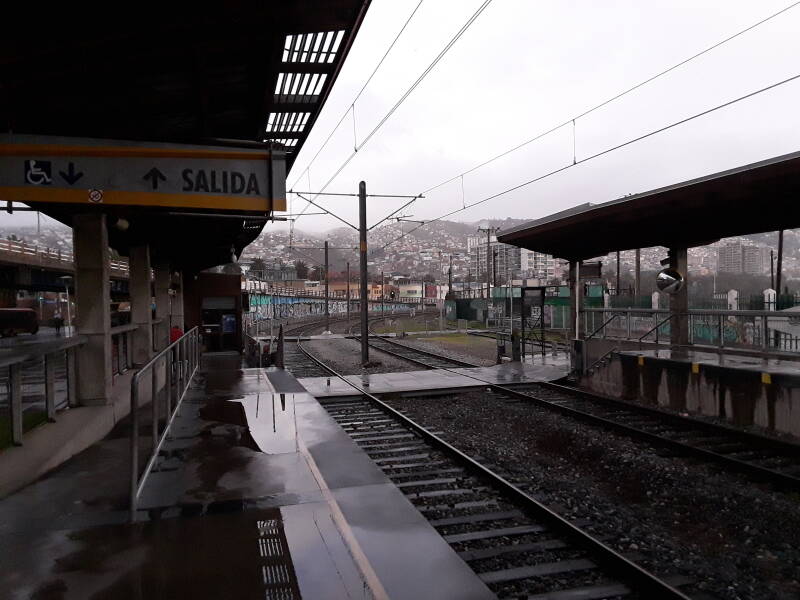 Here's the train.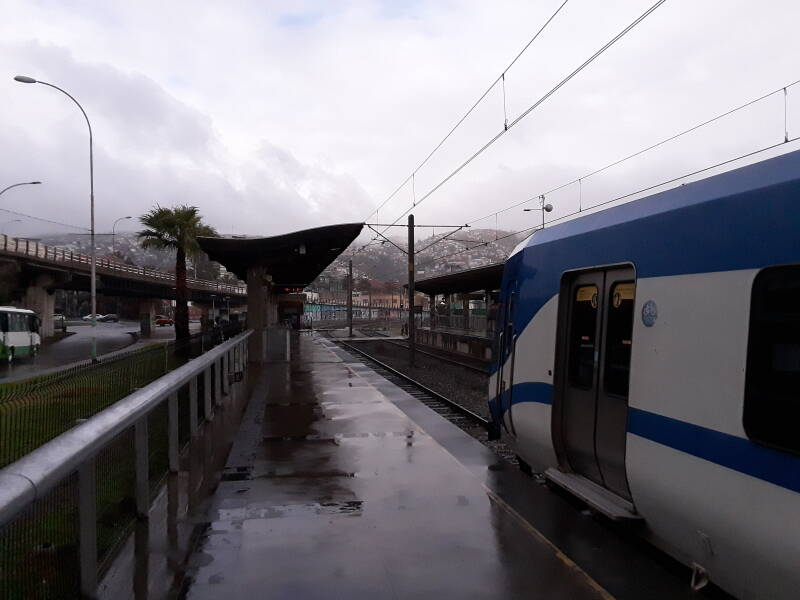 Just like Santiago, Valparaíso's metro is clean and efficient.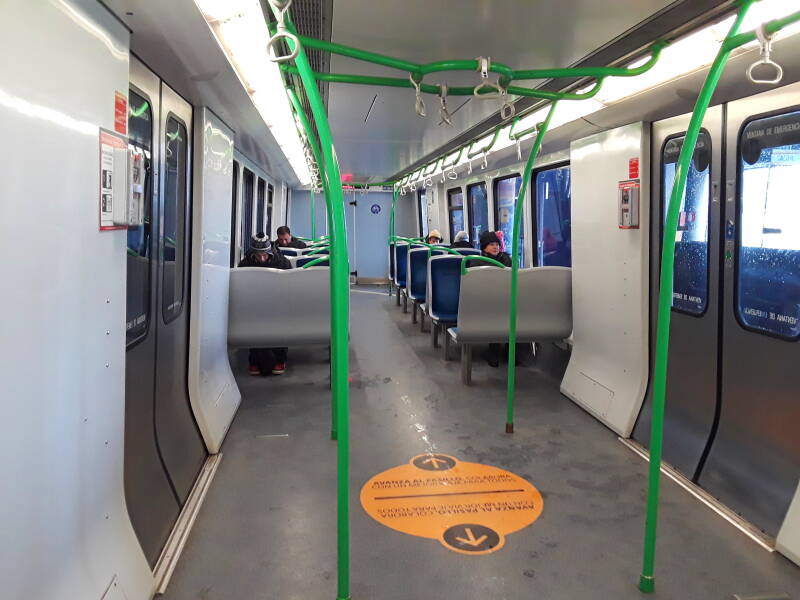 The third and final stop is Puerto.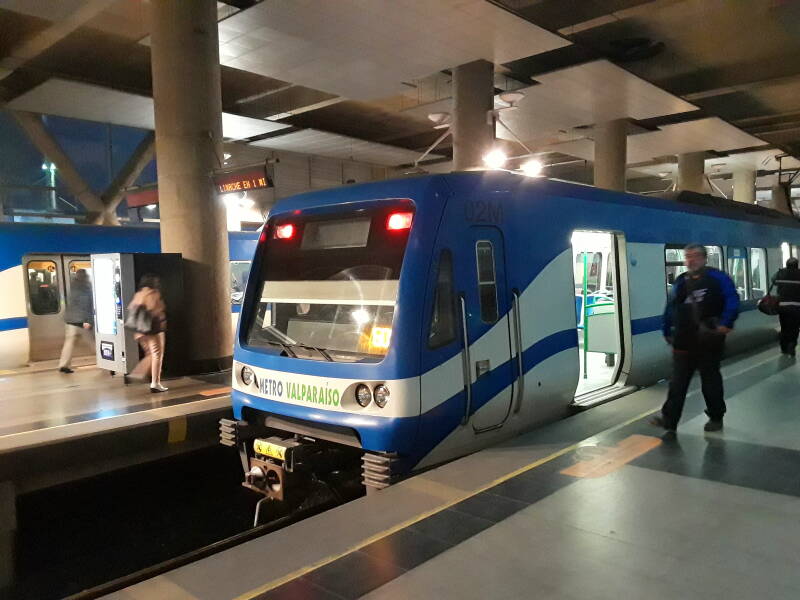 I had a long steep walk uphill to reach the Acuarela Hostel at Templeman 862.
Like many places in Chile, it has tall open atriums. Atria. Whatever.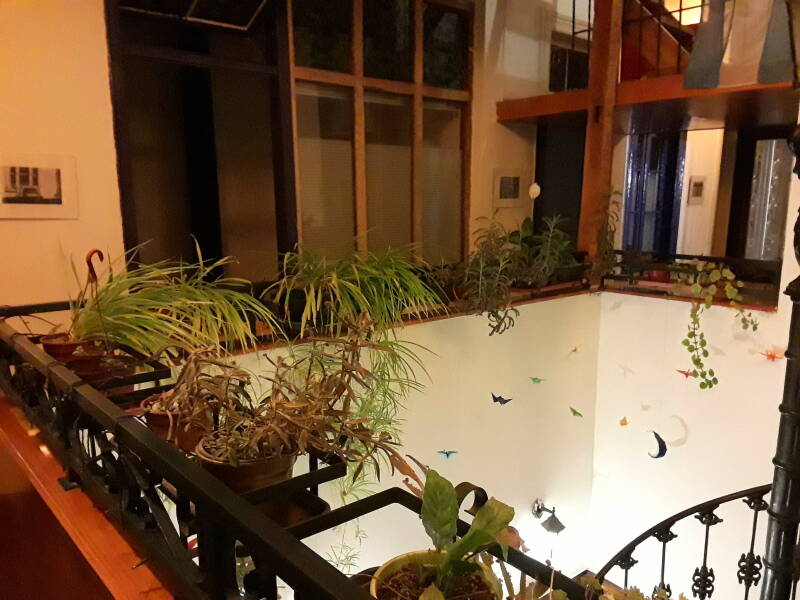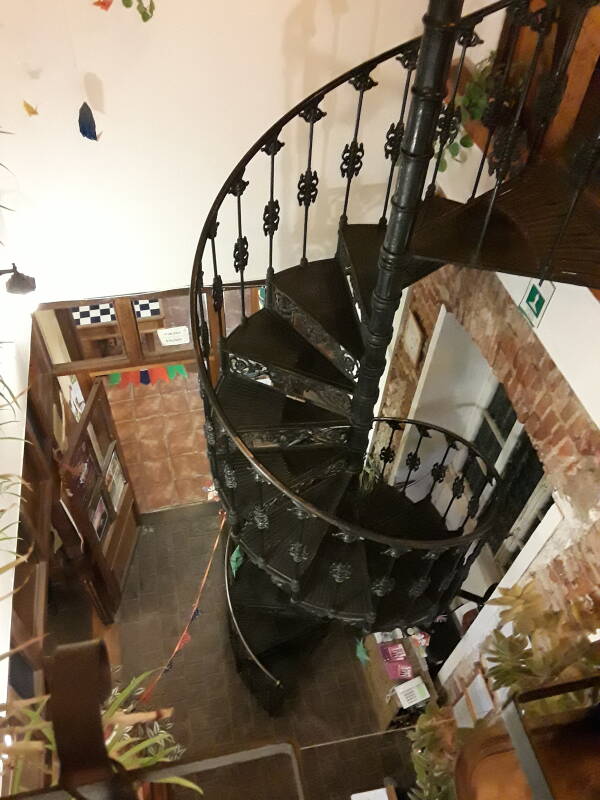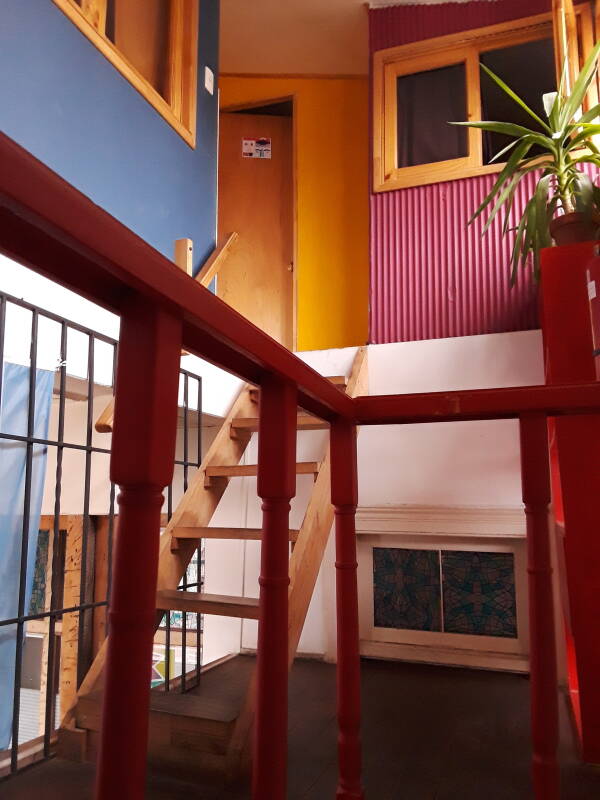 And, of course, it's colorful.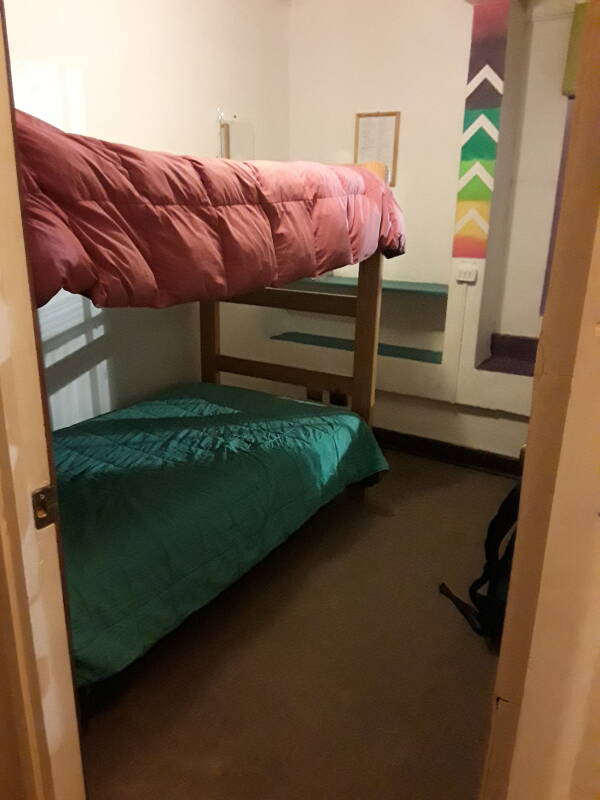 There's my room. I had reserved a bed in a shared room, but I was there in mid-winter and there weren't many guests, so I had the room to myself.
I went up on the rooftop terrace. It was fully dark by the time I arrived.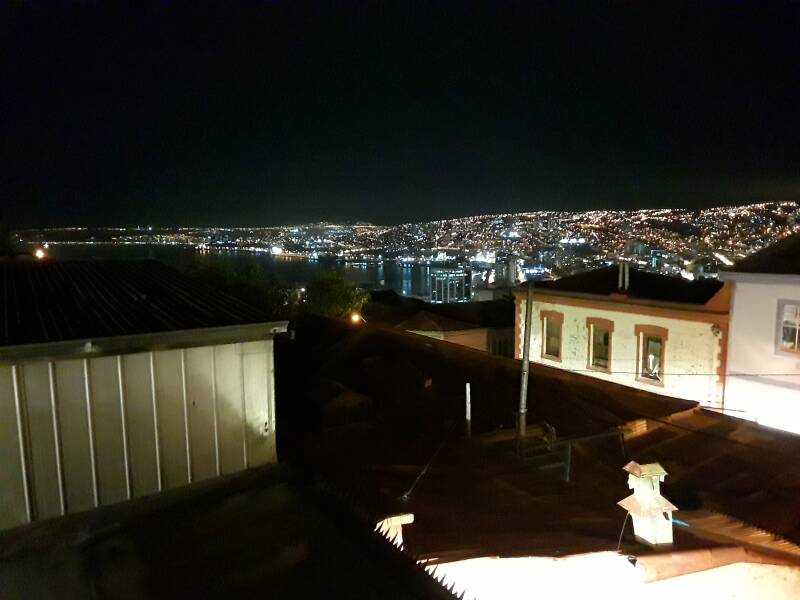 In the morning I'll see how it looks by day!