Piloting a Boat Through French Canals:
Suggestions on the Boat, Crew, and Rental Company
Suggestions for the boat and crew
We're planning a trip through the canals of France in a rented boat. But just what type of boat should we rent? Many models are available. And how many people will be involved, and what will they do?
Get five or six people involved.
Locks are much easier with three people — one at the helm and one handling a line at each end.
The price per person will be lower.
You will have a big enough boat that you don't feel like you're all trapped on a small boat.
The one we rented was about 13 meters long, which meant that someone could go below to get out of the sun and not feel confined. Someone else could go sit on the forward deck area.
The boats we have rented had one cabin forward and two cabins side-by-side aft. At center was a galley and dining area, over the low-and-center diesel engine, fuel and water tanks, and batteries. Below you see me standing (in black) at the helm on the top deck, above the two aft cabins.
You can view plans of the boats on line. If you require each cabin to have its own en suite head — that is, its own private toilet and shower accessible from within the cabin — that will greatly constrain your choice of boats.
By 2012 some of the companies were pushing far more luxurious boats featuring air conditioning and en suite toilet and shower in every cabin, but that came with a significantly increased price. However, some older models like the one seen here were still in their fleet, and this one actually had three fully en suite cabins.
Also carefully consider the characteristics of the canal and the distance you plan to cover. The very popular Canal du Midi has a lot of locks every day, while the far more leisurely Canal Lateral à la Loire has far fewer locks. See the next page for more about this.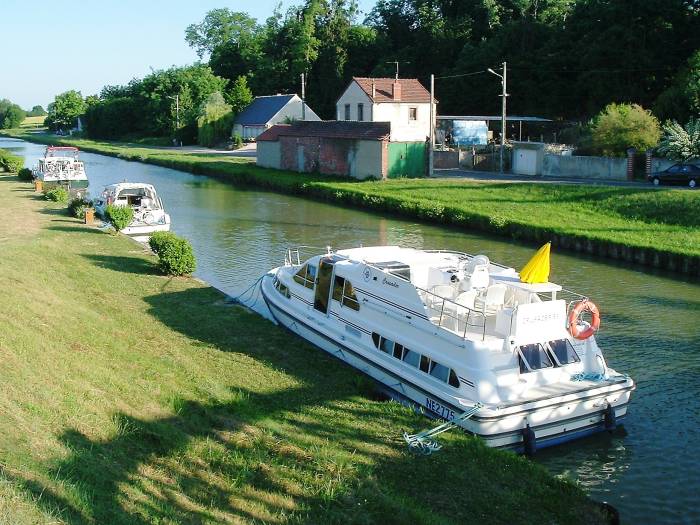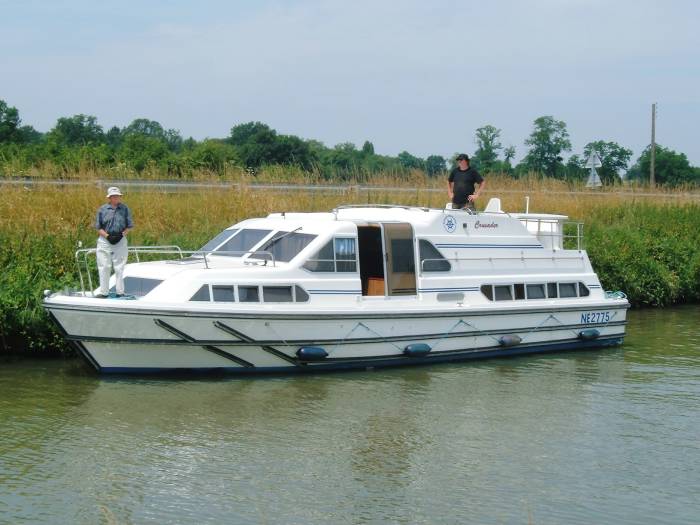 Rental companies
A number of mom-and-pop operations have one or a few boats, and you can certainly find them by searching the Internet. What makes it easier are the firms that are really middlemen between the owners and would-be renters. You don't have to somehow find the one small marina with exactly the sort of boat you want, in exactly the right spot, available at exactly the right time. But even through the rental agencies you will need to reserve well in advance to get what you want for boat type, location, and time. Better deals may be available further in advance. We rented the first time about six months in advance, and the second time about nine months.
We rented ours through a company called Crown Blue Lines, which has since merged with le Boat. They can send you lots of brochures and you can get even more details on boats and routes on line. For whatever reason, after finding their web site and getting in contact via e-mail, I found myself communicating with an office in Australia even though I live in the US. That's fine, no problem other than a need to call them at specific times to hit Australian business hours from North America.
Right before leaving on our first trip I wanted to call to verify that everything was OK — make sure that the boat we were planning to rent hadn't been sunk the week before or anything like that. I called their US office, and while I was able to verify that our boat was still above water, I was unimpressed.
They told me that I was foolish to have rented from their Australian office because "when you pay in Australian dollars it is much more expensive than paying in American dollars." OK, fine, whatever, we've already paid, just let us have the boat...
But then when I checked, it was actually slightly cheaper to have rented it through the Australian office because of varying rates in conversions from Euros to US dollars versus Euros to Australian dollars (and then to US dollars). Apparently the US office did not realize that US dollars and Australian dollars are different currencies and therefore 1 A$ is worth a little less than 1 US$.
Our second rental was from Crown Blue using the Australian office exclusively, and things worked out great:
Outdoor Travel Australia
PO Box 286 Bright VIC 3741 Australia
Tel: 1800 331 582 or (03) 57501441
Fax: (03) 57501 020
E-Mail: info@outdoortravel.com.au

Other rental places include: