Piloting a Boat Through French Canals:
Maintaining the Boat
Maintaining the boat
The rental companies clean and repair the boat as needed between trips, and you can always contact them for help along your trip. You need to keep things reasonably clean, and turn it in in good shape to avoid charges for excessive cleaning. For minor maintenance, it can be easier and quicker to just do it your self.
If you are there in hot and sunny weather, you will definitely want an umbrella for the upper deck. But be careful to secure it!
If the umbrella goes into the canal, you go for a swim. If you're wondering, French canals are about 4 meters deep throughout, and deeper in places. And open umbrellas are very difficult to get off the bottom!
On the third trip we had to pay a special refundable deposit to get an umbrella, and we were given several warnings about how to secure it so it doesn't go into the canal.
Apparently a lot of people were losing their umbrellas and not retrieving them.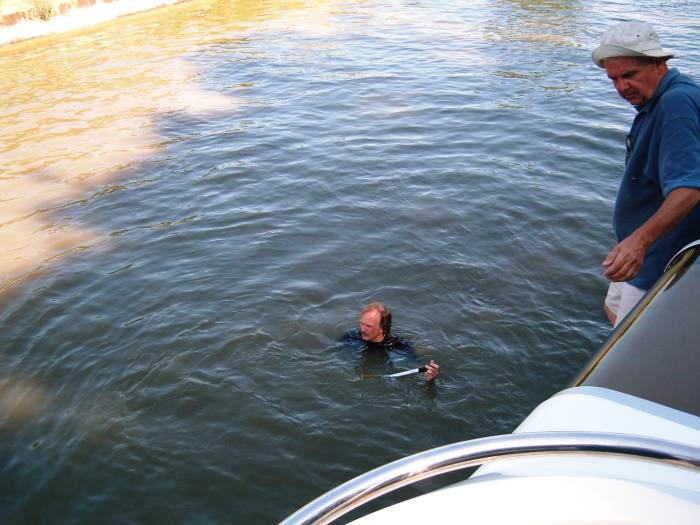 As for the mechanical systems, the engine is diesel. You have way more fuel than needed for a one-week 160-kilometer trip. Probably enough fuel for two weeks. Typical specifications are:
4.220 HE Nanni engine, 36.8 kW (50 horsepower)
Dennison hydraulic drive
300 liter diesel fuel tank
Similarly, your waste water holding tanks are much more than large enough for a one-week trip, and probably would not need pumping out on a two-week trip. Typical specifications include a 800-1000 liter water tank, with an 80 liter tank heated by the engine.
Your water storage tank, used for the showers, heads, and sinks, will need filling during the week. But there will be a hose most anywhere you tie up. Top off the water storage tanks whenever you get the chance.
There are two electrical systems on board. One battery set is dedicated to starting the engine. The other provides lighting, supplies those crucial fans, and runs a car-type stereo — everything is 12V DC. Both battery sets are recharged by the engine.
In hot weather you will want to run the engine at idle for a while in the evening before going to bed. That will fully charge the secondary power system and keep the fans running for most of the night.
If you need 220V AC, there is a cable you can attach to shore power at a few of the tie-up points. However, 220V AC power is not generally available. For the most part you will only find it when you tie up at a marina. In one week along the Canal Latéral à la Loire we only stayed overnight once at a place where shore power was available.
Several pumps run off the secondary electrical system. Bilge pumps (don't worry, not needed very much) and pumps to pressurize the water supply tanks.
The water supply works by pumping water from the main storage tank into a pressure tank. The pressure tank holds an air bladder that is compressed as water is pumped in. If that pump can't fill the pressure tank, you have no water supply. You can have a full main storage tank of water down along the keel, but it will just sit there and won't flow up into the sinks, toilets, and showers unless water can be pumped into the pressure tank.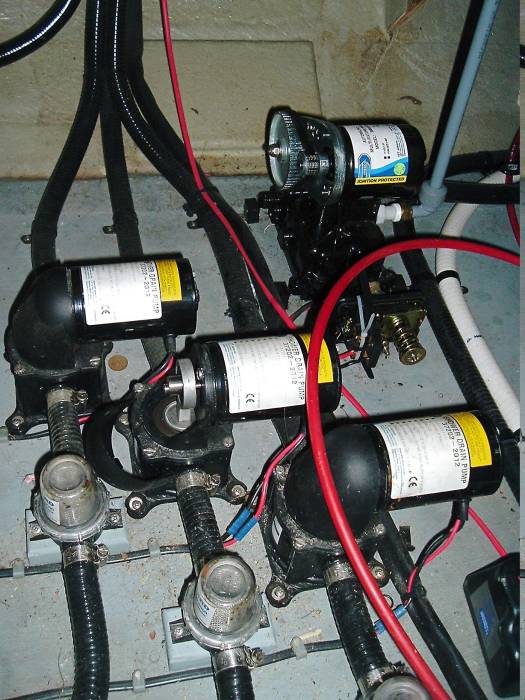 The set screw holding the toothed wheel on our water pressurization pump worked loose one night and allowed the motor shaft to spin freely. The motor kept running at full speed but accomplished nothing. I shut off power to the pump on the breaker panel, to avoid burning out the motor overnight.
The pumps are down in an awkward compartment under the dining area, easy enough to see but hard to work on. The water pressurization pump is at upper right.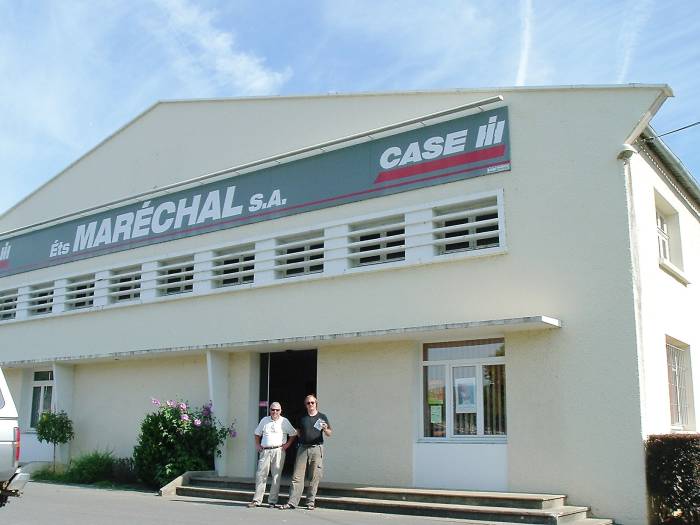 I had noticed a a tractor supply place in the town when we went to get dinner the night before. We were able to get a set of hex wrenches there the next morning.
Then it was up to the on-board engineer to fix the boat!
Problem solved, and we had water again.