Markets in the Arab Quarter
Markets south of La Canebière
Markets fill the quarter south of La Canebière between Boulevard Garibaldi on its east and Rue de Rome on its west. The markets are largely operated by the North African segment of the local population.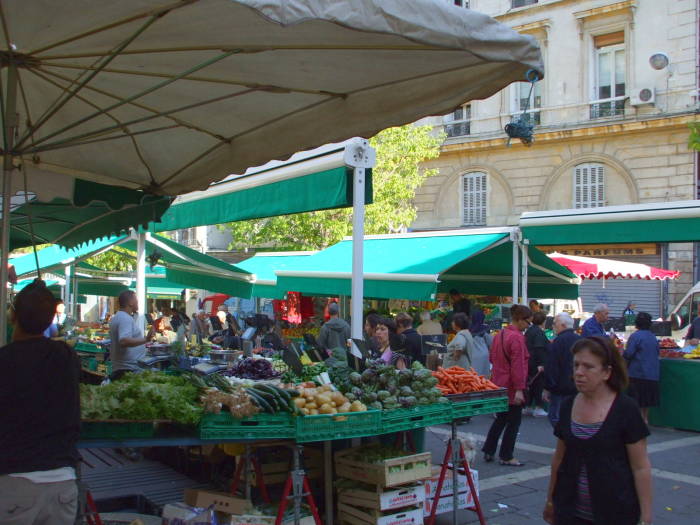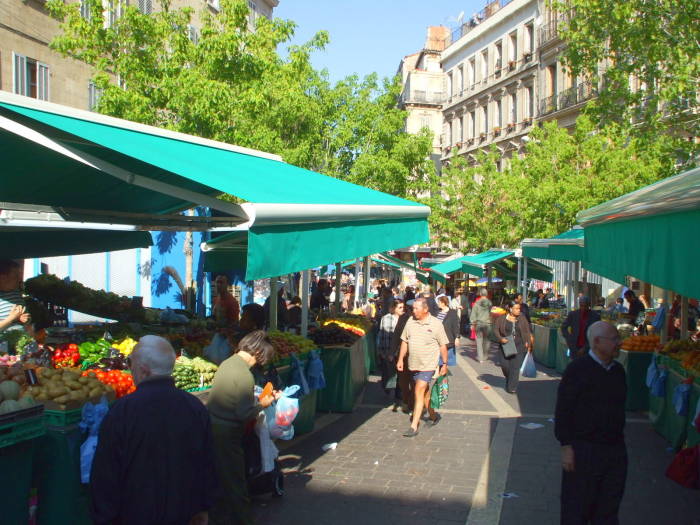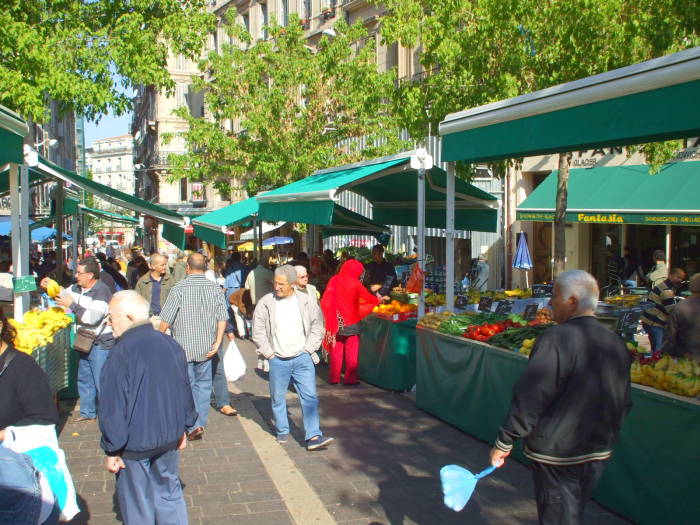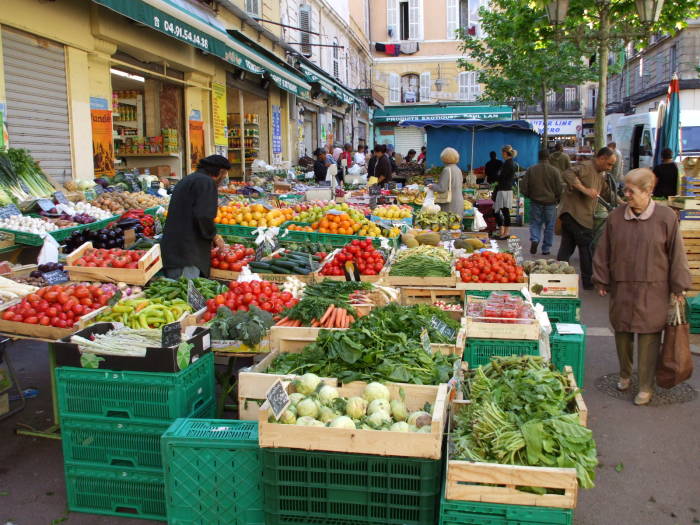 Large areas feature produce from all around France, the rest of Europe, and across the Mediterranean in North Africa.
It is important in France to designate the precise source of food products.
It will also be clearly marked if the product meets the strict requirements for labeling as organic, designated in French as Bio., for Biologique.
Not Organique as I would have expected...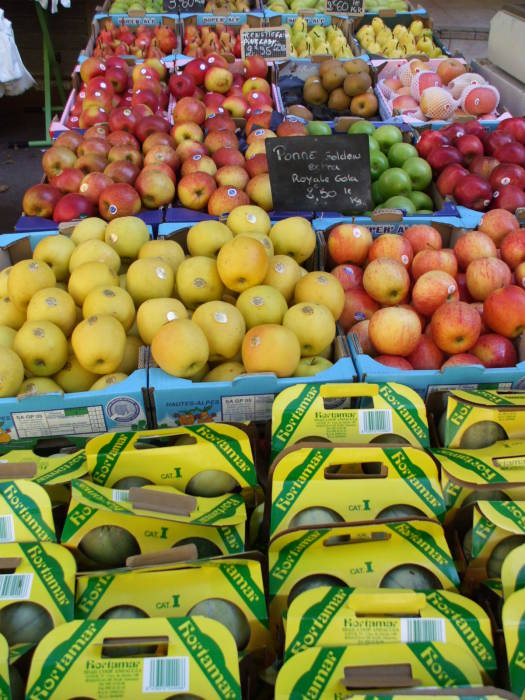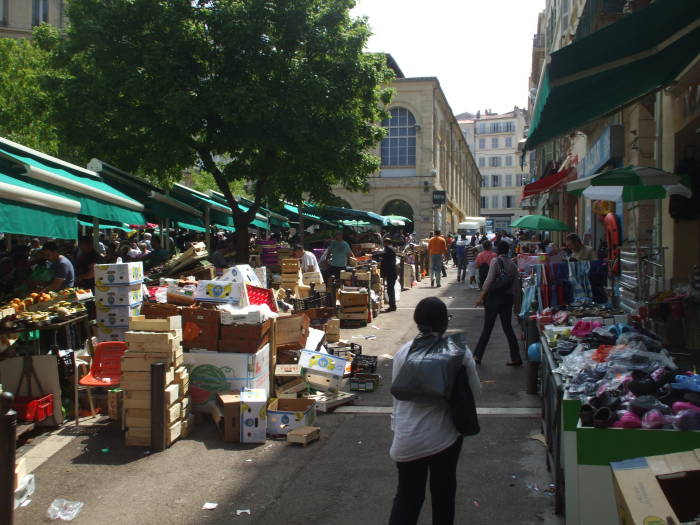 Many stores in the area simply extend their operation out onto the sidewalk and the street. Shoes and household goods are available at right here.
Some traffic still moves — quite slowly — through the market area delivering even more goods for sale.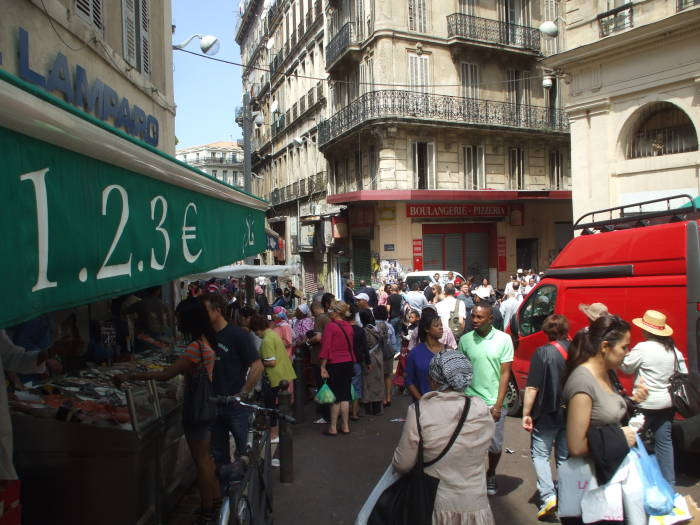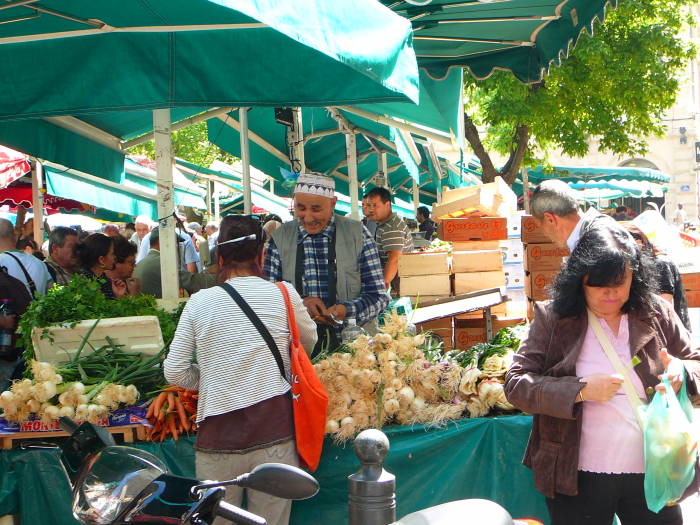 Service with a smile!
There is a large informal fish market every day at the innermost end of the Vieux Port at Quai des Belges. But here is a shop that sells fish in the same district where everything else is being bought and sold.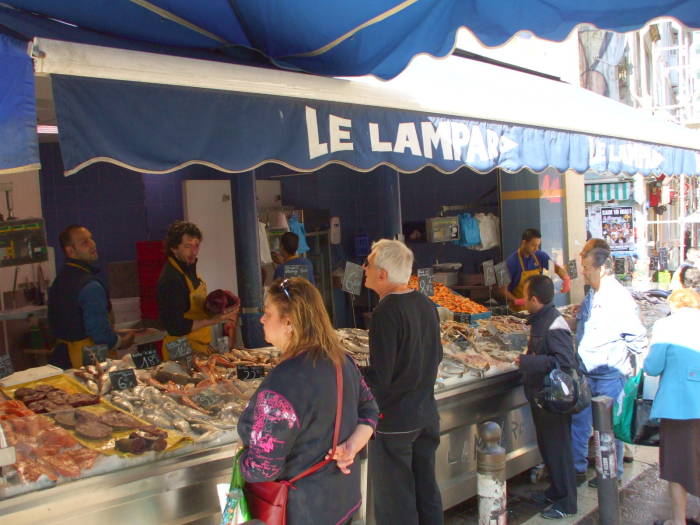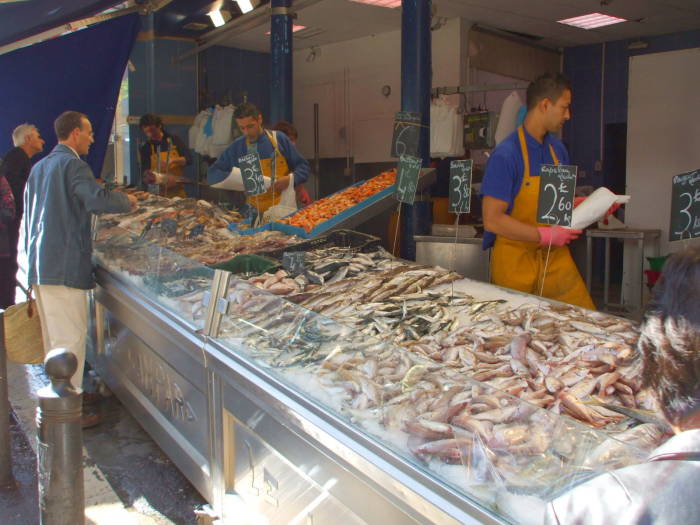 The literal names of the fish may not be what you expect. For example, Loup de Mer (or Wolf of the Sea) instead of Sea Bass. But, American English and British English use different names for many fish.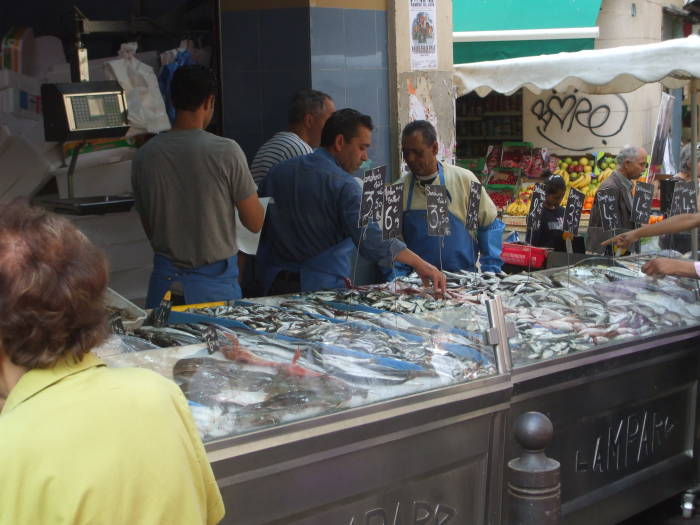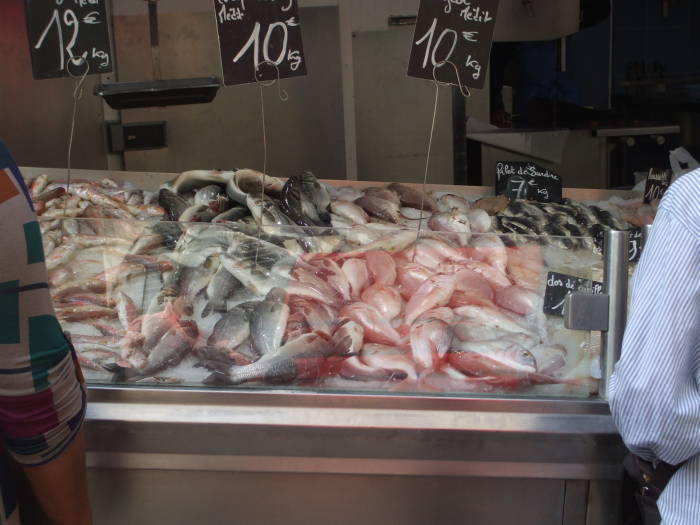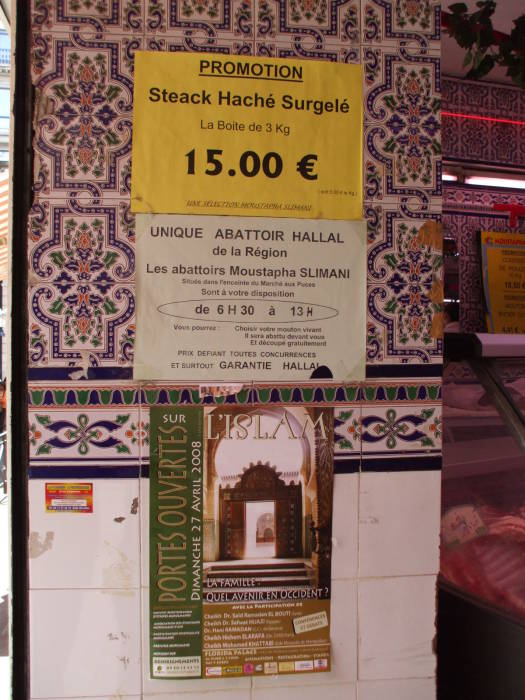 The food is certified as halal, meeting all the purity requirements of Islam. Or hallal as the French transliterate the Arabic word.
This sign claims that Moustapha Slimani operates the only halal abbatoir in the region of Provence.
That seems unlikely. About 25% of the population of Marseille is Muslim, there have to be more halal abbatoirs.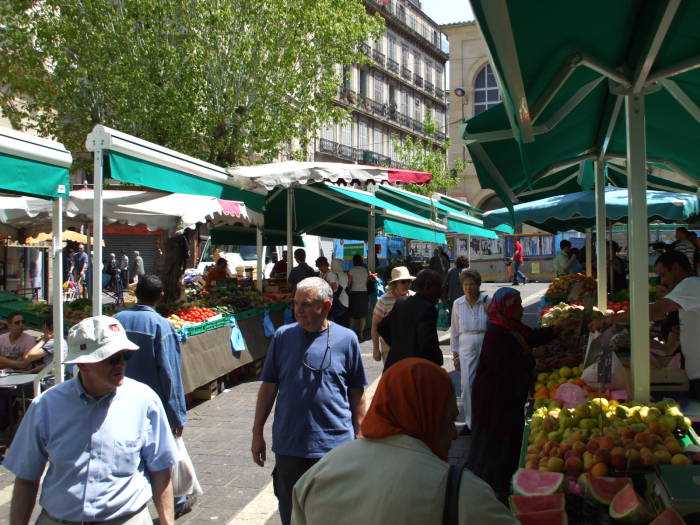 About 70% of the population is Roman Catholic, and there are significant Armenian Apostolic Orthodox and Jewish communities. This is the third largest Jewish community in Europe, with 80,000 members. There is even a significant Buddhist community here given the representation of the former Southeast Asian colonies.
We turn the corner and find that we are in the passageway of the vendors of grain, nuts and dried fruit. Nearby is a wide array of olives.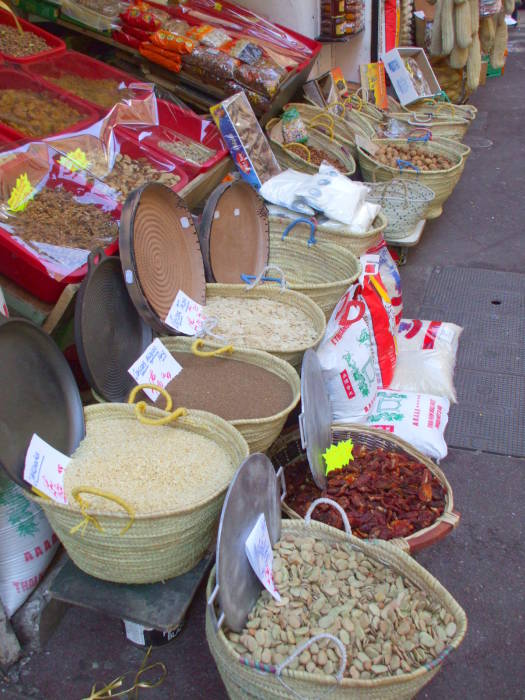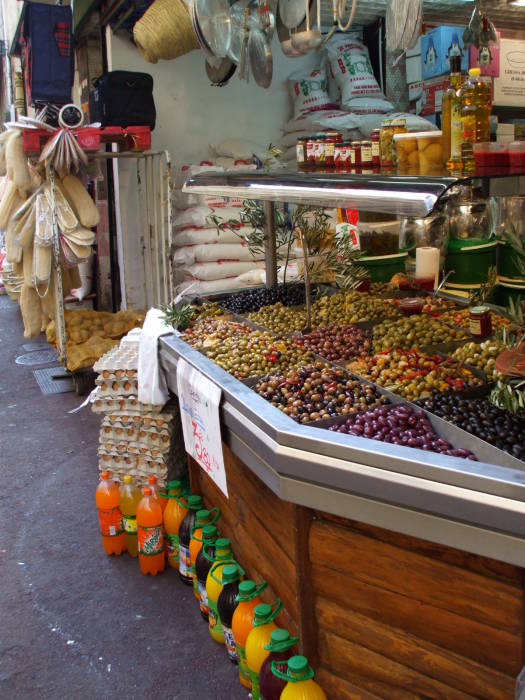 Some of the shops with wide arrays of spices are like Aladdin's cave. This one has nuts and seeds out front, and shelf after shelf of spices inside.
The conical pottery device is a tajine, used for cooking.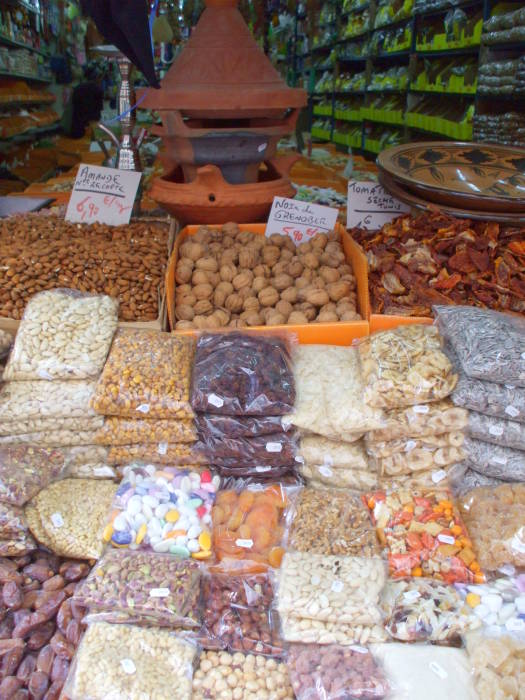 Then there is the curious savon noir or black soap, made with linseed oil. Savon noir is a dark brown, nearly black, oily-looking sticky paste. You see it here in the orange bowl at right.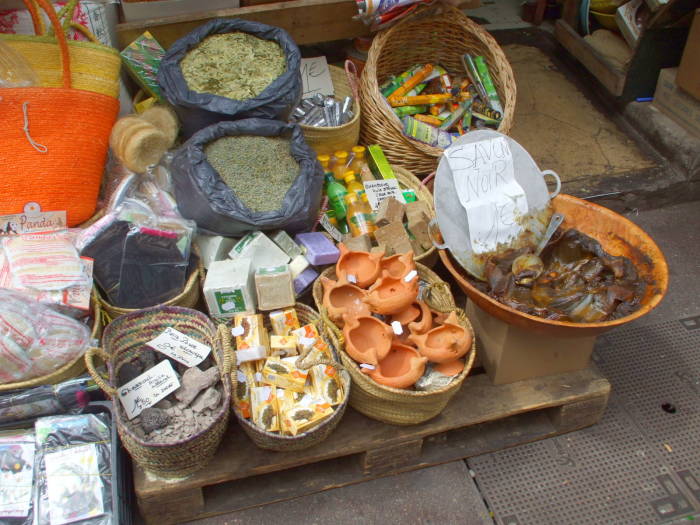 There are many good couscous restaurants specializing in the north African dish. This one is La Goulette, where I have always eaten when in Marseille. It's on Rue Pavillon just off Rue de Rome, just a block or so outside the crowded market streets.
You can eat outside, or in the brightly tiled interior.
You get a bowl of couscous with vegetables and chickpeas plus your choice of chicken, lamb, spicy sausage (merguez), spicy meatballs (kefte), or even more vegetables and chickpeas.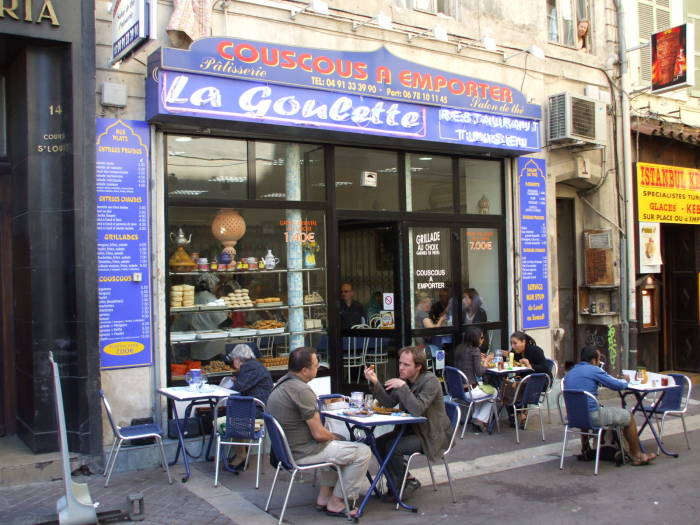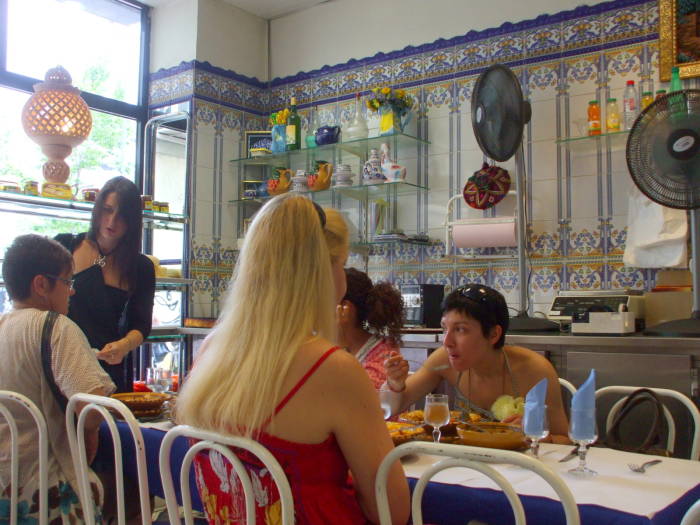 Then there's a bowl with something like spicy tomato soup. You ladle that onto your couscous bowl to your taste.
In the afternoon you might sit at a table outside the Grand Bar Vacon, facing onto a small square where a few narrow streets, one of them Rue Vacon, join together.
Sit down at a small table outside, have an unusually colorful beverage, and watch the world, or at least the French former colonial parts of it, pass by.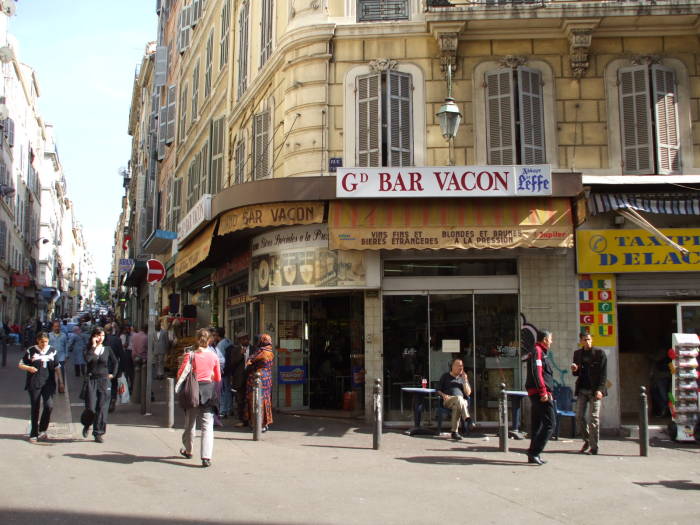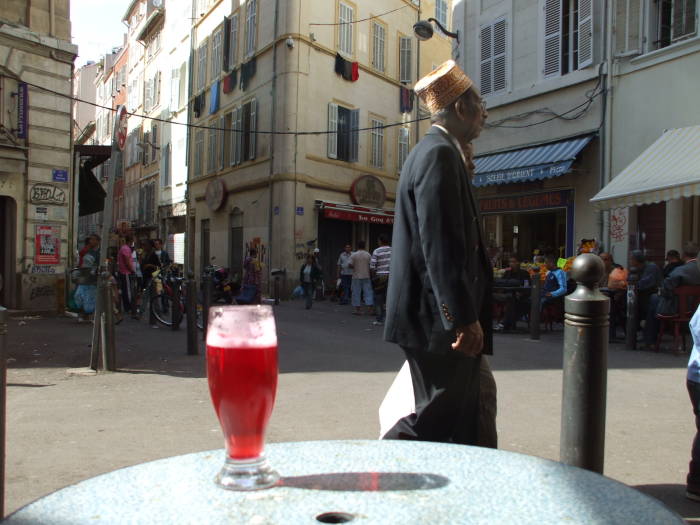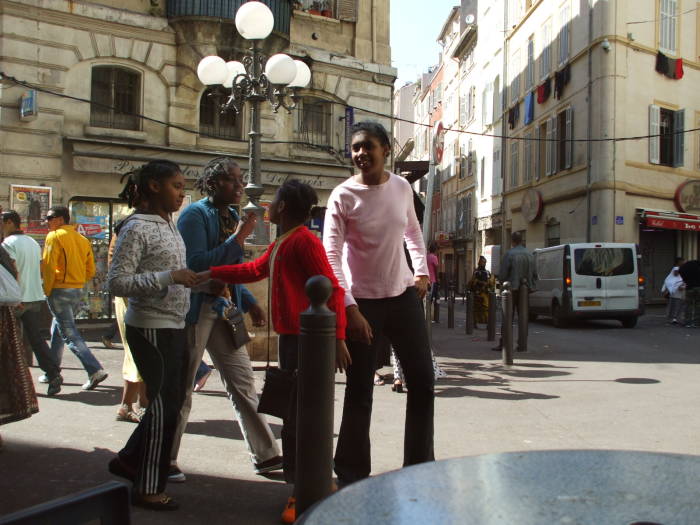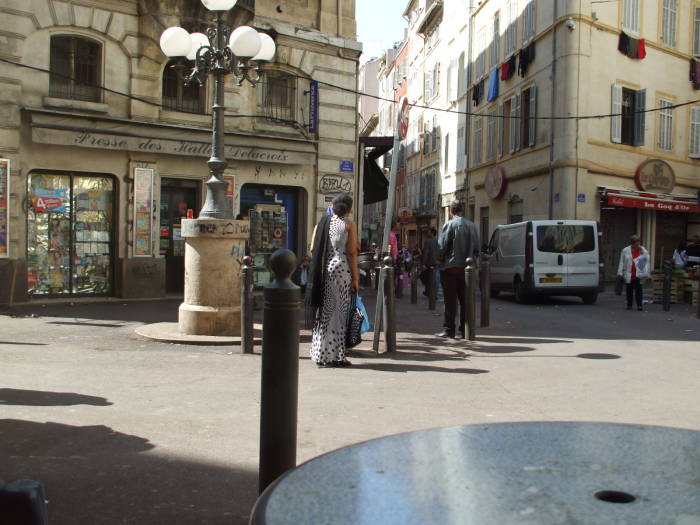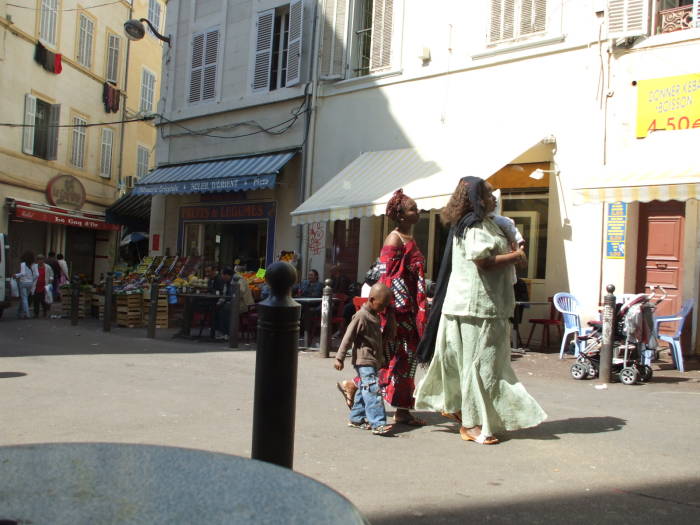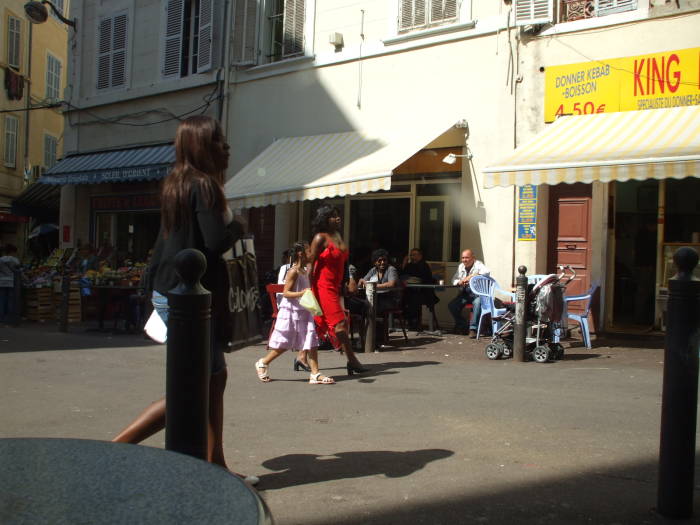 Or, you can sit inside another small cafe back in the market district. Better yet, visit multiple ones to compare their atmospheres.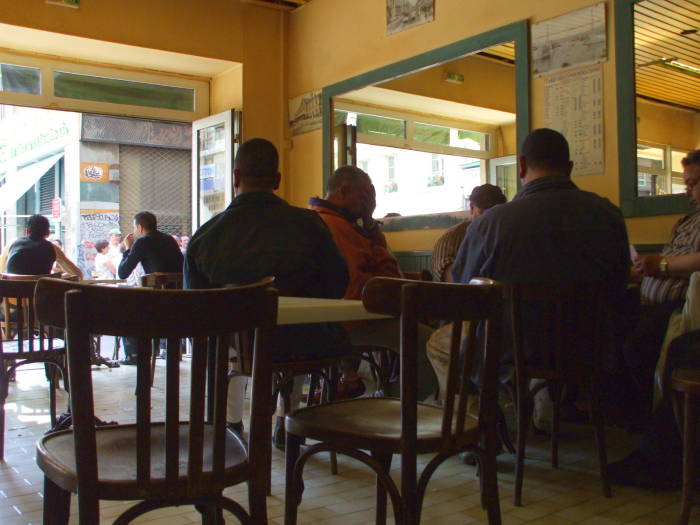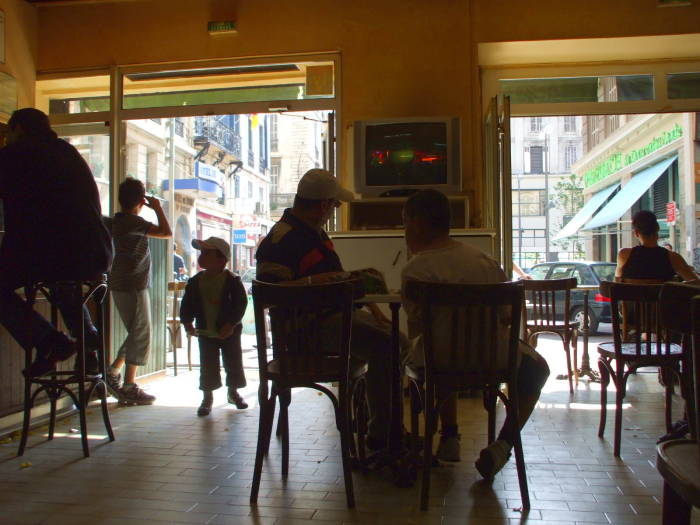 Now let's go to the old harbor.