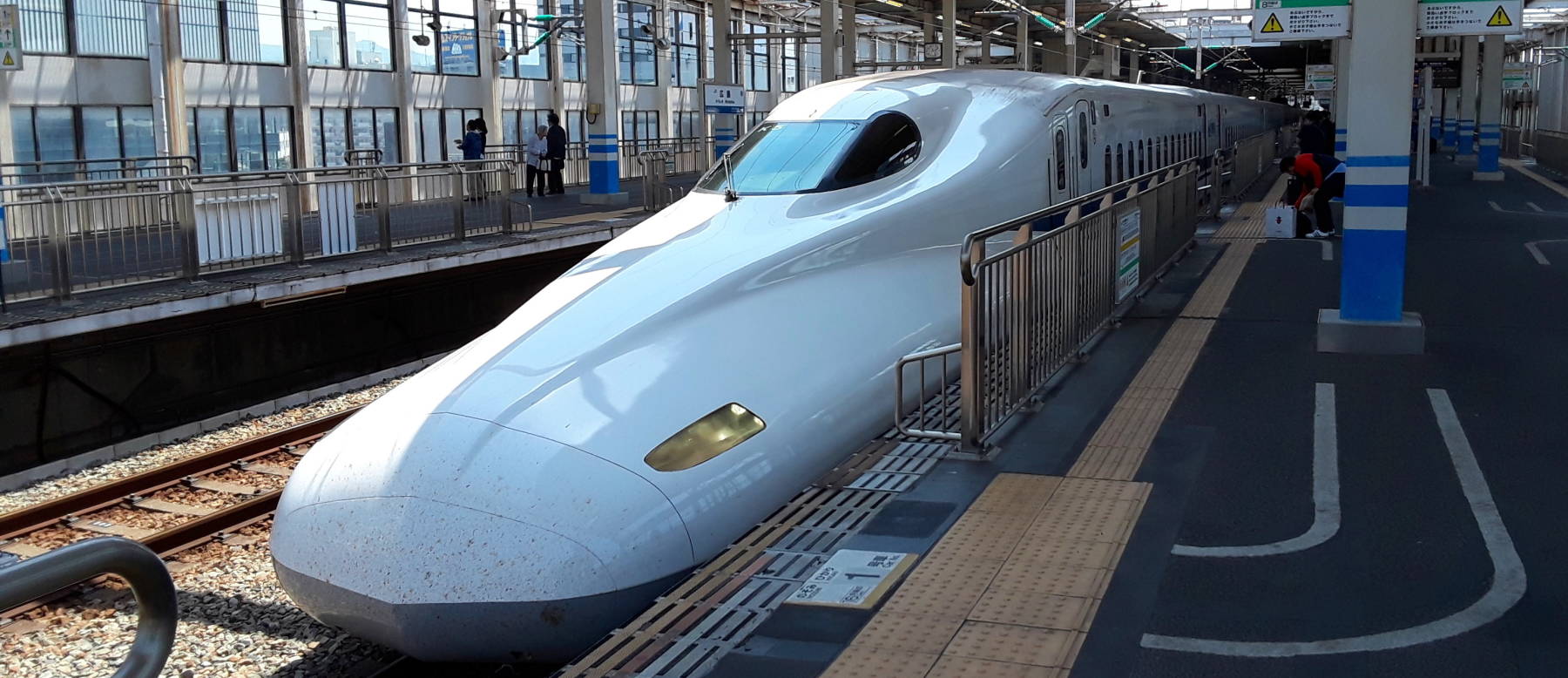 Fukuoka — Temples, Shrines, and Yatai
By Train to Fukuoka
Hiroshima
I was leaving Hiroshima on my trip southwest through the Home Islands of Japan. I would take the Shinkansen, the luxurious high-speed train, onward to Fukuoka.

Fukuoka is on Kyūshū, the southwesternmost of Japan's four large Home Islands. Busan, South Korea is only 210 km away, the same as the distance to Hiroshima. Tōkyō is 886 km away.

In 2011, Fukuoka surpassed the population of Kyōto, becoming Japan's sixth largest city. It has long been a landing point for visitors from mainland Asia. Kublai Khan mounted his first invasion attempt in 1274, with 33,000 troops on a fleet of 900 ships. A larger invasion in 1281 was largely destroyed by a typhoon. That came to be called the kamikaze or "Divine Wind".
At the Hiroshima Station
I want to visit Fukuoka, so I need to buy a ticket to Hakata. That's the name of the main train station.
There has been a settlement at the harbor on Hakata Bay at least since 663 CE, when it was called the Port of Dazaifu. That period was literally pre-historic in Japan.
The earliest Japanese "history" texts are the Kojiki (or Records of Ancient Matters), written down in 711–712 CE, and the Nihon Shoki (or Chronicles of Japan), written down about 720 CE.
These two books aren't really histories. Unlike the corresponding Chinese writings, these chronicles begin before the creation of the world. They maintain an entirely mythological view throughout their description of the early godlike and later heroic human figures. They connect the origin of the Imperial line with the deities before the creation of the world.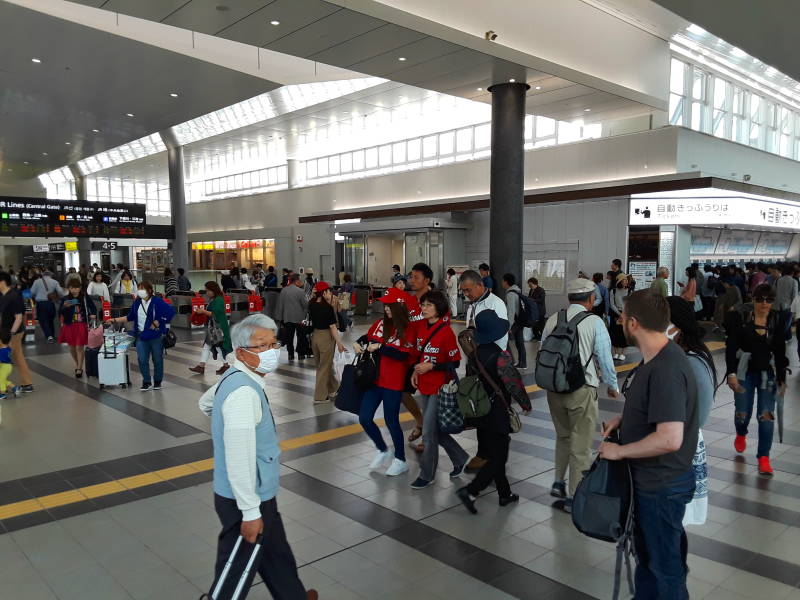 The port and merchant district has been Hakata. Nearby Fukuoka was the residence of the powerful daimyō or warlord of Chikuzen Province beginning in the early 1600s, and continued to be the home of many samurai into the late 1800s.
The two merged in 1889, and the samurai forced the use of their name for their district — Fukuoka.
The train station and its district, however, are called Hakata.
So, I need a Shinkansen ticket on the West Japan Railway Company from Hiroshima to Hakata.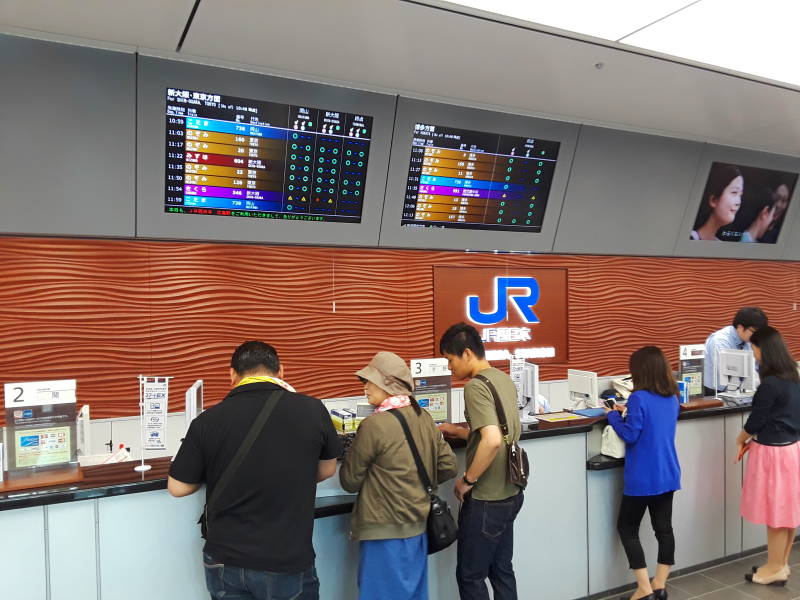 The shops have Carp Curry, Carp drinks, and many more Carp-themed items affiliated with the Hiroshima Toyo Carp baseball team.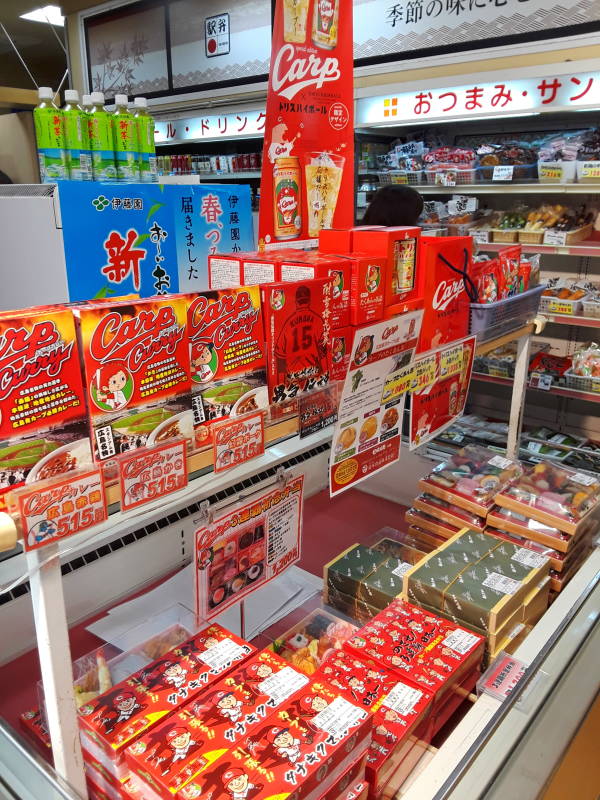 I have my ticket and a light lunch. No need for Carp paraphernalia. It's time to get to the platform.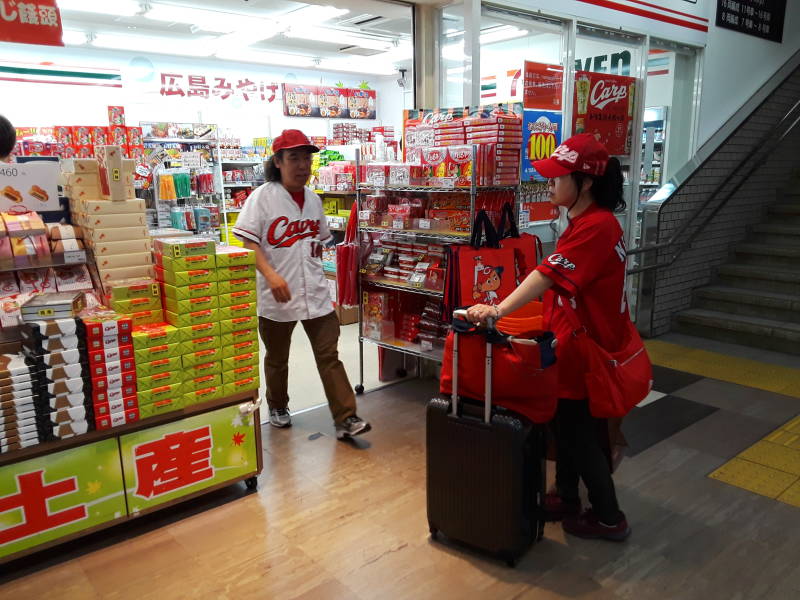 The Shinkansen are long trains.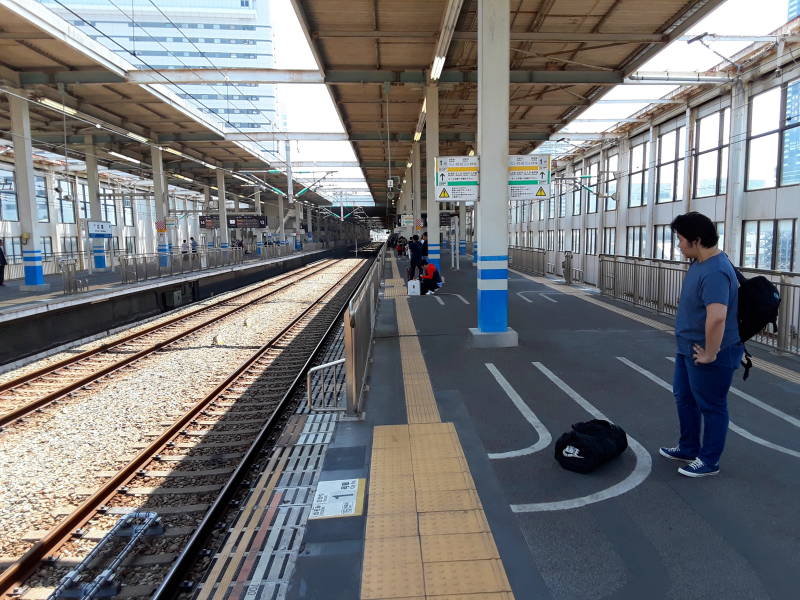 This is the San'yō Shinkansen line connecting Shin-Ōsaka, that city's main station, to Hakata. Some Nozomi trains, the fastest service, run all the way between Tōkyō and Hakata, stopping only at the largest stations on the Tōkaidō and San'yō lines. N700 series equipment like this has a maximum speed of 300 km/h, connecting Tōkyō and Hakata in just five hours.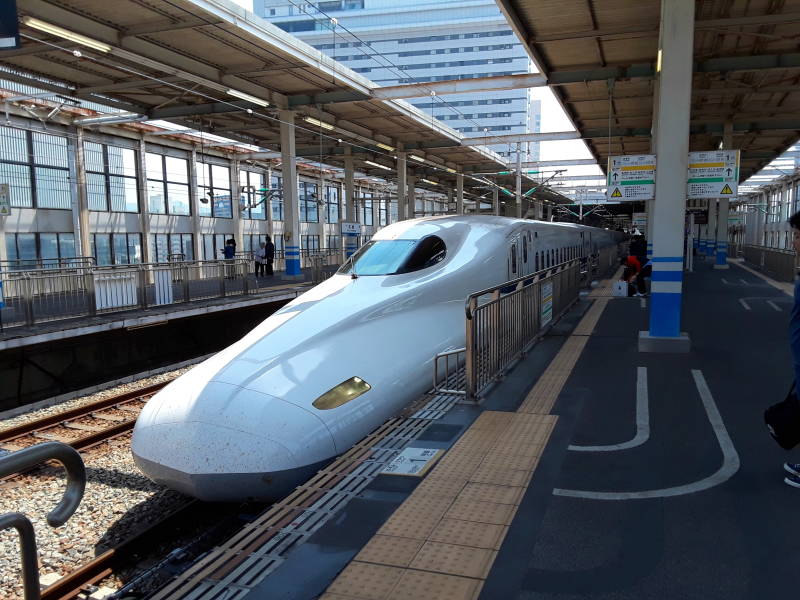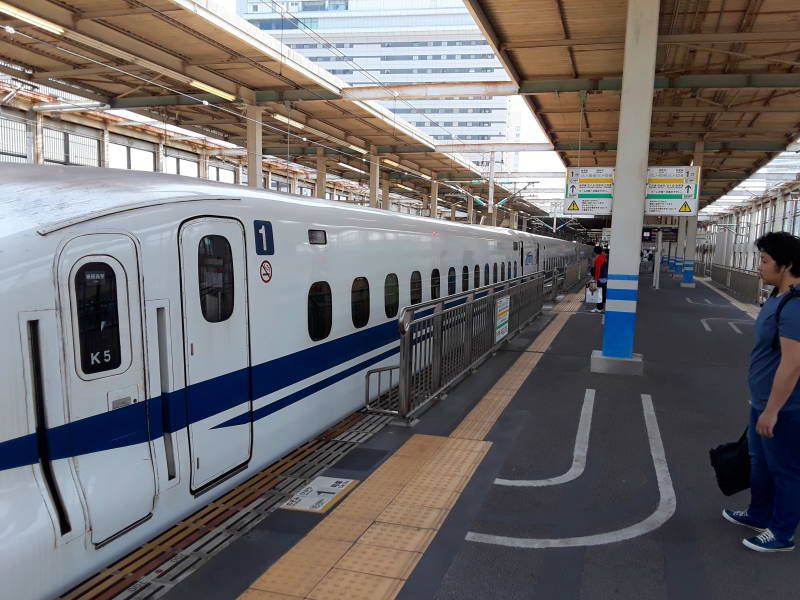 On Board the Shinkansen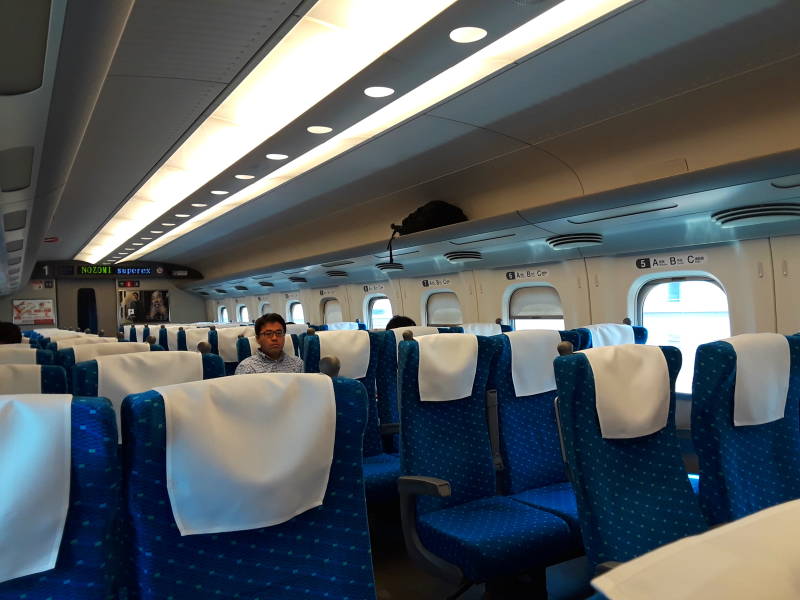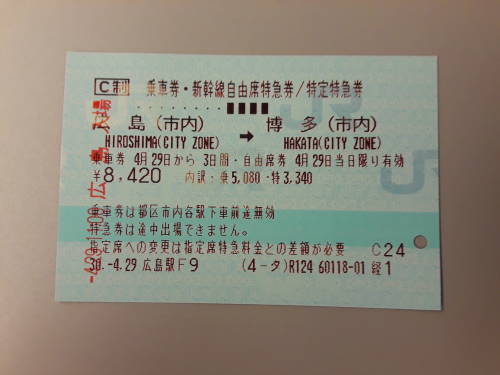 I bought o-nigiri, a triangular rice ball with salmon.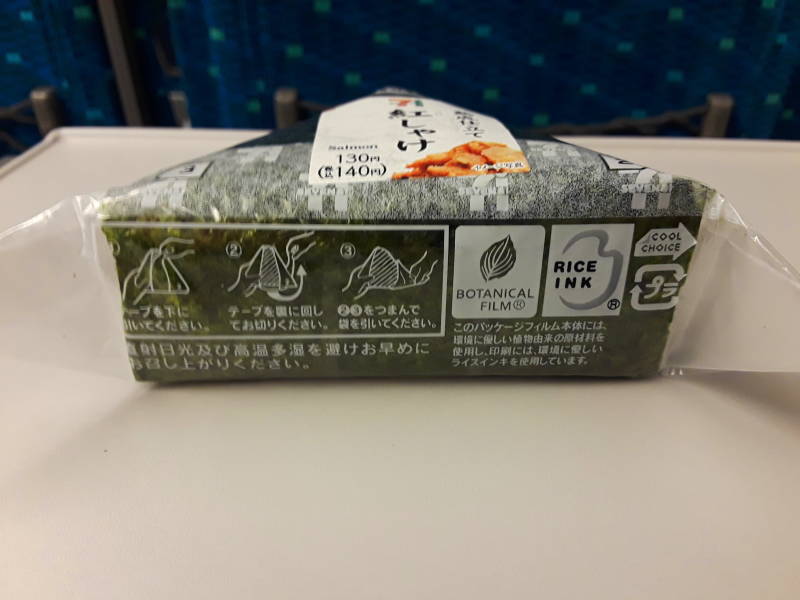 They're packaged in a very clever wrapper.
しゃけ or shyake is the Japanese word for salmon, so it's spelled here in hiragana. Along with utterly mysterious kanji.
Another brand's packaging uses katakana to transliterate the English sa-mon.
サーモン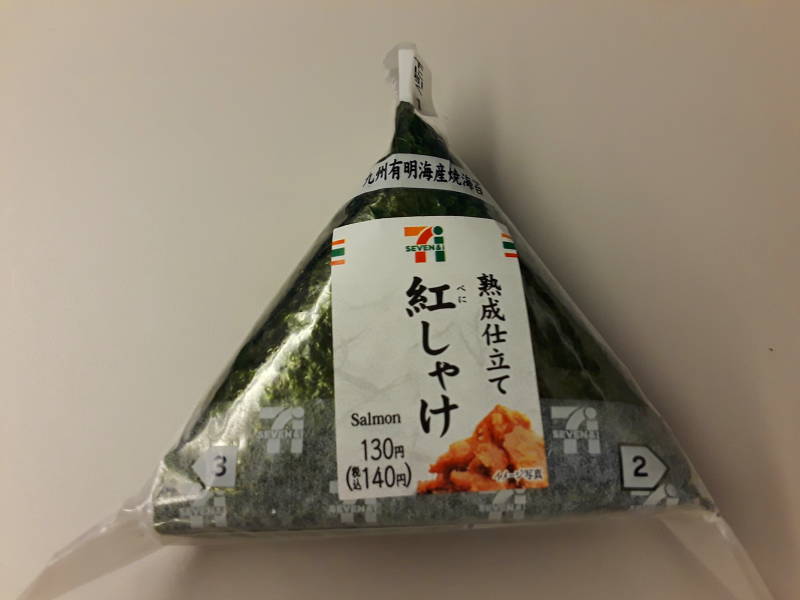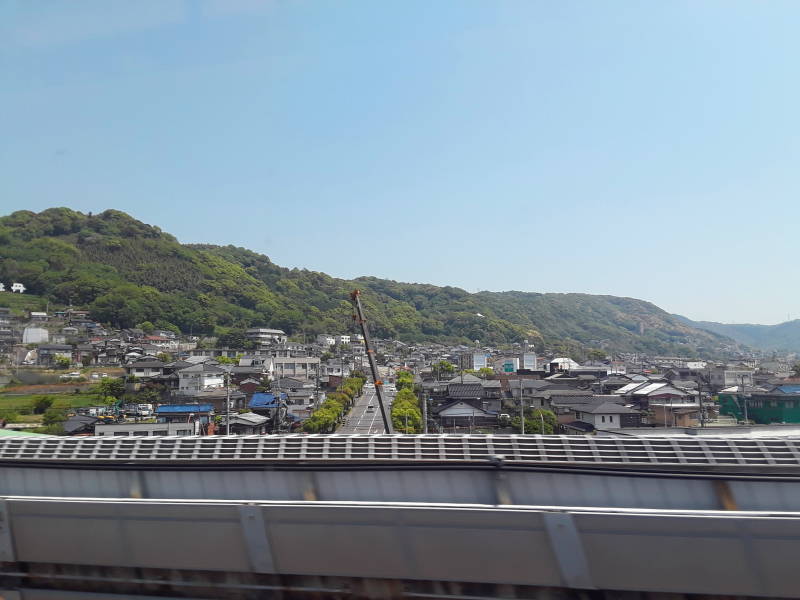 We stopped briefly at Shin-Yamaguchi, then passed through an undersea tunnel from the largest island of Honshū to Kyūshū. Then there was another brief stop at Kokura, also known as Kitakyushu.
The Shinkansen stops are brief, you have to be ready to get on or off.
Arrival at Hakata
We have reached Hakata Station, the end of the San'yō Shinkansen line. There's a Shinkansen of a different design on the opposite platform.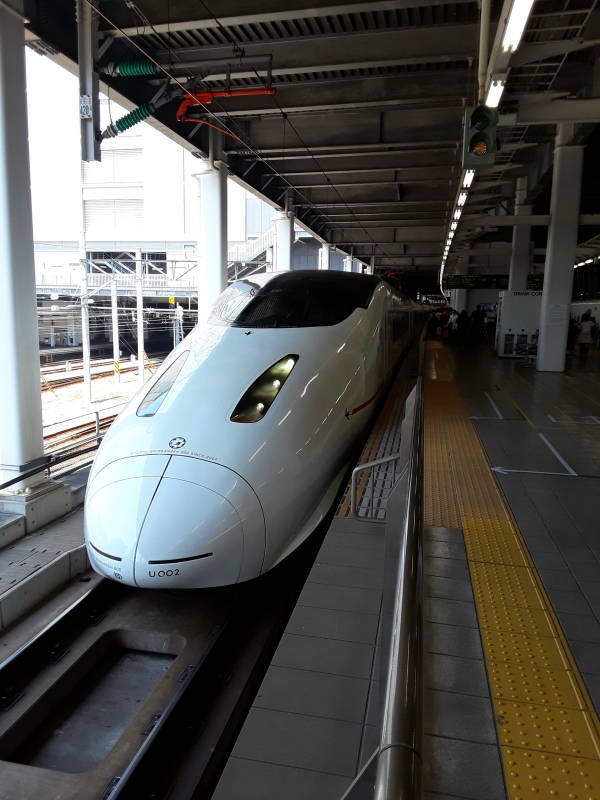 The 800 series Shinkansen began operating in 2004.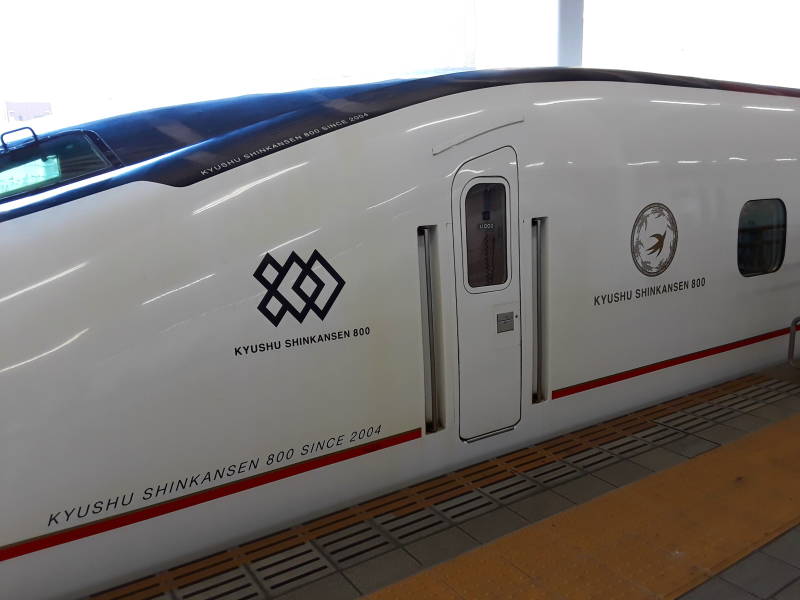 The station includes a large Hankyu Department store and several other retailers, many restaurants, and is a destination of its own, like many large train stations in Japan.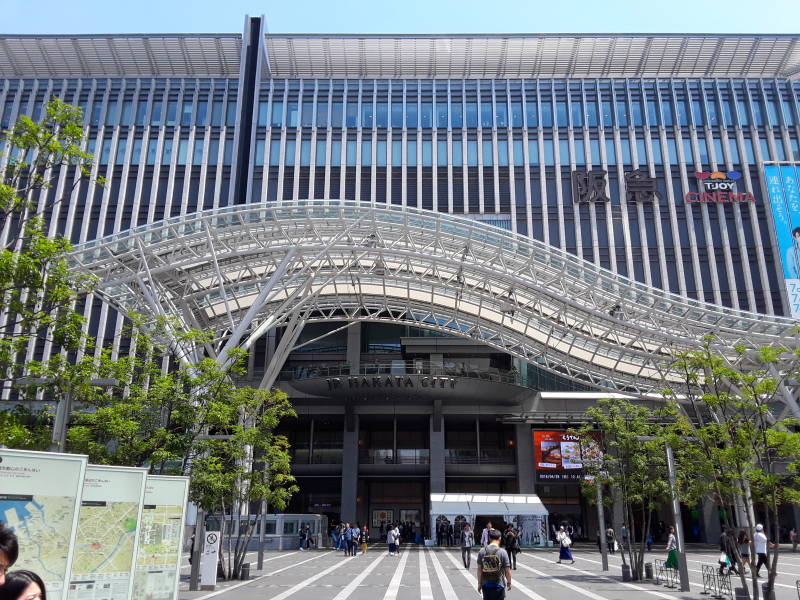 To the Hostel
I have a walk of about a kilometer to where I'm staying, at the Fukuoka Hana Hostel.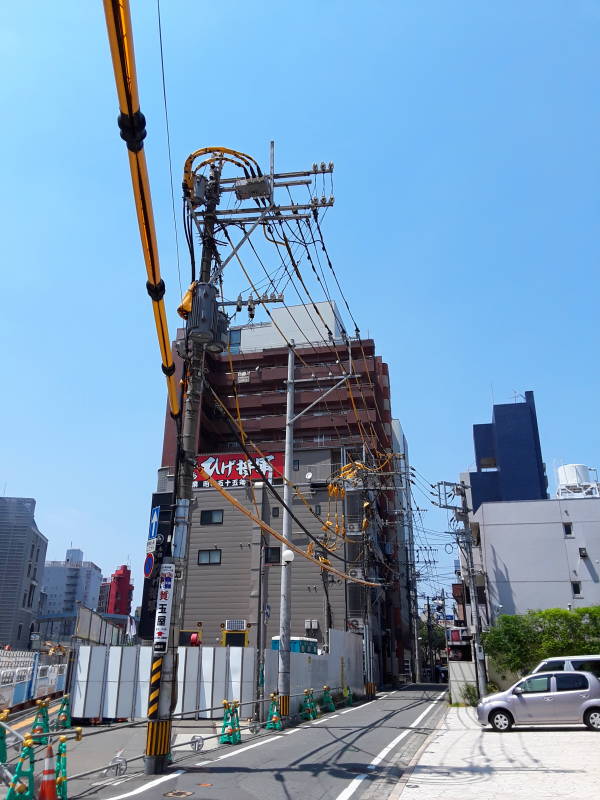 The hostel is a short distance into one end of a covered market street. There's a subway station at the far end.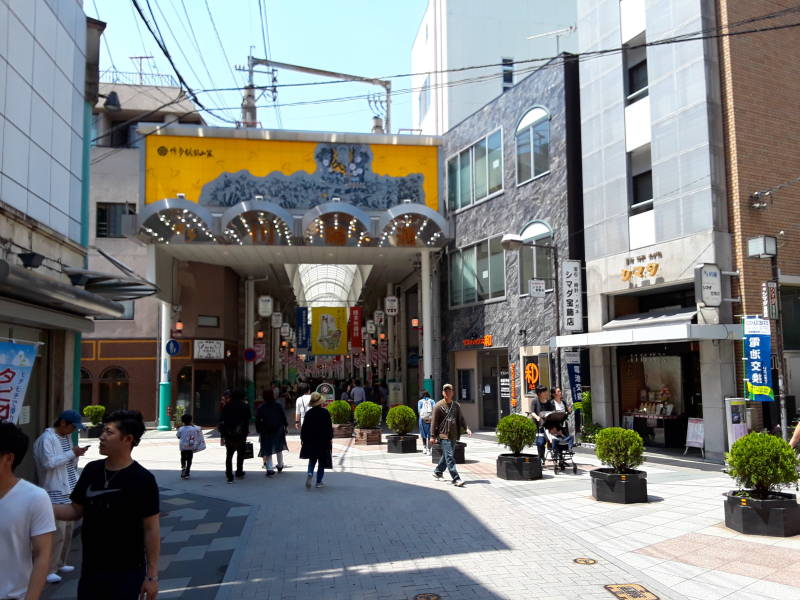 The hostel is a short distance into the covered market, on the left-hand side.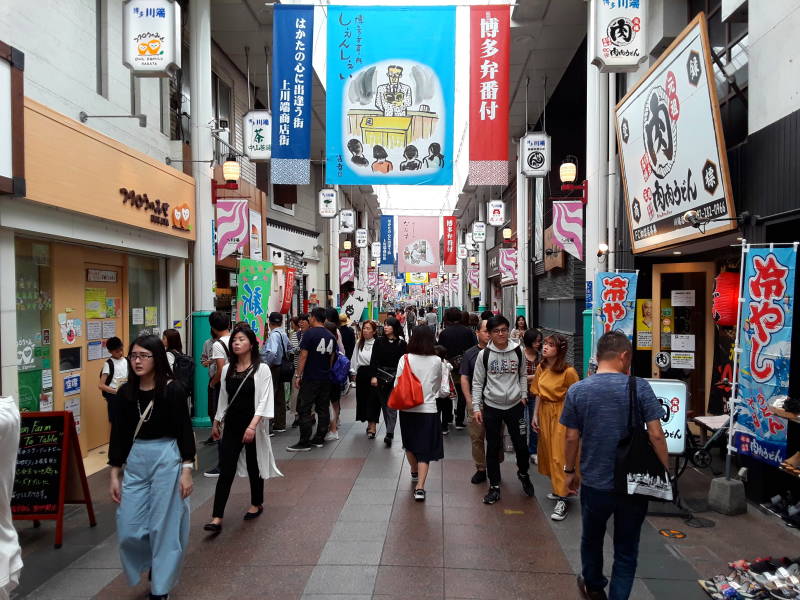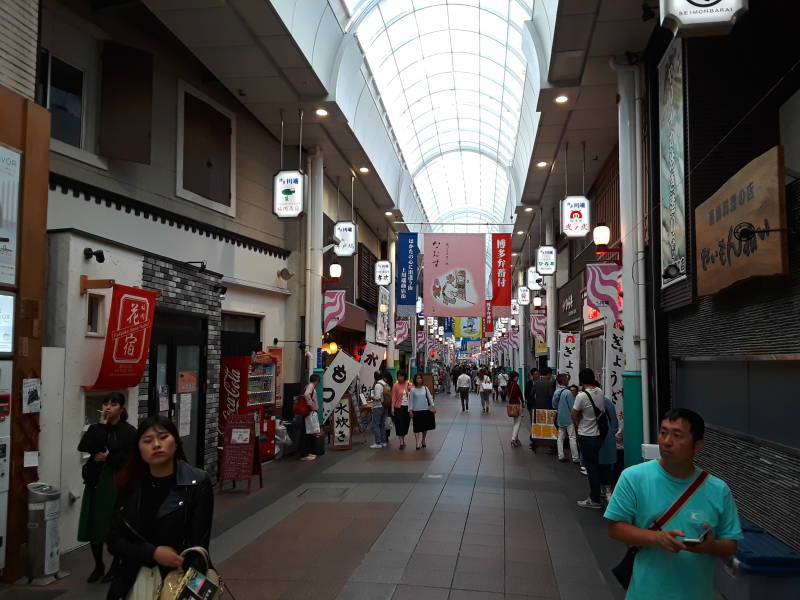 Here it is, with the small grey brick façade.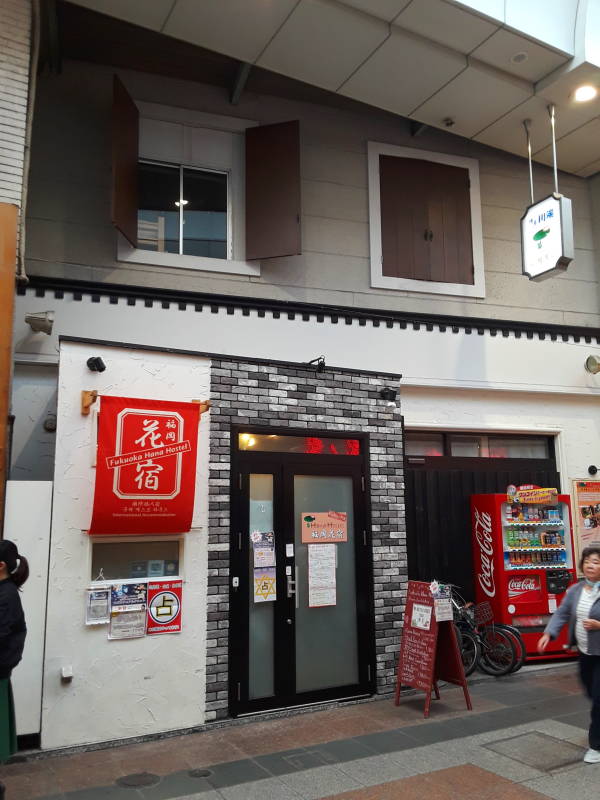 I arrived just after mid-day, so I'll need to wait a little while before checking in. I can hang out in the common room. Catch up on my planning, chat with fellow travelers, and bond with the dog.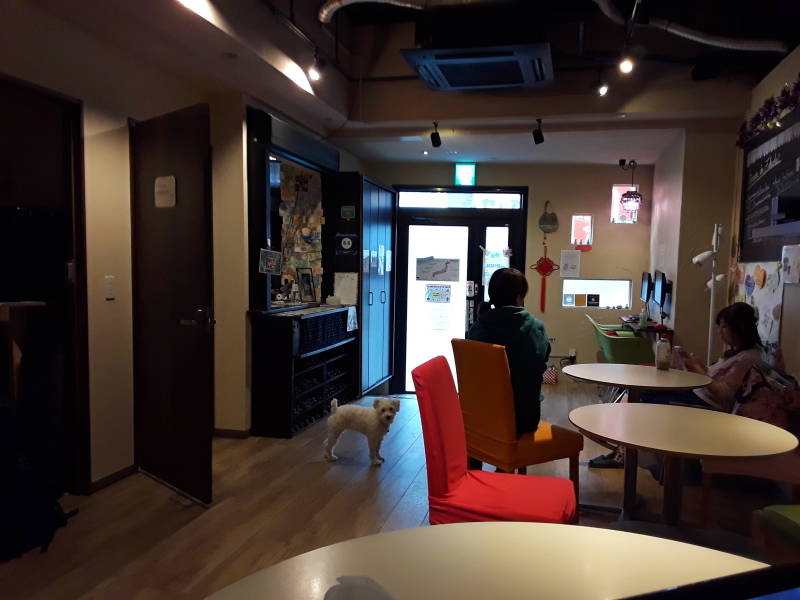 My bed was ¥3,100 per night, I would be here for three nights. I was taking my time, not doing a series of frantic one-night stops across the country and moving on every morning.
The rooms and capsule-like bunks were almost exactly like those at J-Hoppers in Hiroshima. The two hostels are owned by the same people.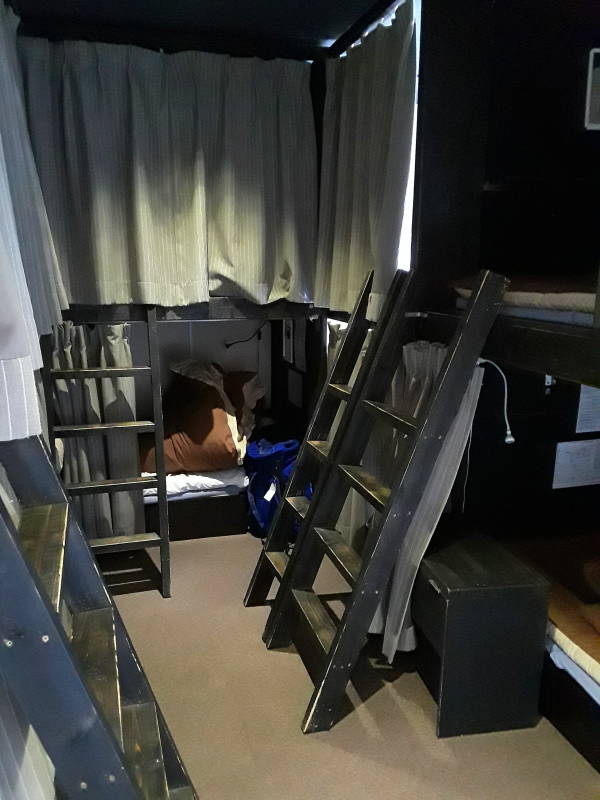 The toilet controls have English labels. Japanese toilet manufacturers announced a standardized set of control panel symbols in early 2017. This control unit doesn't have the standard symbols. But there's English, which is rare.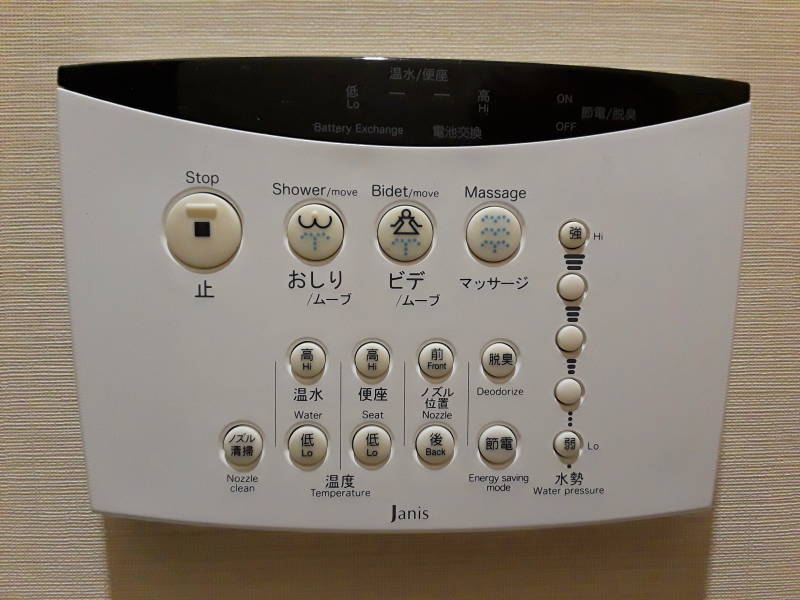 Katakana &
Hiragana
Some of these are labeled in katakana or hiragana, so you could pronounce them. "Move", "bidet", and "massage" are phonetically spelled in katakana, although I wouldn't be 100% certain of my guesses as to meaning.
| | | |
| --- | --- | --- |
| おしい / ムフ | o-shi-i / mu-bu | shower/move |
| ビデ / ムフ | bi-de / mu-bu | bidet/move |
| マツサージ | ma-tsu-sa-zhi | massage |
OK, I'm paid up and settled in. In Japan you pay in advance, in cash. My papers are in order. Now I can start exploring Fukuoka.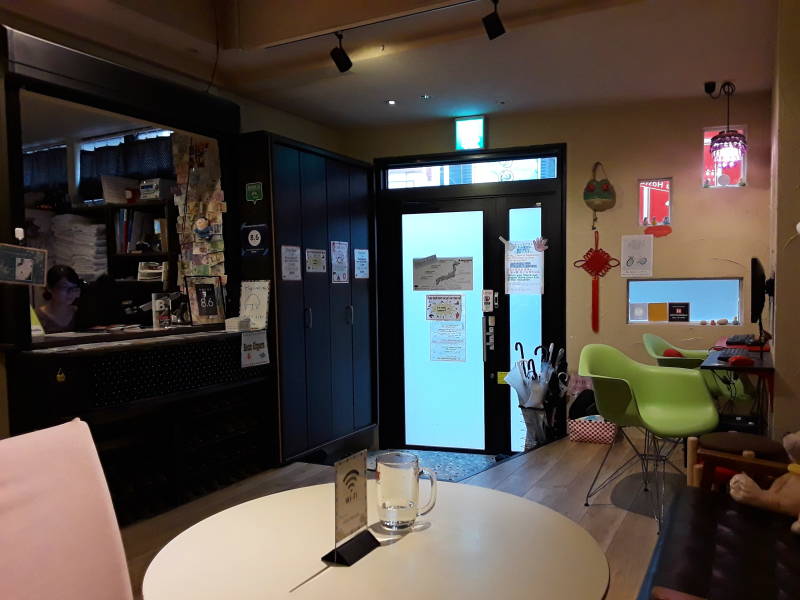 Around the Neighborhood
This part of the city is built on the delta of the Naka and Mikasa rivers. The rear wall of the hostel is just this side of the green banner on the right bank.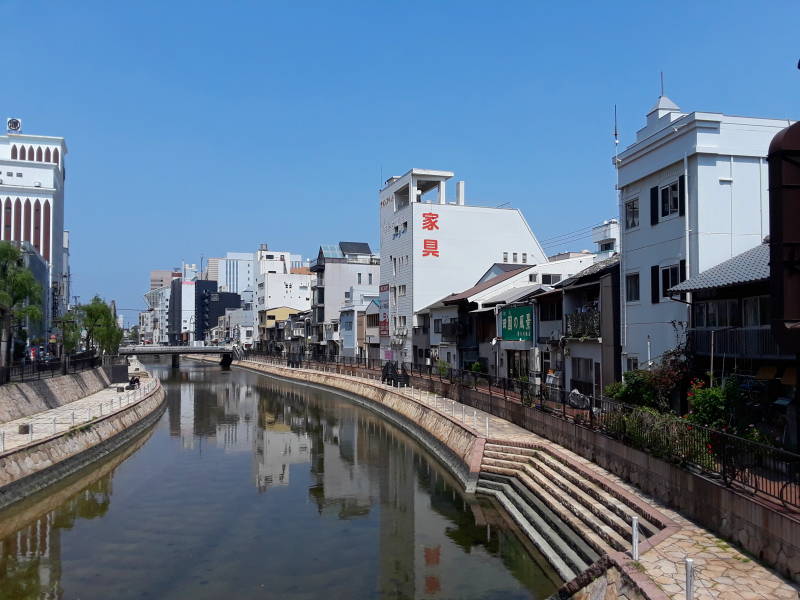 As usual, the electrical power lines are visible for easy inspection.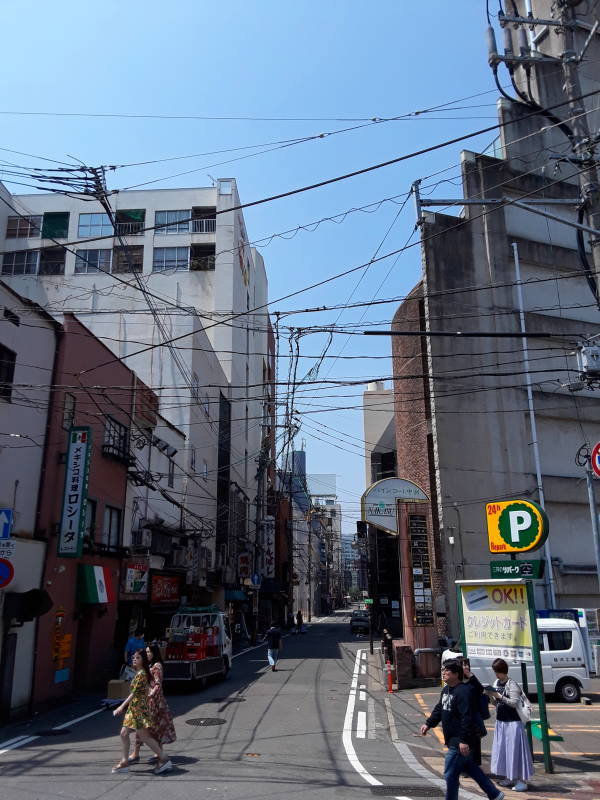 There are several hostess bars in the neighborhood.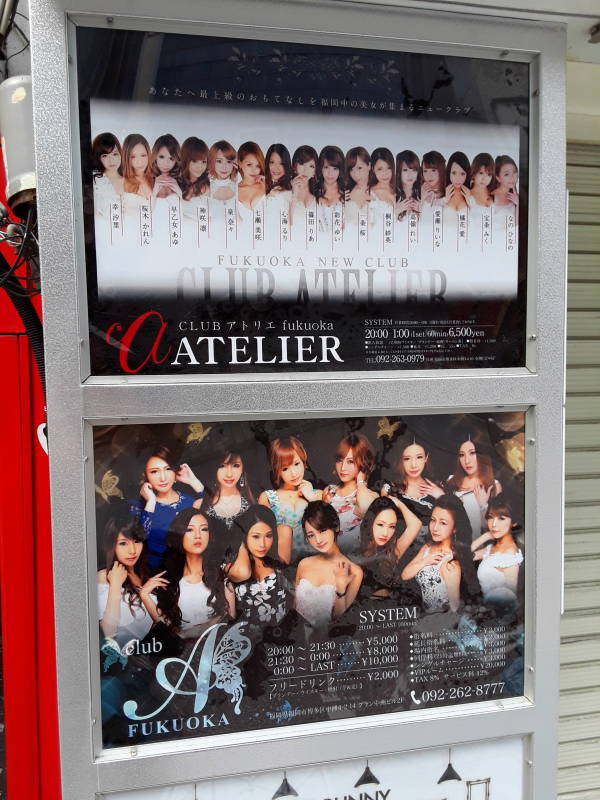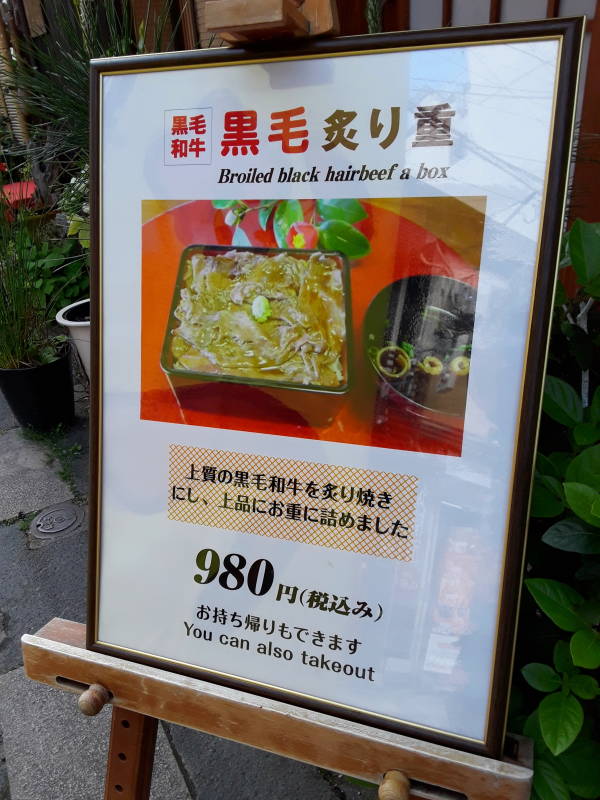 Broiled black hairbeef a box
That is, a bentō box of black angus beef. I think.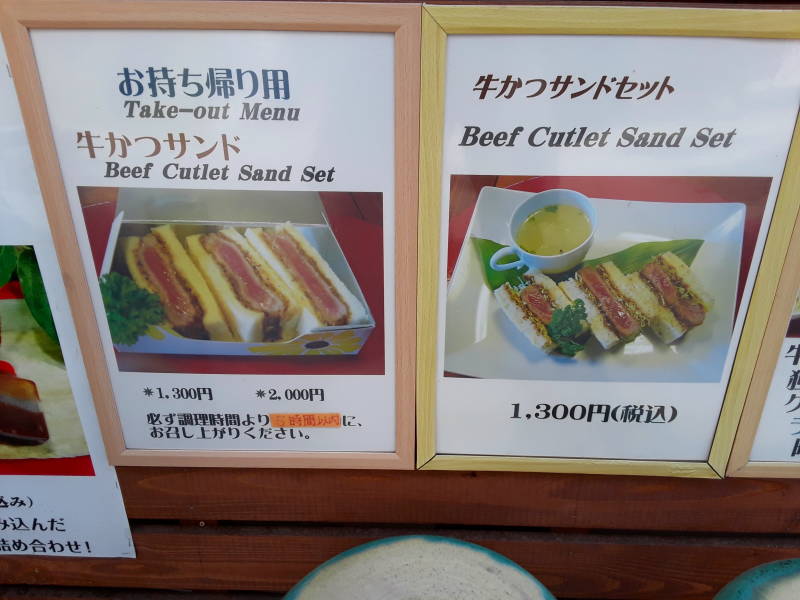 Do-It-Yourself Reflexology
A park has a do-it-yourself reflexology station.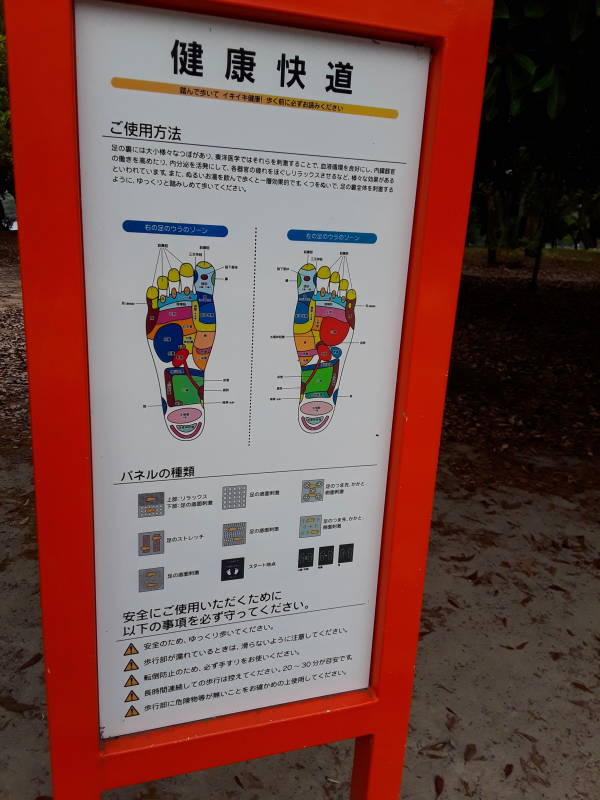 The local kids show me how it's done.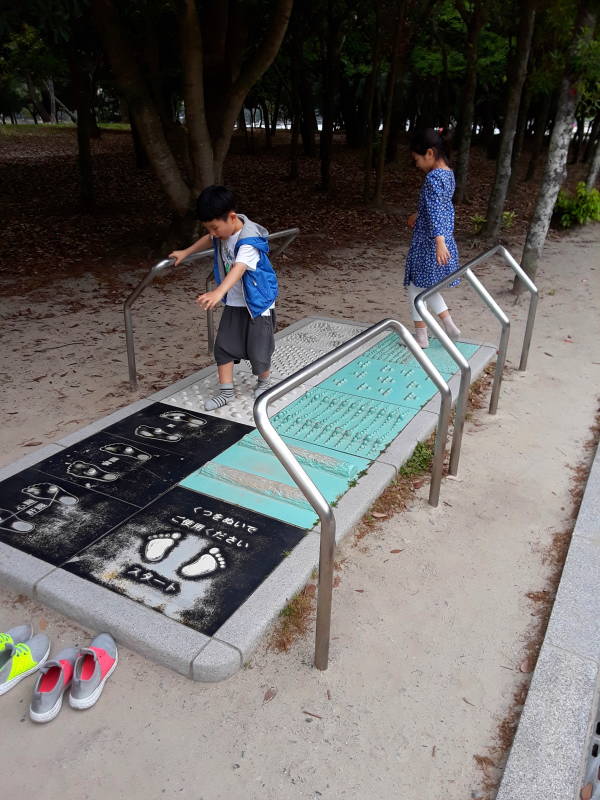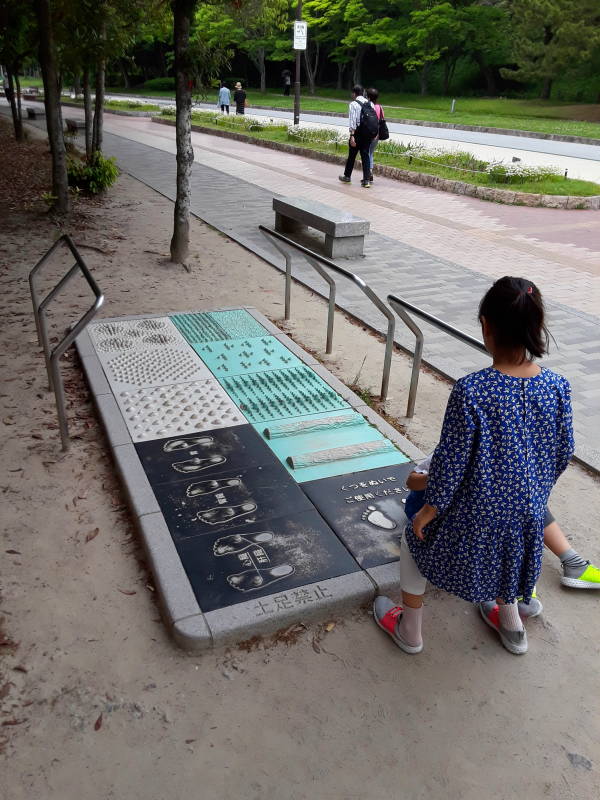 The portal limits the passage of bicycles and hand carts.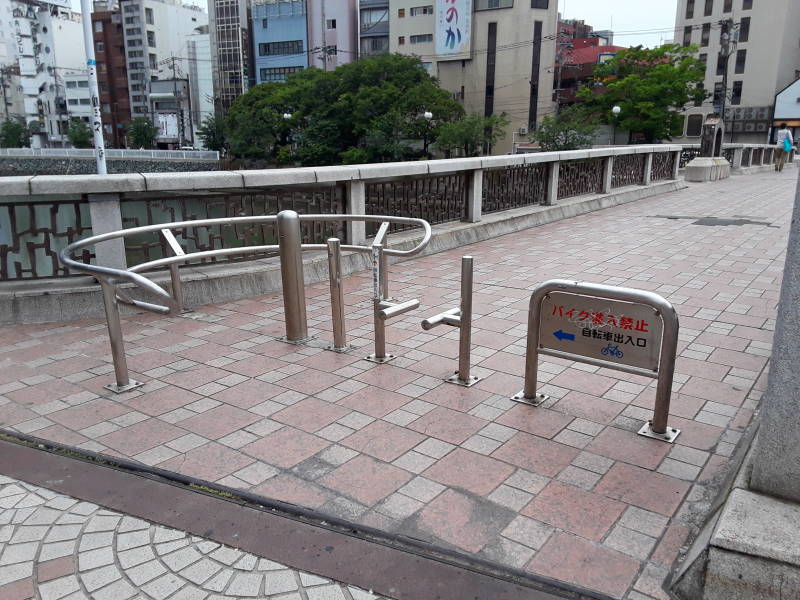 Drink Vending Machines
We're in Japan, so numerous vending machines provide a range of beverages.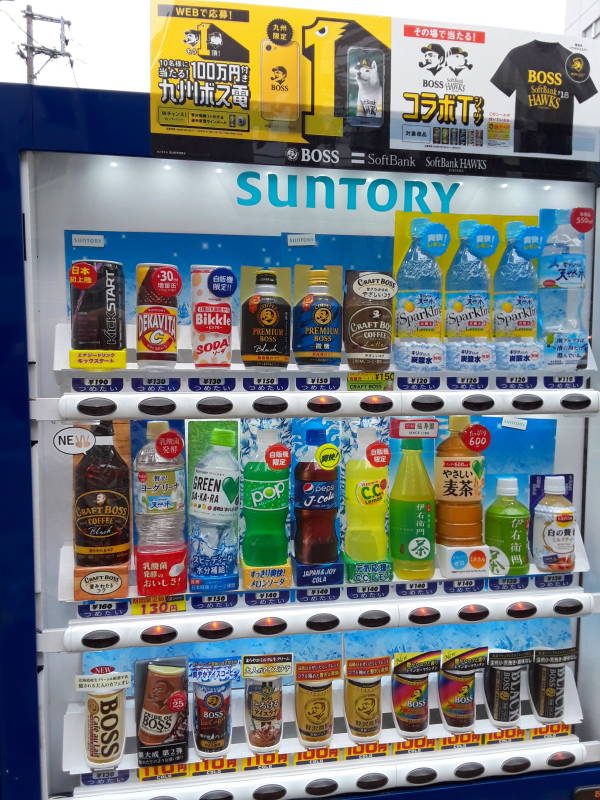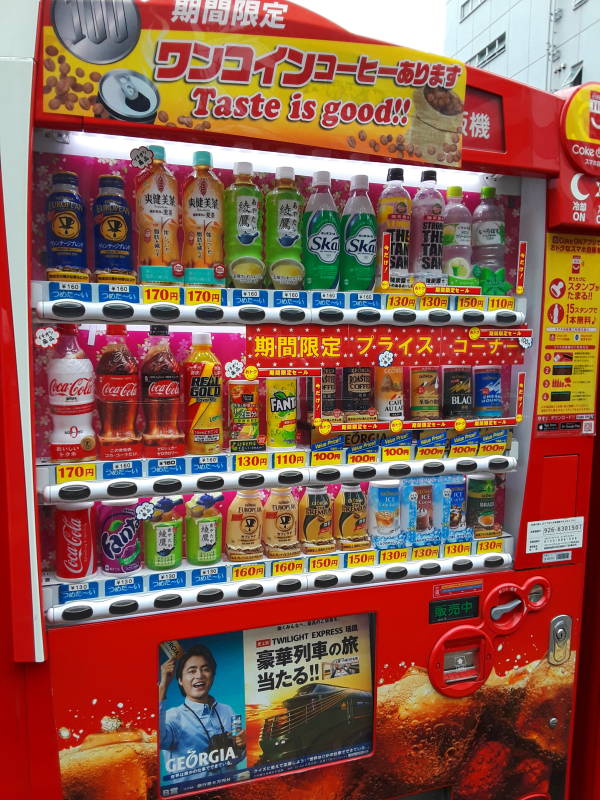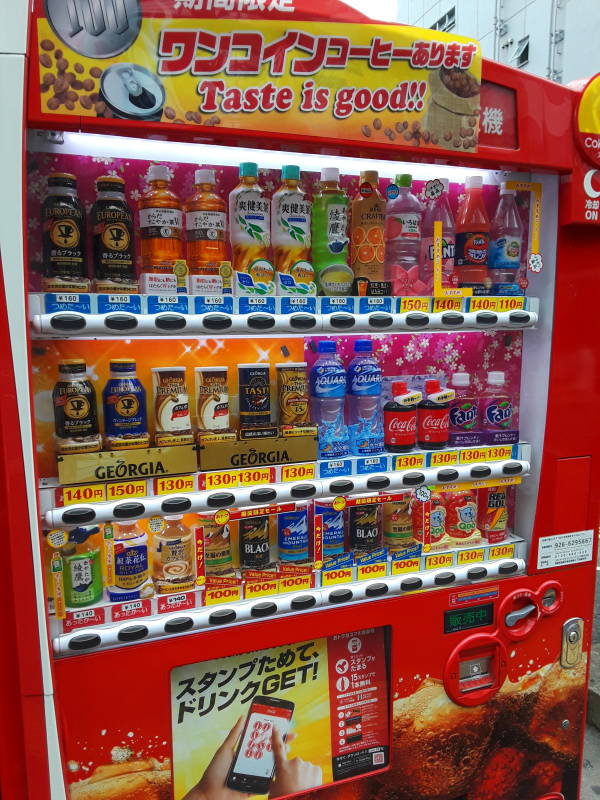 Magazines at the 7–11
There are more drinks, food, magazines, and more at the numerous convenience stores.
7–Eleven is an international chain. Its parent company is Seven–Eleven Japan Co., Ltd., based in Chiyoda-ku, in central Tōkyō. Yes, it's really Sebun–Irebun or セブン—イレブン. There were almost 19,000 7–Eleven stores in Japan as of the mid 2010s, more than in any other country.
In the 1990s it may have been hard to find automated bank machines that accepted foreign cards. Now go into any 7–11, as Seven Bank or Sebun Ginkō is also a subsidiary of the parent company.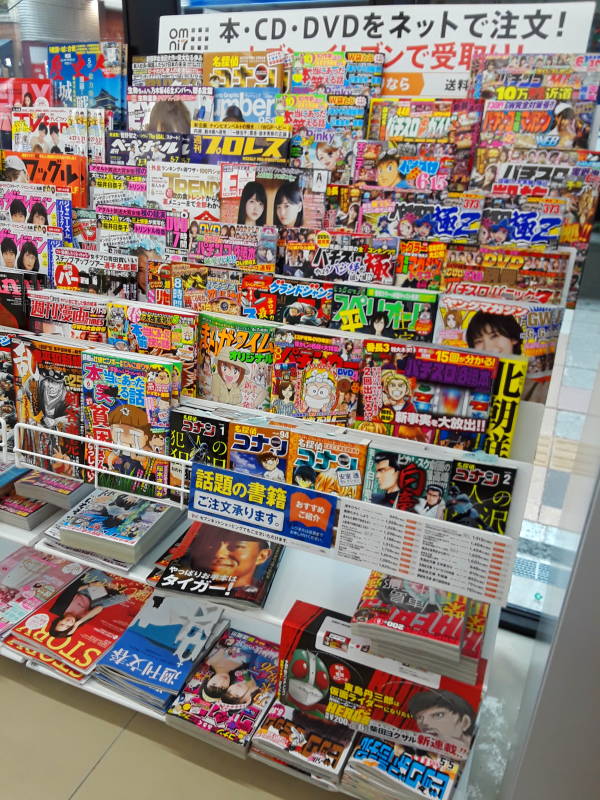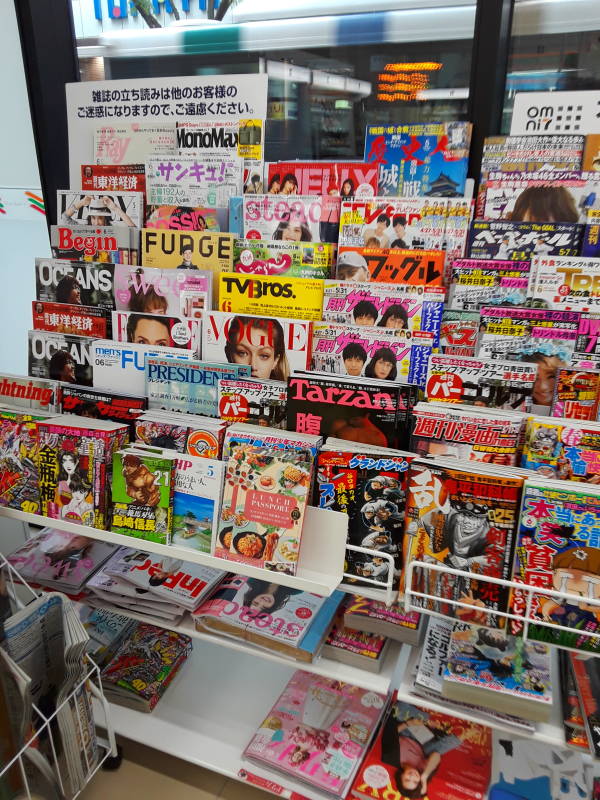 The main competing chains are Family Mart and Lawson Station. Lawson started in Ohio, in the US. In the mid 1980s they changed the name of the stores to Dairy Mart. They were bought by Alimentation Couche-Tard of Quebec in 2002, and the Lawson stores in the US all changed to Circle K. Meanwhile, a branch of Lawson, since bought by Mitsubishi, had opened in Japan in the 1970s. Now there are over 11,000 Lawson stores in Japan.
"Lawson" is a terribly non-Japanese word. It's written in Roman characters on the sign but the company is ローソン or Rōson.
Maybe pick up the latest "GOLGO13 Perfect Machine of Snipe"?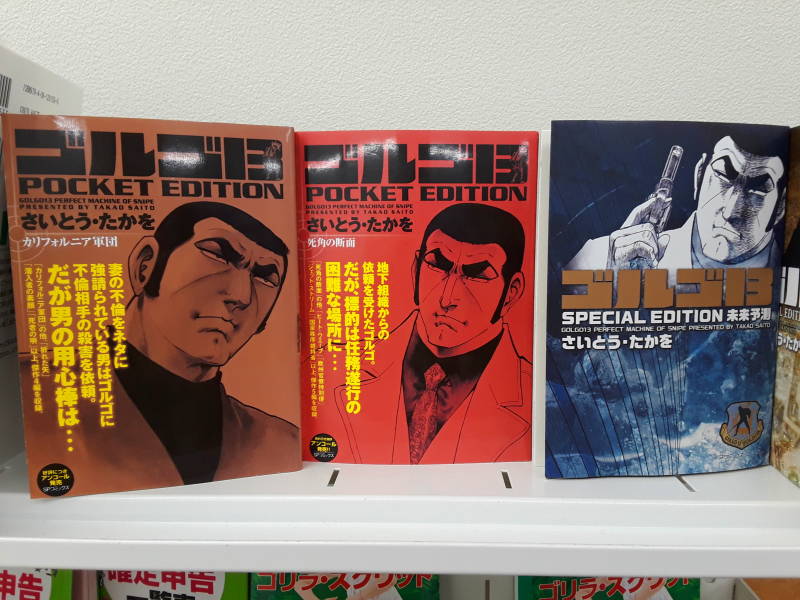 Mangyo-ji, Mangyo Temple
Mangyo-ji was established by Shōkū in 1529 during his missionary work. Shōkū was a disciple of Hōnen, the founder of the Jōdo-shū sect of Buddhism. Since then it has flourished as a Jōdo-Shinshū temple in Hakata.
His biography says that Shōkū was born into a noble family, but by the age of 14 had taken a deep interest in Buddhism. He studied under Hōnen for 23 years, and later became a disciple of Jōhen.
Visiting Kōya-san
Shōkū also studied Tendai and esoteric Shingon Buddhism extensively with a focus on Pure Land teachings and practices. The Shingon sect is based at the holy mountain of Kōya-san.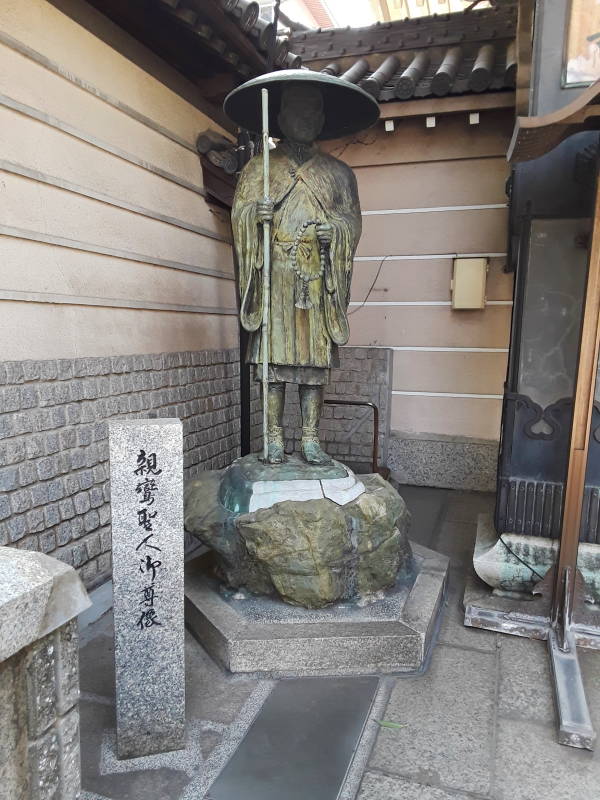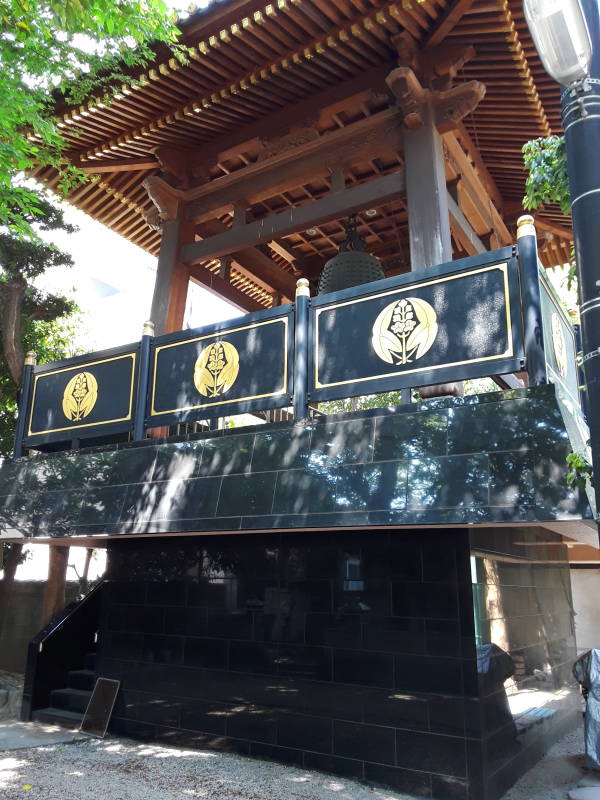 Within the temple grounds is the grave of Meigetsuni, a deeply devout woman who lived a hard life as a prostitute. According to legend, a white lotus bloomed from her buried corpse.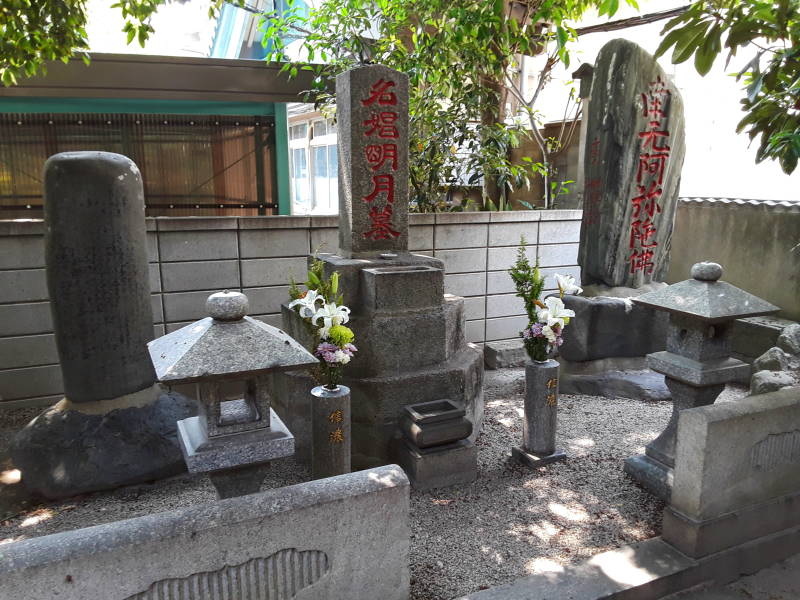 The above is specific to Fukuoka. Or maybe you want to explore other places in Japan.