The Vigilant Hotel
The Vigilant Hotel
The Vigilant Hotel is at 370 Eighth Avenue, between 28th Street and 29th Street. It's the five-story building at the center of the first picture below.

I have read that Angelino Sartirano established his first hotel at 116 Gansevoort Street in the West Village in 1888. By 1895 he had acquired hotels at 1553 Broadway, 2291 Third Avenue, 208 Eighth Avenue, 352 Eighth Avenue, and this one at 370 Eighth Avenue.

The Vigilant was a hotel and then an SRO for over a century. By the late 2010s it was largely budget accommodations for travelers, with the top floor remaining as an SRO for long-term to permanent residents. Guesthouses
at Booking.com

The Interfaith Guesthouse has cabins on the second and fourth floors, and Chelsea Cabins is on the third floor. (in the North American convention of the first floor being the one at ground level)

Both are promoted as hostels or hostel-like, as they are basic low-cost accommodation with some shared space, but both are built as SROs.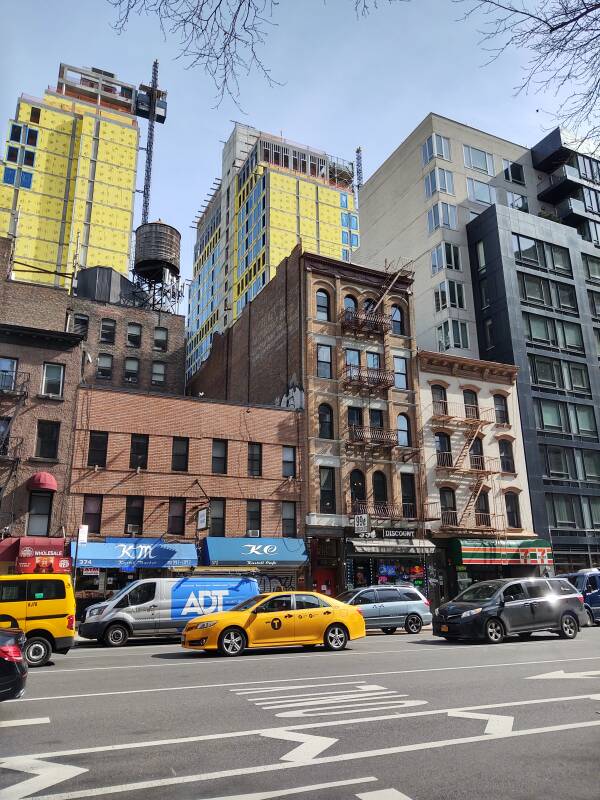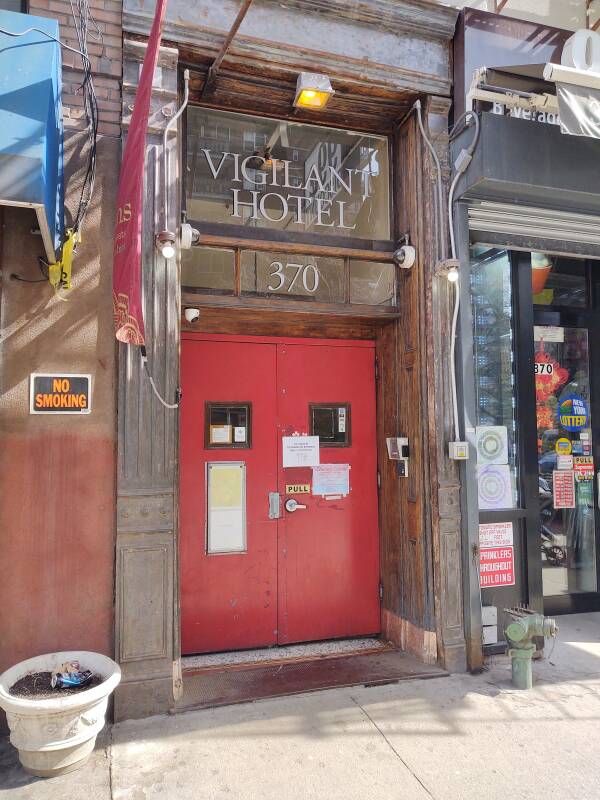 The door at street level is always locked. You get an RFID key to let yourself in.
There's no elevator and the floors are high, you will ascend plenty of steps. The red bag is at the second floor, and we are looking on up to the third floor. You turn there and then climb to the fourth floor. And if you're a resident, repeat that to get to the fifth floor. All the doors off the stairs onto the floors are also locked, you get a key for those.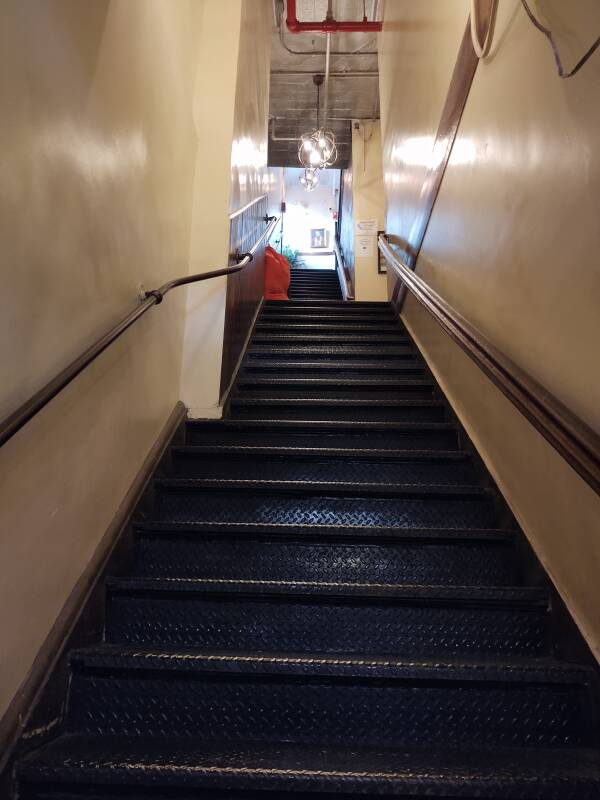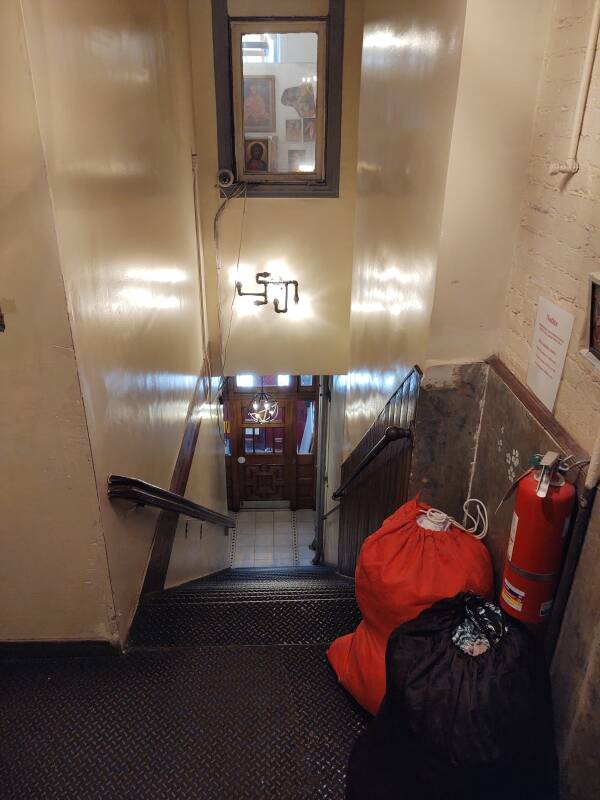 Above is the view looking back down from the second floor.
Both hostel type operations are affiliated with the Hare Krishna organization, formally known as the International Society for Krishna Consciousness or ISKCON.
That means no alcohol, tobacco, or other drugs, and no meat, fish, or eggs. So-called Krishnatarianism is strict vegetarianism, plus avoiding onions, garlic, red lentils, and mushrooms, because Ayurvedic tradition says that those foods increase passion and ignorance.
The Interfaith Retreat is true to its name, very inter-faith. Here's the desk on the second floor where a staff member is checking me in.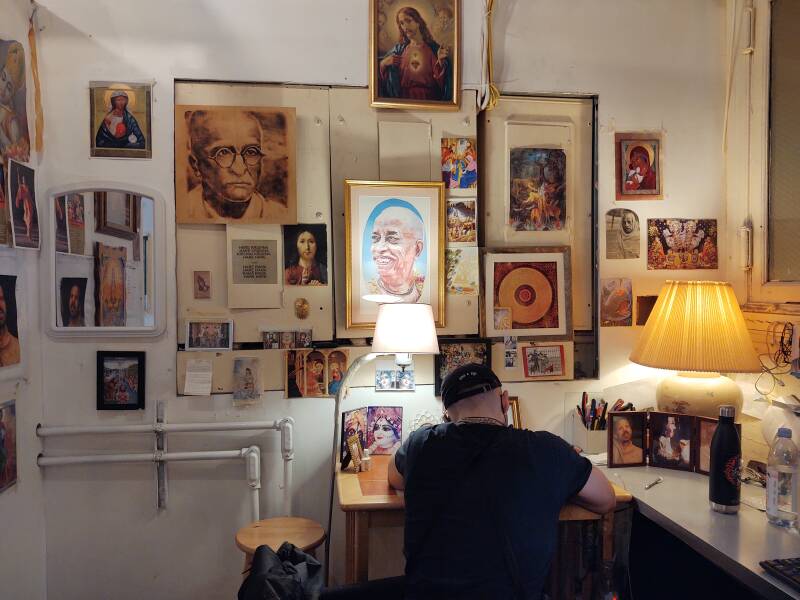 ISKCON literature is available. But no one is pushy. You're invited to take literature. If you ask, you can hear about it. But if you don't ask, you won't hear anything.
The Hare Krishna movement or ISKCON is a Vaishnava religious organization, with Vaishnavism being one of the four major denominations of Hinduism.
Like Christianity, Hinduism says that there is one supreme Godhead who manifests in different forms. In Christianity, that's the Father, Son, and Holy Spirit. In Hinduism, the one supreme being can incarnate as a more numerous and diverse set of identities.
For the most part, Vaishnavism considers Vishnu to be the supreme being. But Vaishnavism contains sub-sects such as Krishnaism and Ramaism.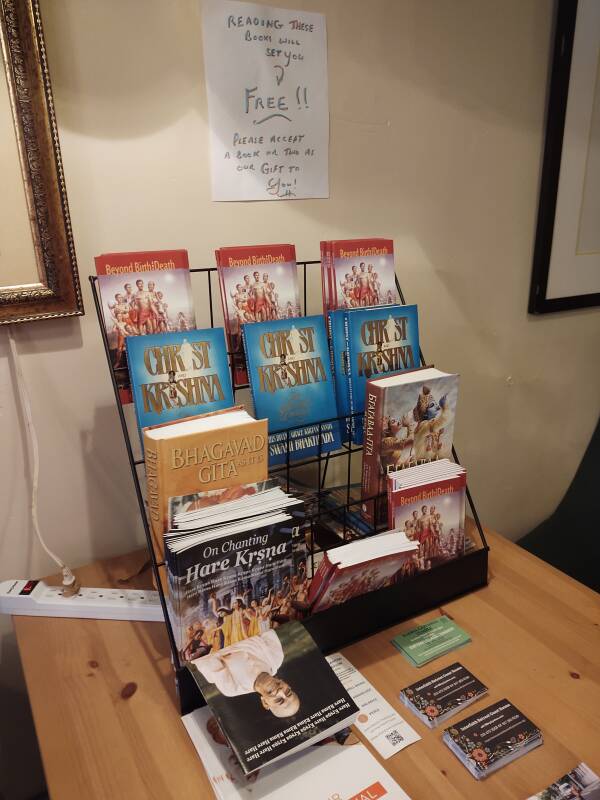 ISKCON, as its name states, considers Krishna to be the incarnation of the one true Godhead. Svayam Bhagavān in Sanskrit, meaning The Supreme Being Himself. The core of its beliefs come from Hindu scriptures, especially the Bhagavad Gita and the Bhagavata Purana.
Chaitanya Mahaprabhu (1486–1534) was a spiritual teacher in the Bengal region of the Indian subcontinent. His followers believed that he was Krishna himself, appearing in the form of His own devotee to teach people how to attain perfection through ecstatic bhakti, devotion and love for a personal god. The movement formed by his followers, residents of the Gaura or Gauḍa region of Bengal, became Gaudiya Vaishnavism.
Gaudiya Vaishnavism spread and grew in both India and the West starting in the early 20th century. Baba Premananda Bharati (1858–1914) wrote Sree Krishna, the first detailed description of Gaudiya Vaishnavism in English. In 1902 he formed the Krishna Samaj society in New York City and built a temple in Los Angeles. The first European teaching center opened in London in 1933.
A lineage of teachers led to A. C. Bhaktivedanta Swami Prabhupada, born in Calcutta in 1896. He retired from his work at a small pharmaceutical business in 1959 and dedicated his life to spiritual pursuits, writing commentaries on Vaishnava scriptures. He acquired many followers in India and several western countries. In 1965 he arrived in New York with just 40 rupees. He preached and chanted in public parks, attracting youth, hippies, and Beat figures. In July 1966 he founded ISKCON in New York.
Here we are on the fourth floor. It has been rebuilt in the original cabin design. The cabins are in the center with a narrow passage around them. There are some windows on the fourth floor.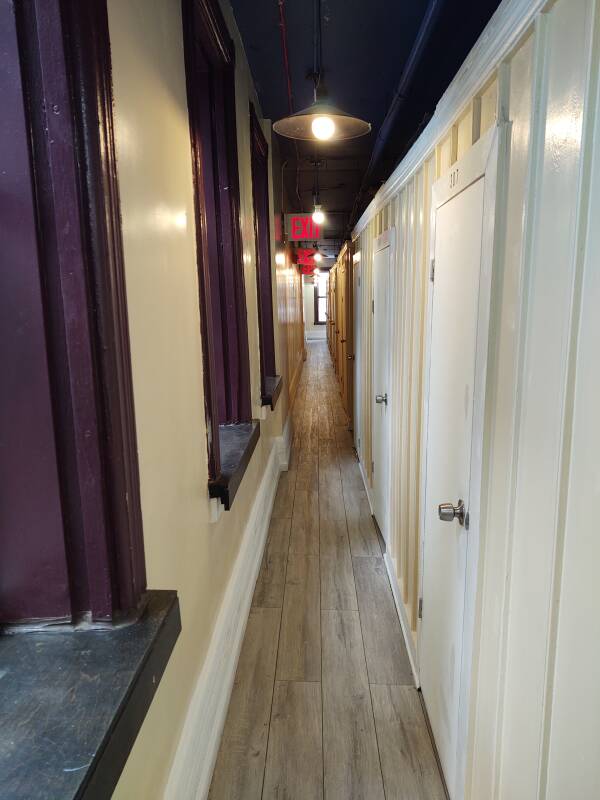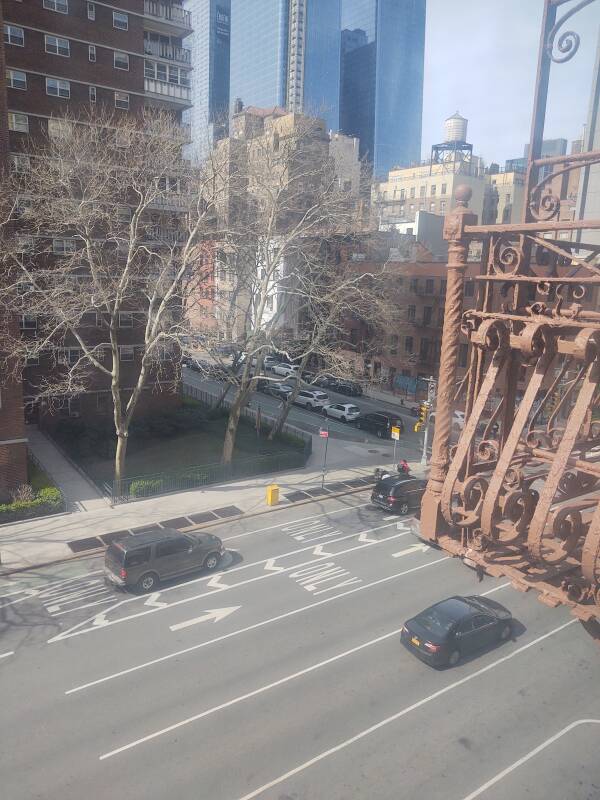 EV Grieve
Forgotten New York
Business Insider
When I first stayed here in March 2022, the building was in much better shape than it had been when it was described in December 2008, March 2012, and June 2014, when all its floors were occupied by otherwise homeless men, many with mental health issues, and bed bugs swarmed. A cabin then had been $120 to $140 per week, but you wouldn't stay here unless you had no other alternative.
The price had been just $0.15 per night in 1923 and $0.32 per night in 1932. In the late 1970s it was in SRO mode and the Village Voice carried its ads under "Rooms for Rent" for $28 per week.
A once very dirty building has been cleaned up, or at least mostly so. Three of the four floors above street level are now a nice place for travelers to stay. But I worry. Something around 90 austere single-room dwellings, 30 per floor, no longer house otherwise homeless men. Compared to Chicago, New York has a much better handle on the problem of homelessness. But still, are those spaces no longer needed?
Here's my cabin. A private cabin with a locking door, nicer than the typical hostel situation. There's a grounded duplex outlet, but it's near the lattice "ceiling". A short extension cord with a multi-tap end would be handy.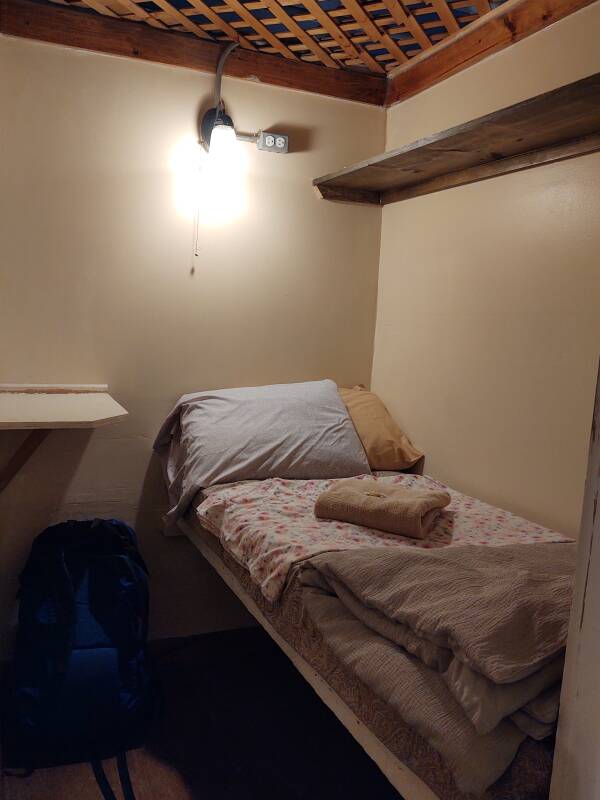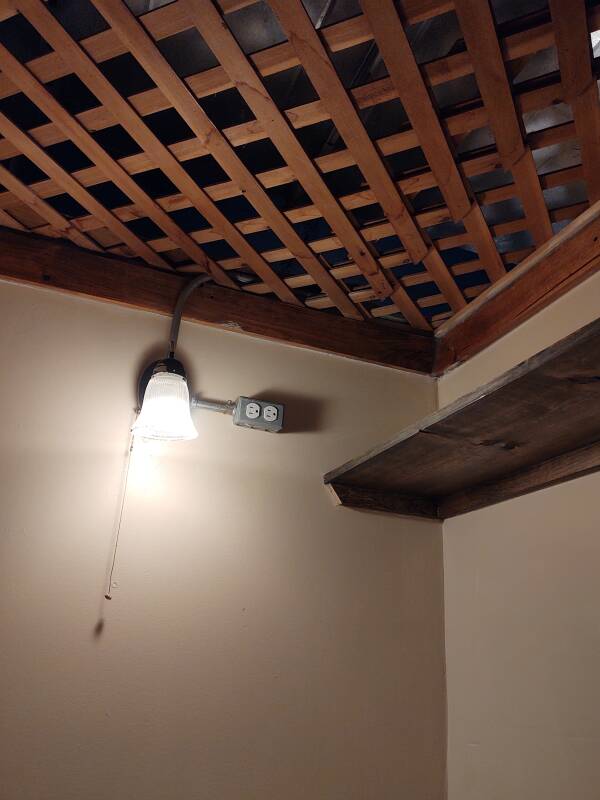 There's WiFi. In the middle of the trip a consulting client made an urgent request. I could do a couple of hours of work there as well as I could anywhere. The work was writing Linux shell scripts for server hardening and automated reconfiguration. Plus detailed documentation explaining how to use the scripts, what the security issues are, and how to explain things to the security auditors.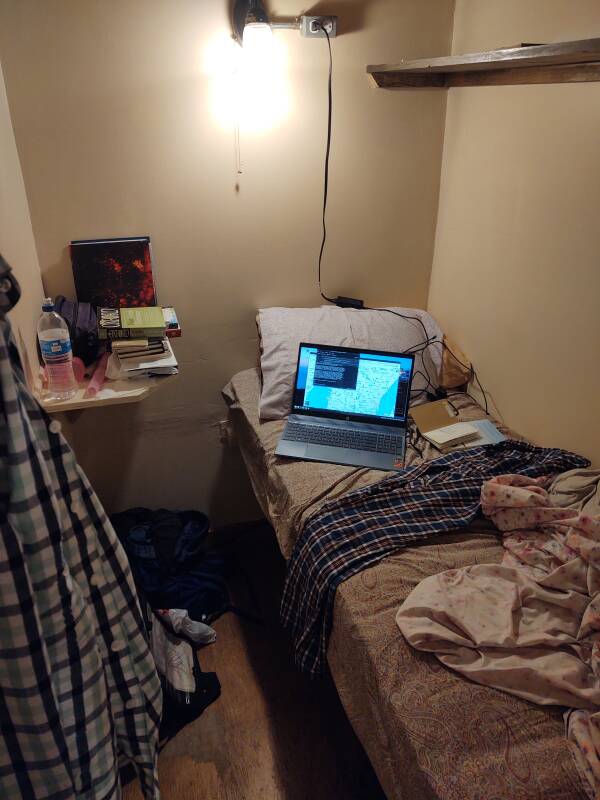 There's a pleasant shared area on the second floor.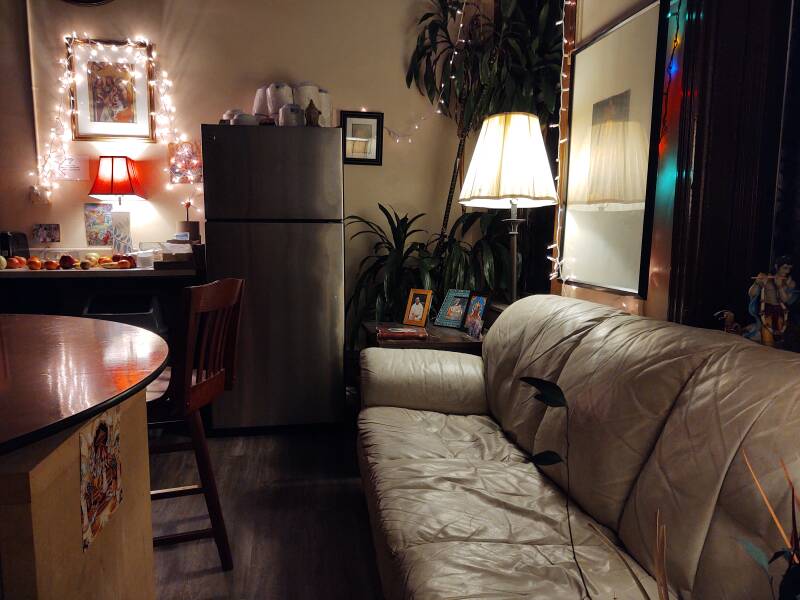 There are also cabins there, so you need to be quiet in the evenings. It enhances the somewhat monastic mood.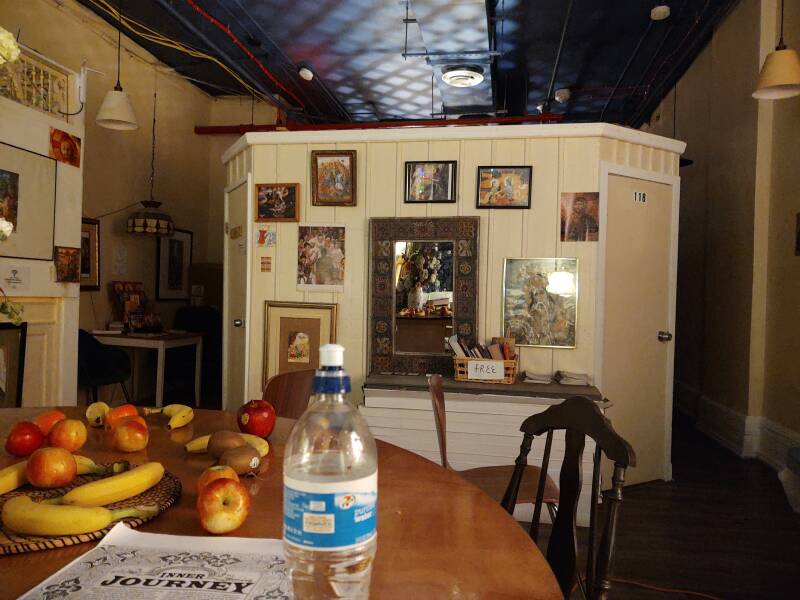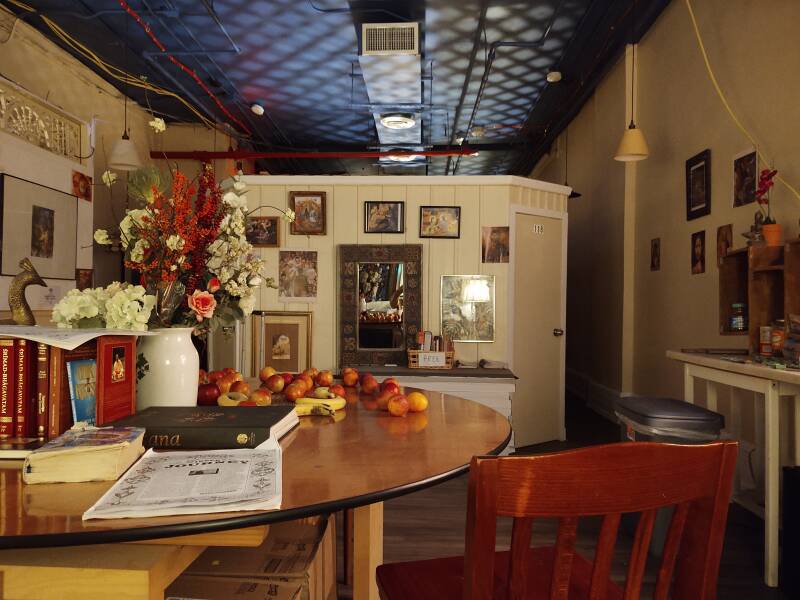 Fruit and cereal are always available, for breakfast or a late night snack.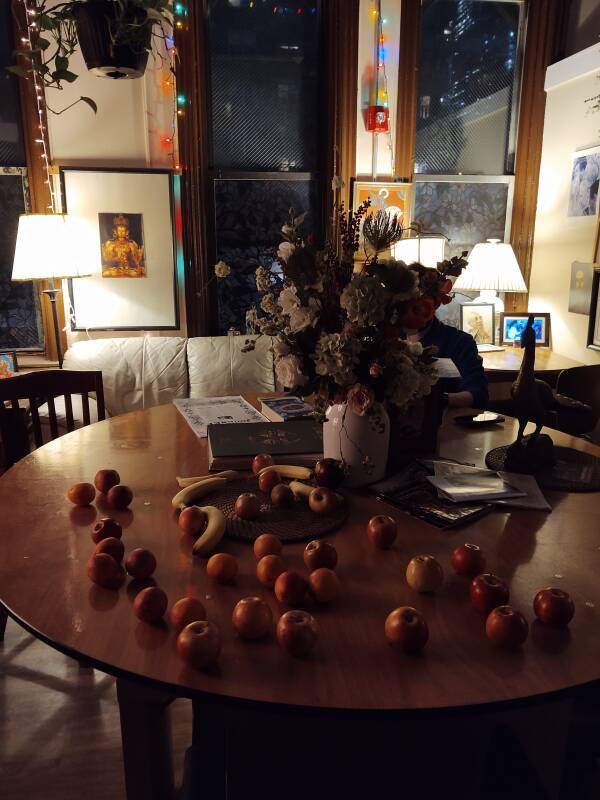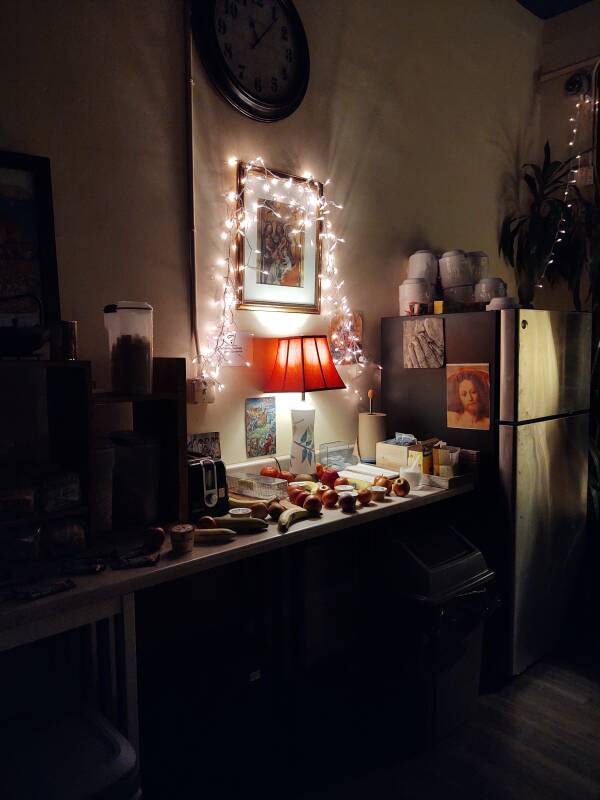 As I said, it's literally an inter-faith retreat.
There is Hindu, Christian, and Judaic imagery.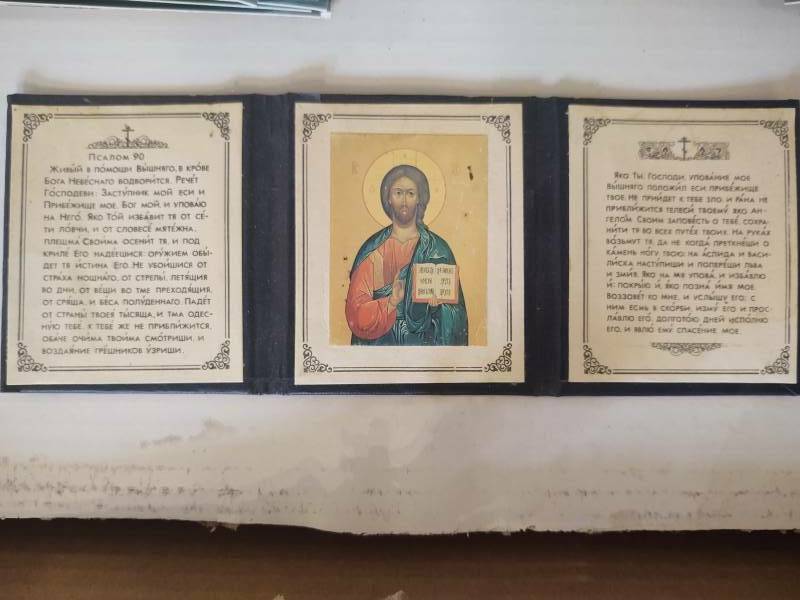 Islam, at least the dominant Sunni sect, prohibits images of living beings, although the Shi'a and Sufi sects are less strict.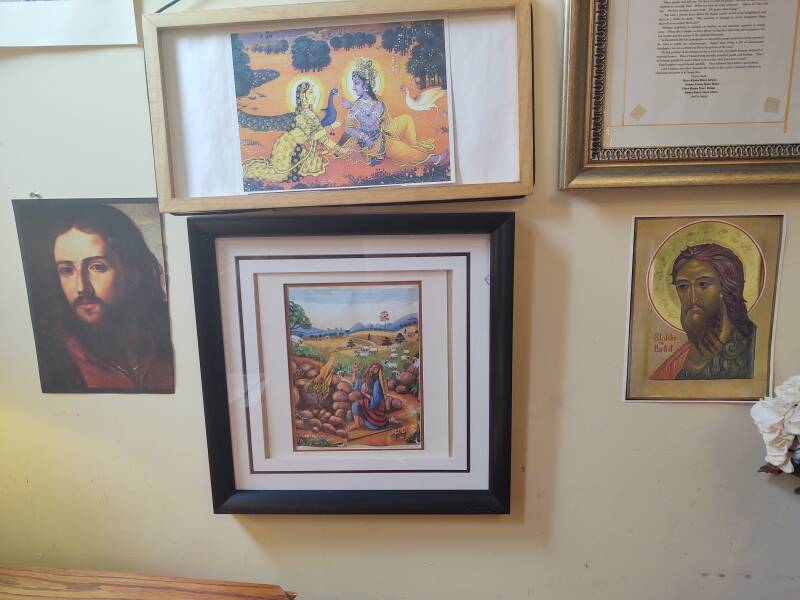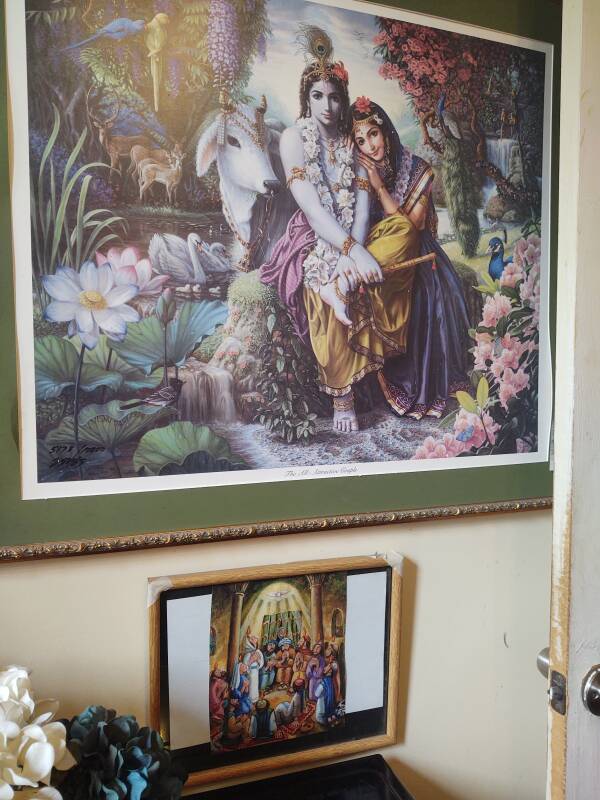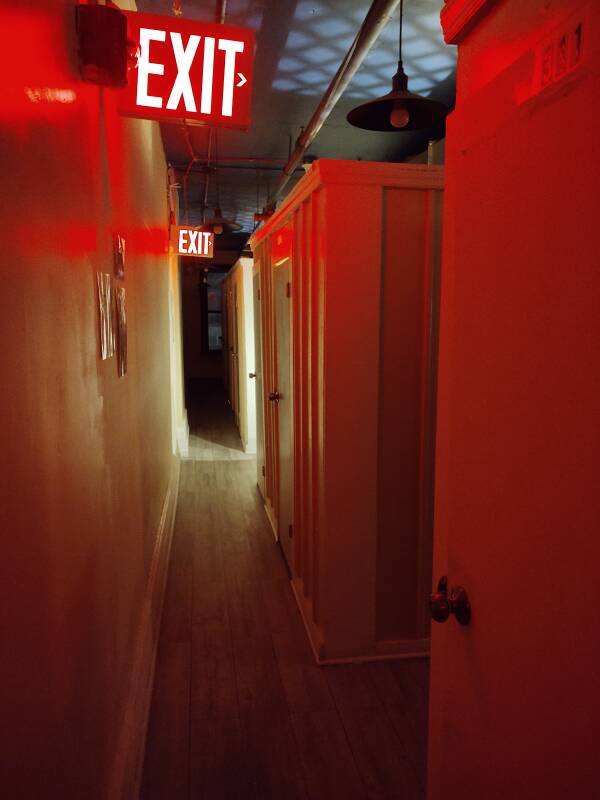 Everyone worries "What are the bathrooms like?"
I have an entire web site dedicated to answering that question around the world. At the Interfaith Retreat the bathrooms are shared, clean, and functional: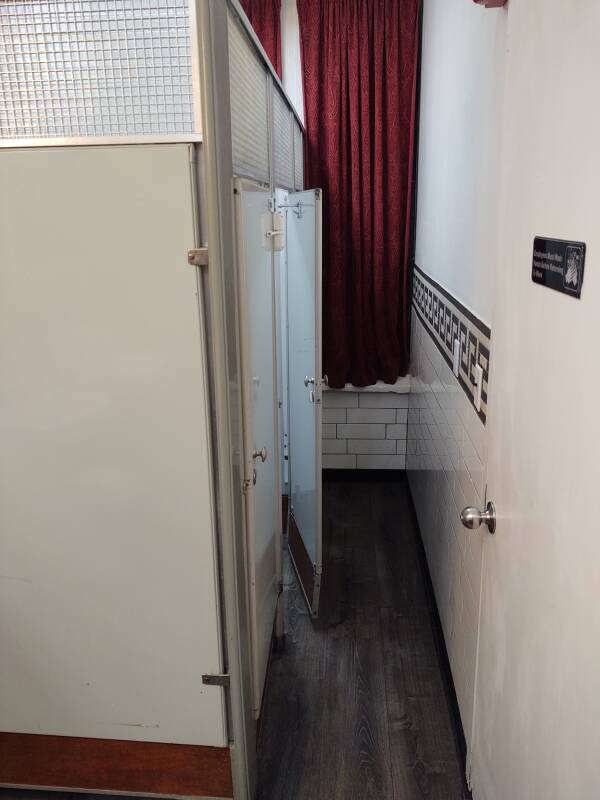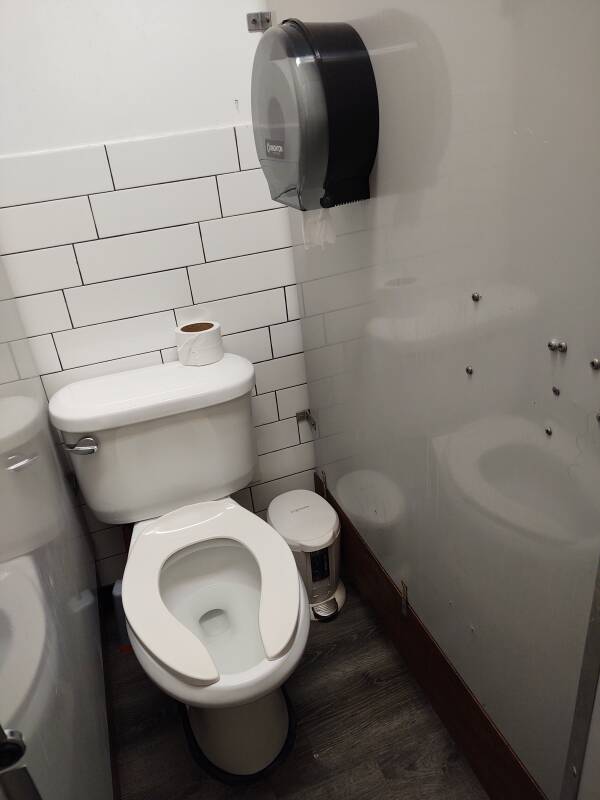 American shared bathrooms tend to have very little privacy. It's a moral panic over what people might do in a toilet stall. I was pleased to see that they have modified the stalls to provide privacy. There are extensions to the stall walls at top and bottom, a panel over the door, and strips blocking the usual gap on either side of the door.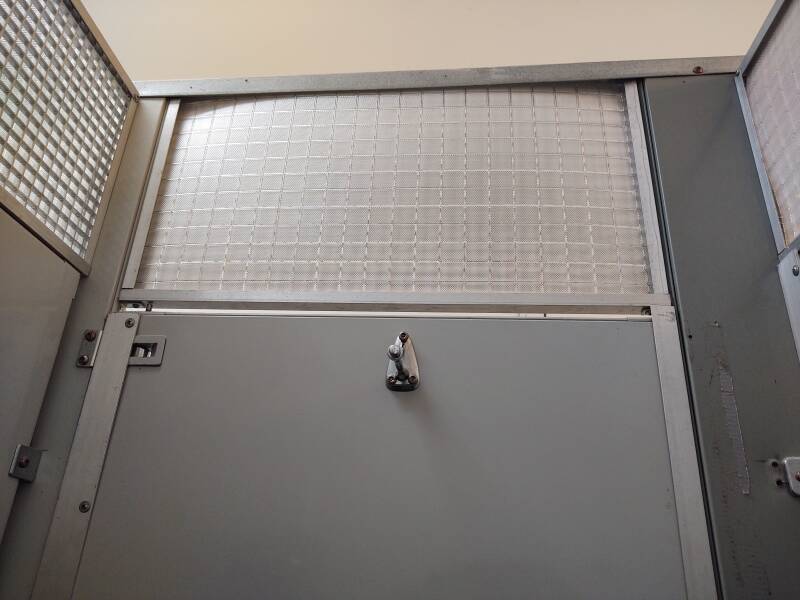 This includes extended panels at the bottom of the walls and doors.
This visit was in March when the weather had turned cold, with temperatures well below freezing and high winds. The extra heat was nice.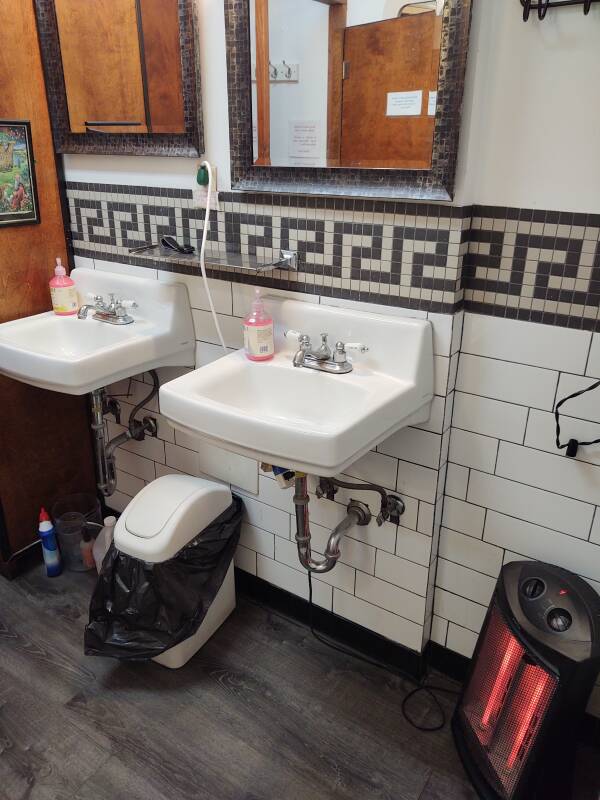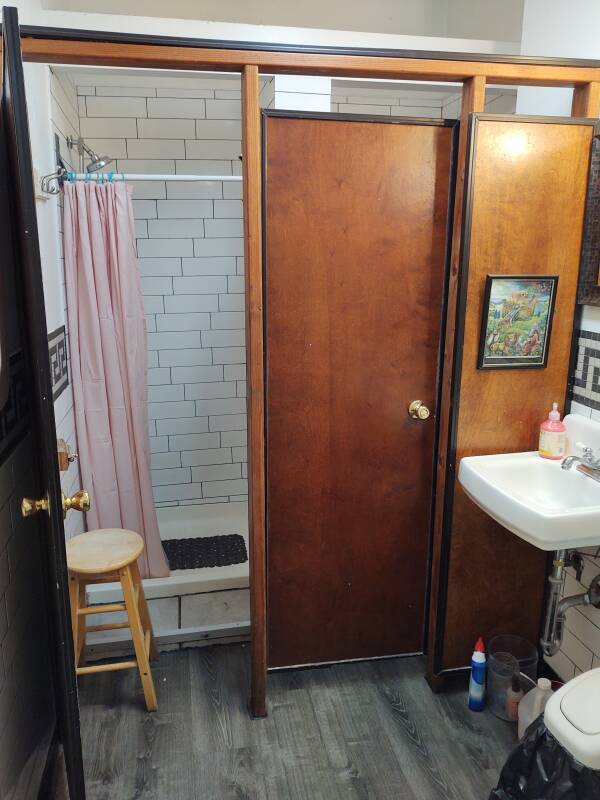 ---
USA Travel Destinations
Back to International Travel