Okonomiyaki — Grilled to Order
To the Okonomiyaki Grill
I was on my second independent trip to Japan. I had eaten some okonomiyaki on my first trip, in Kyōto and Nara and Ōsaka. But it was kind of meh.

I traveled further to the southwest on my second trip, with a few days in Hiroshima where the local version is the best of all okonomiyaki.

Its name, okonomi and yaki, literally means "how you like" and "cooked" or "grilled".

There's a batter made of flour and grated nagaimo, a type of yam, with dashi, the result of drying fish stock down to thin tissue-like flakes. Also, potentially, a layer of noodles.

There will be shredded cabbage, much more in the Hiroshima version than in Ōsaka. And, other toppings, as we will see below.
Katakana &
Hiragana
There was a good okonomiyaki grill along the main street near where I was staying, at J-Hoppers. It might be spelled phonetically in hiragana as おこのみやき. But it probably will be partially in kanji, leaving me mystified.
The large lettering on the sign and down the lantern at this place says だんだん or Dan-dan, which I suppose is the name of the place. Look in the window. I see an okonomiyaki grill!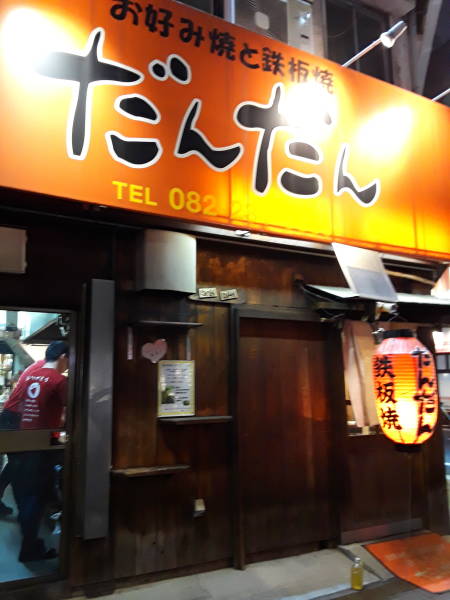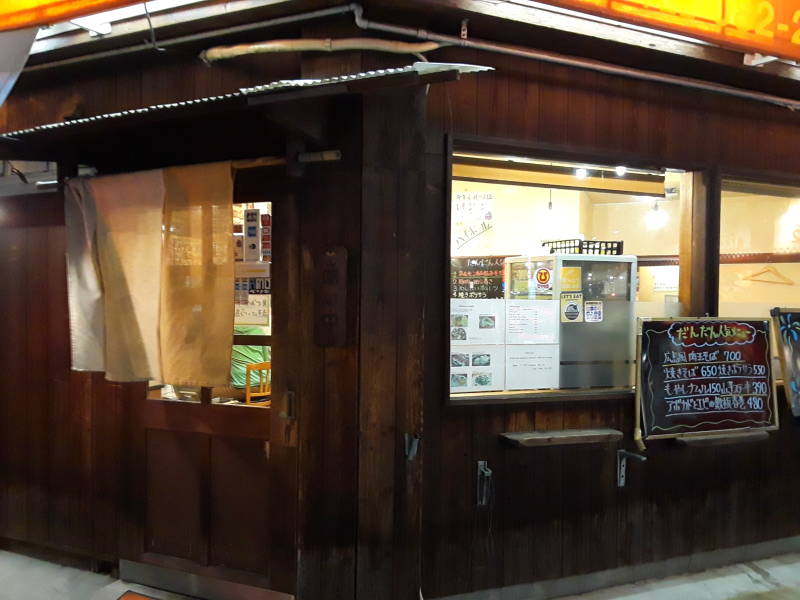 I take a seat at the grill. Watch out! There's a narrow wooden counter, just wide enough for your plate and a drink. Then a hot metal griddle.
If you're going to sit at the counter like a noir tough guy, like Batou in Ghost in the Shell, watch that you don't burn yourself.
Here the chef is starting my dish, while consulting with a new customer. He has poured out some batter and spread it into a thin disk.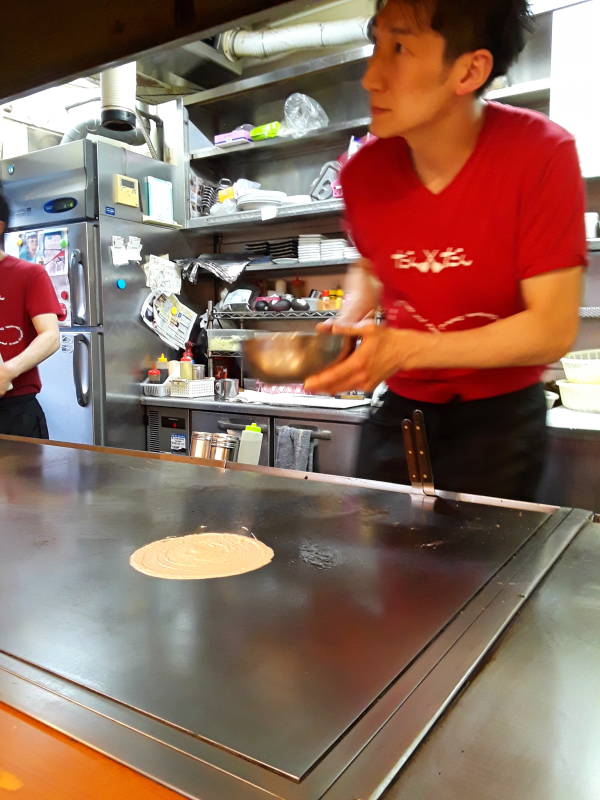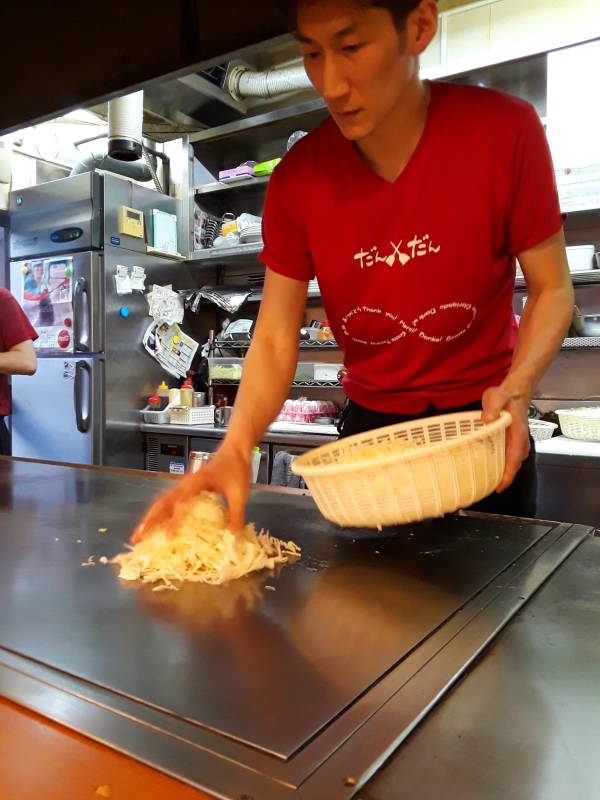 Now he's adding chopped cabbage.
Some dashi or fish flakes go on top, then strips of bacon.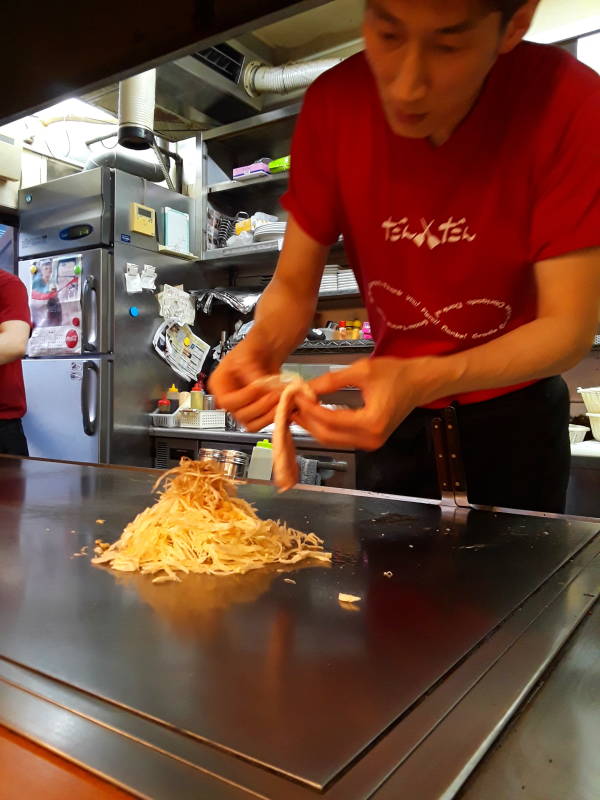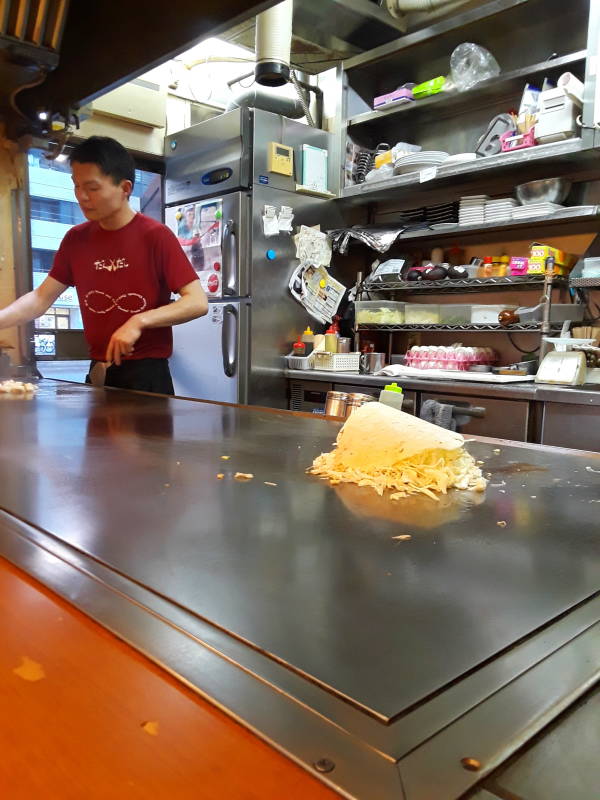 Then that whole stack gets flipped. The pancake, now on top, holds the cabbage as it cooks down.
It had been a long day with a light lunch. I got mine with a layer of yakisoba, thin noodles which have already been cooked. Some light oil is brushed onto the griddle, and an appropriately sized disk of noodles is formed.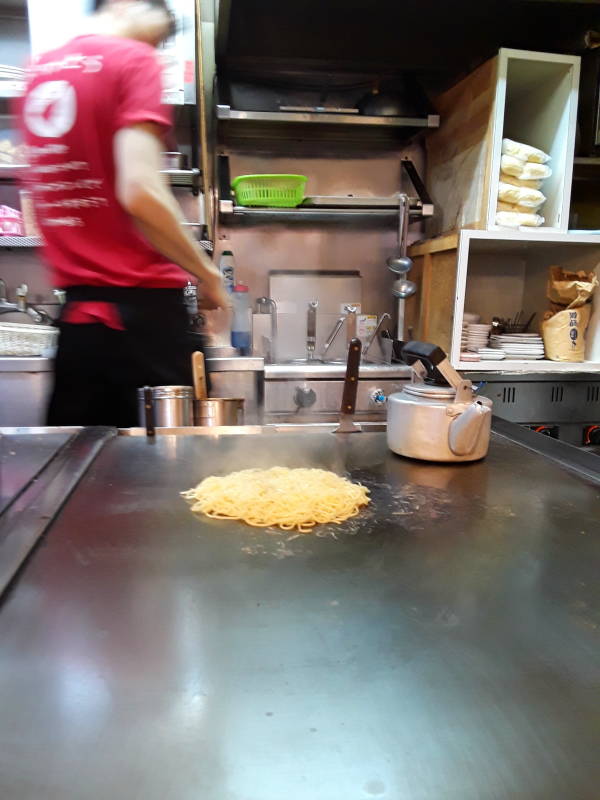 My noodles heat as the cabbage stack steams down.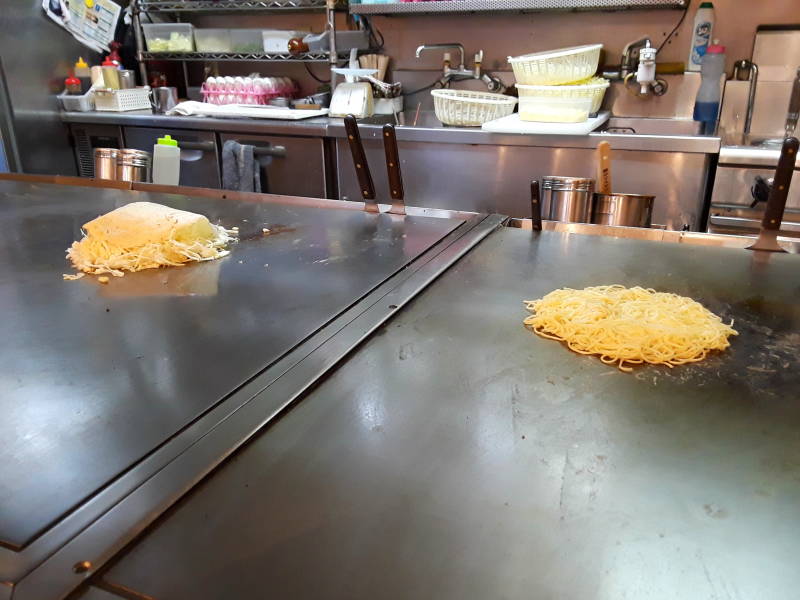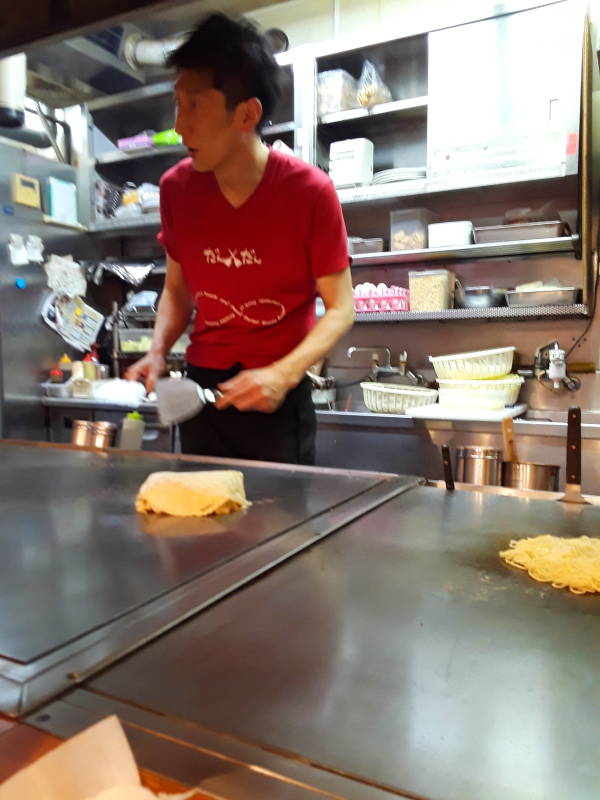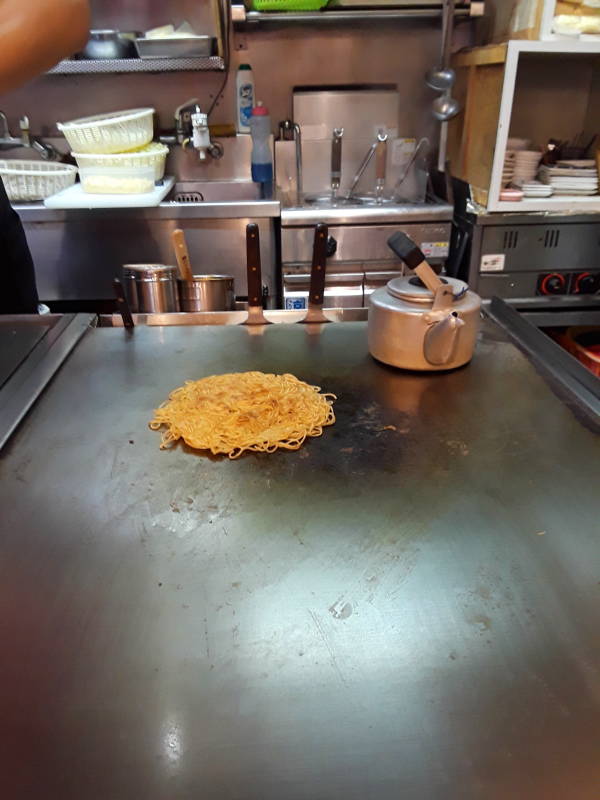 He adds okonomiyaki sauce to the noodle layer.
Now he flips the batter-cabbage-bacon stack, previously underway further down the griddle. That stack will go onto the noodle disk.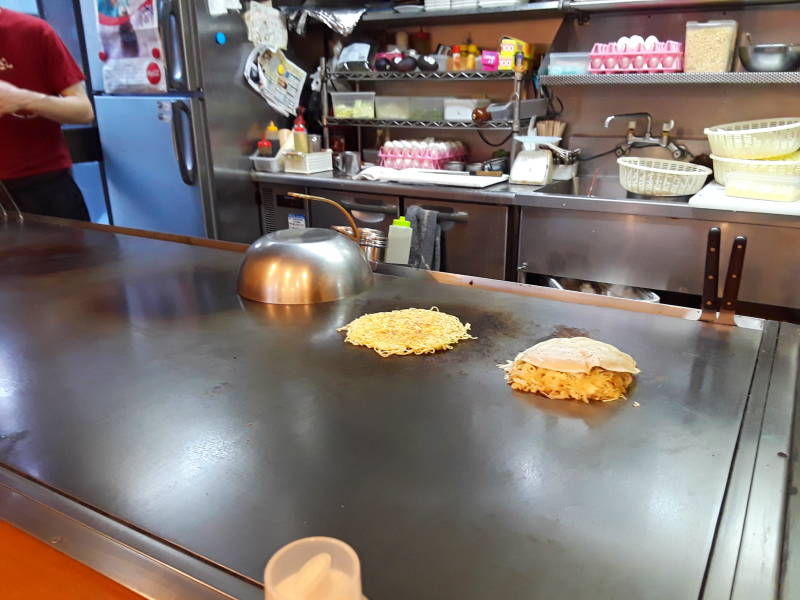 The chef moves quickly.
I have my own pitcher of okonomiyaki sauce to add to mine as desired, along with the Japanese version of mayonnaise.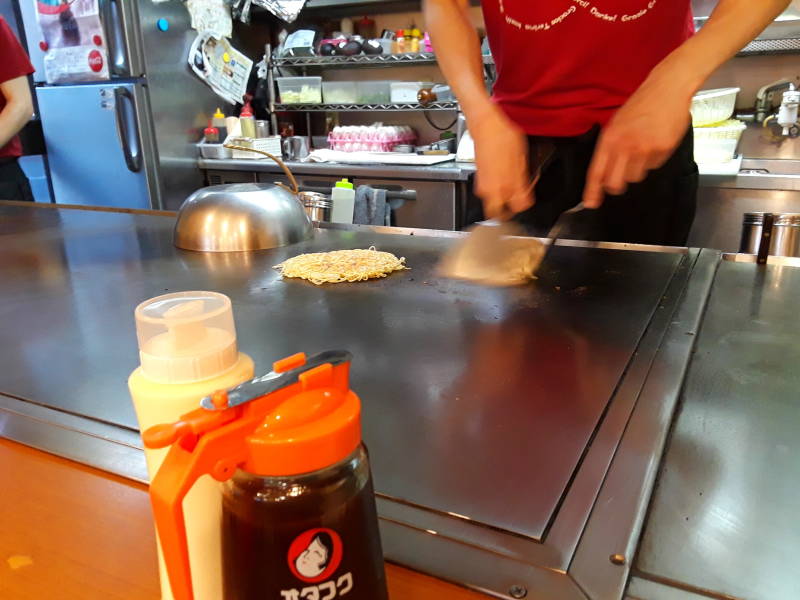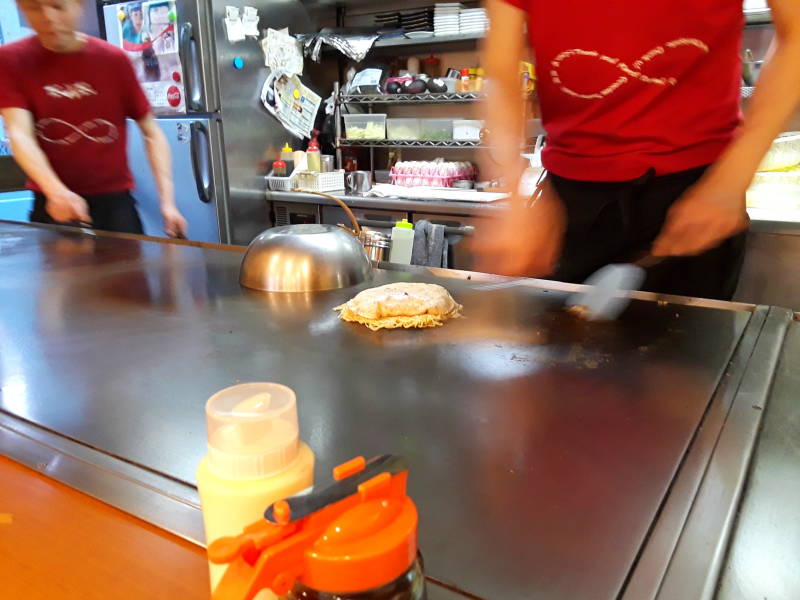 An egg layer is underway.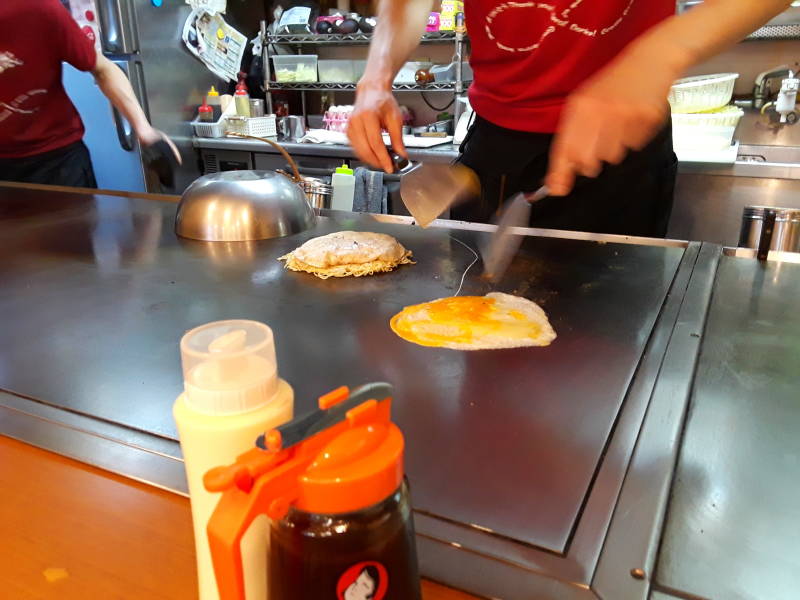 Final assembly!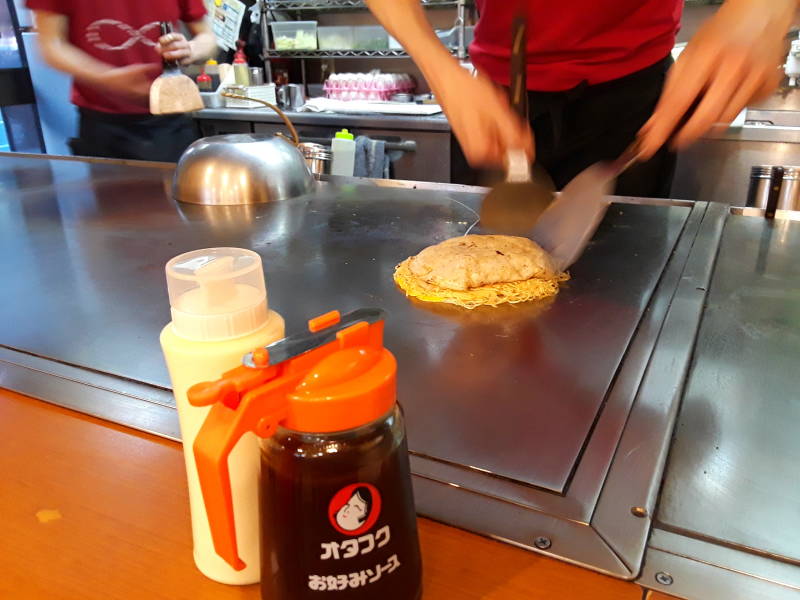 Now it's flipped again, and more okonomiyaki sauce is added.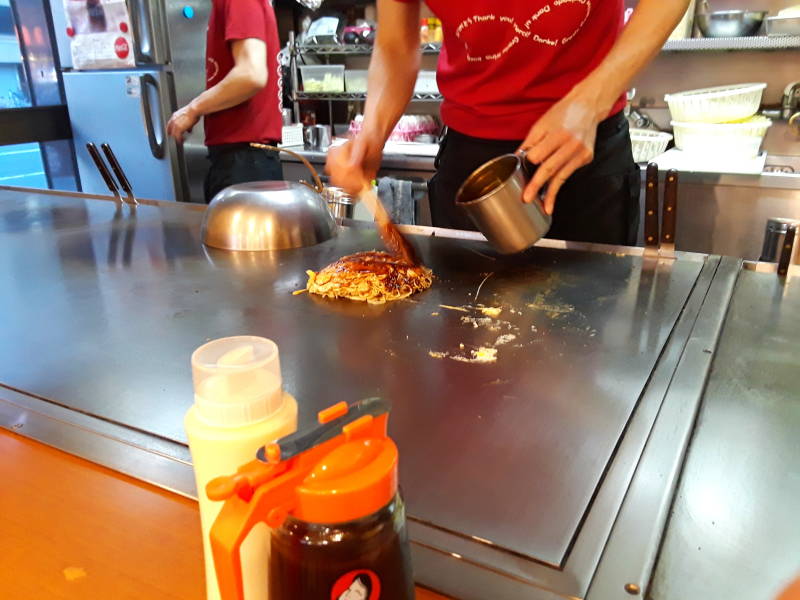 The mushrooms and cheese go on late in the process. Squid, octopus, pork, and other options are available.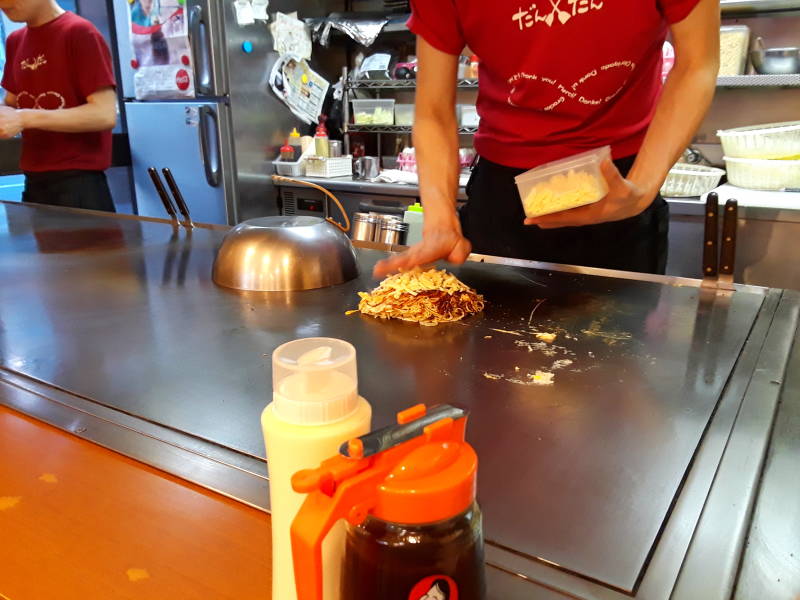 It's placed under a dome and steamed.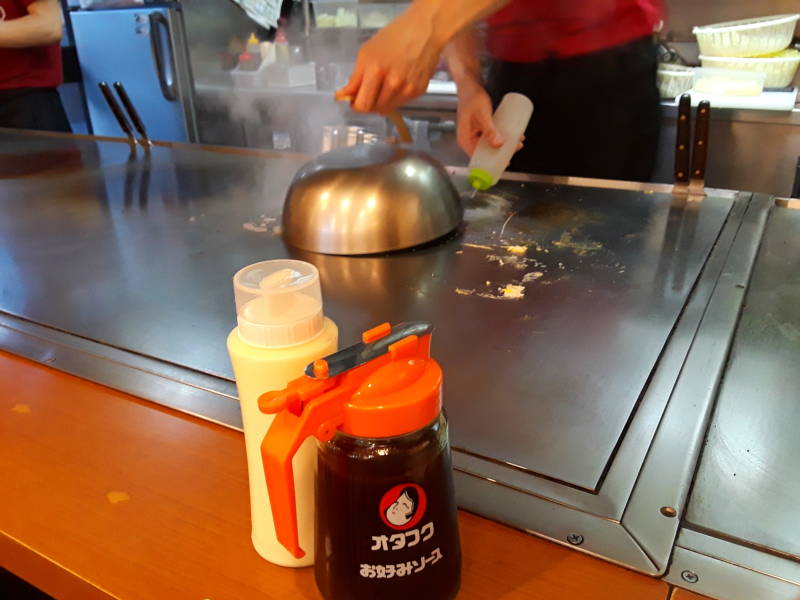 Nearly ready.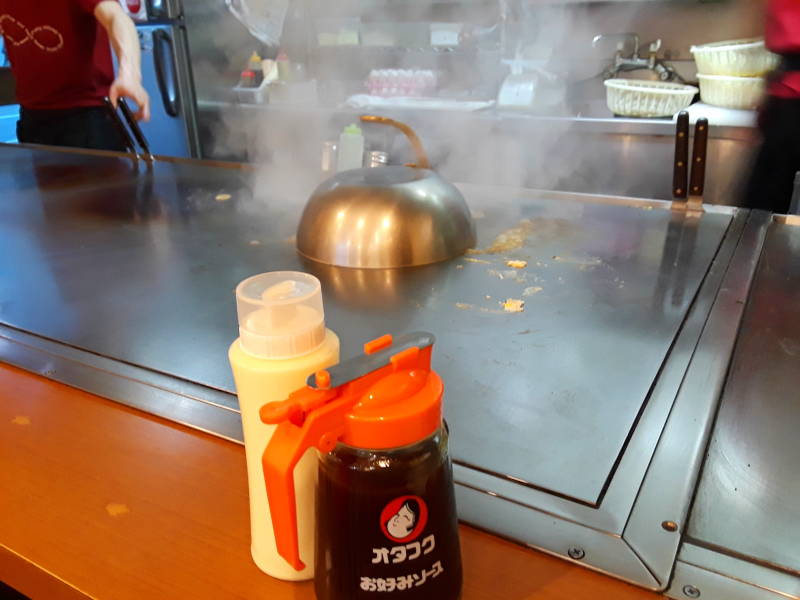 I'm given a plate, a special okonomiyaki spatula, and hashi or chopsticks.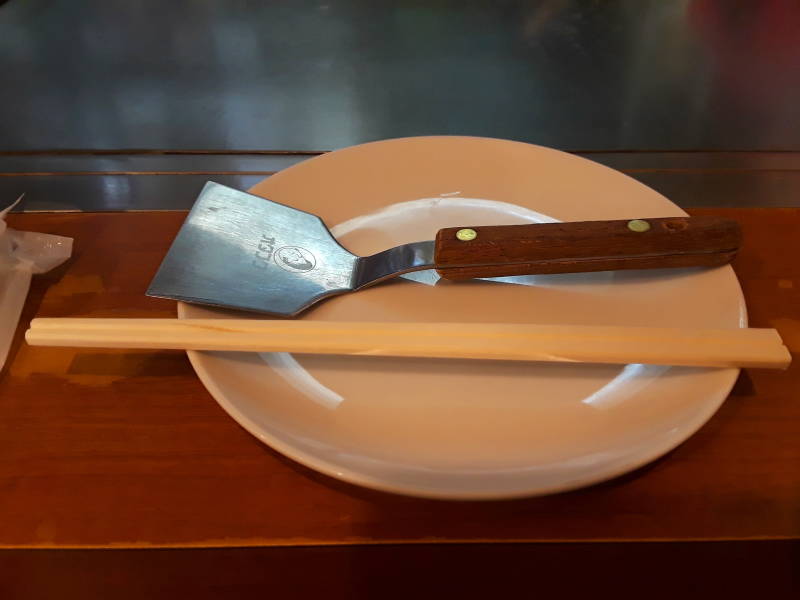 And, the okonomiyaki is served!
The final toppings include aonori, small flakes of the thin nori sheet used to wrap sushi and onigiri. Also thinly sliced scallions, roasted sesame seeds, fish flakes, and more.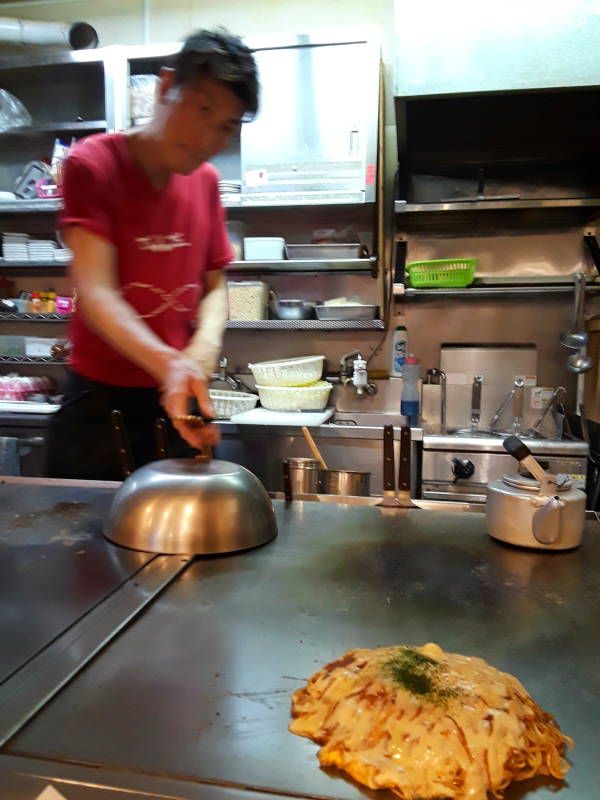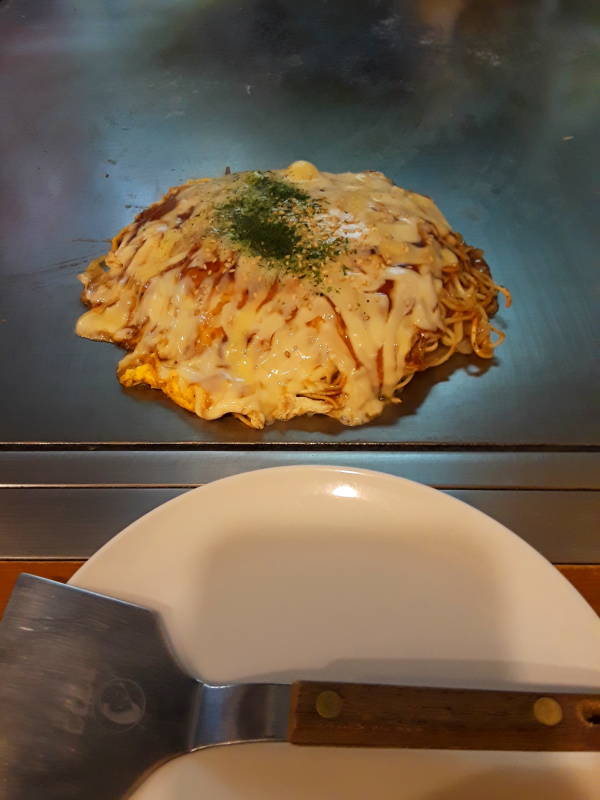 As I'm seated at the counter, they slide mine to the slightly less hot area directly in front of me.
This keeps my okonomiyaki hot as I use the sharp spatula to cut off pieces and transfer it to my plate. It's quite acceptable to use the spatula like a broad and flat spoon.
Acceptable, but very awkward. I mostly relied on the chopsticks.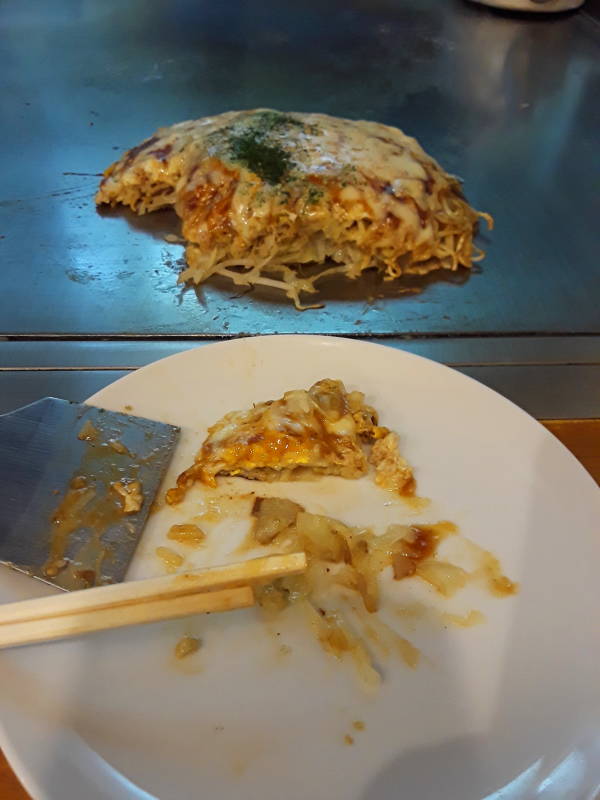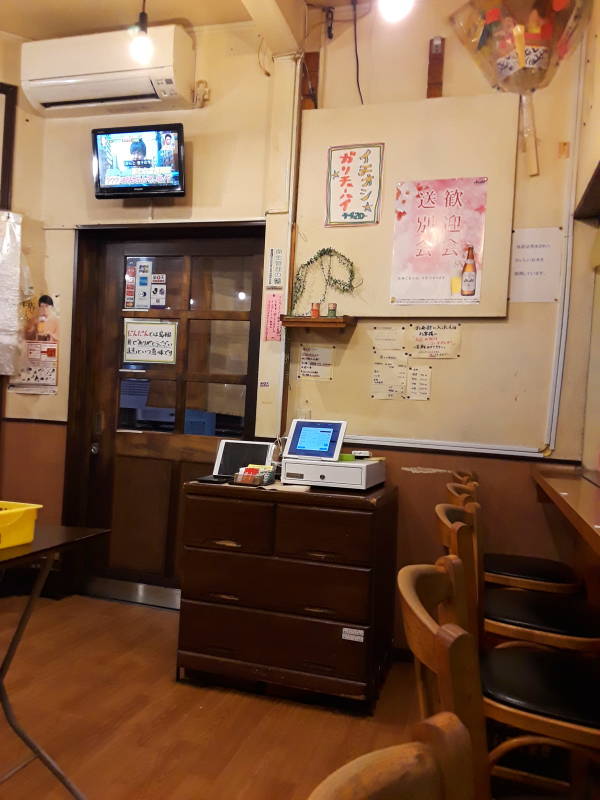 I cleaned my part of the griddle, paid, and prepared to leave. The chefs had more underway.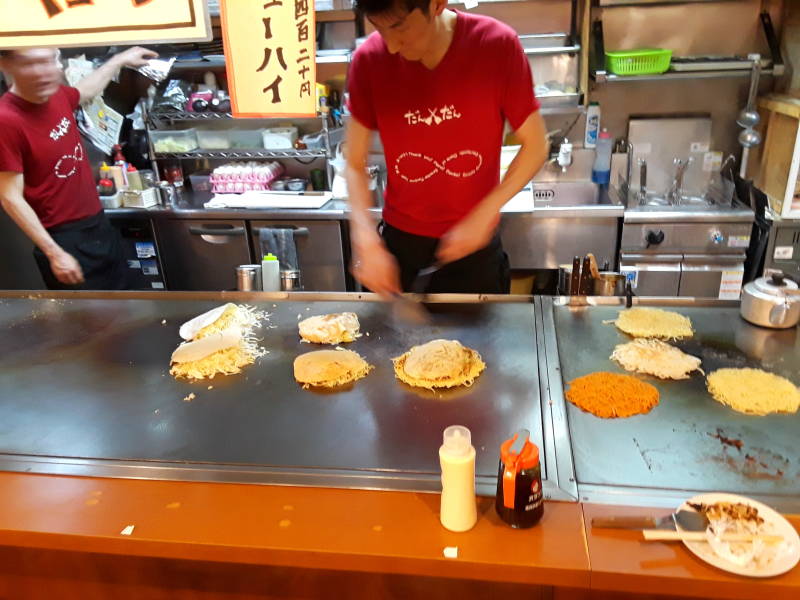 Okonomiyaki, Part II
Another day, another okonomiyaki joint.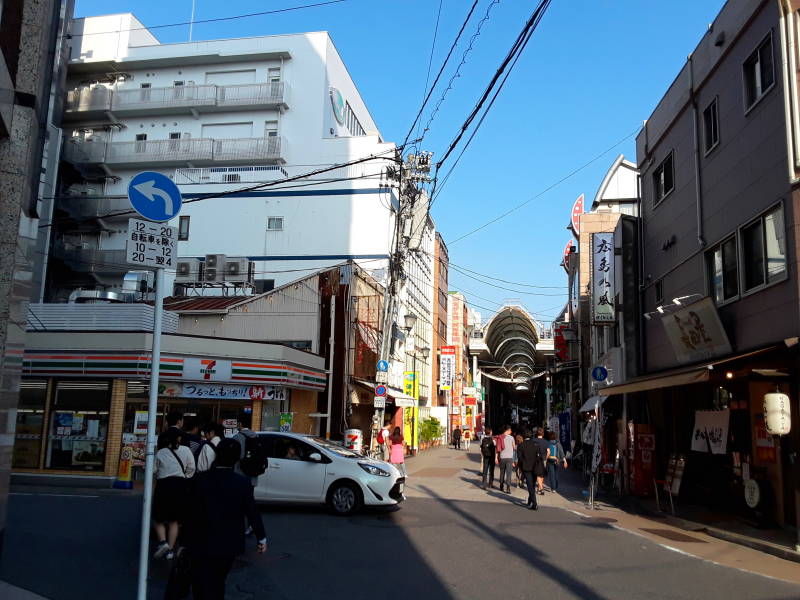 I'm headed into a long covered shopping arcade.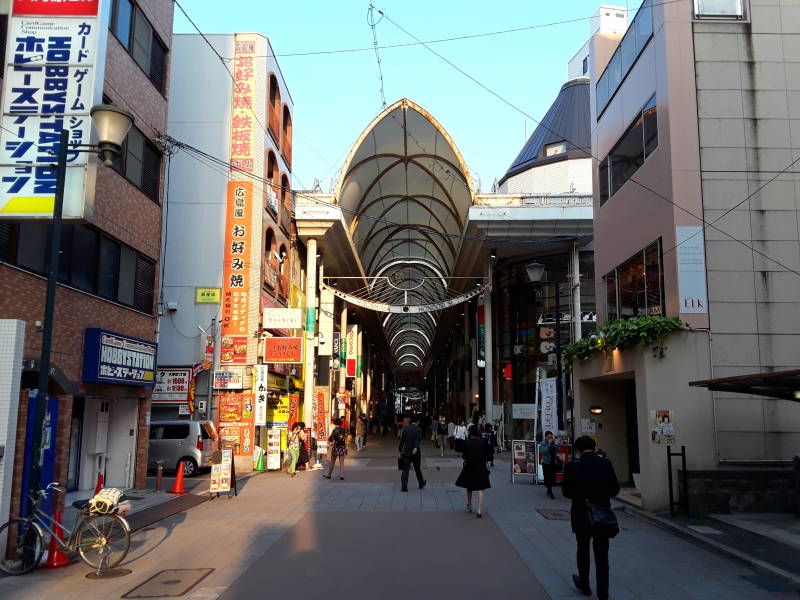 The shopping arcade stretches for several blocks, parallel to a main avenue.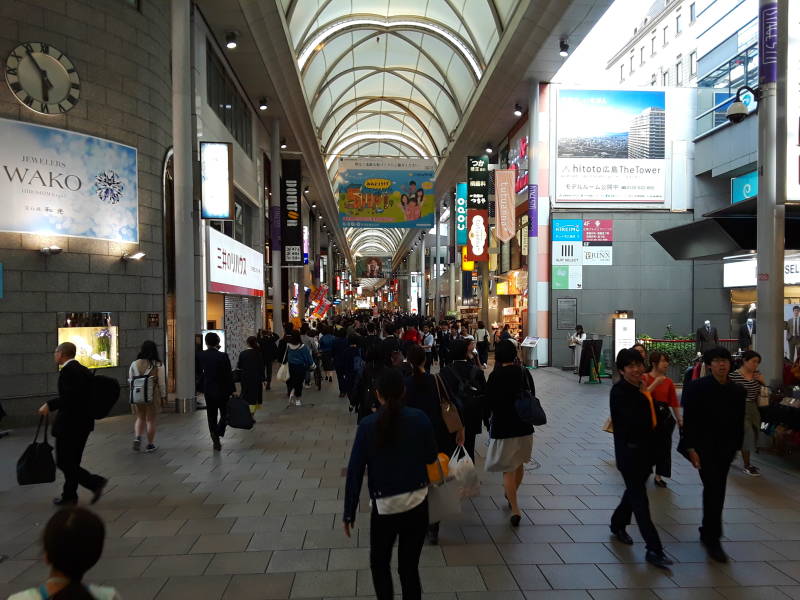 American canvas sneakers were very popular when I was there. Who knows, this trend may have been completely replaced within a couple of weeks of my return to the U.S.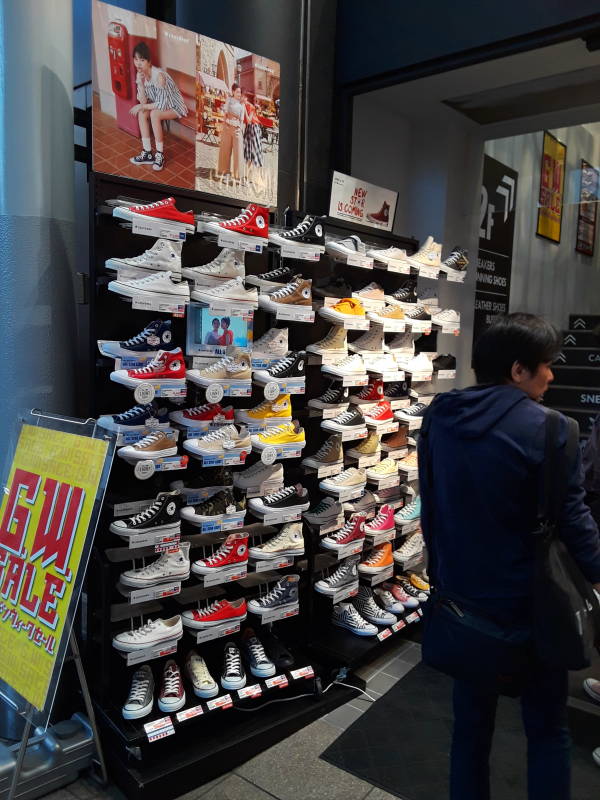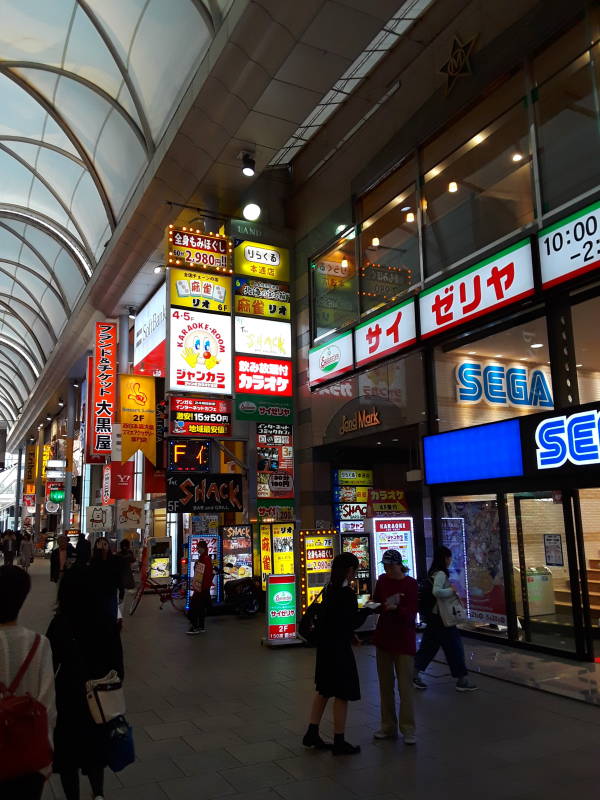 I have taken a seat at the counter in another okonomiyaki grill.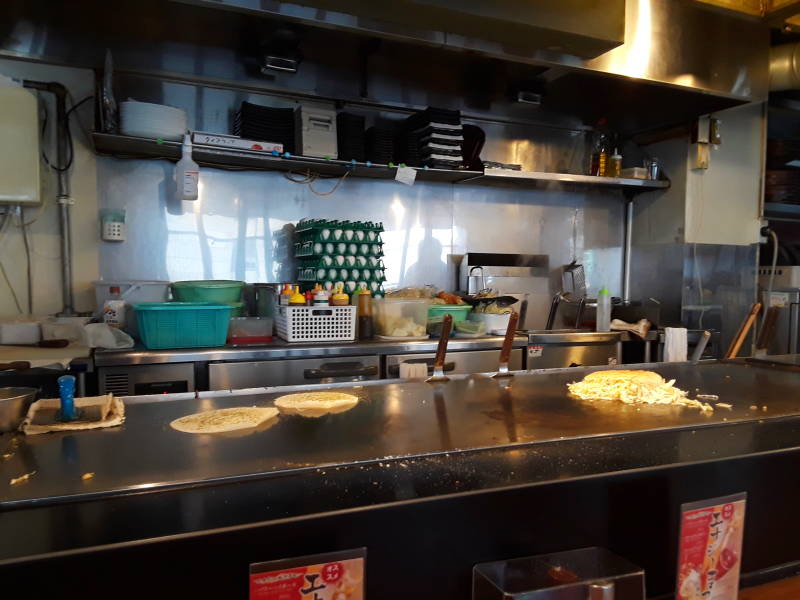 The Hiroshima style piles the shredded cabbage high. She's sprinkling fish flakes onto the stacks.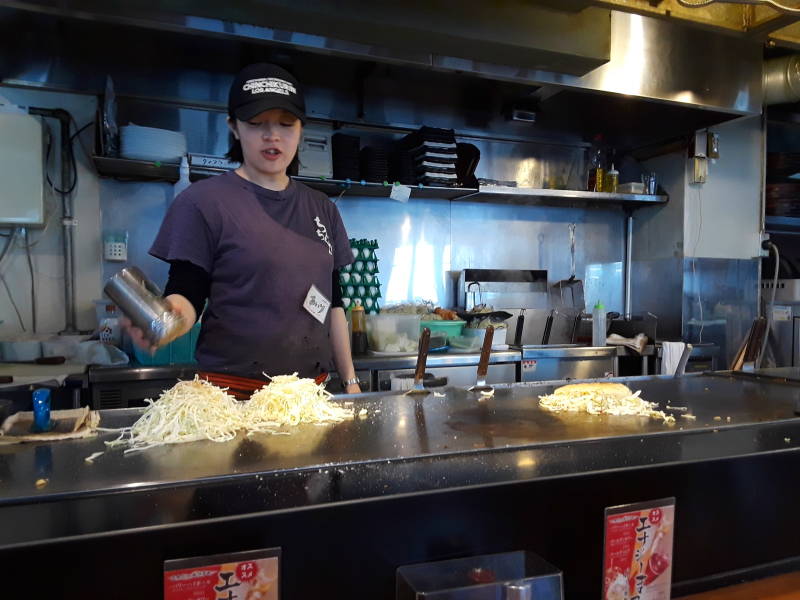 Bacon has gone on top of those two. After a while she will flip them bacon-side-down.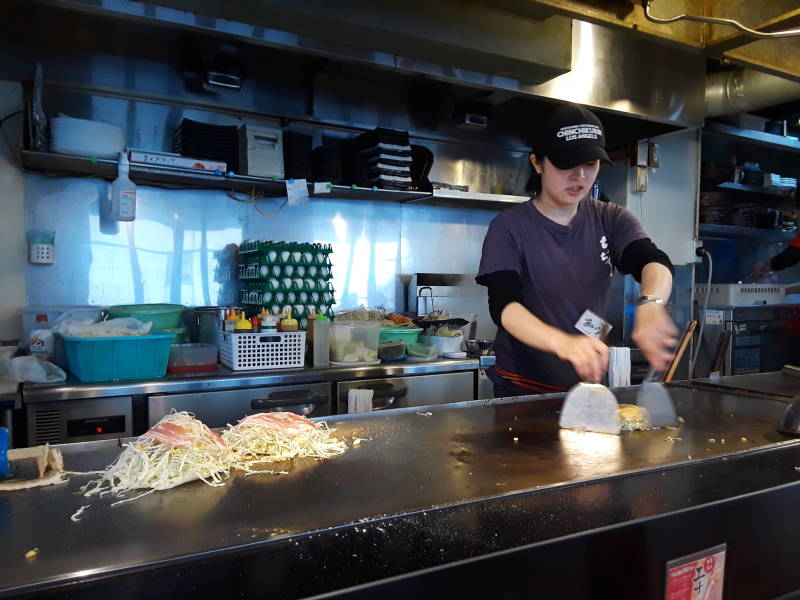 I got mine with an intact egg and plenty of thinly sliced scallions or green onions.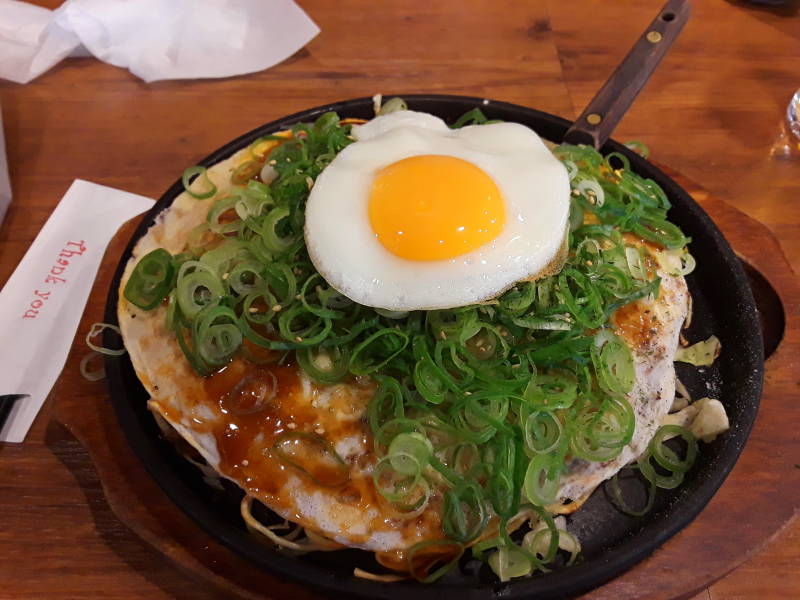 The grill here is significantly higher than the counter. They serve it down on the counter on a heated iron plate that rides on a wooden platter.
The Ōsaka style thoroughly mixes the ingredients.
The Hiroshima style retains the layering.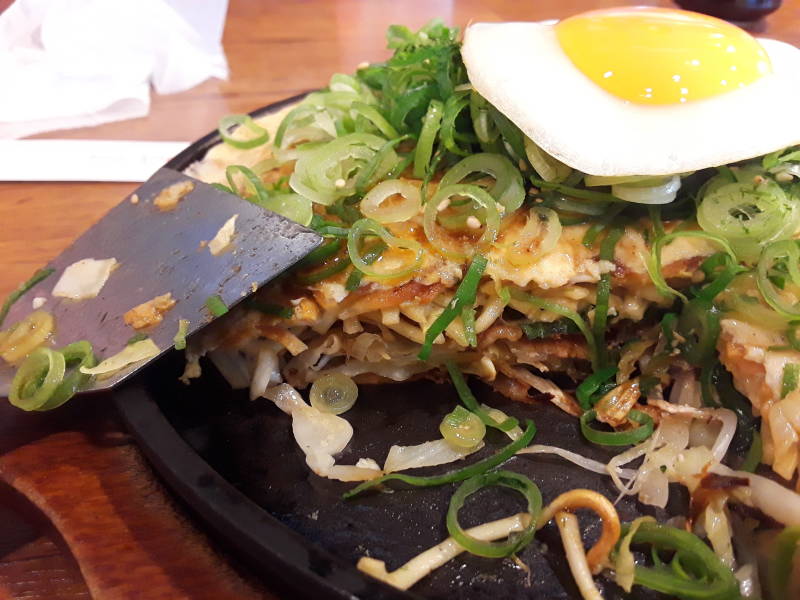 The above is specific to Hiroshima. Or maybe you want to explore other places in Japan.