The Return Home
By Bus, Train, and Plane
I had been in Morocco for three weeks, and it was time to start making my way towards home.

I would start with a bus from M'Hamid to Marrakech. I had taken a bus in the opposite direction through the Atlas Mountains on my way to Zagora, but hadn't been able to photograph or even see much through the Draa Wadi.

After two nights and another day in Marrakech, I would take an overnight train to Tangier.

After two days and nights in Tangier, I would take the high-speed train to Casablanca.

Then it would be a short night in Casablanca, leaving for the airport at 3:30 AM for the Air France flight to Paris and then from there to Chicago.
Muhammad had taken me to the bus station the day before I was to leave, so I could buy my ticket to Marrakech. The bus station is really a desk in the community center, selling tickets around the times the buses arrive and leave, plus a period around mid-day. The ticket for the nine-to-ten-hour ride to Marrakech was 230 Dh, about US$ 21.40. Plus six Dirham for each large bag to be stored in the baggage compartment, paid at departure time.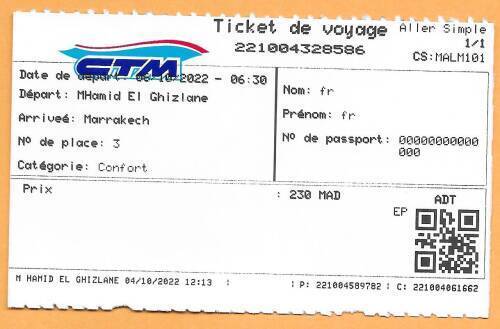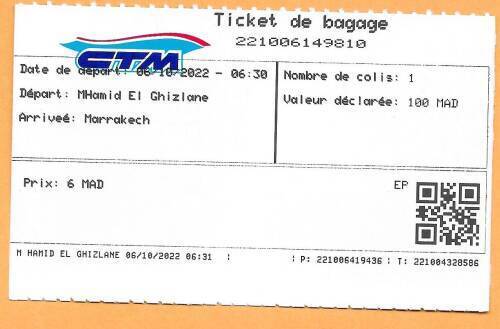 It would be just a kilometer to walk to the bus in the cool hours before sunrise, but Ibrahim insisted that he would drive me to the station. So it was packing the night before, set my phone alarm for 0500, and ride to the bus in the 4×4. The bus had arrived in M'Hamid late the previous evening.
This is a CTM bus, almost as nice as the Supratours buses.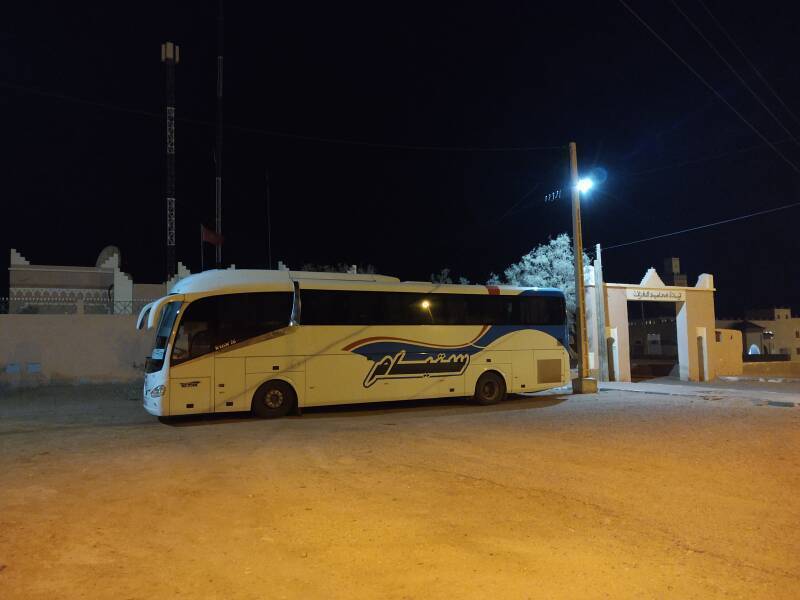 We left right on time at 06:30. Thirty minutes into the trip we made a brief stop at Tagounite. More people boarded here than had boarded in M'Hamid. The bus office is next to a shop, so you could run in and purchase a bottle of water if you needed one.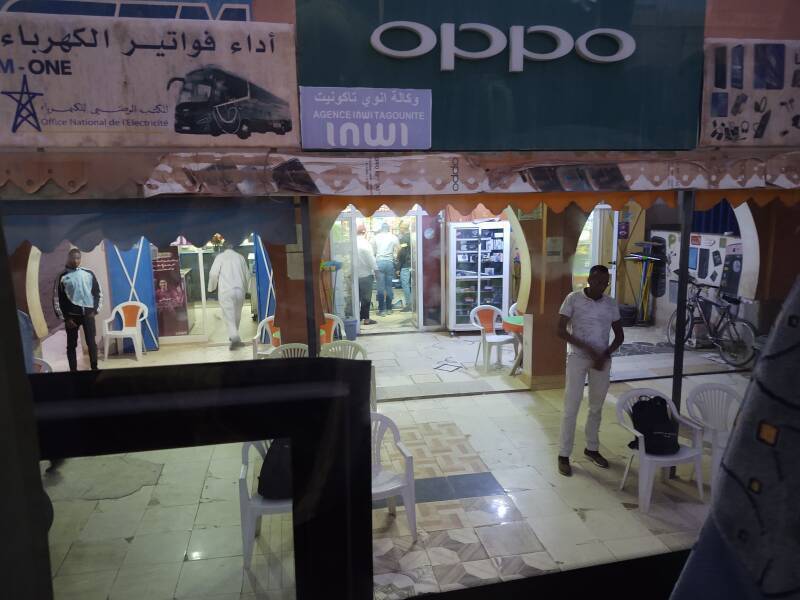 I was again in assigned seat #3, the best seat in one of these modern buses. You're in the front row with a great view out through the tall windshield. You're looking down over the driver's right shoulder.
Do they make a point of saving seats 3 and 4 for foreign visitors? Maybe.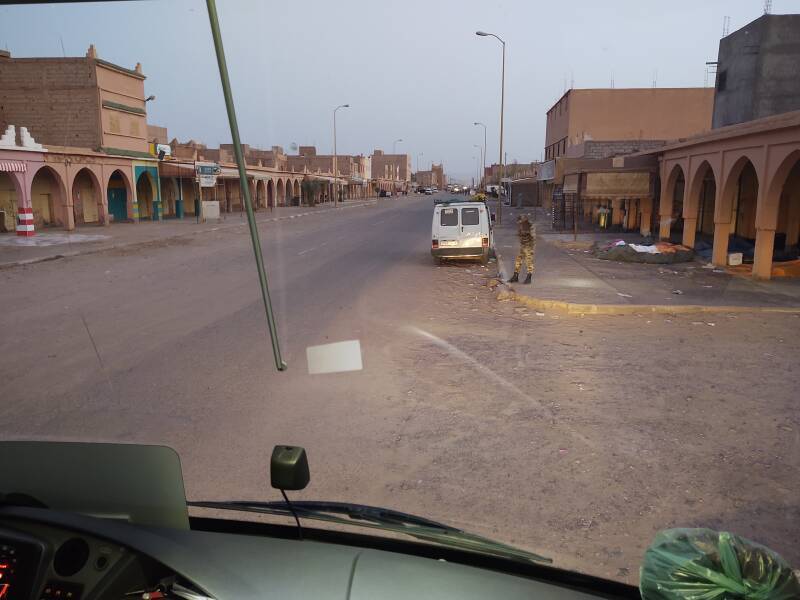 There were some men in camouflage on the streets. M'Hamid is just 24 kilometers from the Algerian border, into the late 1980s you had to get a special permit to go that far. There is still a military presence through this area.
Between Tagounite and Zagora, before reaching Tamegroute, we passed a business selling camel milk.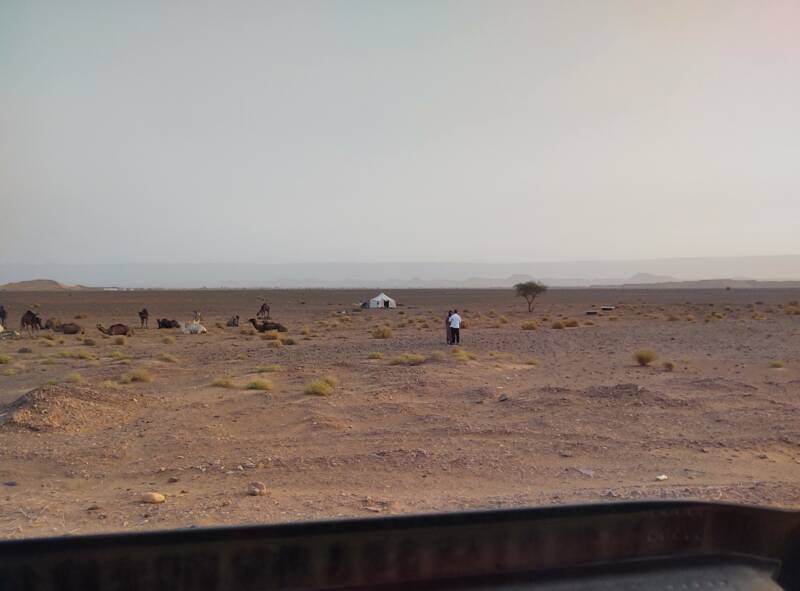 Into the Draa Wadi
Zagora
We stopped again in Zagora, where I had spent a few days.
We were following the Draa Wadi, considered Morocco's longest river but a dry channel for most of its length. It still has enough moisture to support a chain of date palm oases from Agdz, through Zagora, to M'Hamid.
Between Zagora and Agdz the wadi and highway pass between mesa-like highlands up to 2000 feet or 600 meters above the surrounding terrain.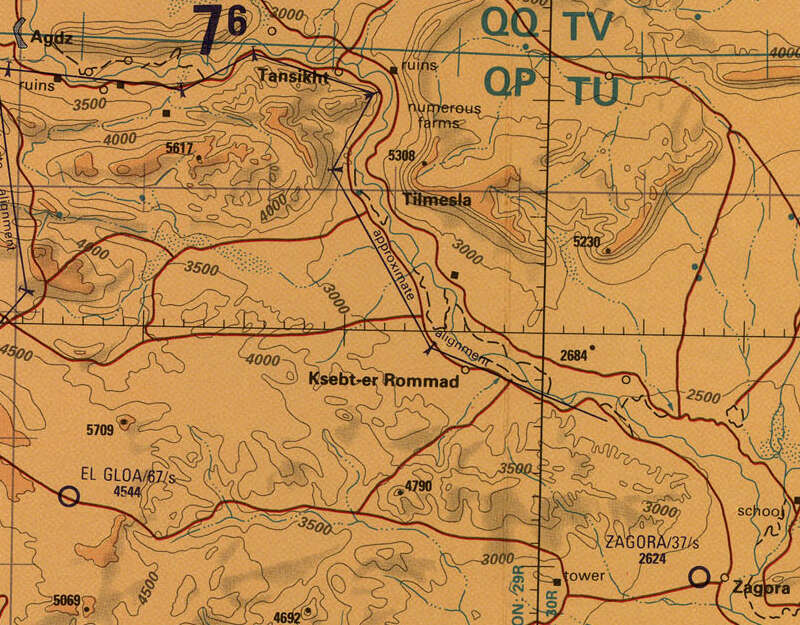 We had our first long stop starting around 09:15, at a fuel station and rest stop 50 kilometers north of Zagora, just about five kilometers before we reached Tamezmoute.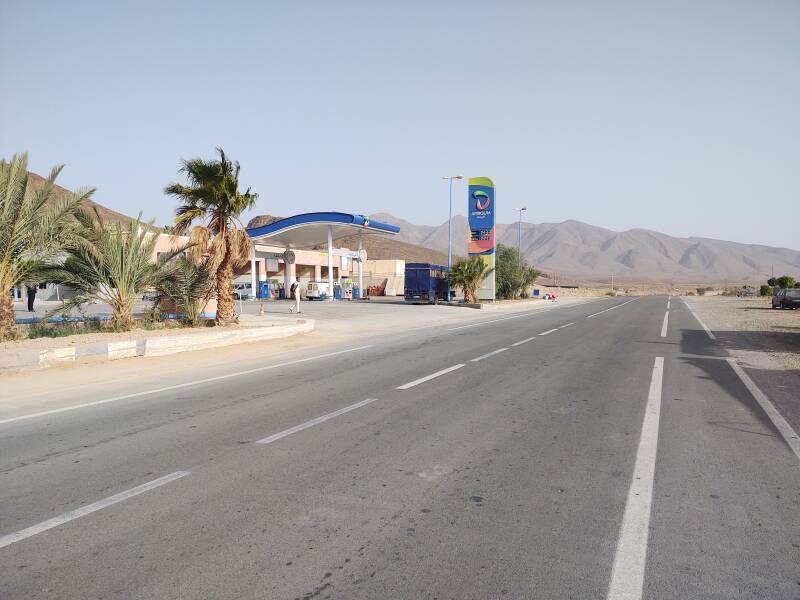 Looking back down the highway past a school bus, you could see a ksar or fortified town in the distance.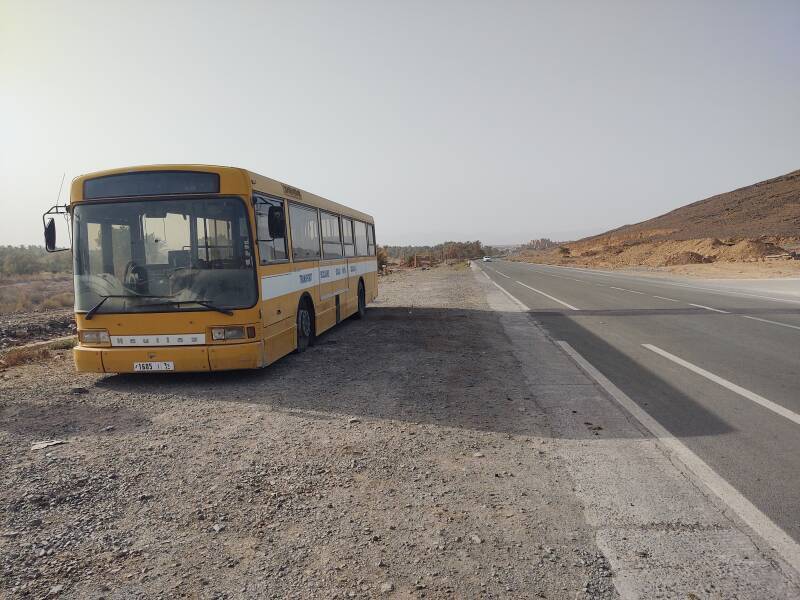 Inside you could get something to eat and drink.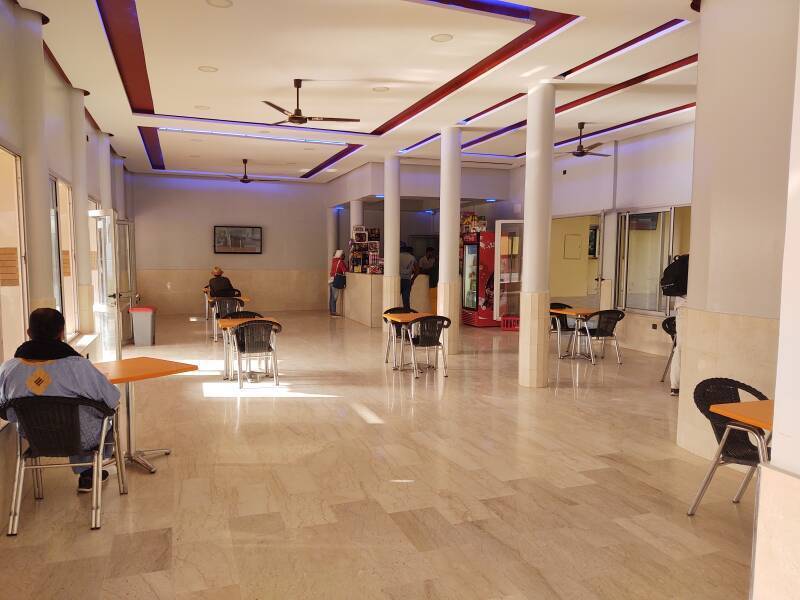 Bus from
Marrakech
to Zagora
Within thirty minutes we were back in motion, driving beside the date palm oases. They even have bicycle lanes marked in this area.
I hadn't been able to see very much through this area when I had passed through a week before. See the earlier page for more of the bus trip from Marrakech to Zagora.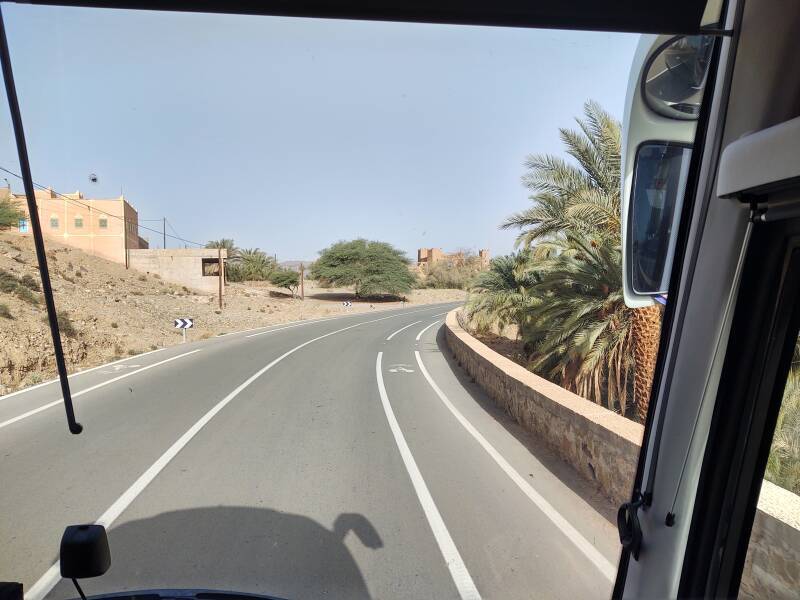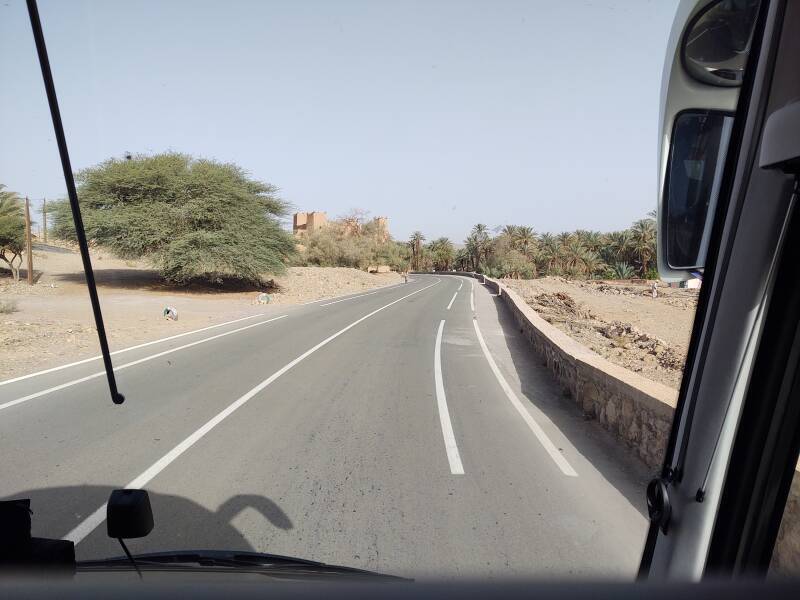 The settlements along the highway are mostly built as ksars.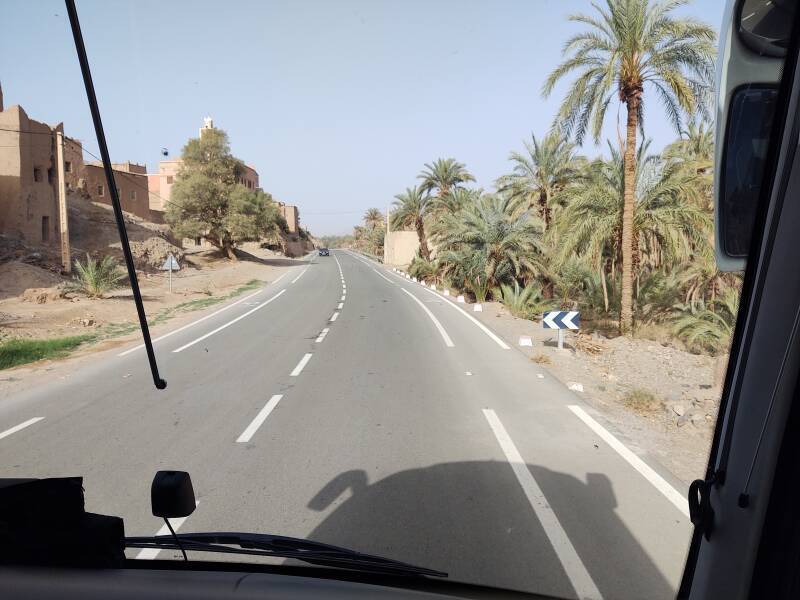 Here's a sign for a téléboutique, not needed much after mobile phones became so common.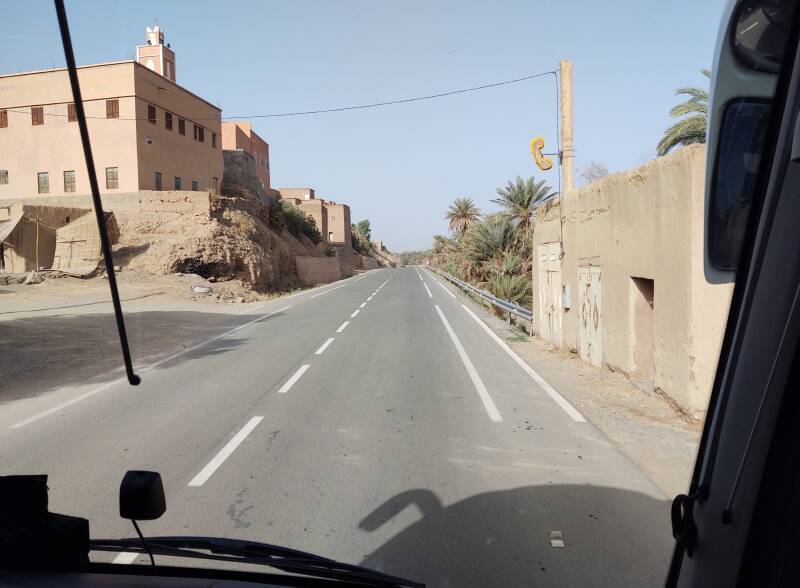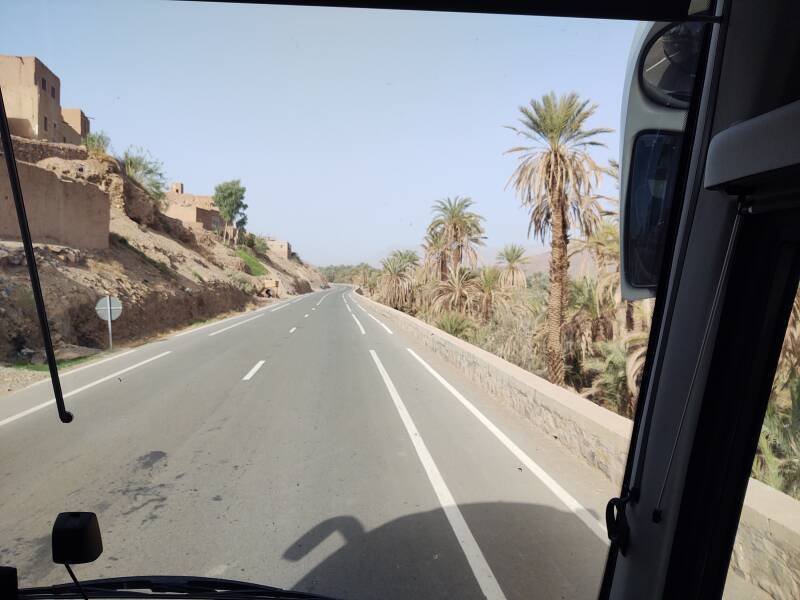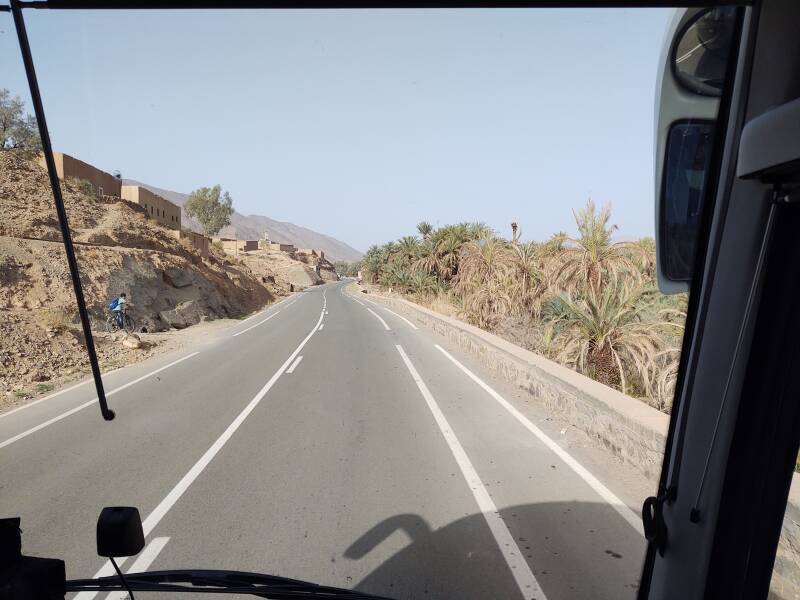 These surrounding highlands are up to 2000 feet or 600 meters above the wadi.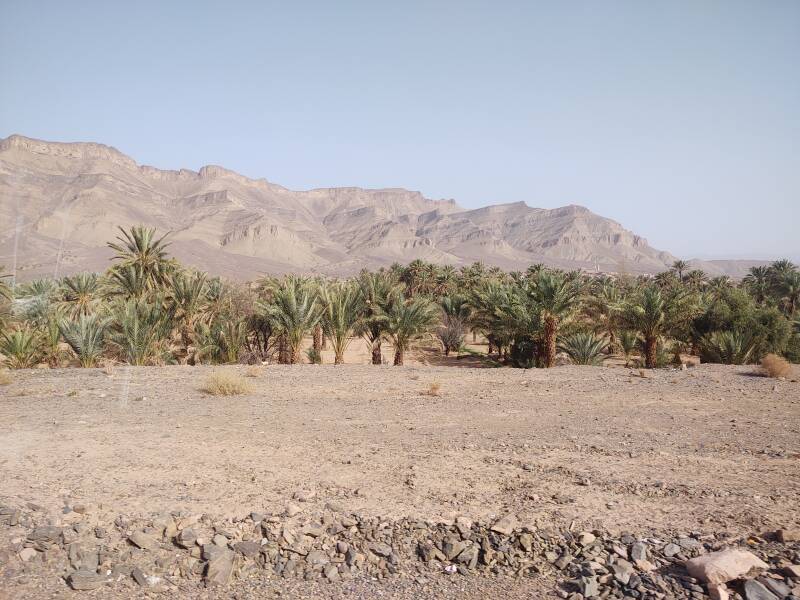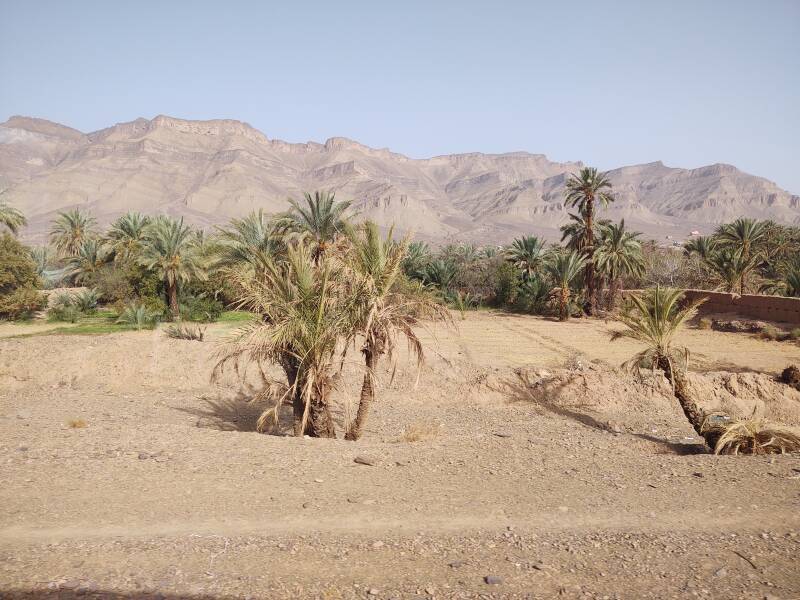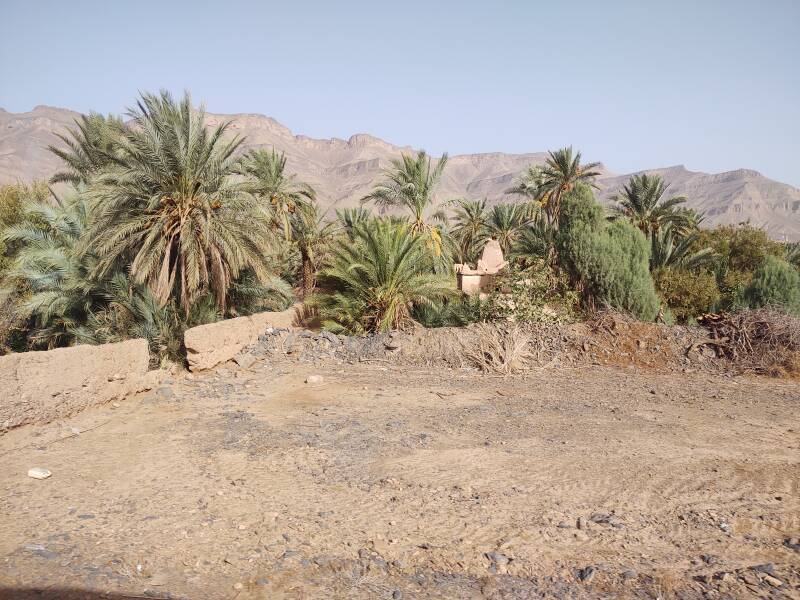 Into the Atlas Mountains
We first passed through the Anti-Atlas range, inland from the main Atlas range.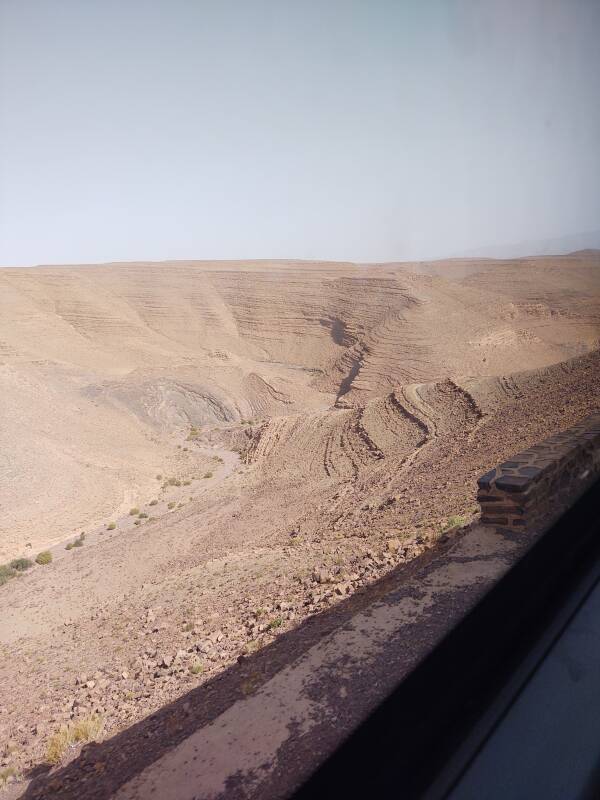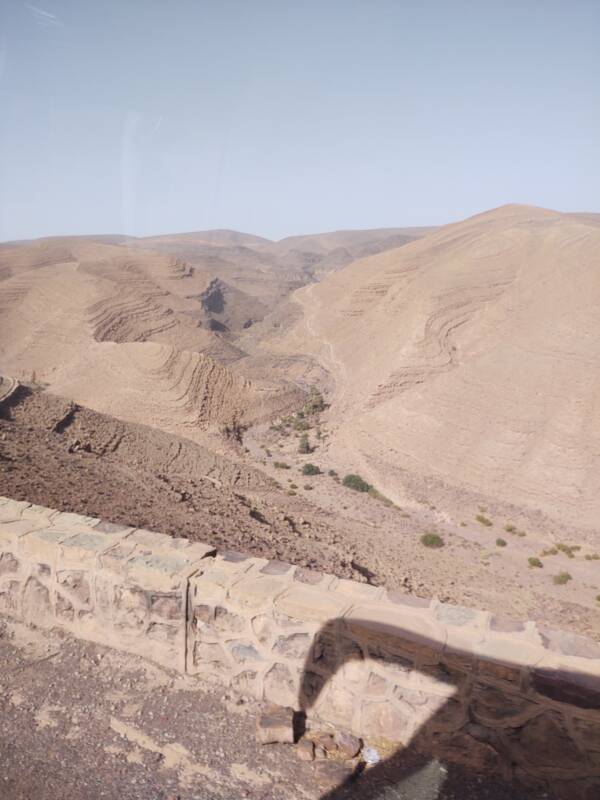 We descended into some relatively flat and open high country, soon reaching Ouarzazate, Morocco's movie-making center. There was a change of drivers and several passengers boarded and left the bus.
Marrakech
to Zagora
Then we climbed into the Atlas Mountains, continuing toward Marrakech.
See the earlier page for much more scenery from the bus trip in the opposite direction.
Agouim
We did a second half-hour stop at Agouim starting around 13:20. There was another CTM bus stopped there, headed in the opposite direction.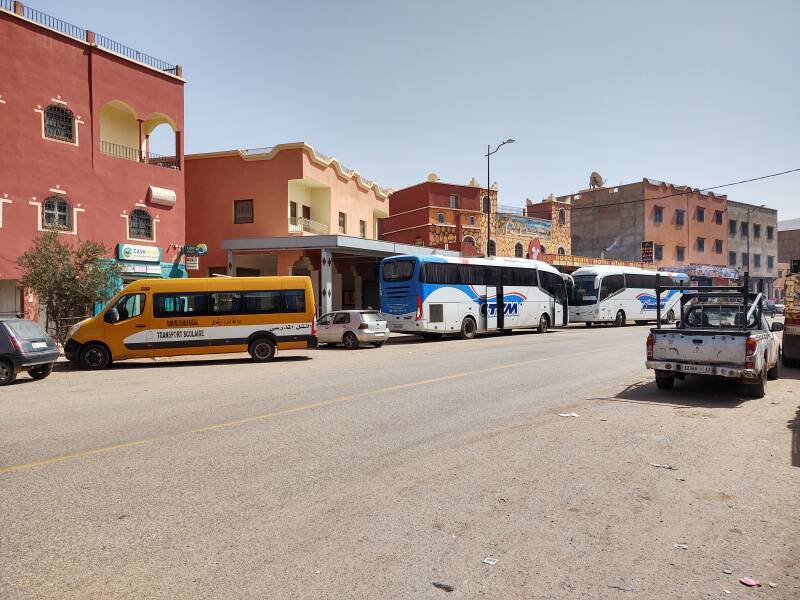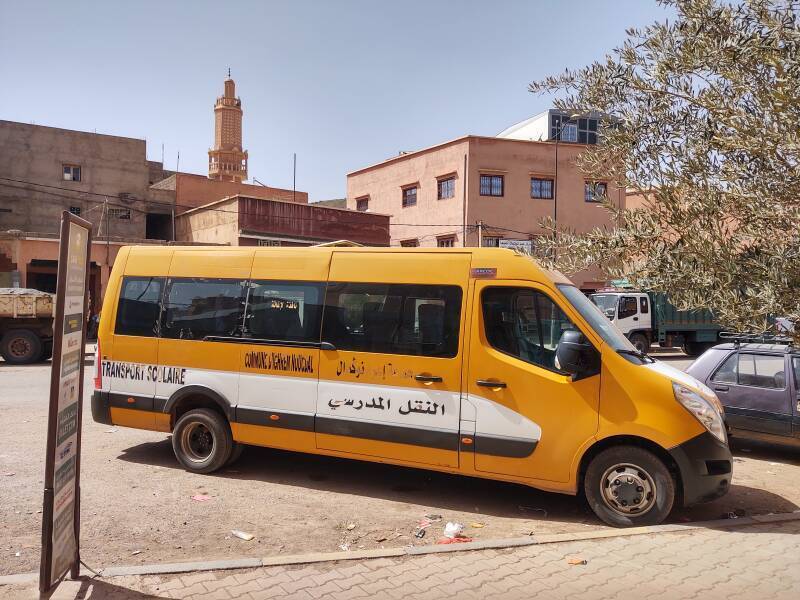 Agouim is busy, it's a regional business hub.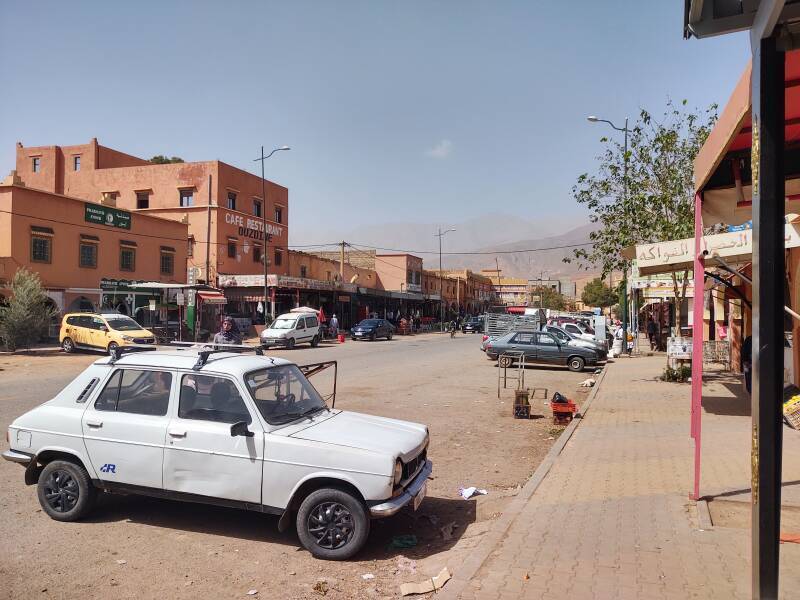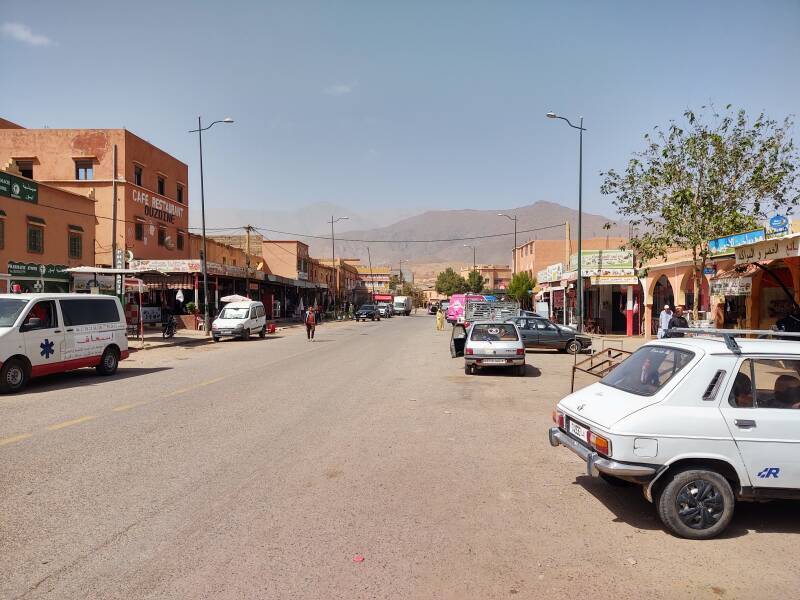 Soon it was time to get back on the bus.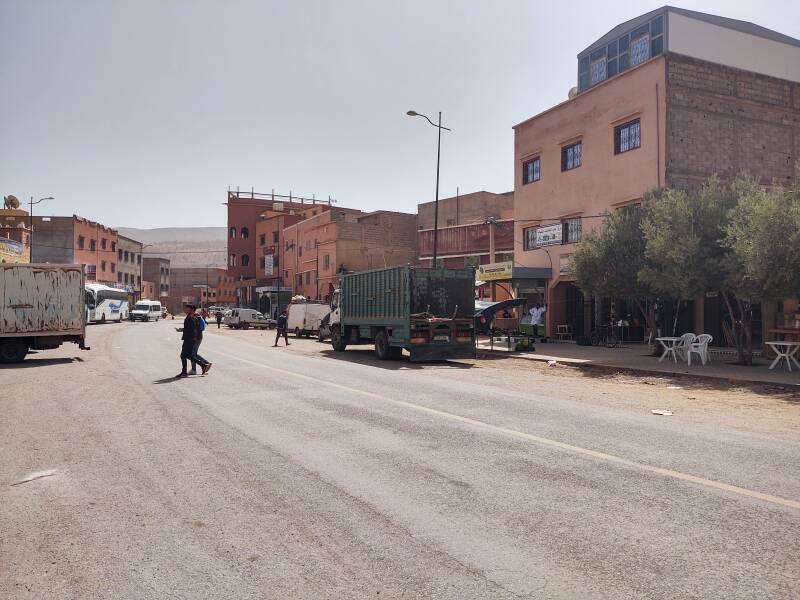 Marrakech
It was a long drive in through the outskirts of Marrakech in the late afternoon. The CTM station is near the train station and the Supratours bus station. I took a petit taxi to the edge of the medina then walked to my guesthouse.
It was time to go to Sāḥat Jāmi' al-Fanā' or Jemaa el-Fnaa, the open square called the "Mosque at the End of the World" with its daily festival of snake-charmers, sooth-sayers, story tellers, mendicants, and sellers of dubious salves, potions, unguents, and purported medications.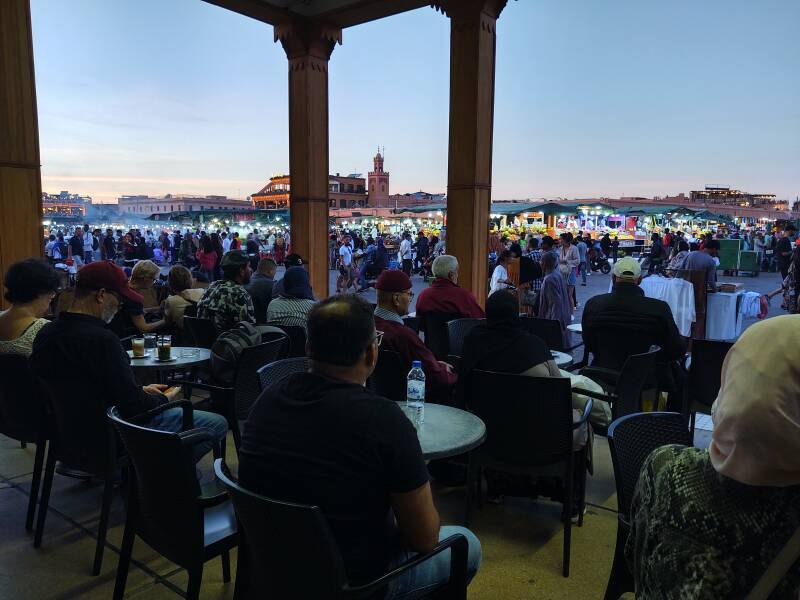 A large array of food stands is assembled every day, operated through the late afternoon into the night, and disassembled before daybreak.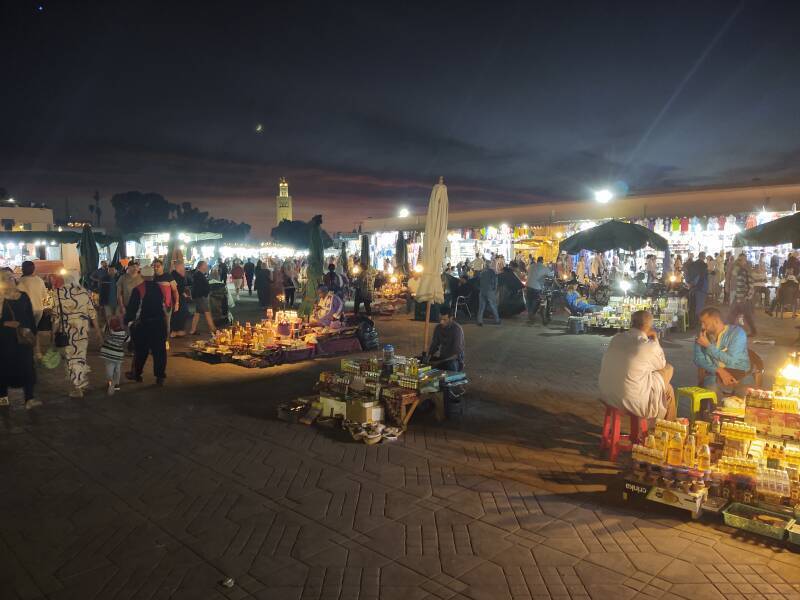 Marrakech
After two nights plus a following day in Marrakech, it was time to move on.
See the earlier pages for details on Marrakech.
Sleeper Train to Tangier
I had stored my bag in the morning and spent one last day wandering the Marrakech medina, having more tea, and then getting dinner on the square of Jemaa el-Fnaa.
Then I retrieved my bag and took a petit taxi to Gare de Marrakech.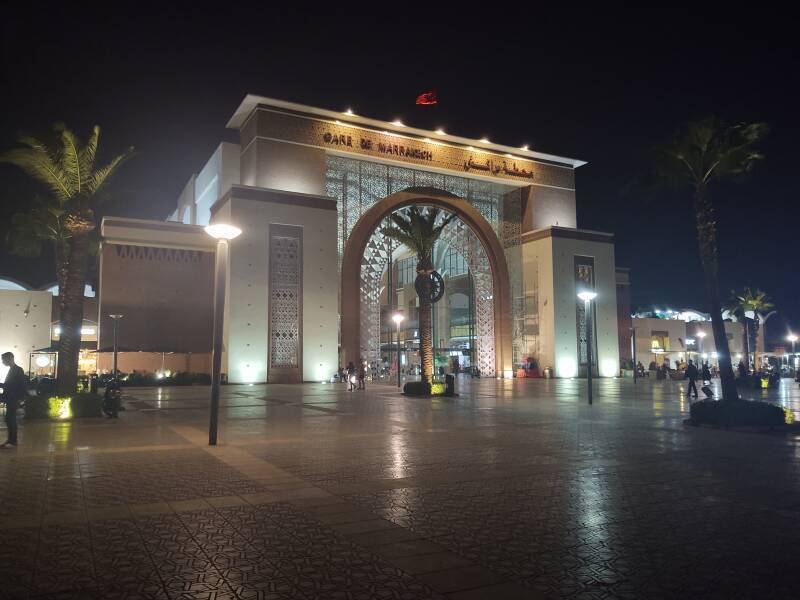 I had purchased my ticket for the overnight train to Tangier when I first arrived in Marrakech, almost two weeks before. My couchette bunk in a shared cabin was just 370 Dh, or US$ 34.41.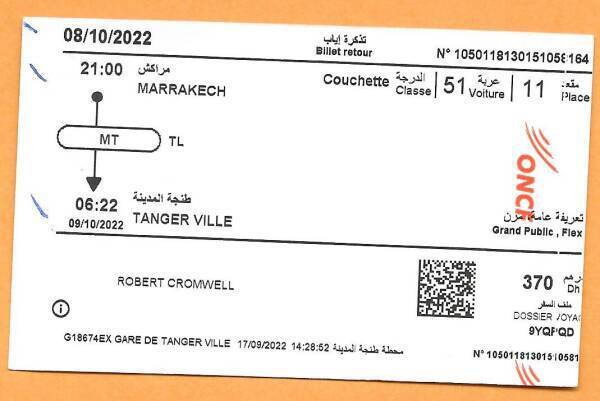 MT, the overnight Marrakech-Tangier train, would be the last thing leaving the station that evening, at 21:00. A train to Casablanca, connecting on to several other destinations, would leave at 05:50.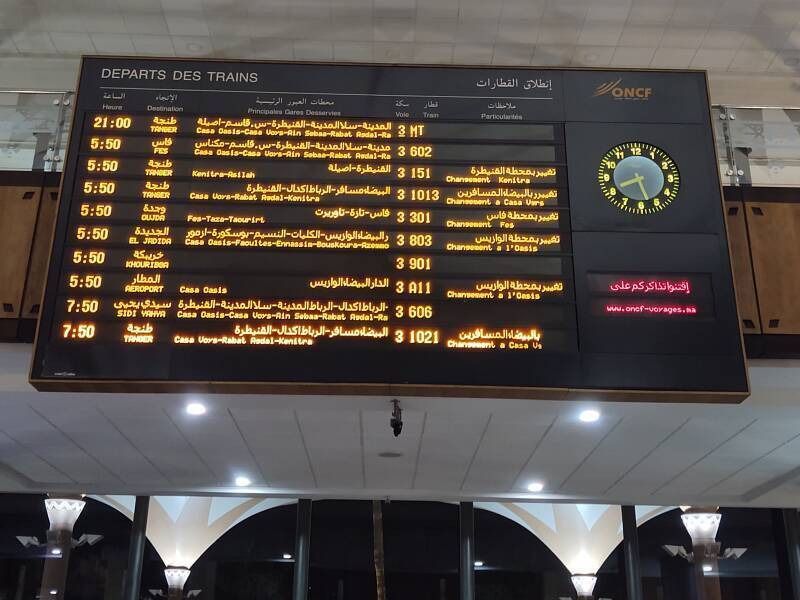 They opened the doors to the platforms about a half-hour before departure.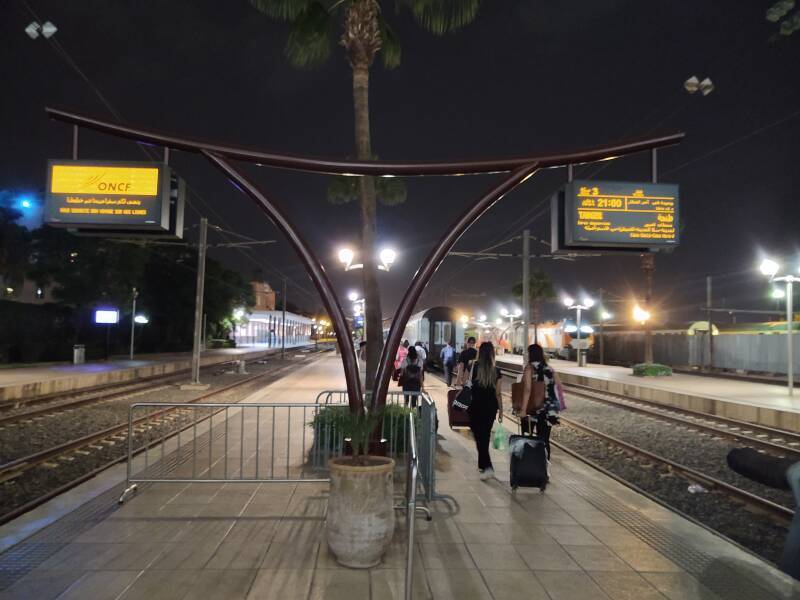 The rear car is the couchette car, with several couches in front of it. Coach seats are 216 Dirham, making the couchette seem like an even better deal.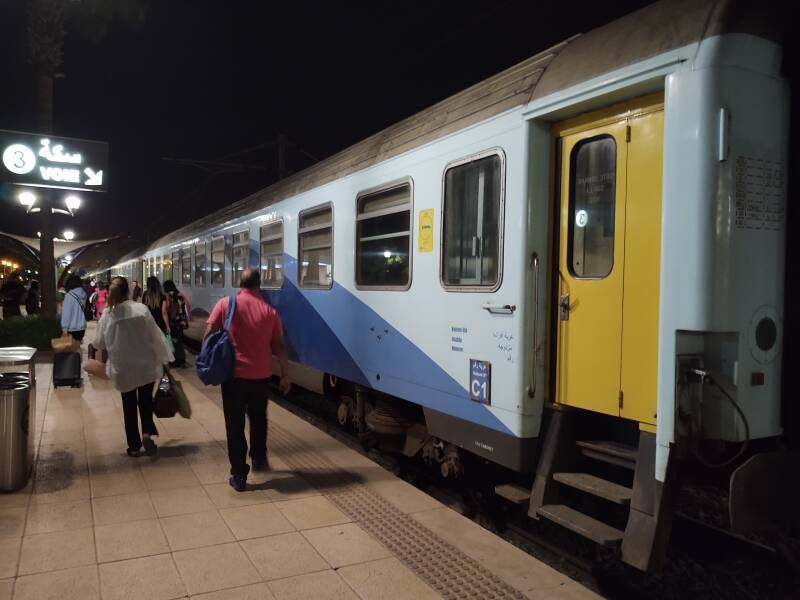 Sleeper train from Tangier to Marrakech
Each couchette cabin has four bunks. Starched fresh linen awaits your assembly.
See the earlier page describing the south-bound trip for more details on the overnight train, including how this is not the "Marrakesh Express" of musical fiction.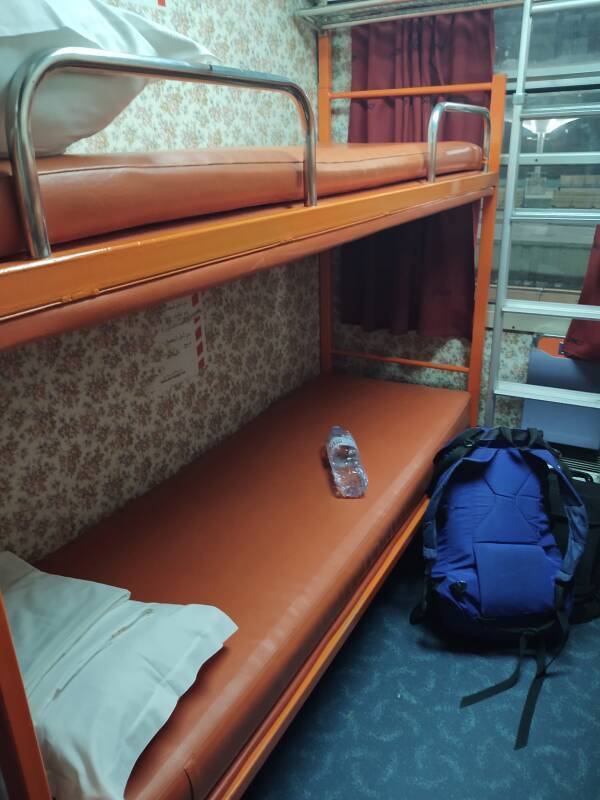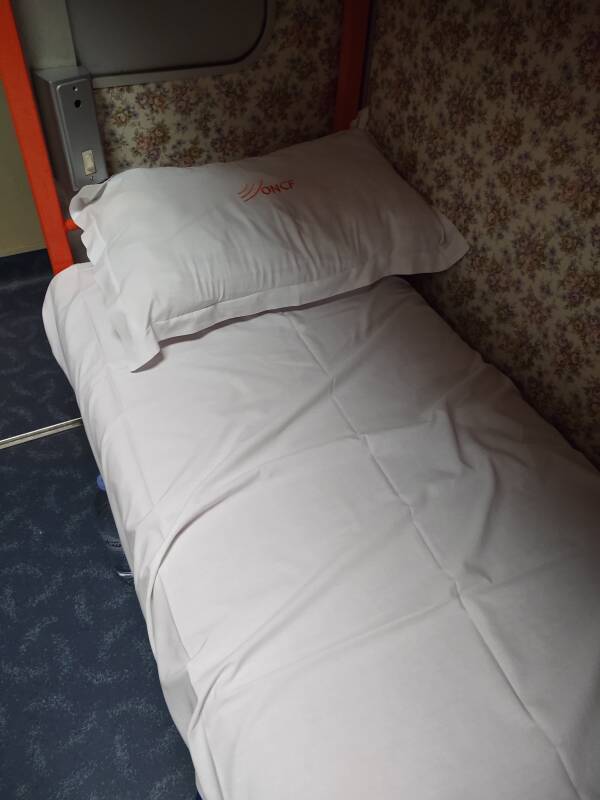 Tangier
The southbound sleeper train leaves Tangier at 23:25 and arrives in Marrakech at 09:01. It runs earlier in the opposite direction, leaving Marrakech at 21:00 and arriving at Tangier at 06:22. I sat in the waiting area at the Tangier Ville station for a while before going out to take a petit taxi to the Grand Socco, the large square beside the medina.
Guesthouses at Booking.com
I stayed at the Hotel Mauritania on my second visit to Tangier. It's above Gran Café Central on the Souk Dakhli or Petit Socco, just across from where I had stayed earlier. Café Tinjis is at the west end of Souq Dakli. Cross in front of it, following the sign pointing toward the Kasbah, and the staircase to the Hotel Mauritania is on the right. My room was just 195 Dirham or US$ 18 per night through Booking.com.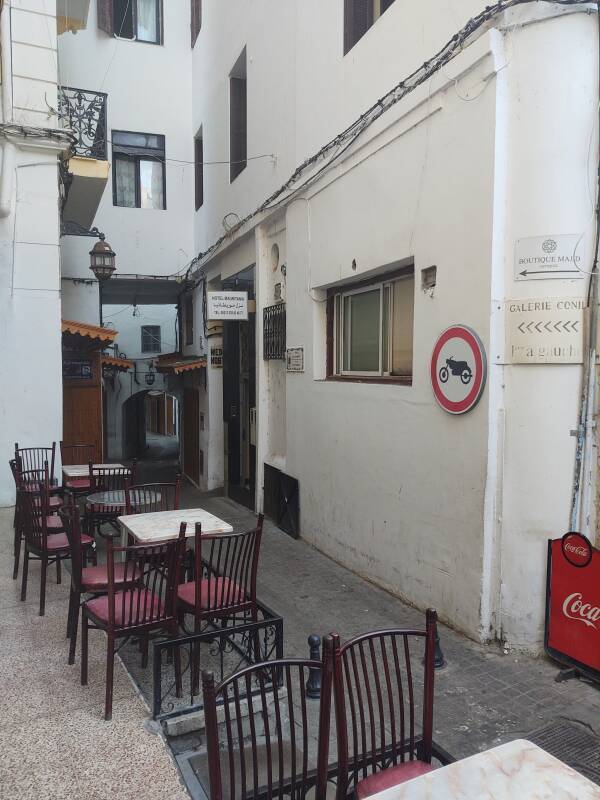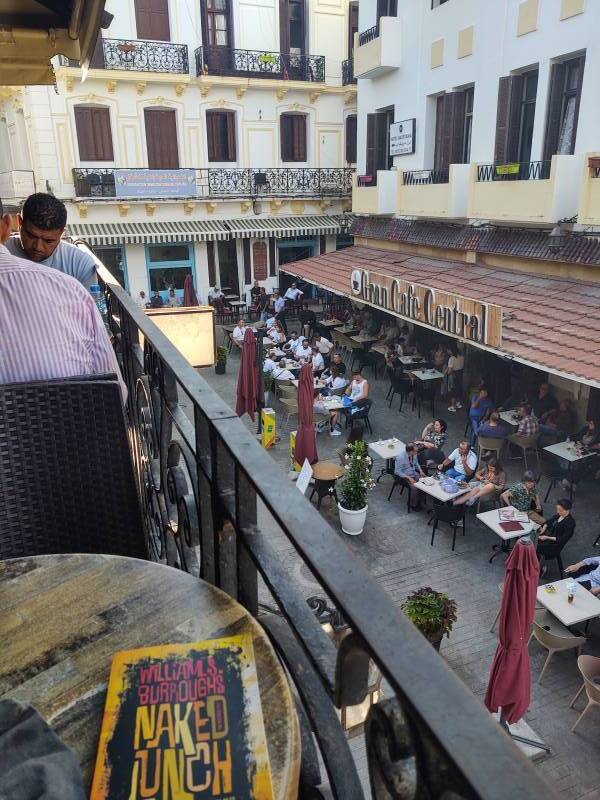 Pension Fuentes, where I stayed initially, is above the balcony cafe at left. Café Tinjis is at the far end of the square, beside the lane leading up to Bab al-Fahs. Gran Café Central and the Hotel Mauritania are at the far right corner of the square.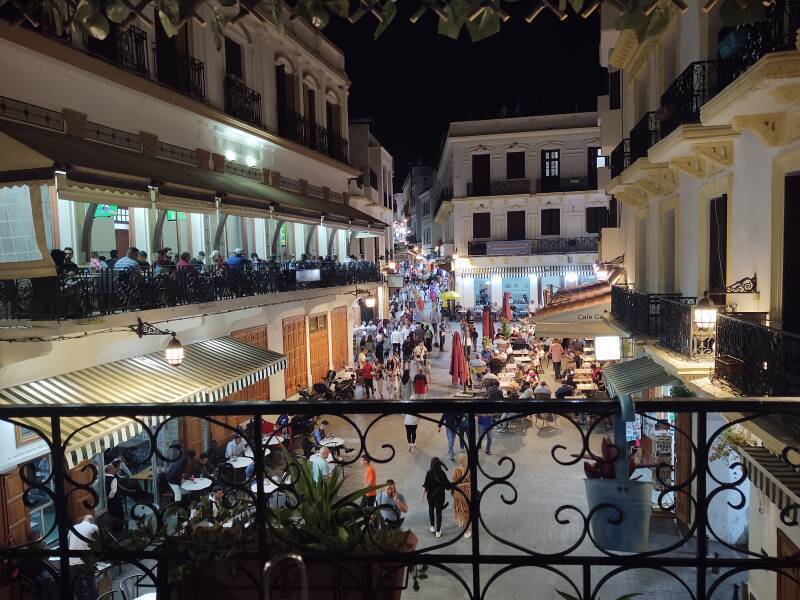 Tangier
I had two days to wander the medina, return to Café Hafa, and see some things that I had missed on my first visit. See the earlier pages for much more on Tangier.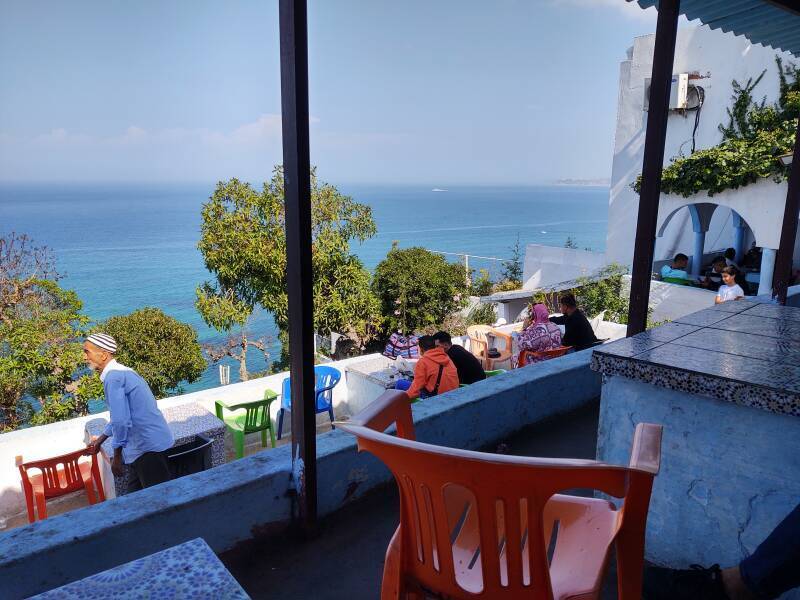 High-Speed Train to Casablanca
I had started the trip and would finish it where I live, within walking distance of a station on a long-distance train between New York City and Chicago. There are only three trains a week in each direction. You stand out in the weather to wait for the train. Once on board you're riding 40-year-old passenger cars running on rough freight tracks that limit the speed to 100 kph. Going home would be a real step down from Moroccan transport.
I had a ticket for the Al Boraq high-speed train from Tangier to Casablanca. It was just 364 Dh, about US$ 33.86, close to my cost for the three-hour Amtrak ride on rough tracks at either end of the trip.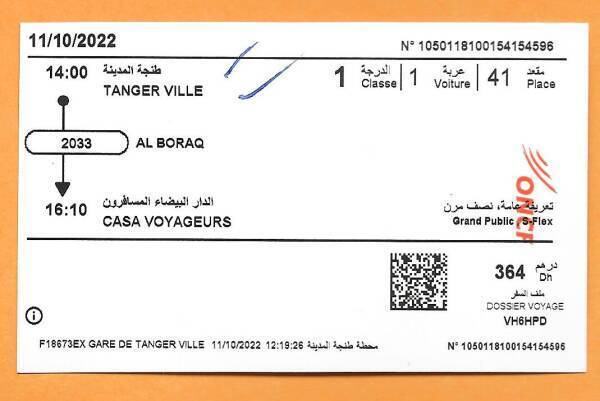 But instead of standing out in the weather waiting for a train that only some of the time keeps to its schedule, I could relax in the Al Boraq Lounge, having some juice and tea.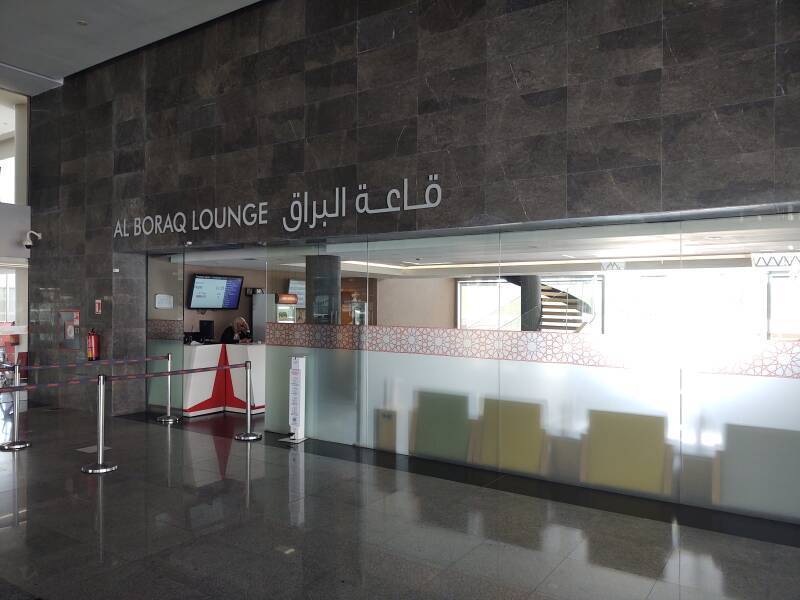 Morocco's Al Boraq uses the same equipment running on lines built to the same standard as the TGV in France. The specially built line from Tangier to Kenitra supports operation at 320 kilometers per hour. For the last segment from Kenitra to Casablanca, during my visit that used an upgraded line where the train could run no faster than 220 kilometers per hour. Morocco is, of course, upgrading that segment to full-speed 320 kph service, and building a new line between Casablanca and Marrakech. When I got home, my final segment would take at least three hours because Amtrak operates on rough freight tracks in that region and can run no faster than 100 kph.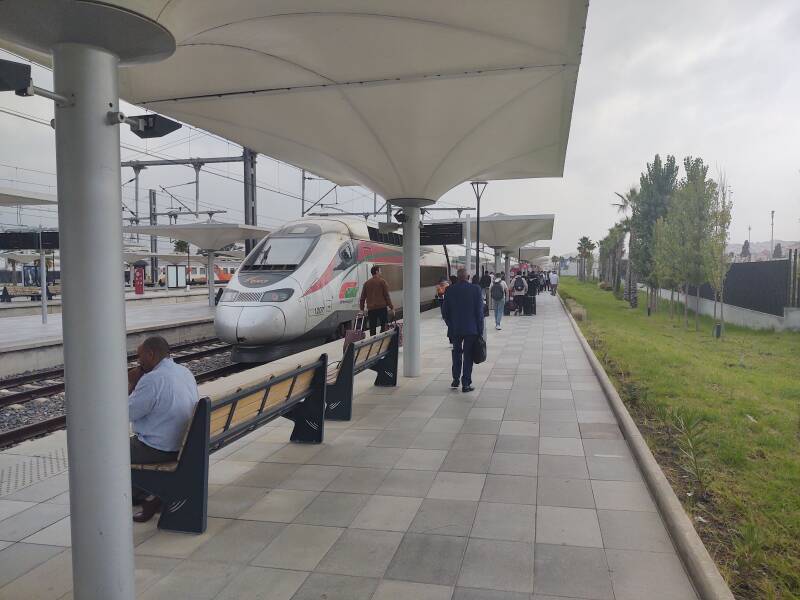 Air France to Chicago
Casablanca
We arrived precisely on time at Casa Voyageurs, the main train station in Cabablanca. I took the nice tram toward Casa Port, got off along the way, and walked to the Hotel Moroccan House where I had stayed at the beginning of my trip.
My flight was scheduled to leave at 07:30 the next morning. Trains between Casa Port and the airport didn't start running until 04:50, which wouldn't get me to the airport in time. My innkeeper set me up with a grand taxi for just 300 Dirham, a little under US$ 28, which I thought was a good deal for a long ride out to the airport in the middle of the night. I could pay for it in advance, set my alarm, and they would come get me if I was sleeping through it. It would pick me up at 03:30 and get me to the airport before 4:00.
I had been led to believe by film noir that you could simply arrive at CMN, Casablanca's airport, when your propeller-driven aircraft was starting its engines. No, not any more, "at least three hours for an international flight" is the new standard requirement. So there I was at the airport at 03:50, waiting for the check-in staff to arrive.

There was a nice view of Paris as we approached CDG, Charles de Gaulle Airport. You can see the Seine winding through the center with Île de la Cité toward the left and Place de l'Étoile with l'Arc de Triomphe at lower right.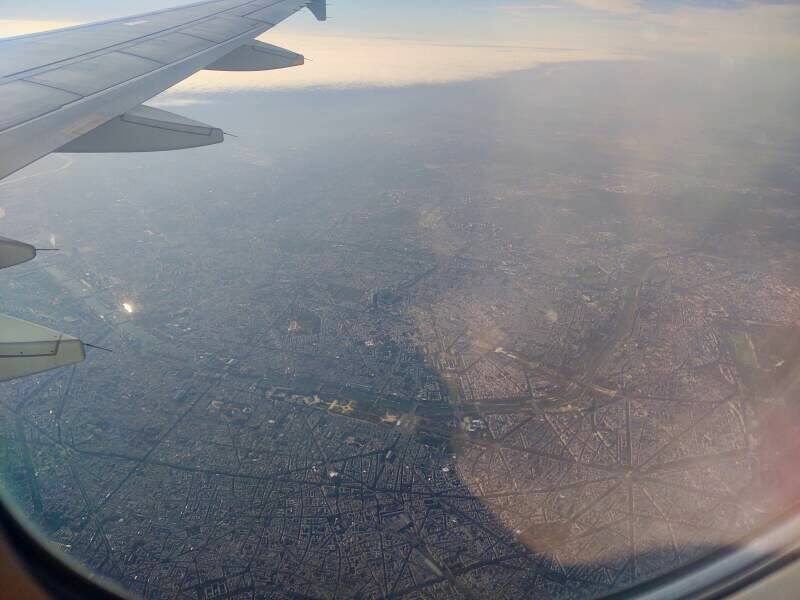 I had just an hour for a long trek between CDG terminals. This A350-900 would take me to Chicago.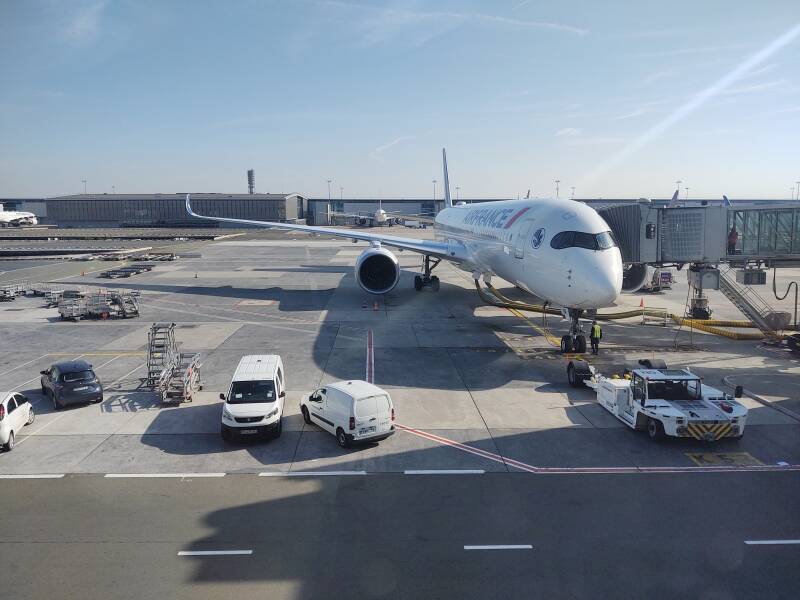 Greenland
from the air
There were some nice views of the east coast of Greenland. We crossed inland around 63.23° N 41.39° W.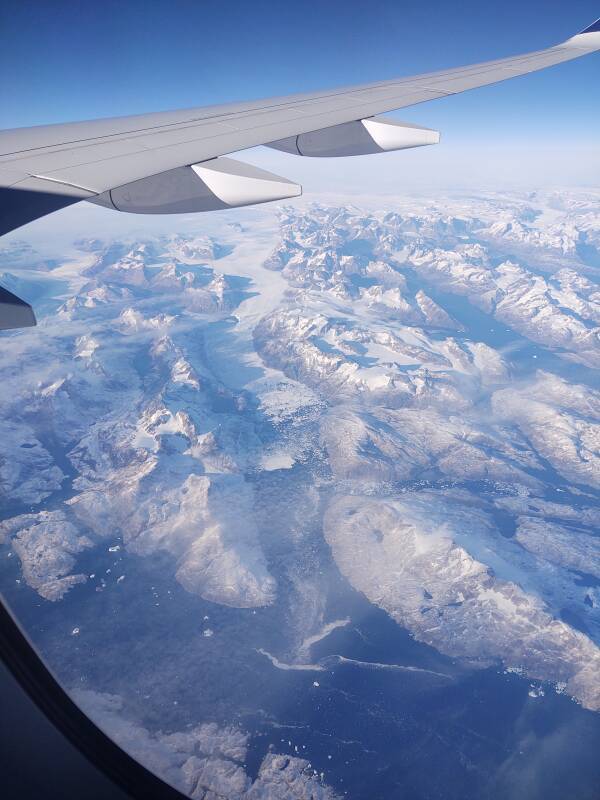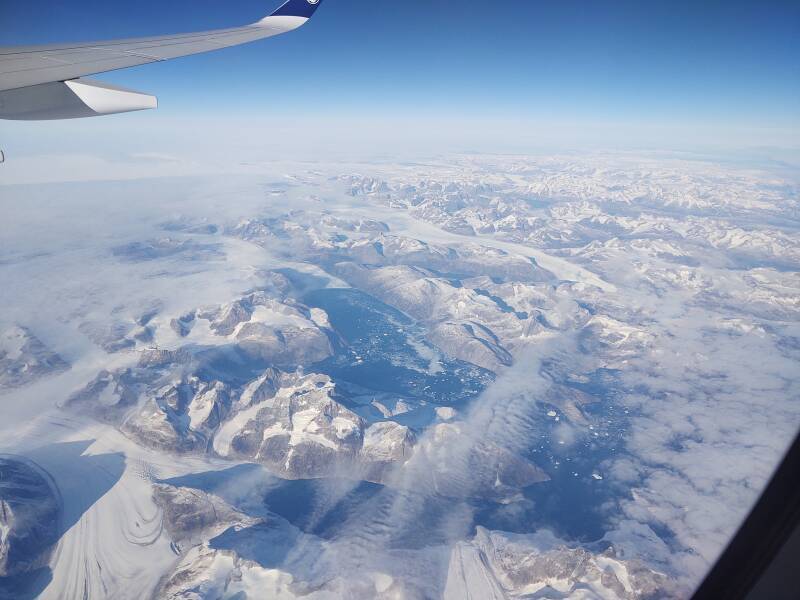 It was a fantastic trip!
You should do it.
Seat61.com
The flight to Casablanca or another entry airport is the expensive part. Summing things up at the end, I found that I had paid an average of US$ 17 per night for lodging and US$ 13 per night for transportation. That's including a few room upgrades for private plumbing, and following the excellent advice of The Man in Seat 61 and taking First-Class trains everywhere in Morocco.