Overnight Train to Marrakech
Riding the Marrakech Express
I had been in Fez for four days, and now was traveling on to another imperial city, Marrakech.

I traveled there on the excellent Moroccan rail system. I took the overnight train, sleeping in a couchette.

I started by returning to Tangier, where I would board the overnight train for its full 23:25–09:01 route. That gave me a restful full night on board. Morocco is building a high-speed line between Casablanca and Marrakech, using the same French TGV technology already in service between Casablanca and Kénitra and being extended north to Tangier. That will greatly reduce the travel time between Tangier and Marrakech.
Booking
I had planned my trip in advance, setting up modifiable lodging reservations through Booking.com.
Seat 61
I had read the background information from the excellent Man in Seat 61. There are two overnight train routes in Morocco. A north–south route joining Tangier and Marrakech, and a west–east route joining Casablanca and Oujda, near the Algerian border. Both run in each direction nightly. The oncf.ma server seems to be permanently down, but this archived page from late October 2021 describes the night trains.
Until early 2022, night trains had one car with 11 single-berth sleeper compartments called Lits Singles, and one car with 11 shared four-berth compartments called Couchettes.
The cars with private compartments were pulled from service in early 2022. But when I visited Morocco in September and October 2022, several stations had signs promoting new one-person and two-person cabins that were coming into service soon.
ONCF
Then I researched rail routes and schedules at oncf-voyages.ma, the web site for ONCF, Morocco's excellent national rail system. You can buy tickets on-line in advance, but there are frequent trains on all the routes I would travel. I would buy my tickets at the stations before departure. If I just barely missed one train and had to wait for the next one, that wouldn't be a problem.
The exception is for berths on overnight trains. Those tickets must be purchased in person.
The Seat 61 site listed two travel agencies in Tangiers through which you might be able to purchase overnight tickets well in advance. I sent emails to both, and received no response. But by the time I concluded that they weren't going to respond, I had decided that I wouldn't need their help.
I would visit Tangier early in the trip. I would buy my overnight ticket to Marrakech when I arrived in Tangier. Then I would spend three nights in Tangier, four nights in Meknès, and three nights in Fez, meaning that I would be buying the overnight ticket a week and a half in advance.
Surely a couchette would be available that far ahead! And if not, there was a second opportunity later in the trip, returning from Marrakech to Tangier.
My plan worked! A couchette between Tangier and Marrakech was just 370 Dirhams, 34.42 US$. Transportation, and a bed for the night, and the adventure of the overnight sleeper.
As for getting from Fez to Tangier, I took the train running at 17:40–21:10, with a planned 23-minute change at Kénitra to the high speed Al Boraq running along the coast. There was just one more train to Tangier in the evening, the whole trip an ordinary non-TGV train at 18:00–22:45. I had gone to the station late in the afternoon the day before to buy my ticket.
You can search for "Lit Single" on the ONCF web site, but that only brings up a mix of coach seats and couchettes. When Lit Single was still available, it cost 670 Dirhams.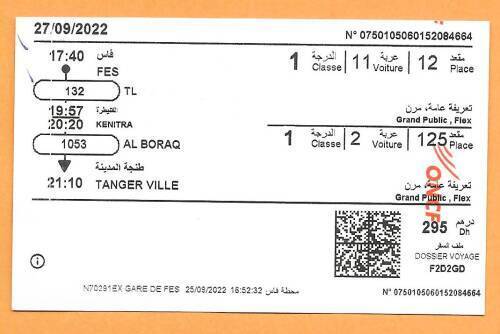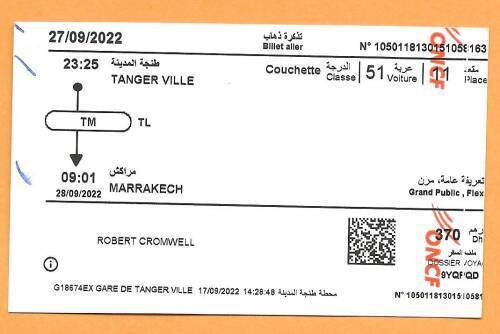 For a couchette (or sleeper, when they return to service) they record your passport information because it is considered to be overnight accommodation.
Fez to Kénitra
I made a return visit to the Bou Inania Madrasa in the medina on my last morning in Fez, and then went back to my guesthouse to get my pack.
I had a long, late lunch (very Moroccan!) at a café between my guesthouse and Bab Boujloud. Eventually I made my way out to Place Boujloud to get a petit taxi ride to the station.
There's my 17:40 train on the schedule board, followed by the day's last train to Tangier at 18:00. My train wouldn't leave for 40 minutes, what to do?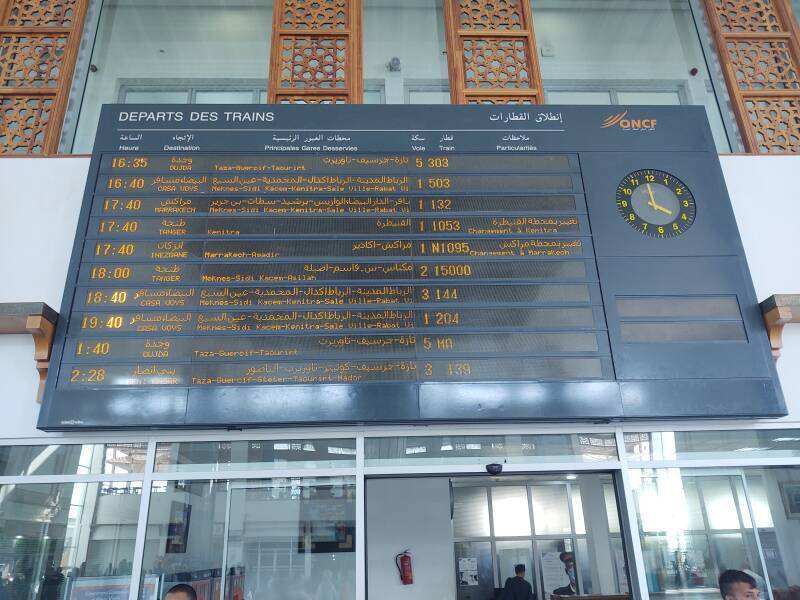 I will go up to the café on the terrace overlooking the platforms and have tea, of course!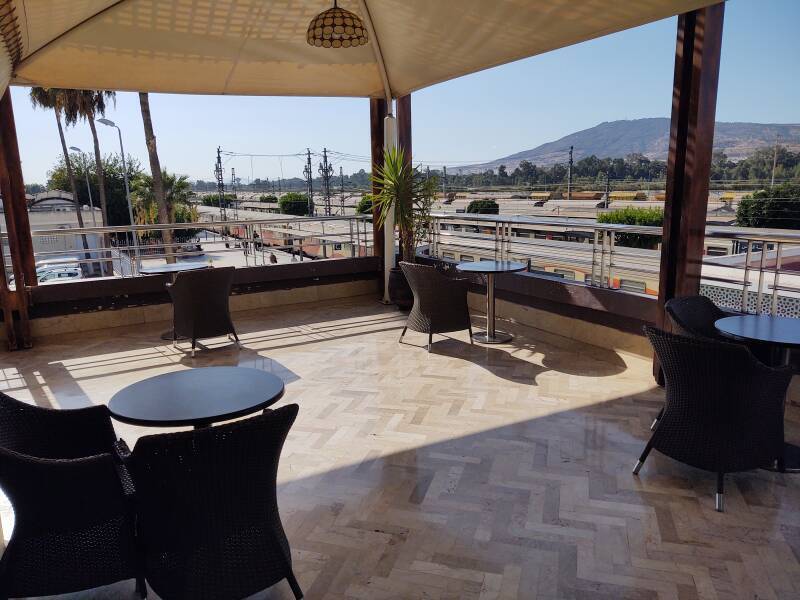 This is the civilized way to travel.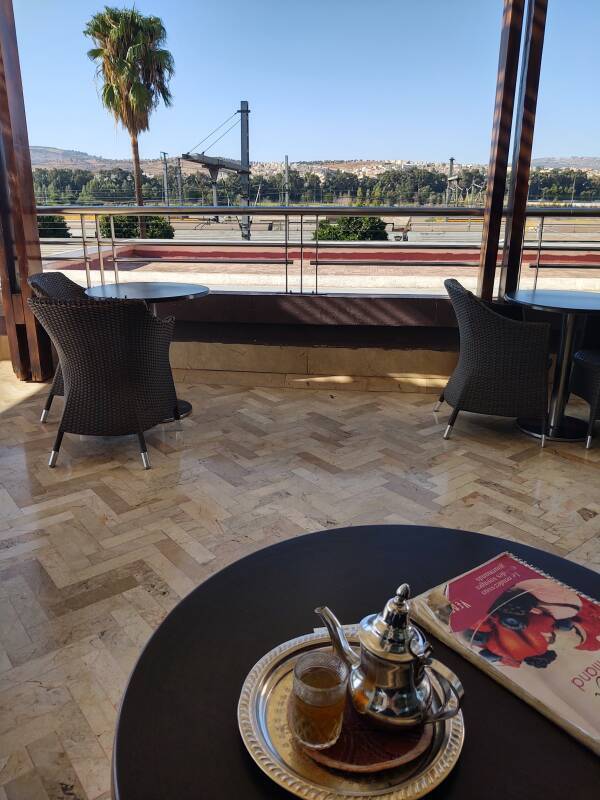 Boiling hot tea with lots of sugar and spearmint.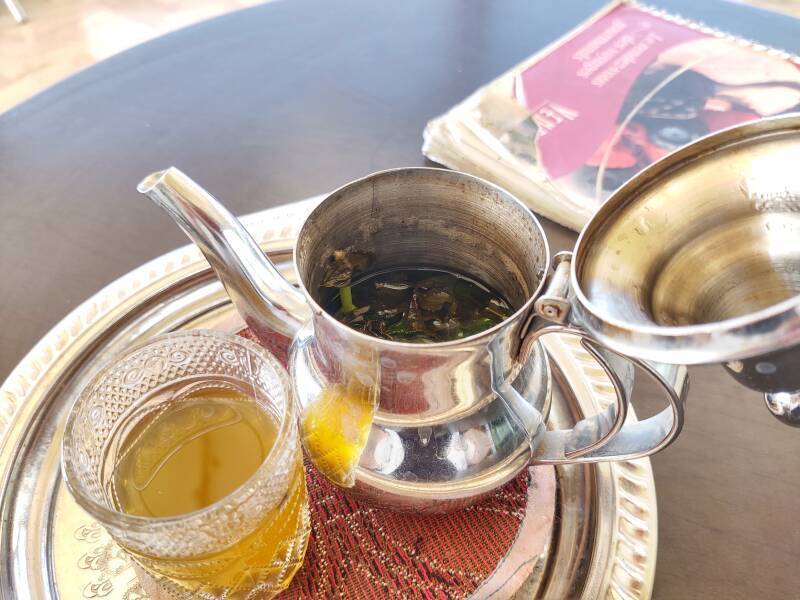 Then boarding time came.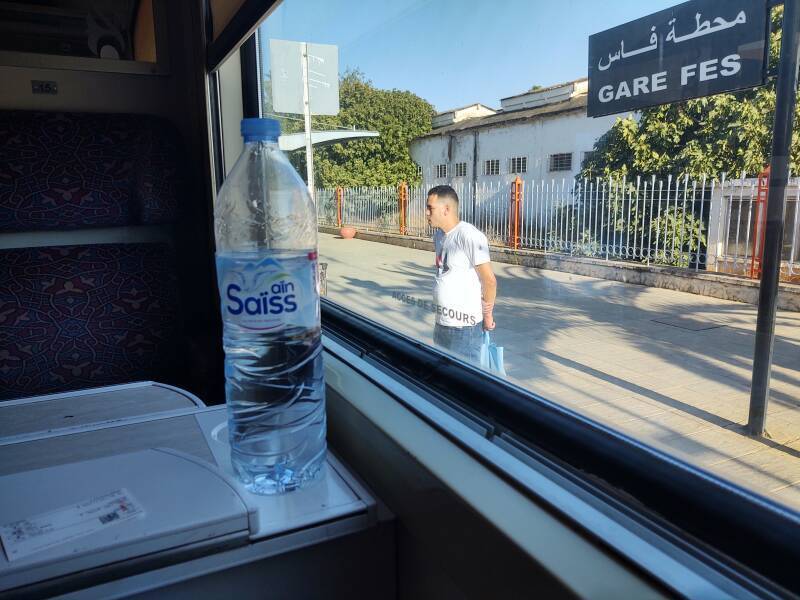 We rolled east through Mèknes and Sidi Kacem, past many farm fields and orchards.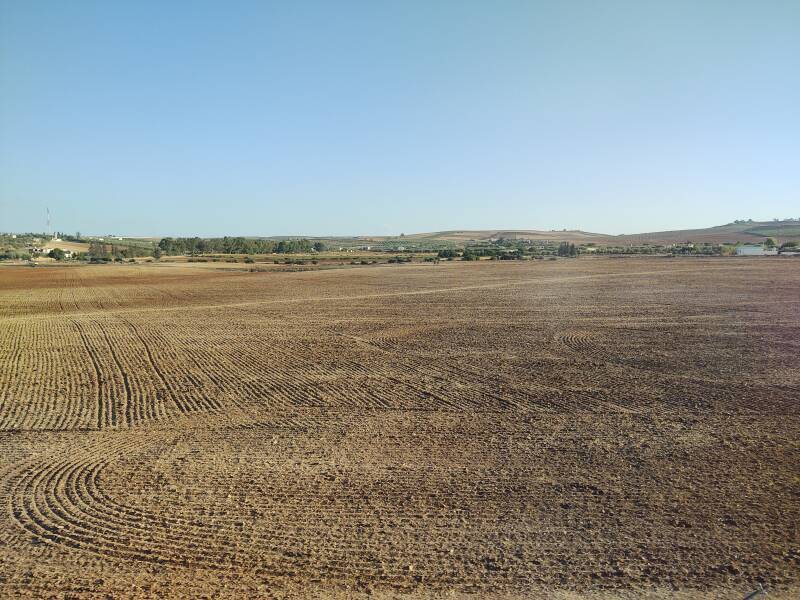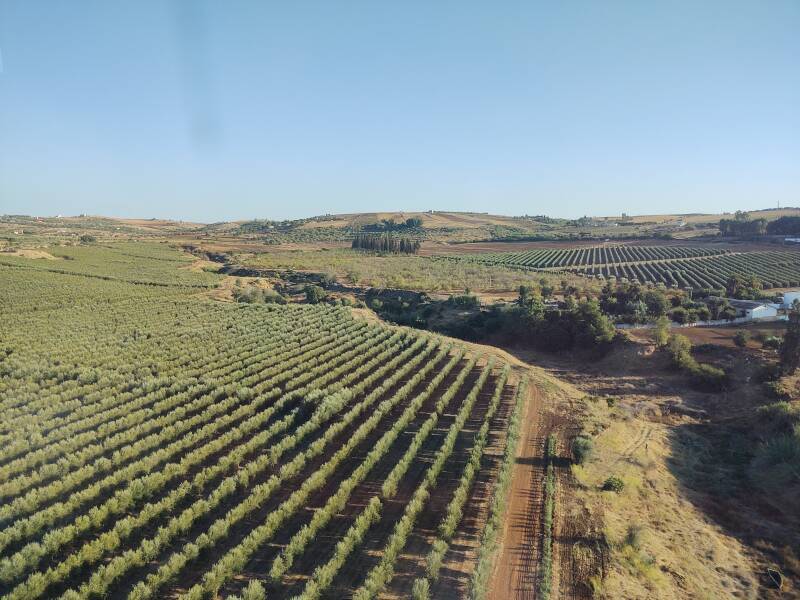 Late afternoon turned to sunset.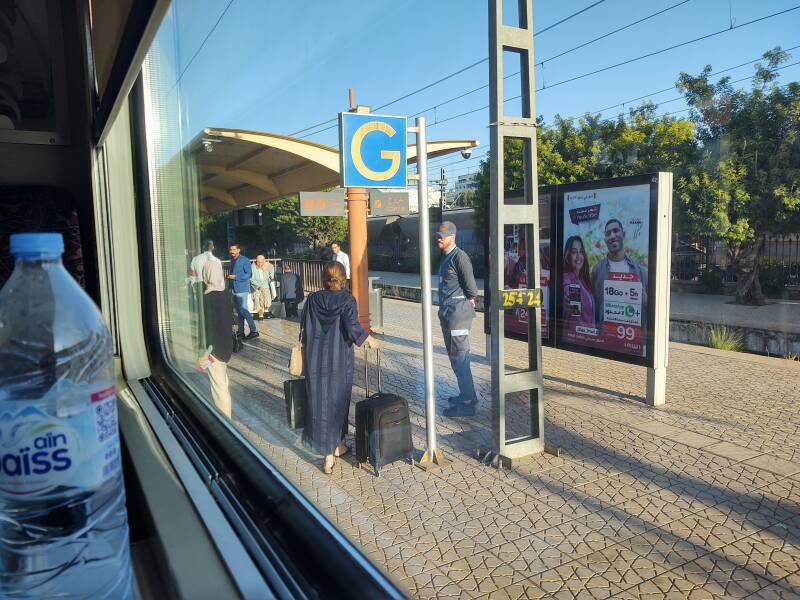 Kénitra to Tangier
Having arrived in Kénitra, I have just gotten off the train at right below. I would have a short wait for the high-speed Al Boraq to arrive on the track across the platform.
The train that I just left would continue to Marrakech, getting in some time around 03:00, connecting to a bus going further southwest to Agadir and Inezgane.
As for my train to Tangier, notice "1ère cl en queue du train" on the electronic sign. First class would be, as usual, at the back of the train.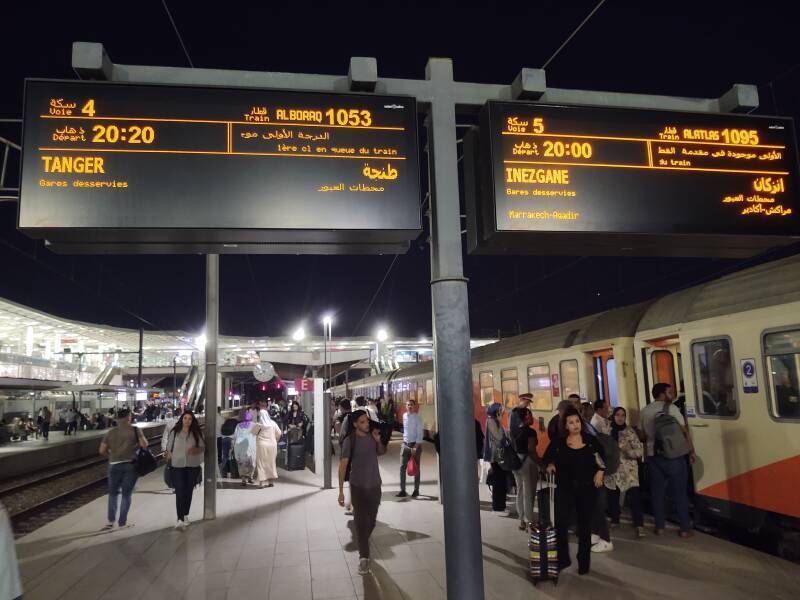 There's the last glow of sunset and a crescent moon. My train would be coming from that direction, so I went a little further down the platform to be close to the rear of the train.
Here comes the Al Boraq!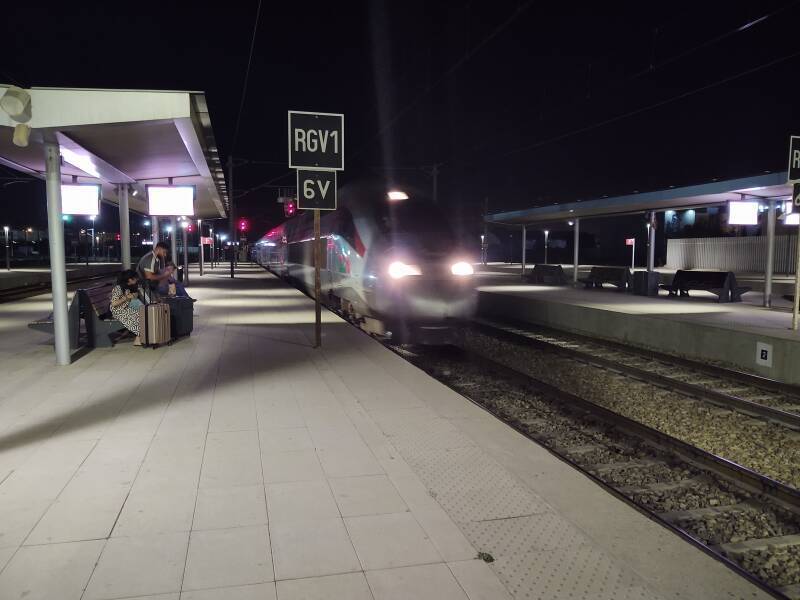 The Al Boraq traveled at 220 km/hour from Kènitra to Tangier, because they hadn't finished upgrading that section to full 320 km/hour tracks. Meanwhile, the fastest train in the U.S. can reach a top speed of 240 kph on only 55 kilometers out of its entire 735 km East Coast route. I had started and would end my trip on a U.S. train that could travel no faster than about 100 km/hour, because it runs on rough freight lines. In Morocco, I was riding in efficient luxury.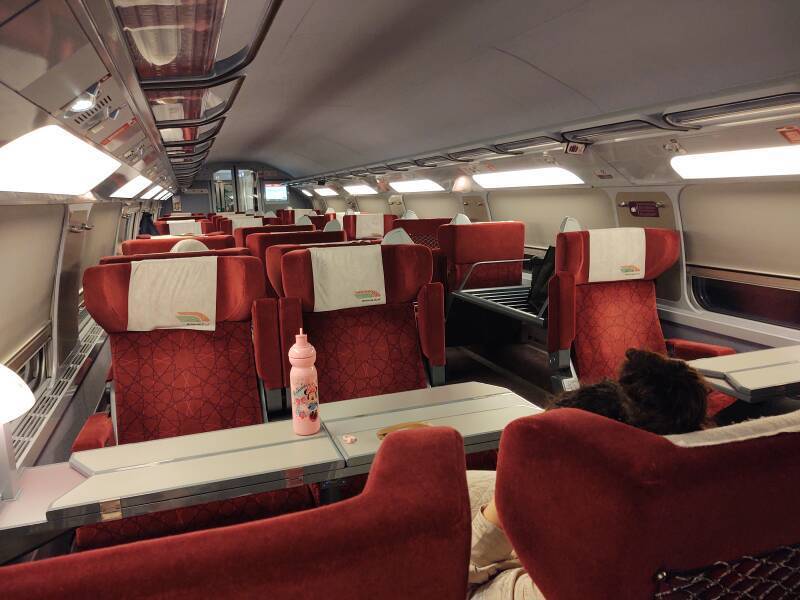 Overnight from Tangier to Marrakech
I arrived in Tangier about two hours before the overnight train would depart. There's my train at the top of the schedule board, the TM running from Tangier to Marrakech. It's MT going the other direction. The three departures with train numbers starting N are further destinations that can be reached by taking the same train to Marrakech and then connecting to buses. Nothing else leaves Tangier until 06:00 the next morning.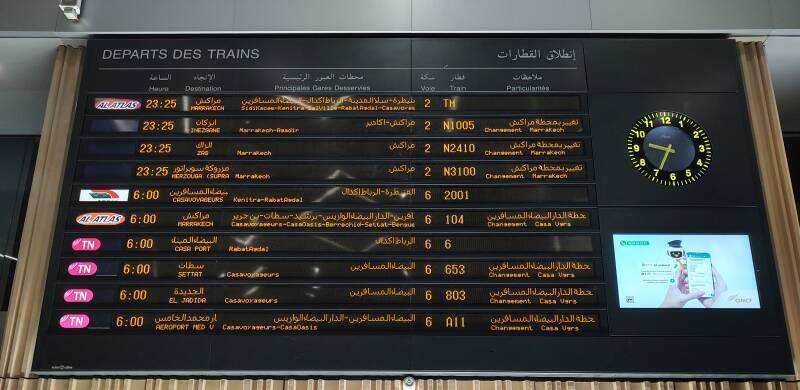 Several people were waiting. Many of them would take a 2nd class seat. The 2nd class seat cost 216 Dirhams, while the couchette was just 375 Dirhams. That makes the couchette seem like an even better deal!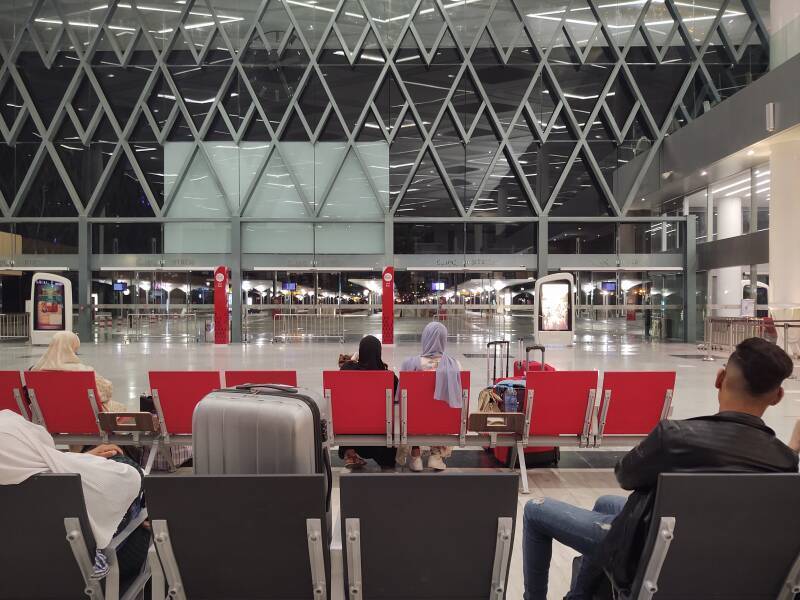 As for the name of the train... It's simply TM (or MT) or "the overnight train". "Marrakech Express" refers to that 1969 song by Crosby, Stills, and Nash.
Graham Nash claimed in an interview that it was based on his visit to Morocco in 1966, saying "Just like the song says, there were ducks and pigs and chickens all over the place and people lighting fires. It's literally the song as it is — what happened to me."
Domestic Pigs
in Africa
Graham Nash must have been confused. There wouldn't have been pigs running loose on a train in Morocco, where about 99% of the population are Muslims. Domesticated pigs disappeared from most of northern Africa when Islam arrived in the mid to late 7th century CE. The closest domesticated pigs would be in southern Spain, across the Strait of Gibraltar.
And, as Iggy Pop has observed, it's a very silly song.
Station staff opened the doors to the platforms about thirty minutes before departure. They checked tickets at the doors to make sure that only people with tickets were going out onto the platform.
The train would be pulling out of the station, and as it was first class the couchette car was at the rear, closest to the station doors.
The couchette car conductor takes your ticket as you board, and returns it to you the next morning. You find your compartment and prepare your berth.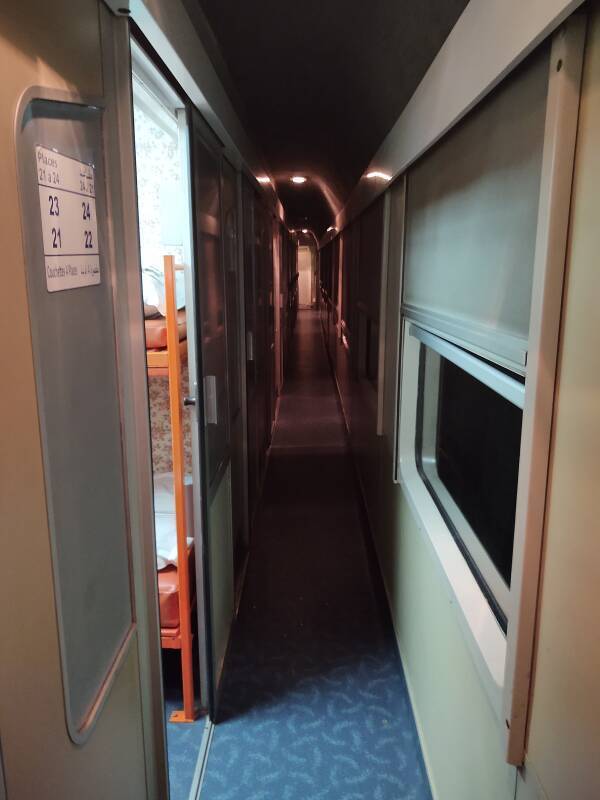 The couchette numbering scheme makes berth #11 the first one in the car. That was mine! I had purchased my ticket ten days before departure. I must have been the first person to buy a ticket for this run.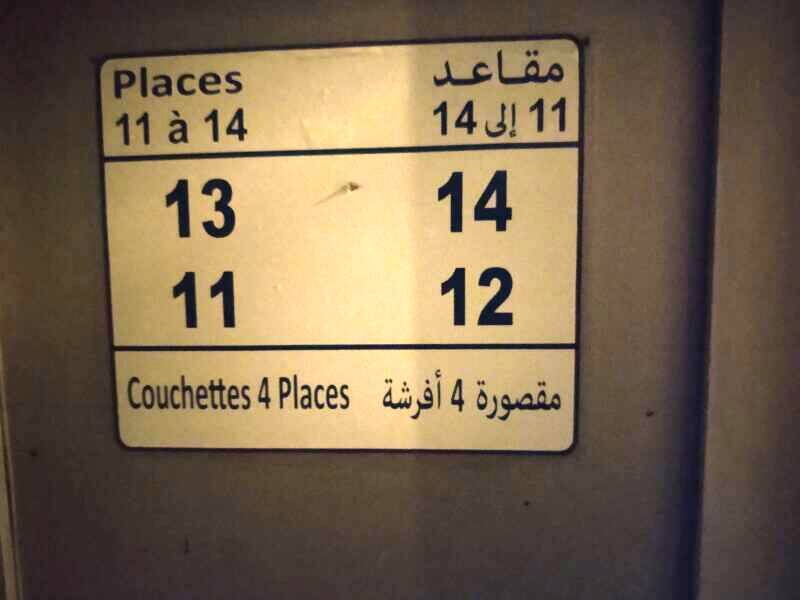 Here's my compartment. As the sign shows, my berth, #11, is the bottom one on the left when you look in. My computer bag and pack will go under my berth. It will be a tight squeeze for the pack.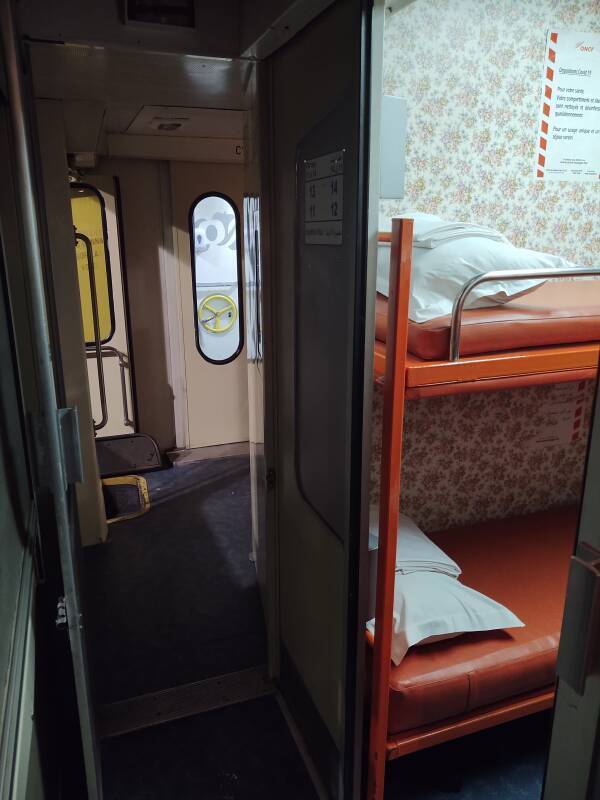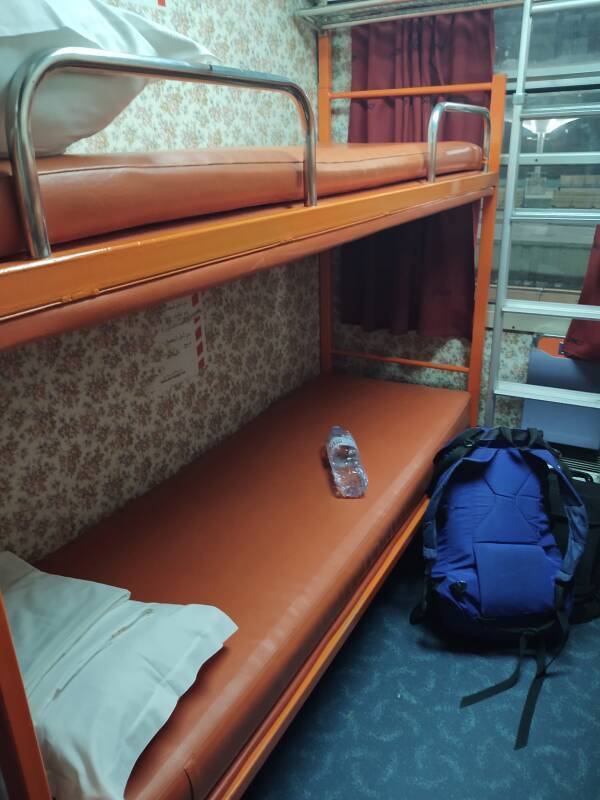 Fresh linen is provided, you make up your own bed. I had mine ready quickly. Notice the orange "ONCF" embroidery on the pillow cases and sheets.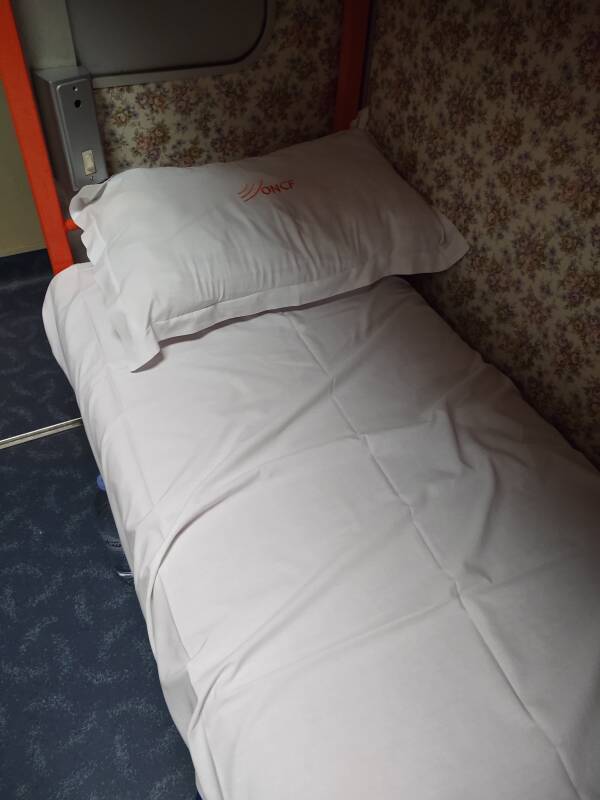 There's a temperature control and a switch for the overhead light.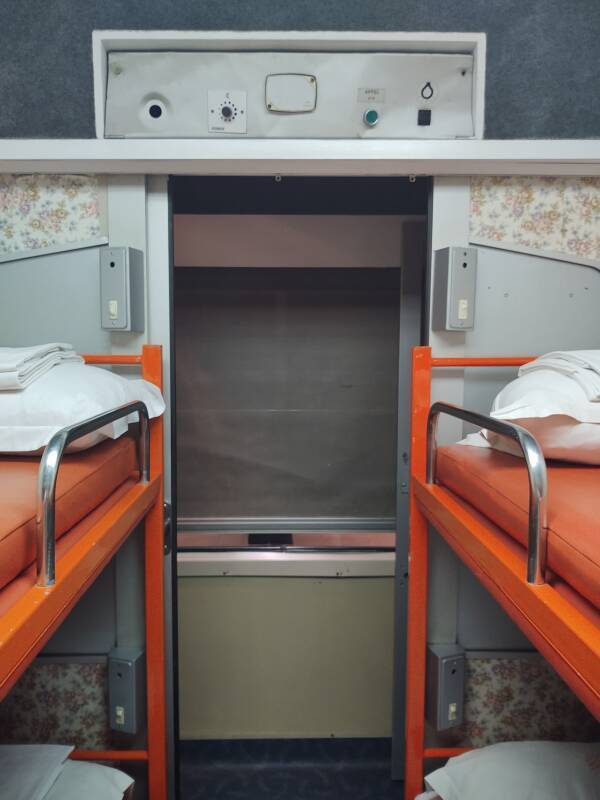 The door to the rest of the train is chained and locked shut. That keeps the proletariat out of the nice couchette car.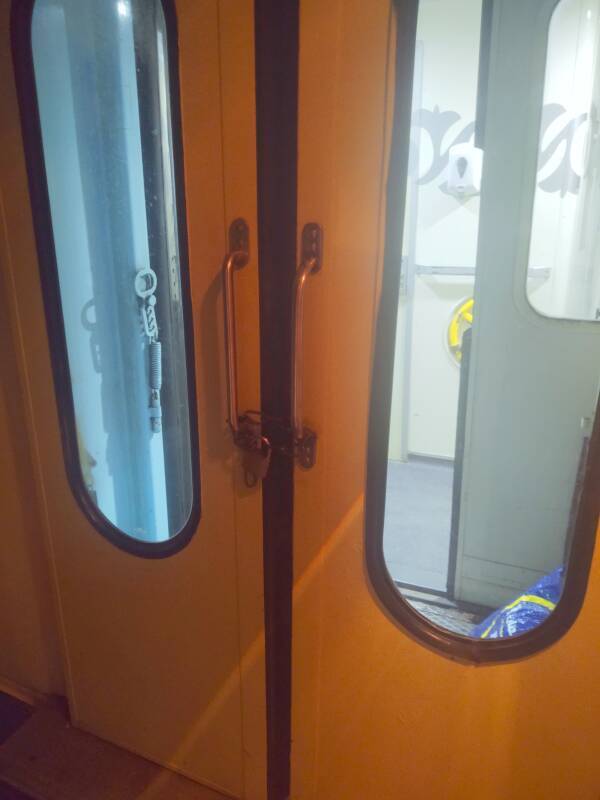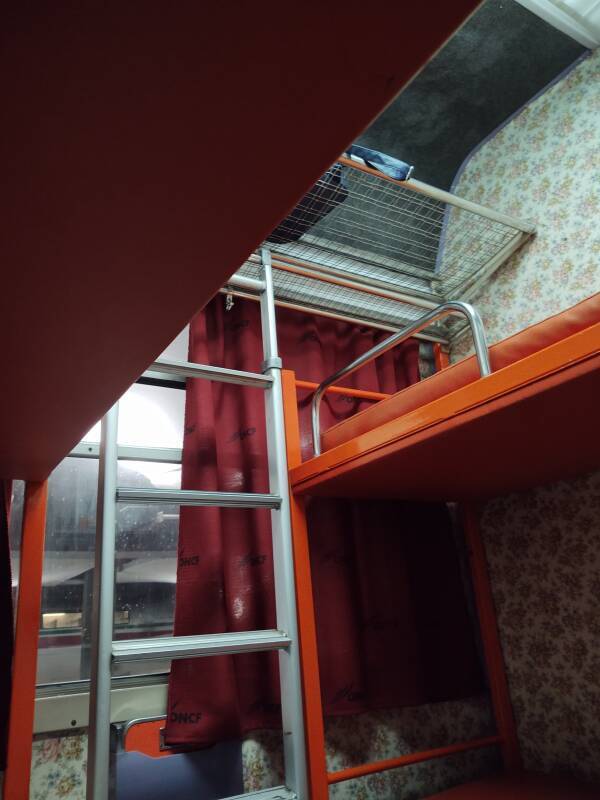 I had my bed ready and was lying down before the other occupants arrived.
We left right on time at 23:25.
I woke up from time to time during the night. Some times we were moving fast, GPS on my phone reported speeds up to 160 km/hour. At other times we were stationary for a while. It doesn't matter on a sleeper train, you're resting comfortably in your couchette.
Arrival in Marrakech
We arrived on time at 09:01 in Marrakech.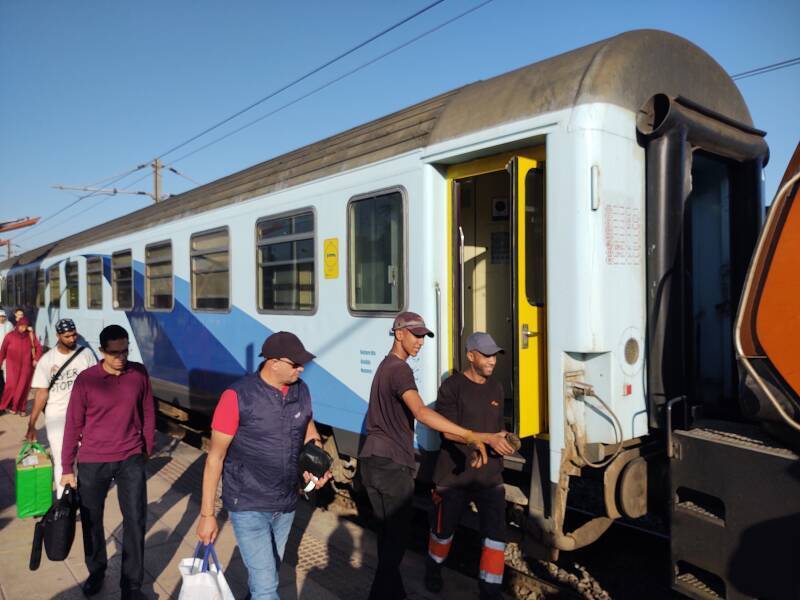 Marrakech was the end of the rail line. However, projects were underway to add a line south to Agadir and Inezgane while also upgrading the Casablanca–Marrakech link to the Al Boraq standard. It uses the same design and material as the TGV in France.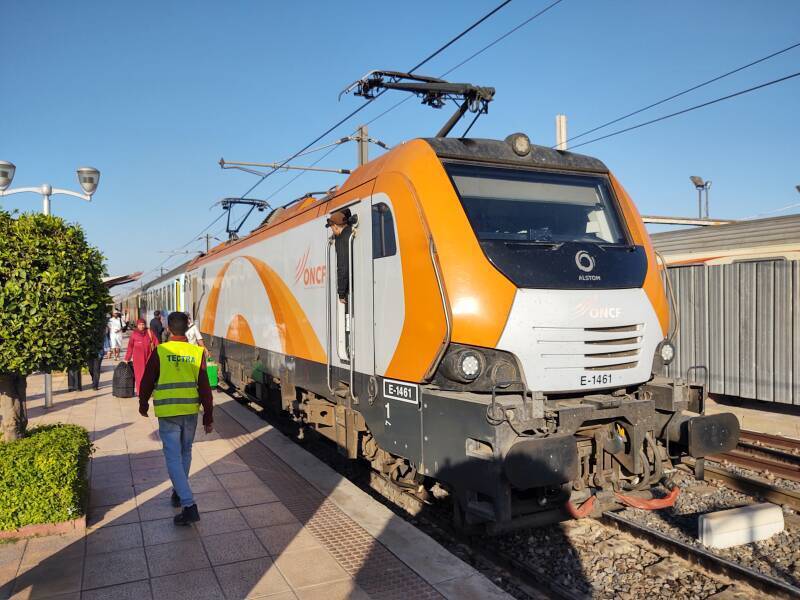 Also, the Gare de Marrakech has been rebuilt recently. I was pleasantly surprised by all the renovation and upgrading of Moroccan infrastructure. Many projects were underway to improve highway and rail transportation.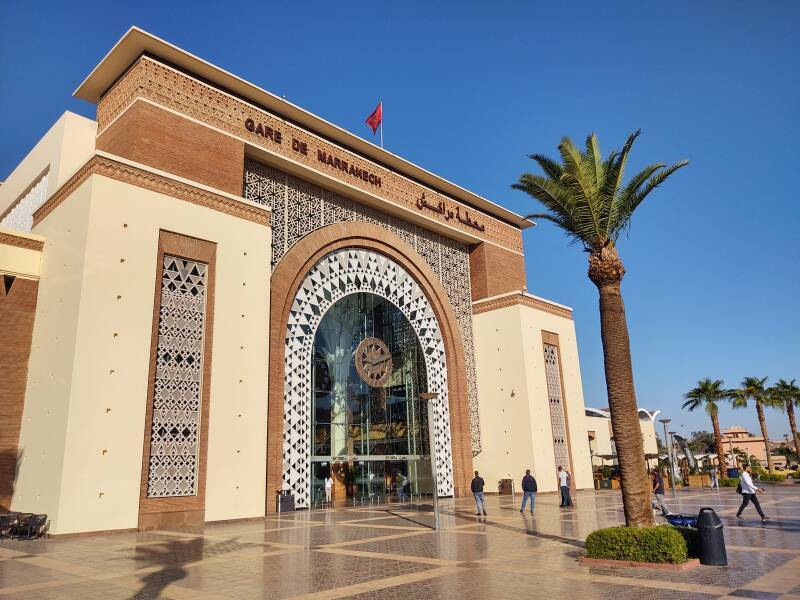 I would be staying in Marrakech for three nights, then continuing southeast by bus to Zagora and M'Hamid el Ghizlane, and then returning to Marrakech later. I first went to the CTM bus terminal to check schedules and, hopefully, buy a ticket to Zagora. Compagnie de Transports au Maroc was founded as a private company in 1919, then sold to the national government after independence in 1956. I don't know what its precise status is today, but it does have the air of a government-run bus network.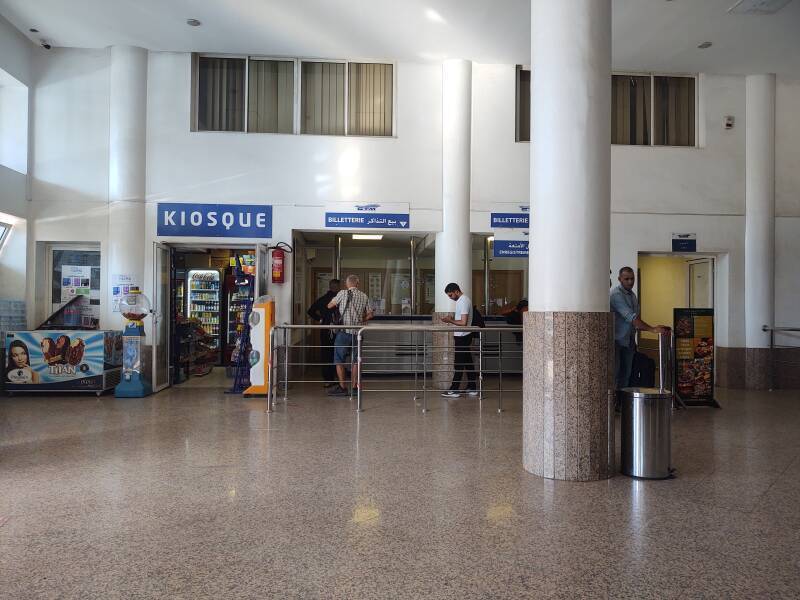 CTM's only offer for getting to Zagora was a bus leaving Marrakech around midnight and getting into Zagora the next morning.
I went back to the Supratours station, adjacent to the train station. Supratours is operated by the ONCF, and its buses show up when you search for schedules.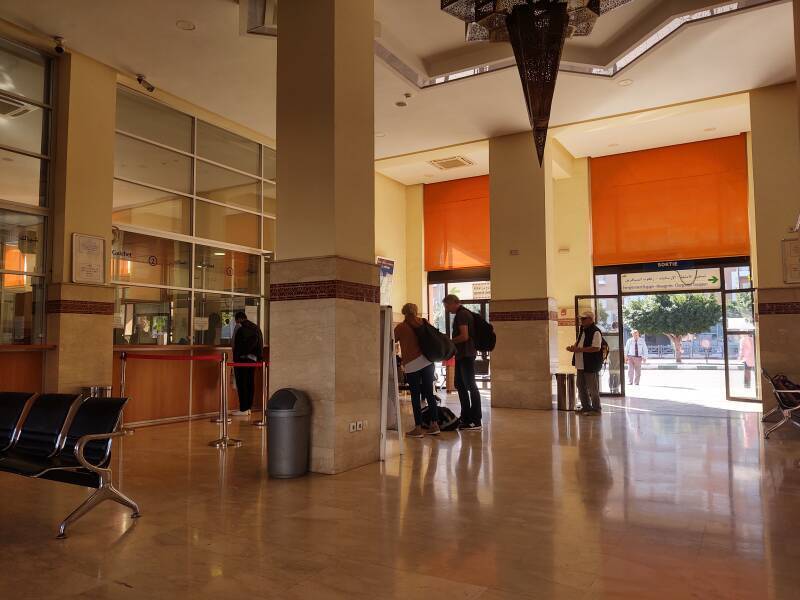 Supratours had a much better schedule, leaving Marrakech at 12:45 and arriving in Zagora at 19:45. I bought a ticket for just 150 Dirhams, then took a petit taxi toward the medina and where I would be staying.
To My Guesthouse
Guesthouses at Booking.com
I stayed at the Hôtel Atlas. It's on a narrow passageway within the medina, very close to Jemaa el-Fnaa or Sāḥat Jāmi' al-Fanā', a large square with a busy festival every day and evening.
Google Maps is vague within the medina, and businesses sometimes appear in the wrong locations. Problems are compounded by a phone's GPS receiver not getting adequate signals when down in derbs, narrow passages between three-story buildings.
Jemaa el-Fnaa appears as a dark triangle north of the hotel in the above map. Passage Prince Moulay Rachid is a busy street lined with shops and cafés. Along it about a hundred meters south of Jemaa el-Fnaa there was a currency exchange business with a multi-colored sign that made for a useful landmark. A narrow passage, almost like an open-roofed hallway, led off at a right angle there. After thirty meters that passage ended in a tee intersection. Sixty meters to the left from there, to the north, having passed through a pair of 90° turns, I came to the Hôtel Atlas.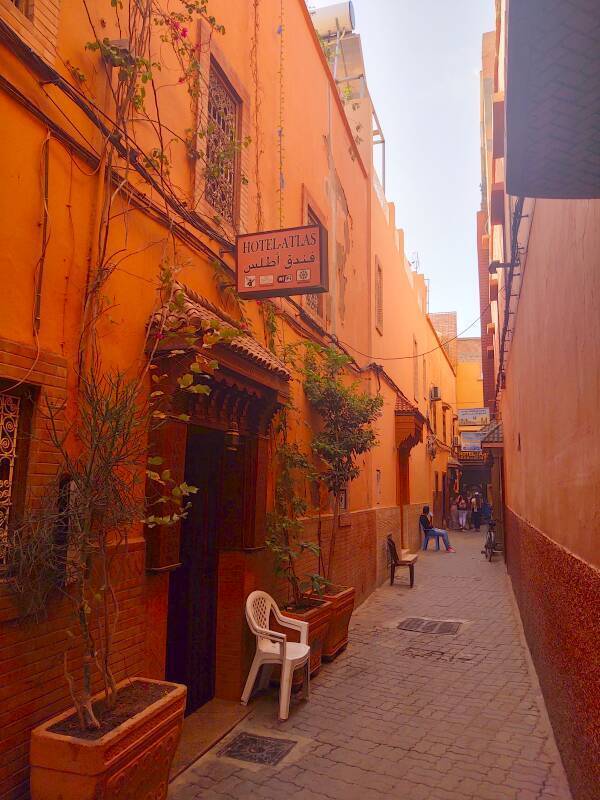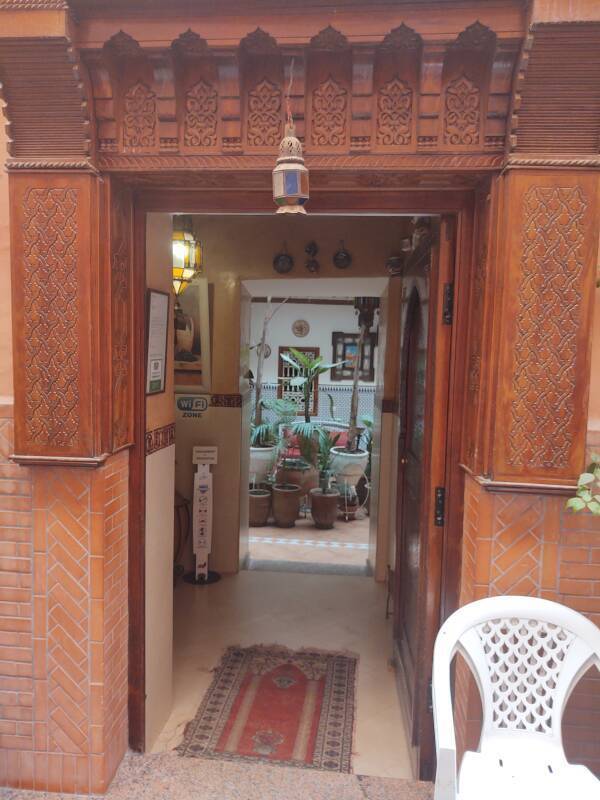 I had a large bed with a small low table and a sink.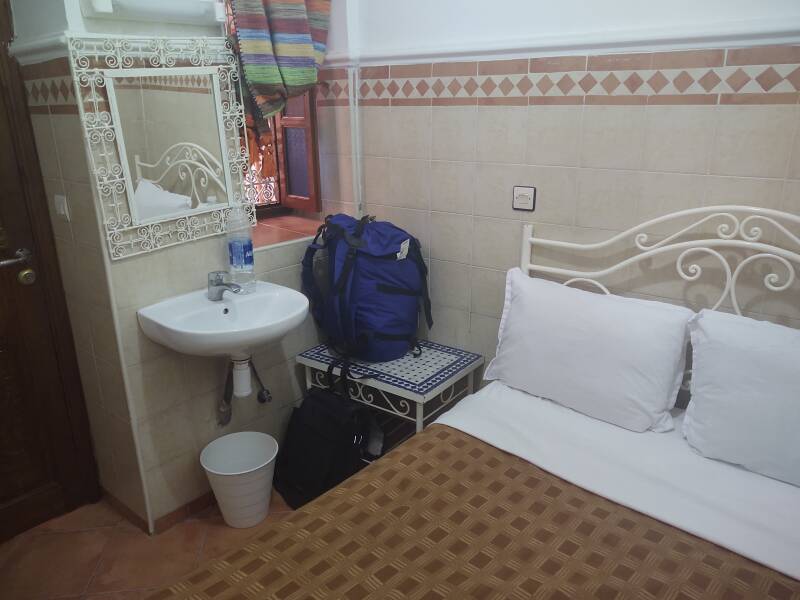 Like many places to stay in the medina, Hôtel Atlas is built around a central open courtyard.
Here's what I saw sitting on my bed in my ground floor room with the door open. There's another story above what you see here, then there is no roof and the courtyard is open to the sky. It's a great place to stay, and my room was just 108 Dirham a night, about US$ 10.