By Ferry from Patmos to Leros
From Patmos to Leros
Από την Πάτμο προς Λέρο
I had been on Patmos for four nights.

I had visited the Cave of the Apocalypse, where John had his visions that led to Revelation.

I had also been to the Monastery of Saint John the Theologian, at the peak of the island overlooking Skala, the port.

Now it was time to move on to Leros.

Patmos is on the route of large ferries running between Pireaus, the port of Athens, and Rhodes.

Or, more frequently and of more interest to me, smaller ferries between Patmos and Kos with stops in Αγαθονήσι or Agathonisi, Αρκοί or Arkoi, Λειψί or Leipsoi, Λέρος or Leros, and Κάλυμνος or Kalimnos. Tickets on all the lines are available at offices near the port in Skala on Patmos.
Some of the islands are quite small in both area and population. Leipsoi had a population of 790 at the 2011 census, but Agathonisi had 185 and Arkoi had just 44 people.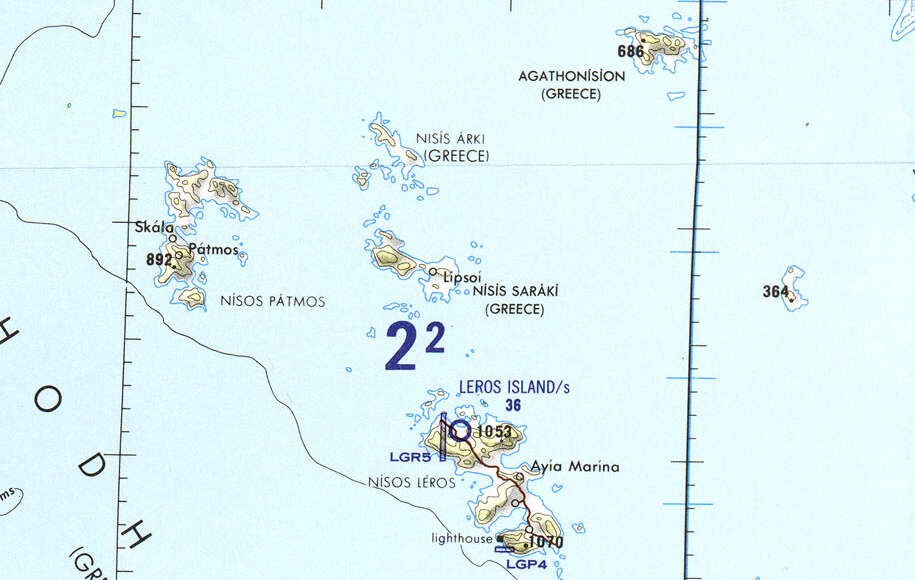 Guesthouses at Booking.com
My innkeeper at the excellent Villa Zacharo in Skala, the port town of Patmos, had a current ferry schedule.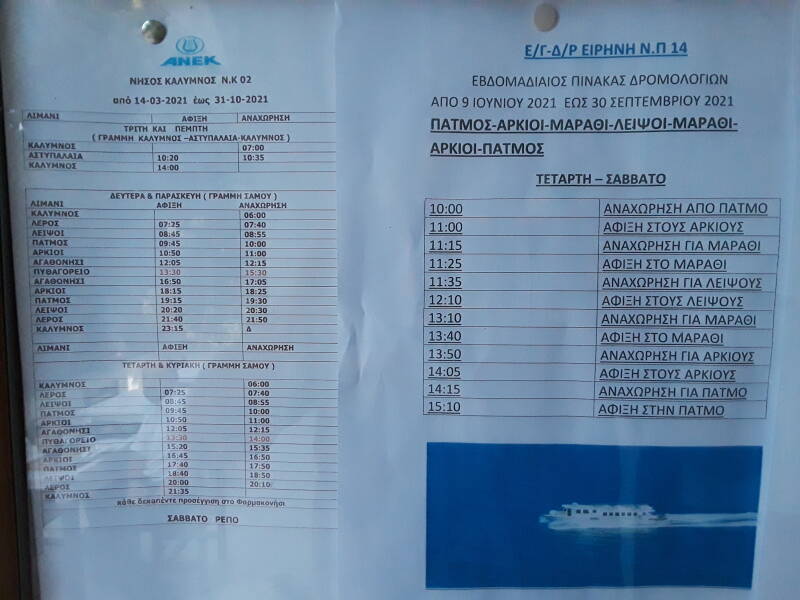 Based on that, I made my plans and bought my ticket two days before. It was €22 for the ferry from Patmos to Leros. The day before, or even the first thing that morning, would have been adequate because I was on Patmos during the "shoulder season" at the end of September. In the high season, if you were to venture into such a difficult time, you would want to make sure that you had reserved all your ferry tickets and accommodations well in advance.
Also watch the weather. The Aegean has strong winds on good days, and the even stronger winds on bad days can cancel smaller ferry operations for a day or more.
Here comes my ferry!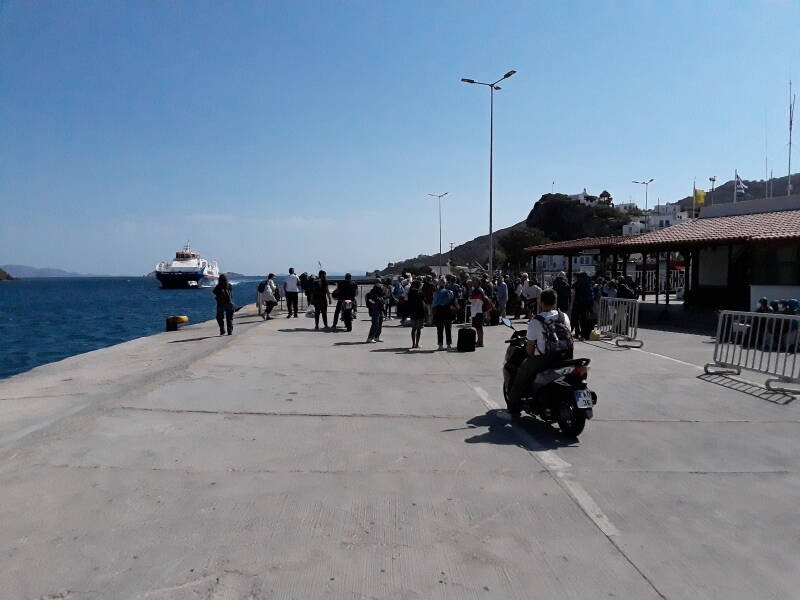 Δώδεκα νησιά or Dodeka nisia literally means "twelve islands".
Dodecanese. Twelve Islands.
Track the Dodekanisos Pride
Here's one of the Dodekanisos Seaways ferries servicing that area close to the Turkish coast. The Dodekanisos Pride and its sister the Dodekanisos Express are 40-meter Sea Lord type ferries built in Norway. They run at 32 knots.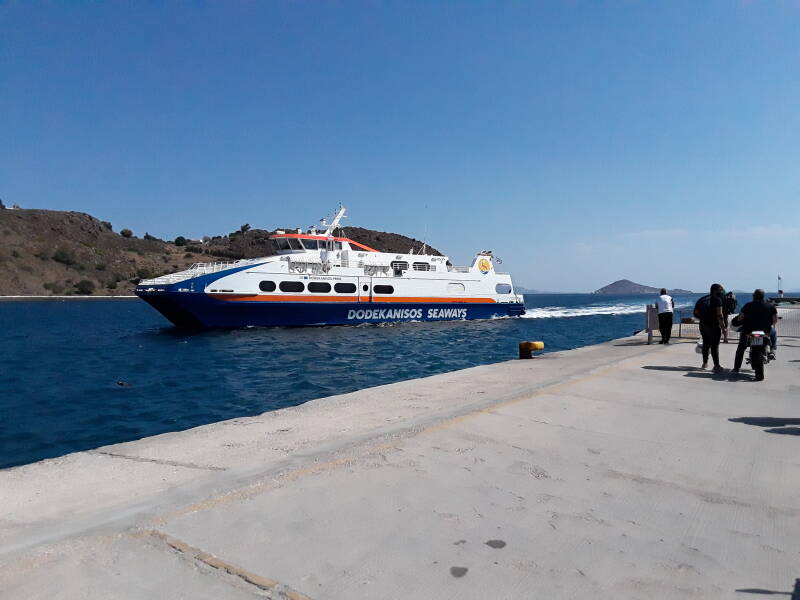 Everyone get on board! The port calls are short, you need to be there well ahead of time and ready to jump right on board.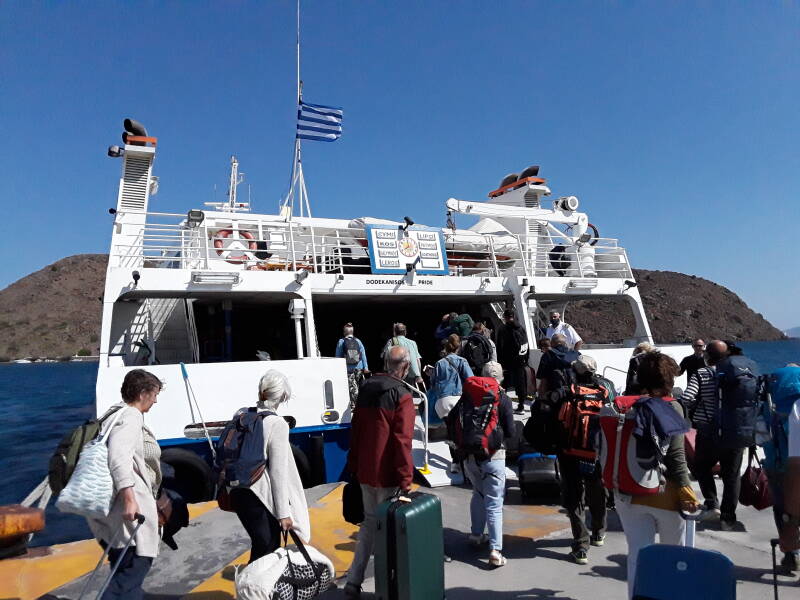 Check ferry schedules and buy tickets:
You can sit inside, there are 214 seats on the main deck. Or, if it's open, there are another 66 on the aft upper deck.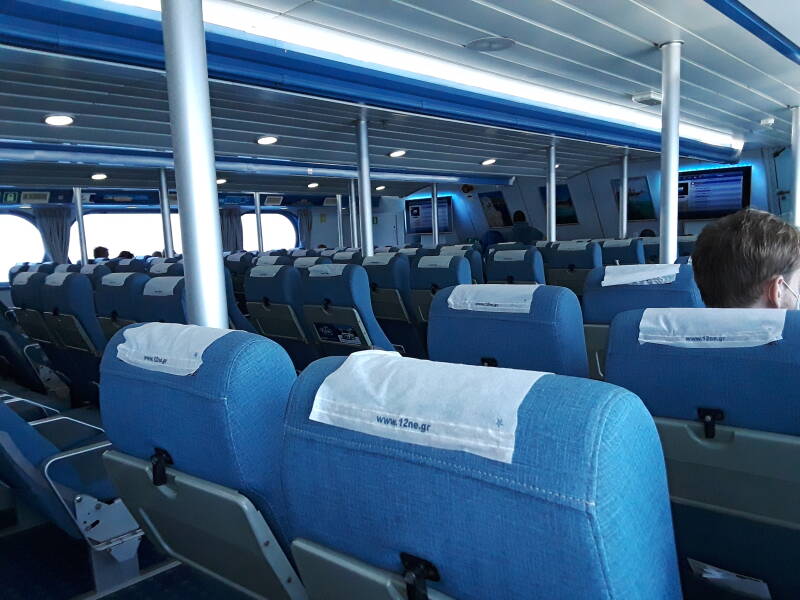 Ferries have space near the ramp to store luggage. On a long or even overnight trip, like what I took from Milos to Heraklion, it will be a locked compartment accessed through the crew. But on short runs and smaller ferries it's informal, a space near the ramp.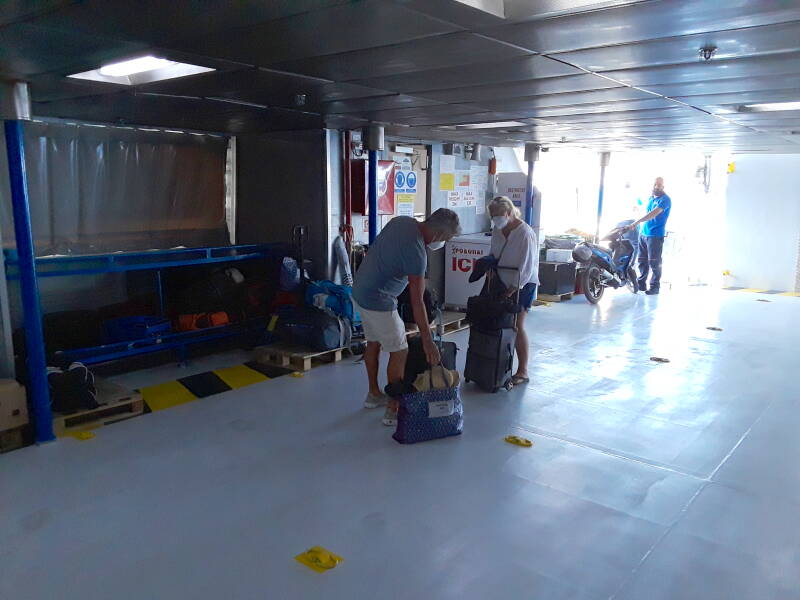 Make sure that you're ready to go down the ramp as soon as it lowers. We have arrived in Leros.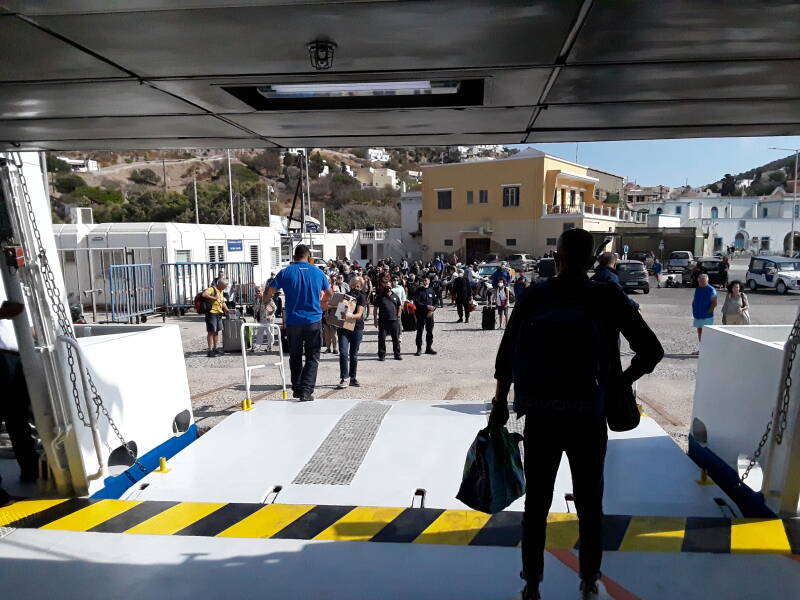 Or, Continue Through Greece: