Takeshita Street
Takeshita-dori
Harajuku is Japan's center of street fashion and youth culture, and Takeshita-dori is at the heart of it. Takeshita-dori (that is, Takeshita Street) starts just across the street from Harajuku Station. It runs about 400 meters to Omotesandō, which resembles the Avenue des Champs-Élysées in Paris.
Arrival in Harajuku
Harajuku Station is on the Yamanote Line that runs in a large loop around central Tōkyō. It is one stop north of Shibuya, and two stops south of Shinuku. The Chiyoda and Fukutoshin Lines of the Tōkyō Metro stop at the nearby Meiji-jingumae (Harajuku) subway station.
In the picture below we're looking north along the Yamanote Line. A tall building in the Shinjuku district is visible in the distance.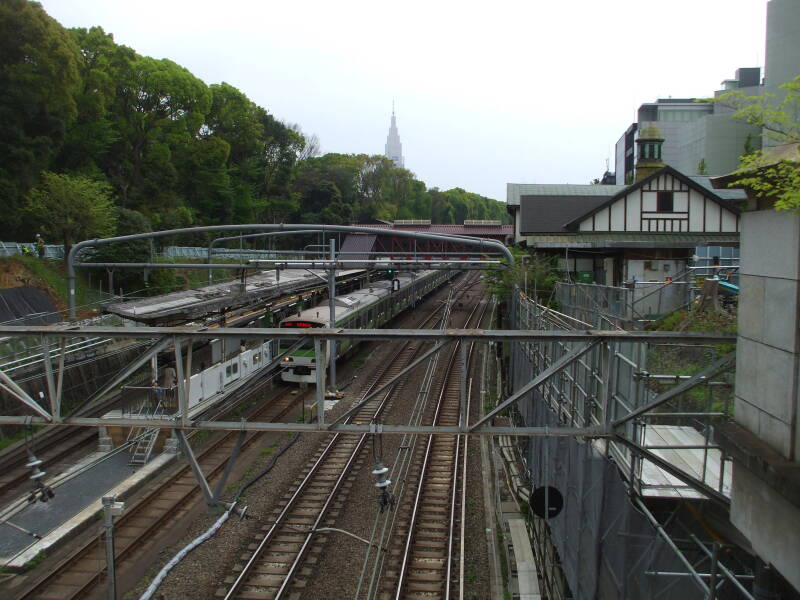 Meiji-jingū, the Imperial Shrine dedicated to the deified spirits of Emperor Meiji and Empress Shōken, is in the forest to our left. He was the 122nd Emperor of Japan according to the official list, reigning from 1867 until 1912. He ruled over the Emperor's return to power after being little more than a figurehead during several centuries of Shōgun rule. Japan rapidly developed during his reign. In 1867 it was a feudal state that banned contact with the outside world. By the 1910s it had become a growing industrial power with imperial ambitions.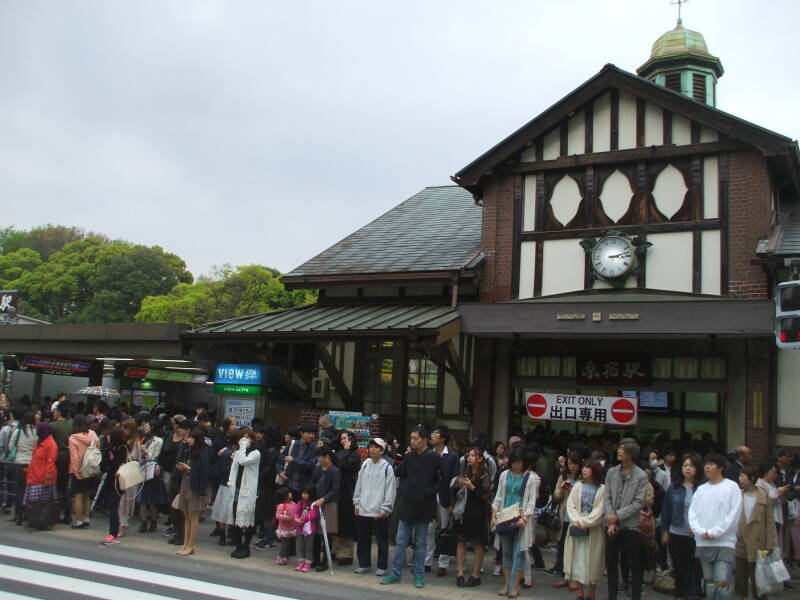 The station has an oddly faux-Swiss appearance. People are patiently waiting to cross the street from the upper end of the station. The broad pedestrian bridge over the tracks and leading to Meiji-jingū is out of sight to the left.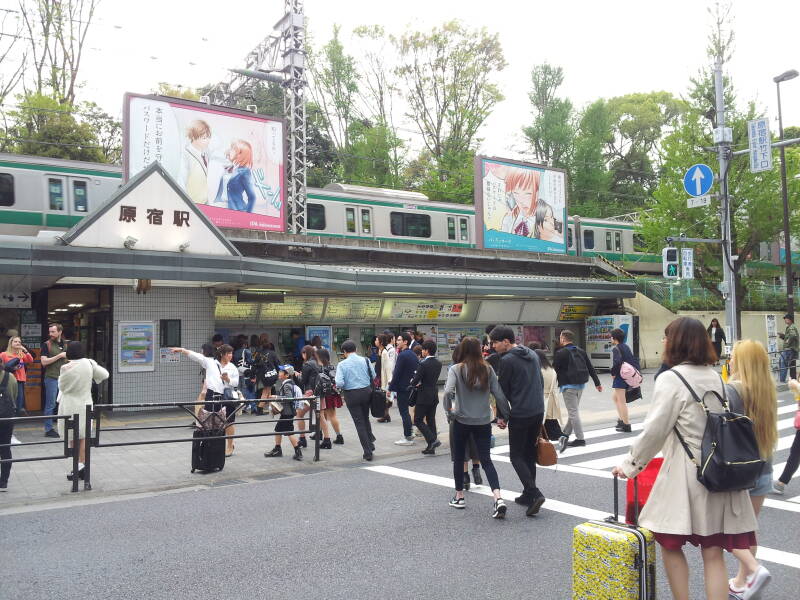 Below is the simpler lower entrance at the north end of the station. Takeshita Street is just behind me in this view.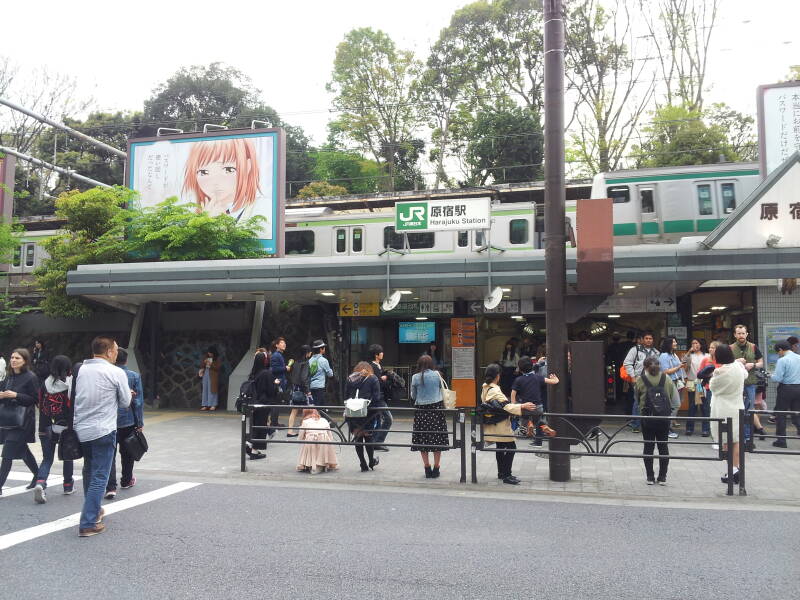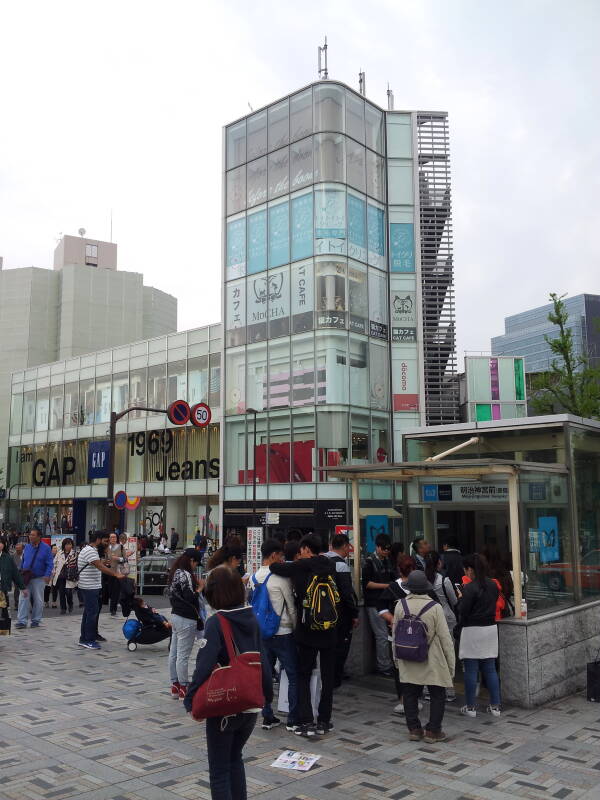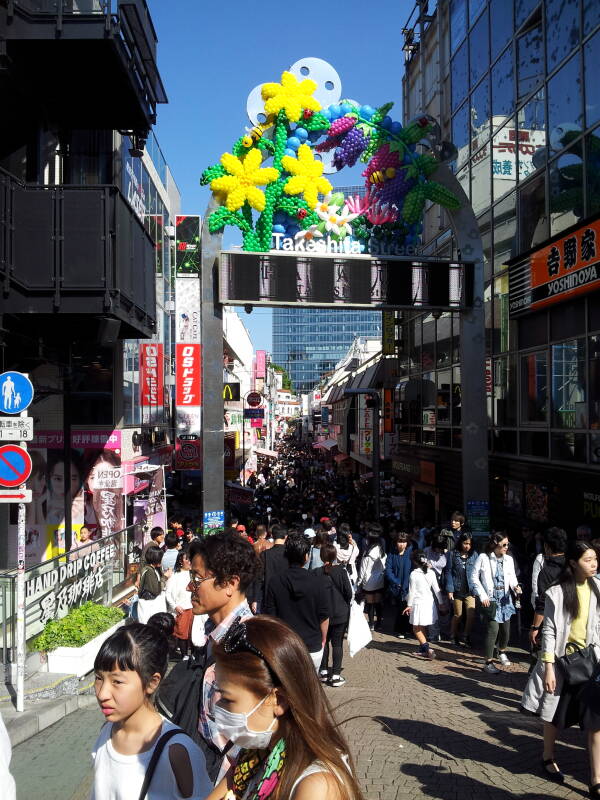 Into Takeshita-dori
Above and below we see the entrance to Takeshita-dori or Takeshita Street at its western end, just across from the train station.
The street is about 400 meters long, sloping slightly downhill from its west end and then running level to its end at a major north-south street joining Shinjuku and Shibuya.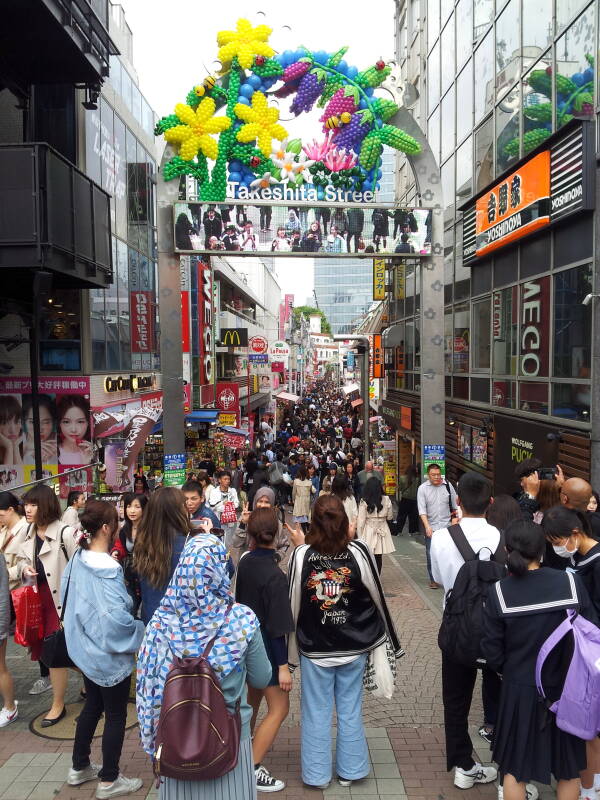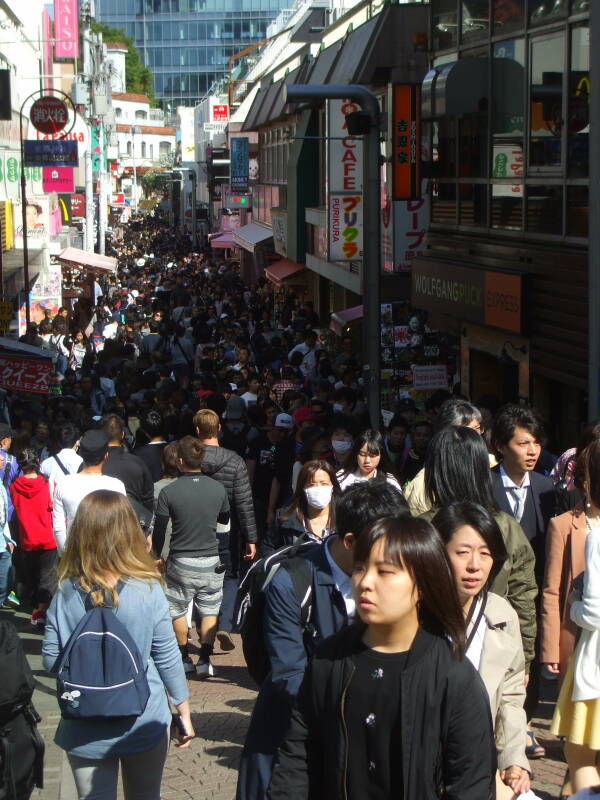 It is very crowded on a weekend afternoon in nice weather! It is lined with popular shops, restaurants, and cafés.
The goods on offer aren't what you would consider to be basics or necessities. It's a place to spend disposable income on things like kimono rentals and colored contact lenses.
Yes, kimono rental is a thing. Actual Japanese people who live in Japan rent kimonos for a relaxing day.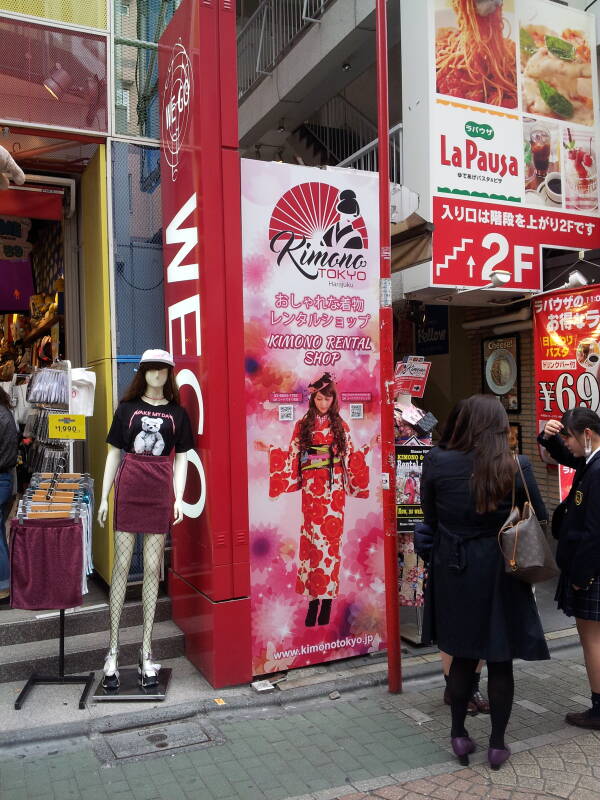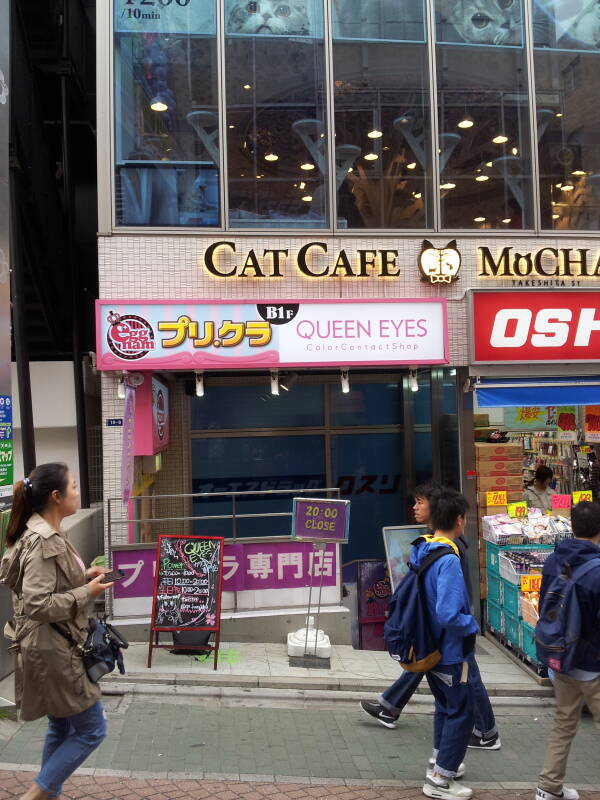 Of course there are cat cafés along Takeshita Street.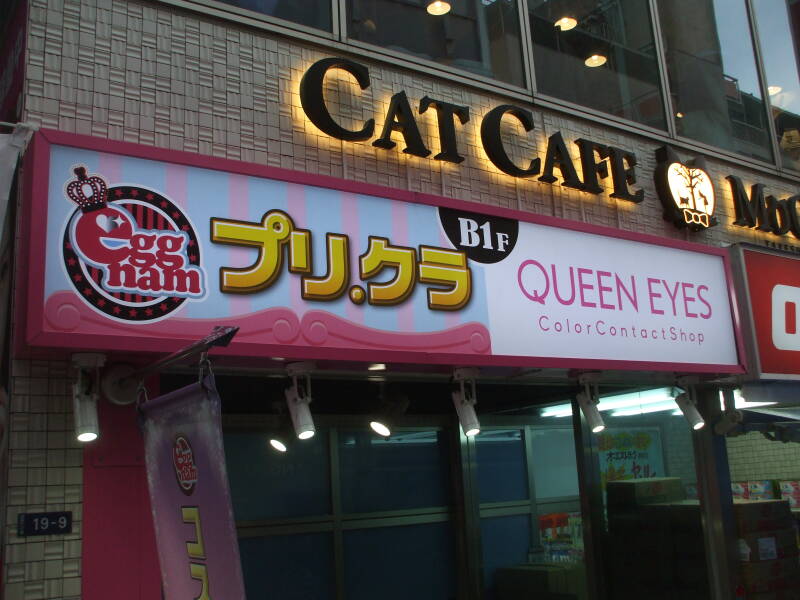 This one lets you commune with their cats for ¥200 for 10 minutes.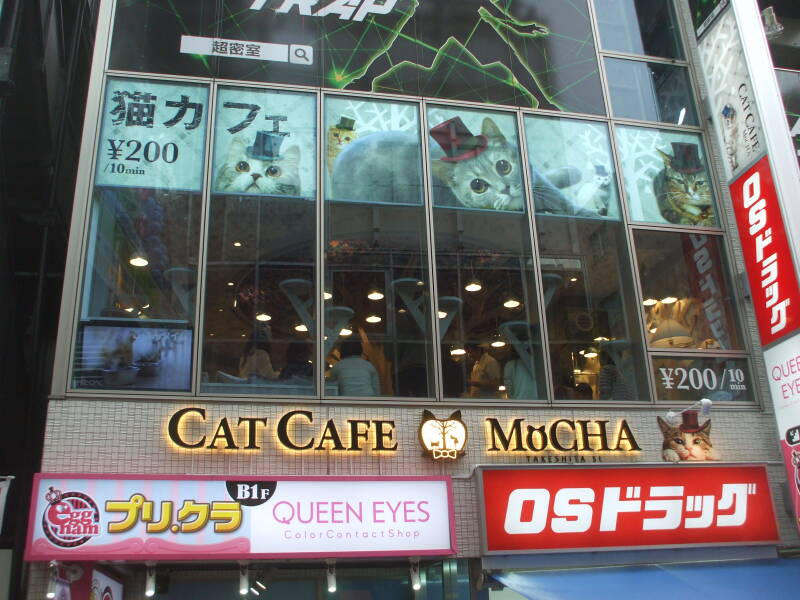 Trends and Antenna Shops
Akihabara
antenna shops
Some of the businesses along Takeshita Street are called antenna shops. These aren't like the shops in the Akihabara area that sell actual antennas. This sense of "antenna shop" is a small boutique offering unique new items. They're available only in this one location and in small numbers. It's test marketing, attempting to spot new possibilities for trends.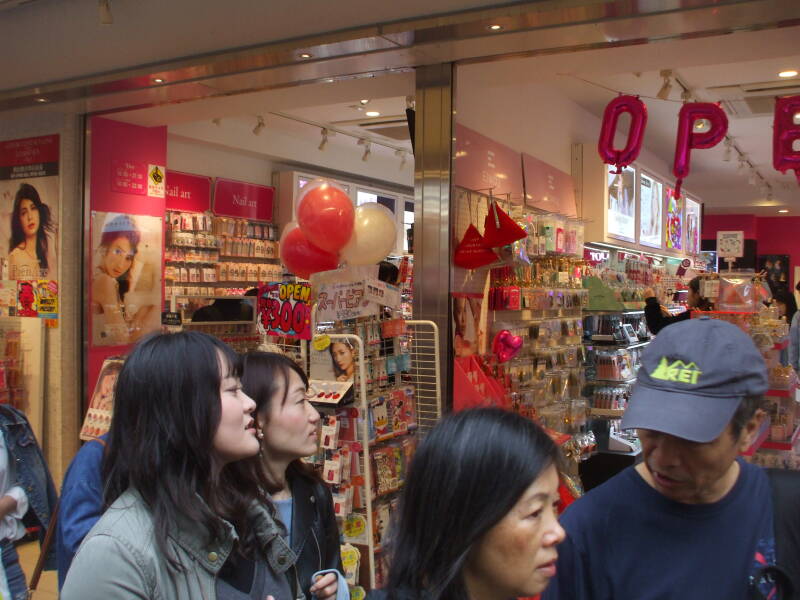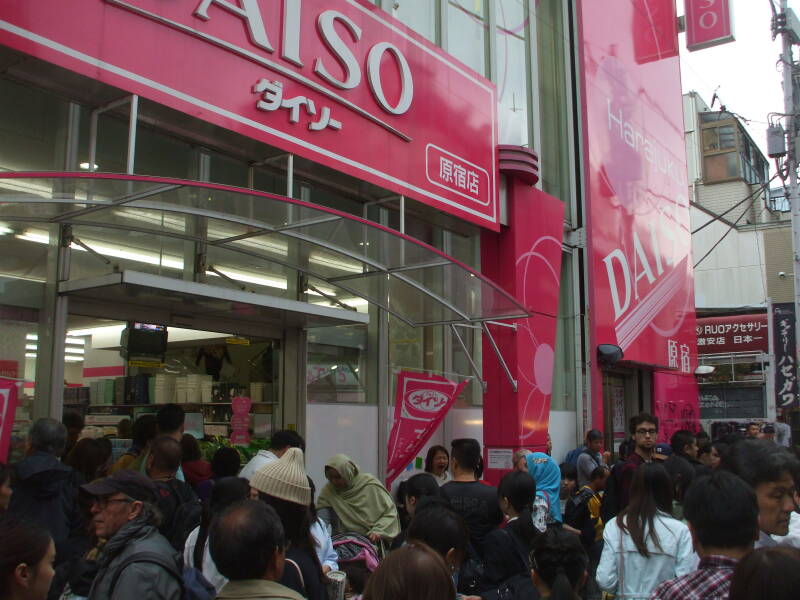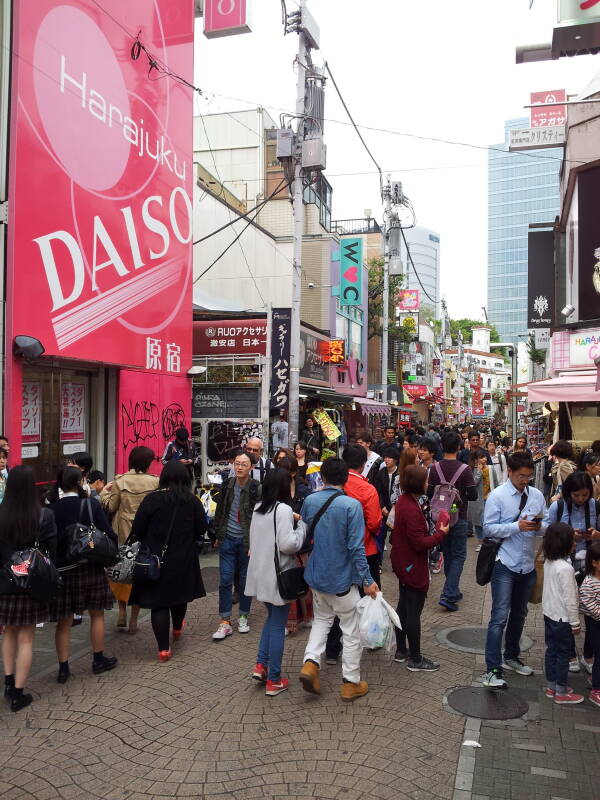 7-11 in Japan
There are a few representatives of international chains, like a Starbucks near the west end, this McDonald's, and a 7-11, which is actually an international chain that is based in Japan. However, most of the shops along Takeshita Street are independent.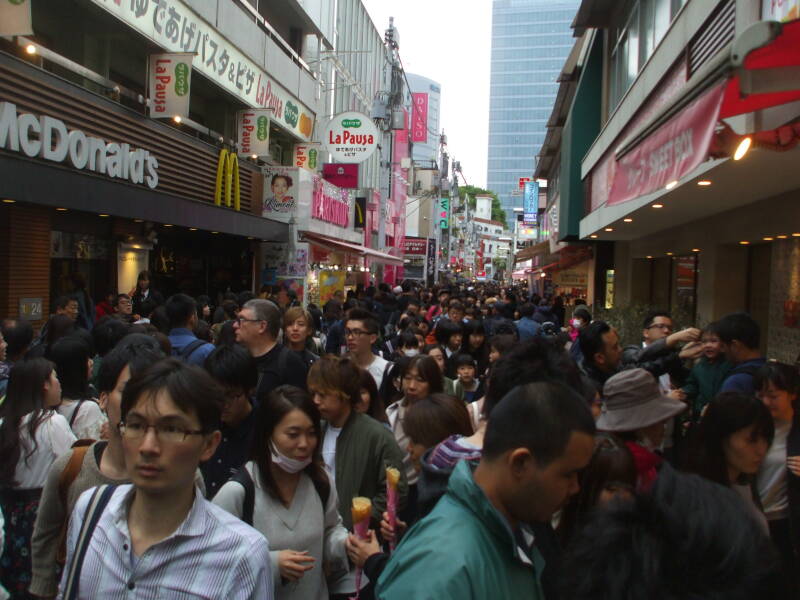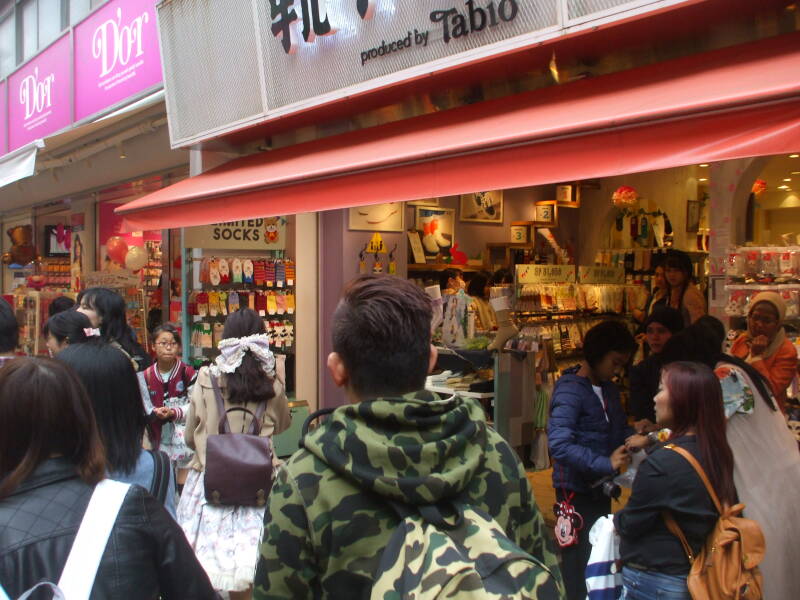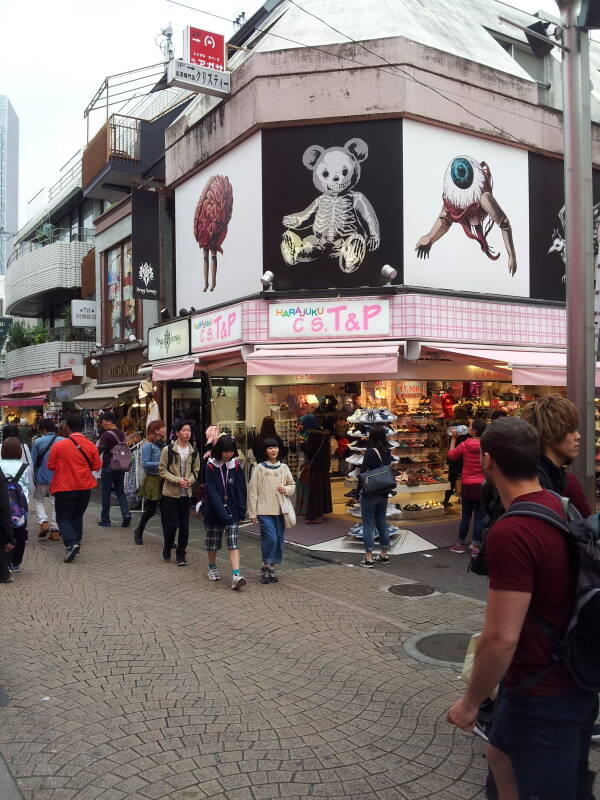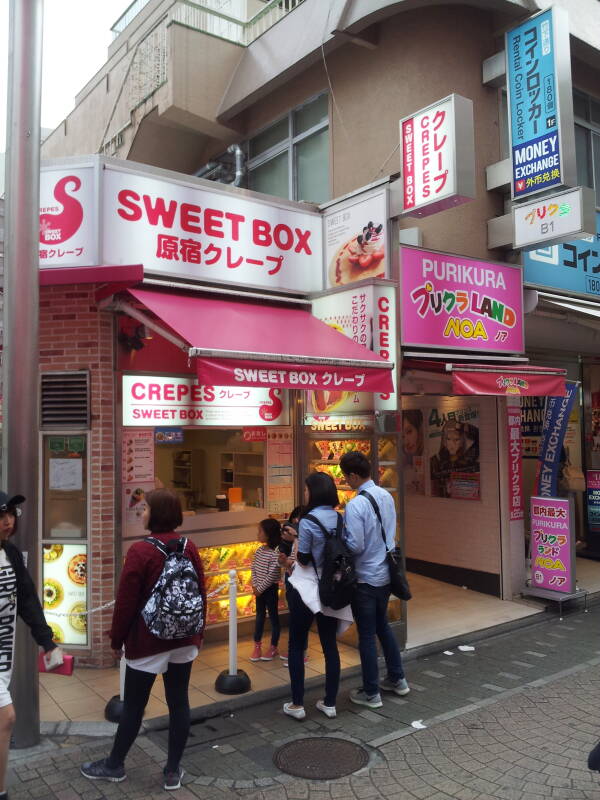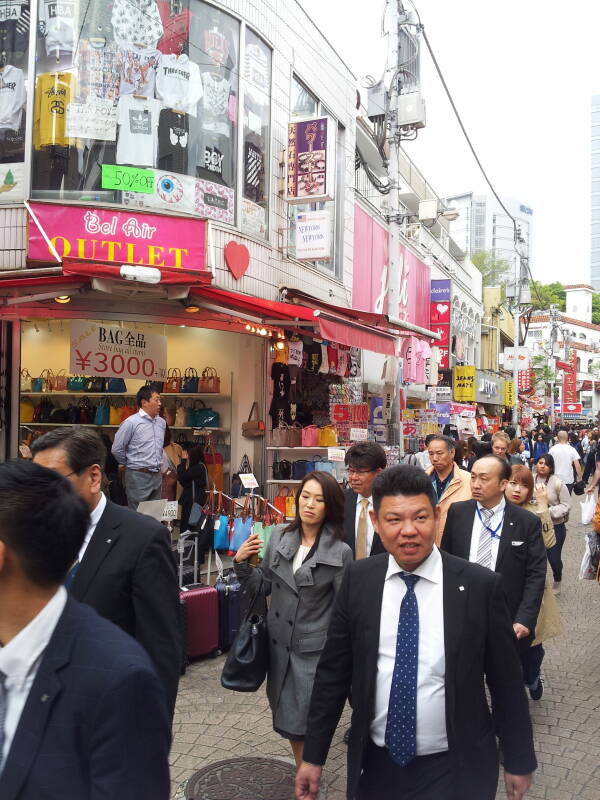 Takeshita goods are aimed at youth, but you also see salarymen in business suits and ID lanyards.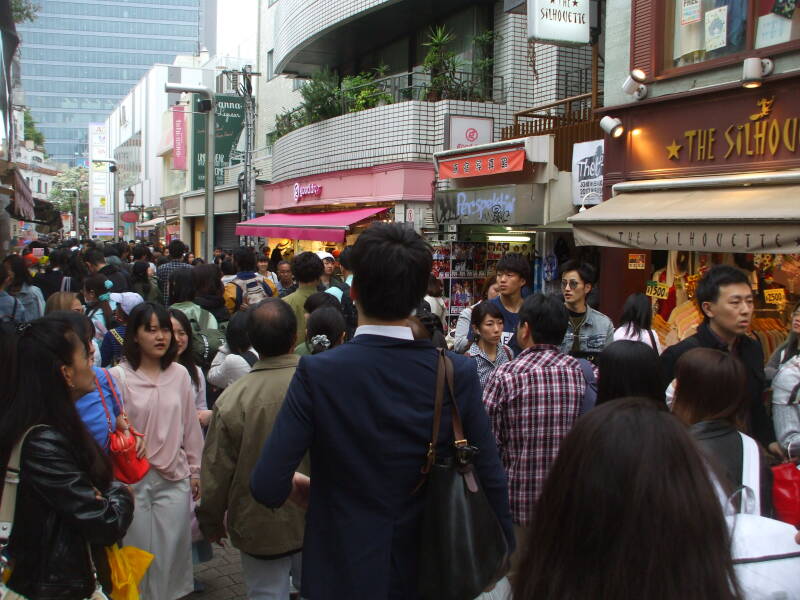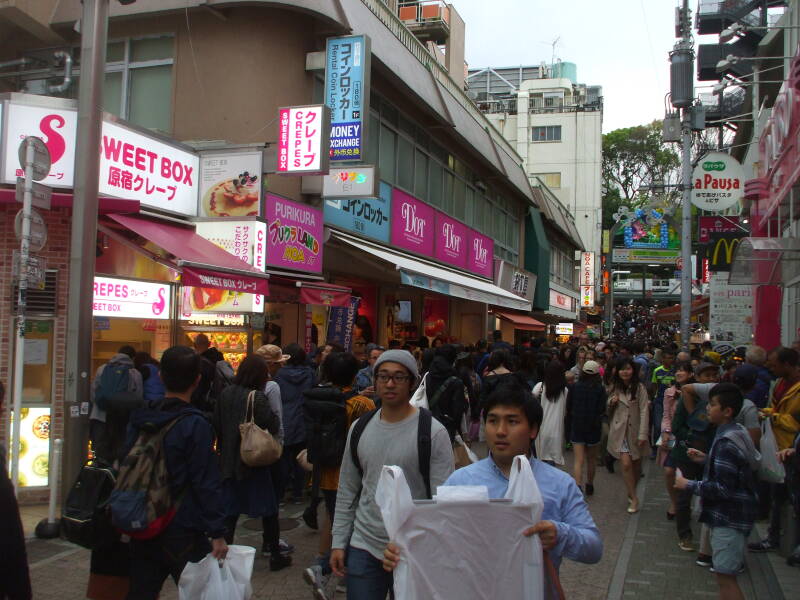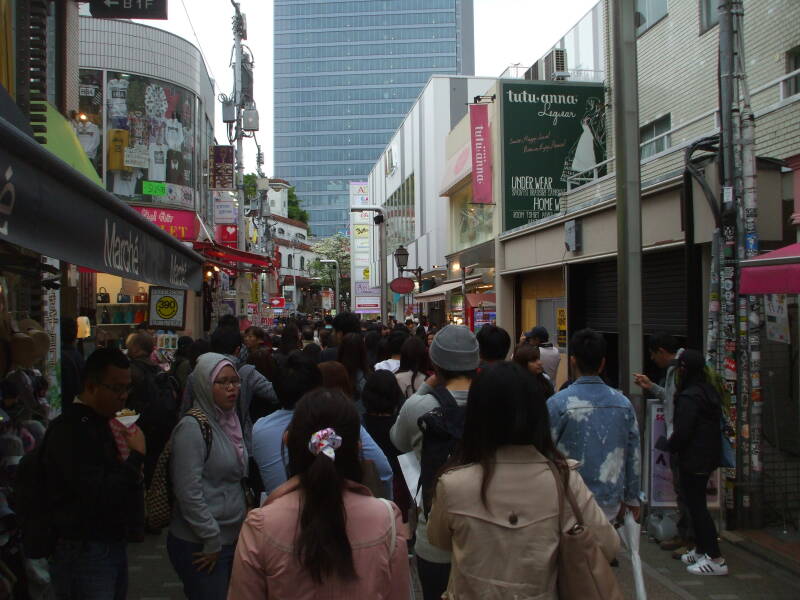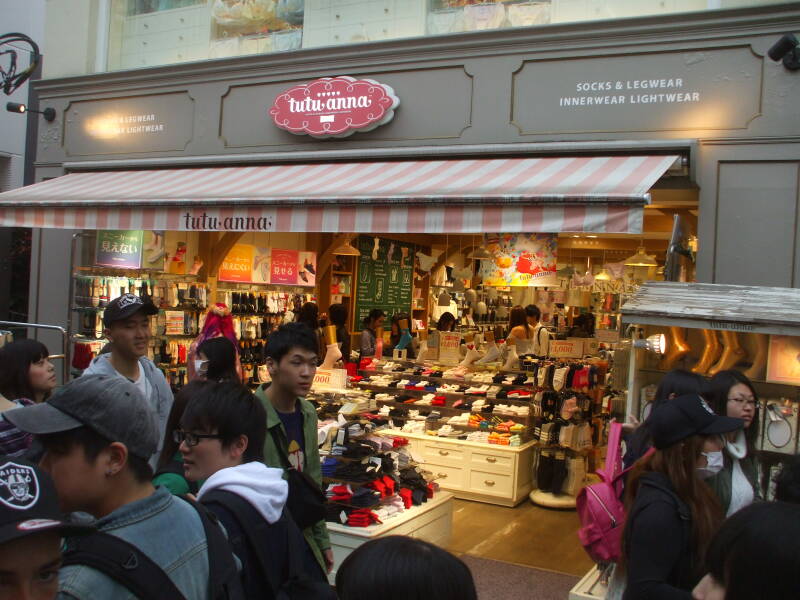 Shops specialize, like the above Tutu Anna offering socks, legwear, innerwear, and lightwear.
Kawaii
The saturation of kawaii and extreme cuteness and sweetness may make your pancreas ache. Hyperglycemia is the condition of increased blood sugar. Takeshita-dori can be more so, like having too much blood in your sugar system instead of the other way around.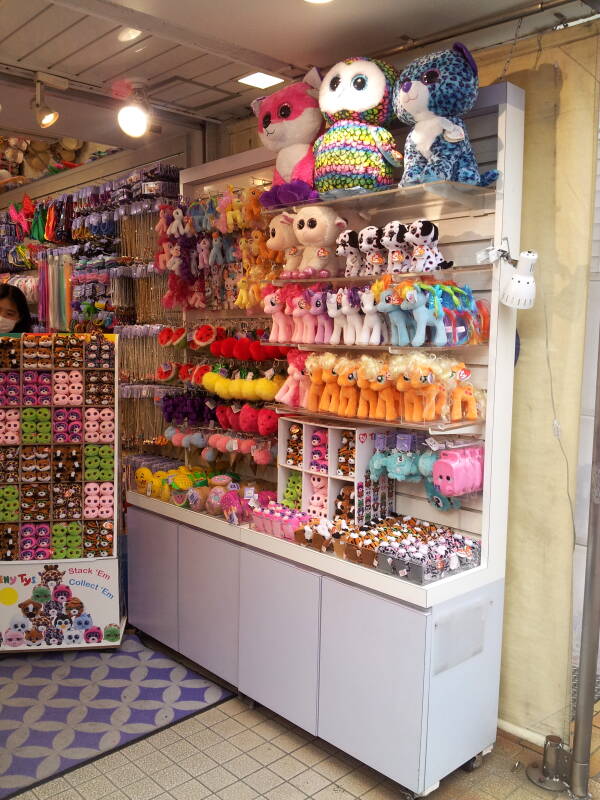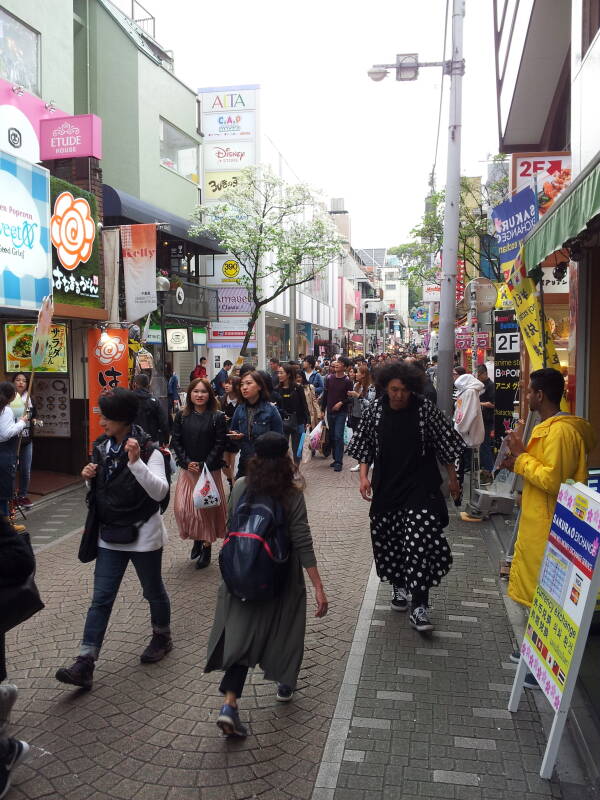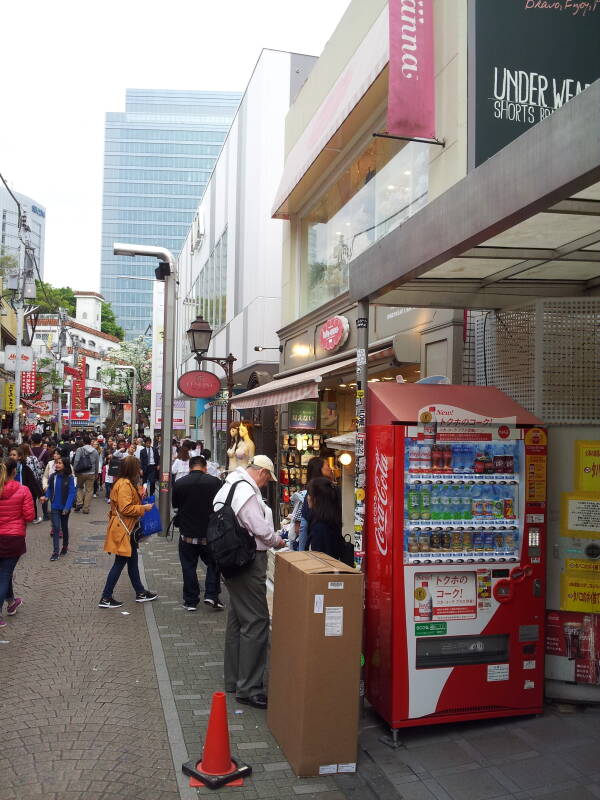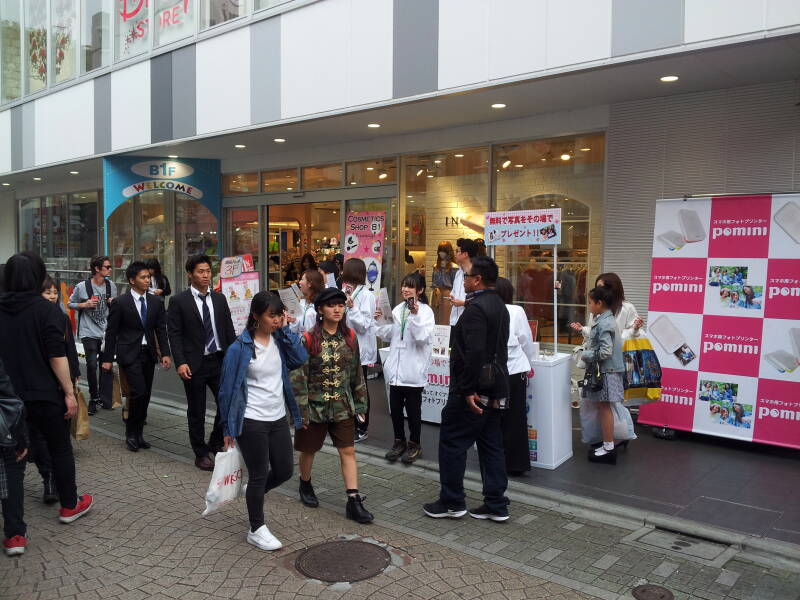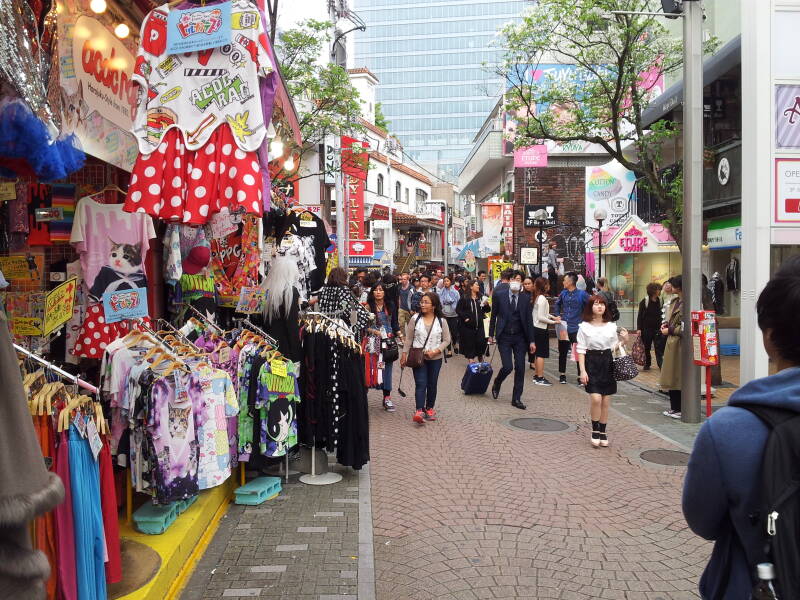 You see a broad range of Japanese street fashion. These girls promoting a shop are wearing, I think, a form of kogal or kogyaru, a contraction of kōkōsei gyaru or "high school gal", in outfits derived from school uniforms.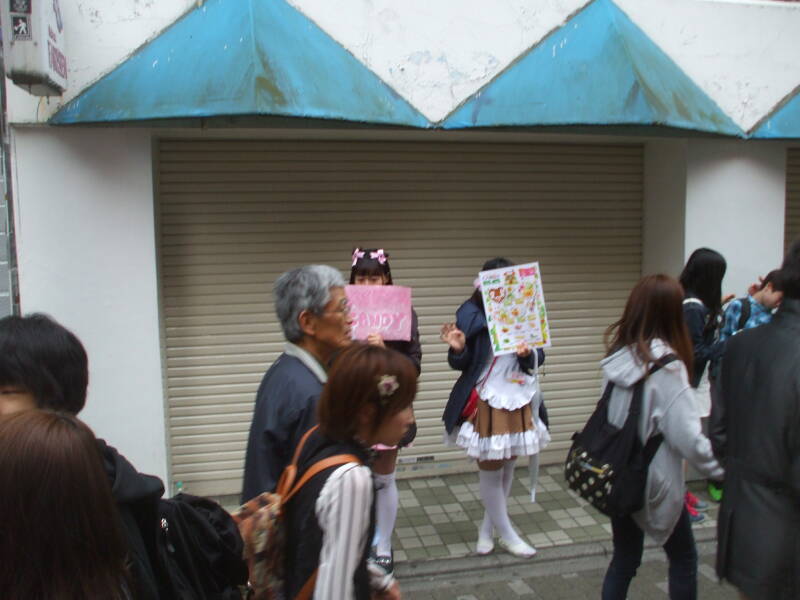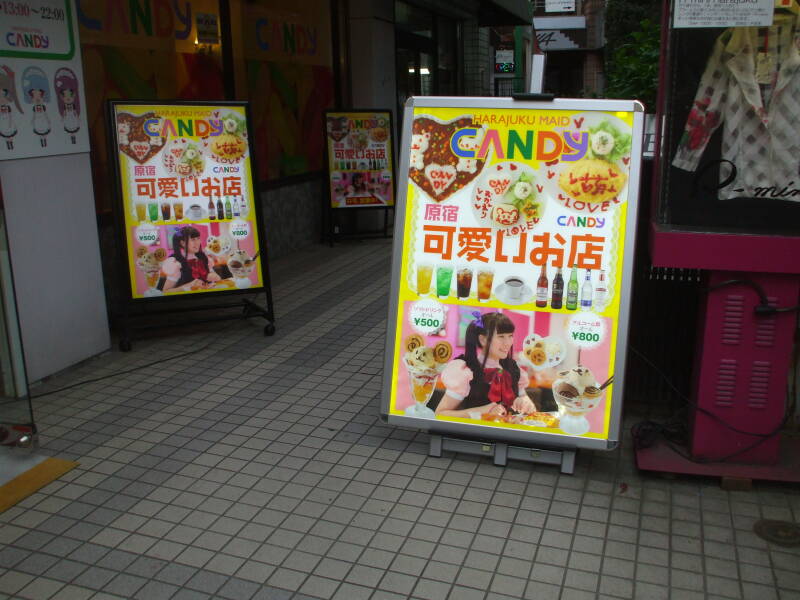 Candy is seen as especially kawaii or super-cute. Above are signs for a maid café focused on candy.
It's a pack of wolves.
A flock of seagulls.
A sleuth of bears.
A giggling of maids.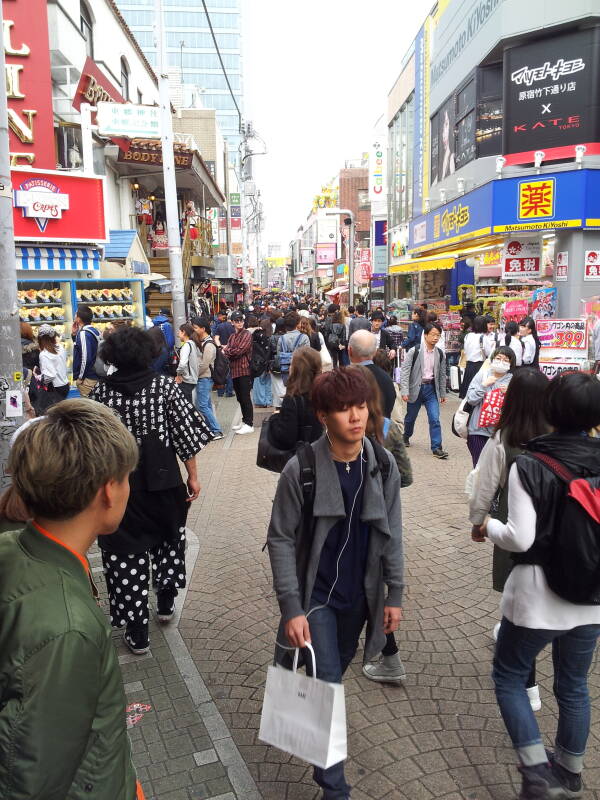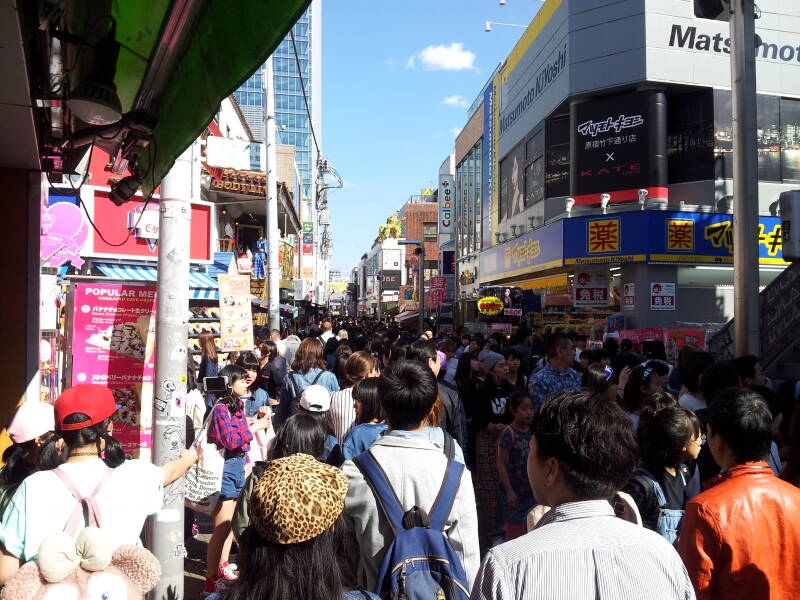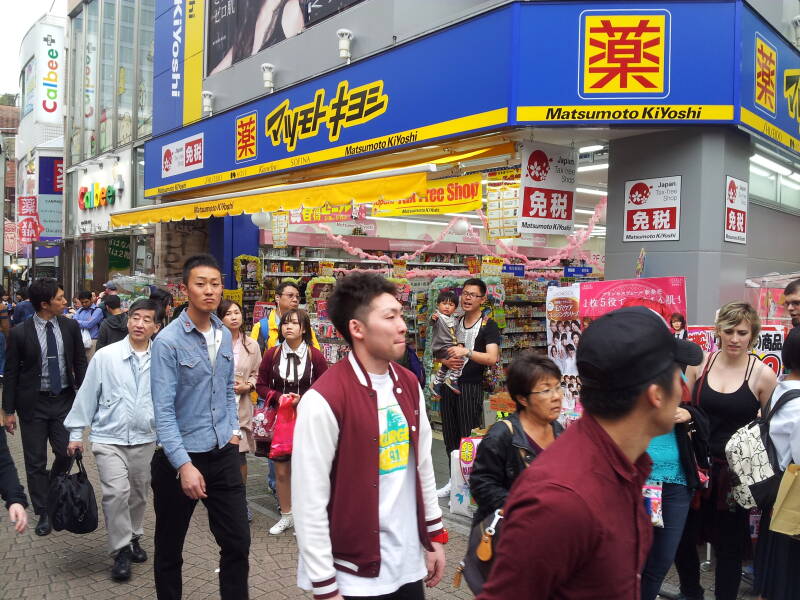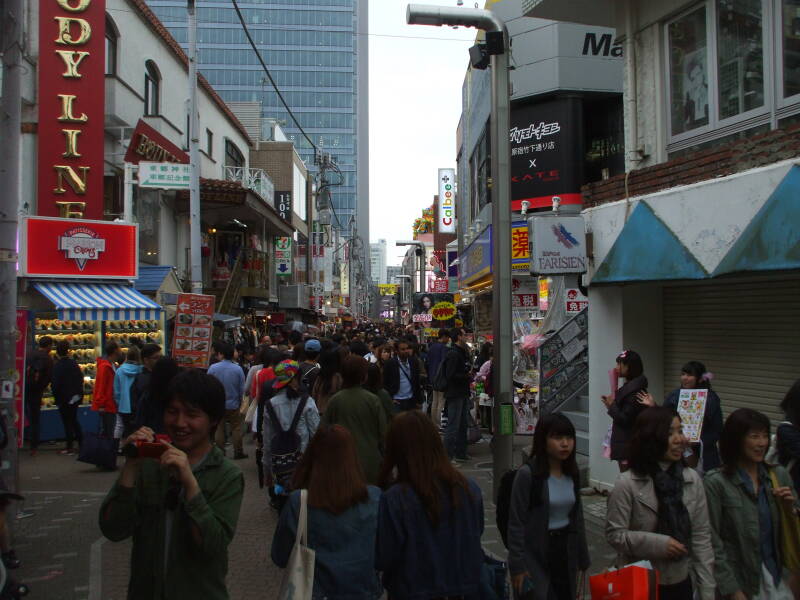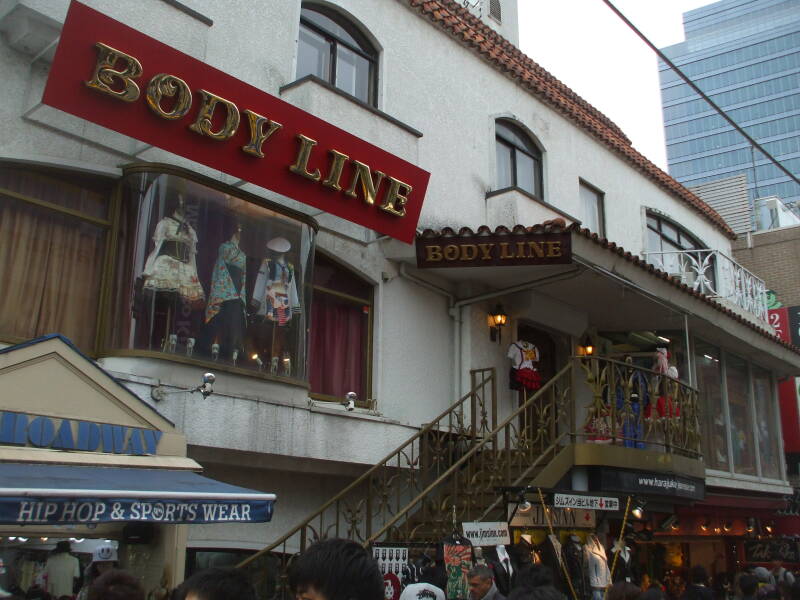 The boundary between kawaii and fetish can be vague. Cute and erotic are overlapping regions along a curve. School girl or Las Vegas show girl? Why not both? It's as if the Pussycat Dolls were on Sesame Street.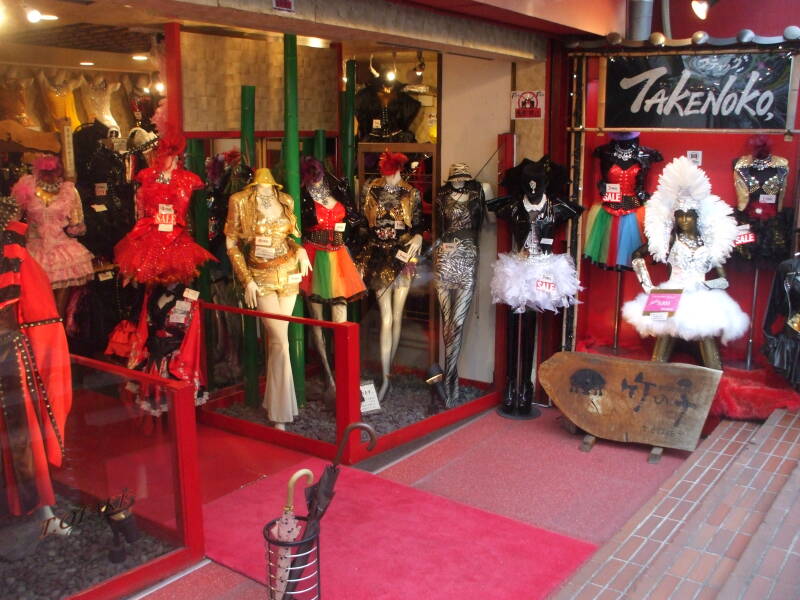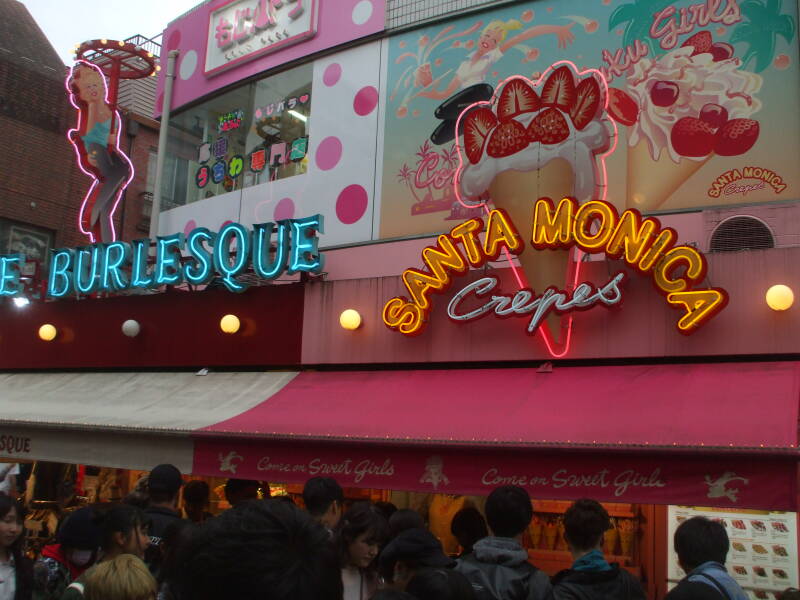 Santa Monica, Marilyn Monroe, there is intense interest in a mythologized Americana. But the same thing happens in the U.S., with "Grease" and "American Graffiti" and other nostalgia for a past that never really existed in that precise form.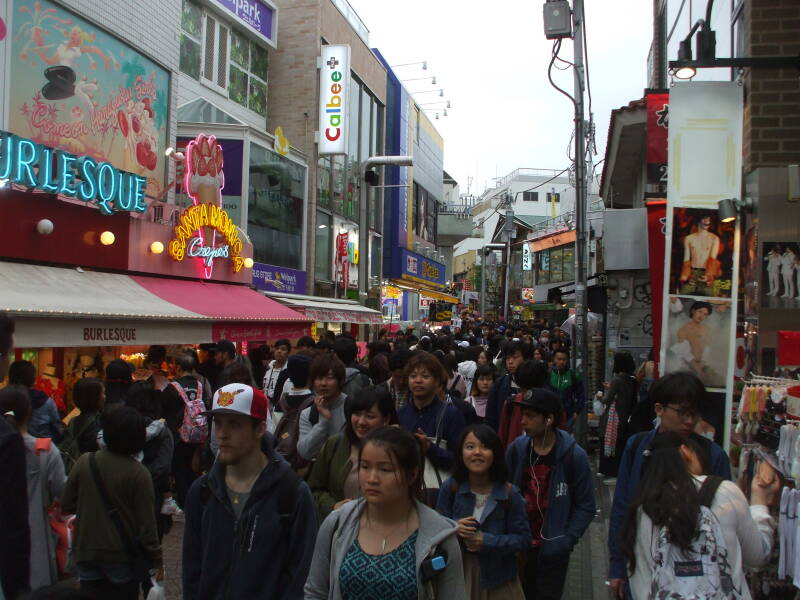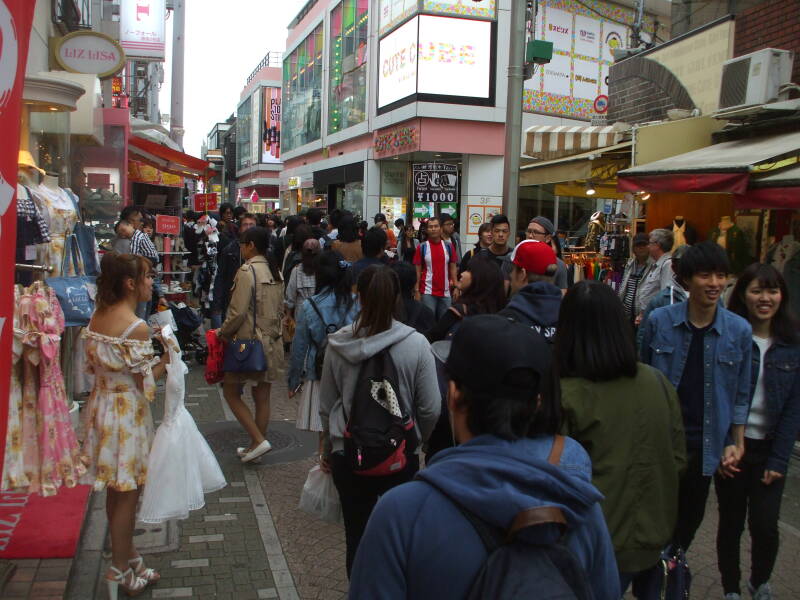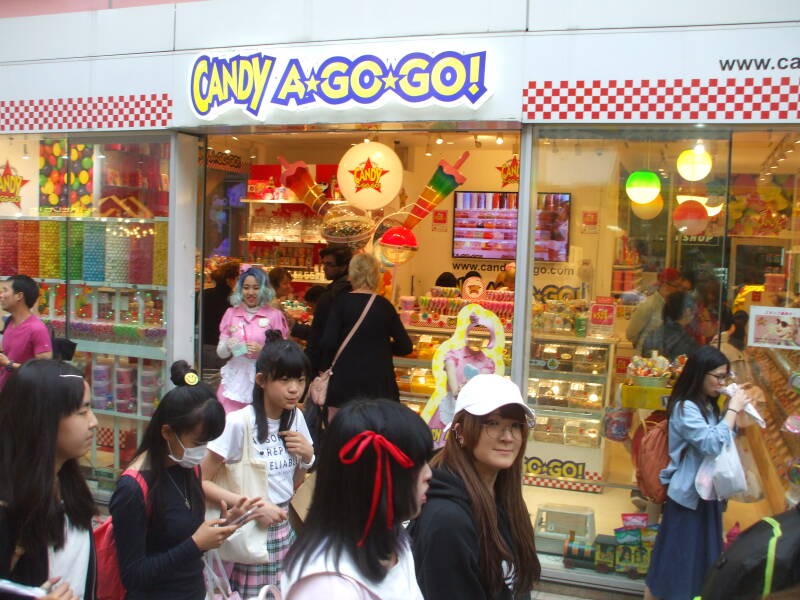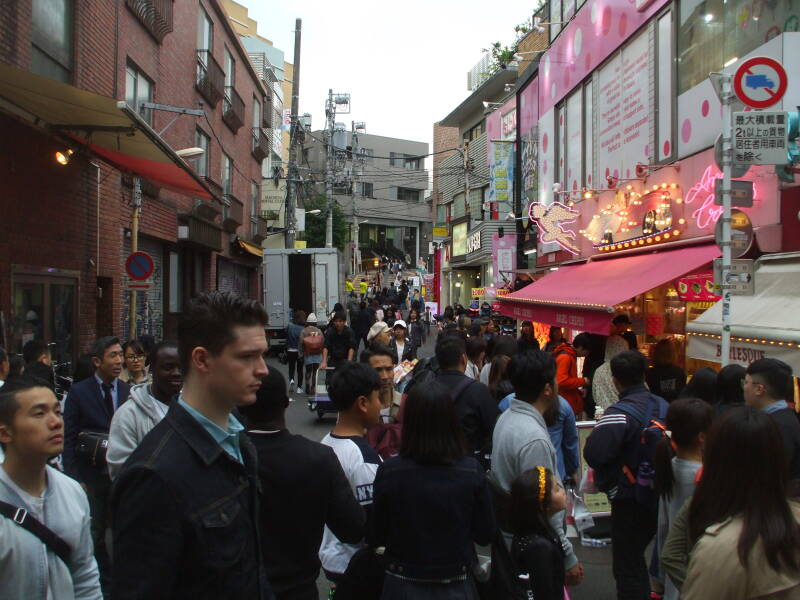 A Rare Opportunity To Sit Down
Taproom Harajuku is upstairs in a building on a side alley, seen above. It's a brew pub and a respite from the saccharine levels of kawaii along Takeshita-dori.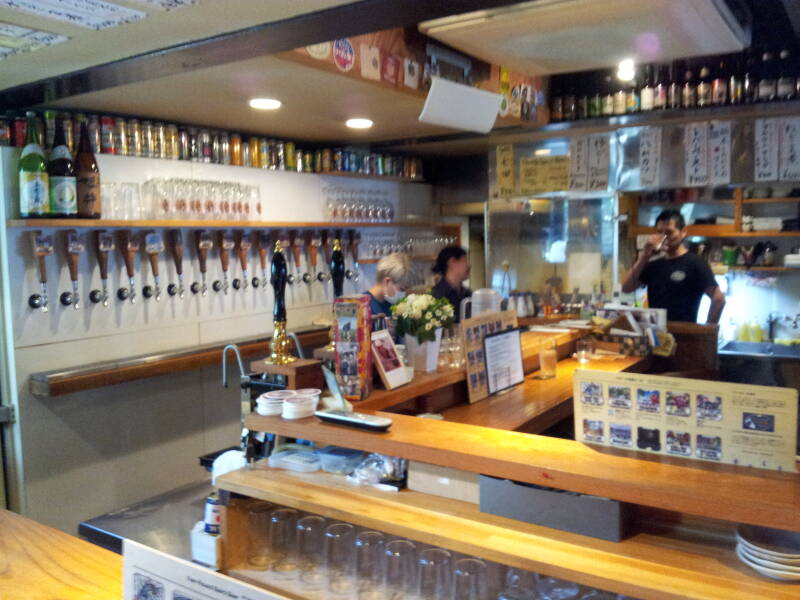 Plus, you can sit down! That's a rare treat. Japan has very few places to sit down.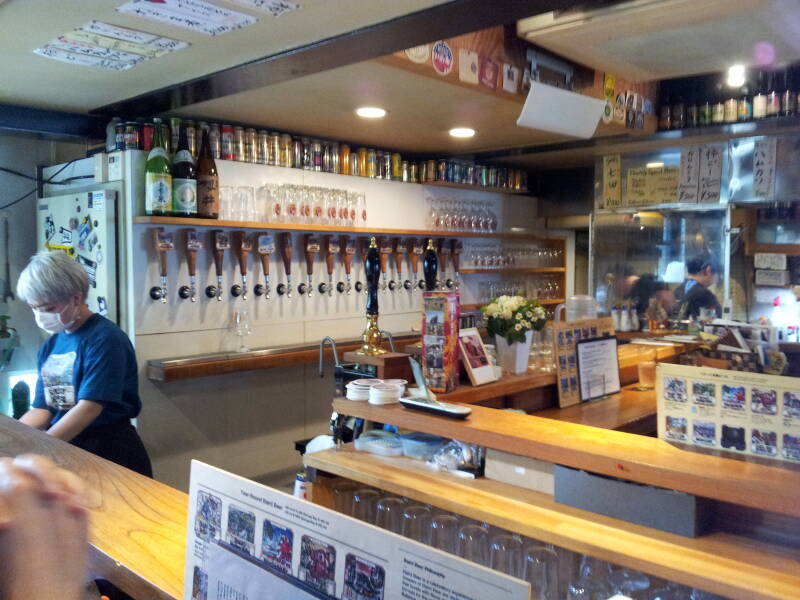 Back Into The Kawaii
And of course there are more Cat Cafés and Owl Cafés.
This one has the cat café upstairs on the third floor, and the owl café downstairs in the first level below ground. Because, uh, cats climb and owls tunnel? I don't know...
This one has a mechanical owl next to the entrance. It's not a Tyrell Corporation product, apparently.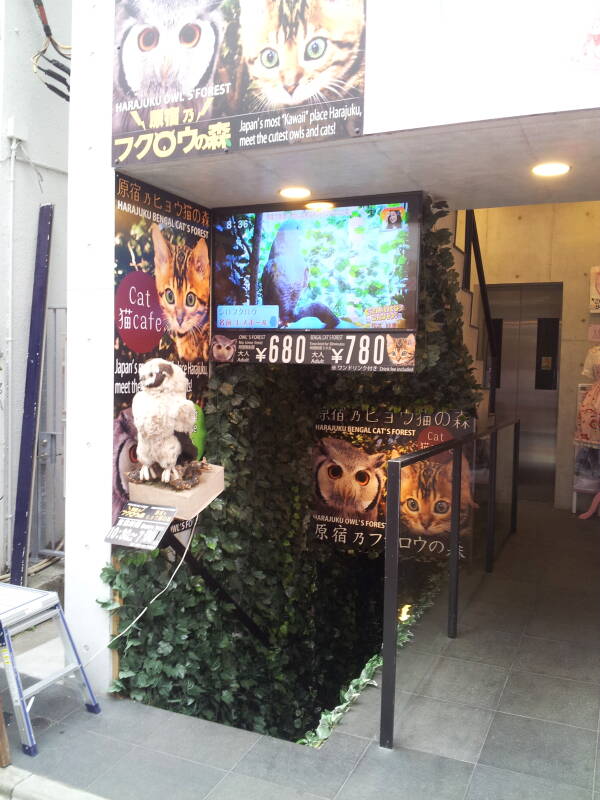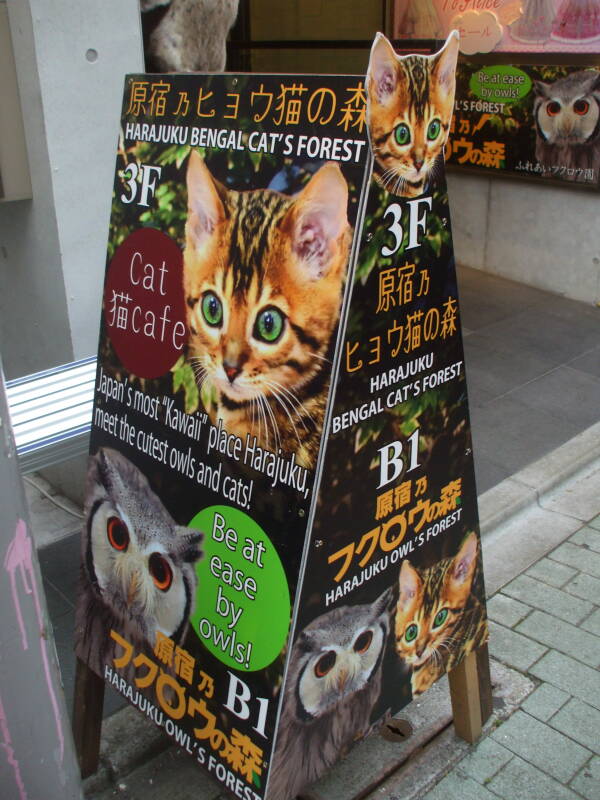 Meet the cutest owls and cats!
Be at ease by owls!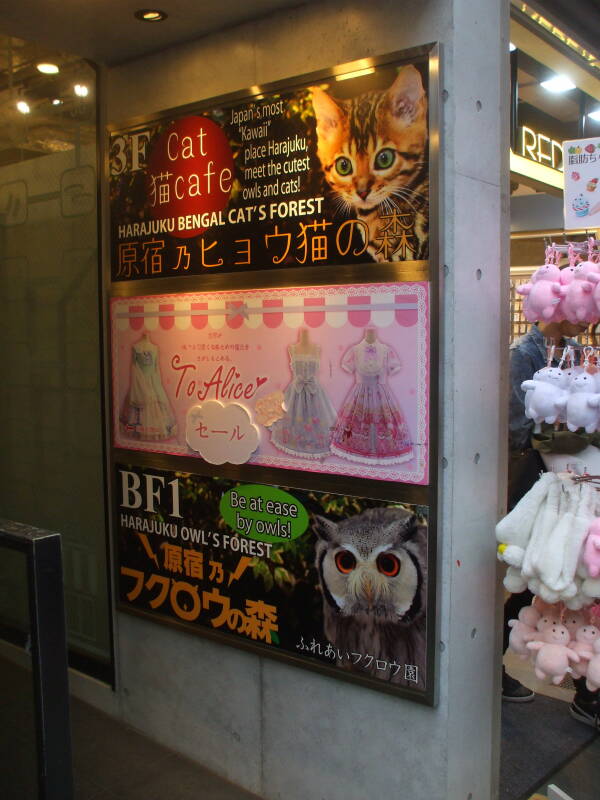 At times an owl wrangler brings an actual owl out to the street. This owl was not at ease.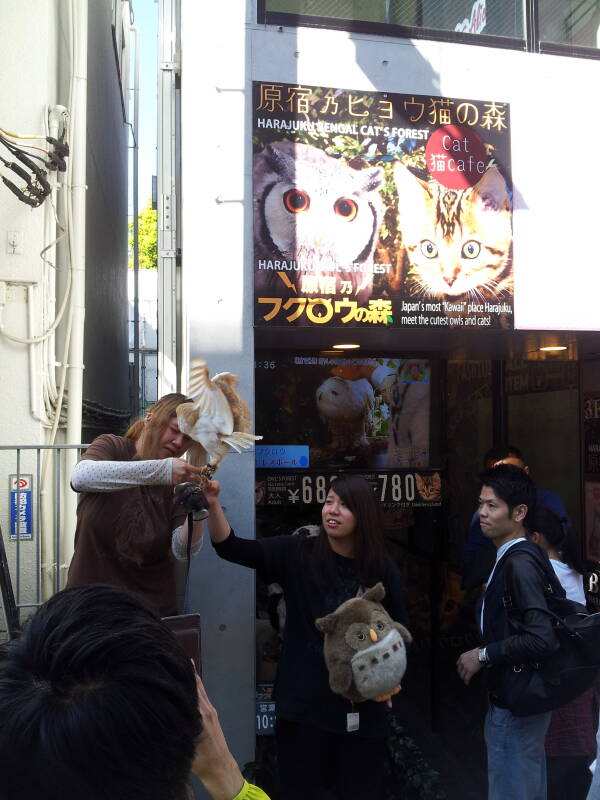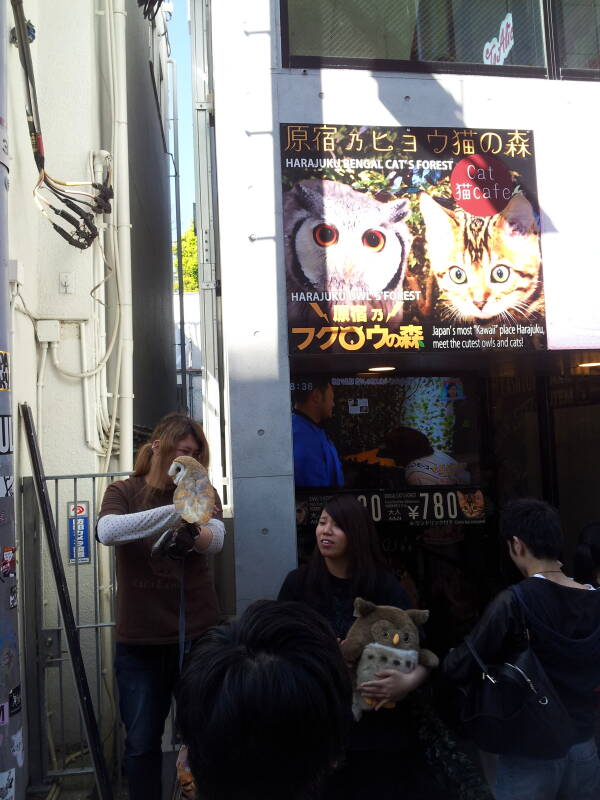 More Styles, Trends, and Memes
Below are fashion categories Decora at left and Goth Lolita at right. I think.
Someone needs to make an illustrated guidebook to Japanese street fashion. Something like what a bird watcher or an airplane spotter would use.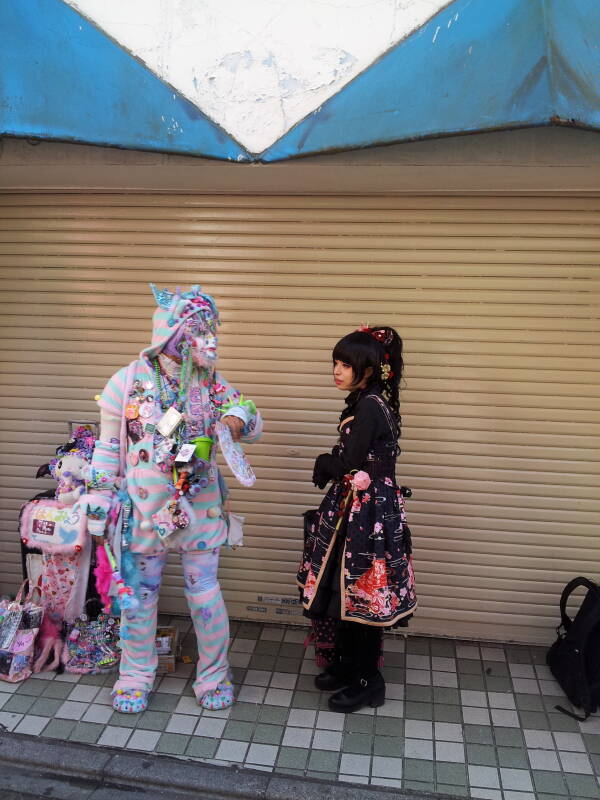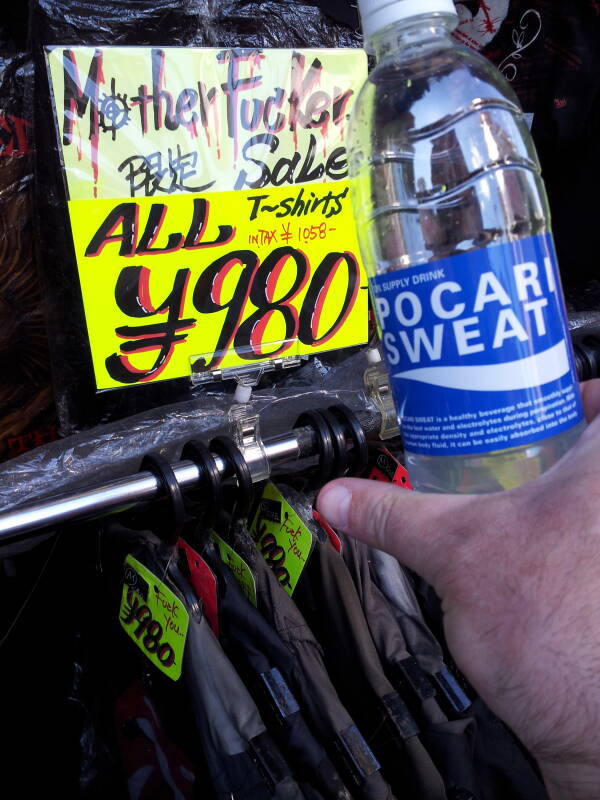 These memes are almost too dank. See this article from English Today by Cambridge University Press, "English Elements in Japanese Advertising" (requires subscription for full access):
Once English elements are used in a context such as advertising, they become more or less the property of the copywriter. In other words, these are not used according to the native speaker's norm but according to the Japanese copywriter's whim.
English is used within Japanese advertising for a range of purposes, sometimes for communication but sometimes just as decoration. For more, see this Senior Honors Thesis from Carnegie-Mellon University, or this paper from Aichi University in Nagoya, or this article in the Journal of Global Marketing, or this article in the journal World Englishes.
Marion Crêpes, Étude House, you see a lot of interest in the French language and culture in Japan.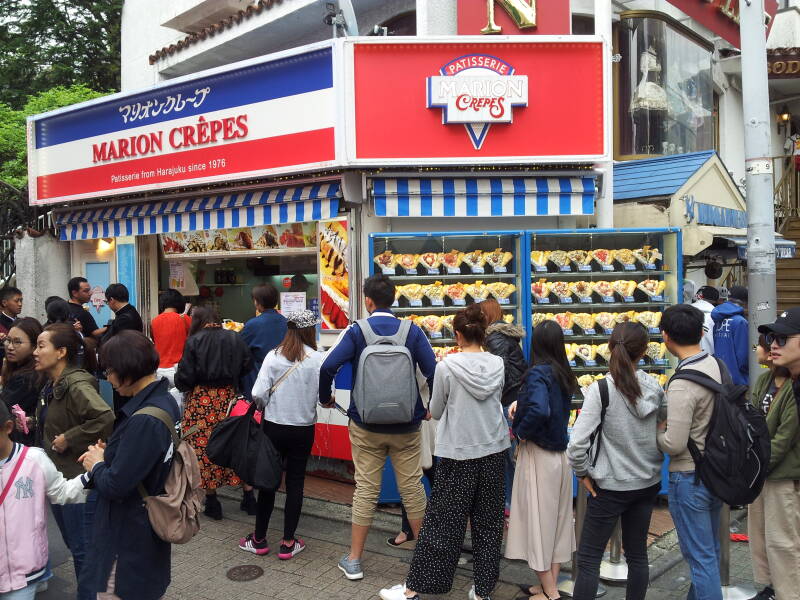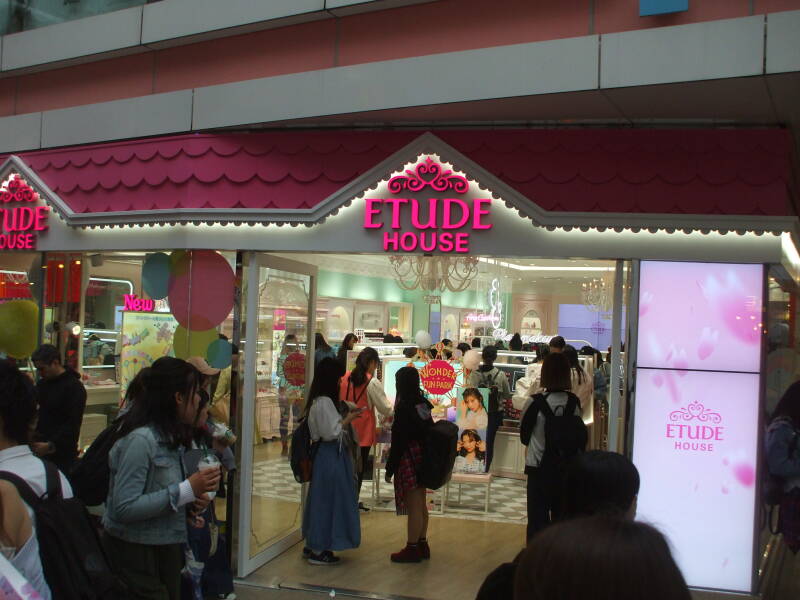 Anyone for some boots and shoes?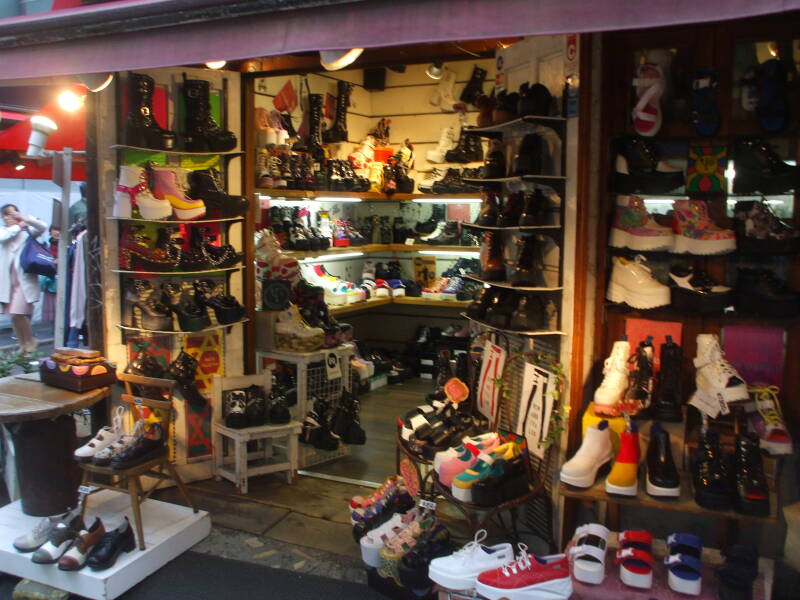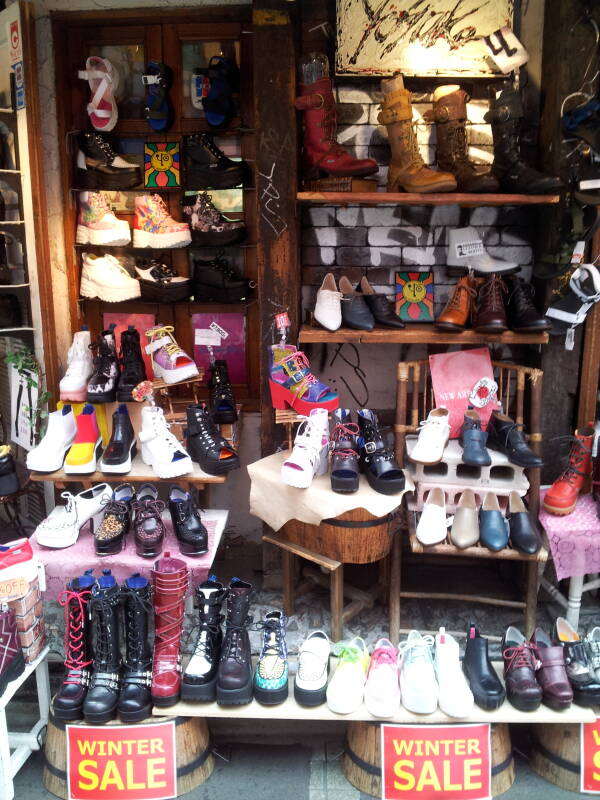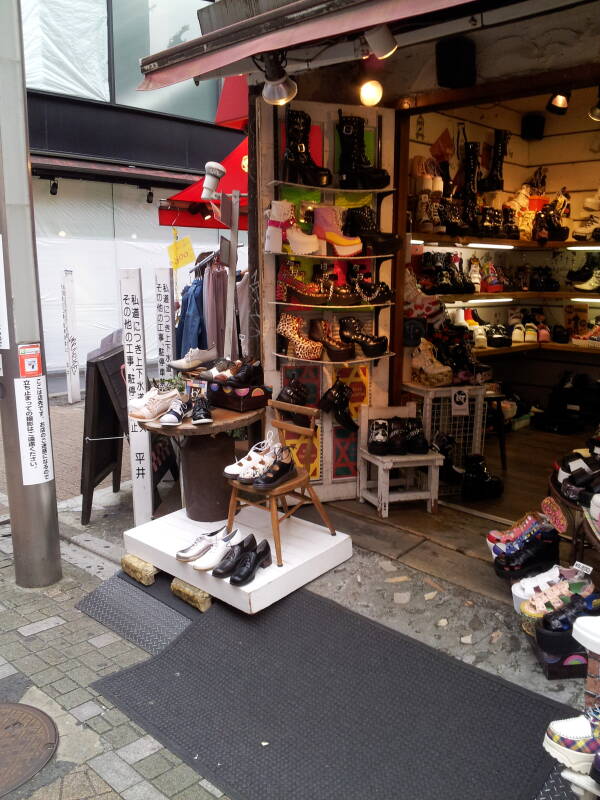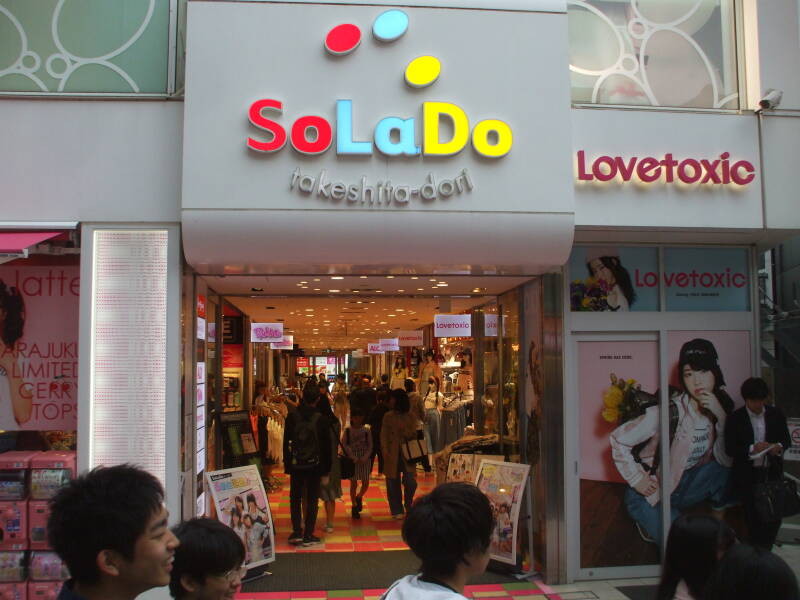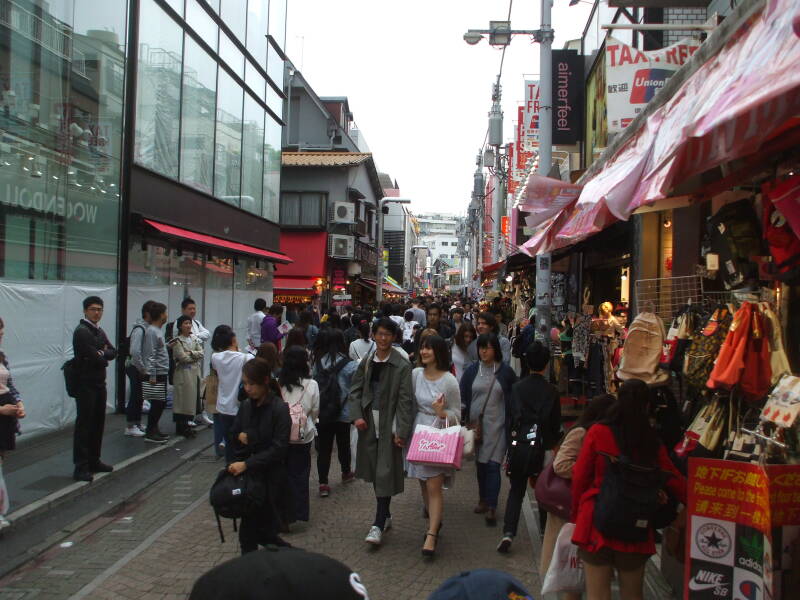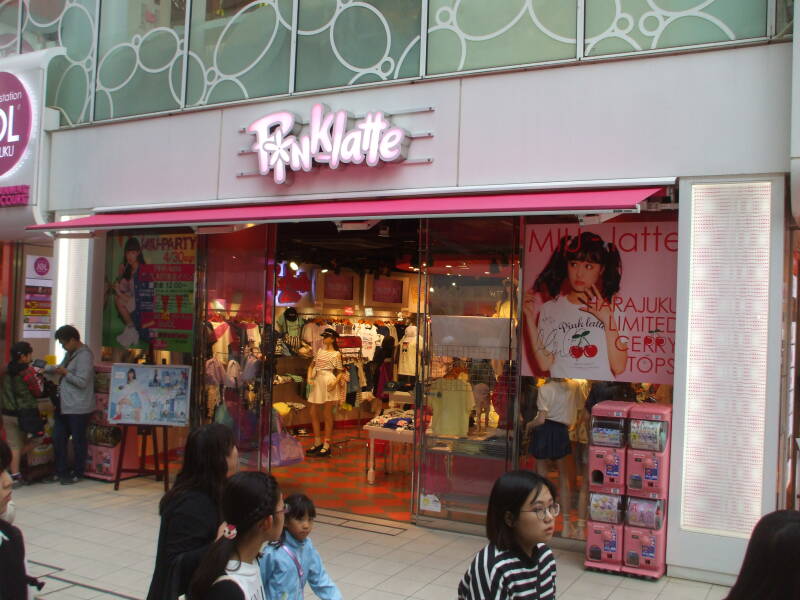 The all velour look does not yet have its own Wikipedia page under the category of Japanese Street Fashion, but one is surely under development.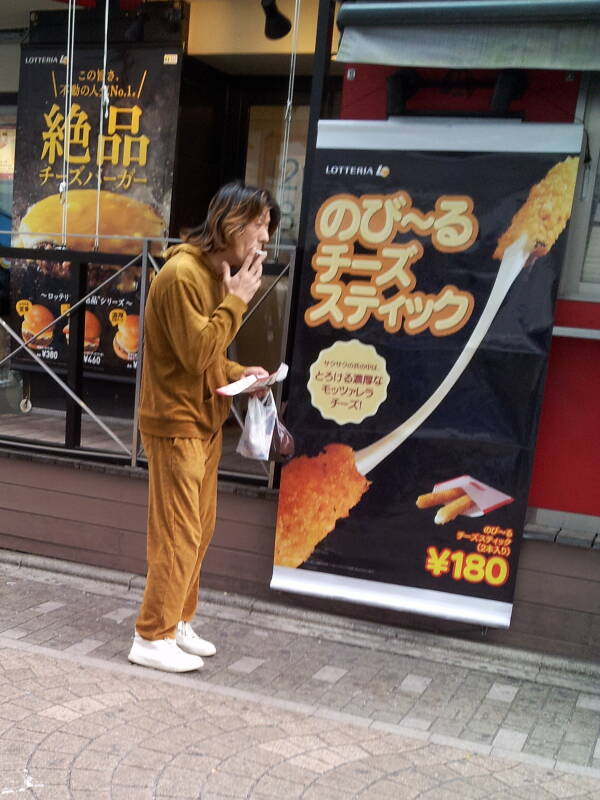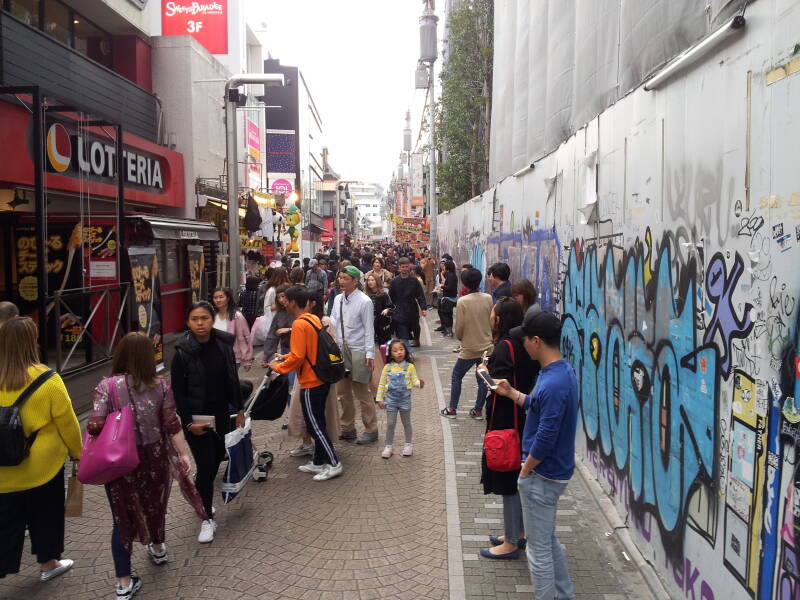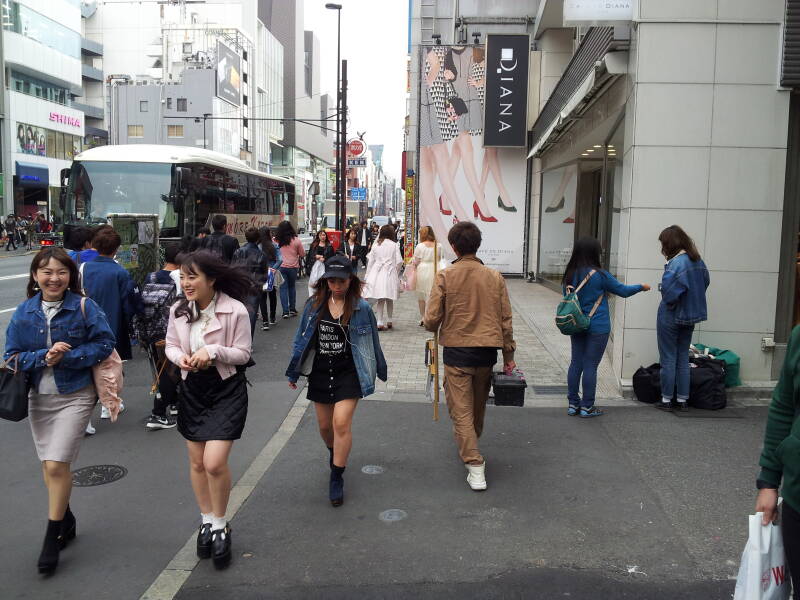 Then you finally emerge out the other end of the 400-meter gauntlet of pink and cute that is Takeshita-dori. It opens onto a large street leading to the high-fashion avenue of Omotesandō.