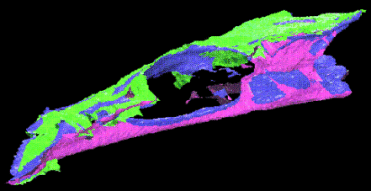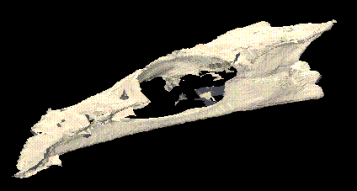 Registering 3-D Range Maps Gathered from Multiple Viewpoints
Multi-viewpoint integration
The main 3-D measurement page describes multi-viewpoint registration using human-selected landmarks commonly visible in pairs of range maps.
Another method is precise metrology — know the transformation of the sensor or the target between the range maps, and then apply the reverse transformation to the component data sets.
That second method was used to register six range maps of a canine skull taken from viewpoints approximately 30 degrees above the target stage, each separated from the previous view by 60 degrees in azimuth. The composite 3-D model, texture-mapped with six surface colors to indicate which range map contributed a given surface patch, is seen below.