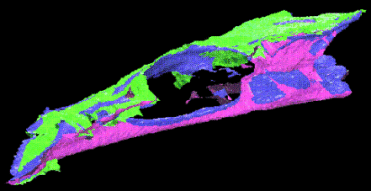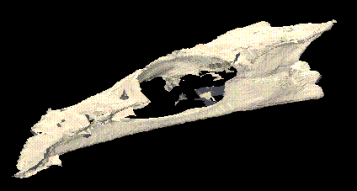 Raytraced range maps, ready for animation
Raytraced range maps
Data
This a 3-D range map captured by a single-plane structured light sensor.
The vintage of the computer hardware suggests how old this is.

  Filename:     dorsal-gcrl-26666-b.eod.gz
  Dimensions:   392 slices, 485 scanlines each
  Measured by:  root@lionfish
  Contents:     GCRL 26666, Neomerinthe hemingwayi, dorsal view 
  Sensor:       24mm lens (from 35mm SLR) f/16, hole #4 
  Resolution:   As per eod-describe, in millimeters:
		     Measure      Origin   Theo. Max   Theo. Min
		------------------------------------------------
		     dX/drow   0.0866294   0.0955629    0.074562
		     dX/dcol    0.155624    0.188952    0.116886
		   dX/dslice    0.191327    0.191327    0.191327

Method
Raw sensor data converted to range map by eod-to-xyz.
Range map downsampled by 2x and tesselated by xyz-to-pov.
Eyepoint 85 mm from centroid, rotated in x-z plane in 2-degree steps.
33,664 triangular facets raytraced by POV-Ray. 45 frames, each 480x360 pixels, raytraced in 9510.95 CPU seconds on a 486DX2-66 (avg of 211.34 seconds/frame).
Years later, assembled into an MPEG video file using ImageMagick's convert program.
Results
Below are the images frame by frame: