Variations Upon a Different Theme
Movie Pitches
HIKARU SULU'S BROKEBACK PLANET [science-fiction / western]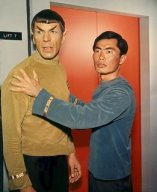 Taking its cues from "Firefly", the cult hit that set traditional Western movie motifs in space, HIKARU SULU'S BROKEBACK PLANET goes back to the "Star Trek" spin-off well one more time with a twist: Gay cowboys in space.
Tagline:
It's as if Mel Brooks wanted to make both "Blazing Saddles" and "Spaceballs" but only had the budget to make one movie!
BRIDEGROOM OF FRANKENSTEIN [horror]
A new twist on an old story.
Original working title:
DR FRANKENSTEIN'S BROKEBACK CASTLE.
Categories and Titles
Back to The Brilliant Movie Concepts Overlooked By Hollywood
Back to The Nonsense Page
Back to Bob's home page