Driving the Ring Road Around Iceland
Siglufjörður
Ð/ð is voiced,
as in
th

is;
Þ/þ is unvoiced,
as in
th

ick.
I had gone off the Ring Road to the north, to go around the Tröllaskagi peninsula in northern Iceland. For centuries that trip required a boat.
Now I had gone through three tunnels to reach the town of Siglufjörður on its own fjord.
Another Day in Siglufjörður
The sun doesn't get high enough to shine over the mountains surrounding the fjord. Even on clear days like this, for part of the year there is no direct sunshine here. This was my northernmost overnight stay, and it was just over a week after the solstice. Sunrise was at 11:48, sunset will be at 14:48.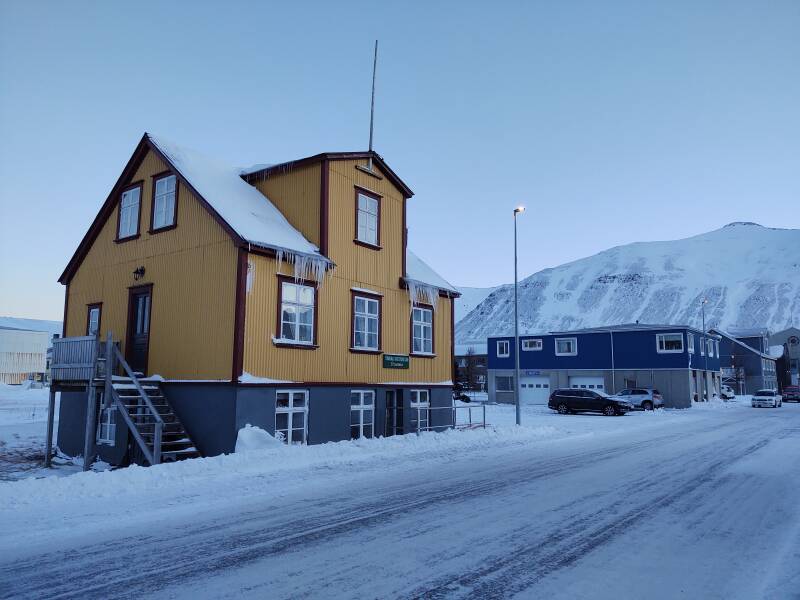 Illuminati symbols, now with runes! Or something along those lines.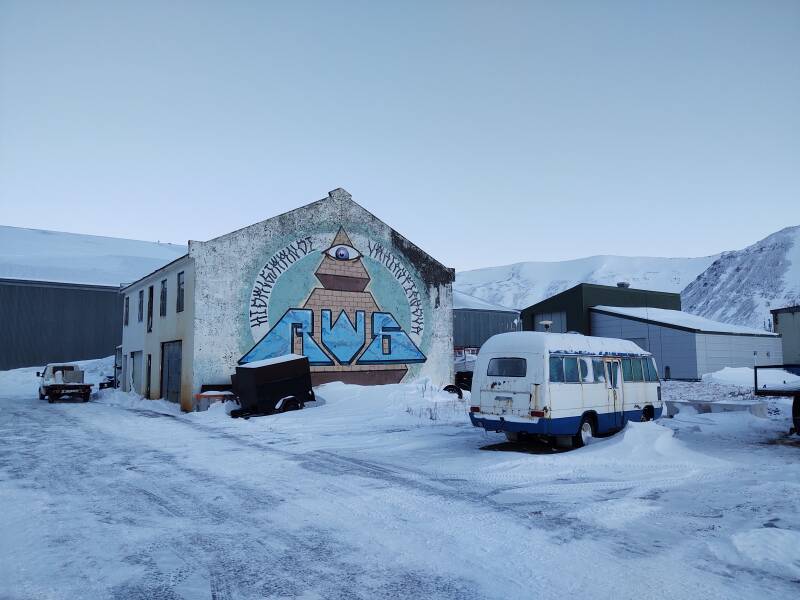 The school is two blocks from the waterfront.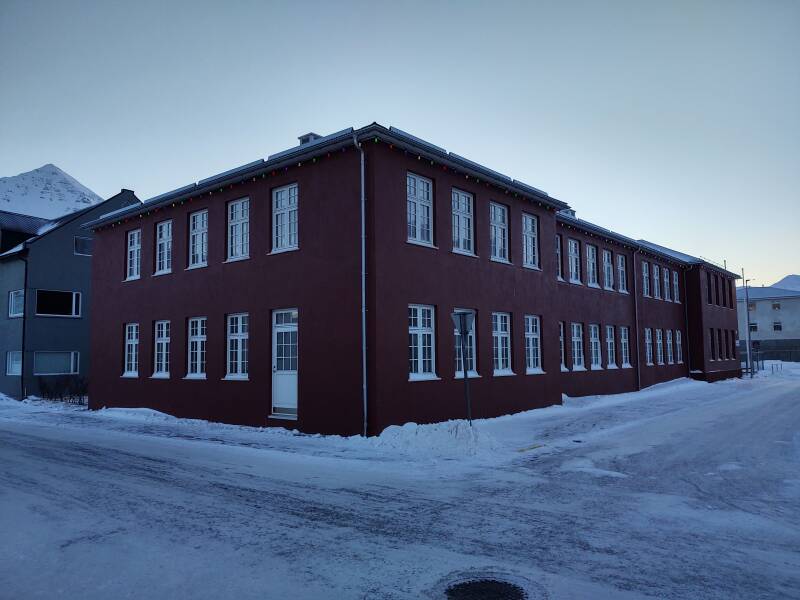 This house has colorful window frames. Of course bright colors would be preferred here!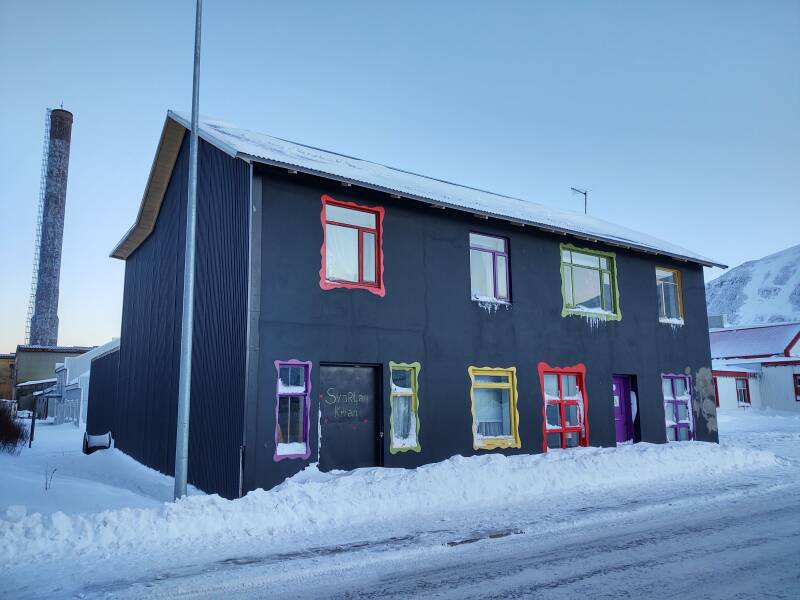 The Segull 67 brew pub was closed, like everything else. Everything is shut down from late morning on December 30 at least through January 1.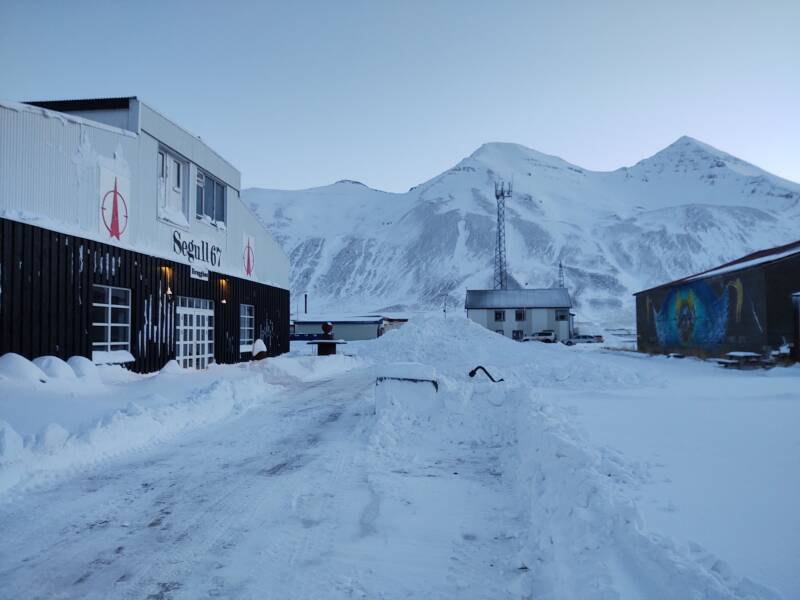 More art, this mural faces the brew pub.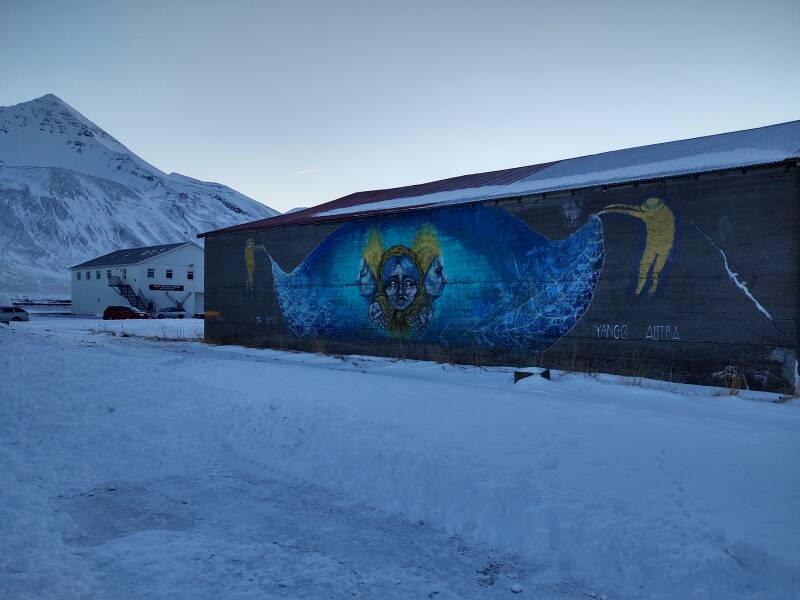 Bjarni Þorsteinsson became the parish priest of Siglufjörður in 1888, and remained in that position for half a century. He's known for collecting, documenting, and preserving Icelandic folk songs.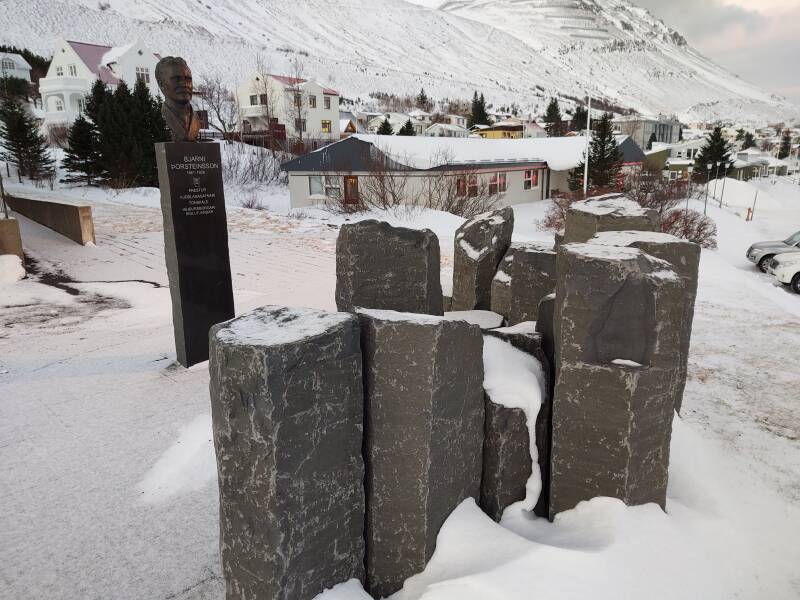 Here's the view over the town from Bjarni's memorial by the church.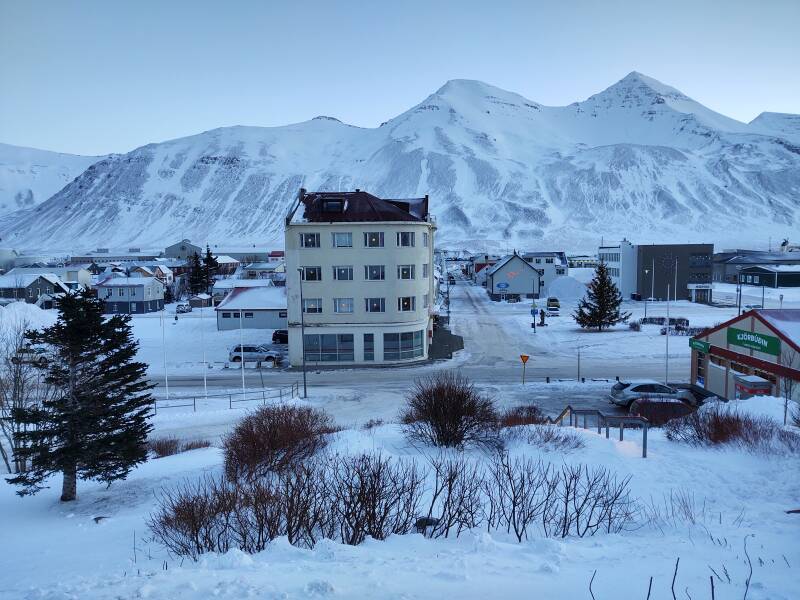 This building was constructed in 1930, when Siglufjörður was growing along with the herring industry.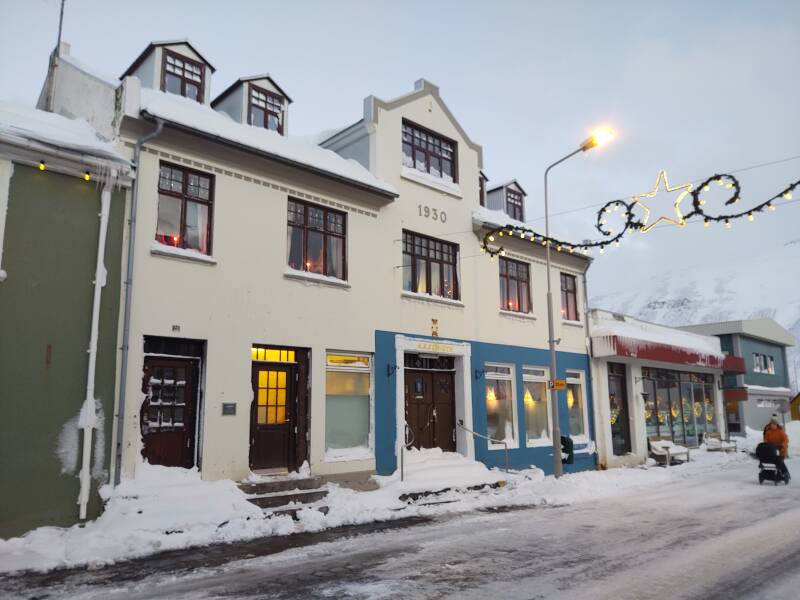 Þormóður "Rammar" Haraldsson settled this area. The Landnámabók describing the settlement of Iceland says that Þormóður fled Norway after killing Gryður, Skjálgur's grandfather on Jaður, and came to Iceland.
Þormóður quarreled with Ólafur "Bekkur" Karlsson, another settler who lived in Ólafsfjörður. Both wanted Hvanndalir, a farm that was considered the most isolated in Iceland.
By the end of the quarrel, Þormóður had killed sixteen people. Meanwhile, Ólafur was there because he had been exiled from Norway to Iceland for slaying Thorir the Black.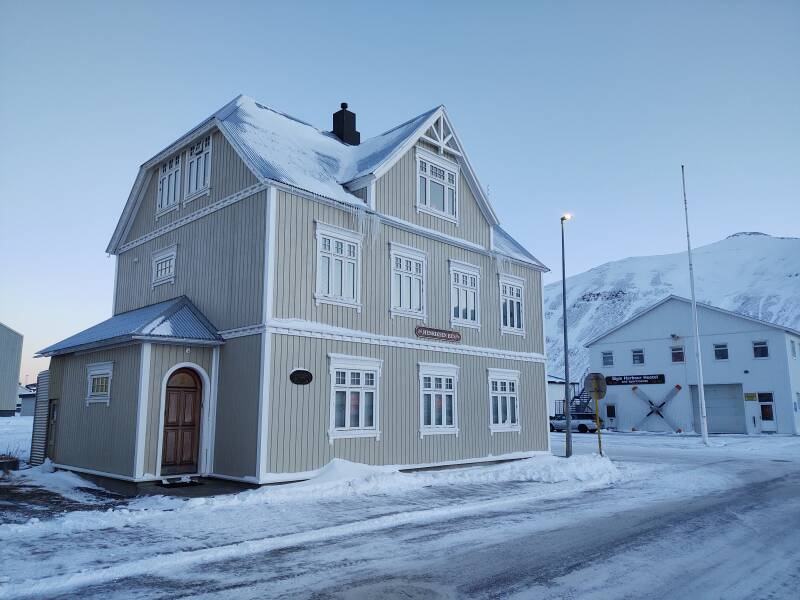 An old wooden fishing ship is up on blocks at the port.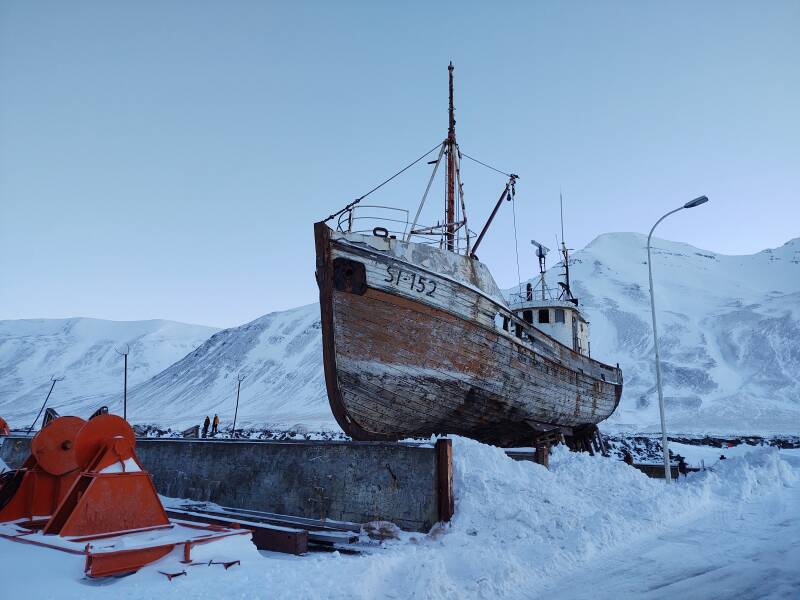 Ship tracking around Tröllaskagi
Siglufjörður continues to depend on the fishing industry. The national government is trying to reverse the population decline in the region by improving transportation and promoting tourism.
One of the fishing ships based here is the Solberg.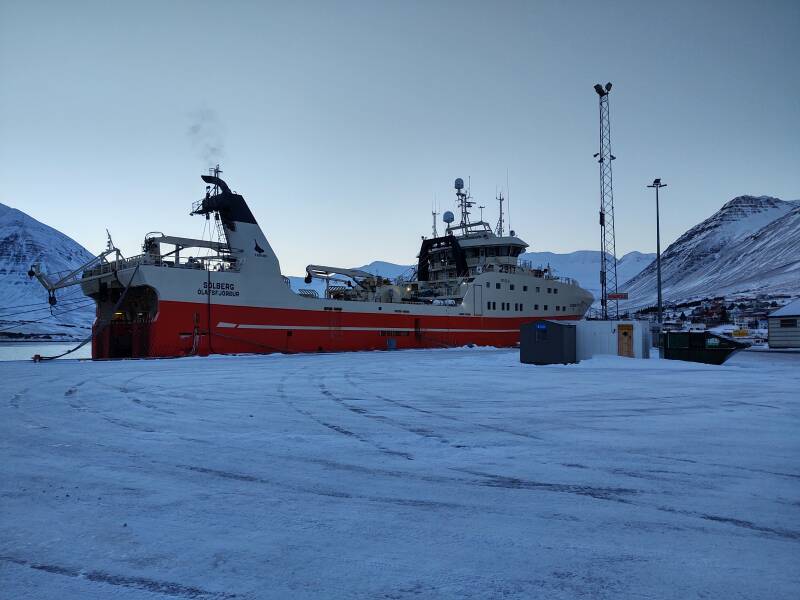 Built in 2017, 3719 gross tonnage, 79 m length, and 15 m beam.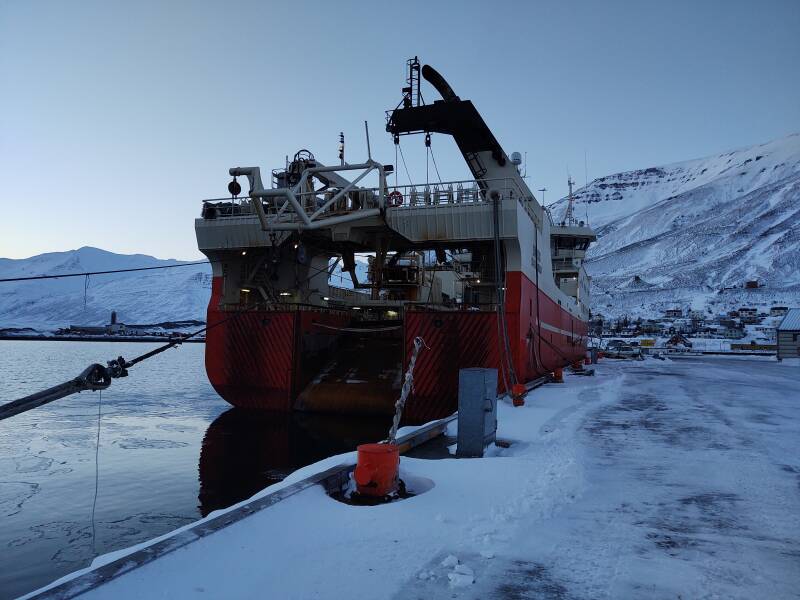 You can track it on web sites and apps by its MMSI or Maritime Mobile Service Identity of 251718000.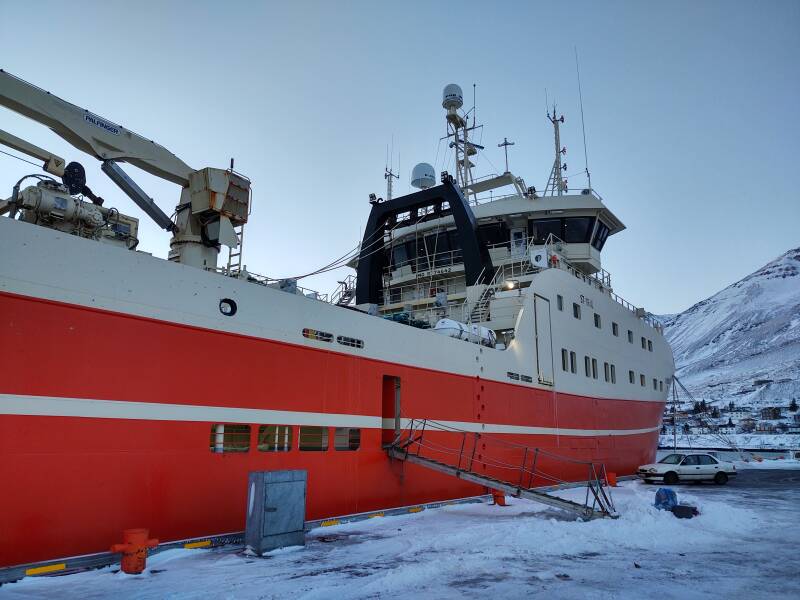 Over the air, its maritime radio callsign is TFYY.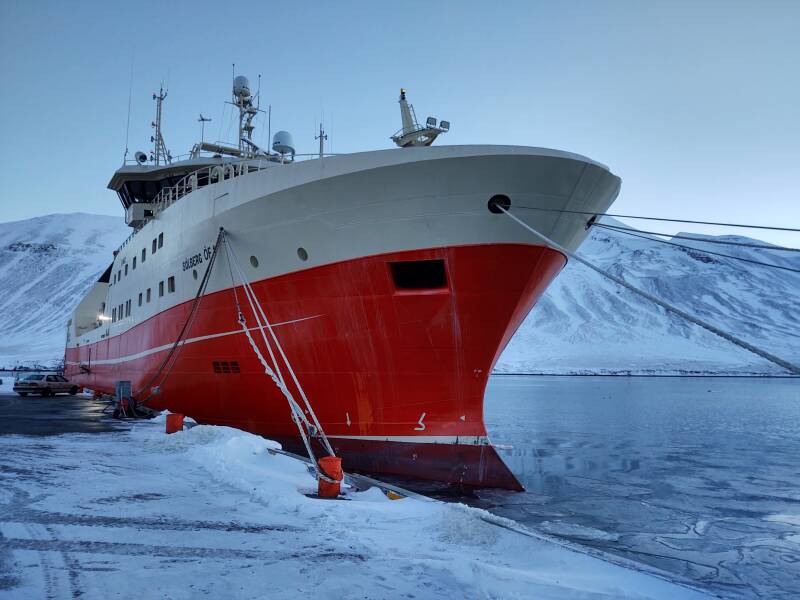 The Mulaberg is also based here. Built in 1973, 819 gross tonnage, 85m length, and 10m beam.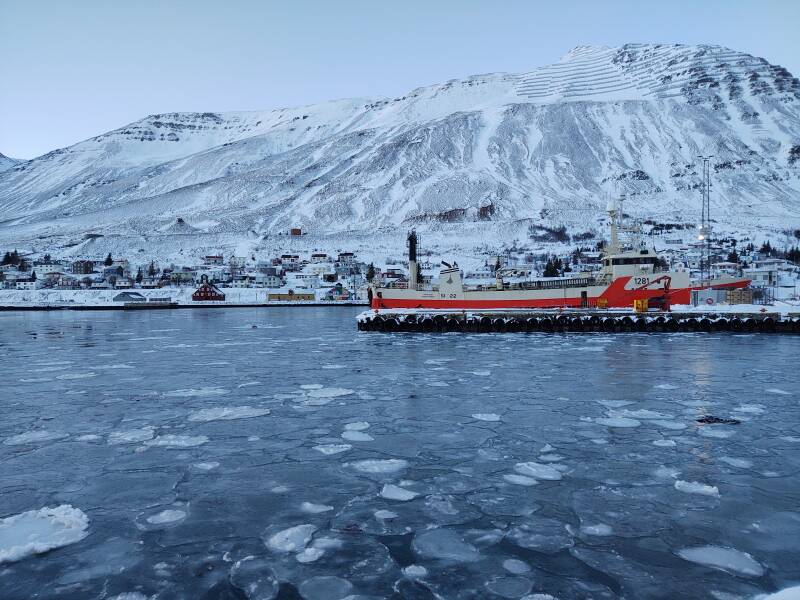 MMSI 251145110, callsign TFLD.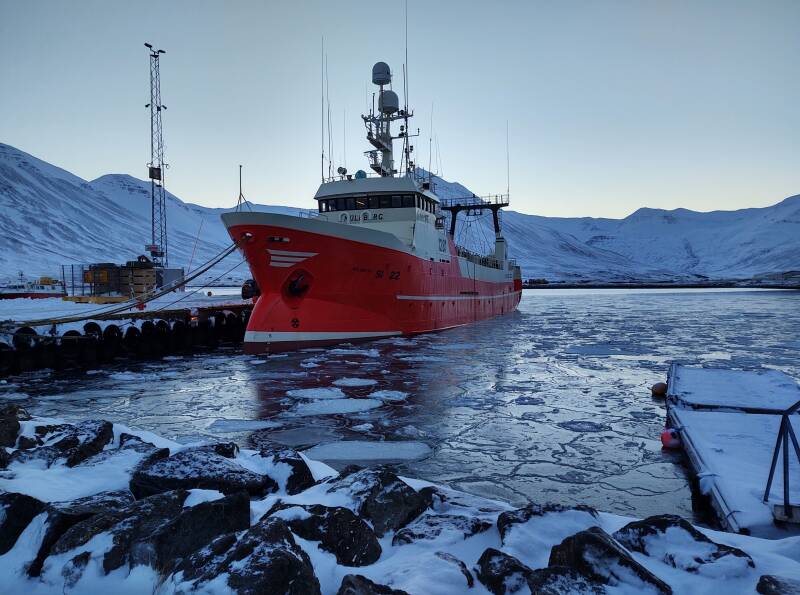 A large new hotel has been built right on the port.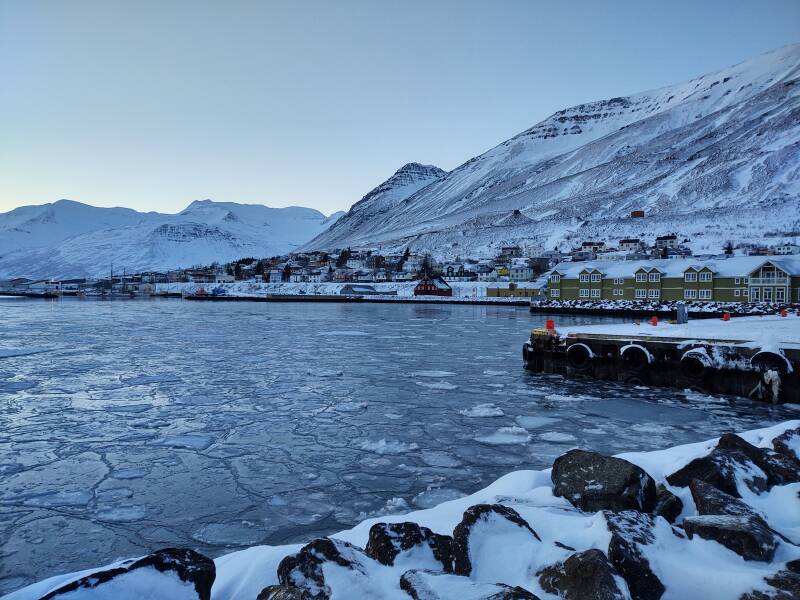 More colorful buildings.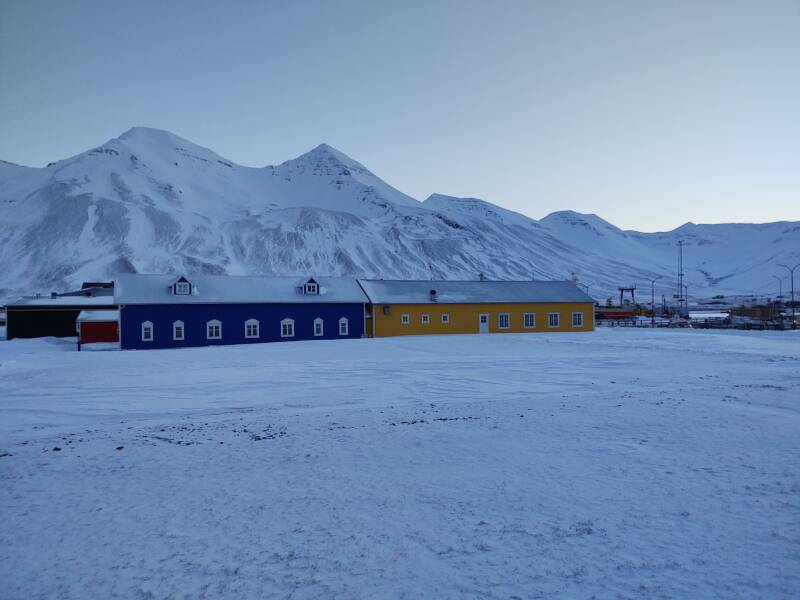 Fishing still provides 40% of Iceland's export earnings while employing 7% of the workforce. In the 1960s, fishing was 90% of the exports.
Cod is the most important species, with blue whiting and mackerel being two others.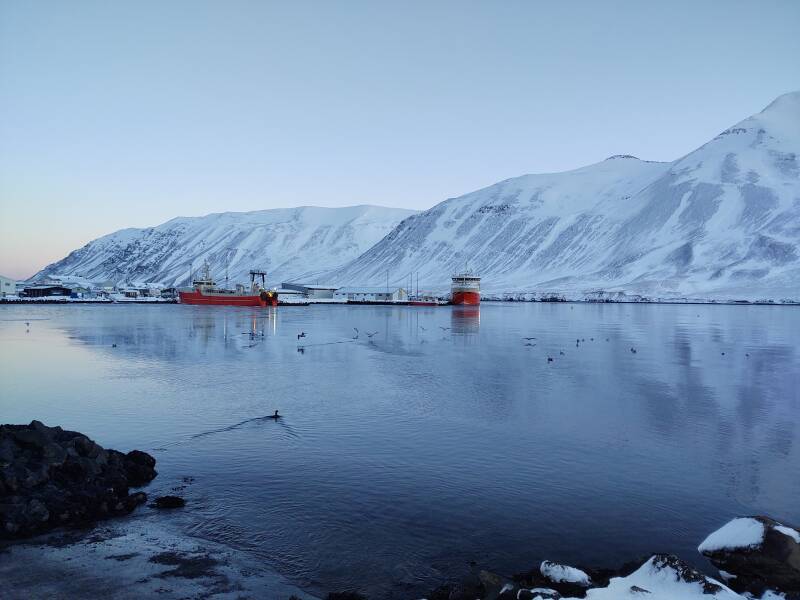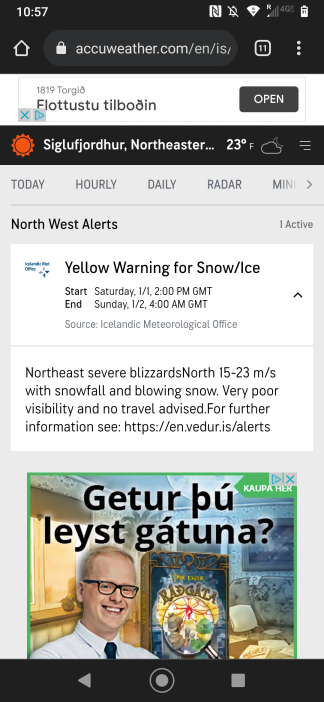 Onward to Sauðárkrókur, a Half-Day Early
The next hop was another relatively short one, but...
A weather Yellow Alert arrived. The first one described the situation as a blizzard moving in off the Greenland Sea. Later they left off the details of its origin. Of course it's coming from the Greenland Sea, that's the body of water to the north of Iceland. But reading "the Greenland Sea" made it sound even colder.
It reminded me of being in central Alaska and receiving warnings of a blizzard moving across from the Chukchi Sea and eastern Siberia.
Investigating further, I found that there would be severe gales throughout all of northern Iceland on the day I had planned to drive to Sauðárkrókur. Heavy snow and winds over 80 kph severely limiting visibility from around 08:00 through midnight into the next day.
The guesthouse proprietor at my next stop in Sauðárkrókur cautioned against driving on the day I had planned. "The road from Siglufjörður to Sauðárkrókur is often closed due to avalanches."
Next: Siglufjörður
to Sauðárkrókur
The guesthouse proprietor in Siglufjörður simply said "No, do not drive anywhere tomorrow."
So, as it was a very nice day with clear skies, I decided to look around Siglufjörður through the day and then drive to Sauðárkrókur late in the afternoon. The extremely long twilight of high latitudes meant that while I was driving after sunset, it stayed fairly light for much of the way.