Driving the Ring Road Around Iceland
Höfn to Breiðdalsvík
Ð/ð is voiced,
as in
th

is;
Þ/þ is unvoiced,
as in
th

ick.
This took me onto a section of the Ring Road that was even less busy than the stretch from Vík to Höfn. I passed maybe two vehicles per hour on my way from Höfn to Breiðdalsvík. As before, I stopped for plenty of pictures along the way.

This took me through my first tunnel, past reindeer casually grazing beside the road, to some lighthouses, to a historic town along the segment, and around and across four fjords. Or more than four, depending on how you count them.

This was December 21, the Winter Solstice. In Höfn the Sun rose at 1057, at a bearing of 152°, and would set at 1500, at a bearing of 208°. Further north, the direction I was headed, the day would be even shorter and the Sun confined to a shorter and lower arc in the southern sky.
Getting Started
I took road 99 to the north for 3–4 kilometers from Höfn, past its golf course and airport. I rejoined Highway 1, turning north to the Eastfjords region.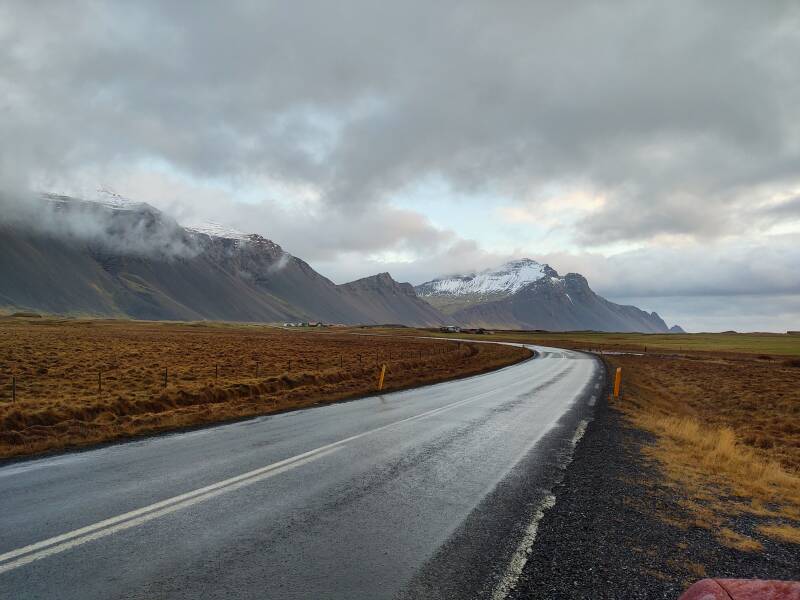 My atlas described the geology in this region as súr hraun or acid lava.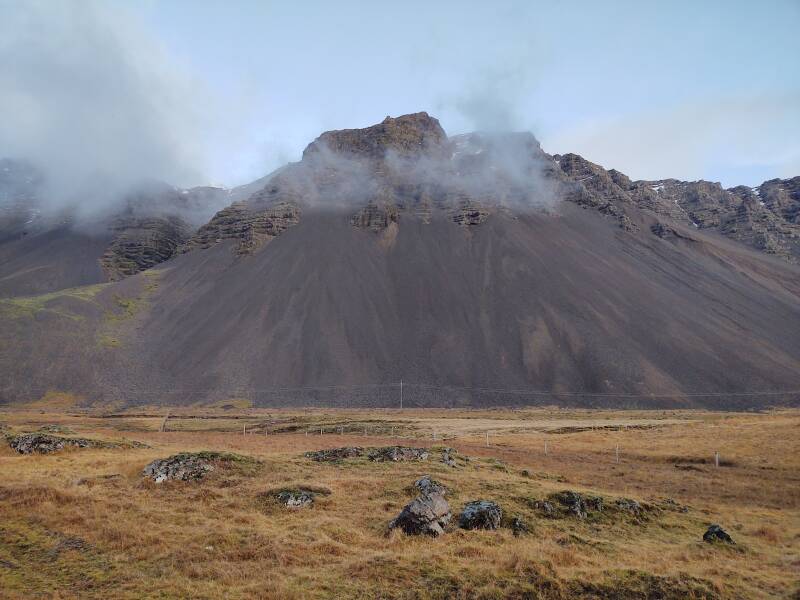 It has distinct thick basalt layers, but vast steep slopes of small dark stones frequently appear.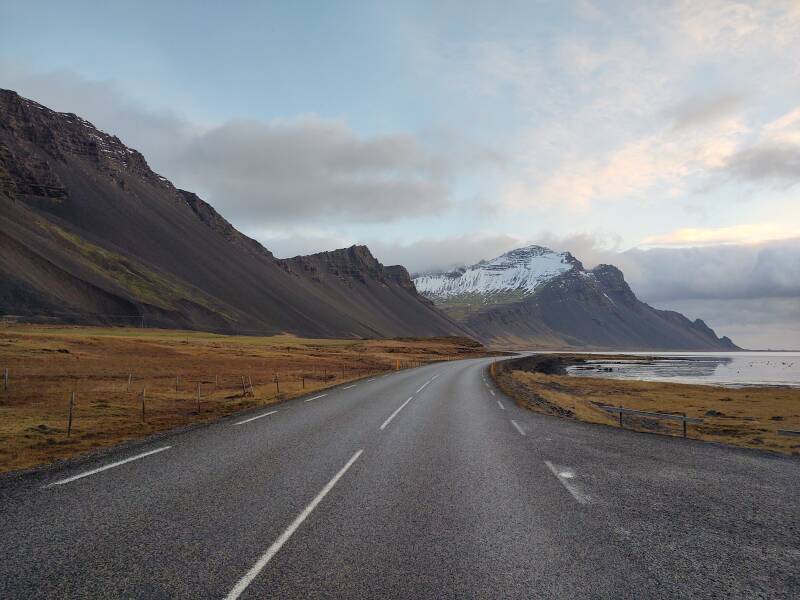 Almannaskarðsgöng Tunnel
The Ring Road opened in 1974, but further improvements were to come.
The road over the Almannaskarð pass frequently had to be closed during winter, blocking traffic. Construction on the Almannaskarðsgöng tunnel began in March 2004, a passageway was completed in October of that year, and it opened to highway traffic in June 2005. The entrance is just ahead.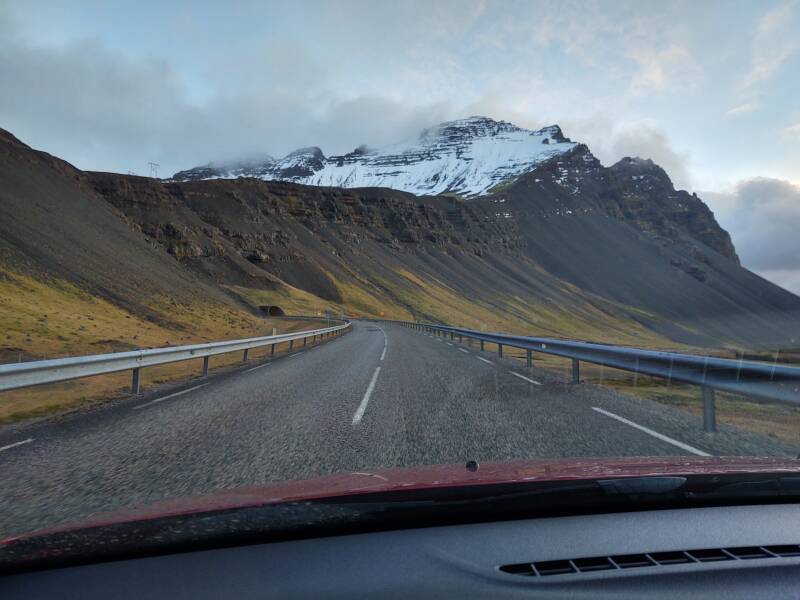 Yes, göng means "tunnel" and so Almannaskarðsgöng tunnel is redundant, meaning Almannaskarðs tunnel tunnel. But as I will soon do with flörður and fjord, I'm going to assume that you know what "tunnel" and "fjord" mean while not wildly assuming that you know the Icelandic or Old Norse equivalents.
Almannaskarðsgöng is a little over 1,300 meters long. There are two lanes for traffic and three passing areas for emergency vehicles.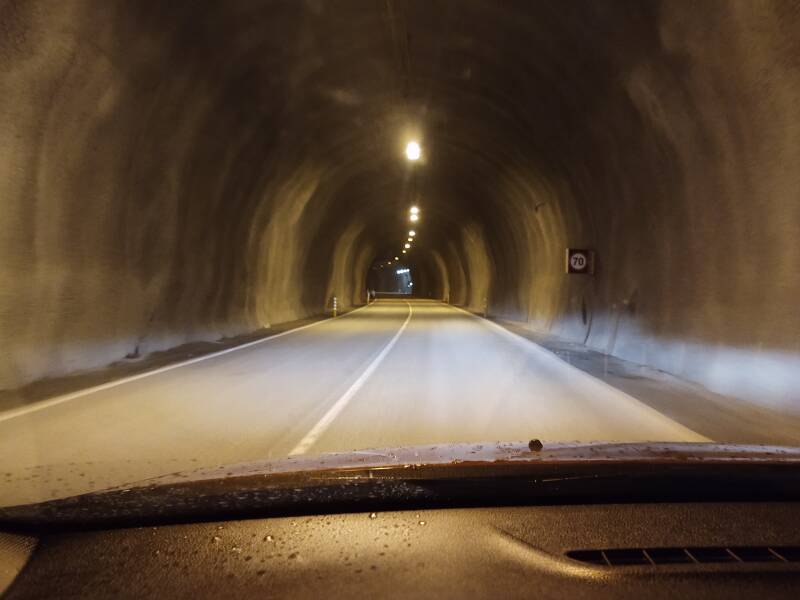 I exited into the very lightly populated territory to the north.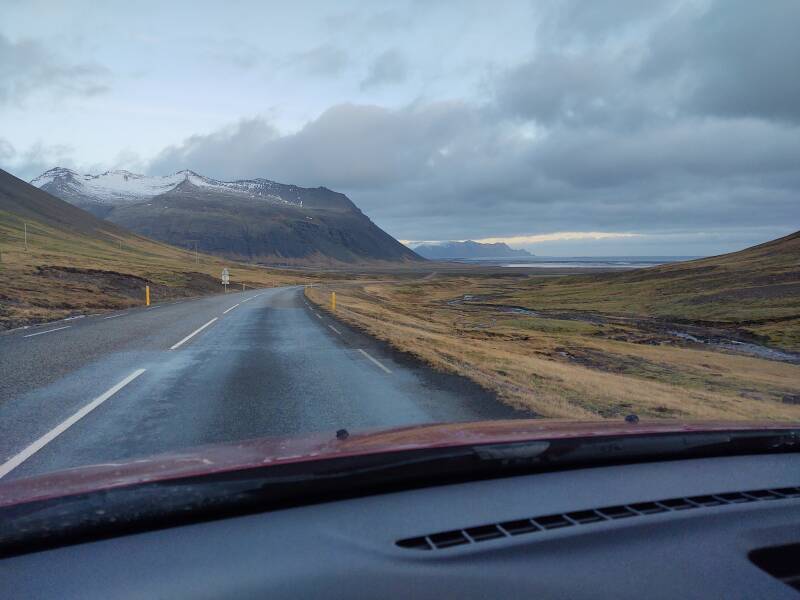 Papafjörður and Lónsfjörður
Lónsvík or Lons Bay is a broad bay filled with sediment from glacial outwash, with large lagoons enclosed by sandbars.
The atlas I bought in Iceland designates the southwest end of it as Papafjörður and the northeast end of it as Lónsfjörður, and I won't argue much with the local atlas. But it's a broad flat glacial outwash area with a lagoon, not a pair of classic narrow steep-sided fjords.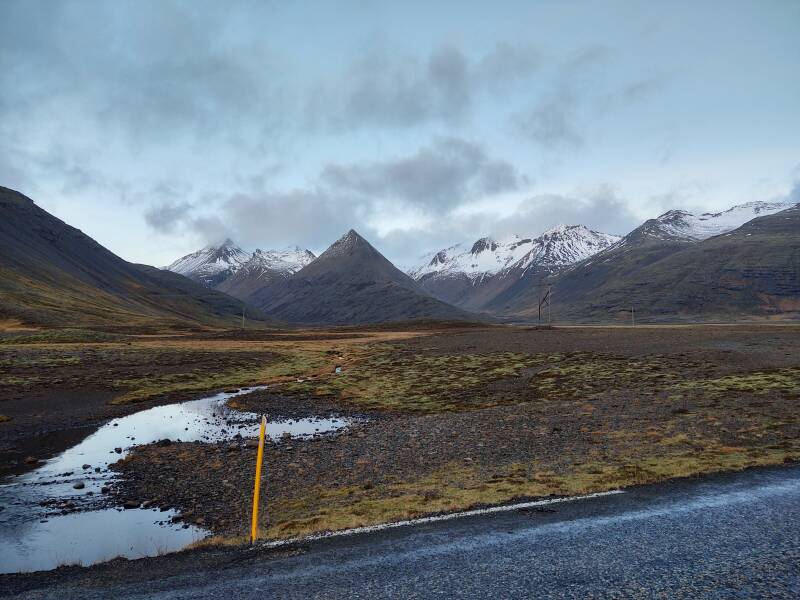 Here I'm looking back across the southwestern Papafjörður section to where I exited the tunnel.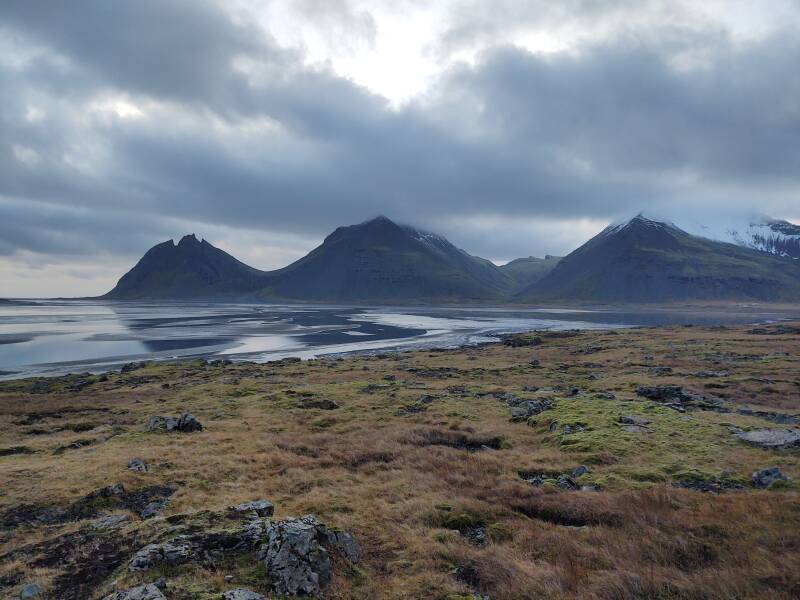 Turning 180° to look ahead, the direction I'm traveling, that distant point is Hvalnes at the far side of the combined outwash plain. That's about 25 kilometers away in a straight line, considerably farther along the road that follows the base of the mountains.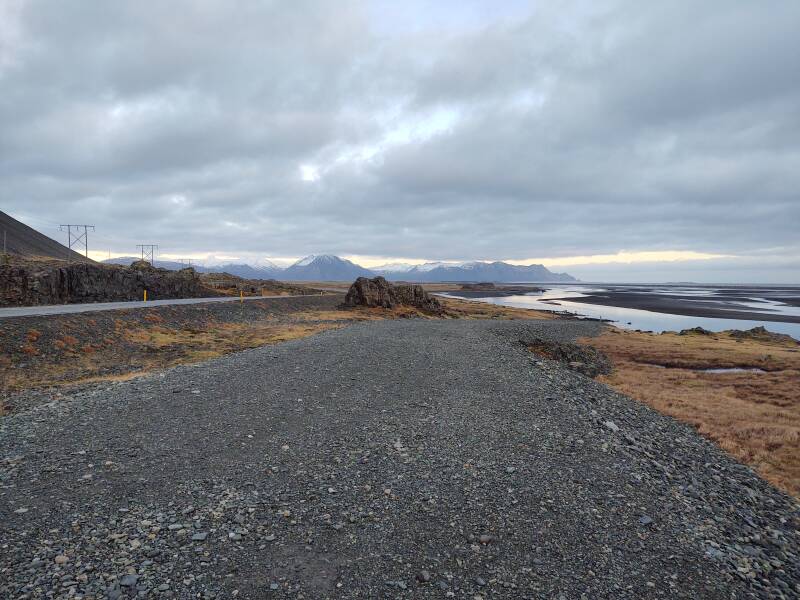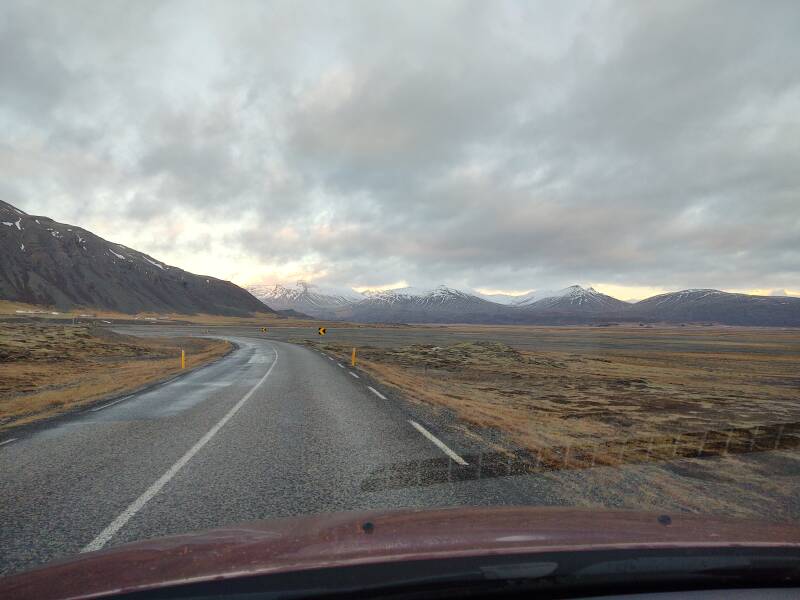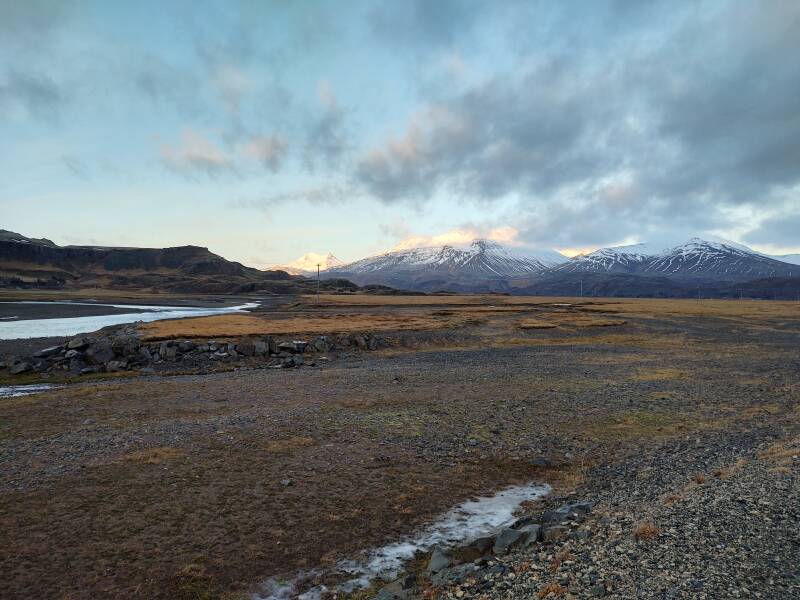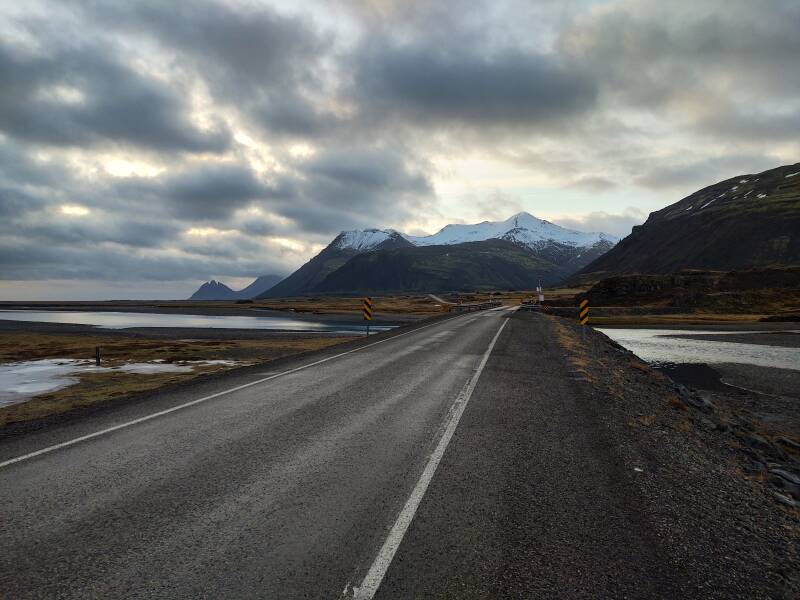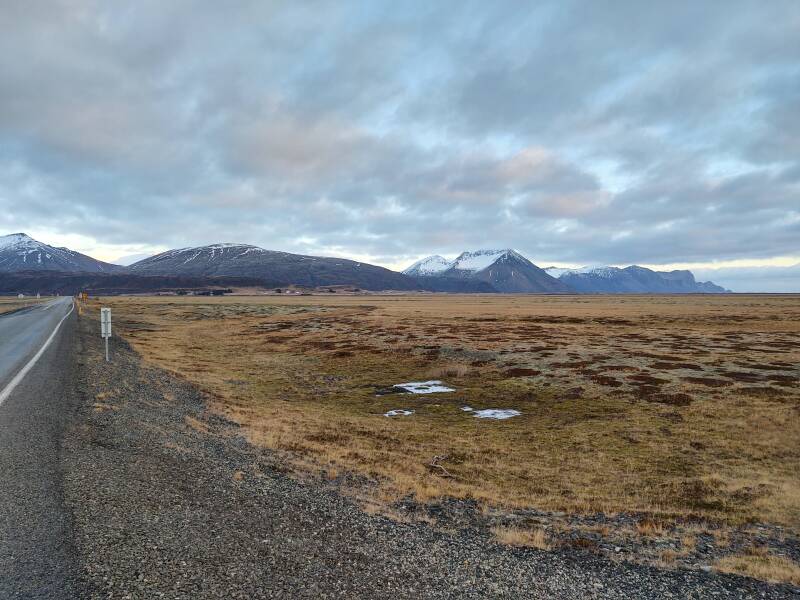 There were reindeer on both sides of the highway. I had seen "Beware of Reindeer" signs earlier, but had not yet seen any reindeer. They were introduced to Iceland in the 1700s and live wild in the far east.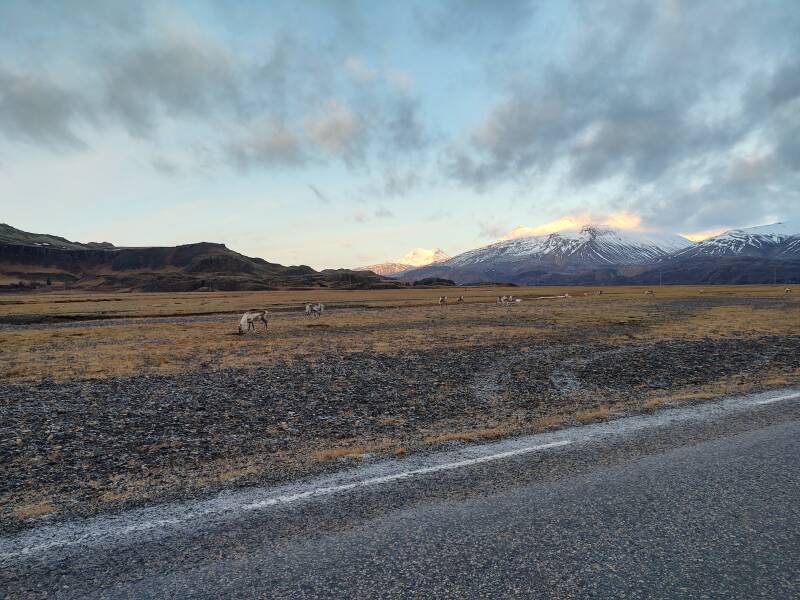 I'm coming around the inland-most bend of the highway.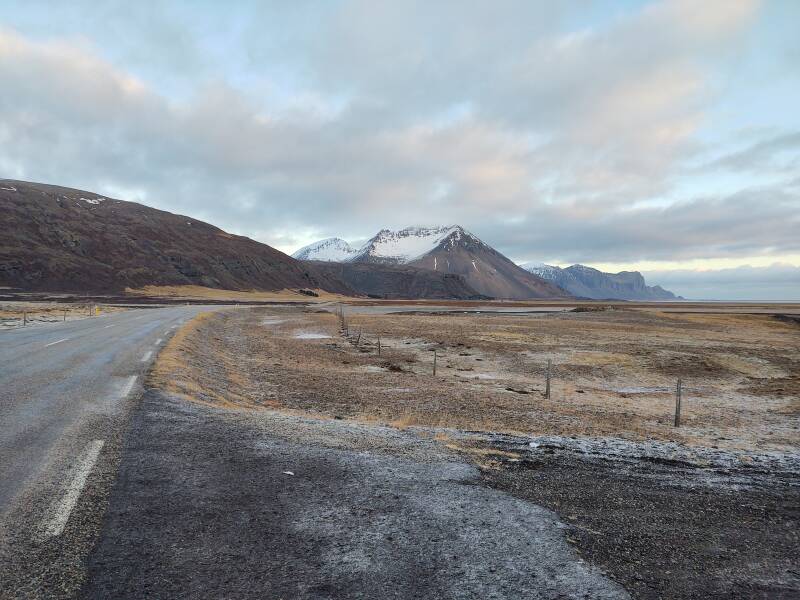 I'm getting closer to Hvalnes point, but it's still a significant distance away.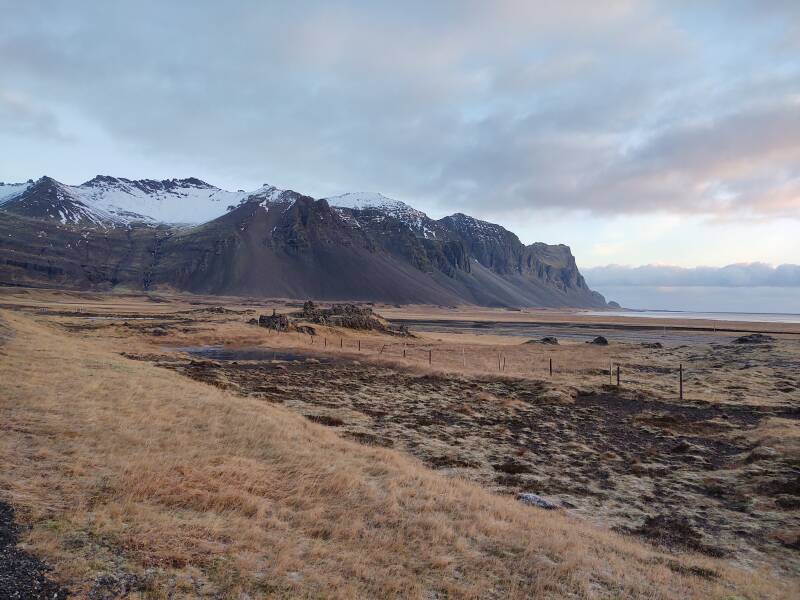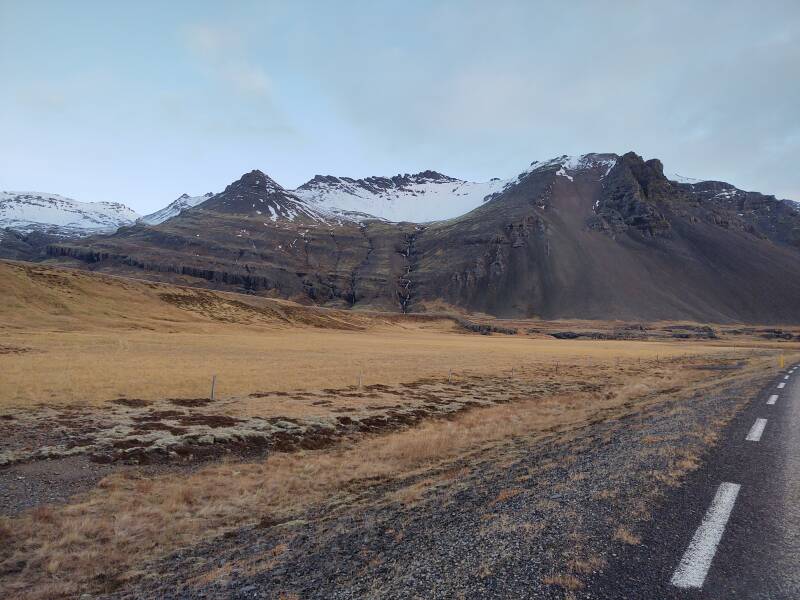 Now I'm getting close to Hvalnes point.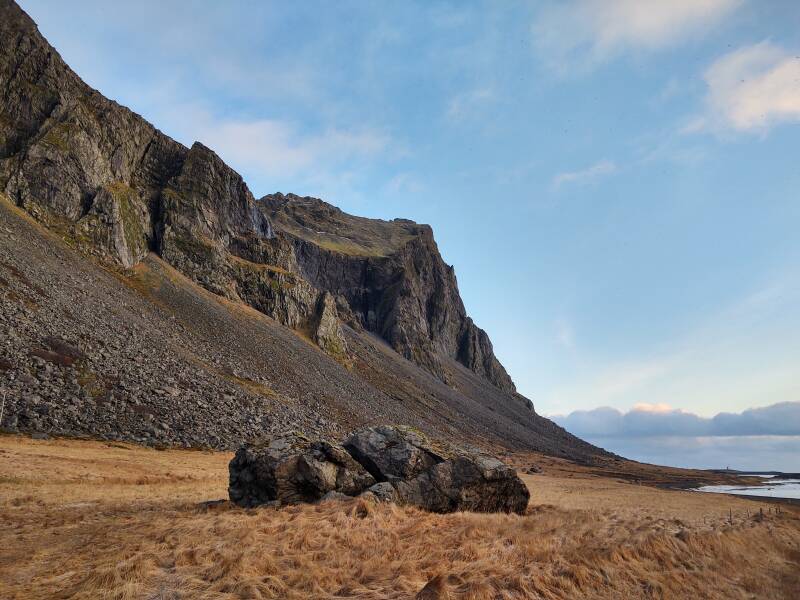 I've gotten to the point where enclosed bays are partially frozen.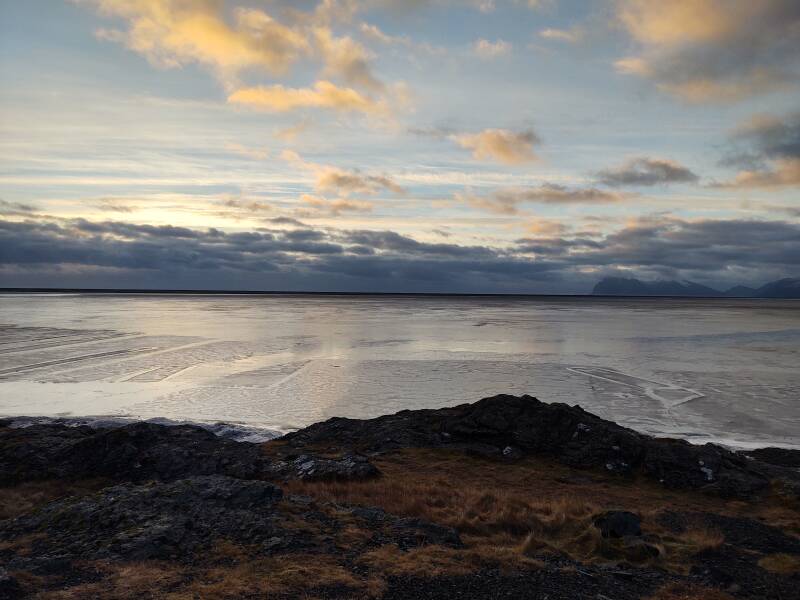 I have reached the Hvalnes headland and its lighthouse.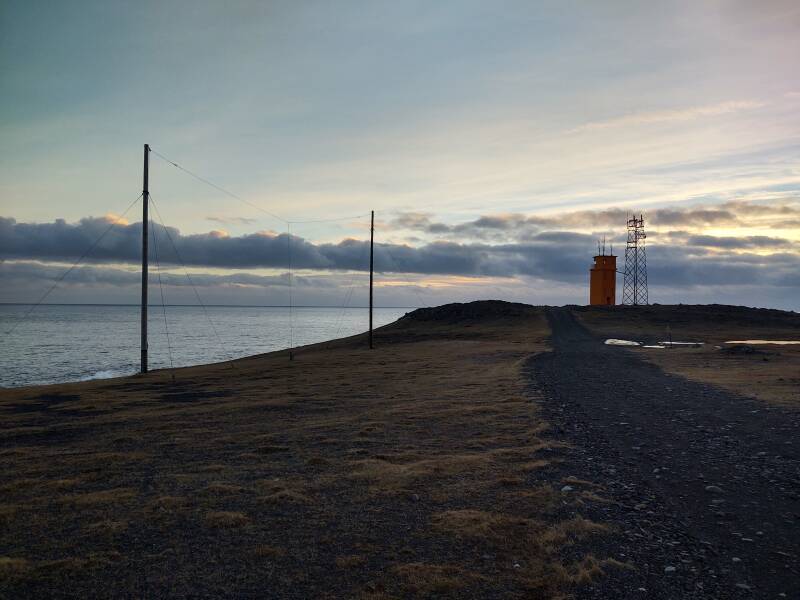 There's a nicely built HF antenna here. I'll get deeper into the antennas at the next lighthouse.
You surely didn't think that the episode back at Grindavík would be the only antenna-focused part of the trip, did you?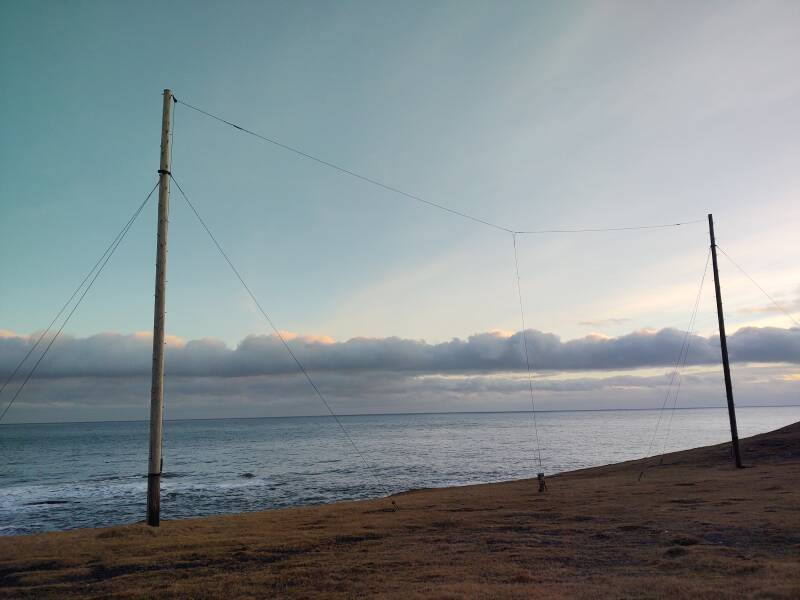 The lighthouse was built in 1954 and began operation the following year. Every 20 seconds it emits two white flashes. Its lamp is 29 meters above the mean waterline, giving it a pretty good range. And, its design has led to its being added to the Accidentally Wes Anderson archive. I looked carefully, but did not see Bill Murray in the vicinity.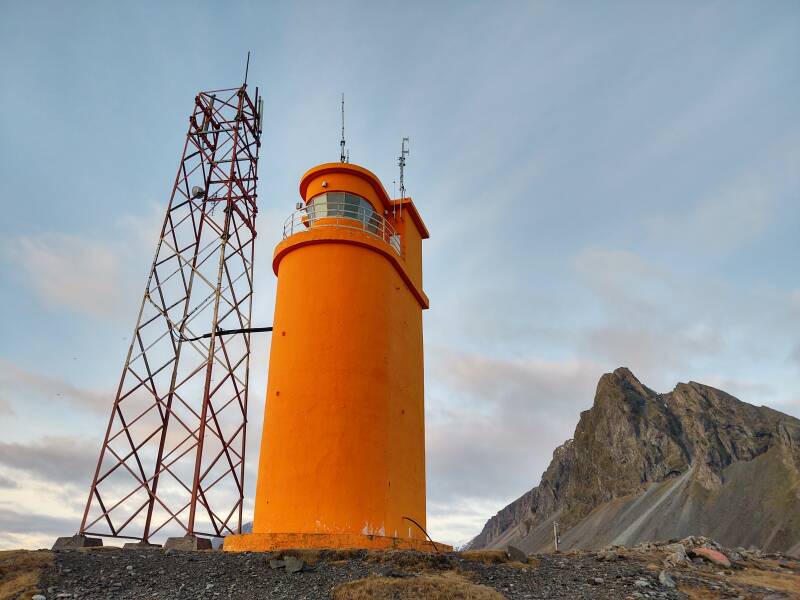 Here I'm looking back to the southwest from the lighthouse, across the large bay and outwash plain I've driven around.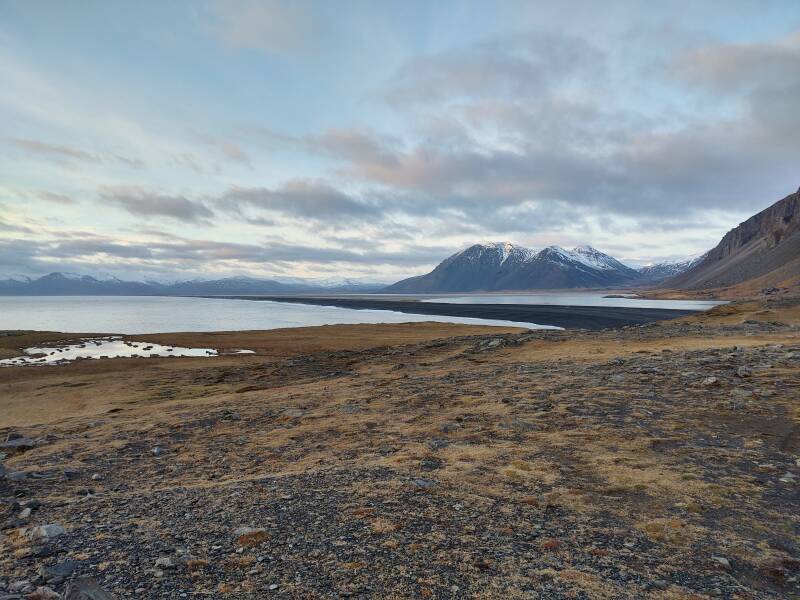 The lava plugs of Hvalnes point are impressive.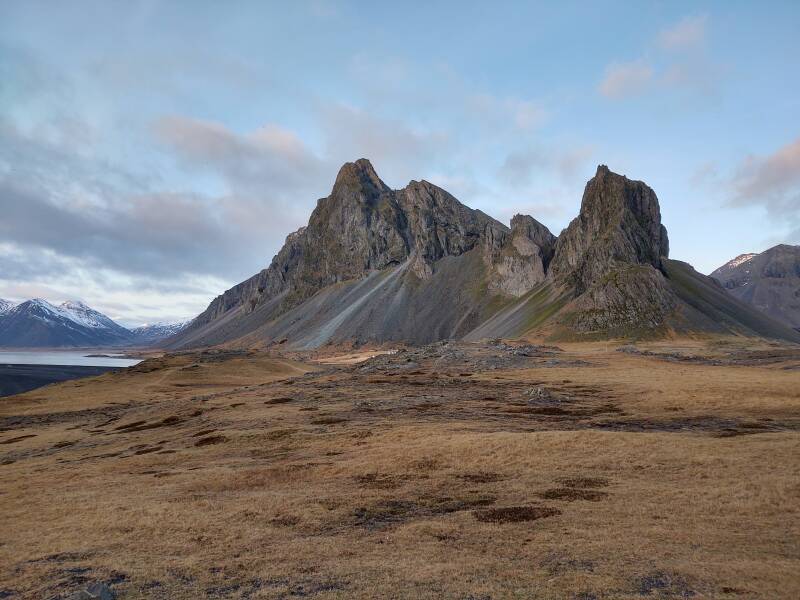 Ahead and to the right is the next section to traverse. The distant point is Streitishvarf, about 40 kilometers to the northwest, past an open bay labeled as a fjord plus two proper fjords.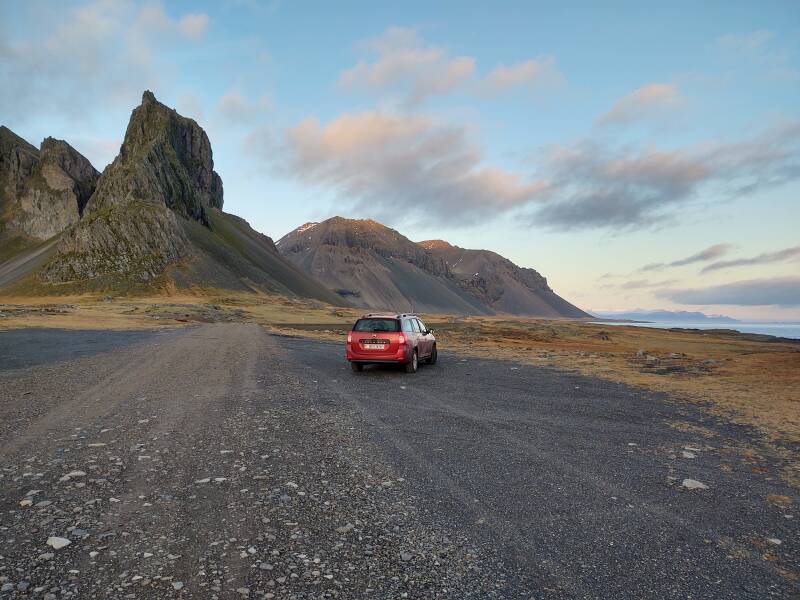 Coast between Hvalnes and Álftafjörður
The road between Hvalnes point and Álftafjörður is part-way up a steep and not completely stable slope. After multiple warning signs about rockslides and flying rocks you begin to traverse a section lined along the uphill side with heavy corrugated steel. Solar-powered cameras allow highway officials to remotely check for landslides.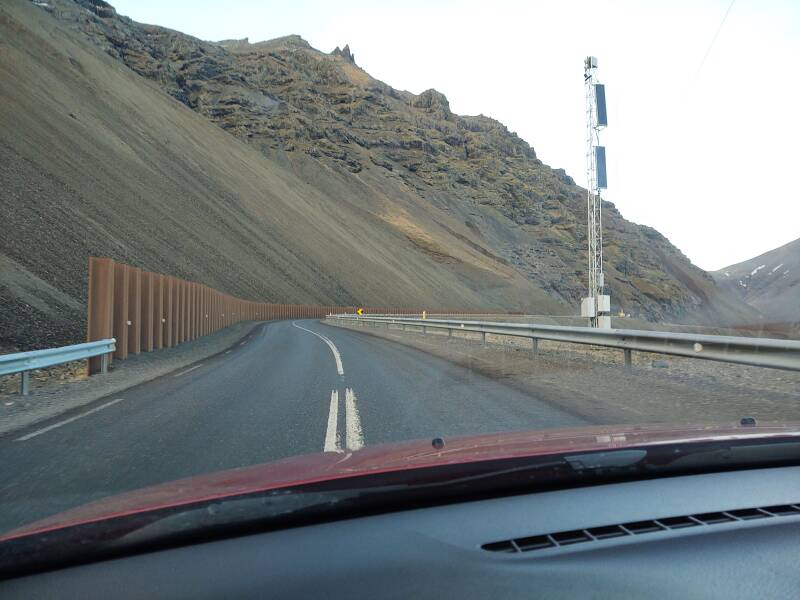 Further along we get a better view of the distant Streitishvarf point and light.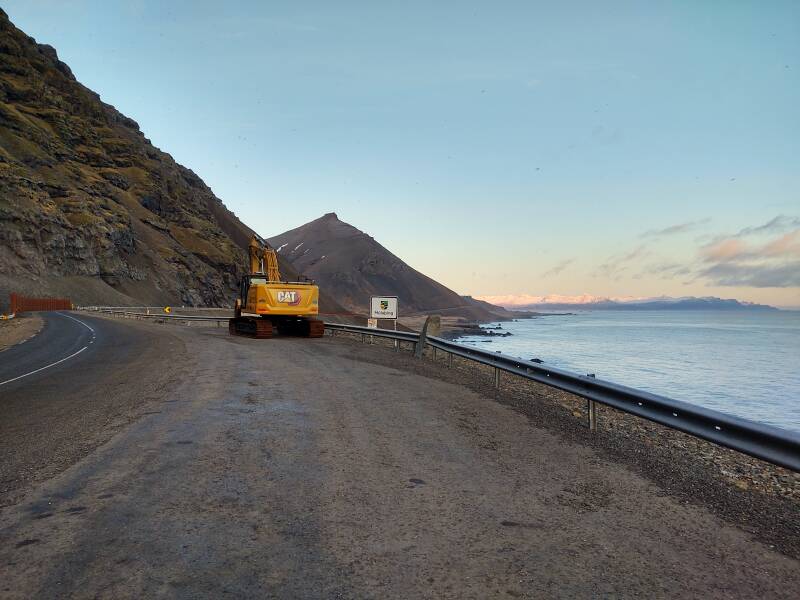 Álftafjörður Fjord
A black sand beach appears as the highway slopes down to make its way around Álftafjörður fjord.
Yes, that's redundant, Álftafjörður means "Álfta fjord", and so Álftafjörður fjord means "Álfta fjord fjord". But if you're reading these pages I assume you speak English rather than Icelandic, or the very similar Old Norse. Maps will show the name as "Álftafjörður" so you need that name to know which geographical feature I'm going on about.
I assume you have some idea that a fjord is a narrow steep-sided valley opening to the sea.
But I don't assume that you know what a fjörður is.
So, it's "Whatever-fjörður fjord" in these pages.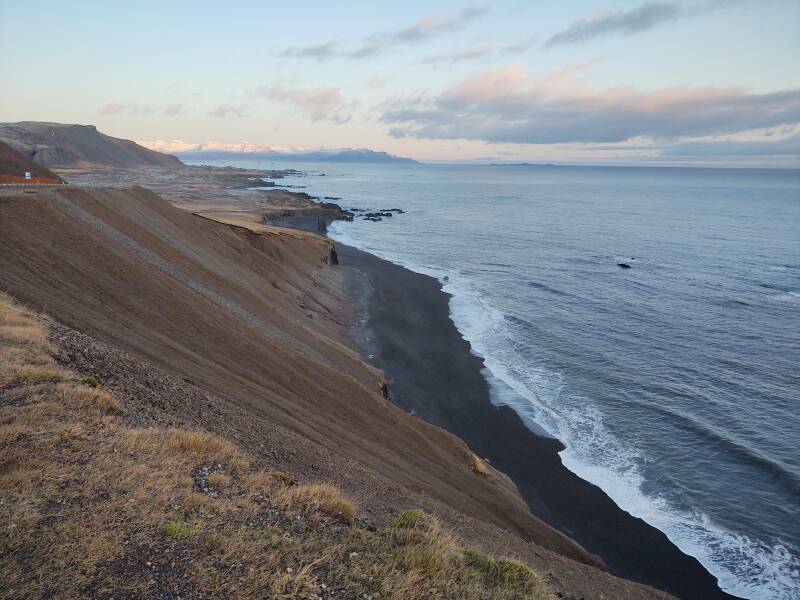 A large monolith protrudes out of the black sand of the beach.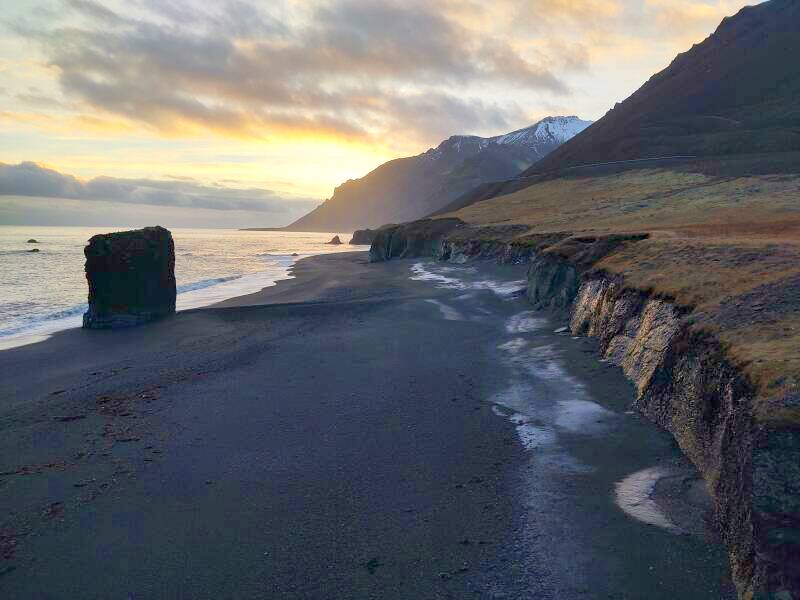 Hamarsfjörður Fjord
After a semicircular loop around Álftafjörður, we round a point and start back Hamarsfjörður, which I think is a proper fjord.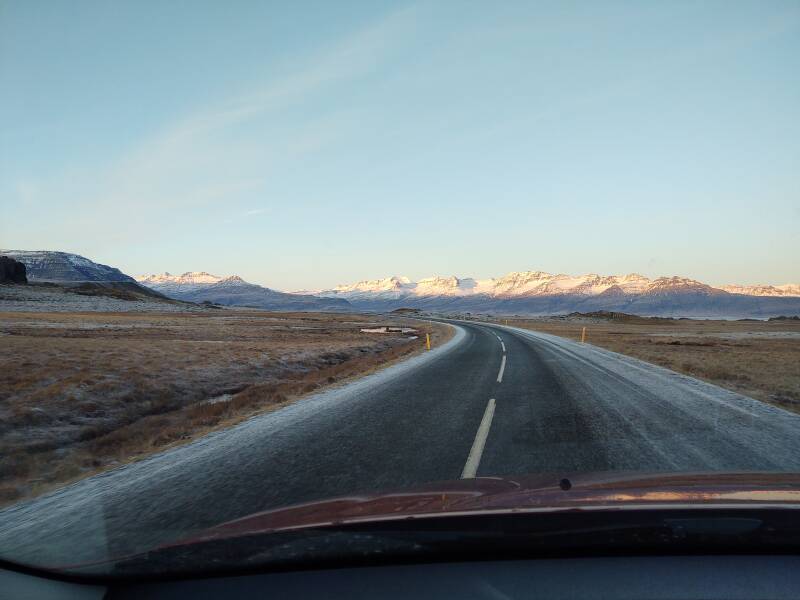 The road was getting a coat of some frost–snow–ice mix. Studded tires on all four wheels are obligatory on winter rentals. If they aren't, find another car rental company which isn't actively trying to kill you.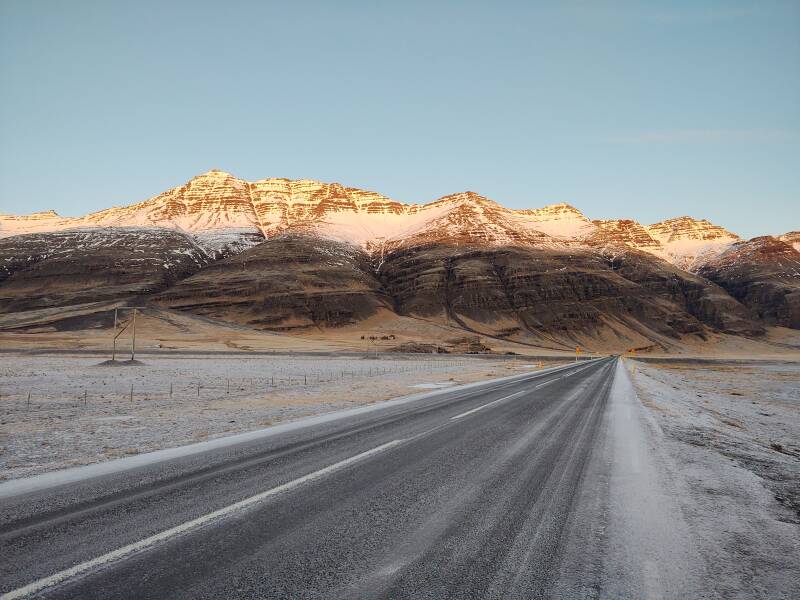 Djúpivogur
The town of Djúpivogur is on the tip of the peninsula forming the north side of Hamarsfjörður and the south side of Berufjörður, the next fjord to the north.
About 450 people live here, it's the first settlement since I left Höfn.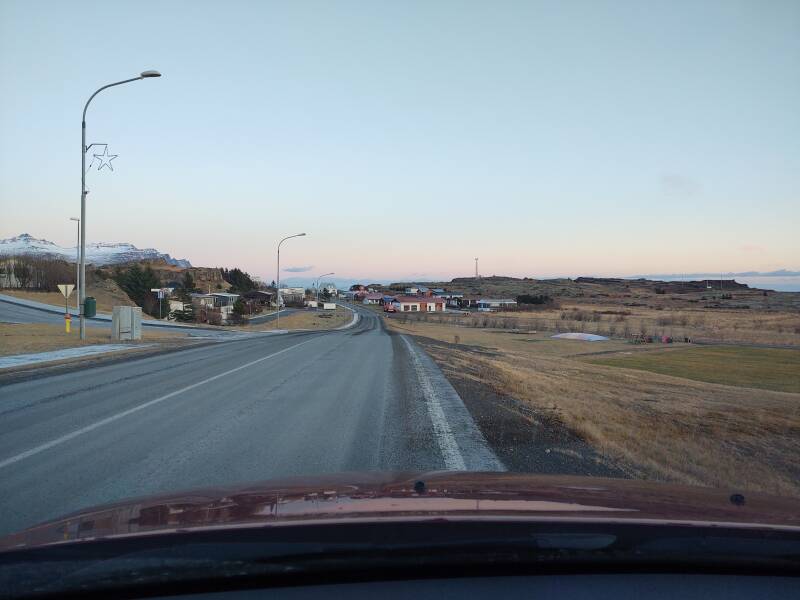 I once again noticed how nice Icelandic towns and homes are. Where I come from, there are some opulent homes, but also there are many tumbledown shacks and battered trailers. So many homes in much of the US are surrounded with piles of junk — old vehicles, stoves, refrigerators, broken furniture, children's toys.
In Iceland the homes are all very attractive and there is no junk around them.
The ports are also tidy, like this one in Djúpivogur.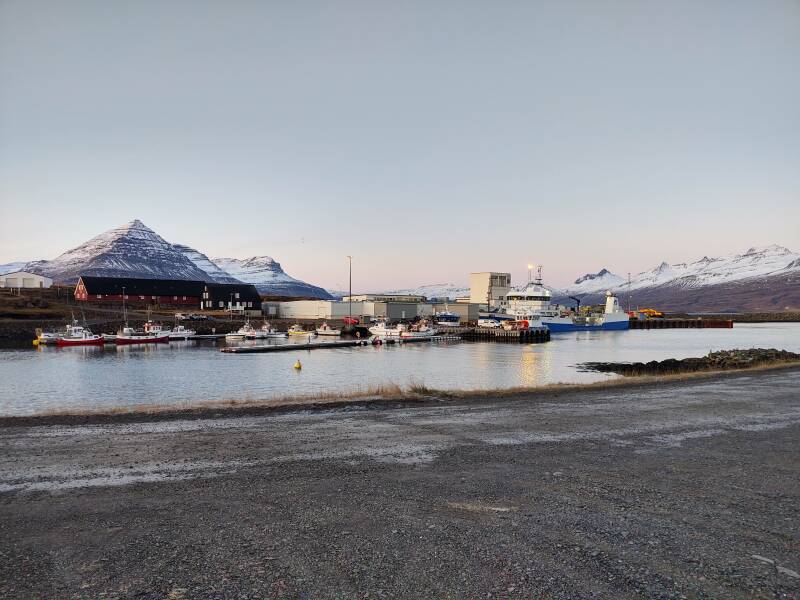 In the next segment I'll return to see more of Djúpivogur. There were still egg sculptures and history and antennas to be examined here.
Berufjörður Fjord
At Djúpivogur the road makes a nearly 180° turn and heads inland along Berufjörður, the next fjord.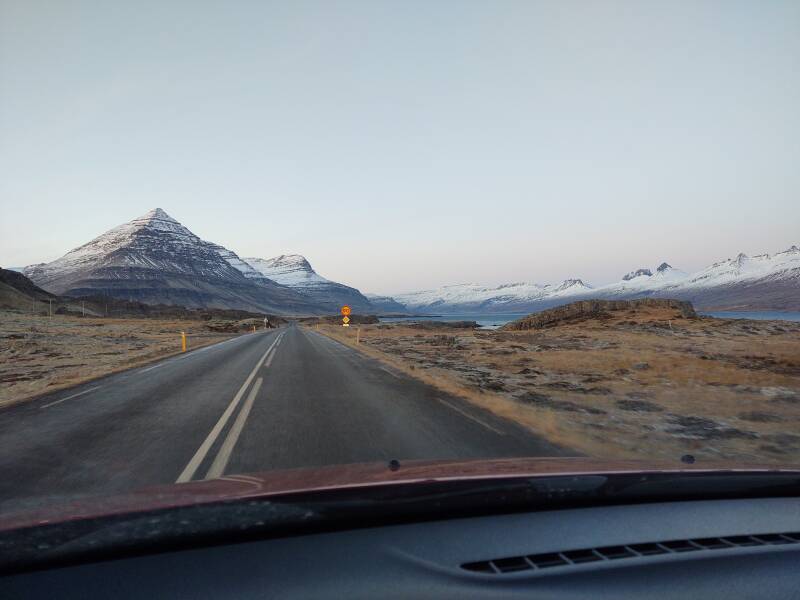 I stopped to first look out the fjord toward the sea: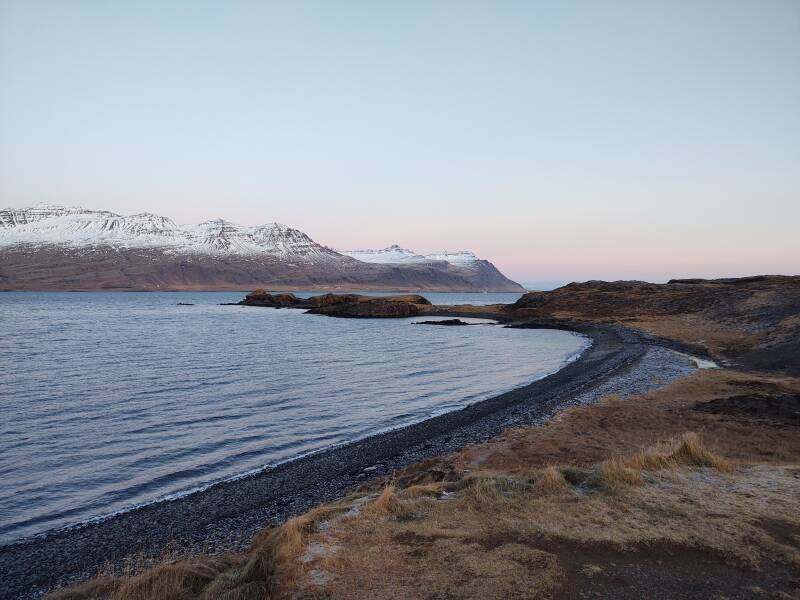 And then the other direction, further inland: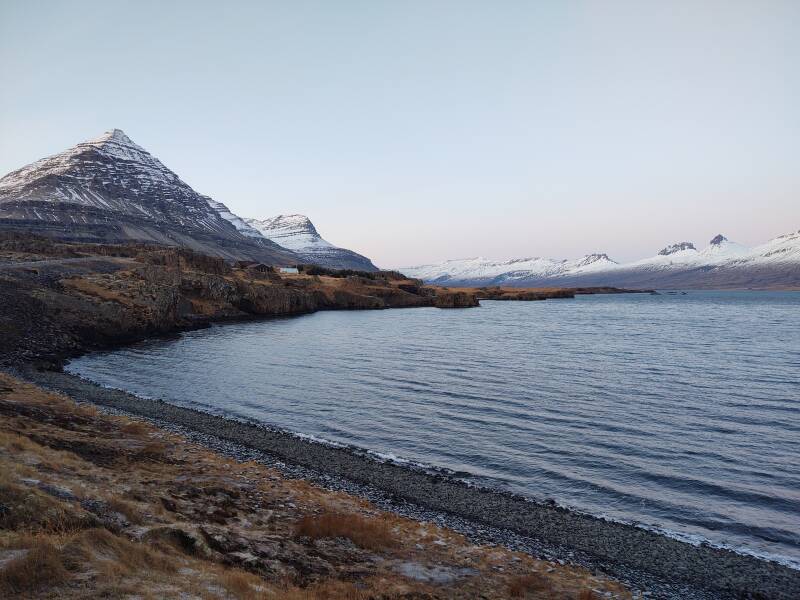 Berufjörður extends about 20 kilometers inland, depending on how you designate its mouth.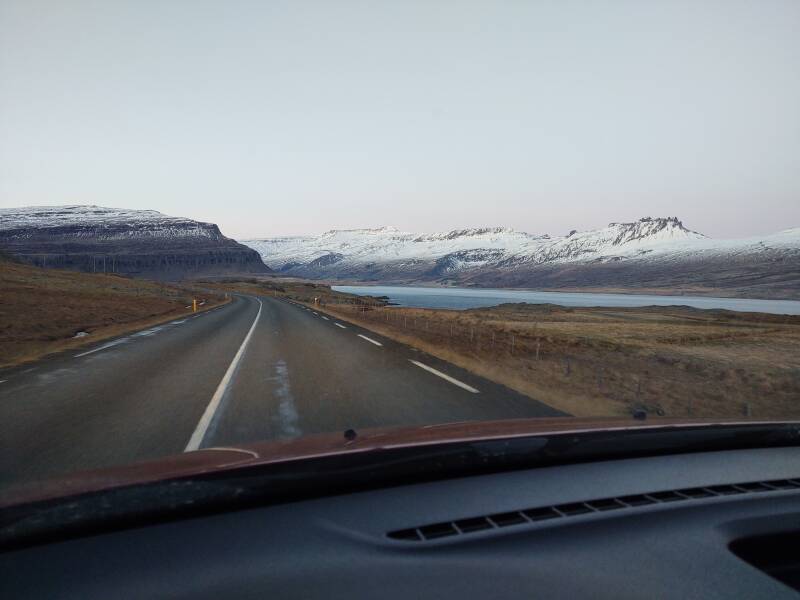 I'm nearing its inland end, but the huge scale of the scenery makes it difficult to estimate distances.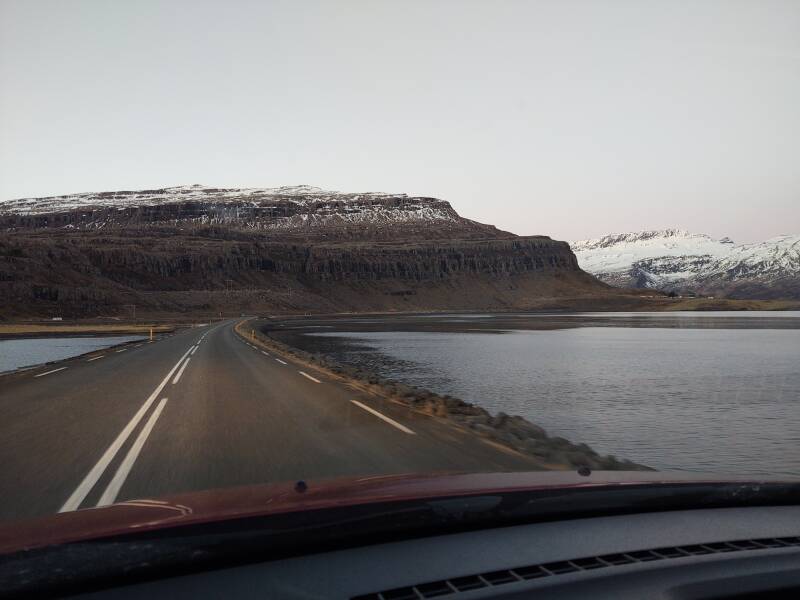 However far it is, I have rounded the innermost end and started back out.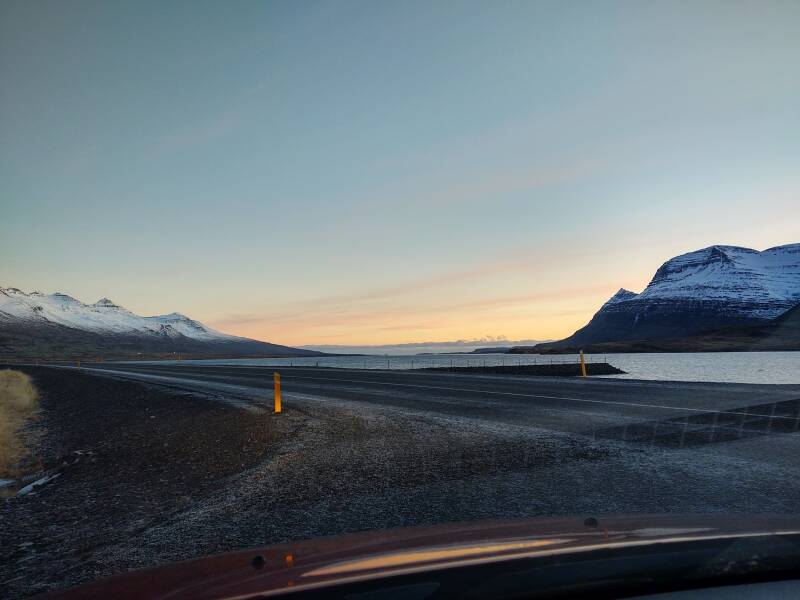 Multiple waterfalls come down the fjord wall near the sign to Krossgerði.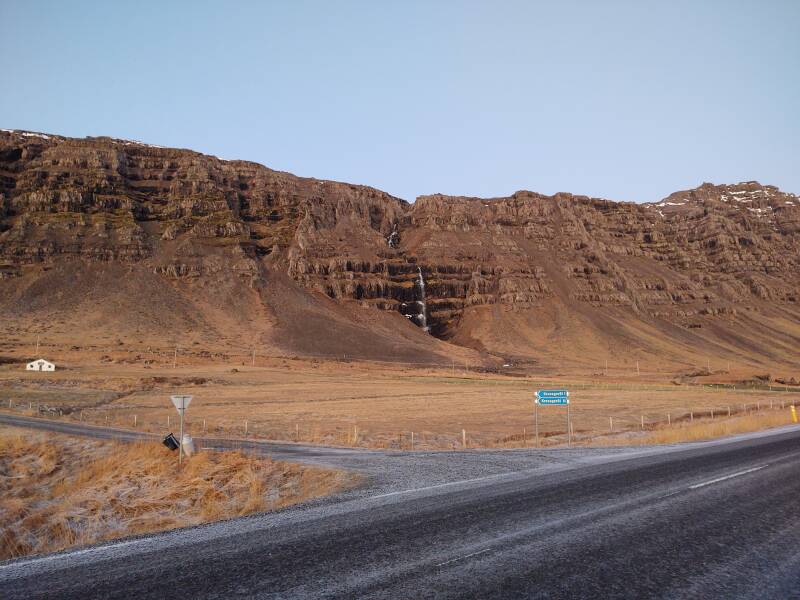 Sunset and Sunset Times
Now it was a little after 1530. I was nearing the Streitishvarf lighthouse and it was getting dark. The sun had set back in Höfn at 1500, but just ahead in Breiðdalsvík it had set at 1445.
On to the Hotel Staðarborg
Guesthouses at Booking.com
That's all the tourism for today. I'll continue into Breiðdalsvík and hang out there until 1700, when I can check in at the nearby Hotel Staðarborg. Here's what it looked like late the following morning, once it got light: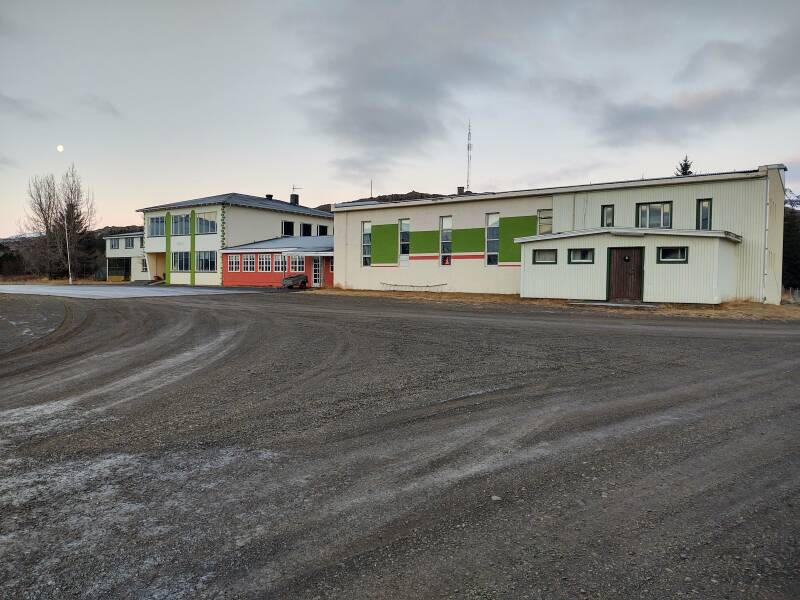 The lobby is in the taller two-story section toward the left. Their restaurant extends through its ground floor and through the one-story salmon-colored section. In high season, outside pandemic years, guests stay in rooms through the multi-part building.
But in winter, rather than have a small number of guests wandering around an almost entirely vacant hotel as if they're in The Shining, they rent two small cabins behind the hotel. Here's mine.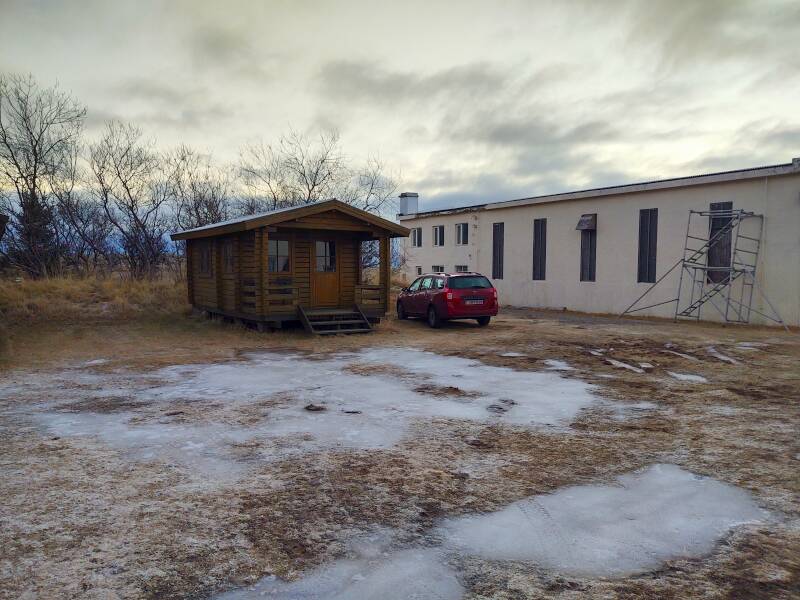 The cabins are very nice! It's quite a step up from my last overnight stop, the shared room with two beds at the hostel in Höfn.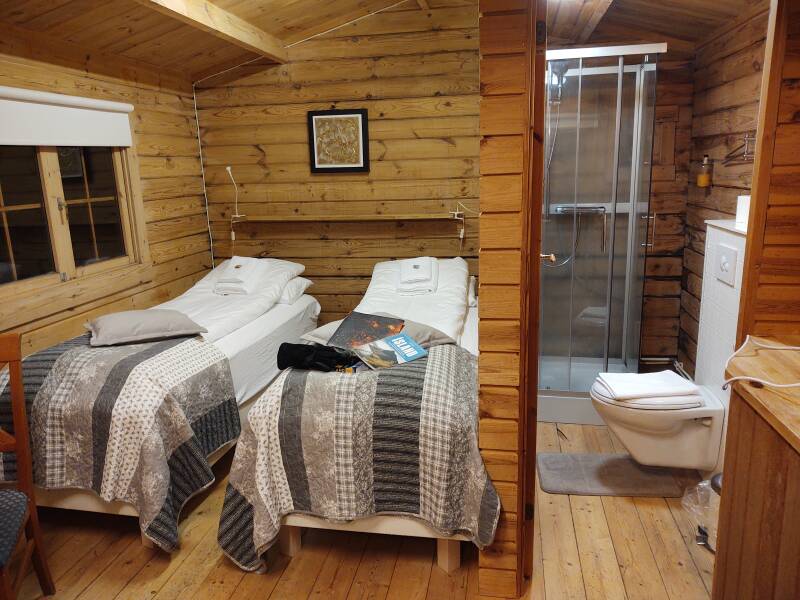 The cabin even has a kitchen area: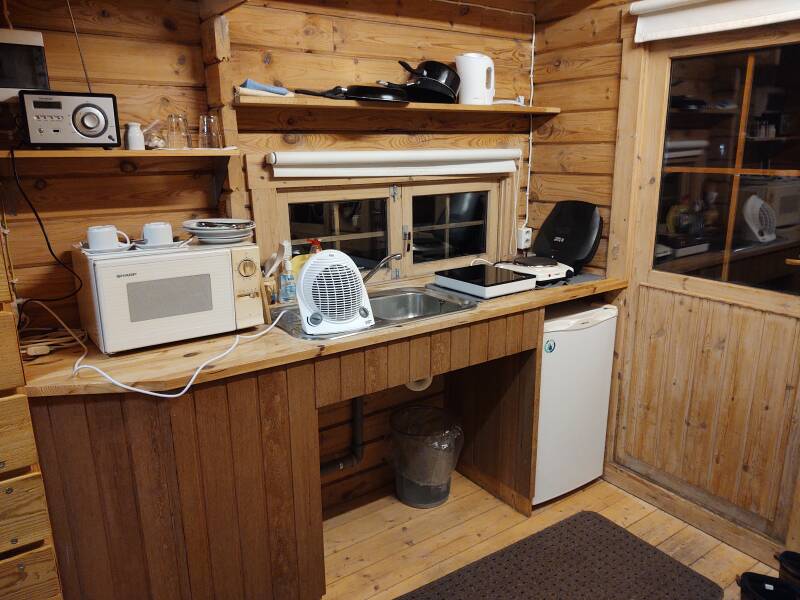 Exploring the Area
Next: Exploring the Eastfjords around Beiðdalsvík
Skipping ahead: On to Seyðisfjörður
I needed to backtrack to Djúpivogur and see more things that I had had to drive past as the light was fading. The next page takes me through further exploration of this part of the Eastfjords region.
Or, if you want to skip ahead, my next overnight stop would be further north along the east coast around three fjords to Reyðarfjörður, north into the interior to Egilsstaðir, and then over a snowy pass to Seyðisfjörður.