Driving the Ring Road Around Iceland
Ð/ð is voiced,
as in
th

is;
Þ/þ is unvoiced,
as in
th

ick.
Christmas in Seyðisfjörður
Guesthouses at Booking.com
I had arrived on the evening of December 23rd and got checked into the Seyðisfjörður Guesthouse. Another envelope was waiting with the key to my room. On my second day there, I met my innkeeper. She used to be a member of the Alþing, the Icelandic Parliament.
Once I donned my crampons that first morning, I was ready to walk around town. Here's the guesthouse: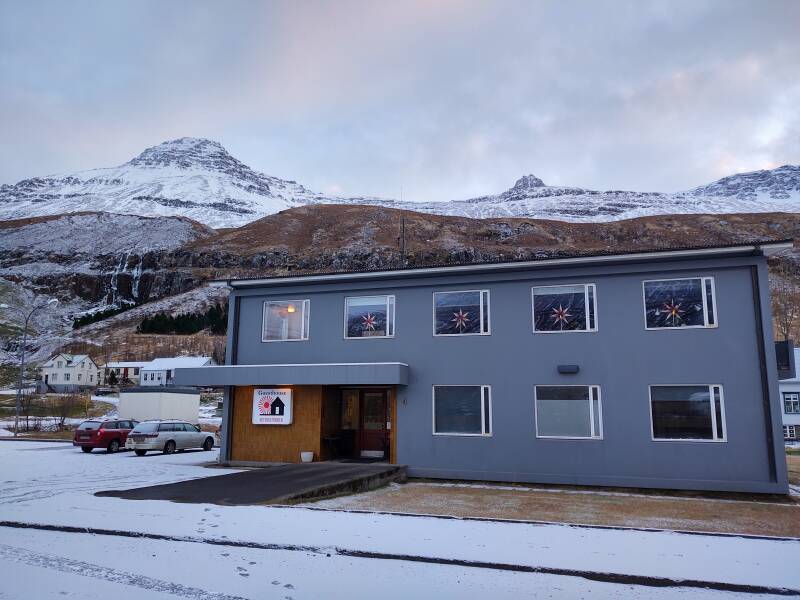 Looking to the north, out the fjord: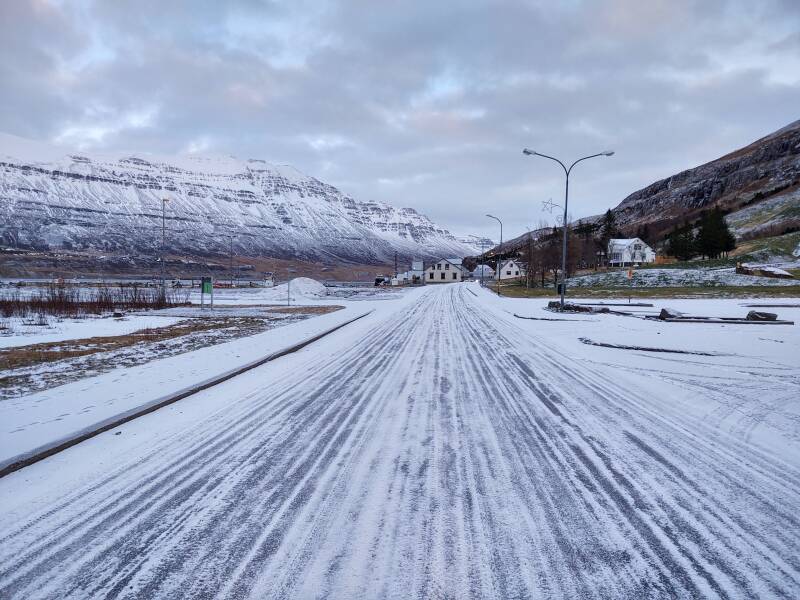 Iceland was spoiling me for casually walking in the middle of the road. There's very little traffic. When someone approaches, you hear their studded tires coming from a distance. But for the most part, no one ever approaches.
Turning 180° and looking to the south, toward the pass to Egilsstaðir: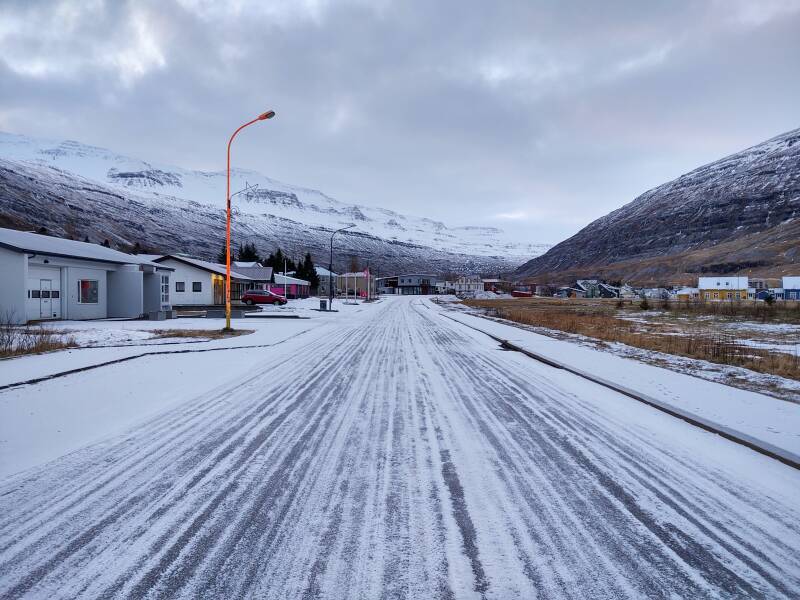 And looking straight out from the guesthouse, to the west: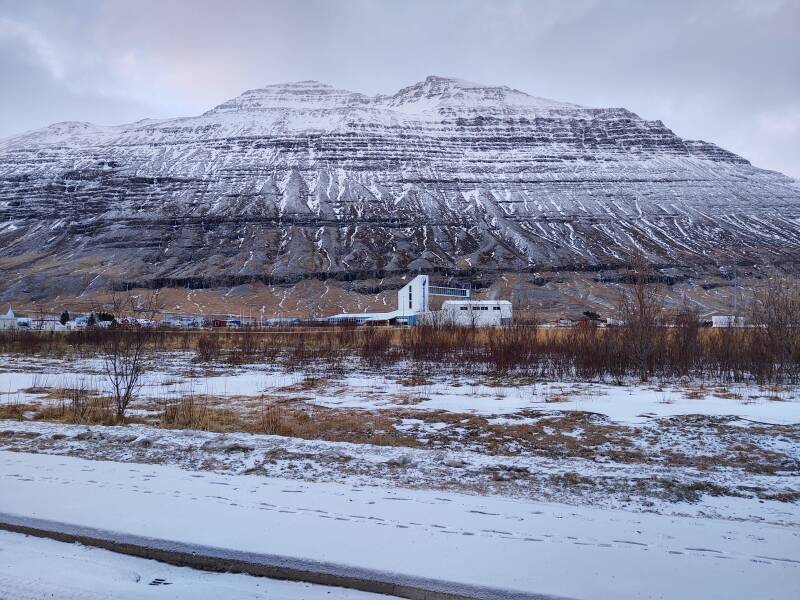 This gas station once had a convenience store, but now it's nothing but the fuel pumps. Many gas stations in the eastern two-thirds of Iceland have nothing at all but the pumps under an overhead light.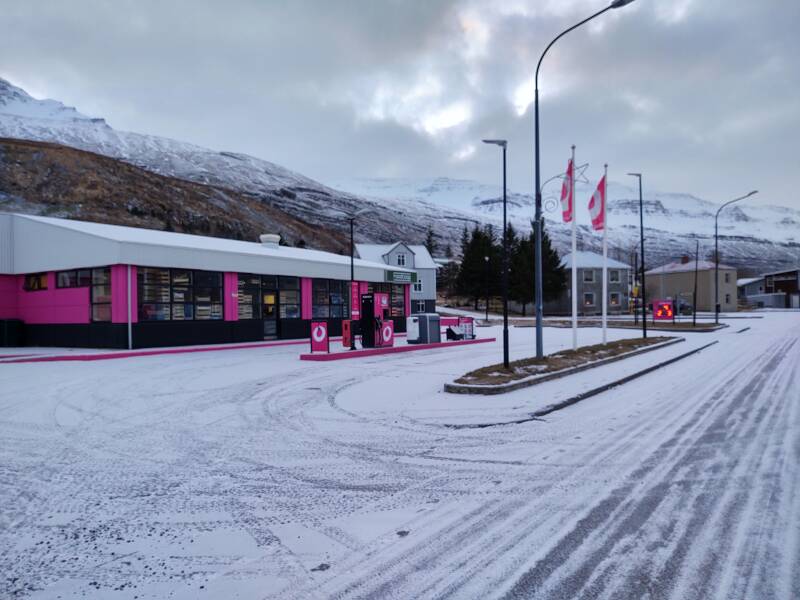 Walking Around Seyðisfjörður
Seyðisfjörður was settled early. A burned-down stave church has been carbon-14 dated to the 11th century. The town you see today was settled in 1848 by Norwegian fishermen. They brought lumber and built wooden homes and business buildings. Some of those still stand today.
The first telegraph cable connecting Iceland to Europe was installed here in 1906, making Seyðisfjörður an international telecommunications hub into the middle of the 20th century.
In 1913 they dammed the river and installed Iceland's first high-voltage AC power plant. It distributed electrical power to homes and street lights, the first such system in Iceland.
The local fish-processing plant had closed a few years back, although the town continues to be a significant fishing port with a ship construction and repair facility. Seyðisfjörður is now focused on tourism. These brightly colored buildings contain apartments rented to visitors.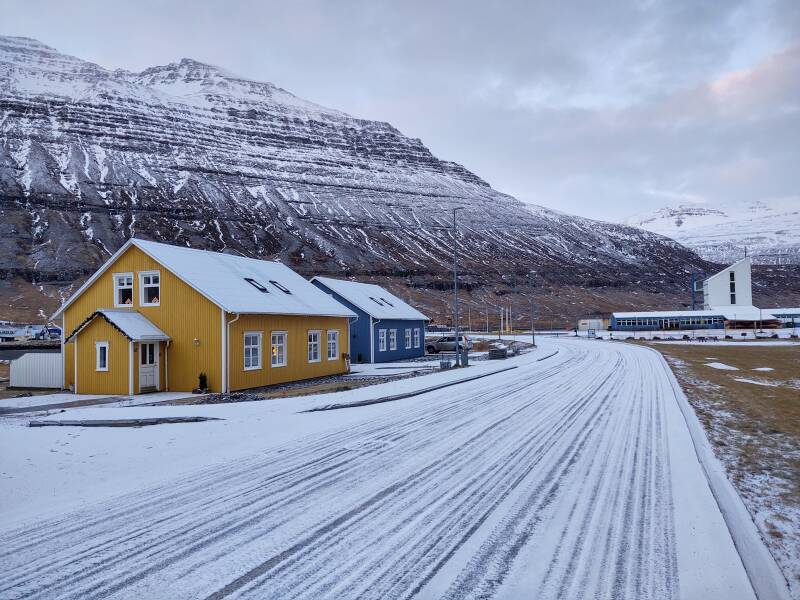 The passenger ferry terminal is for the Smyril Line ships that run weekly from here to the Faroe islands and on to Copenhagen. But not in late December through the first few days of January.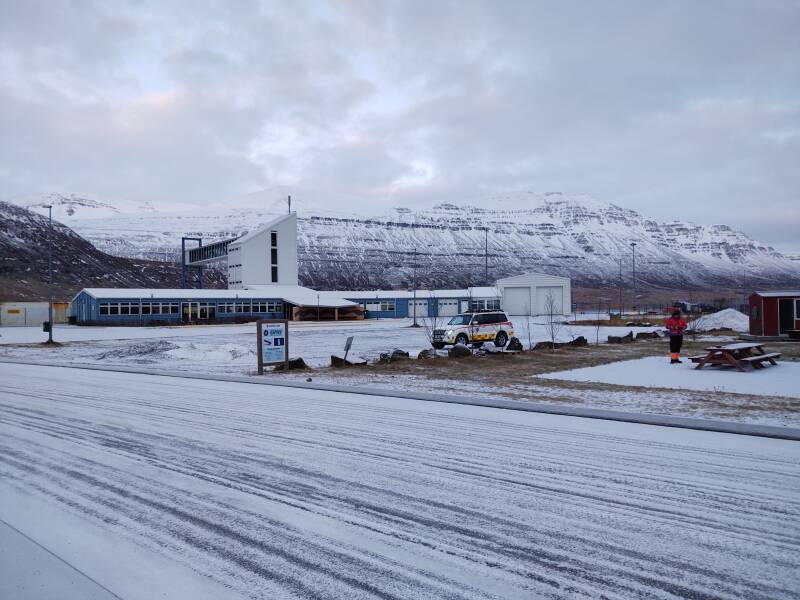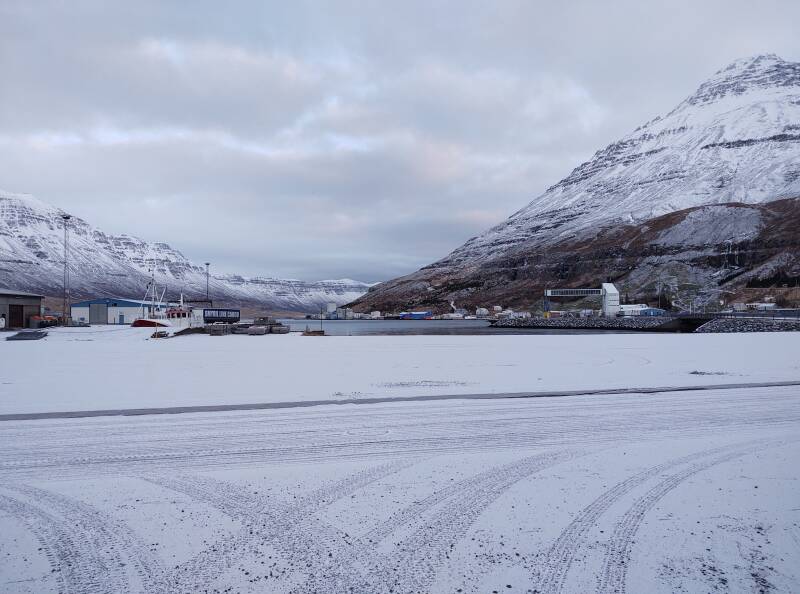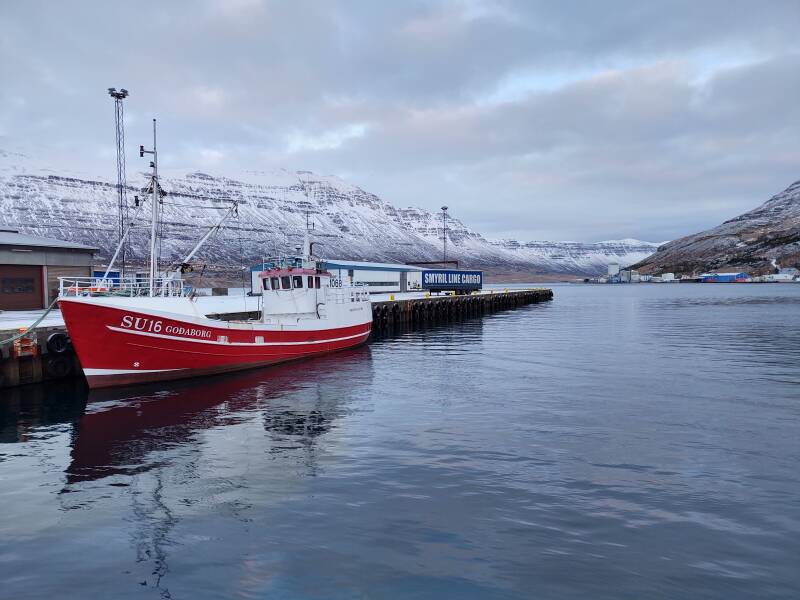 Colorful, tidy homes.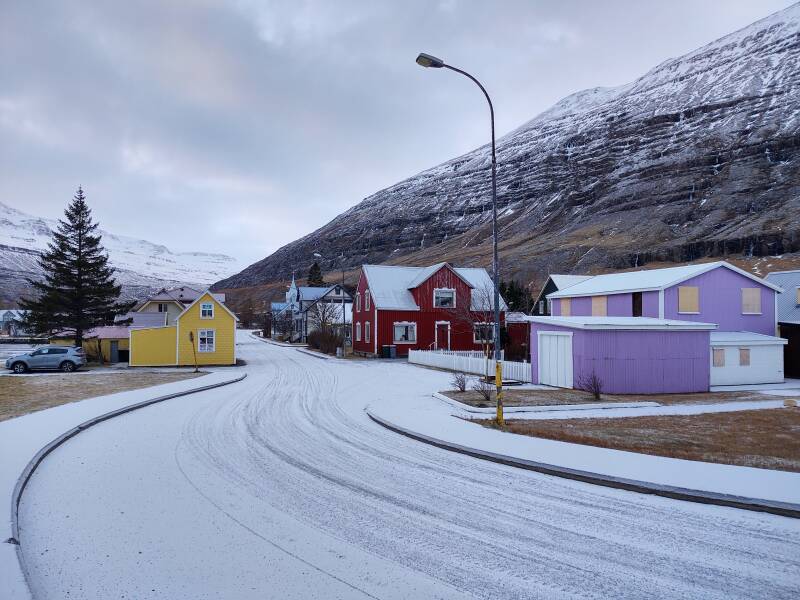 This Quonset hut dates from when Seyðisfjörður was a British and US base during World War II.
Why do them call them "Quonset huts"? Because they were invented in Quonset, Rhode Island, in the northeastern U.S. That's what the native people called the place. Quonset.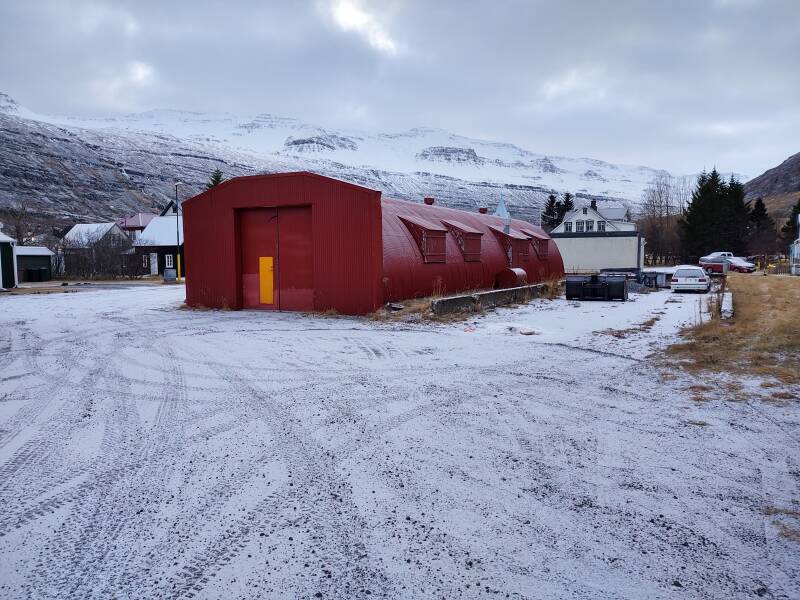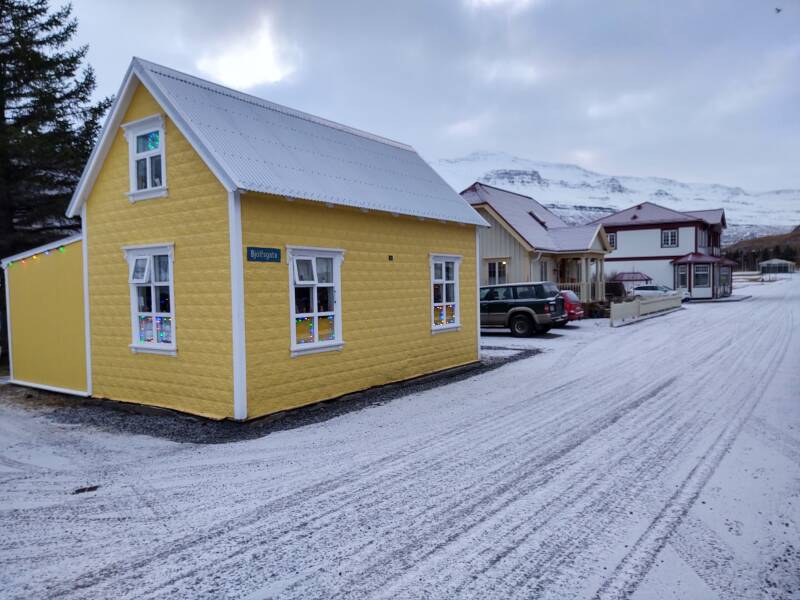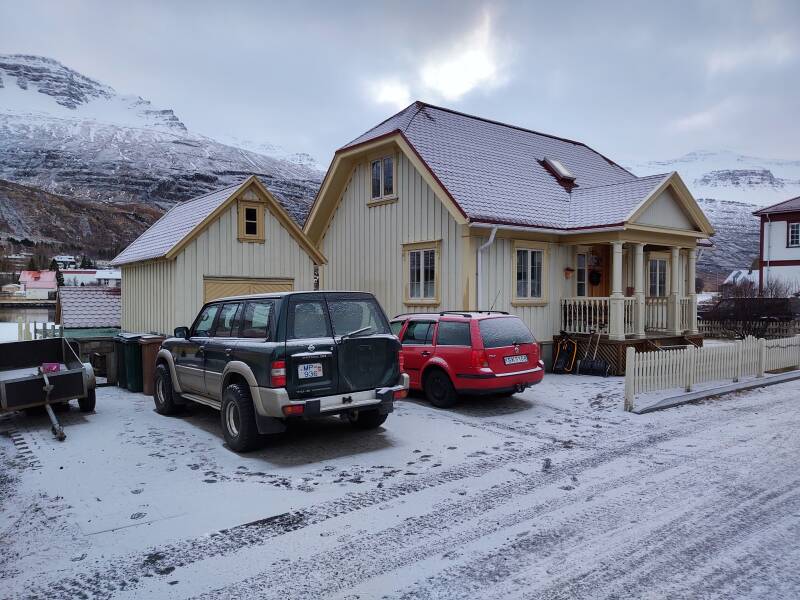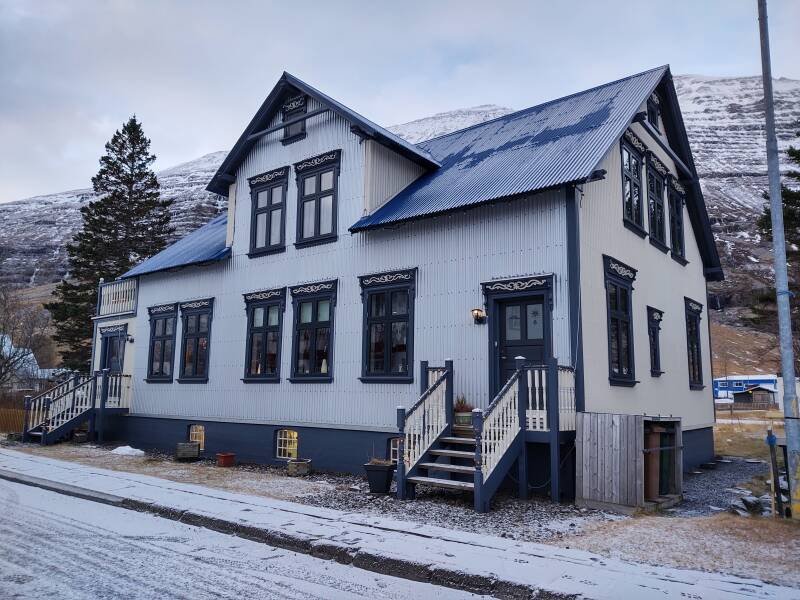 This is the local government headquarters.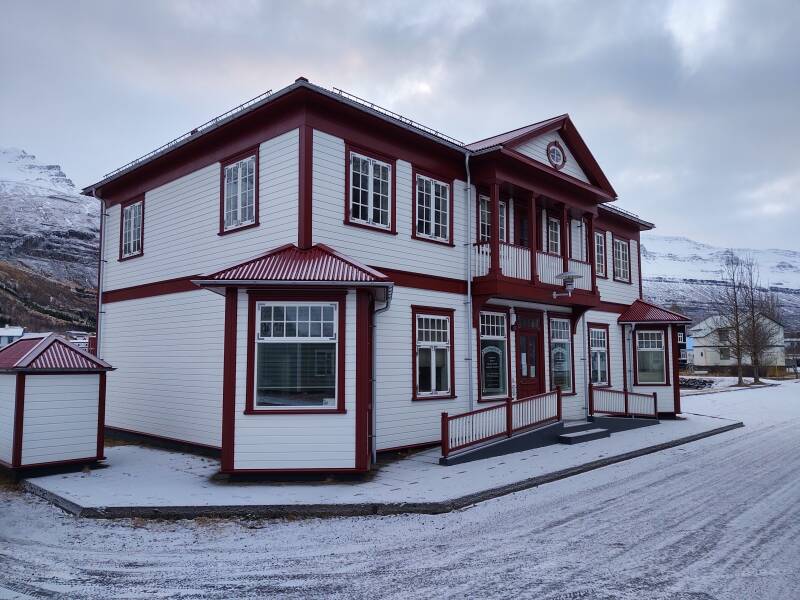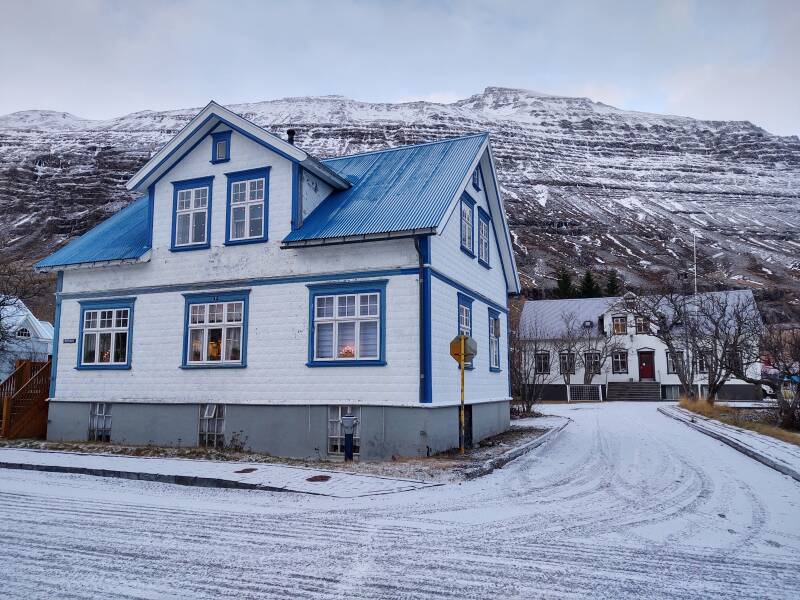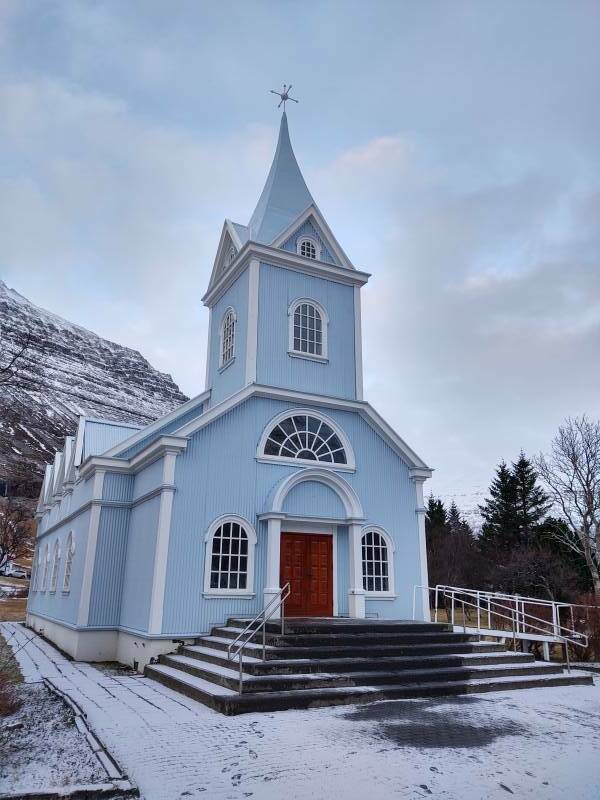 Seyðisfjörður has come to be known as an artistic community.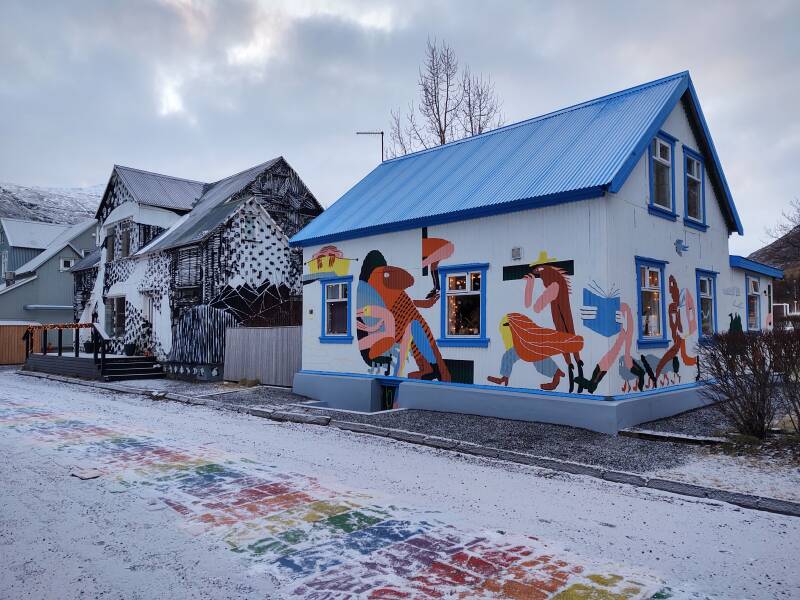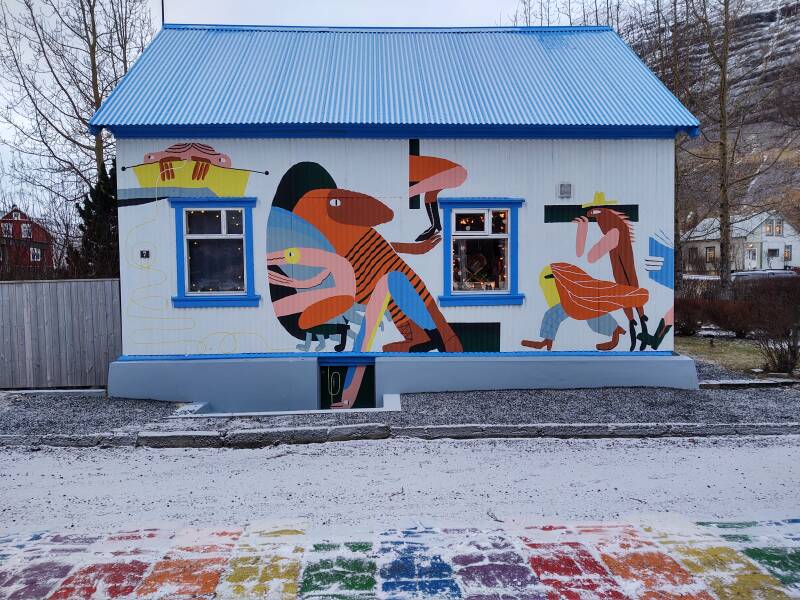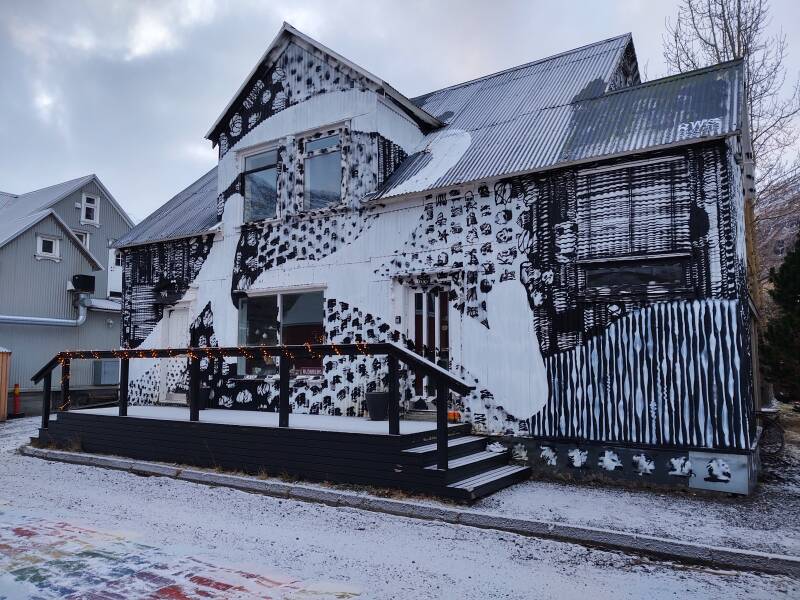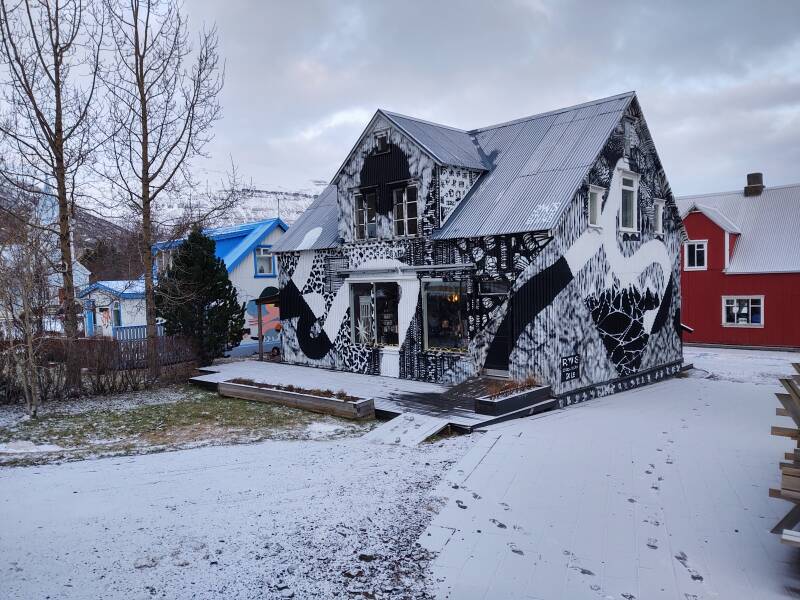 However, this was Christmas Eve. The cafés, brew pub, sushi place, and everything else was shut down.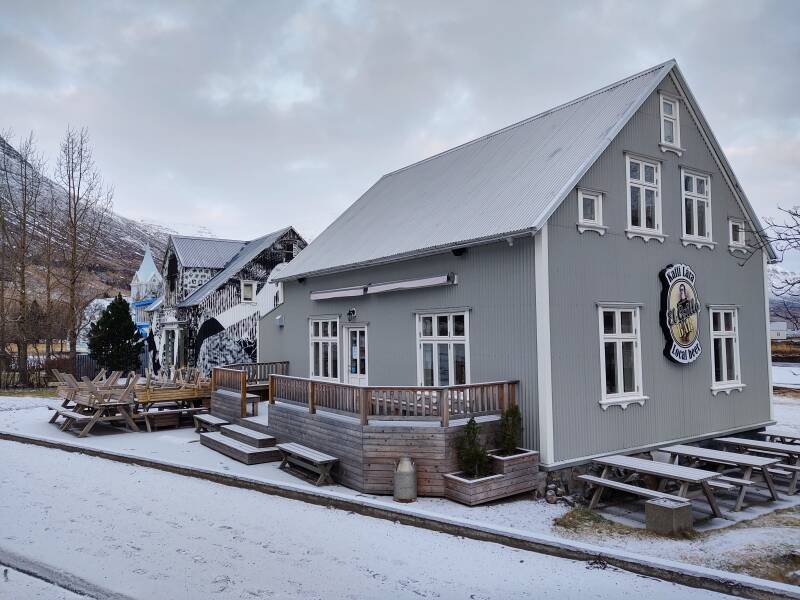 The grocery store was open 0900-1300, and the government liquor store was open 1000-1200. That was it for Christmas Eve. Christmas fell on Saturday, so it would be Monday the 27th before things started to re-open.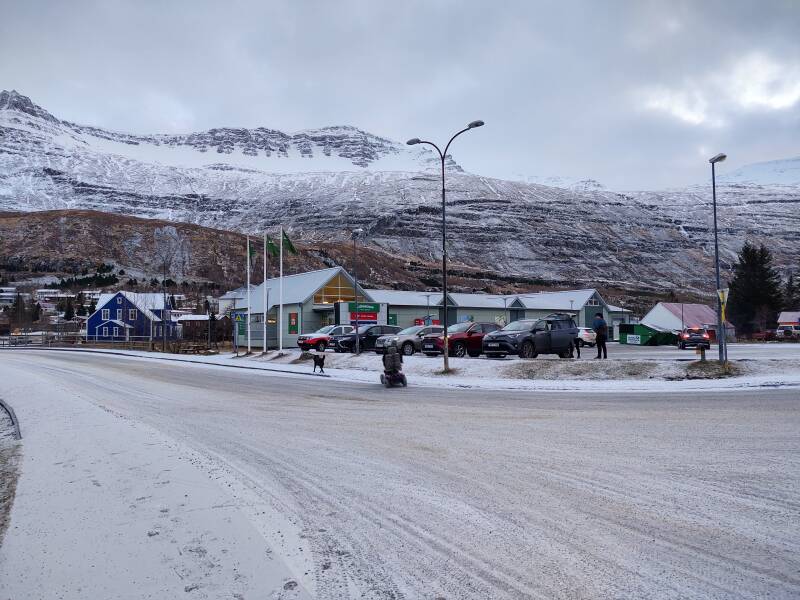 I had anticipated this. In a small town in Iceland, in the winter, during a pandemic, at a major holiday, everything will be shut down. I had to select places to be for Christmas and New Year's, and bring food with me. The guesthouse has a full kitchen, so I was fine.
Meanwhile, my walking tour continued.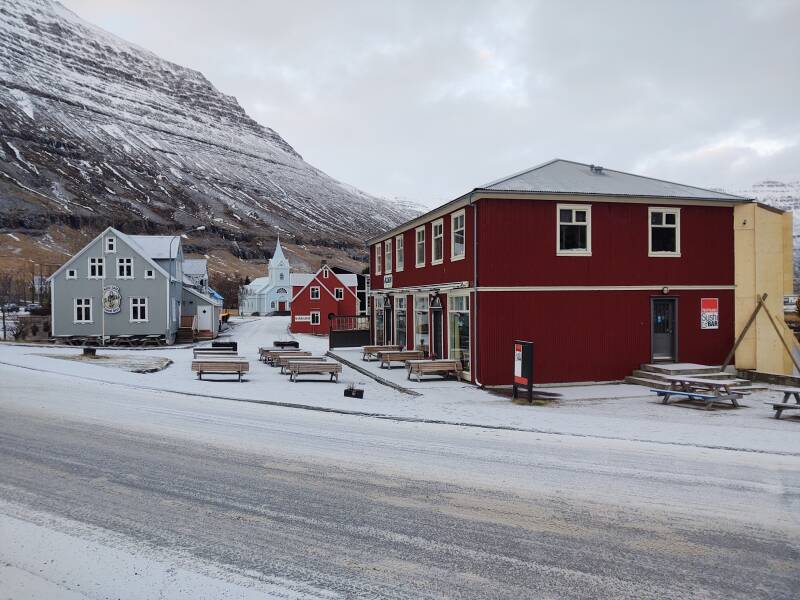 The community cultural center includes the library, a hall for dinners and dances, and the only movie theater in eastern Iceland.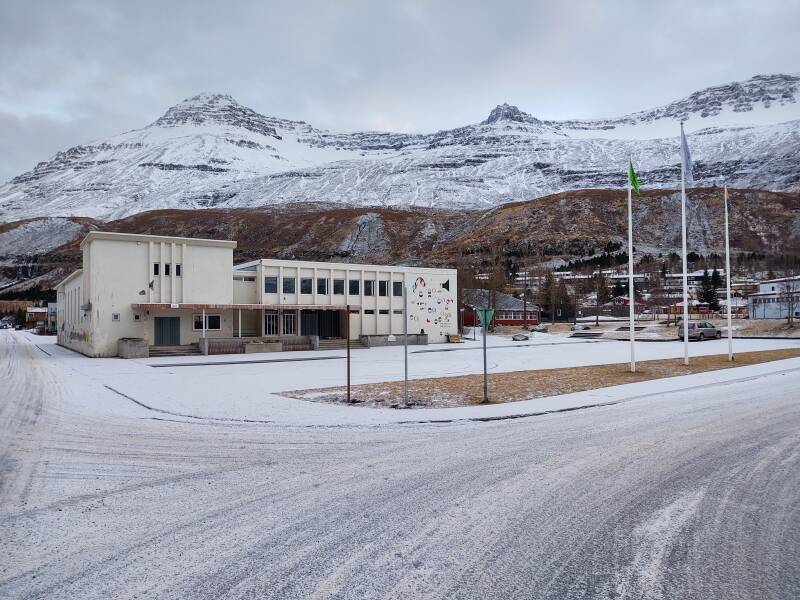 The school is across the street.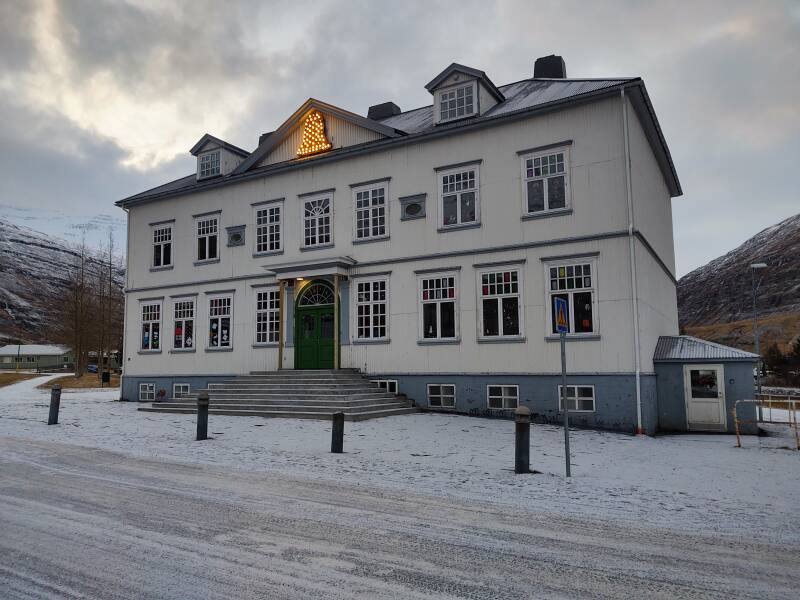 Of course there's a swimming pool. I was a little surprised that it was closed.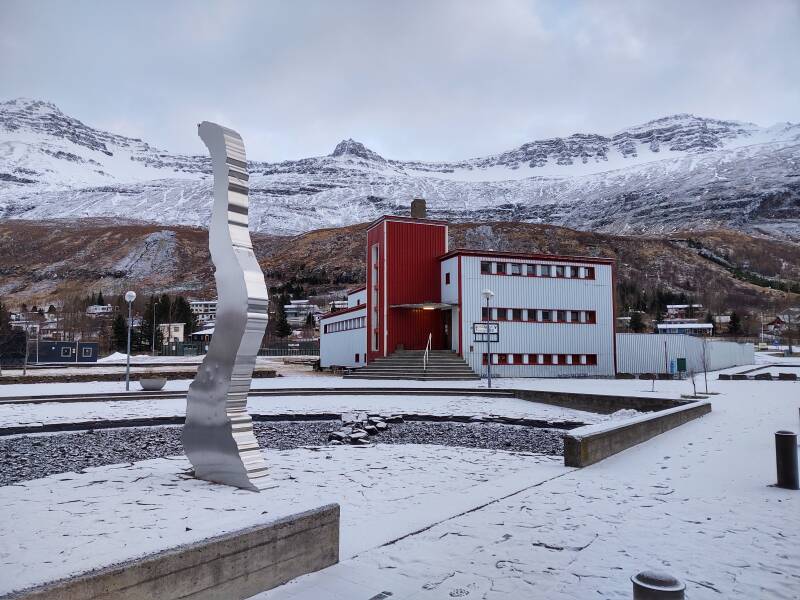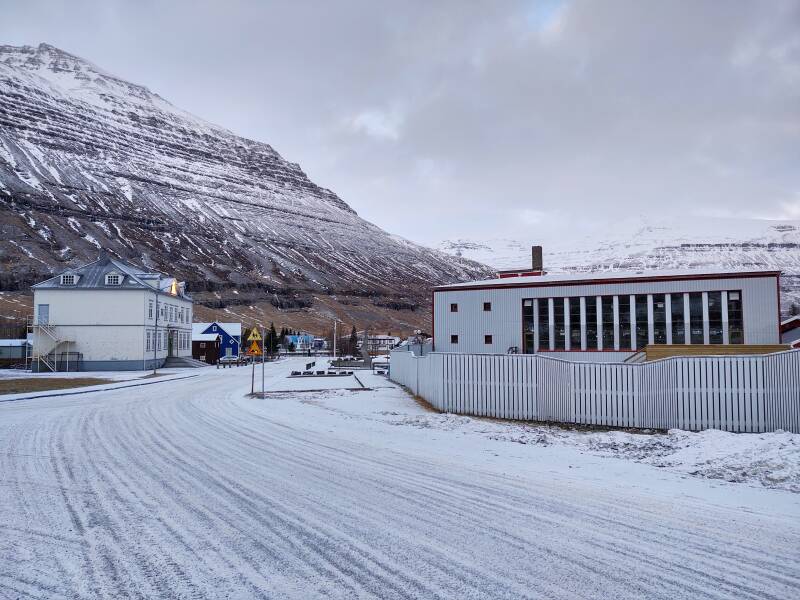 I continued to admire the Icelandic homes. They are uniformly clean and attractive. Iceland has nothing like the near-Appalachian squalor I'm used to seeing back home.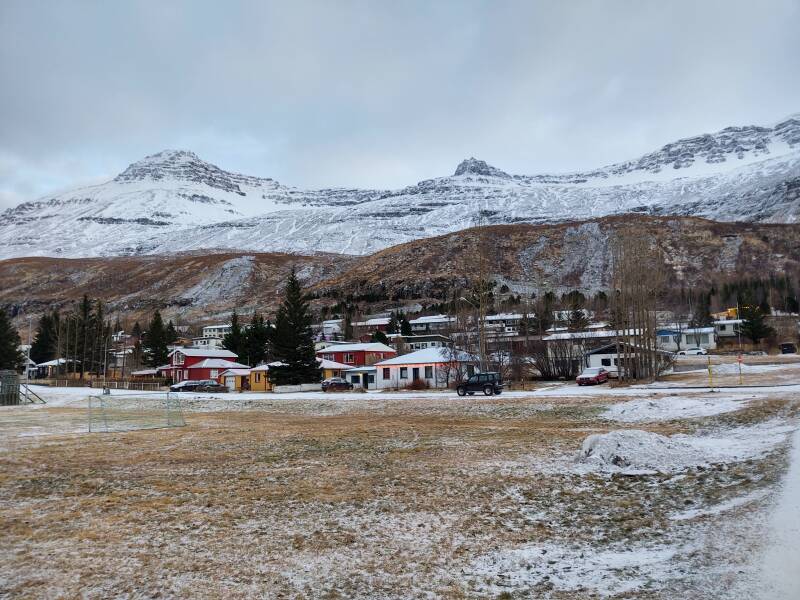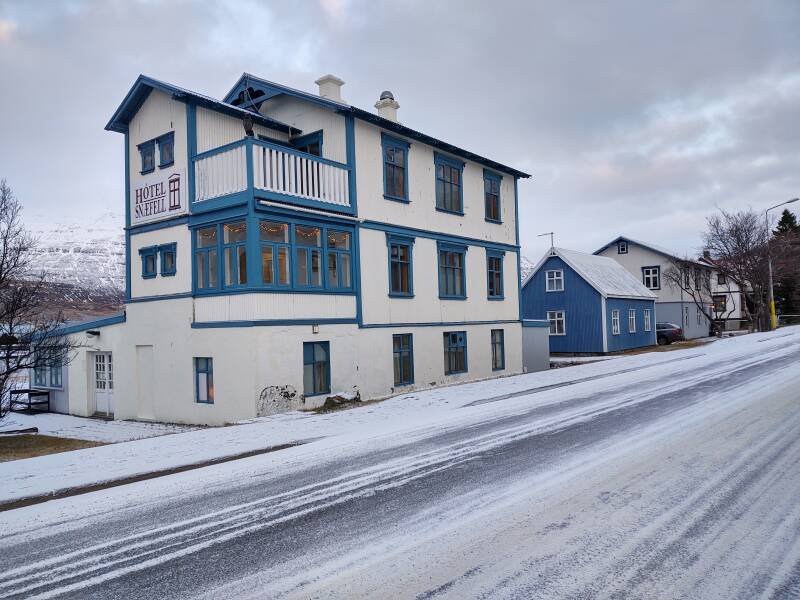 Art is everywhere in Seyðisfjörður.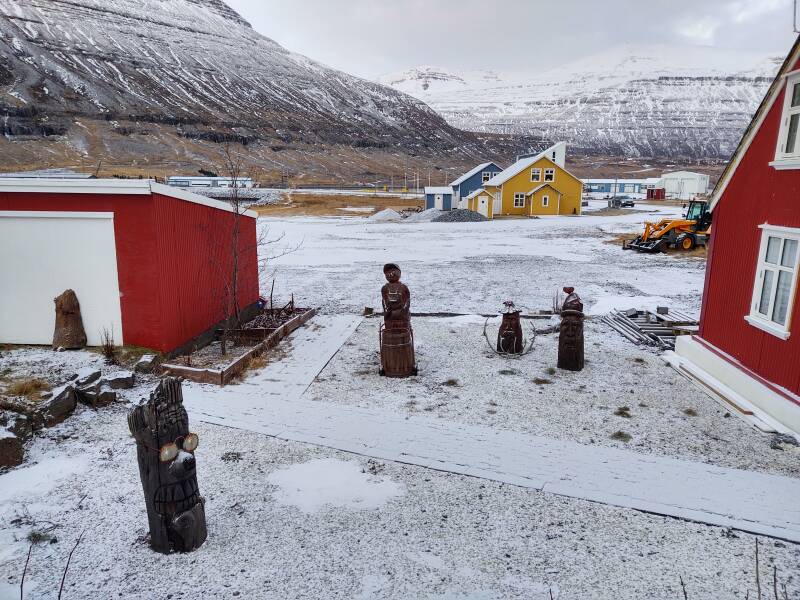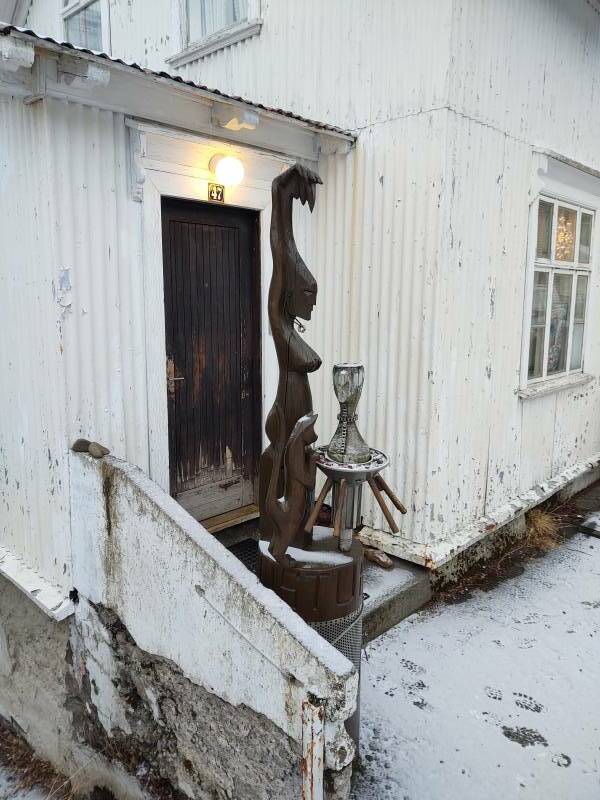 Many places are a combined bistro – café – bar – gallery – performance space – whatever.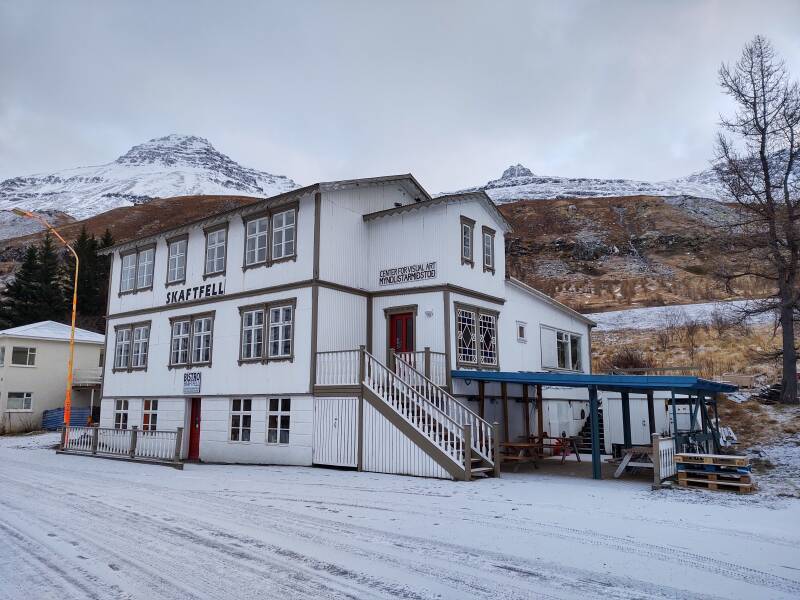 Onward to Akureyri
Next: On to Akureyri
My next overnight stop would be well to the west, in Akureyri. This would be the most challenging drive — the longest, and through what I anticipated correctly to be the worst conditions. The good news was that conditions were better than they usually were at this time of year in interior northeastern Iceland.